Nail Wheel Wednesday is taking a break so I can tell you about a much more elevated way of painting on fake nails. I've had
Maria's Nail Art and Polish Blog
on my reading list for ages. The things she can do with polish and paint just amaze me. When she said she was thinking of opening a shop to sell her art and asked if I'd like to get a sample piece, it took me about half a second to say "YES!" A few e-mails later, she sent me photos of the paintings she'd done for me, and I thought they were wonderful. When they arrived, mounted on a piece of clear acrylic for easy display and nestled safely in a sturdy box, I was even more impressed—photos just don't capture all the detail on these pieces. Nonetheless, I took some photos to share with you.
I asked for a four seasons theme, and here we have winter on the left, working through spring, summer, and fall as we move to the right (and into the blur—I was trying to be artistic):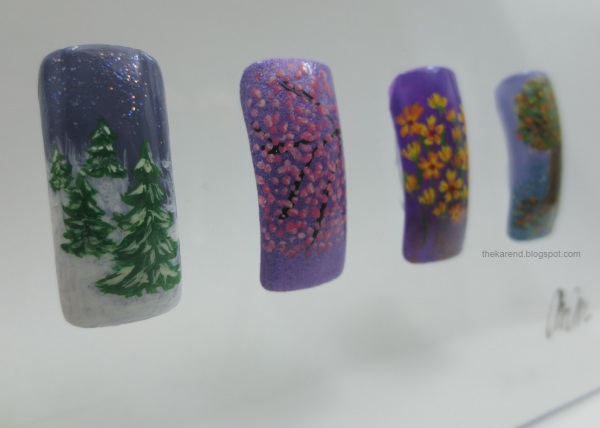 It's hard to pick a favorite, but I'm leaning toward winter—it so reminds me of skiing through the trees.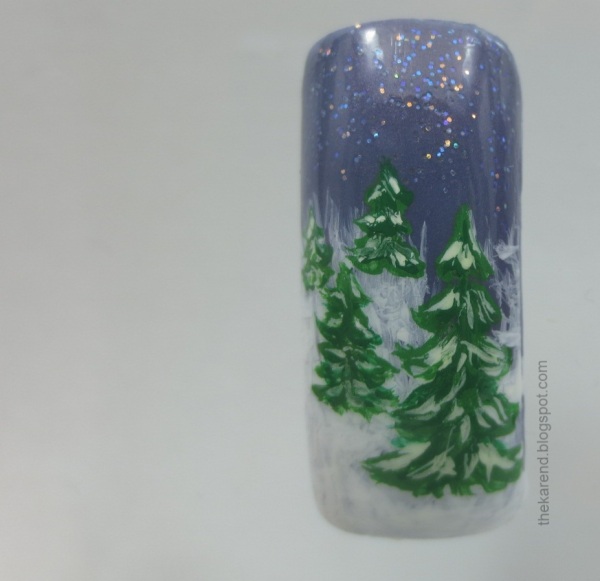 I love how Maria used purple in all the backgrounds but varied the hues and textures from season to season to add even more visual interest.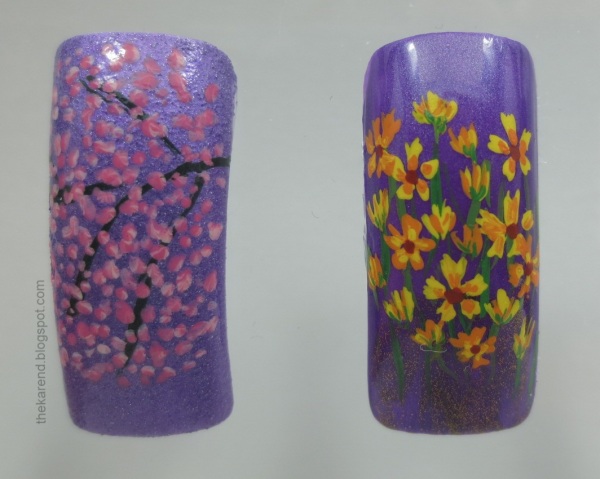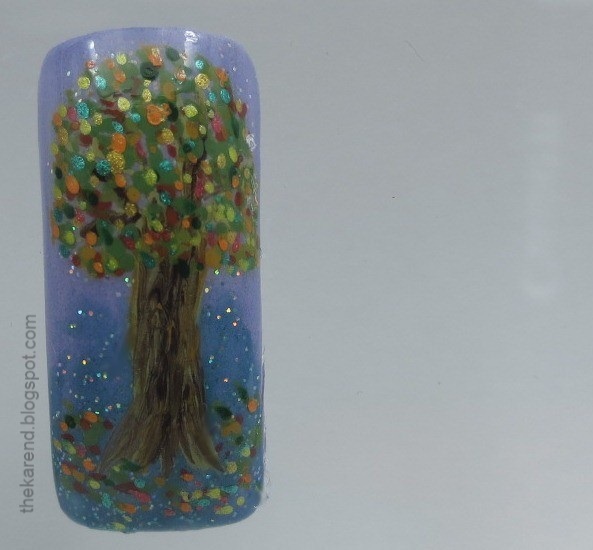 Maria's shop,
Micro Paintings by Maria
is now open, and to celebrate, she's having a giveaway for a custom set of paintings. All you need to do to enter is go and like her shop's
Facebook page
and then go enter on
her blog
. The giveaway ends April 10th. The more likes the page gets, the more winners there will be.
I may never manage to get skilled enough to paint like Maria, but now I can have some of her art in my own collection to keep and admire whenever I like, and that makes me happy. I hope her shop does well!
The art shown in this post was provided free for review purposes. The content of the post was not dictated by the provider.