Since my previous
display post
back in early May, I've been doing some travelling again, with a couple trips to western Washington to visit family (I'm on a second one in two months as I type this), a quick weekend in Portland, and two weeks road tripping around Idaho, along with a few day trips down to the city. I am not quite as dedicated as before to going into all the locations of all the stores to look for polish displays but do try to get to a good variety of places to see what I can see. I saw a China Glaze Havana Nights display at Sally Beauty but because of the type of display it was I have no idea what was missing or if what was there was even what should be. I know, I've made this complaint before. I'll probably make it again.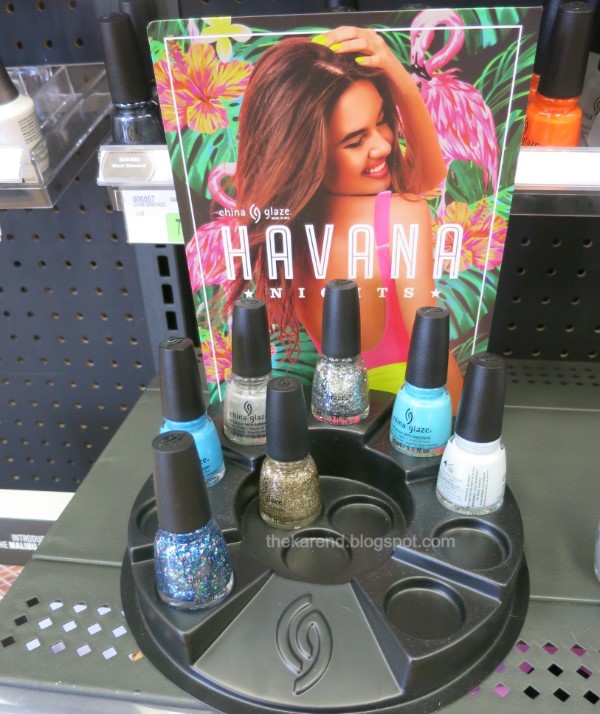 I almost missed the Essie Let It Ripple collection at Fred Meyer because its display card was missing. Fortunately, a few of the shimmers were eye catching enough to pull my eye in their direction. Left to right: Earn Your Tidal, Tide of Your Life, Cliff Hanger, In the Cab-ana, Wetsuited Up, and Good Vibrations.
Fred Meyer had new shades of Essie Expressie as well. This had slots for: Multi-Player Moves, No Time to Pause (sold out), Thumb-Surfing, Remote Friends, Ahead of the Game(r) (sold out), Don't Glitch Get Better, Take Controller, Leveled Up, Virtual Velocity, and Beat the Clock (sold out).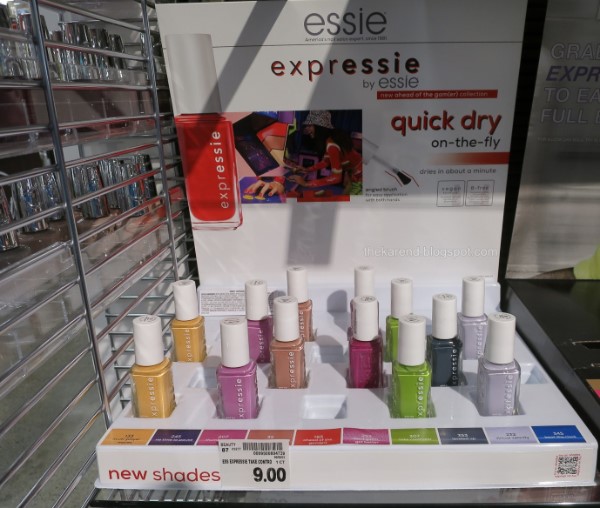 I also saw the Essie Ferris of Them All collection at Fred Meyer. Nine shades here: Air Spun Fun, Ice Cream and Shout, Amuse Me, All Fun & Games, Ferris of Them All, Win Me Over, Let It Slide, and Main Attraction.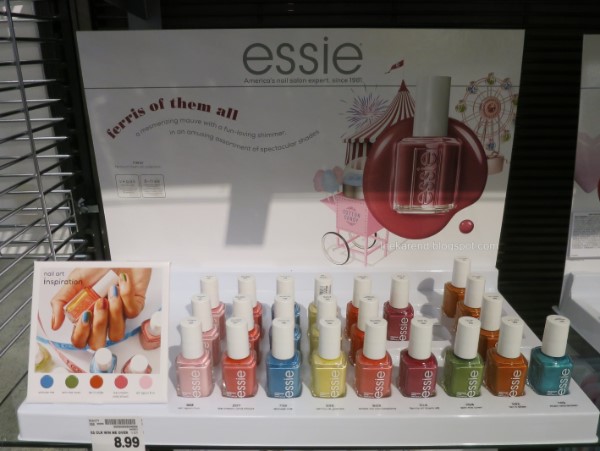 Rounding out the Essie finds at Fred Meyer, there was a display of Essie Gel Couture with six shades: First Fitting, Inside Scoop, Gallery Glam, Museum Muse, Behind the Glass, and Steel the Show. From what I can see online, Gallery Glam, Museum Muse, and Behind the Glass are the Museum Muse collection; the others are repromotes.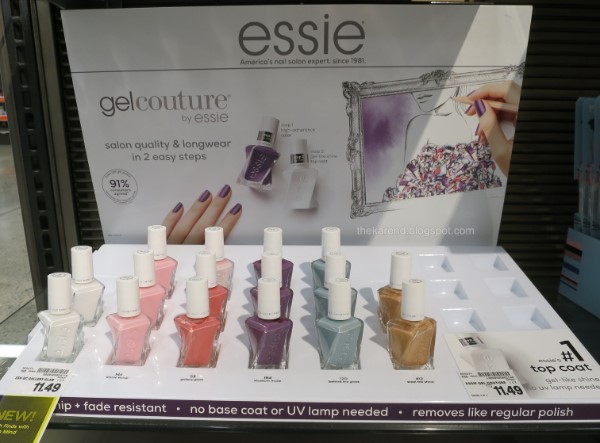 I had to visit three different Ulta stores to find a display for the Essie Tie-Dye collection Give It a Swirl (only at Ulta. This has Blanc from the core collection plus three limited edtion shimmers— Don't Get It Twisted (pink), Give It a Swirl (lilac), and All Tie-Dyed Up (sky blue)—plus Gel Setter Top Coat. There are directions on the display for creating nail art, plus a brush that was free with purchase of a polish.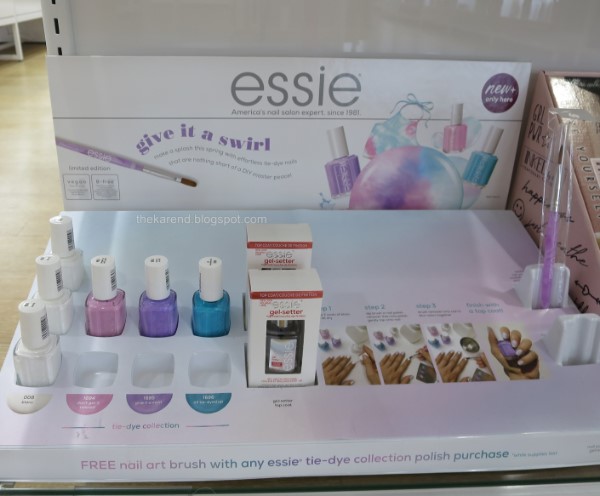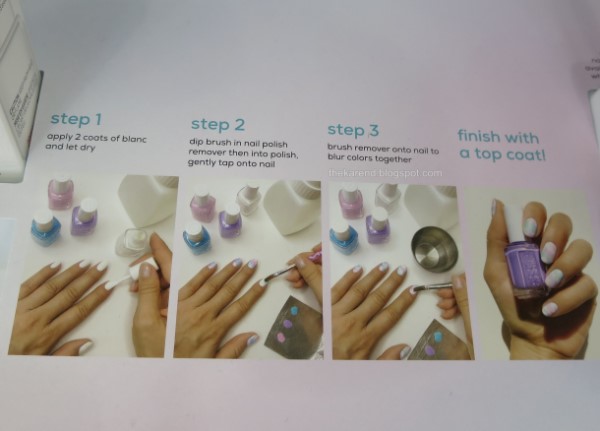 When I was in Portland, I found a CVS; hadn't been in one of those in a long time. They had a display of imPress fake nails by Kiss, including some limited edition sets done in collaboration with Jess Conte, who is apparently a "content creator and musician".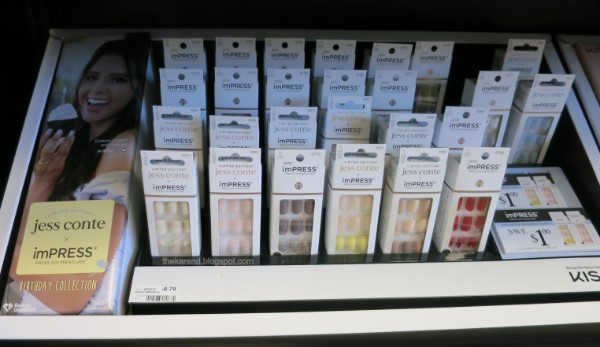 In the core display section at Fred Meyer, I spotted the LA Color Glitter Vibes collection, which I don't recall seeing before (I usually remember glitter): Highkey, Pure Blush, Golden Glow, Pink Bling, City Girl, Purple-razzi, Drippin', and Finesse.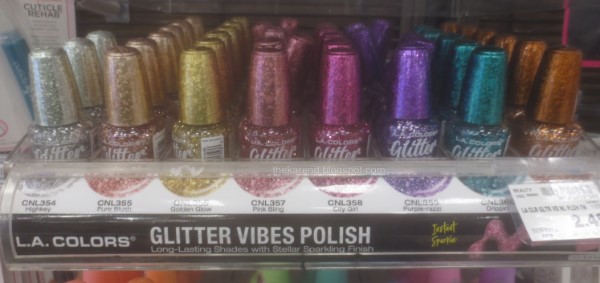 Not a display, but the endcap at Walmart with clearance items and random stuff people just decided to set down there had the only bottle of LA color Neon Jelly that I've seen in the wild. I looked everywhere to see if this bottle's display was still around but didn not find it. This blue is called Razzle Berry; there are seven other shades in the line, available on the
LA Colors website
.
There was an LBK display at Walgreens, a place I've not seen the brand before. This was Rockin' the Neon Palooza. There are nine bright shades here; I moved the bottles around so the right hand section was complete and filled with the colors that matched the names printed on the display. Front: Party Time, Funkadelic, Laser Lemon. Middle: Peace, Hot to Trot, Purple Haze. Back: Rave, Lime & Coconut, Pinkalooza.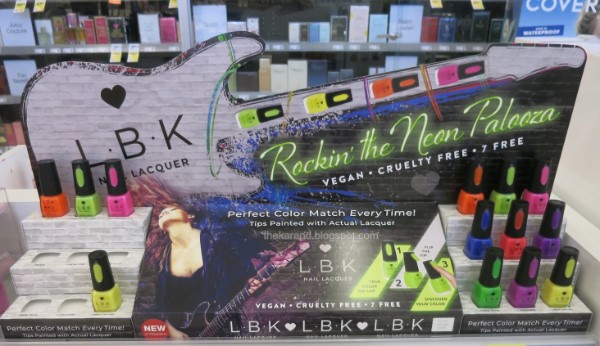 I didn't see the Morgan Taylor Feel the Vibes display at Sally Beauty until it was mostly sold out, but fortunately they had a swatch card. Slots left to right: All Day All Night, Spin Me Around, Into the Lime-light, Orange Crush Blush, It's My Moment, Keepin' It Cool.
A Fred Meyer in Washington was the first place I saw the Nailtopia brand outside of an Ulta. It was just a single shelftop display with a fraction of the shades in the big core display at Ulta, but I was still happy to see it. This had slots for these shades: When the Night Falls, Blank Slate, Nailed It (the slot for which had what looked like a base coat in it, which was odd since there was no slot for base coat, so I wonder if there was another display I missed), Nails on Fleek (empty), Bali Baby, Kissin' in the Rain, Tira-Miss-You, Mocho Loco, Sol Glow, Tropinail, and Ruby Slippers (empty).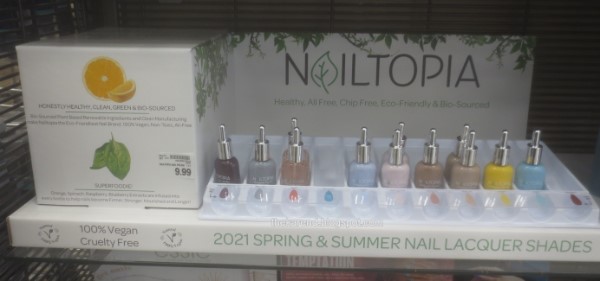 At a Fred Meyer closer to home in Idaho, the mystery of the Nailtopia base coat was resolved: this store had two shelf displays, one of which did have a slot for base coat. Top display, left to right: Started from the Bottom (base coat), Top of Your Game (top coat), So Fresh So Clean, Do or FiDi, Juice Cleanse, Yacht Week, Forest Hills (empty), Run Now Wine Later (empty), Smokey Road, Jomo (empty), Hawaiin Blues. Bottom display is same as at the other Fred Meyer above.
I am always happy when I see new OPI collections at Walgreens because the displays are so straightforward; one slot for each color, with an indication of what the shade looks like if it's sold out. So nice compared to the backlit cluttered jumble that usually faces me when I go to Ulta. In this case, Walgreens had the Malibu collection. Fron row: From Dusk Til Dune, Coastal Sand-tuary, El Mat-adoring You, Endless Sun-ner, Cliffside Karaoke, Bonfire Seranade. Back row: Marigolden Hour, PCH Love Song, Strawberry Waves Forever (empty), The Sound of Vibrance, Pear-adise Cove, Mali-blue Shore.
They had the same display for OPI Malibu at Sally Beauty, with a different one missing, plus a nail wheel (rectangle, I guess) with all the polishes swatched.
Here's the Ulta endcap for OPI Malibu. The bottles are mostly gone, but they at least did have the lineup pictured, and I did like the dotted rainbow heart.
It had been so long since I'd been in a CVS that this was the first time I saw the new Poparazzi bottles. They still have the polka dotted caps, but they're cylindrical now. I didn't document the whole lineup because I didn't want to push my luck taking photos.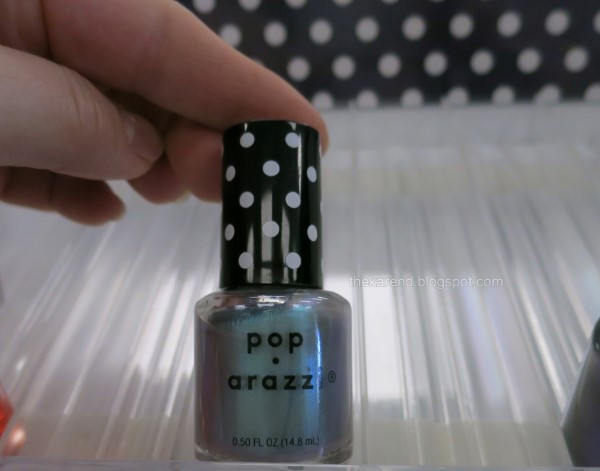 Some time back, I swatched two
Pop Beauty
polishes I got out of the clearance bins at Walgreens. I noted I'd never seen the brand there and was puzzled. Well, I came across a Walgreens that had a display for Pop Beauty. Mostly empty, but still, evidence of what sort of thing I missed at that other store when I wasn't going out much. There are slots here for (starting top left): Lightshow, Zing-C, So Bomb, Watermelon Wow, POM POM, Wine O'Clock, Pastel Fleur, Passion Punch, ZZZ Pink, Purple AF,l Black Cherry, Marshmallow, Pirouette Pink, Hint of Mint, Be Green, Aqua Shot, and Blue Cosmos.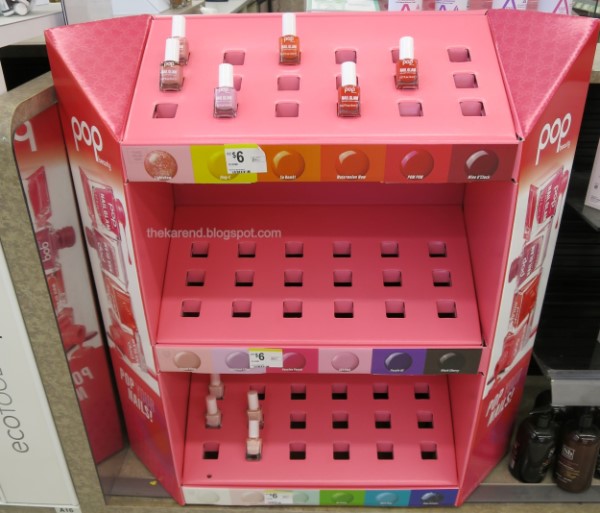 I shared a Sally Hansen Cruella collection display last time, but that one wasn't accompanied by these polish and topcoat sets with eye catching art on the box like these I saw at Ulta.
Ulta also came through with some Sally Hansen Insta Dri Pride variations that I hadn't seen or shared before. I think the box sets of six polishes are Ulta exclusives. One has the six colors of the familiar Pride flag (ASAP Apple, Love Wins, Yellow Lady, Yaaasss Green, Along for the Pride, and Va-Va Violet); the other has light blue (Jet Setter), pink (Pink Blink), dark blue (Along for the Pride), purple (Va-Va Violet), yellow (Yellow Lady), and white (White on Time) to use to make stripes to match the flags for transgender pride, asexual pride, and nonbinary pride as shown on the box.
Walgreens had a Sally Hansen Miracle Gel display called Neon Summer. Top row (these were labeled as limited edition): Feelin' Grape, Chill Out (sold out), Flash of Bright, Sun-shine On, Squeeze the Day, and Floresc-Pink. Second row (re-promotes): Miami Ice, Violet Voltage, Fuchsica Fever, Peach Please, Lemon Chilo (sold out, I seem to recall this used to be called Lemonchillo, all one word, two l's).
At Fred Meyer I saw the display for Sally Hansen Miracle Gel It Takes Two, which has color at one end and top coat at the other. Yes, this is more space efficient than carrying two full size bottles around but I've learned my lesson with these double ended deals and won't be buying any. There's no good way to store them that doesn't risk getting polish on the threads, for one thing. Polish shades: Quartz & Kisses, Saturn It Up, Sundown Socialite, Can't Beet Royalty, Rain-Glow, Once Chiffon a Time, Hyp-nautical, Sugar Fix, Get Mod, and Onyx Perfected. All paired with Shiny Top Coat. I also saw these in a free standing display at Walgreens, with full size Miracle Gel bottles below them (and maybe Cover Girl makeup on the other side? I didn't get a good photo of that one as I was in that store to pick up a prescription for my mother in law so wasn't supposed to be dawdling in the makeup aisle).
None of the Walmarts in my area had the collection that came out earlier this year which had some glitters in it (or if they did, I missed it), but one store did get the Color Your Way display which has brights for summer. The top section of this has the One-Step Gel Pen in various colors; these look like the next generation of the Sally Hansen Color Quick and Nicole by OPI Nic's Sticks. A USB compatible gel-curing lamp is below the nail polish pens. The bottom section has sets with fake nails for one's fingers and a matching mini bottle of polish for one's toes, which other than the matching is pretty much the combination I've been sporting in my life for quite a while now.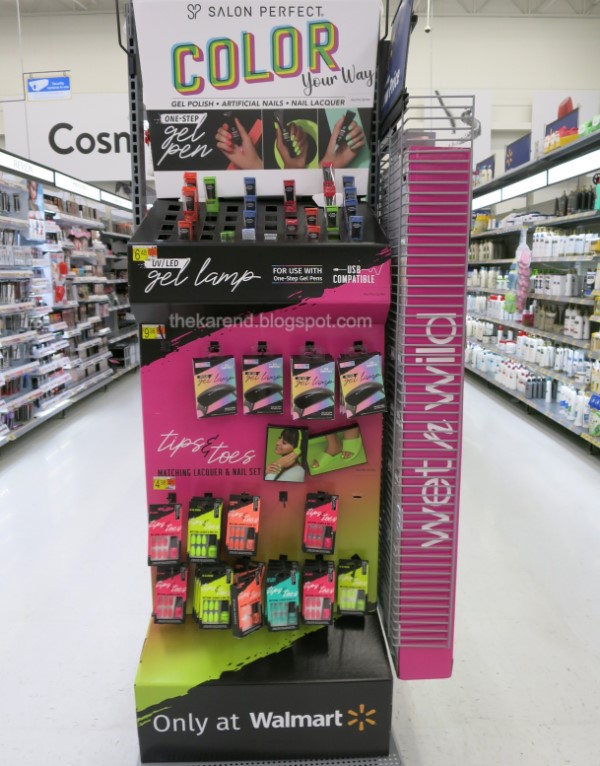 At Ulta, I saw a mostly empty display of Scratch nail wraps. I was thinking about buying one to try then saw the directions called for using a non-quick dry top coat on them, and that's not my jam.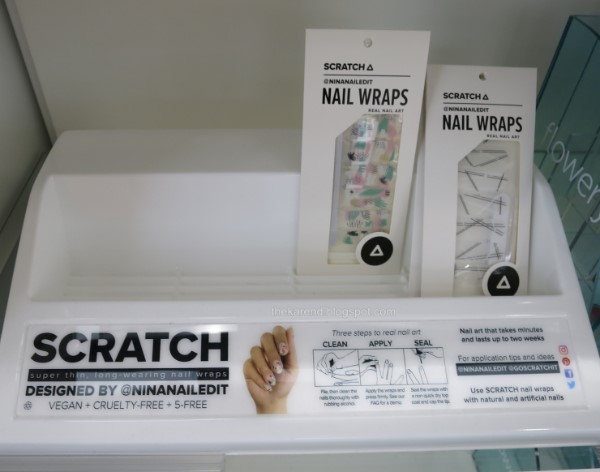 SinfulColors distribution continues to be frustrating. I did see the Vacay Vibes display at Fred Meyer, but it only had three new (maybe limited edition?) shades mixed with Quick Bliss colors we've seen before. Left to right in front: Dragon Fruitie (new), Juicy, Colada Mama (new), Hit the Spot, Mushy Gushy Mango (new), Flushed. I was too discouraged to document the rest of the bottles. Apparently the only place to get the whole collection of six colors is Walmart, maybe only online as a set. I want to buy individually in the store; I don't need another pink creme like Dragon Fruitie, even if it is scented.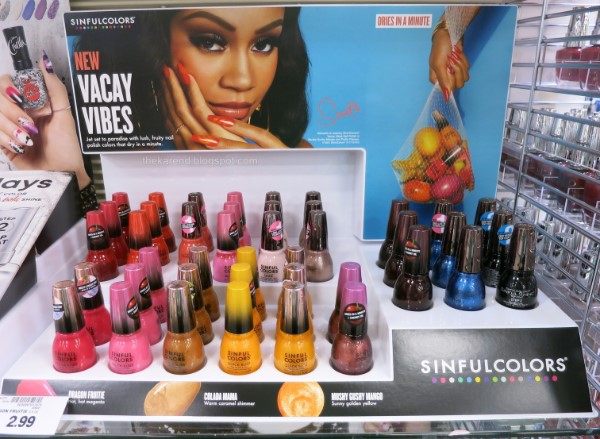 On the road, I visited a Walmart that had a whole endcap of SinfulColors, with eight SinfulColors Claws artificial nail sets right at the top, including some I'd not seen before. I might have gotten some but I just hate having to find an employee to unlock them. I'm sure they've done the math and found the sales they lose out on this way aren't as valuable as the stock they lose to theft. At least I hope they have.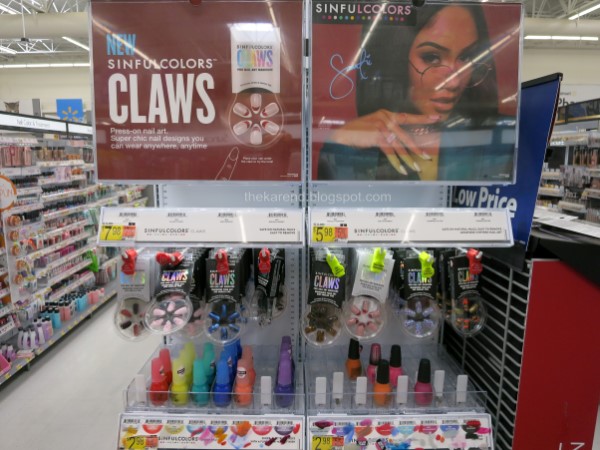 Somewhere in my travels, I visited an Ulta that didn't have the backlist polish display unit, so was able to get this much better photo of the Ulta Gel Shine Trop the Beat collection than I shared last display post. Left to right: In Pursuit of Passion Fruit, Dragon-licious, Guava Stay Up All Night, Papaya to Dance, Mango Tango, Lei Back & Hula, Seashells & Sand Dollars.
At a different, regrettably backlit, Ulta, I saw the 90s Please collection (which doesn't say limited edition so may just be a grouping of core colors): Goal Getter, Facts (though now that I look at this bottle, seems it might be Finesse in Fact's slot), Party Like a Patriot, Finesse (sold out), Americana, #Mood, Black Magic.
Wet 'n' Wild is continuing to release stuff under the Fantasy Makers line even when it's not Halloween. This time it was some artificial nail sets I saw at Walmart, in a sidekick with general beauty products like applicators. Left to right: Wild Gal (solid black with black/white animal print accent nails), Feeling Myself (solid deep pink with lighter pink glitter accents), Sunset Spirit (peach iridiscent with coral/gold glitter accents), In a Daze (three colors of glitter: purple, magenta, and peach). These sets have glue included with them.
Okay, that's it for this display post. I'm hoping to have more next month, as I am planning some more travel, though of course the Delta variant may affect those plans. Yes, I'm vaccinated, but so many in my area are not (most by choice, not because they can't for legitimate medical reasons).