Hello! I am back from my month-long vacation which took me to/through 15 states plus one country outside of the U.S. It was a journey with a lot of different events and modes of transportation which took me and Mr. Karen to places both familiar to us and new. I put neutral (but a tiny bit sparkly because I'm me) polish on my toes and packed fake nails for my fingers and off I went. A few days before we left, I put on this set from imPress called Wash Away. It has light blue solid nails, light blue with tiny iridescent glitter nails, and light blue with a turquoise and navy flower and butterfly design nails. These started out medium length and square, but I cut and shaped them so they felt more comfortable and practical for me, as I often do with the longer fake nails.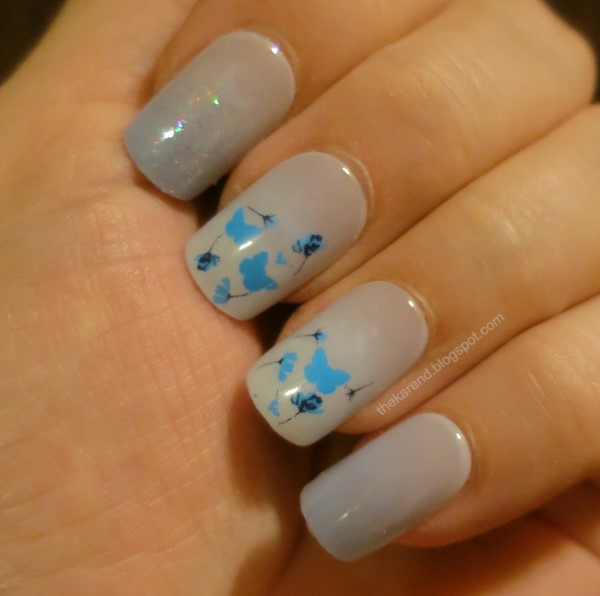 Still looking good on day 6 (with the limited edition "XP Flavored" Coke limited edition).
I had a few nails loosen and need new adhesive tabs during the week I wore the blue set, so pretty standard. The next set of nails I used were from the Kiss Gel Fantasy Allure line. The box didn't have a name on it, but I looked online and these appear to be called How Dazzling. They have multi-sized iridescent glitter on a translucent ivory base. (The box was a bit worse for wear after being stuffed in a pocket of my suitcase for a week at that point.)
I used adhesive tabs for these, not the glue that came with them. I clipped and shaped them as I had the blue set. On the left, as they came from the box. On the right, how I wore them.
I wore the glittery nails for the whole second week of the trip. When it was time to change, I reached for a set I'd gotten off the Temu app, where they were described as "Press On Nails, Short Square Fake Nails, Beige French False Nails with Glitter Design, Glossy Clear Full Cover Acrylic Nails for Women and Girls; Color: Beige Cat Eye, Style: Gentle". The picture didn't appear to match a lot of those words, but for $3.48 I was willing to risk it.
These came with adhesive tabs. They were not short, so I clipped and filed them. They were a bit sheer, so before I shortened them, a hint of my natural nail tips showed through the fake nails in strong light.
Six days later, I hadn't lost a single nail. Those adhesive tabs were strong. I'm sure it helped that I didn't have my laptop with me, so wasn't banging my nails on a keyboard for a few hours a day like I tend to do at home.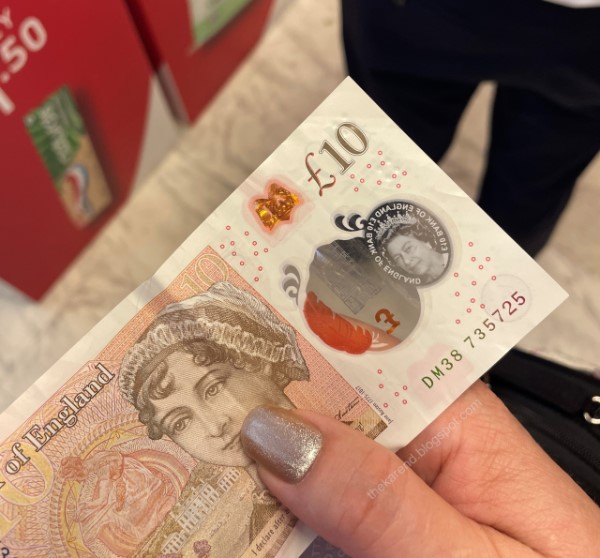 I'd planned to change my nails again before the next phase of our trip, a seven-night transatlantic cruise, but they were holding up so well, I still had them on the day we boarded, a week after I'd applied them.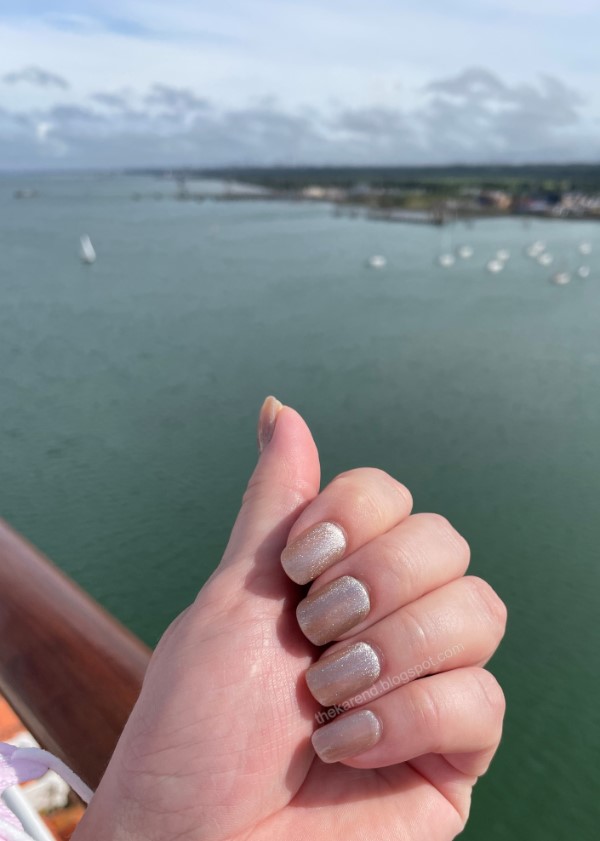 I figured I'd change to the last set I'd packed when I started to lose the beige cat eye ones as the adhesive got weakened, but they just kept hanging in there, so I ended up wearing them for the whole cruise and the multi-day drive home from New York to Idaho. There was definitely a gap at the base of my nails by that time, but given the neutral color of the nails it wasn't too noticeable.
On the trip, I was really trying to focus on experiences rather than buying things, so even though I saw polish and fake nails I don't have easy access to at home, I bought none of them. I'm kind of amazed at my self-control. I will have a display post up once I get through all the photos; hoping that won't take too long.