I've decided to make a concerted effort to clear out my swatch folders on my laptop, which means for however long I stick to this plan, you'll likely see my nails at various lengths ... longer in one post, shorter in the next, back to longer, etc. It also means you'll see old but not yet vintage polishes, some of which won't be available for purchase through retail channels any more. I may decide to just not post entire sets of photos if I think I didn't do the polishes justice when I swatched ... or I may decide to round them all up in occasional "oops" posts; I don't know which way I'll go on that yet.
Today I've got two polishes I bought from Alter Ego at Indie Expo Canada 2019 and swatched soon after but for whatever reason never got around to posting. First up is Being Myself, a brown-leaning yellow with shifty shimmer that shows blue and green and gold and red. It's one of those "pretty ugly" colors I'm drawn to ... so unusual. I used two coats for my swatch (no topcoat).
Here's a direct light shot that shows the shimmer: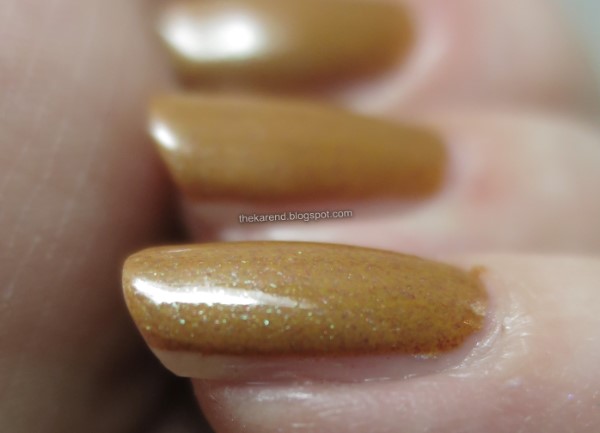 I paired Being Myself with another Alter Ego I picked up at IEC, the flaky topper Fall for Fall, which has green/gold and purple/magenta/copper shifts in it.
I slicked on one coat of Fall for Fall over Being Myself and it really looked like autumn. I didn't need any topcoat to smooth it down, though that would have added a bit of depth probably.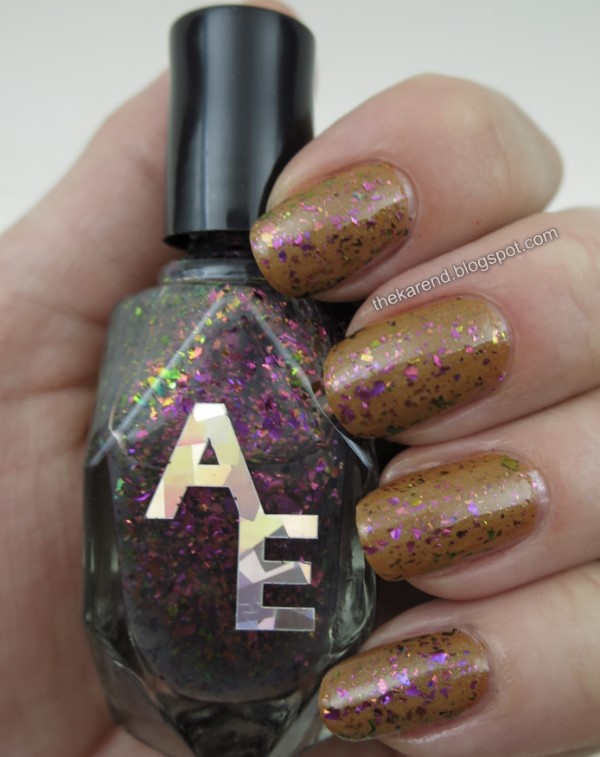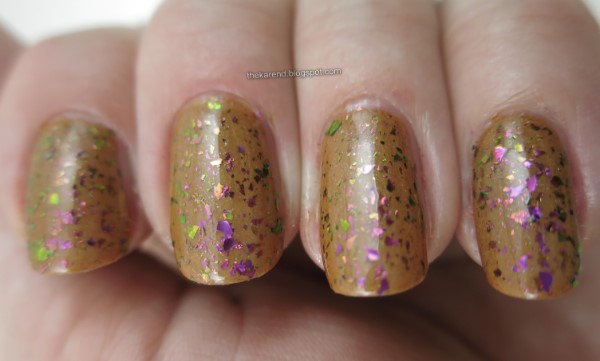 Being Myself
looks to be still available at the Alter Ego website, along with the other three shades in the
Proud to Be Me collection
, which I passed on at IEC because I was being somewhat restrained since I knew I had to fly home with all my purchases.
Fall for Fall
is also still in stock. I can see it looking great over a lot of base colors.