What's this? Two display posts in one month? Yep. Even though it hasn't been quite two weeks since my last batch of
display photos
, I have found a fair few new things when I've been out an about recently. Probably it helps that I've been out and about more since skiing has been pretty much over since I got back from my trip; I have done a few weekend days but that's it (and now it seems like it's really truly over for the season even though there's still some snow around). I figured I'd go ahead and share the photos now before I get too many more built up in my folders.
Sally Beauty had a display of Bitzy Neon colors. I think these are all core colors: Funky Melon (neon glitter), Haute Mama (purple), Ole (orange), Candy Shop (pink), Spring Fling (green).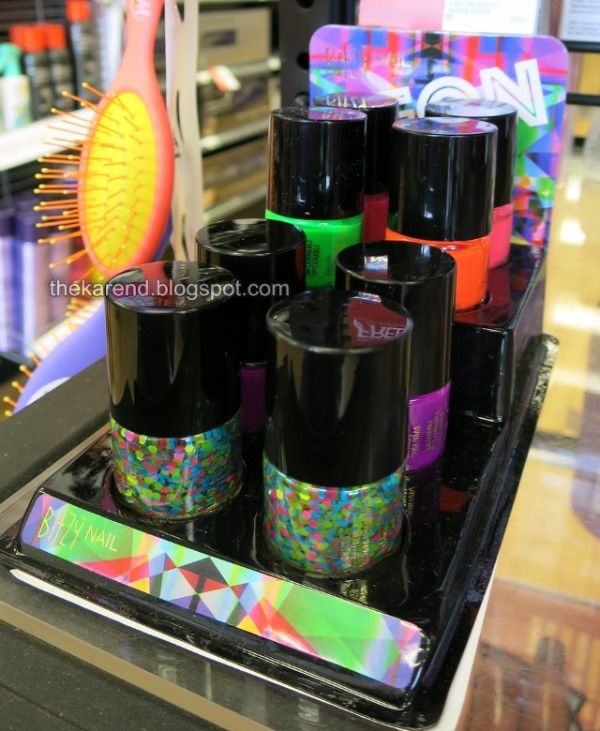 Butter London has a new collection of Glazen nail lacquers out at Ulta. Bling on the Nails contains six shades: Mermaid, Oil Slick, Prism, Unicorn, Blaze, and Enchanted.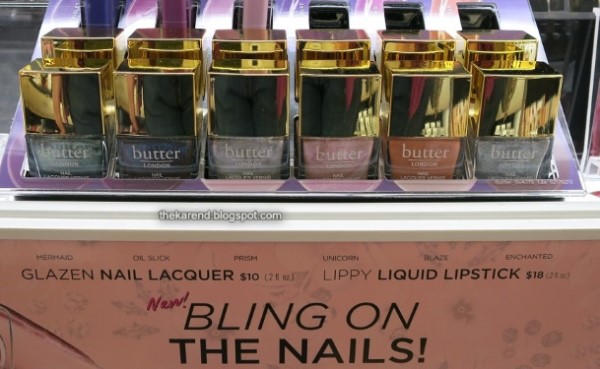 I can't recall if I've seen CND Vinylux at Walgreens before, but two different stores had the spring collection, Chic Shock. Four shades here: Candied, Taffy, Jellied, and Gummi. The mini set has all but Gummi and includes top coat.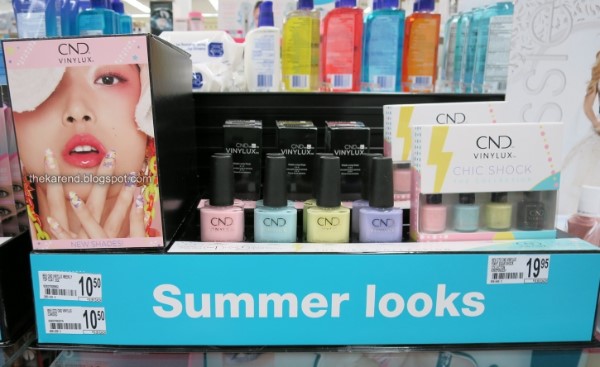 I'd been seeing online that people were finding Color Club holos at Walmart, but still was surprised to see a sidekick display at the store in my little town. (I'm even more surprised in retrospect now that I've been to other stores in the bigger cities and they didn't have any Color Club polishes at all.) The top two rows are mood polishes (thermals): Total Meltdown (sold out), All Fired Up, Rays the Bar (sold out), Happy Go Lucky, Getting Warmer, Enlightened, Cold Shoulder, Go With the Flow, Temp-er Tantrum, So Chill, Diva Fan, and Serene Green (sold out). The middle two rows are matte neons (convenient, since matte pigment is naturally neon): Chalk It Up, Schoolyard Crush, Out of Your League, Study Buddy, Don't Toy with Me, All Dolled Up, Cliff Notes, Having a Ball, Party Teal Dawn, No Curfew, Play Date, Friendly Competition. The bottom two rows are the holos: Don't Harp on It, Star Light Star Bright, Enchanted, Supernatural (sold out), Spell It Out, Crystal Baller, Sidewalk Psychic, Trick of the Trade, Hello Holo, What's Your Sign, Bewitched, It's a Mystery.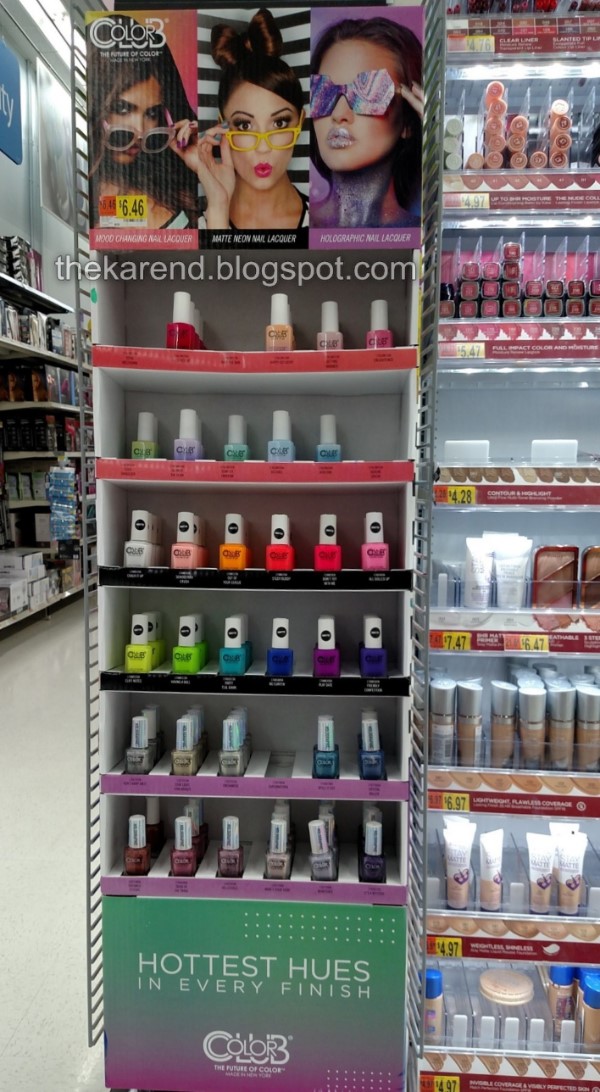 One Sally Beauty I went to had a large display of Dashing Diva MagicPress fake nails. Most were for fingers but several sets were for toes. There was a good variety of designs and finishes.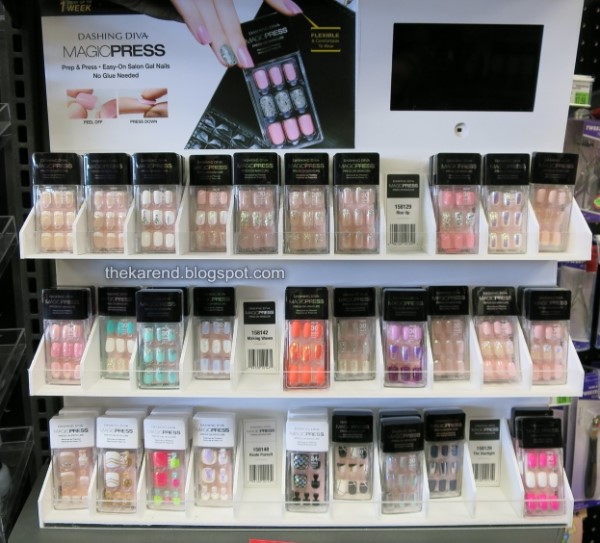 It was only a tip from a friend that led me to find the Essence Galaxy Nails polishes at Ulta. They're not in a separate display but rather in small section in the core display in the makeup aisle. Left to right: Outta Space is the Place, Across the Universe, Space Glam, Intergalactic Adventure, We Will Spock You.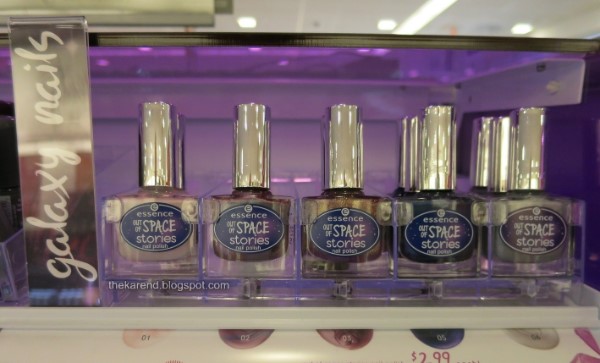 Rite Aid had the Essie Seaglass Shimmer collection before any other store in my area. Six shades here: World Is Your Oyster, Don't Be Salty, Coral Coast, At Sea Level, You Me & The Sea, High Tides & Dives. The display also has Gel Setter base/top coat.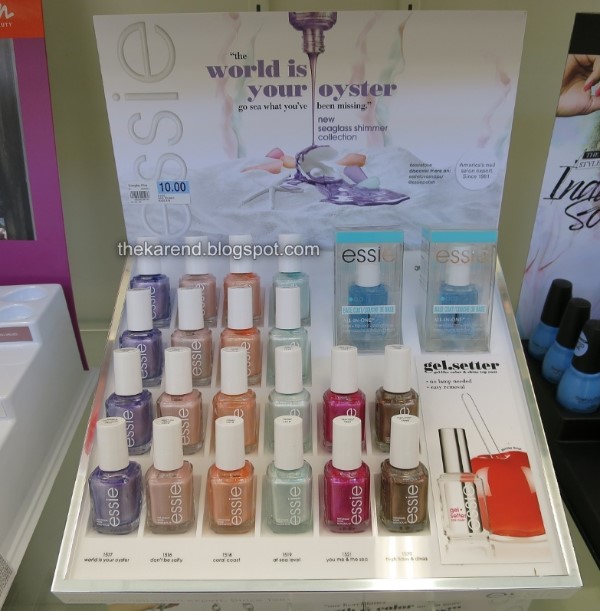 I went to several Sally Beauty stores and never saw a display for the Finger Paints Fantasy collection that had all six colors in it. The one below did have five: Fantasy World, Over the Rainbow, and In the Clouds (front row); Legendary Lore and Fairy Tale (back row). The missing one is Lost in Wonderland, a mauve-y pink shimmer.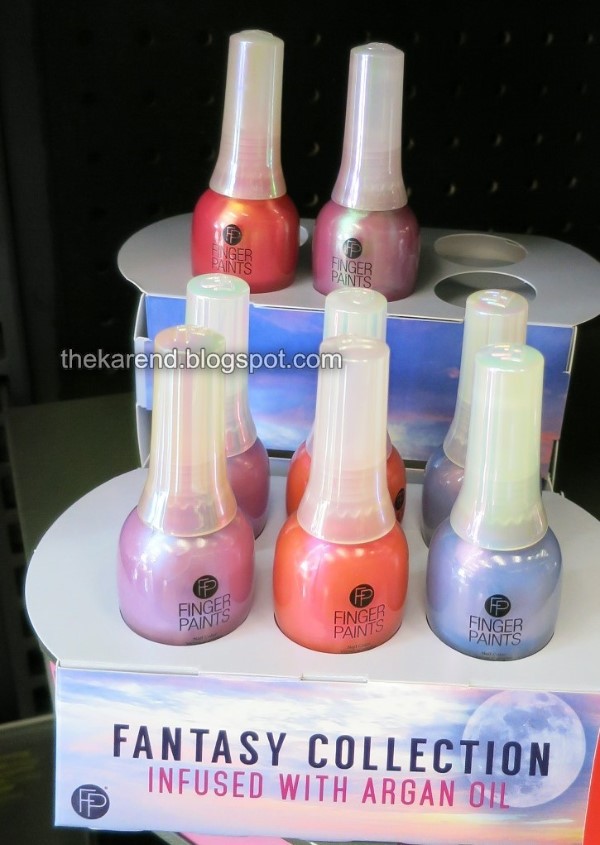 I was happy to see Incoco strips at Walgreens. It's a smaller display than I'd seen at Ulta recently but still nice to know I've got another source for strips at least for now.
The Kiss Girls Just Wanna Have Fun display has three sets of nail art stickers: Jewel Accents (silver/rhinestone), Accent Stickers (brights), and Be Linked (sky and flower line art).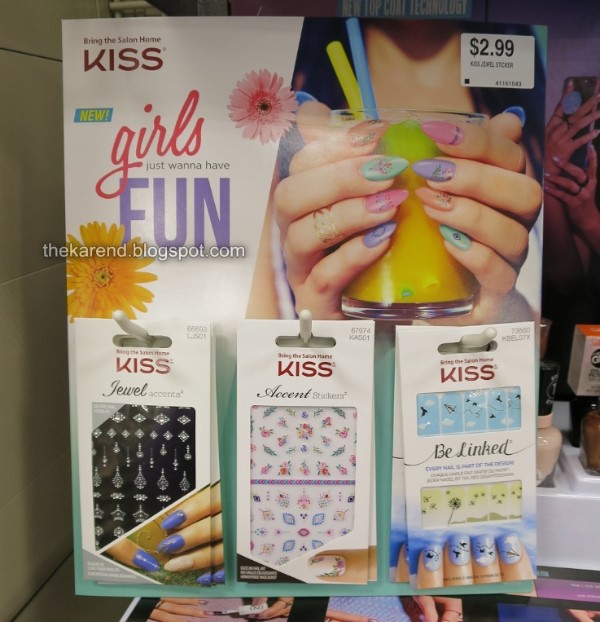 NW Beauty is the first and so far only place in my area that has the OPI Grease collection. There's the big display with regular finishes and a smaller one with leather-like finishes; there's also a set of four minis. (There was also a display for the OPI Infite Shine line but that was right at the register and never got a clear shot at it; that had the same shades as the big display here, and there was a mini set with different colors than the regular line.) Big display, front: Don't Cry Over Spilled Milkshakes, Meet a Boy Cute As Can Be, Summer Lovin' Having a Blast, Was It All Just a Dream, Teal Me More Teal Me More, Chills Are Multiplying. Big display, back: Frenchie Likes to Kiss, Pink Ladies Rule the School, Hopelessly Devoted to OPI, You're the Shade That I Want, Tell Me About It Stud, Danny & Sandy 4 Ever. Small display: Rydell Forever, Electryfyin' Pink, Grease Is the Word. The mini kits have Don't Cry Over Spilled Milkshakes, Was It All Just a Dream, Pink Ladies Rule the School, and You're the Shade That I Want.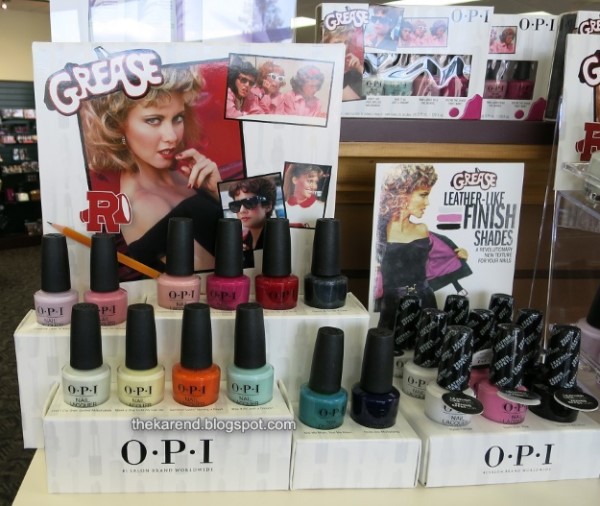 Walgreens had another mixed assortment of OPI colors: Step Right Up, Tiramisu for TWo, Coney Island Cotton Candy, Pinking of You, You're Such a Budapest, Aphrodite's Pink Nightie, Significant Other Color, She's a Bad Muffuletta, California Raspberry, Blue My Mind.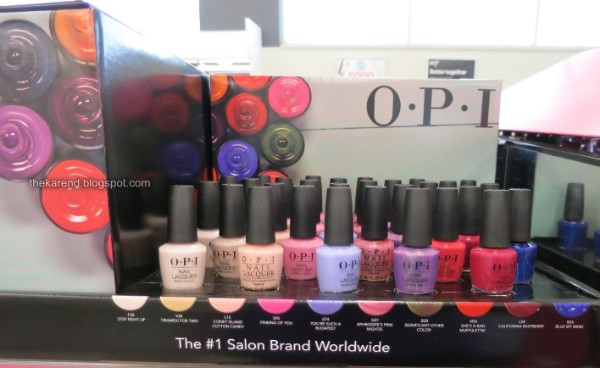 One of the Walmart stores that didn't have the Color Club did have a Pure Ice sidekick display, Natural Wonder. I'm not sure which of these shades are core and which aren't. Top row: Goldie Locks, Happy Hour, Home Run, Flirt Alert, Spitfire, Shore Bet, I Got a Confection (x2), Free Fall. Second row: Bikini, Feisty, I Got a Confection (x2), Absolutely Mauvelous, Twinkle, Outrageous, Shore Bet (x2). Third row: Shore Bet, Sweet Serenity, Satin Ribbon (x2), Wear Red (x2), After Hours, Rumors (x2). Bottom row: Risk Taker (x2), Shell Pink, Girly Girl (x2), Peony (x2), Purple Traitor, Stone Cold.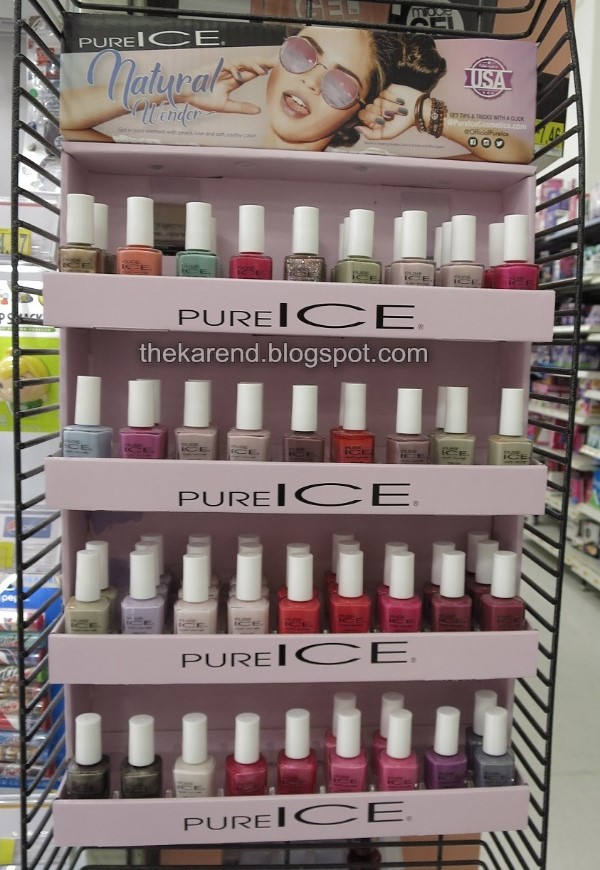 I shared the big sidekick display of SinfulColors Indie Sol last time; this time I have the small shelf top which just has the new colors. I spotted this at Rite Aid. Front: Jelly Ellie, Sunglasses at Night, We're in Tents. Back: Rave New World, Positive Vibez, Sundown Getdown.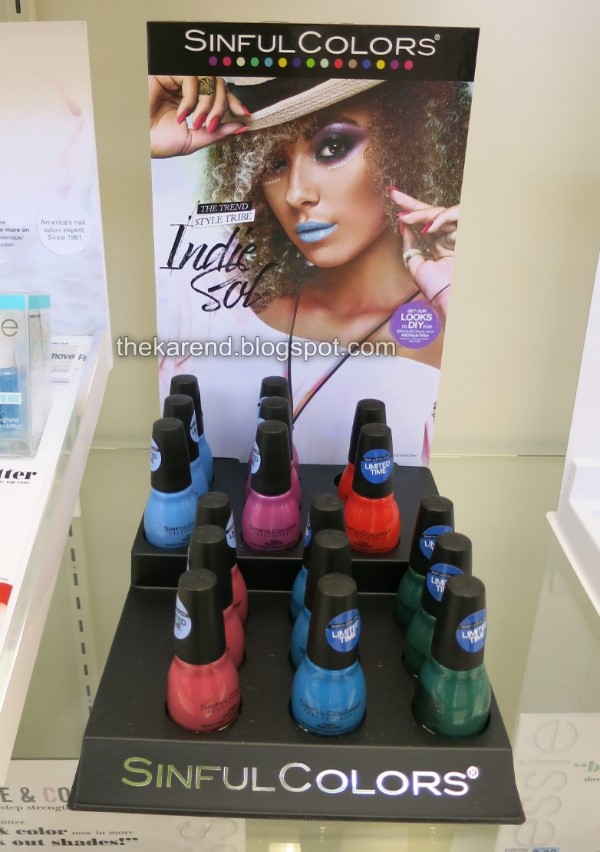 Now I need to get to swatching.