At home in Idaho, they're opening the lift early for eclipse viewing from the top of the mountain. It's only about 88% totality there, but walking down to the village and taking the lift up for a viewing party sure would be easier than fighting the crowds in the 100% path. Except I'm not at home, I'm in northern Illinois. My brother and I planned to use last week and this week to do one more push at clearing out our late mother's house to get it ready to sell. Things didn't quite go according to plan, though. I'm staying with my mother-in-law about a 45 minute drive from my mom's house, and when I arrived discovered water soaking part of the guest bedroom carpet—the ice maker line to the refrigerator had been leaking for some unknown period of time. Getting a call into the flood remediation guys and dealing with the water and damage as best we could until they arrived took some time, and then my mother-in-law went to urgent care for chest congestion and ended up being sent to the ER and getting admitted to the hospital for five days, which meant I had non-house clearing responsibilities to attend to. I was happy to help, of course, just felt bad that I was making my brother take so much more of the load at our mom's place. Fortunately, one of my sisters-in-law arrives later today to take over errand running and medicine monitoring and such, so things should get less stressful for me soon. At the moment, the patient is sleeping, so I have a bit of time to write a post with all the display photos I've been saving up since my last
display post
in July.
Let's kick things off with a China Glaze display I saw at Fred Meyer. The display card just said "Live in Colour" but the shades in it appear to be the Summer Reign collection. Top row: Sunset Seeker, Flame-boyant, Sultry Solstice, Simply Fa-Blue-Less. Second row: I Truly Azure You, Emerald Bae, High Standards, Rose is My Name. Bottom row: All Glammed Up, Chroma Cool, Summer Reign, Sun-set the Mood.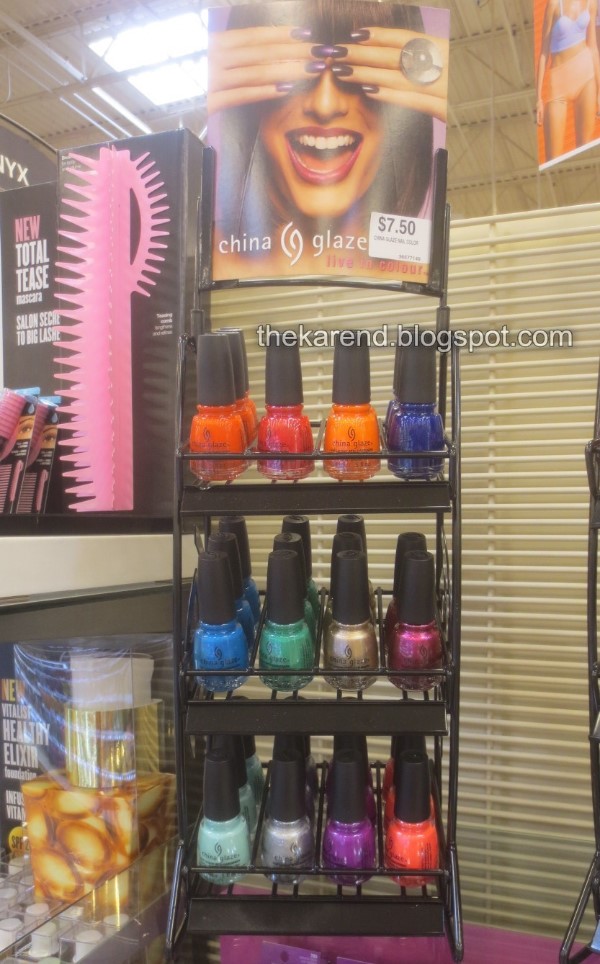 Later I saw a Summer Reign display at Sally Beauty but it was the random arrangement of shades type so I didn't spend much time trying to figure out what was there.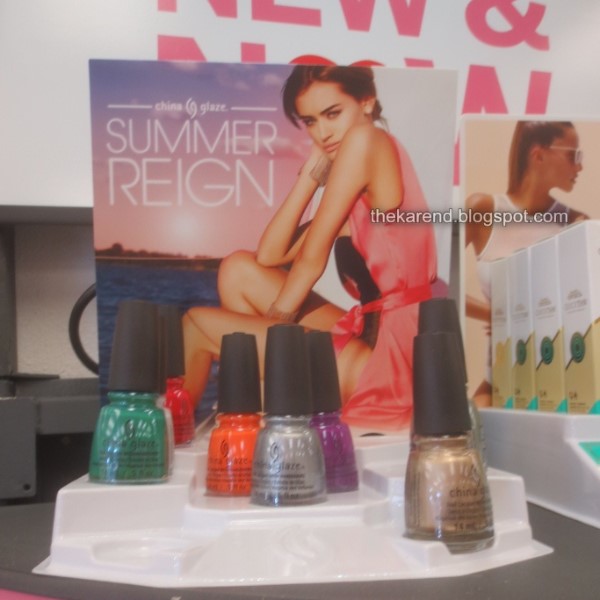 Sally Beauty also had a China Glaze Street Regal display with some autumnal colors in it. I will just wait patiently until Fred Meyer gets it so I can see all the shades in the collection.
Wrapping up China Glaze news, Sally Beauty had a much more easy to parse China Glaze display for the My Little Pony collection. Front row: I Just Canterlot, Sweet as Pinkie Pie, Kill 'em with Kindness, Applejack of My Eye, Cutie Mark the Spot. Back row: Too Busy Being Awesome, One Polished Pony, She's a Mane-iac.
Some shades were sold out in full size but fortunately I found them in the bins of minis nearby. Left to right: I Sea Ponies, Where's the Party Cannon At, Hay Girl Hay, Let Your Twilight Sparkle.
Up by the register, they had two duo kits with My Little Pony colors. One Polished Pony has that shade and She's a Mane-iac plus cute decals. Songbird Serenade had two shades not in the other display, Best Ponies Forever and Songbird Serenade, and two rings.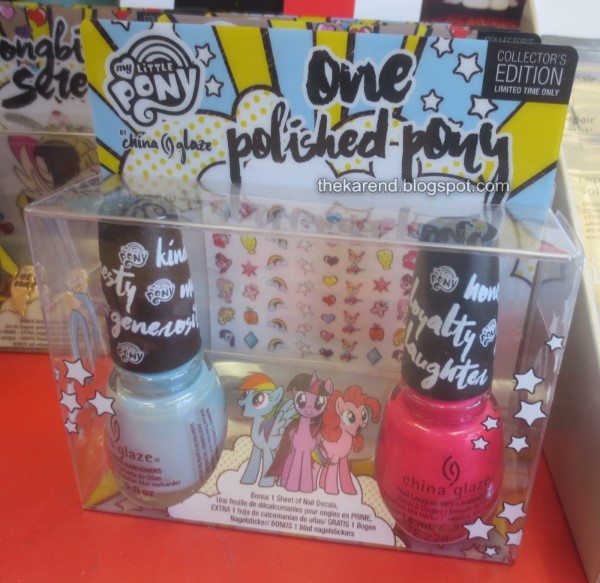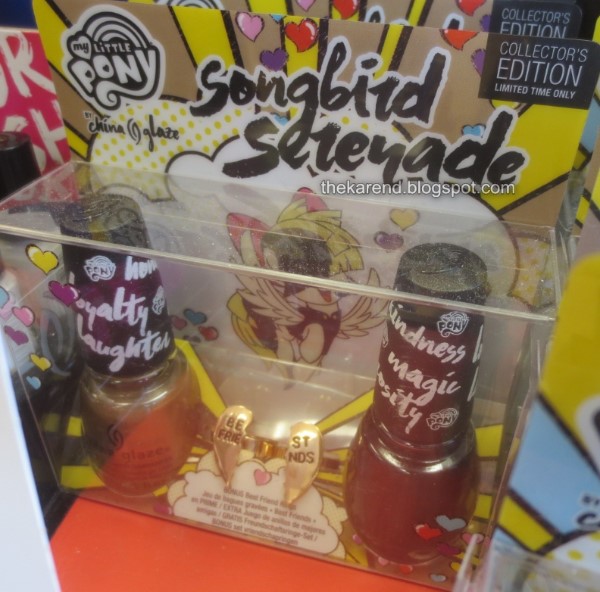 Back at Fred Meyer, I was excited to see a new brand: Double Moon. This display had two different stamping kits, called Beauty and Wisdom—each with a small stamping plate, scraper, and clear stamper—concentrated cream nail polish remover, and many shades of polish (which I assume are good for stamping though they aren't labeled as such). Front row colors: Naturalist, Eucalyptus, Palo Santo, Warm Earth, Stoneware, Black Light, Base Coat, Top Coat. Back row: White Vapor, Clementine, Plunge Pool, Cactus Flower, Red Harvest, Sun Canyon, Mystic Peak, Baby Moon.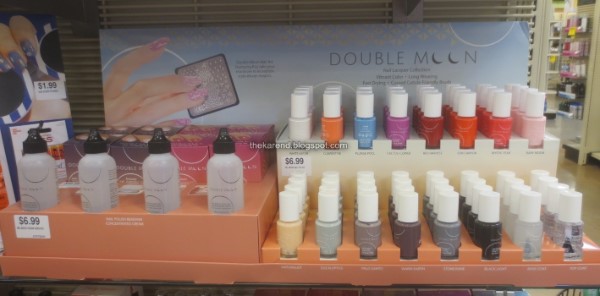 Essie has the Gel Couture Gala Collection out now; I first saw it at Rite Aid. Front row: Wearing Hue, PR Stunt, Inside Scoop, Last Night's Look, Sizzling Hot, Style Stunner, Top Coat. Back row: Living Legend, V.I.Please, Beau-tie, Front Page Worthy, Star Studded, Fashion Faceoff, Top Coat. Along the right side, there are color and top coat duos with Wearing Hue, V.I.Please, Inside Scoop, and Style Stunner.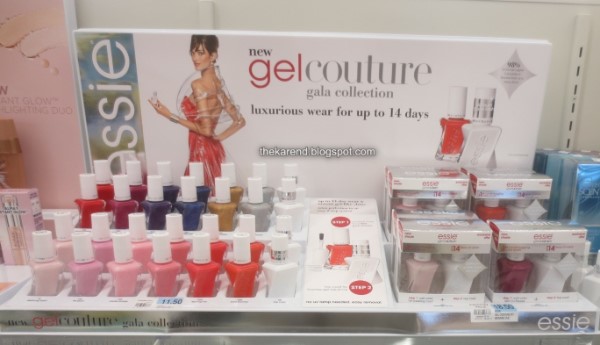 There's also an endcap display for the Gel Couture Gala Collection in some Walgreens. This has the same shades as the shelf top, just more bottles of each and more pairings in the duo kits.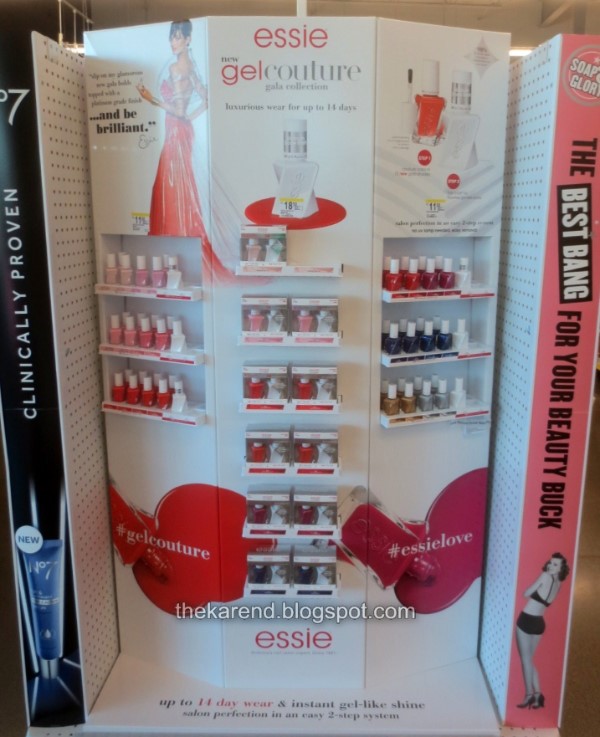 There are new shades from Essie in the Treat Love & Color line as well: In a Blush, Pinked to Perfection, Good Lighting, and On the Mauve. I saw these at Walgreens.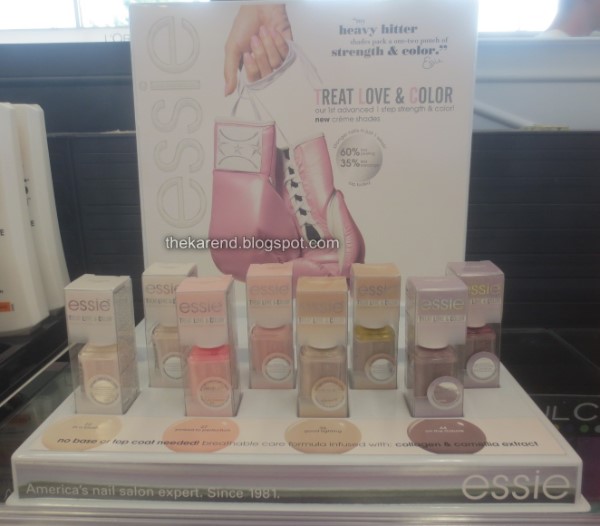 Essie still makes regular polish, too; a Walgreens in Illinois had the fall collection out this past week when I was running around picking up prescriptions (one of the meds my mother-in-law takes is so exotic that the hospital pharamacy didn't carry it and we had to use her personal supply). Left to right: As It, Knee-High Life, Girly Grunge, Mixtaupe, Saved by the Belle, and Dressed to the Nineties. There's also Gel Setter top coat here.
Chromaticity is the newest Finger Paints display at Sally Beauty. Three shades (all infused with Argan oil, so similar to Sally Hansen Color Therapy and L'Oreal L'Huile Vernis): Slate of the Art, Dimensional Design, Rainbow Puddles. (Edited to add: I later found out there were six shades in this collection. The ones missing from this display are Liquid Lilac, Multi-Colored Masterpiece, and Surreal Sunset.)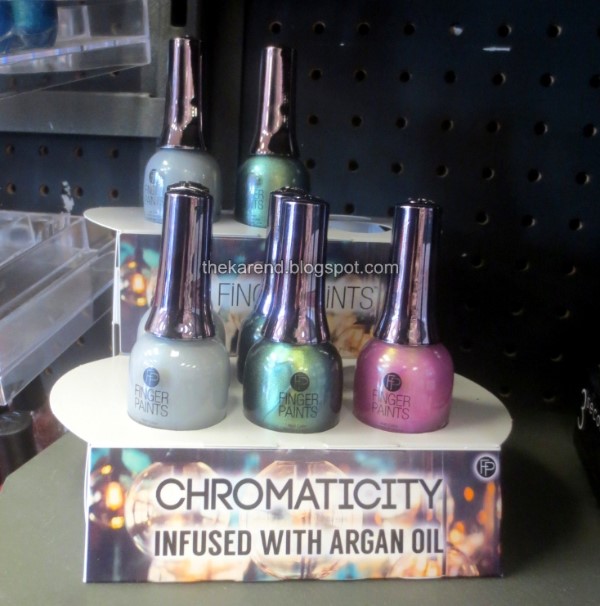 The only new stuff I saw at Five Below once I got to one were Fresh Paint mood polishes. These are in opaque bottles and cost $5 each, which is a bit pricey for Five Below. Shades I saw: Midsummer's Night, Wander-Dusk, Firefly Sunset, Celestial Dawn. Well, I think those are the names; I had to fill in the blank at the end of three of them as they were cut off on the label (or else Celestial Daw is a thing).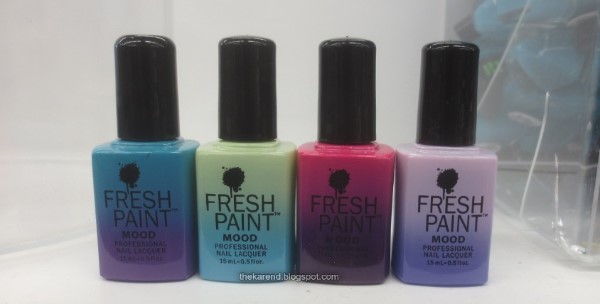 Fred Meyer had a different variant of the Look Tropical Punch display than I'd seen at Rite Aid last month. This one had some of the same colors of polish as the other but also a nail art kit with top coat, dotting tools, brushes, and a nail wheel. Shades here: Lime, Coral Cove, Black, Aqua, Persimmon, Sunset Beach.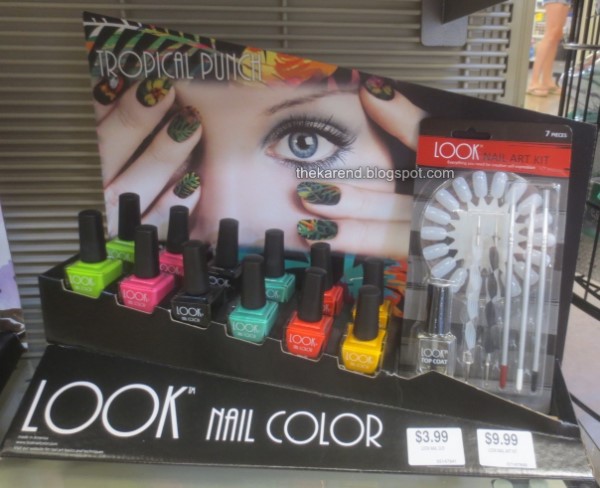 NW Beauty was the first place I saw OPI's fall collection, Iceland. Top row: Less is Norse, Check Out the Old Geysirs, I'll Have a Gin & Tectonic, One Heckla of a Color, Reykjavik Has All the Hot Spots, Aurora Berry-alis (sold out, of course a pink sells first because muggles). Bottom row: Icelanded a Bottle of OPI, That's What Friends are Thor, Krona-logical Order, Suzi & the Arctic Fox, Turn on the Northern Lights, This Isn't Greenland.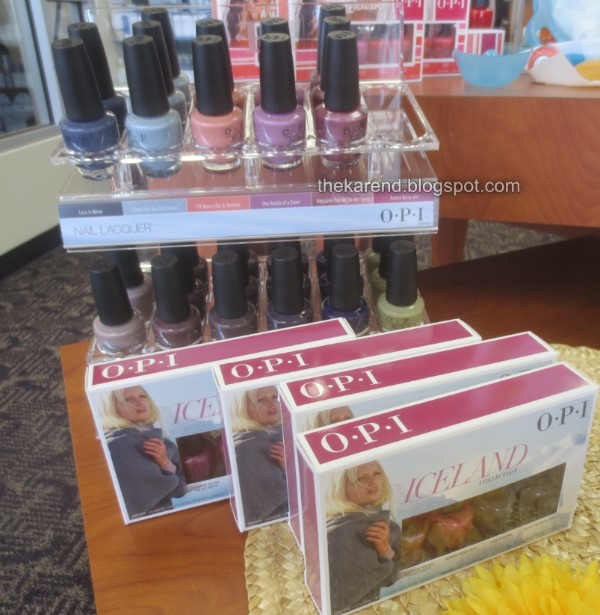 I give them props (that's not still a thing, is it? hi, I'm old) for the fugly light green; I almost bought that one but I'm trying to buy fewer cremes, especially salon-priced ones.
The mini set has Reykjavik Has All the Hot Spots, Aurora Berry-alis, Less is Norse, and Suzi & the Arctic Fox.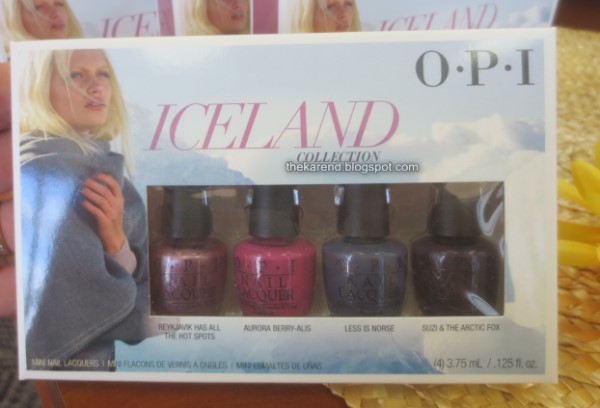 The Infinite Shine line has the same shades; this had its display card in place unlike the regular line. Here, the sold out shade was the other pink, Reykjavik.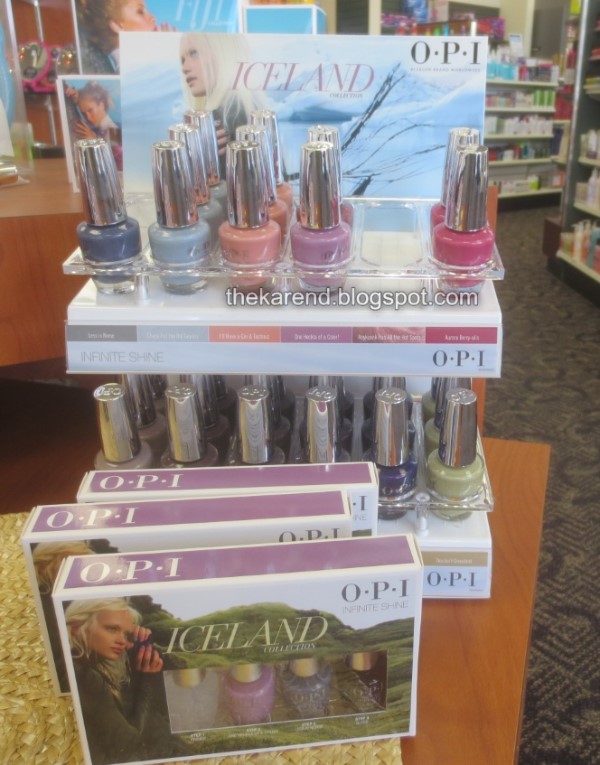 The Infinite Shine mini set has primer, One Heckla of a Color, Less is Norse, and Gloss.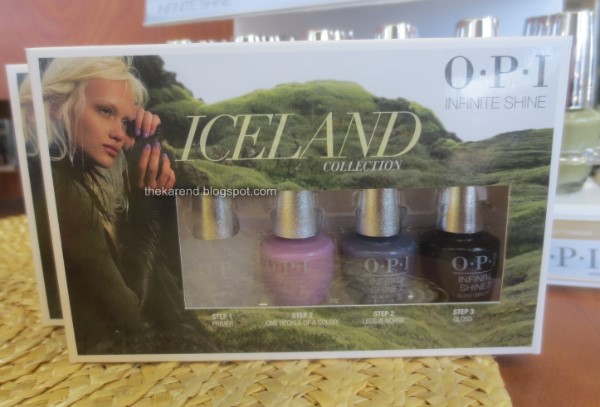 My WalMart restocked so now I know that empty space between the stamping kit and the liquid latex in the Pueen section is for a stamping plate.
Revlon has a pretty Colorstay display called Summer Brights that's all core colors. I spotted this at Fred Meyer. Left to right: Royal Flush, Pocket Aces, Lady Luck, Jokers Wild, Cha-Ching (the pastels side of the display starts here), Full House, Lovestruck, To the Chapel, Well Suited (which isn't part of the display but was neatly stocked there by some creative employee who saw it fit it), Top Coat (x2).
I had been waiting and waiting for the Sally Hansen Insta Dri Crayola colors to appear at my regular stores, but the didn't and I got anxious so based on a snippet of information I read on Facebook I made a special stop at Target (the closest one to my house is over an hour away and in a strip mall that's inconveniently located in relation to my normal shopping route) and there they were. Finally. Such a relief. Even though they're cremes, I bought them all because Sally Hansen and Crayola both have good memories associated with them for me. Top row (all two slots each, or x2 in my usual notation): Wild Strawberry, Sunset Orange, Carnation Pink. Second row (all x2): Dandelion, Granny Smith Apple, Cerulean. Third row (all x2): Vivid Violet, White, Scarlet. Fourth row (all x2): Razzmatazz, Denim, Purple Heart. Fifth row (core colors begin here): Clearly Quick (x2), Sugar Poppy (x2), Peppy Le Fuchsia, Sonic Bloom. Bottom row: Cinna-snap (x2), Cherry Fast, Leapin' Lilac, Set Sail, Re-teal Therapy.
It wasn't until a couple weeks later that they finally showed up at my Walgreens, and then it was in a smaller display that didn't have spots for all twelve shades yet had two for non-Crayola colors. Top row (all x2): Wild Strawberry, Sunset Orange, Carnation Pink. Bottom row: Cerulean (x2), Vivid Violet, Granny Smith Apple, Cherry Fast (not a Crayola Color), Clearly Quick (ditto).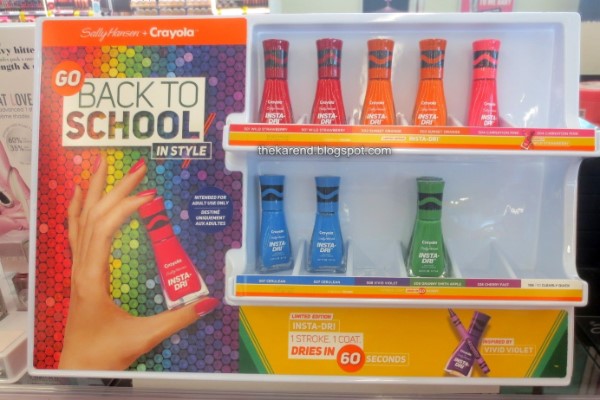 A Walgreens here in Illinois had a corner Go Back to School display with more shades, but still not all the Crayola ones. Top row: Wild Strawberry, Sunset Orange, Carnation Pink, Dandelion, Granny Smith Apple, Cerulean, Vivid Violet, White, Mauve It, Petal Pusher, Expresso, Clearly Quick (seriously, these last four slots should have been the other four Crayola shades). Bottom row: In a Flash, Sugar Poppy, Pumped Up Pink, Cinna-snap, Go for Gold, Pink Blink, Rapid Red, Black to Black, In Nude-tral, Slick Slate, Peachy Breeze, Cherry Fast.
The Meijer closest to my mother-in-law's house had two Sally Hansen + Crayola displays. One was the same as the Target one, the other was this shelf top which oddly put two shades in some of the slots. Left to right:
Black to Black (core shade, sold out of this display), Sunset Orange and Wild Strawberry, Carnation Pink, Granny Smith Apple and Dandelion, Cerulean, Vivid Violet, White, Scarlett, Razzmatazz, Purple Heart and Denim. This also had some patterned emery boards that appeared to be matches for Salon Effect strips designs (RIP).
Poking around the disaster that is the nail polish aisle at WalMart, I saw that Salon Perfect has a treatment plus color collection, Naked Nutrients, out like some of the salon brands have done (Essie, China Glaze, Zoya, OPI). They weren't shown to their best advantage because they were stocked behind the little divider that pushes the stack forward when a bottle is removed, but hey, it's Walmart. I don't think they give their folks the time to maintain the store the way they should. Colors here: Whipped Cream Kisses, Pass the Skinny Dip, Ballerina Slippers, Sea Shell Sweetie, Mauve Mood, Birthmark Beauty, Stick to Your Guns, Brownie Scouts Honor.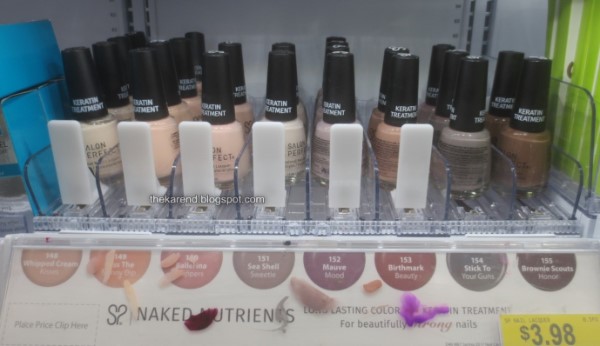 At Fred Meyer, I saw a SinfulColors #SchoolGoals display that had a different line up of shades than the one I saw at Walgreens and shared in my Look/Sinful
display post
last month. Left to right: Zoned Out, Study Break, Poppy Talk (these first three are new, limited time "Matte Master" colors), Taupe is Dope, Hazard, Sail La Vie, Rise & Shine, Clear Coat.
The newest collection from SinfulColors is Punk Yourself, which features several shades of Hypnotic Transforming Top Coat. These give an effect something like the
OPI Black Spotted
that was one of my DISOs in 2012. The first display I found was a small one, with only three of the five top coat shades (all in the back row, which I would have remedied if I hadn't found this on a Walgreens run with on of my sisters-in-law; I wasn't embarassed to take display photos with her there but somehow felt that rearranging it would be too weird). Front row: 24/7, Thimbleberry, Mint Apple. Back row: Purpunk, Punk the Town, Redrum (these are the new limited time ones).
A different Walgreens had a bigger shelf top display with all five of the new top coats in the front row: Concrete Jungle, Rebel Rebel, Purpunk, Punk the Town, and Redrum. Back row had older colors for use as bases under the top coats: Navy I Do, 24/7, Mint Apple, and Energetic Red. One slot in the back row was empty but probably should have been stocked with Yolo Yellow based on looking at the SinfulColors website.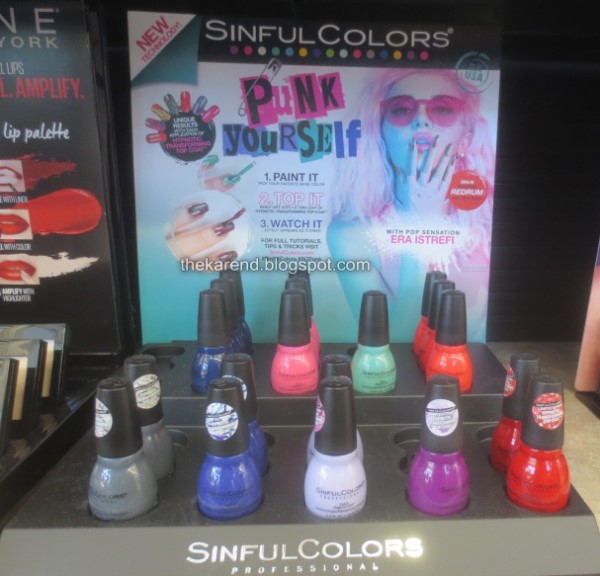 There's also a sidekick display for Punk Yourself; I saw this at Meijer in Illinois. It had multiple slots for all five of the new top coats plus a bunch of other core and repromote shades. Too many for my tired self to document.
There's also a new SinfulShine display out called Fall in Shine. Front row: Swagger, Guilty Pleasure, Emmy Lou Bloo. Back row: Prosecco, Rendezvous, Top Coat. I think the front row are all new but am not sure about that.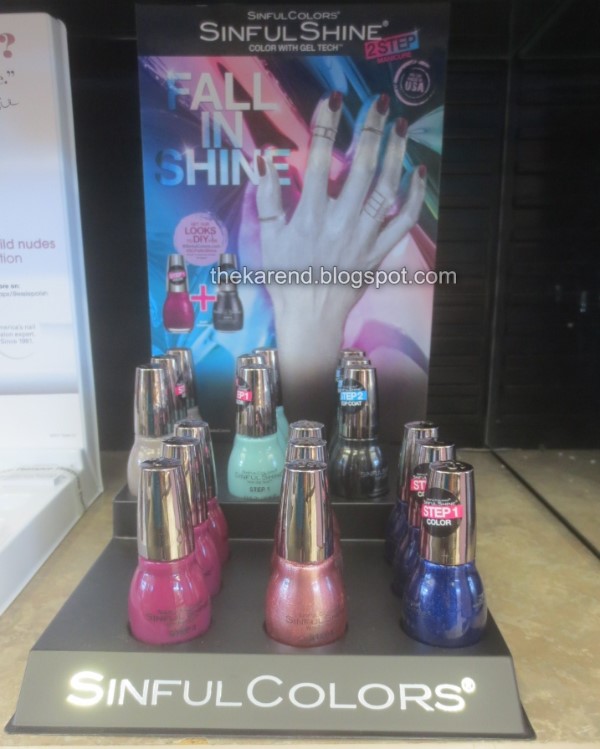 I was happy to see the Studio M Colors That Pop summer display at the Meijer by my mother-in-law's house. I thought I'd missed it by now. Looks like the new bottle shape isn't a huge hit, as this was still well stocked even though the limited edition colors were on clearance already. Top row: Study Break, Band Practice, Bus Buddy, Field Trip, Swim Meet, Drama Queen, Cheer Captain, Glee Club. (This top row is all shades I didn't recognize from earlier summers.) Second row is same as the top one, and the others are filled with colors we've seen before from Studio M, either in the core display or in previous seasonal ones. I could list them, but again, tired.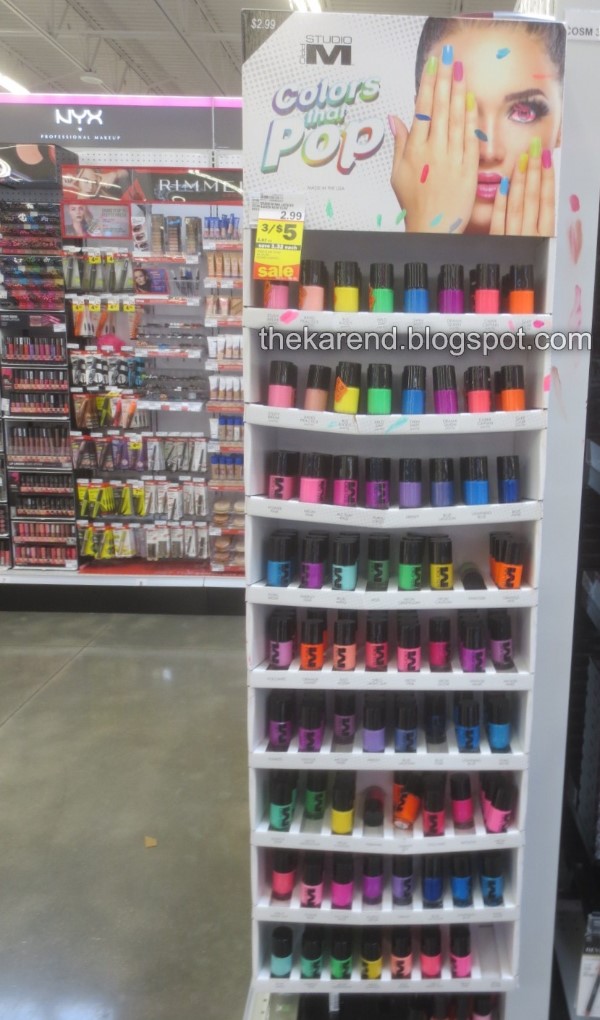 And now I'm caught up with display photos if nothing else in my life. Gotta take my victories where I can!