I managed to resist (so far) buying the limited edition Complete Salon Manicure polishes from Sally Hansen that I shared in my last
display post
, as they were mostly cremes, and goodness knows I have plenty of those. Yet I did snap up the Miracle Gel Color Filters top coats because I love me some layering. Sure, I have plenty of shimmery toppers, too, but these might be not exactly the same as what I already own. Won't know until I try them.
Unlike the regular clear Miracle Gel top coat, these come with a rectangular paperboard hat covering the cap, showing what these are meant to do (transform a base color). Left to right: Strobe, Smoulder, and Diffuse. They also have a colored background on the label on the bottles, unlike the black of the regular top coat.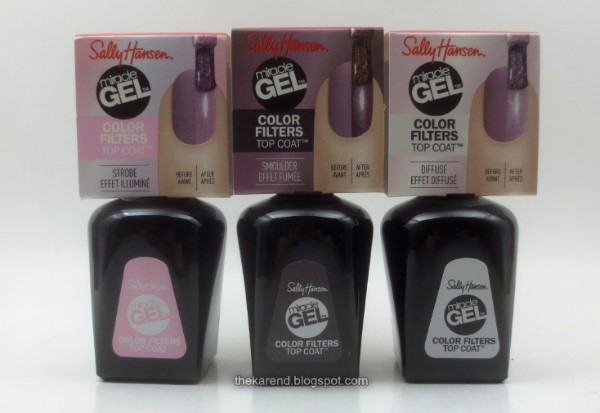 When you take off the hat, you see the caps have colored rings, too, to further distinguish them from the regular clear topcoat, which has a black ring. (And yes, I did switch the order for this photo, to put them numerically, from 004 Diffuse to 006 Smoulder.)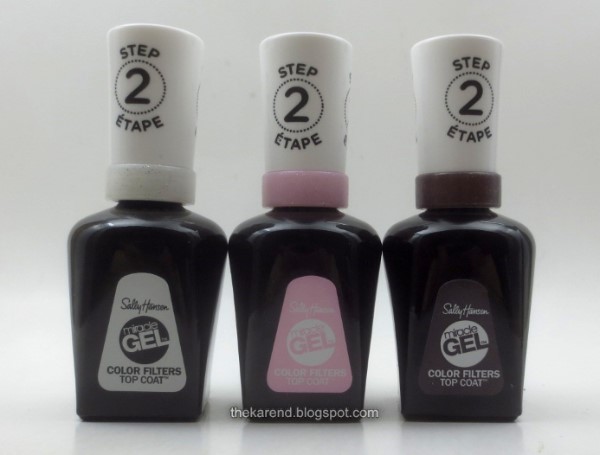 I don't have a lot of the Miracle Gel shades, so for base colors to try these out, I used regular polish, starting with Sally Hansen Complete Salon Manicure in Cherry Cherry Bang Bang. Top to bottom below: three coats of Cherry Cherry Bang Bang unadorned, topped with Diffuse, topped with Strobe, topped with Smoulder. I used one coat of the toppers. Diffuse is a white shimmer; Strobe is pink, and Smoulder is blue shimmer in a charcoal base. The shimmer in Diffuse and Strobe is more dense than that in Smoulder, which does most of its transforming with its dark tinted base rather than its shimmer. Strobe is the only one that shows hints of shiftiness, with some hints of purple or blue peeking out when viewed at some angles.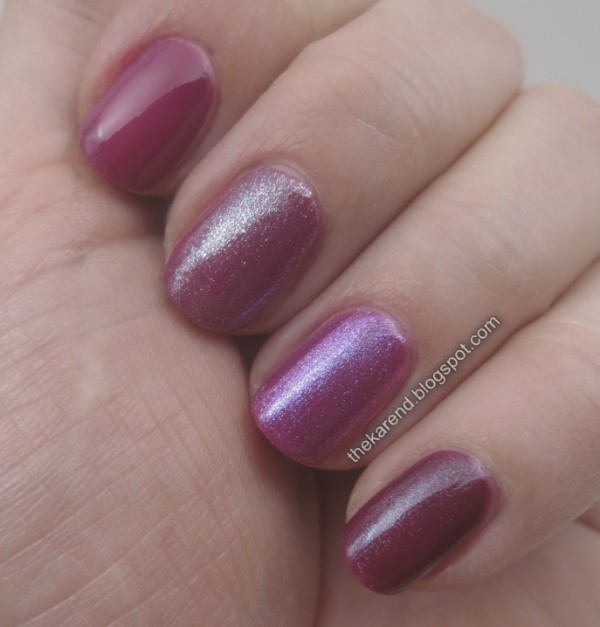 Strobe was my favorite on this deep pink base, with Smoulder coming in second.
In direct light, Diffuse threw off an almost golden glow, which was interesting.
I wanted to see how these would do on a cool base, so I put on one coat of Sally Hansen Insta Dri in Cerulean, then added the Color Filters. Top to bottom: Cerulean alone, topped with Diffuse, topped with Strobe, topped with Smoulder. This time, I used two coats of the toppers; I had some issues getting Smoulder to behave with the extra coat, probably because I didn't give the first enough dry time.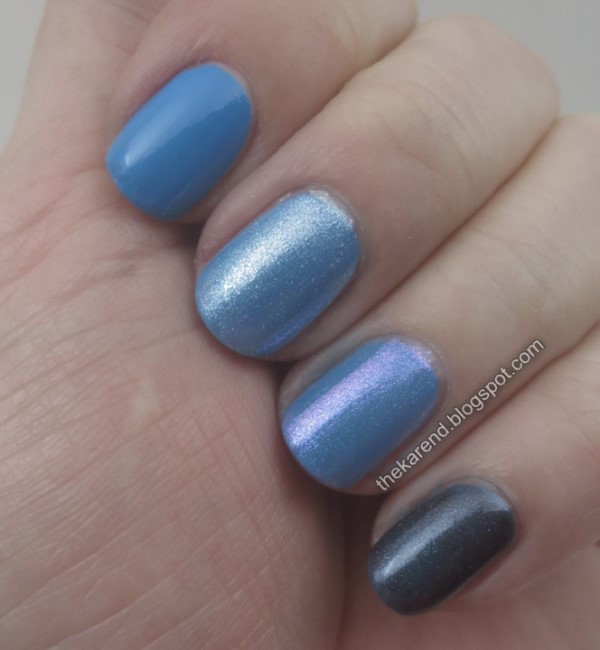 I liked Diffuse more over this blue than I had over the pink, but Strobe was still my favorite; the pop of pink it added made the blue more interesting. Smoulder had the most dramatic effect in this case, making the sky blue into a navy.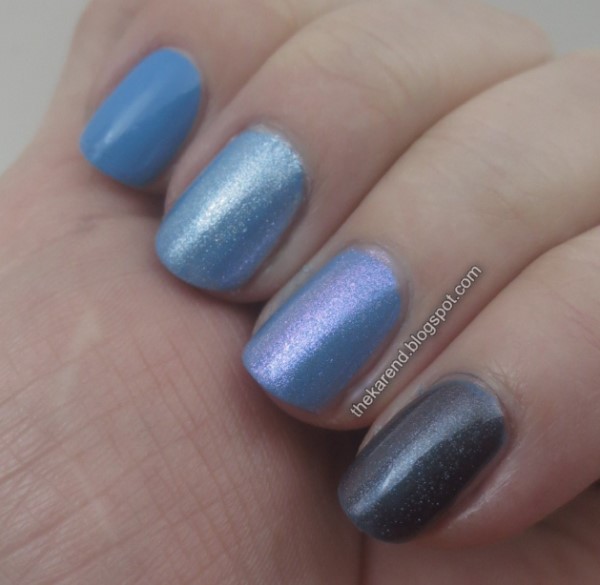 At certain angles, Smoulder looked to have some copper shimmer in it. I hadn't seen that on the pink base, so was surprised.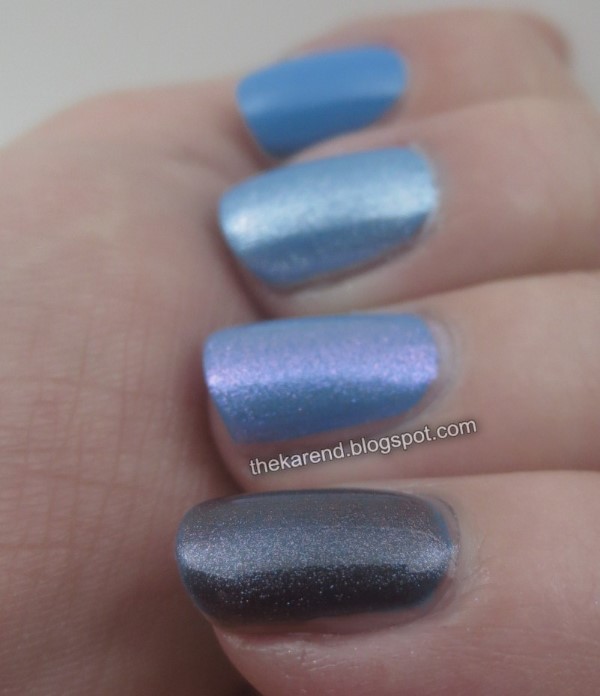 Here's how these looked in direct light:
Having done warm and cool, I next went for a darker base, Sally Hansen Xtreme Wear Out for Oxblood. Top to bottom: two coats of Out for Oxblood, topped with Diffuse, topped with Strobe, topped with Smoulder. I went back to one coat of the toppers, as doing two on the blue didn't seem to change the effects.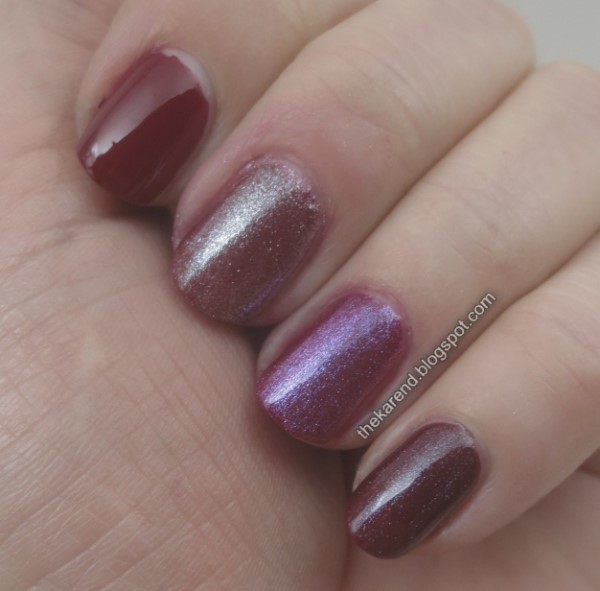 Smoulder was my favorite this time; its dark base paired well with the darker creme underneath, and the darker creme underneath helped the shimmer in Smoulder pop.
In direct light: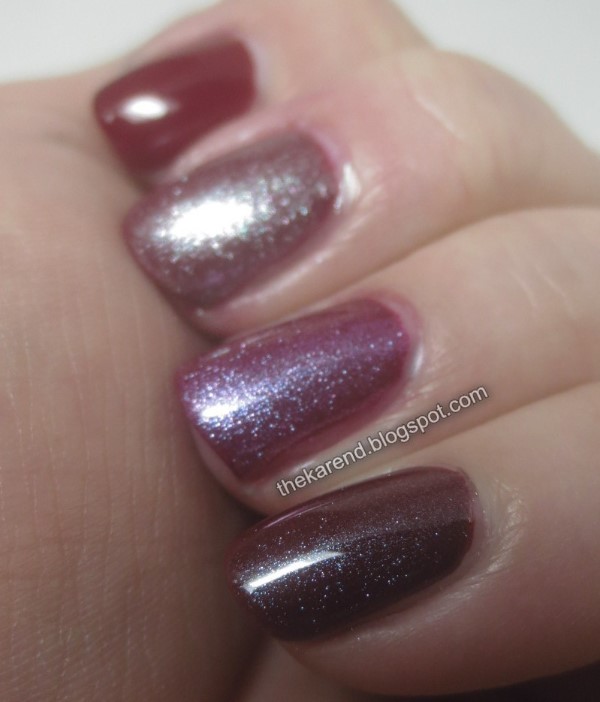 For the last base, I went really warm with Sally Hansen Complete Salon Manicure Fruitti Petutie, a coral orange creme. Top to bottom: three coats of Fruity Petutie, topped with Diffuse, topped with Strobe, topped with Smoulder (all toppers one coat).
The orange underneath really brought out the golden side of Diffuse, and made the pink in Strobe pop. Smoulder turned the orange to a deep red. Of all the base colors, this orange worked best with the trio of toppers as a group.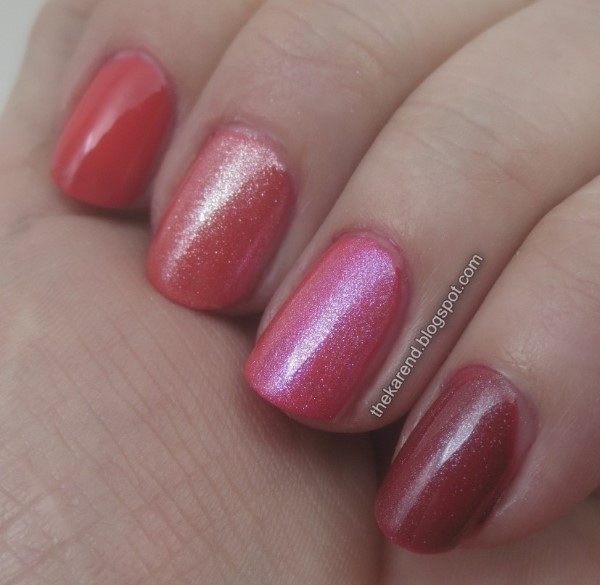 Direct light shot: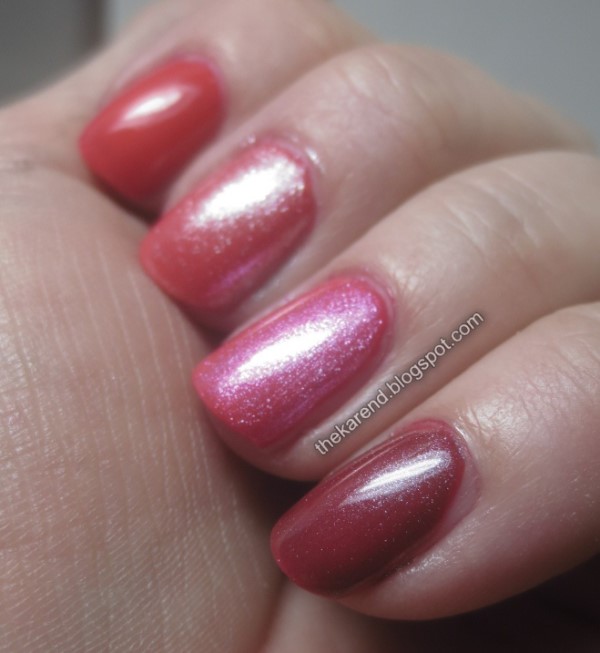 I like these Color Filters. Unlike other shimmer toppers, these don't need a separate clear top coat, as they are top coats. If I could only have one, I think it'd be Smoulder, as the dark tint makes it different than most of my shimmer toppers. Strobe is a close second. Until I put it over the orange, I was ready to say Diffuse was skippable, but now I'm not so sure. It's probably best to get all three to keep one's options open.
Finally, the hiatus news promised in the post title: I'm planning to take the next three weeks off from blogging, give or take a couple days. Mr. K and I will be doing some travelling and while I might get inspired to sit down and work on my laptop, based on past history, I'm guessing I won't. I do hope to do some serious display hunting, though, so hope to return with at least pictures of pretties from several states if not actual polishes.