Nail Wheel Wednesday is taking a break today so I can post the swatches of the Salon Perfect Halloween polishes before Halloween is over. (I know being a better swatcher means being a more timely swatcher; I just don't seem to be able to manage it these days. Guess this blog is more of a historical document.)
There were five new shades released in this year's Halloween display: Ashes to Ashes, Shapeshifter, Under Her Spell, Lust at First Bite, and Dust to Dust.
Shapeshifter is an orange scattered holographic shimmer (perhaps a case could be made for calling it a weak linear holo, too). I did two coats, though it was nicely opaque and one thick coat might have been sufficient. In the indirect illumination of the lightbox, there are no rainbows.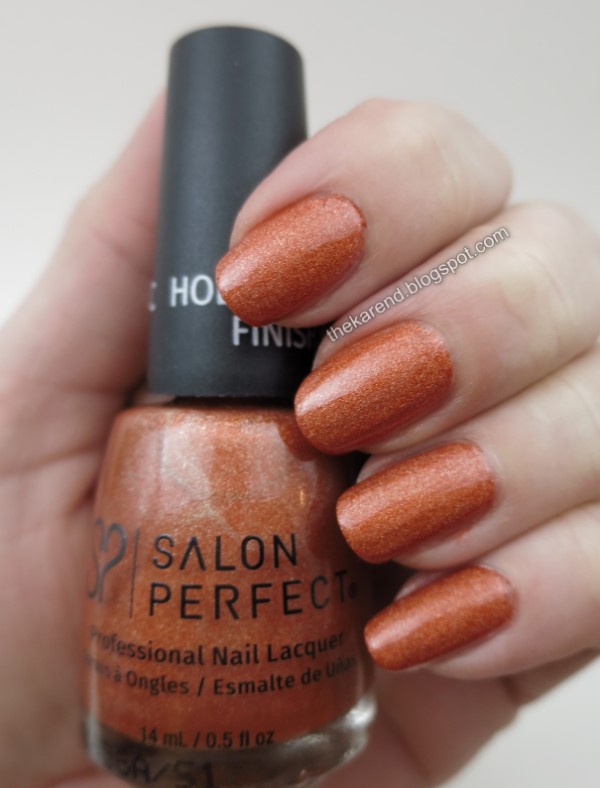 In direct indoor light, some hints of holo start to show:
In sunlight, more colors appear:
I also bought Too Cute to Spook from the display; it's an orange glitter that's been re-released which I missed last year. I did a rough glitter gradient with it over Shapeshifter and rather liked the result (I did add clear topcoat, too).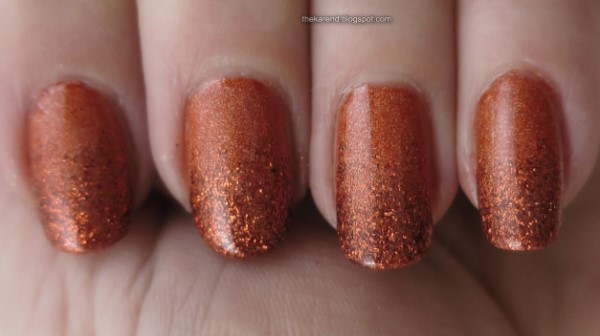 Ashes to Ashes is the other holographic finish in this group; I swatched it next in case the sun decided to try and hide later. This is a two-coat dark grey almost black shimmer that in the lightbox displays no holo effect.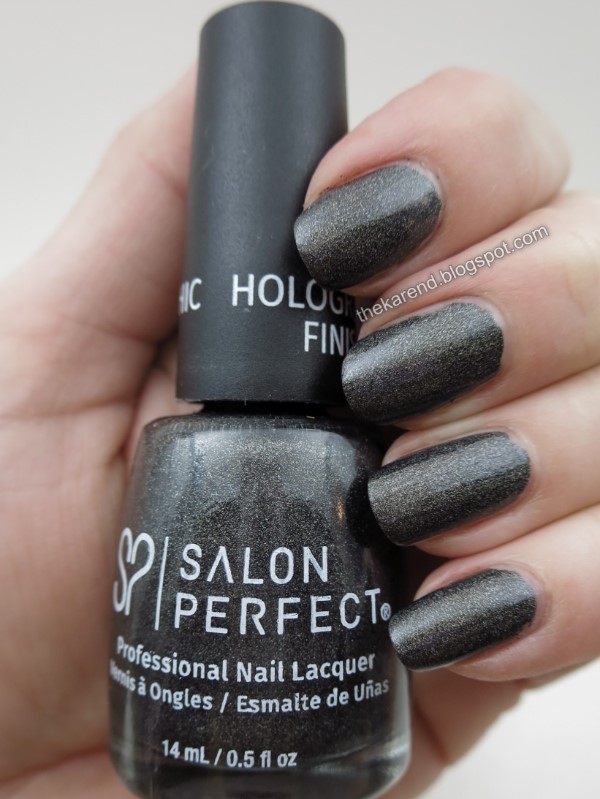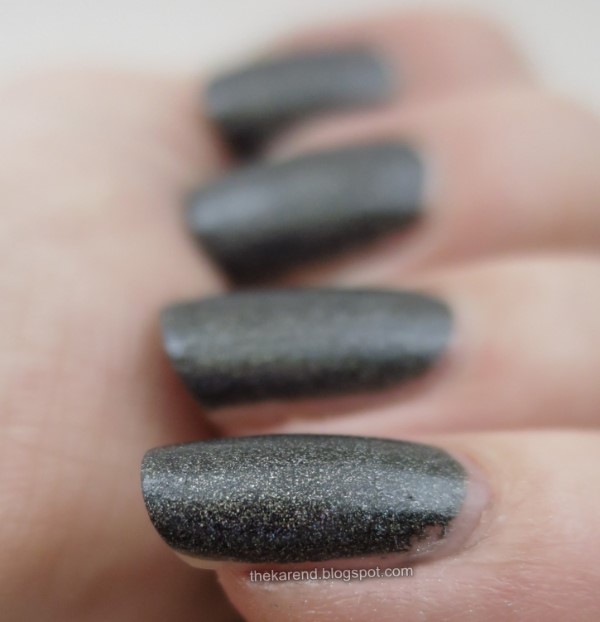 In direct indoor light, though, the rainbows do appear: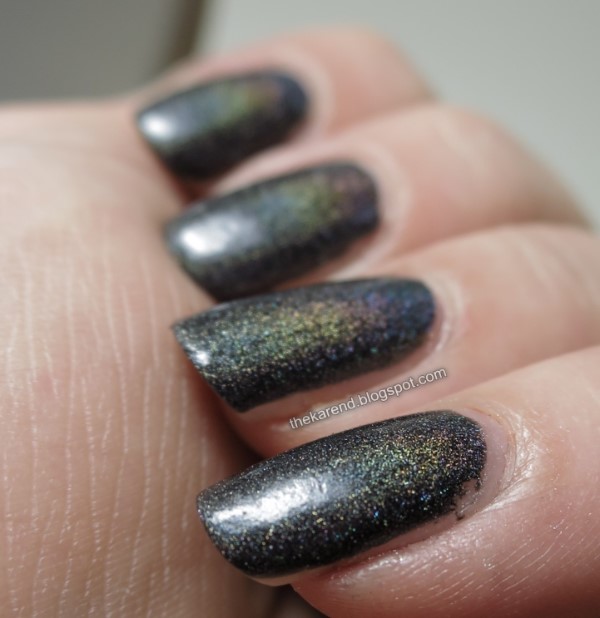 In sunlight, wow, so many colors:
Ashes to Ashes got the rough glitter gradient treatment with Lust a First Bite, a gold glitter. This has clear topcoat on it as well.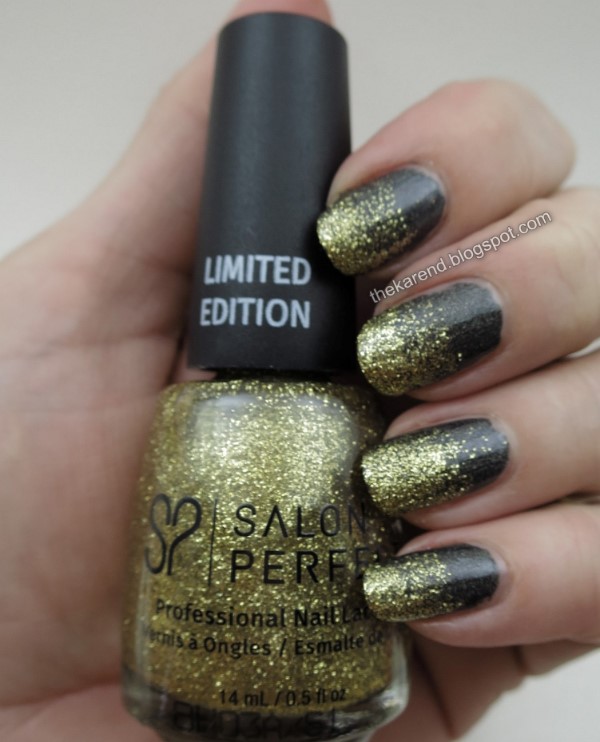 Under Her Spell, a light purple shimmer, looked so sheer in the bottle that I put down a base of Pure Ice Your Majesty, a blue-leaning purple shimmer, on three of my nails before I opened it. My index finger has three coats of Under Her Spell alone, and it's hard to see it's there. Two coats of it over the purple adds a delicate pink and gold shimmer.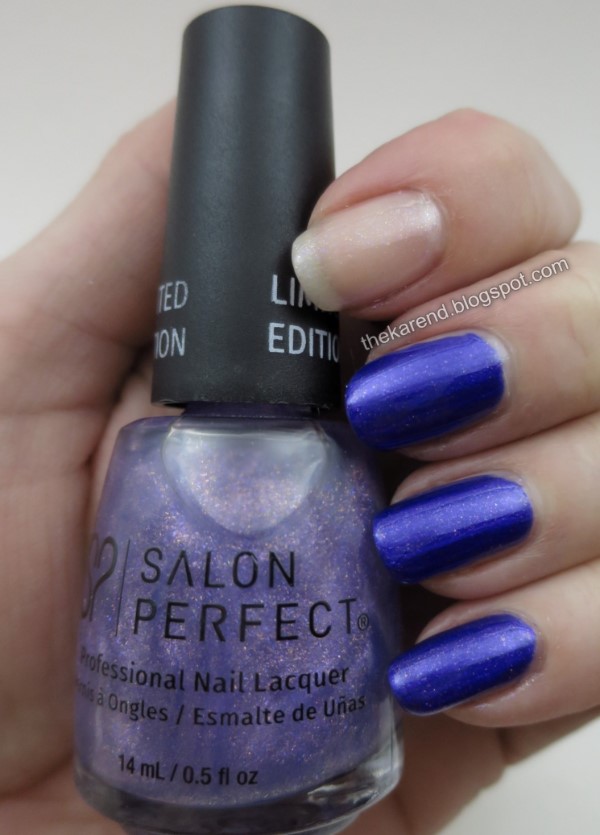 You know I love layering, so I tried some more bases under this one, too. Top to bottom: three coats over a white French tip, two coats over OPI Care to Danse (pale pink jelly), two coats over China Glaze Plur-ple (medium purple creme), and two coats over black creme. I really liked it over black; it shimmered in purple, gold, and pink.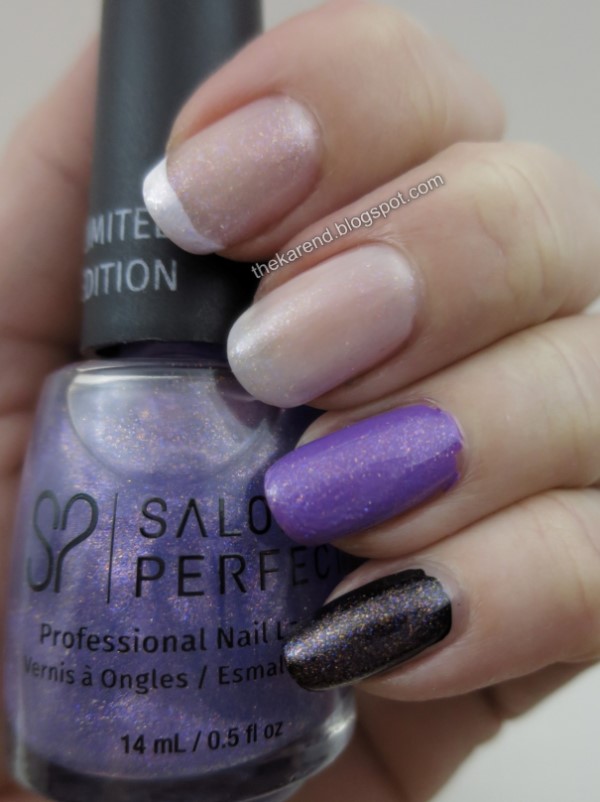 Since I was in layering mode, I tried Dust to Dust over a variety of bases as well. This one has black, silver, and holo glitter in a clear base, but it's so densely packed that it doesn't layer as well as I'd hoped. Top to bottom, one coat of Dust to Dust over: Revlon Silver Base, Salon Perfect Shapeshifter, Salon Perfect Ashes to Ashes, Funky Fingers Dark Knight. I had to add clear topcoat as this one was a bit bumpy on its own.
The colors from the holo glitter popped in direct indoor light: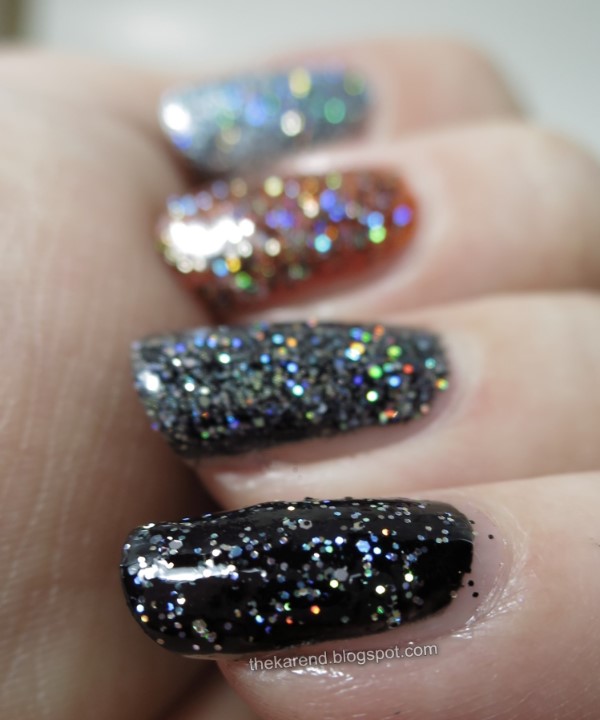 Nine Lives is another re-release I got from the display; it's a black with gold shimmer that covers in two coats.
It seemed natural to try the gold from this year, Lust at First Bite, over Nine Lives. I slicked on one coat of Lust at First Bite on my middle through pinky fingers, which pretty much obscured the base color.
I'm glad I picked these up. I'm also glad that some brands are still putting out limited and holiday editions.