A quick search of my archives shows me the last time I did haul post was after last year's Indie Expo Canada; I was a bit more prompt with that one, as I was traveling with my lightbox so could take decent photos and also didn't leave right from the Expo to head back home as I did this year. I'm happy to report that all my new polishes made it back safe and sound and look just as good as if I'd gotten them documented right after I got them.
Onward, and let's start with the VIP bag, specifically the non-nail items, which I pulled out and took a photo of without waiting until I had my lightbox handy because I wanted to put the wax melts in a cool place as soon as I could. There's Relief Daily Cleanser with Pink Clay and Papaya Extract from
Terrah Essentials
, a scented wax sample from
Rogue Lacquer
, a wax melt from
Under a Hula Moon
, a bath snowball from
SoGa Artisan Soaperie
, and an eyeshadow from
Clionadh Cosmetics
.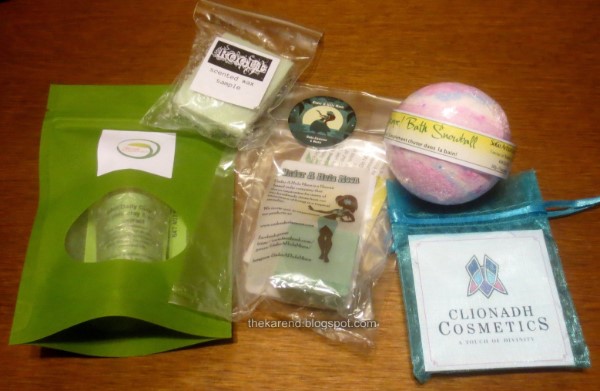 There were two non-polish nail items in the VIP bag: some decals from
Inspired Sense
(which I failed to notice had a note on the card that said to come to the their booth for a prize, so that makes me sad) and a crystal file from
Nail Stuff
.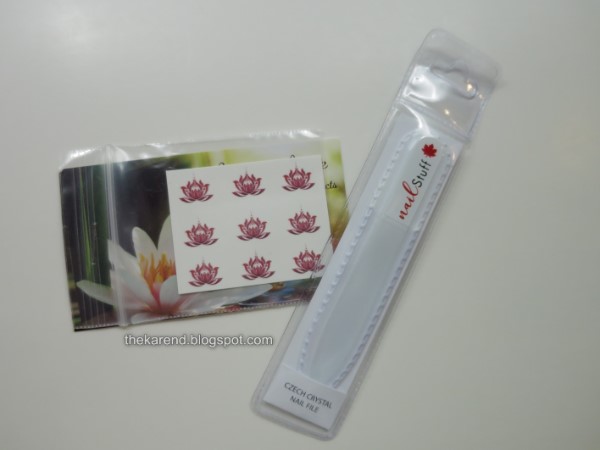 The polish shades for the VIP bags varied for some of the brands. I ended up with a fair few green ones, which I'm perfectly happy about. Left to right:
Ever After
Seaweed Facials,
Girly Bits
Very Important Polish,
Native War Paints
Special Effects VIP That's Me,
Bees Knees
Jefferson Starships,
Fiendish Fancies
Kaiju.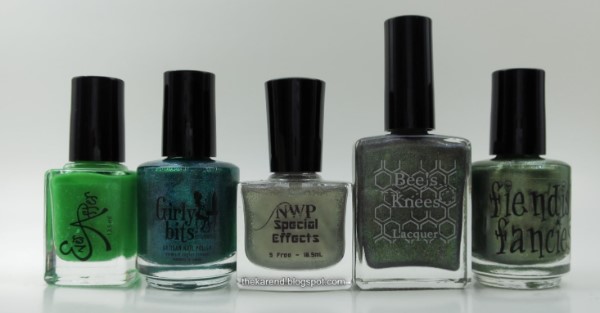 There were also a good number of purple polishes in my VIP bag, along with a couple other hues that added variety. Left to right:
Paint It Pretty
Only @ Expo Eh,
Alter Ego
Poised Heroine,
Fair Maiden
Violet Eyes,
Colors by Llarowe
You Like Eh,
Beyond the Nail
Cherry Beach,
Turtle Tootsies
A Rose Is a Rose.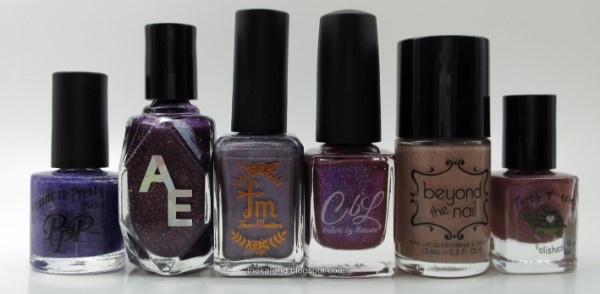 Of course I bought a bunch of polish, too ... nothing like being able to see the pretties in person, and I had that big VIP bag with plenty of room left for purchases. Here we have
Turtle Tootsies
Indie Expo 2018, Canadian Exclusive, and Canadian State of Mind;
Beyond the Nail
Butterfly Garden, Royal York, The Junction, and Razzle Dazzle.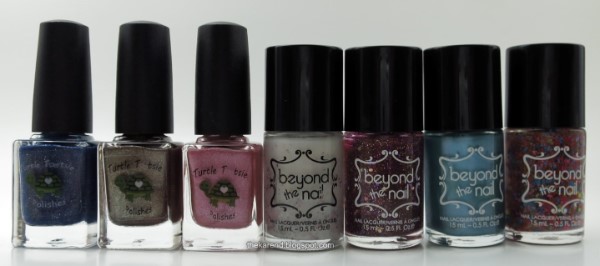 Turtle Tootsies had some cute gifts with purchase, too; I got this goofy cute pen stylus with the URL for their
website
, which I believe is re-opening July 1st: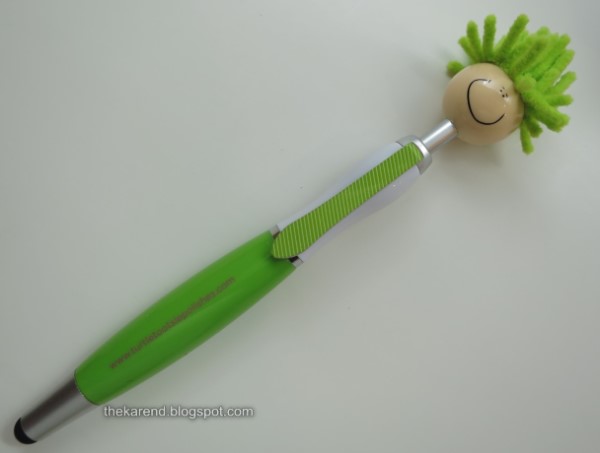 I succumbed to
Bees Knees
to the tune of six polishes: Ghoul Got Your Tongue, The Fool, and The Magician (these first three are magnetics); Sparkle on Her Face, The Rise of Dick, Defender of the Rainbow (Proto 2; this was a surprise gift with purchase).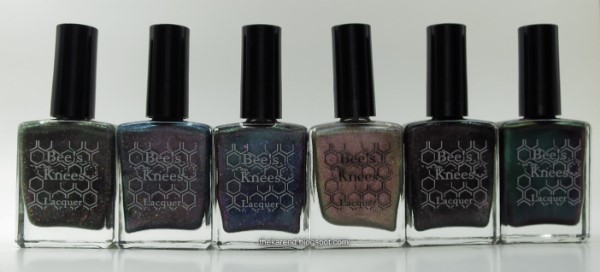 At
Paint It Pretty
and
Ever After
, I restrained myself (though after I left, I realized I restrained myself too much and didn't get the Ever After / Rouge duo; eh, stuff happens, and it's not like I didn't get plenty of great polishes). Paint It Pretty Bling Up Your Life at IEC and Blue Me Away at IEC. Ever After Quick Dry Top Coat (I know, I have lots of topcoats, but I got a chance to use this one at the polish making workshop and really liked it), Never Enough, and Raspberry Coolata.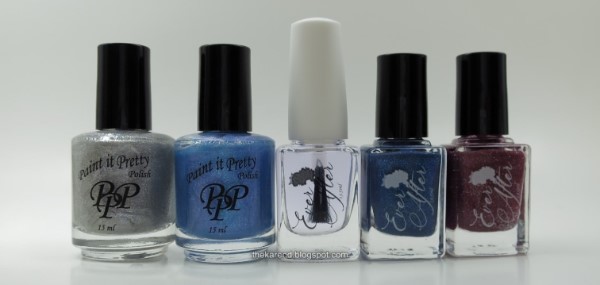 CANVASlacquer
ZzZZz Zap and Electric Avenue.
Colors by Llarowe
The 6ix, She's a Beauty, and Yes I'm Loonie Too.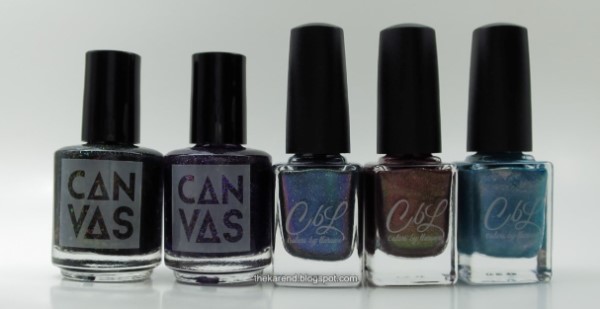 Fair Maiden
Siren-ade, The Illusionist, Wondrous Curiosities, Cinder Hella, Malice in Wonderland.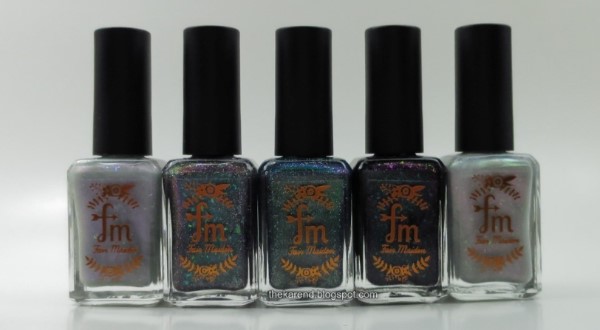 Alter Ego
Gentle Benevolent, Clever Girl, Nice Boy, and She Matters matte top coat.
Fiendish Fancies
Mrs. French's Cat is Missing.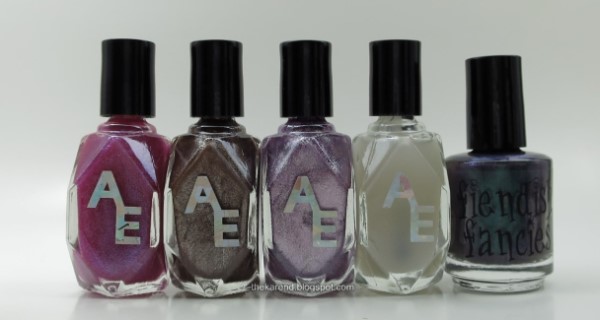 Native War Paints
Special Effects Life in a Glass House, Border Crossing, Road Trip Snacks, and Touring Toronto.
Cuter Cuticles
Acetone Additive in Rose Petals (my first acetone mix-in).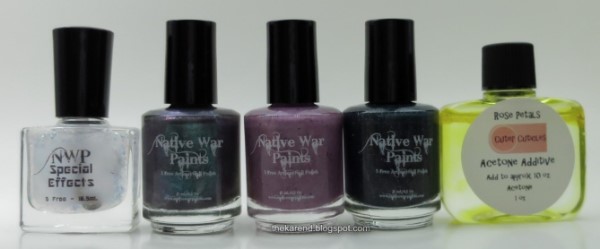 My Indie Polish
Toast of the Town, Queens Quay, and Started from the Bottom.
Girly Bits
(I bought so much they wouldn't fit in one photo easily) What a Bunch Abalone, Age Your Sage, and North of 42.

Girly Bits
stamping plate, Not Common Mules (top row), Sparrow of the Dream, What the Hell Was I Thinking (start of bottom row), Zed, Dark Reflection, unlabelled mystery polish (gift with purchase), Small Batch Prototype 2038.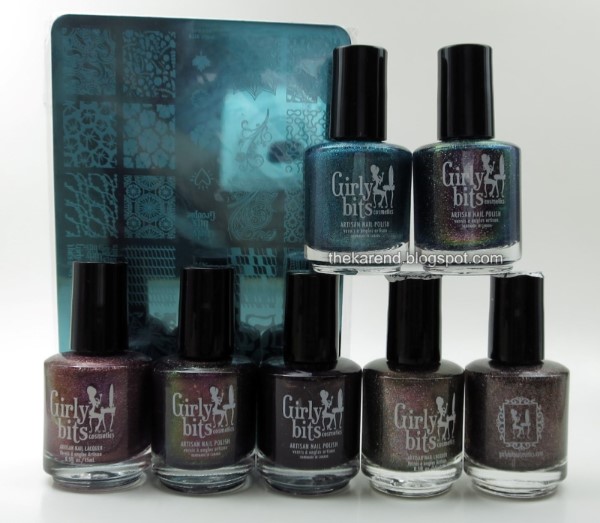 I also got a lot of colorful tissue paper ... this is just a sampling. :D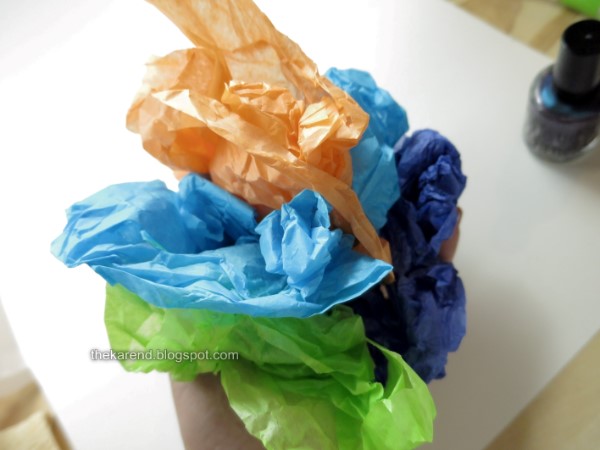 I haven't managed to wear, much less swatch, any of these yet. I do hope to get to at least some of them in the coming weeks (as well as the other three polishes from the
IEC polish making workshop
). Except I also bought a lot of polish on the trip to and from IEC, so I've got my work cut out for me.