I'm starting to see spring collections pop up in some of the nail polish groups I'm in on Facebook, which has spurred me to finally clean out my display picture folders and get them posted. Even though they're old news by this point, since it's been almost four months since my previous
display post
, getting them up her will make me feel better. I'm not sure when I might have more to share, as when I've gone down to the city recently, I haven't gone display hunting like I used to. The excitement isn't there for me, whether because there are so few new things to find relative to the last golden age of mass market nail polish or something has shifted in my brain, I'm not sure. Probably both. It's not just display hunting that's feeling flat for me lately. Accordingly, after I post this, I'll be taking an intentional break from this blog for at least the rest of February. But right now, let's look at some displays. China Glaze Eco Glaze is that brand's entry into the "green" nail polish segment. I saw it at Ulta, in the annoying backlit polish island. Top row: Base Coat, Top Coat, Gardenia Dreams, Sweet Petal, Delicate Daisy, Terrain or Shine, Willow Be Mine. Bottom row: Playful Poppy, Stargazer Michy, Botanika, Fleur de Amour, Edgy Veggie, What So Ferny, Violet Breeze.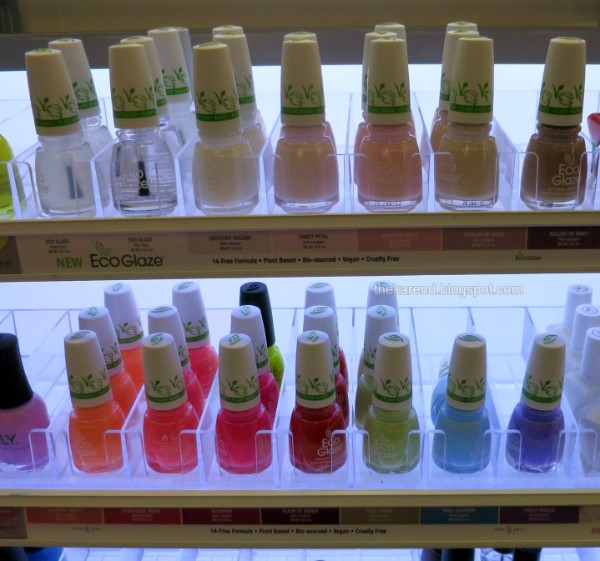 I snapped a photo of this Essie Gel Couture display at Ulta because it said "new + only here", which I guess must apply to the colors, because the line isn't new. Left to right: Final Fitting, Designer Debut (I believe the bottle of this is one slot to the right; yes, I should have rearranged to clean this up like I used to), Rue de la Ruby (the top bottle in this column), Through the Lens, Berry in Love, Tweed-to-Know, and Top Coat.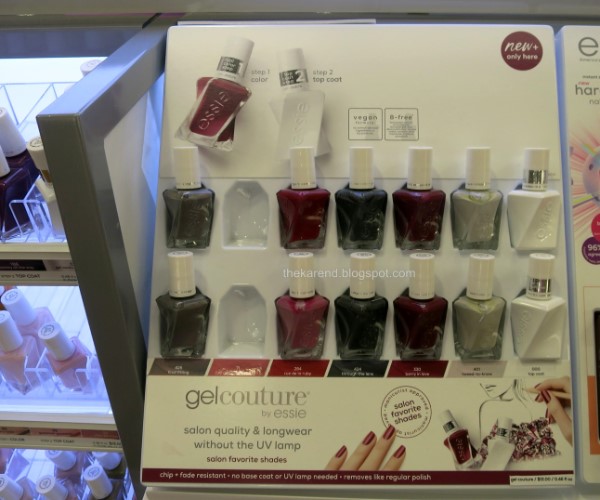 I came across some Essies with silver designs printed on the caps at Target. Didn't see a display card, but some Googling leads me to believe these are from Study Tips, a fall 2022 LE collection that was only at Target. Shades left when I saw them: Sharpen Up, Nail the Grade, Homework It, Extra Extra Credit, and Doodle the Minimum. The missing one is Study Tips, a navy blue.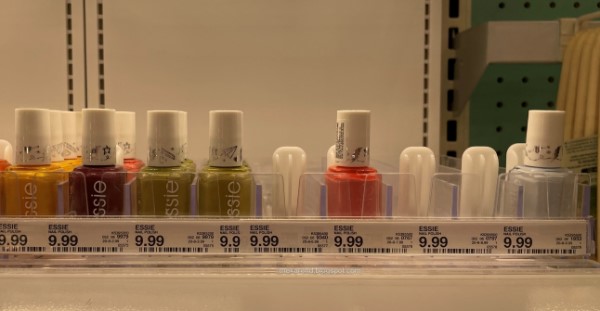 I saw the Essie Winter 2022 collection at Walgreens, tucked on a bottom shelf. Left to right: Head to Mistletoe, Sleigh It, Wrapped in Luxury, Not So Silent Night, Carols & Caviar, Midnight Delight.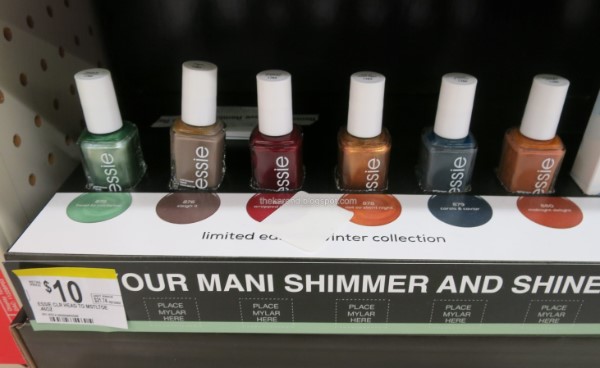 The display for that collection at Fred Meyer was more eye catching, but several shades were already sold out.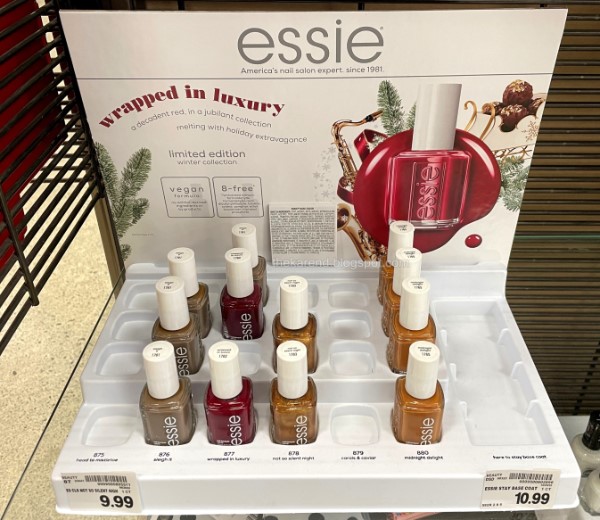 Ulta had an endcap with Glamnetic fake nails. The brush-on nail glue was intriguing; that seems easier than the dropper that most brands have, but since I am pretty happy with adhesive tabs, I didn't get any to try. The nail sets came in different lengths and shapes: short almond, medium almond, and long coffin. There were some "trend collection" limited edition sets. The sets were $15 to $22 and said they are reusable.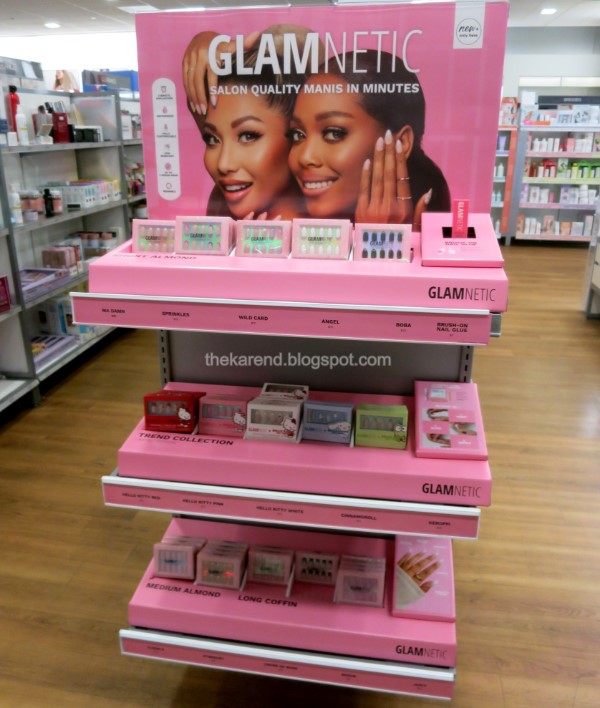 I saw a nearly empty display for the Morgan Taylor Sing 2 collection at Sally Beauty.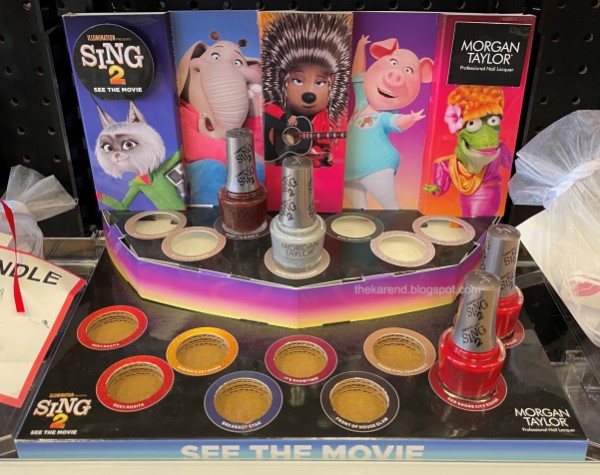 The Morgan Taylor I Wanna Dance with Somebody display I saw at Fred Meyer some weeks later was in better shape when I got there than the Sing 2 had been. Shades here: Record Breaker (slot has another shade in front, Record Breaker is the black behind it; I was in a hurry and didn't have time to fix), Blazing Up the Charts, Belt It Out, Signature Sound, Certified Platinum, Command the Stage.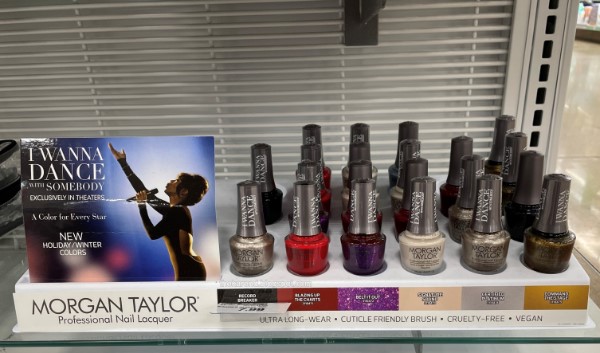 At Sally Beauty, I saw a new to me brand in the core display wall: Nailboo.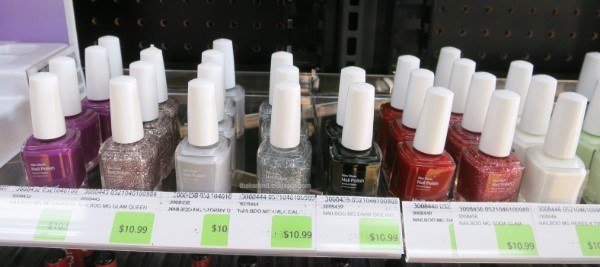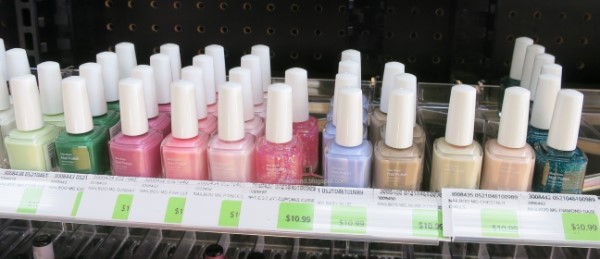 I haven't found much new in nail stuff at Walmart in recent months, but one store did have an endcap with Olive & June fake nails, polish, and nail care, so that was something. The polish shades were: Top Coat (two slots), CV, LD, BP, You're Invited, Bold & Unshaken, HS, Pink Goldfish, and HD.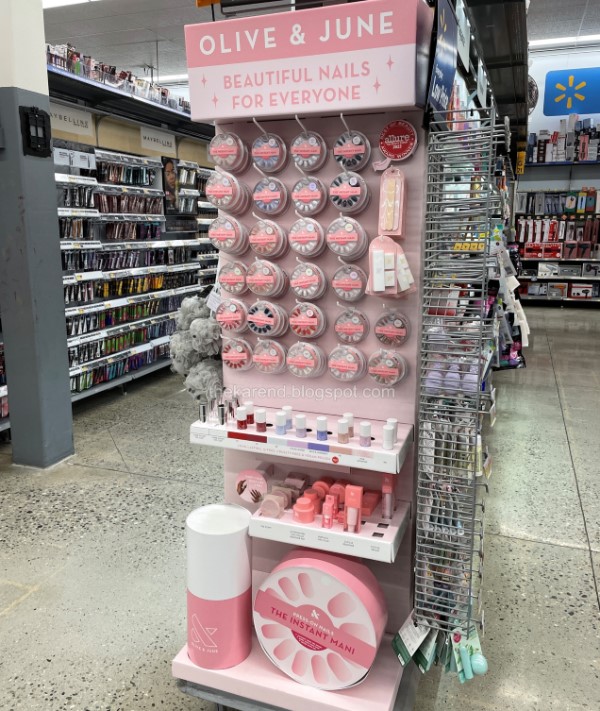 The OPI autumn 2022 collection, Fall Wonders, was very picked over by the time I saw it at Ulta.
I did see several closer to full displays for the OPI 2022 holiday collection, Jewel Be Bold. The first one I spotted was at Sally Beauty. Front row has the glitters: Pop the Baubles, OPI'm a Gem, and I Pink It's Snowing. Middle row: Go Big or Go Chrome, Pearl of Your Dreams (sold out), Tealing Festive, Decked to the Pines, Rhinestone Red-y, Feelin' Berry Glam. Back row: Charmed I'm Sure (sold out), Pink Bling and Be Merry, Merry & Ice, Snow Holding Back, Sleigh Bells Bling (sold out), Bring Out the Big Gems.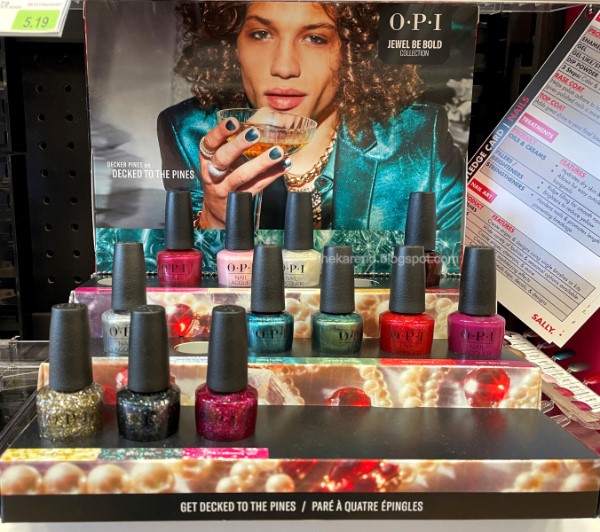 Here's how it looked at Ulta: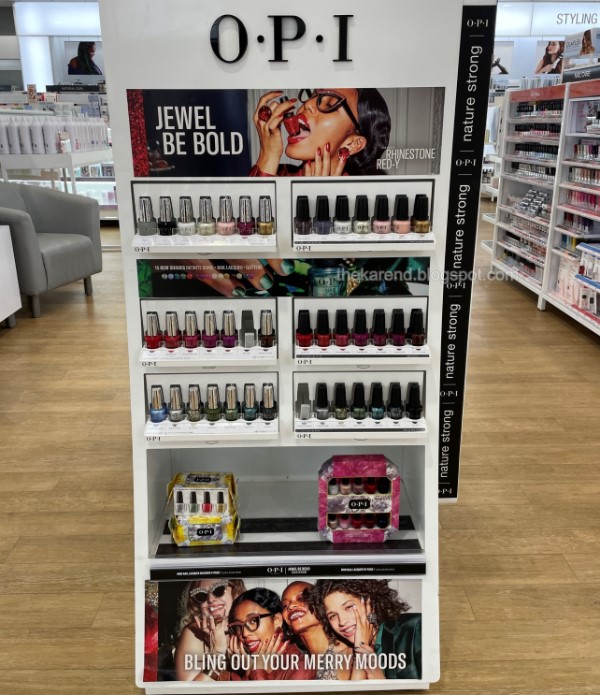 And finally at Fred Meyer: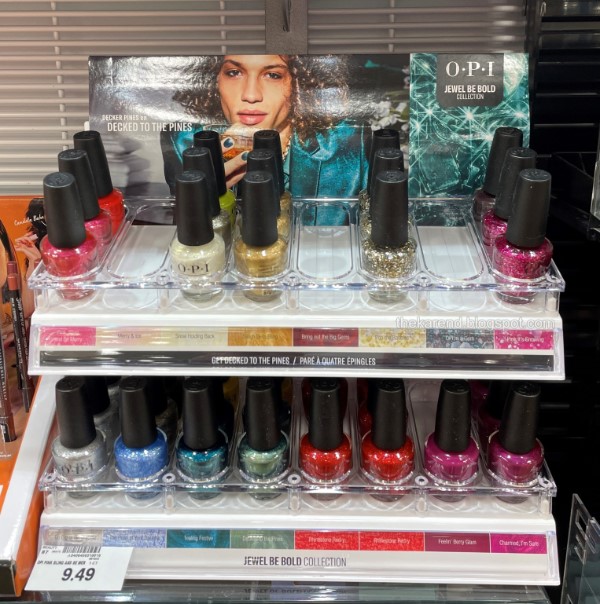 Ulta had OPI xPress/On fake nails, both on an end of an aisle and across the aisle from the backlit nail unit.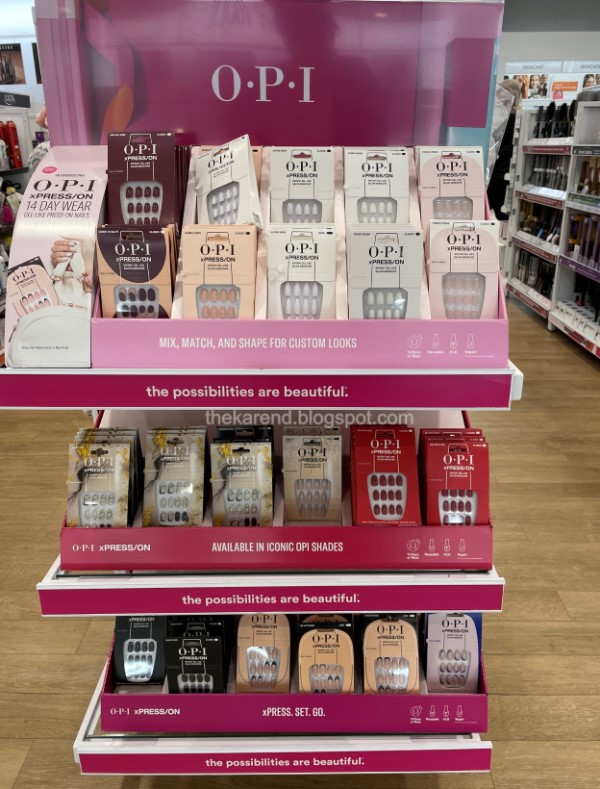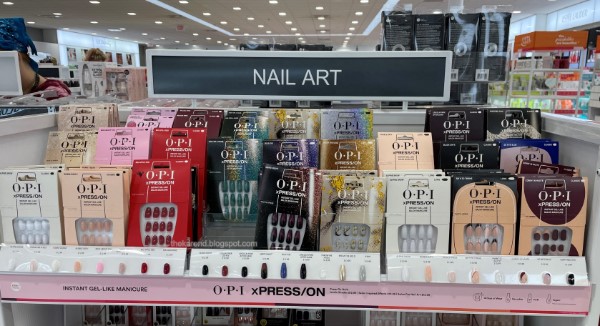 The Sally Hansen standee display at Walgreens which once held the three Miracle Gel Special Effect Top Coats along with other shades was almost empty when I saw it, but that's okay as the top coats were also stocked in the core display section since they're not limited edition (though of course they won't be around forever so I went ahead and bought them). Toppers are: Unicorn, Crystal, and Sugar.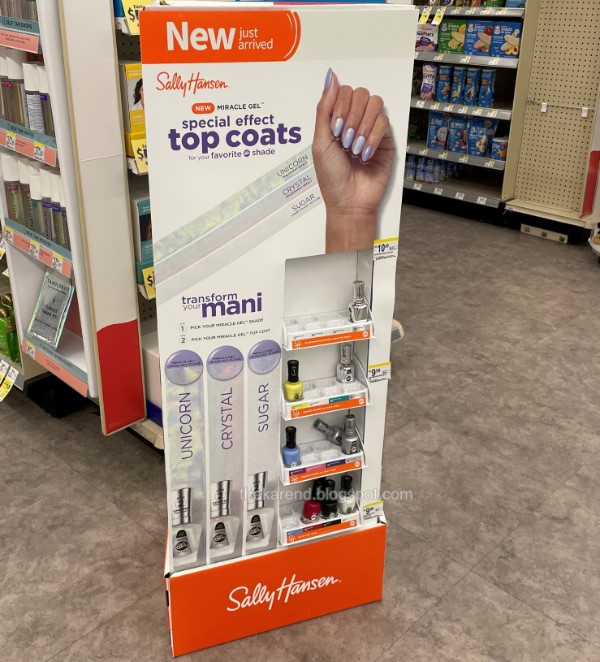 Sally Hansen put out a Holiday 2022 collection called Merry & Bright. I first saw it at Ulta, tucked above the core display in the drugstore beauty section. Left to right: House is Lit, All is Bright (sold out), Gingerbread Manicure, Can I Get a Watt Watt, Me My Elf & I, It's Electric, Frost Bright, and Shine Bright Like a Menorah.
At Walgreens, it was in a free standing floor display with core shades filling out the space.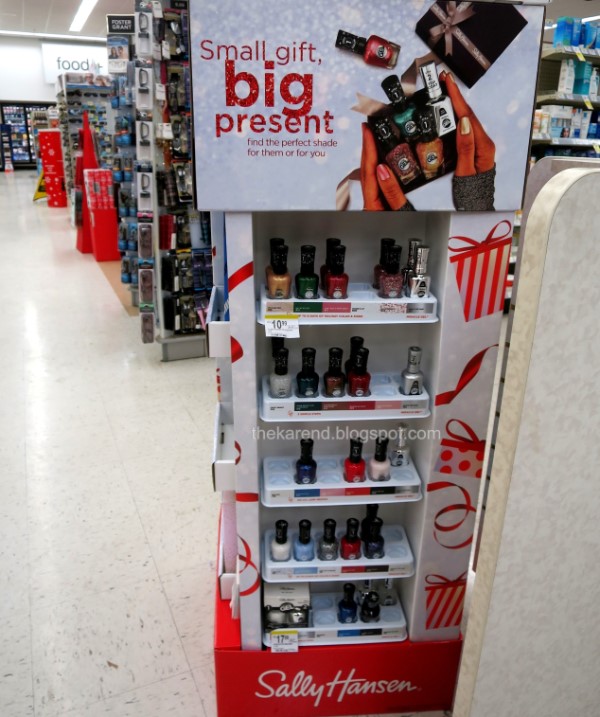 My enthusiasm for nail stuff is not entirely gone, as when I came across these Sally Hansen Perfect Manicure fake nails at Fred Meyer, I felt a little thrill. I don't recall every seeing fake nails from the brand before, and I've been paying attention to them for decades. They weren't displayed well here, but I was happy to see them regardless and bought two sets despite there not being a sale. There were only six designs here, with four of those being solid colors. Some were shorter and square and some were longer (similar to imPress medium) with almond/oval tips.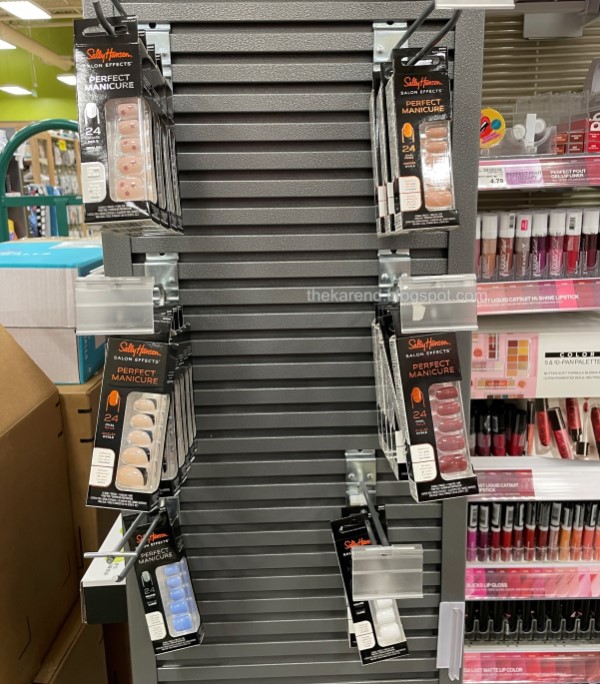 And that's all the displays I've been saving up. I hope to be back in March refreshed and ready to nail blog again.