Since my last
display post
, I made another long trip to the midwest and two trips to western Washington, all in the service of helping get my mother-in-law fully moved out of her condo in Illinois and into assisted living. The hard parts of that are now done, so I'm hoping I'll have more time for nail stuff soon, though there are some non moving related things still to deal with, so we shall see. I have tried to pop in to stores when I can to look for new displays, because I'm me and that's what I do. I may not be able to swatch or even do a manicure more complicated than putting on some treatment and/or fake nails, but I can shop. There's no dry time involved with that, after all.
At some point, Ulta refreshed the Caption endcap display to add a section with Foil Kits (base color, foil, top coat) and Chrome Kits (base color, pigment, stamper to apply pigment, top coat). Foil Kits, top to bottom: Rainbow Sky, Pennywise, Diamond Chip. Chrome Kits: Satin Bronze, Pearl White (I never saw a third chrome at any Ulta, either there wasn't one or it sold out quickly).
I shared the China Glaze Grinch fake nails last time, but I described one of them wrong; I thought the set was a green/black duochrome but when I saw it in an Ulta with better light, I realized it was a black/green/purple multichrome. And immediately bought some.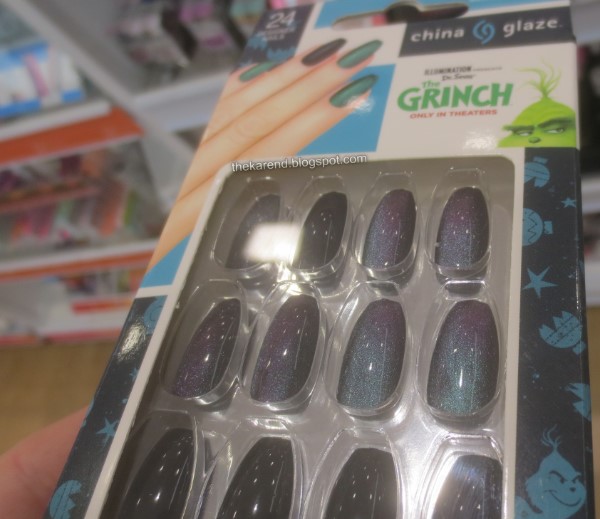 Also, the first time I saw those nails, they were just on a bare shelf; I've since seen them in their proper display at another Ulta: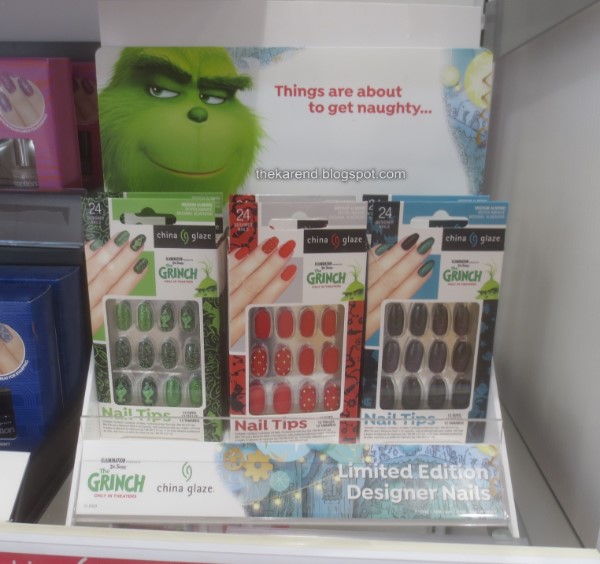 Sally Beauty had a Grinch display with the full size bottles, mini sets (with the whole collection in them, which I appreciate), and a bin of individual mini bottles.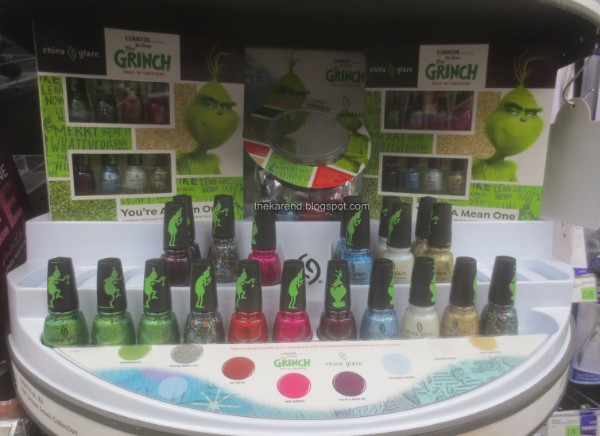 There's a winter collection of Dashing Diva MagicPress fake nails at Sally Beauty. (Unfortunately the only store I saw them at had them sort of hidden behind a forest of look Finger Paints bottles.) Left to right: Glow Getter, Golden Radiance, Northern Light, Let it Snow, Star Gazer, Diamond Dust.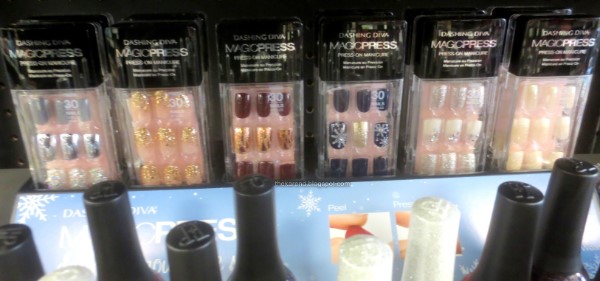 Sally Beauty also had some strips I don't remember seeing before: Gloss from Dashing Diva. There were slots for nine different sets, though this particular display had only seven.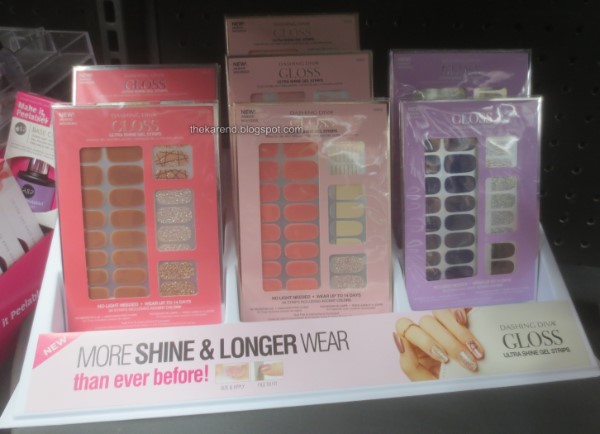 As of my last display post, I hadn't seen a full display of the Essie Concrete Glitters collection; now I've seen several (including a filled version in the backlit section of Ulta that I shared empty last time, which I won't bother to include here because backlight makes bad photos). An Ulta that had them in the core colors section also had a frame around them to highlight the collection, which I thought was an excellent idea. Left to right: Venture to the Venue, Beat of the Moment, Stay Up Slate, Can't Stop Her in Copper, City Slicker, and Night Owl.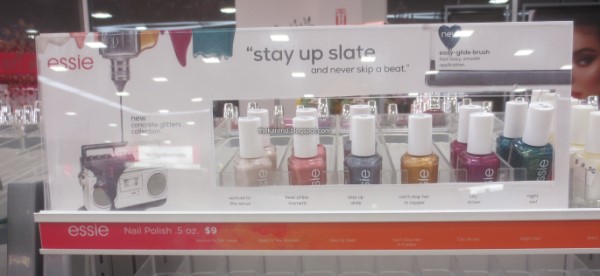 At Fred Meyer I saw a shelf top display with the Concrete Glitters plues the new Here to Stay basecoat.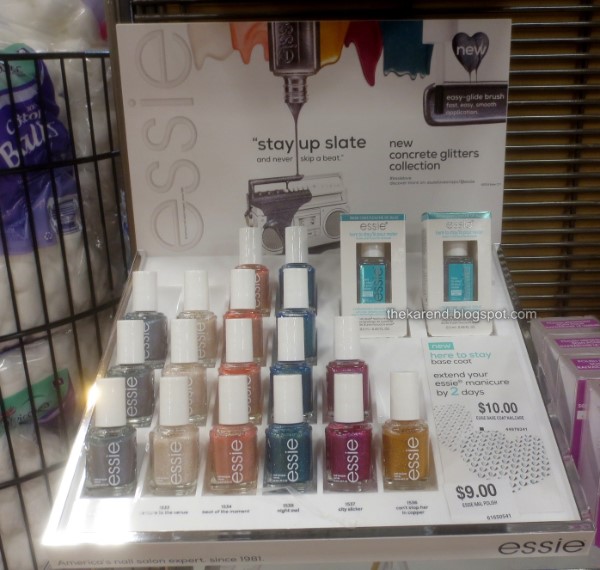 At Meijer, they had mini sets with four of the Concrete Glitters shades: Stay Up Slate, Venture to the Venue, Beat of the Moment, and Can't Stop Her in Copper (which looks gold to me, so I don't know about that name).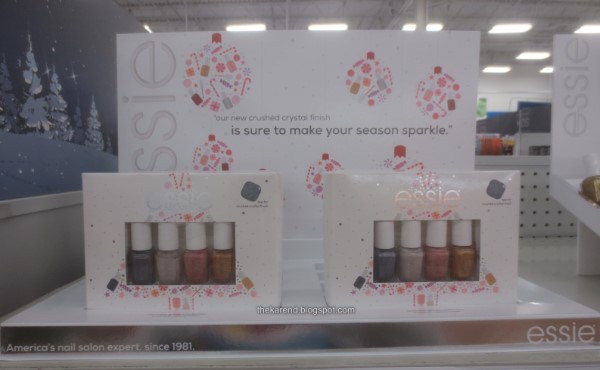 I've only seen the Essie Gel Couture Sheer Silhouettes collection at Ulta; they're the ones on the left side of this section. Top to bottom (each row has a shade plus the Gel Couture top coat in the white bottle): Lace is More, Sheer Silhouette, Of Corset, Gossamer Garments, Bodice Goddess, and Last Nightie. The caps on these have a silver lace band printed on them.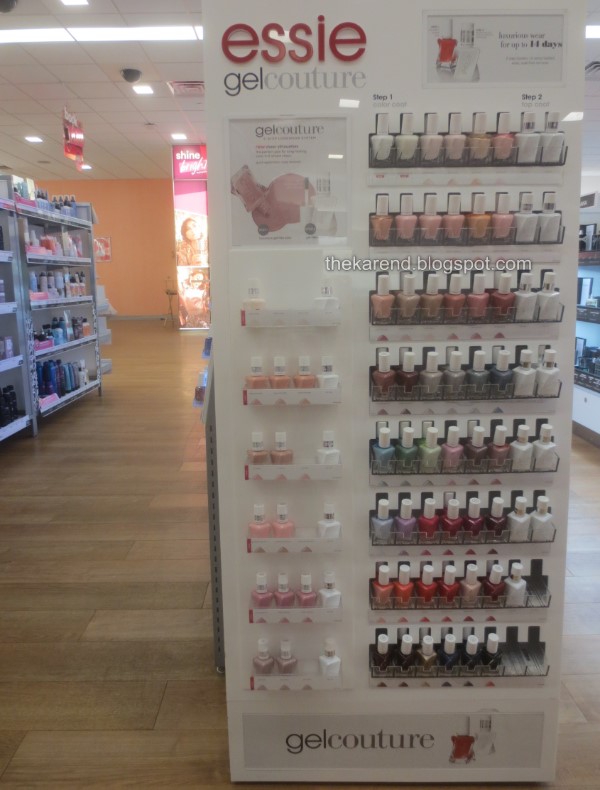 At Sally Beauty, they had a Finger Paints display that had bottles with silver glitter on their caps (though in this particular dipslay, the top coat had plain white caps unlike the silver glitter ones I saw at other stores). Upon closer inspection, these are all core colors just tarted up for the holidays. Front row: Base Coat, Top Coat, He-Art Auction, Free Form Fawn. Back row: Sterling Sculpture, Oh My Gauche, Piece de Resistance, In a Glaze.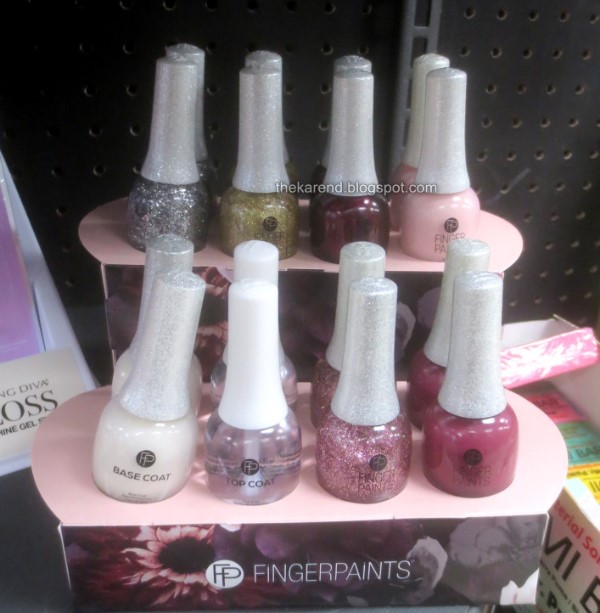 I went into a Five Below expecting to be disappointing, since their polish selection has been shrinking on recent visits, and at first, those expectations were met, with bins that in previous years would have been filled with polish instead packed with other beauty supplies.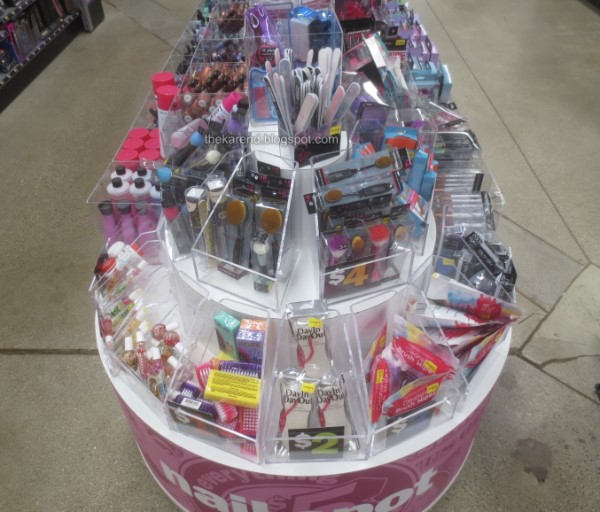 However, a closer look at the bins that did have polish in them yielded a surprise, namely a few polishes I'd never seen before: Fresh Paint Cosmic Ray and Aurora as well as Funky Fingers Dark Matter. The overall selection was quite poor, with some of the staple colors not there at all, yet here were these apparently new shades. I'm baffled.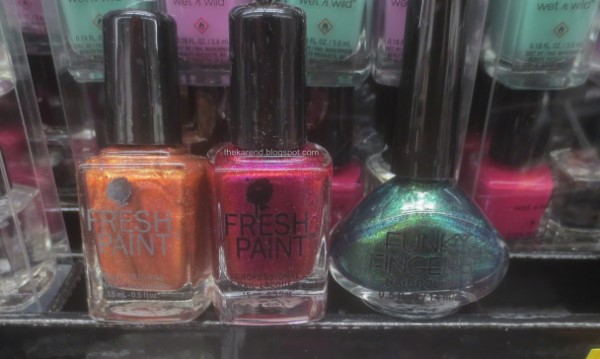 I was looking through the stocking stuffer section at Meijer hoping to see snowman polishes. I did not, but I did find some sets of LA colors fake nails; they only had 12 nails in each set, but they were also only $1. Clockwise from top left: Glitterfest, Marble Mani, Color Block, Classy Chevron.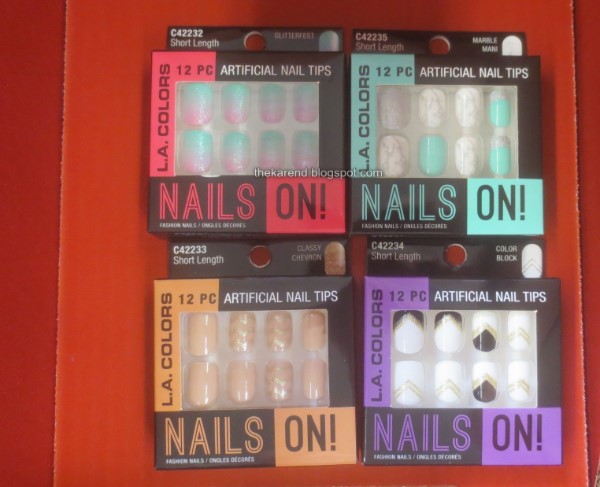 A sale on Morgan Taylor at Ulta had me taking a closer look at that section; at one store, I was surprised to see more colors in the Platinum holographic line (other stores had only three shades). Left to right: Caught in a Dream, Disco Days (two slots), Fit for a Fairytale, Holo Lover, It's Lit, Not Your Average Damsel, Frolic in Fairy Dust.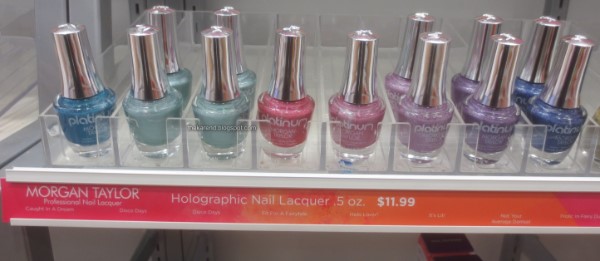 I'd previously only seen the Sally Hansen Crayola Insta Dri Glam Rock metallics at Walgreens in the sidekick display I shared last time; when I was in the midwest, I saw a shelf top display of them at Bed Bath & Beyond.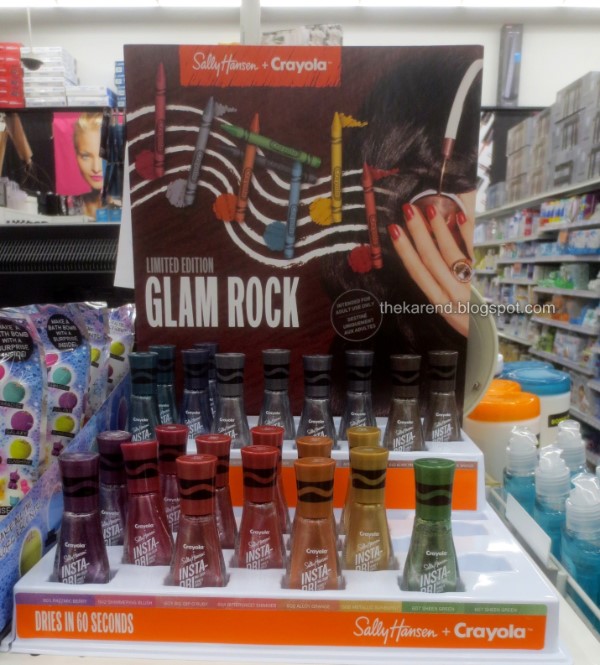 I was especially on the lookout for the SinfulColors Vanessa Hudgens holiday polishes, even made a special trip to a Christmas Tree Shop in the midwest as I'd heard they'd been found at some of those stores (not the one I went to), so I was delighted to see a display at Fred Meyer. Left to right: Wonderland, Deck Yaself, Fab-yule-ous, Frozen Rose, and Through the Woods. The bummer is that according to the SinfulColors website, there are seven more colors in this collection, available at Fred Meyer, Meijer, and Harmon Face Values only. Well, none of the Fred Meyer stores I went to had more than these shades, none of the Meijer stores had any at all, and I don't have access to any Harmon Face Values. So I guess I wait and see if they show up at Walgreens later, like Shimmy Shimmy did with the Festival collection. I found a couple of the missing shades on ebay for inflated prices, which I am not feeling like paying.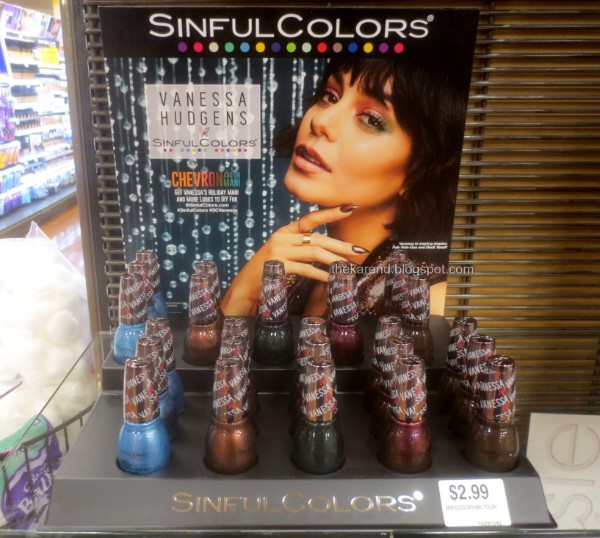 I shared the SinfulColors Jingle Jells I saw at Rite Aid last display post; that only had the four Jingle Jells shades in it. The display I saw at Fred Meyer was already missing one of those (the green, Mint Candy) but had four core/repromote shades in addition. Unfortunately, I was too rushed to document what they were, though the blue is most likely Endless Blue, as the display card says that's what the model is wearing under Rock Candy in the photo. Oddly, the shades aren't shown on the website, unlike for other collections where the display includes core/repromotes.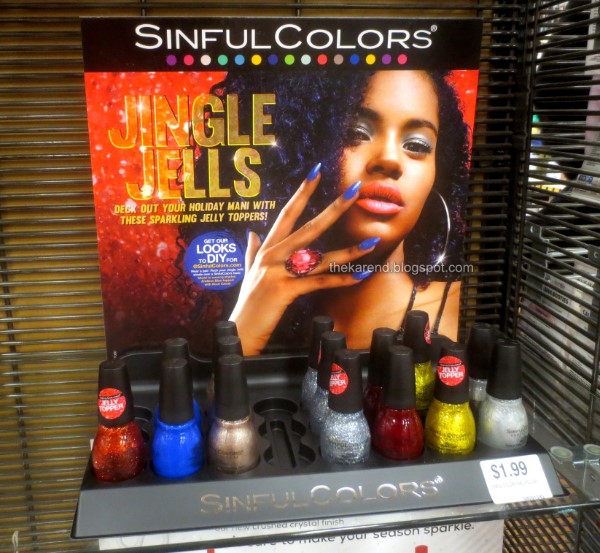 At Meijer, there was a Studio M Untamed Color display which I guess is their holiday offering; near as I could figure out, none of these are new shades. Top row: Purple Medallion, Red-ical Gypsy, Red Hot, Slammin Red, Infusion (sold out), Volcanic, Girl's Night Out, East Austin. Middle row: Sex Symbol, Belle of the Ball, Gold Glitter, Birthday Suit, Gold Dust, Island Hopping, Orange Sunset, Orange Hot. Bottom row: Darkest Black (two slots), Nightlife, Blue Funk, Blue Lagoon, Thunderbolt, Purple Crush, A Star is Born.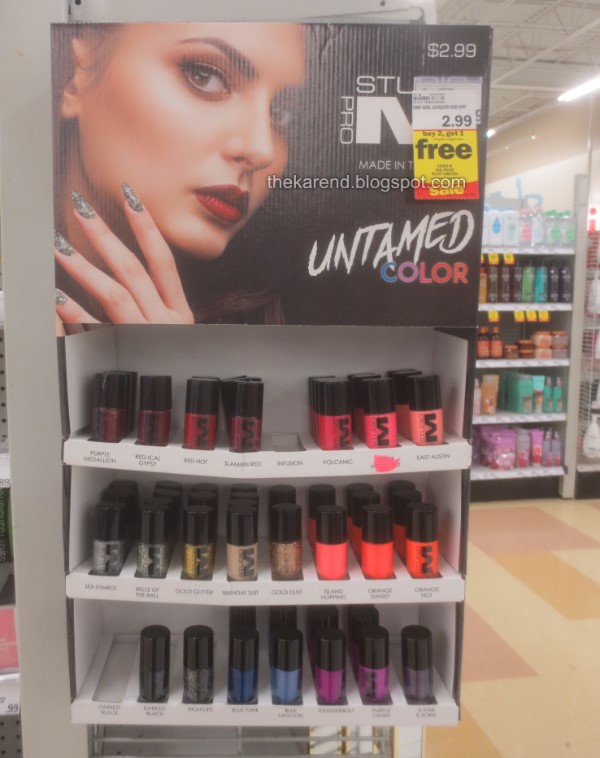 There are three sets of Ulta mini polish for the holidays. Left to right: Marshmallow Magic (S'mores, Toasted, Whipped Cream, Fluffy), How Sweet It Is (Merry Cherry, Sprinkles, Red Velvet, Pink Sugar), and All That Glitters (Festive, Midnight Kiss, Cheers, Pop the Bubbly).
Five Below had some Wet 'n' Wild mini sets with ten bottles for $5. Left to right: Glimmer Goddess (mostly glitters), Sweet Angel (mostly shimmers), Bright Bae (mostly cremes), Pretty & Posh (mostly cremes).

That's all for now. If any of you are braving the stores for some last minute Christmas shopping, I wish you the best of luck.