Display Dump and Done for a While I don't really know where November went. I kept meaning to post here but didn't. I'm determined to not let the month end without something going up in this space, and as often happens I've got a bunch of display photos that have piled up in my folders, so I'm going to get through those even though some are for Halloween which is old news by now (not surprising since my previous
display post
was two months ago. That's okay. I've been feeling for a while that this blog is more a historical record than anything.
After I get this up, I'm going to take a break. My nails are in awful shape (maybe from being sick last month or from winter or I don't know) so I haven't swatched anything in ages much less done a manicure with polish. I even went to see family for the Thanksgiving holiday and didn't bother putting on fake nails or anything, just a treatment coat that wore off over the course of the week. I'm not the only one of my nail polish generation that's feeling this way; I've recently seen several destashes on Facebook from ladies I was close to on forums and such back in the day. So a break seems in order. Right now I'm thinking I'll be back in January after all the holiday hubbub, but who knows, I may decide to adorn my stubbies and swatch a holiday collection or something.
Meijer, which I was able to visit on my long weekend in Michigan in September, had Dashing Diva Halloween-themed nail strips and stickers.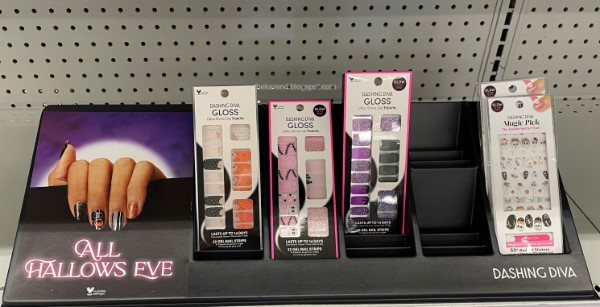 At Sally Beauty quite recently, I saw a Dashing Diva Malibu Pool Party display with fake nails for both fingers and toes. Not sure if was intended to capitalize on the Barbie movie energy without paying for an official Barbie tie-in or what. Seemed very summer-y regardless.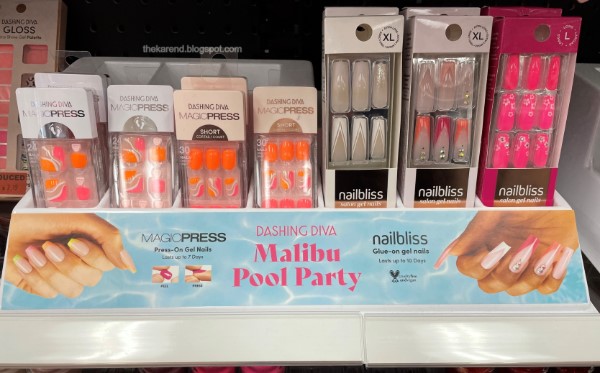 Fred Meyer had a Disney 100 display with nail strips/sticker sets on top, fake nails in the middle, and glittery polish sets at the bottom. These are aimed at kids judging by the size of the nails/strips and the fact that the polish is water-based. I went ahead and got the strips/stickers set anyway, figuring I can use the latter on other polish/strips.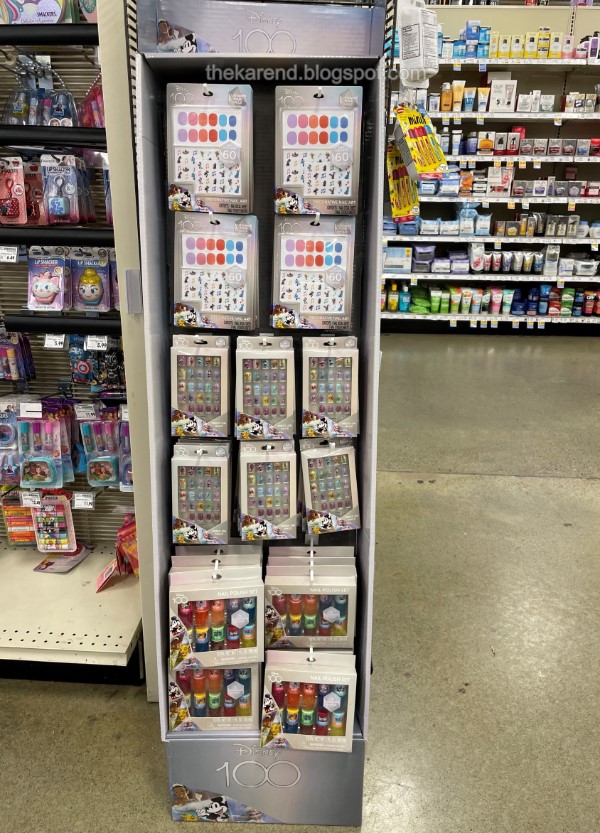 I saw some Essence polish at Meijer, what looked to be core colors of their gel line in a bottle I hadn't seen before, with the shade names printed front and center.
Essie's fall 2023 offering is the Step Out of Line collection, which I saw at Ulta. Front/bottom section: Step Out of Line (two slots), Meet Me at Midnight (two slots), Full Blast (two slots), Dance 'til Dawn. Back/top section: Underground Ball (two slots), Lights Down Music Up (two slots, sold out).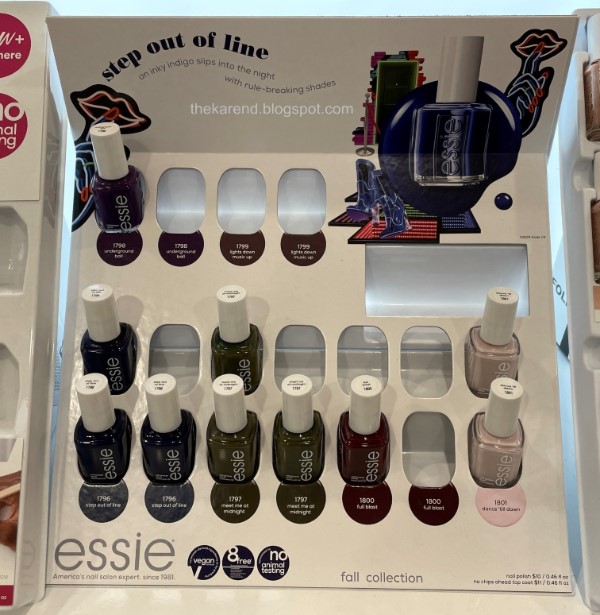 I shared the plant based Essie Love polishes I saw on my England vacation in my last display post. The first (and so far only) time I've seen them at home is at a Fred Meyer, where they hadn't finished putting up the shade labels or price tags yet.
I don't remember seeing the Essie Expressive Word on the Street collection before, though the internet tells me it's been around since at least March of this year, so here is it tucked into the core display wall at a CVS in Michigan. Left to right: Send a Message, World as a Canvas, Word on the Street, Spray It to Say It, Outside the Lines, and Unapologetic Icon.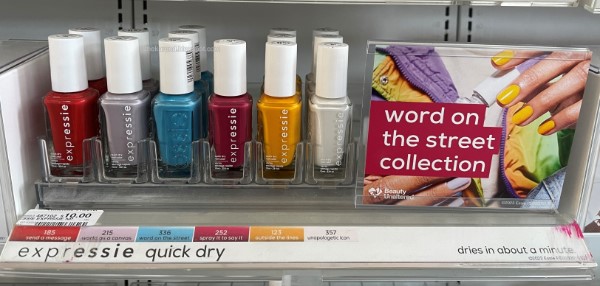 Back in the day, Meijer had so much Halloween polish from brands that only showed up then. This past September, there were no pumpkin bottles at all, just this sad Fright Night display (and yes, someone had stolen the cap from one of the bottles).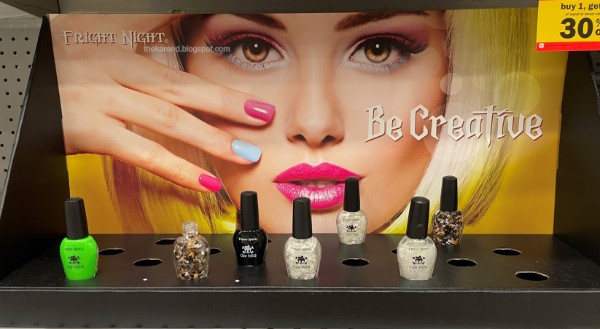 Walmart had a Halloween Esssentials display of fake nails for $2.98 a set before that holiday. In my store (the only place in my little town to get nail stuff), they put them in the beauty section rather than with Halloween stuff. There were six designs: Spookin Spiral (grey, black, and white nails with spiders, spiderwebs, and marble motifs), Spiderella (white nails with black spiders and spiderwebs), Full Moon (black nails with white phases of the moon), Evil Twin (purple/black gradient), Spiders & Sass (black and orange nails with spiderwebs and spiders), and Dark Trails (black and lilac/grey gradient nails with spiderwebs and night sky motifs).
Meijer also had a Halloween Essentials fake nails display, but the assortment was slightly different. In addition to the sets in the Walmart one above, this had So I Creep Yeaaa (Pennywise the clown imagery) and Coffin Crawlers (red and white blood spatter). There is also a set misplaced here from another brand (see below).
In addition to the Halloween Essentials, Meijer had a smaller display just called Halloween Nails. There was one empty space and one filled with a Halloween Essentials design. The designs that were here (starting top left): Glow and Go (mint, lilac, and black with various creepy imagery), Spooky Vibes (black, white, and mint with stripes, spider webs, and spooky faces), 100% That Witch (orange, black and white with spiders, jack o lanterns, etc.), Fortune Forever (pink, black, and grey with fortune teller theme), Glowy Batty (black and white with bats and moons), FaBOOlous (black, white, lime green with ghosts and blood drips and scars), and Bling & Bones (pearl and black with occult-y imagery).
Kiss Halloween nails were lots of places; I first saw them this year at Ulta.
Meijer had two displays of the Kiss nails; there was some overlap in the designs.
CVS had a floor display that had the Kiss Halloween nails plus lashes.
The Kiss nails also appeared in one of those pallet-sized displays that Walmart puts in the aisles sometimes. This also had some LA Colors Lavish Nails sets with the Kiss sets on one side of the boxy display.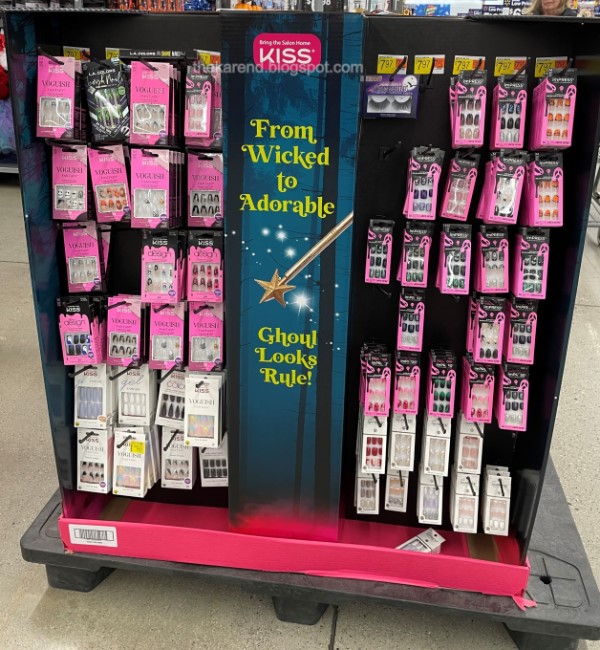 These LA Colors Nail Frill press on sets were on another side of the pallet display at Walmart that had the Kiss nails.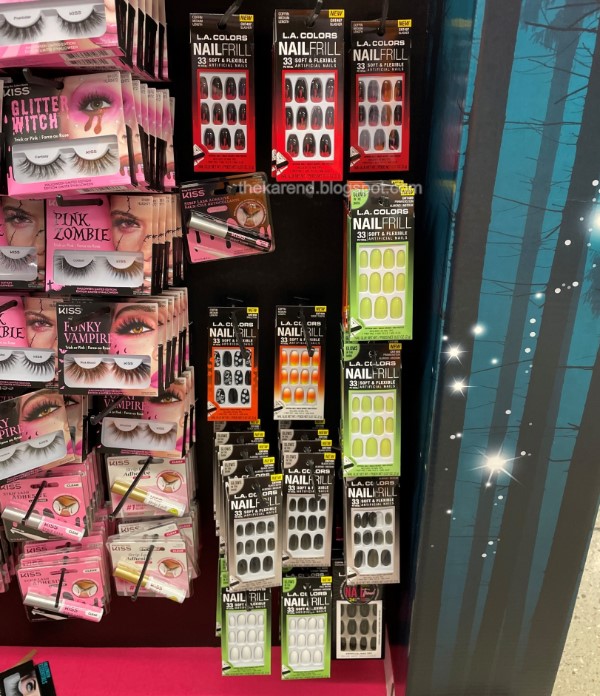 In mid-October, I happened upon this very picked over LA Colors Bewitched polish display in the soft goods section of Walmart ... hadn't thought to look there for polish earlier in the month. Thank goodness for labels on the display itself, so I could tell that the top two rows had held six shades of glow in the dark polish: Boneyard (white), Hayride (yellow), Screech (blue), Curse (pink), Be Weird (green), and Candycorn (orange). The bottom two rows looked to be core Gel and Diamond Crush colors: Frosting (white), Graphic (purple), Anarchy (black), Vampy (wine), Dream Maker (gold), Fierce (red), Fireball (wine), Wink (pink), Aurora Sky (blue), Shooting Star (silver), Constellation (chacoal), Flashing Lights (blue).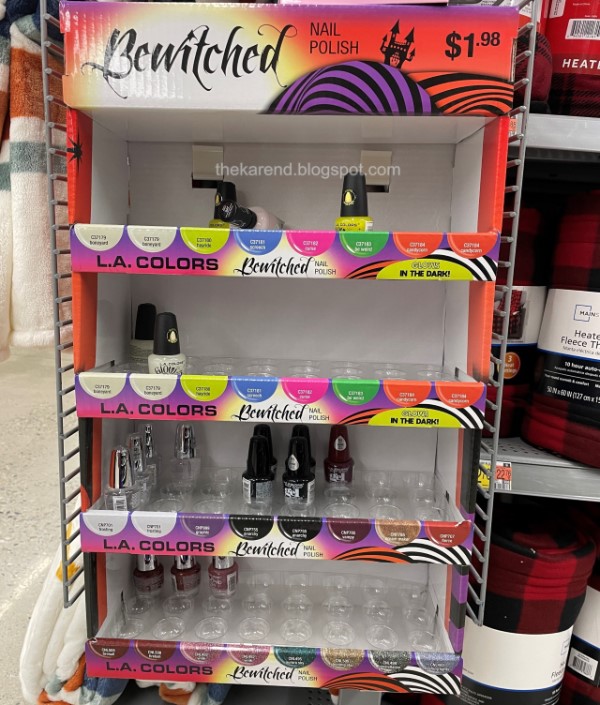 Sally Beauty had Morgan Taylor's On My Wish List collection, with regular polish in the front row and Gelish in the back. Left to right: Dew Me a Favor, empty slot for Bad to the Bow (moss green), A Hundred Present Yes, Gift It Your Best, Before My Berry Eyes, and Reddy to Jingle.
The most surprising thing I saw in this season of display hunting was a Nails Inc. and Froot Loops cereal collaboration which was sitting there seemingly untouched at Rite Aid a couple weeks ago. Hadn't heard a thing about this, though poking around the internet tells me it was released this past summer, and the polishes are scented. Single shades in front: #FOLLOWYOURNOSE, Toucan Sam Approved, Feeling Fruity, Toucan Play at That Game, and Ce-real Talk. The duo has neon shades: Face the Froot (pink) and Live Life Loopy (yellow).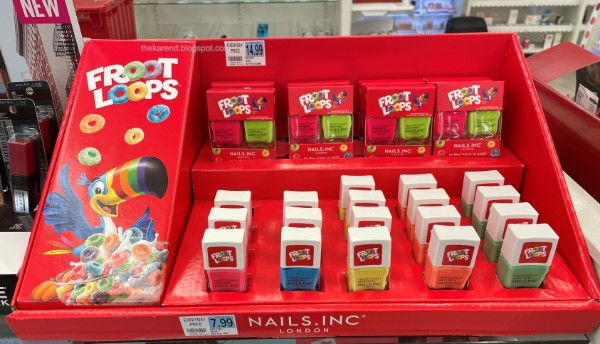 Not all Ulta stores got the Nailtopia Disney 100 collection, which I'd first seen
back in April
in Illinois. An Ulta I went to in Michigan in September had a fairly well stocked section for them still. Starting with the 5ml minis at the top left: Winnie the Pooh, Piglet, Piglet again (in the slot for Elsa, which is a darker pink or maybe purple—hard to tell from the little printed swatch), Olaf, Anna, Alice in Wonderland, Cheshire, Simba, Dumbo, and Stitch. Next to those are the 12ml classic cartoon characters: Mickey Mouse, Minnie Mouse, Donald Duck, Daisy Duck, Pluto, Goofy, Peter Pan (sold out), Tinker Bell. Bottom row has villians on the left: Maleficant, Captain Hook, Scar, Hades, Evil Queen, Ursula, Cruella, and Jafar. Bottom right are the princesses: Cinderella, Belle, Moana, Jasmine, Rapunzel, Tiana, Ariel, and Snow White.
At Ulta, I saw the summer 2023 OPI collection, Summer Make the Rules. It was picked over by the time I came across it, and had a couple colors from the Barbie collection shoved in there.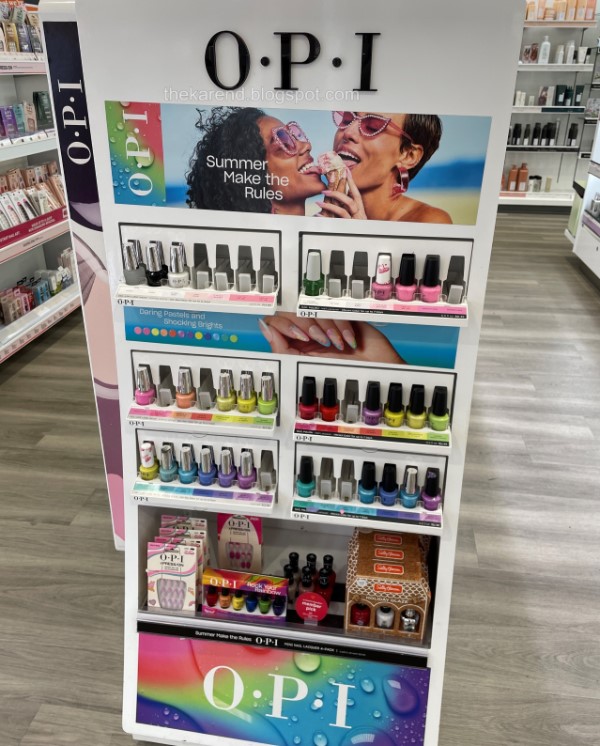 I never did see a display for the OPI Barbie movie tie-in collection at any of the Ultas I popped into during my travels. My local(ish) Ulta had a few polish colors and some fake nail sets on the "looks like clearance but everything's still full price" shelf.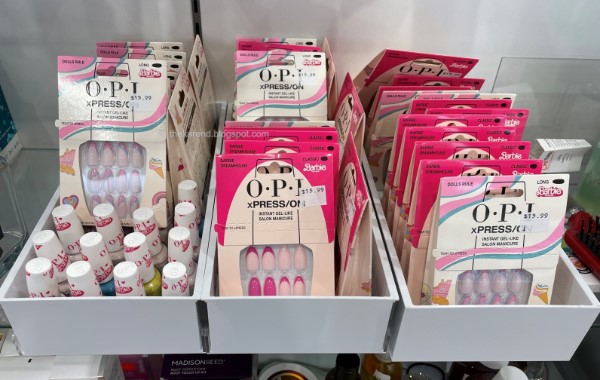 The three polish colors left were Bon Voyage to Reality, My Job is Beach, and Hi Ken. Some poking around the internet shows me that the six shades not here were shimmers and/or pink.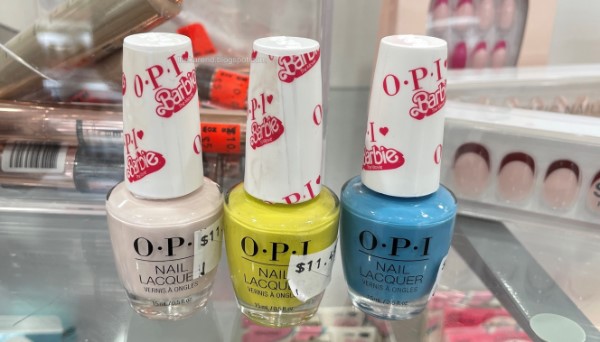 Just when I'd given up on seeing an OPI Barbie display, I ran across one at a Rite Aid. It was missing some of the shades, too, which was not surprising as I saw it in mid-November, well after the movie came out. I was surprised so many of the pinks were still there since those usually sell quickly.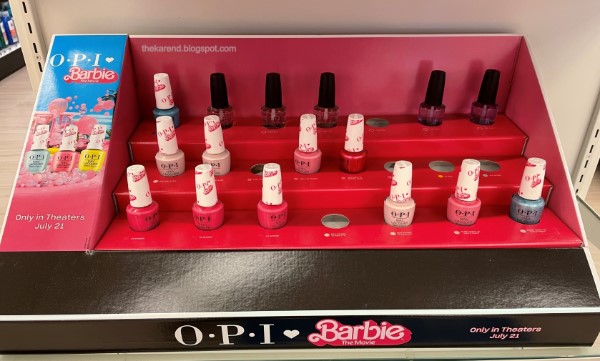 Back when I posted about the OPI xPress/On nails I wore on one of my trips earlier this year,
100% That Scorpio
, I promised to share the other signs in a future display post. This is that post. When I came across the shelf where these were stocked in the Ulta I first saw them at, some of the signs were missing. Fortunately, I found them mixed in with other designs on an endcap nearby, so I rearranged things so all the zodiac ones were together.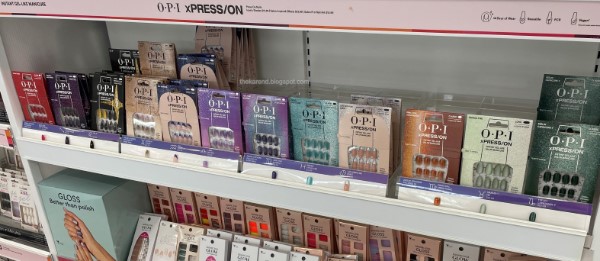 Kiss My Aries, Free as a Sagittarius, and Leo AF:
Gemini'm a Flirt, OG Aquarius, and Libra on Chic:
100% That Scorpio, Pisces the Future, and Can-certified Sweet: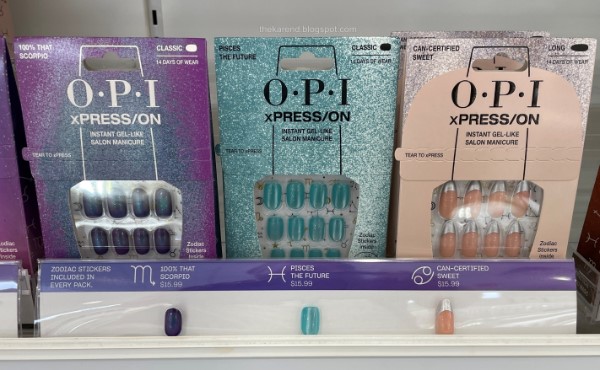 Practical Virgo Magic, Taurus-t Me, and Feelin' Capricorn-y:
OPI also has horoscope polish, some which share names with the xPress/On nail designs; I saw Big Zodiac Energy at Ulta.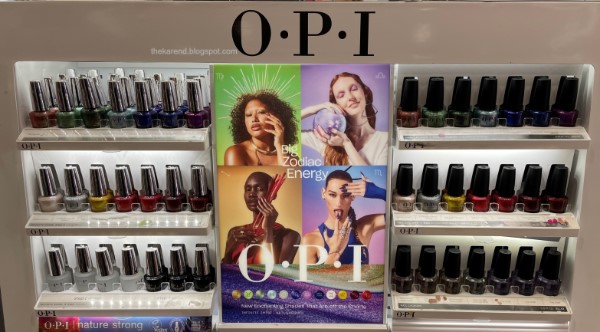 Top row: #Virgoals, Taurus-t me, Feelin' Capricorn-y, Pisces the Future, Scorpio Seduction, Aquarius Renegade, and Feelin' Libra-ted. Bottom row: Gemini and I, I Cancer-tainly Shine, The Leo-nly One, Kiss My Aires (two slots), and Big Sagittarius Energy (two slots).
I saw OPI Terribly Nice, the holiday collection, at Sally Beauty, with some colors already missing.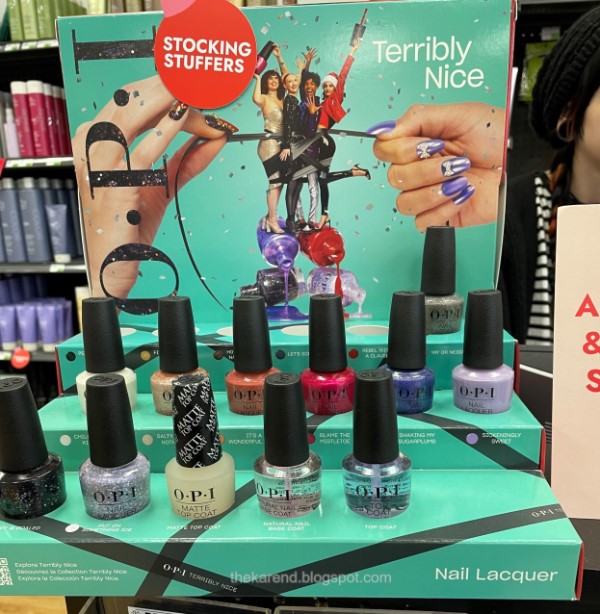 There was a Cover Girl and Sally Hansen display at Meijer called Spooky Season Looks. The Cover Girl side was all face makeup (remember when they had polish?). The Sally Hansen side touted Eerie-sistible shades and was all core colors, including all the Miracle Gel toppers plus some mostly dark and mysterious Miracle Gel shades and a lot of Hard as Nails Xtreme Wear colors.
I didn't document the exact shades in the Eerie-sistable display, but I did get a closeup of the Miracle Gel Toppers in the core section at Meijer, since I'd not seen Glazed in person before. Left to right: Crystal, Moonlit, Sugar, Unicorn, and Glazed.
While the Eerie-sistle display didn't have them, Sally Hansen did release new Insta Dri colors ahead of Halloween. I saw the best stocked display at Meijer, with the Trolls collection on top and the Halloween glow in the dark colors below, along with some core colors in the bottom rows. (I later saw the Troll shades at Ulta tucked into the core section, and a smaller display at a Meijer that had all the Trolls and glow in the dark but fewer core shades.)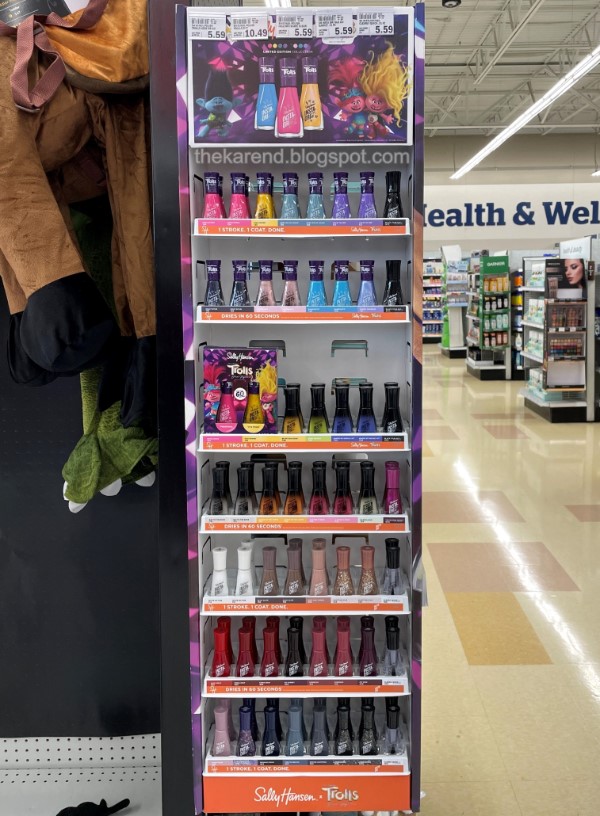 There are eight shades in the Trolls limited edition collection. Top row: Popalicious (two slots), Viva Power, Here We Go Again (two slots), Vacay Island (two slots), Black to Blakc (core color). Bottom row: Hole 'n Fun (two slots), Sisterhood (two slots), Bandtastic (two slots), Mount Rageous, Black to Black (core).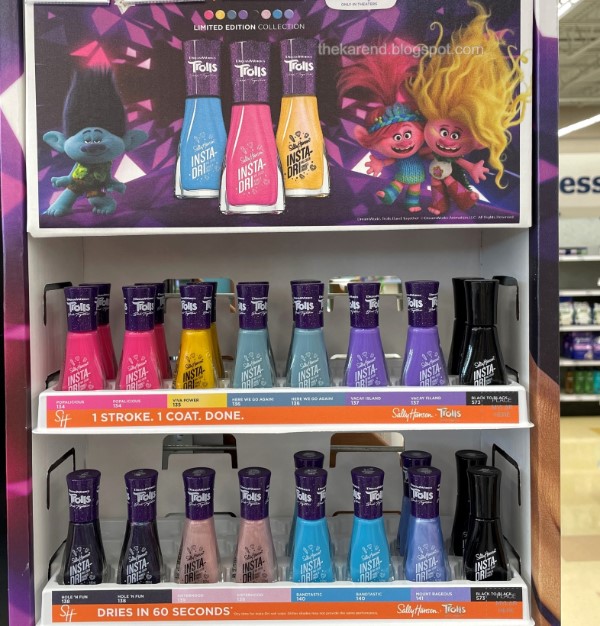 There are seven glow in the dark colors. Some of these look like re-releases to me but I haven't done the research. I am proud that I didn't buy any of these, reminding myself I haven't worn the ones I have from previous years in ages and ages. Top row: Trolls duo pack of Popalicious and Viva Power, Be-Witcha Soon, Eerie-sistible, Where My Ghouls At (two slots), Black to Black (core). Bottom row: Bat to the Bone (two slots), Ahead of the Carve (two slots), A Scare is Born (two slots), Fa-boo-lous, The Queen's Velvet (core).
I first saw the Sally Hansen Miracle Gel limited edition Gingerbread Kisses collection at Ulta, tucked in a section next to all the core colors. It was already sold out of (or more likely not yet stocked with; this was September) a few of the colors. Left to right: empty slot for Oh My Pearl, empty slot for Baking Spirits Bright, Jack Frosted, Whisk You a Merry Xmas, empty slot for Peppermint to Be, For Goodness Bake, Less Bitter More Glitter, and Dreams Crumb True.
At a different Ulta earlier this month, I saw the Gingerbread Kisses even more sold out, but they did have a Holiday Glaze gift pack shelved nearby which contained Peppermint to Be, Whisk You a Merry Christmas, and the Shiny Top Coat, marked "only here" on the packaging.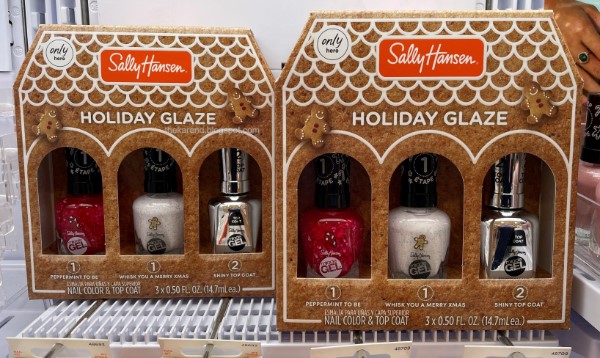 Walgreens had a free standing floor display that had the Gingerbread Kisses colors in it, but they weren't called that; it said "Oh What Fun!" at the top and included some core shades and fake nails as well as the limited edition holiday ones. They had a similar looking set to the Ulta one, but this had Baking Spirits Bright and the Shiny Top Coat.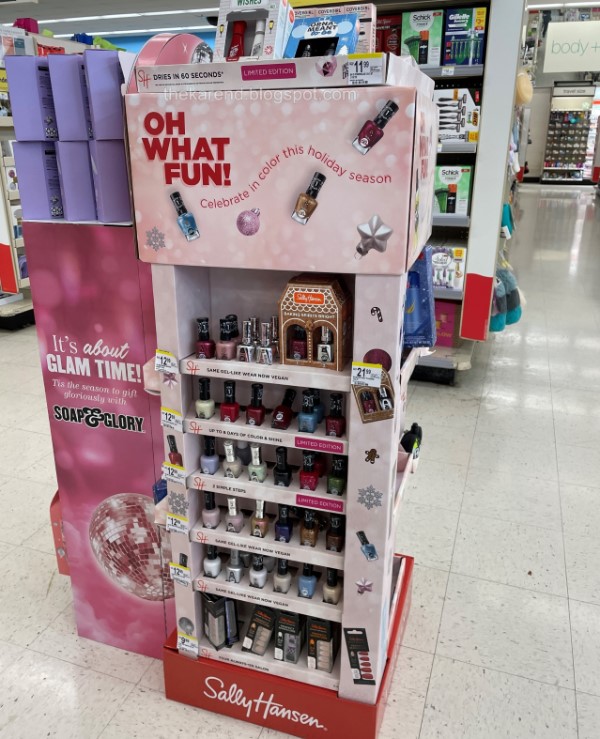 The two gift sets of Insta Dri that were perched atop the Oh What Fun display at Walgreens were core colors. Candy Cane Wishes had ASAP Apple and White on Time. Orna-ment to Be had Powerslide and Clearly Quick.
Ulta also had an Insta Dri holiday set, again with core colors. It's called That's a Wrap and contains White on Time, C-hill Out, Powerslide, ASAP Apple, and Back to Black. I saw a picture on the internet of a four-pack set at Target called Ski-son, which had Powerslide, C-hill Out, Glos-sea, and Cinna Snap, but I haven't seen that one in person and likely won't as I try to avoid stores as much as possible during December.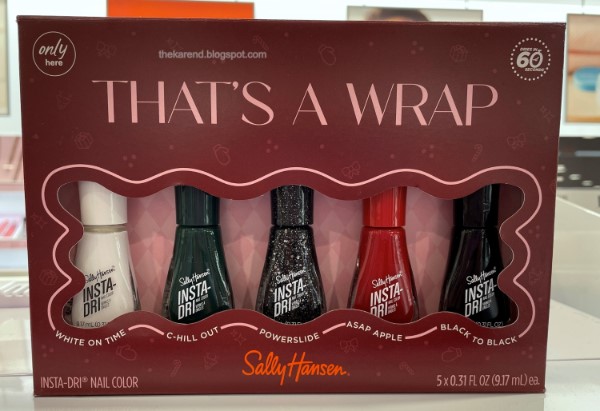 I still miss the years when Wet 'n' Wild would give us Halloween polish collections. This year, their display at Walmart had one set of Fantasy Makers fake nails and no polish at all, just face makeup.
I was slightly mollified when I went back to that Walmart a week or so later and found a Scooby-Doo x Wet 'n' Wild pallet display that had a three pack of polish. Sure, two of them were cremes, but still the designs on the bottles were cute.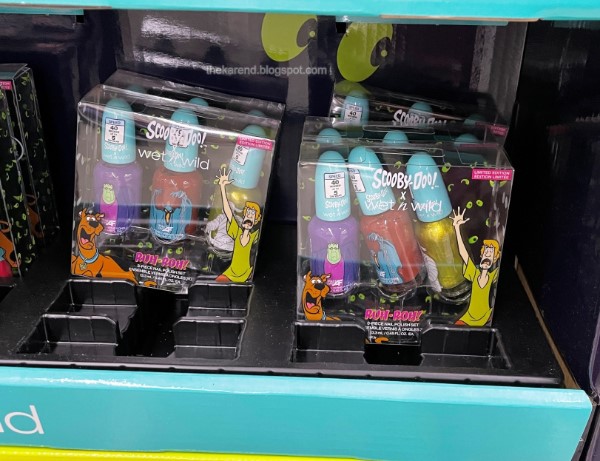 This might be a new personal best for number of photos in one blog post. I'd like to thank procrastination.