I didn't mean to be on a quarterly schedule for display posts, but somehow it's been three months since my
last one
. So settle in because I've got lots of pictures to share.
I didn't have good luck spotting full displays of the China Glaze You Do Hue Sesame Street collection; this one from Sally Beauty was the most full. Pity, since there were some nice fun colors according to the swatch pictures on the display itself.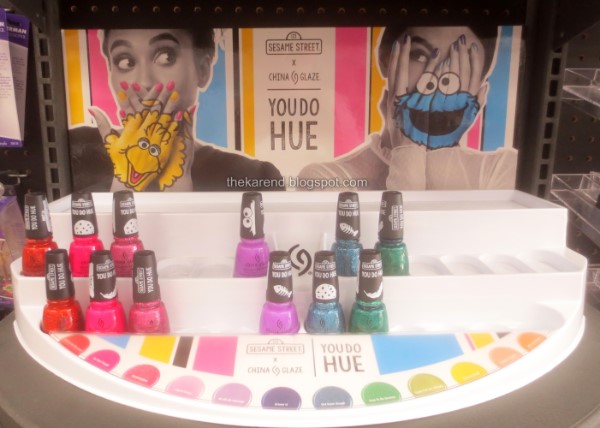 At a different Sally Beauty, I saw a display that had both You Do Hue and the China Glaze Gone West collection, which I've only seen there. (This also seemed to have some colors left over from Body & Sol which was new earlier this year.)
I'm not sure what season the CND Prismatic collection I saw at Rite Aid (and later at Walgreens) is intended for; maybe summer. Left to right: Wildfire, Psychedelic, Holographic (a pink creme; no idea why it's called Holographic), Aura, Mirage, Cream Puff, Denim Patch, Lobster Roll.
On one of my rare trips to Target, I saw five Defy & Inspire duo packs, with shades designed to be layered to create a third look: Brighten Up (Bachelor Nation and It's Nothing Personal), Just Peachy (Made and The Audition), Outer Space (Supernova and Solar Eclipse), Baby Blues (Ship Happens and Surf Shop), Violet Spice (Catwalk and Vandalized).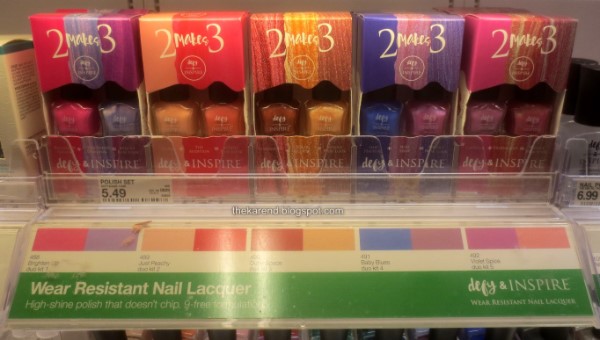 Also at Target, I saw the Ella + Mila section for the first time. I am patting myself on the back for not buying any even up to this day, even though I like the bottle shape and the elephant on the front is is fun. Top row: In a Rush (quick dry top coat, sold out), Matte-ly in Love (matte top coat, which yes, I may have to get at some point because I owe it to my matte top coat comparison series), All About the Base (base coat), First Aid Kiss (strengthener), Oil Me Up (cuticle oil), Soy Nail Polish Remover, then the polishes—Lust in Love, Lover's Suite, Stuck on You, So In Love, Tea Rose, Dessert Island (yes, dessert, not desert), Sunkissed, Pinktini, Sun Has Set. Bottom row: Stonehearted, Light to the Touch, Honeymoon Bliss, Sugar Fairy, Champagne Pop, Lilac Luster, Dulce Amor, Time for a Bond Fire, Unwrap Me, Berry Much in Love, Naughty Not Nice, La Vie en Rose, Little Plum Dress, Ibiza Breeze, Mediterranean Mist, On Thin Ice, Drippin' Gold, After Party.
I was able to get the Essie summer collection into my June display post, so one would think the next collection would be fall, but no, Essie released three other collections between summer and fall. I first saw them at a Meijer during one of my summer trips. Top row is Gorge-ous Geodes, middle is Rocky Rose, and bottom is Gel Couture Sunrush Metals.
Gorge-ous Geodes: Rock Your World, Semi-Precious Tones, Gorge-ous Geodes, Of Quartz, You're a Gem, Stop Lock & Glisten.
Rocky Rose: Come Out to Clay, Rocky Rose, Yes I Canyon, Bed Rock & Roll, Around the Bend, Into the A-Bliss.
Gel Couture Sunrush Metals: Sunrush Metal, Steel the Show (why is this not a pewter shade?), What's Gold is New, In My Element, Sequ-in the Know, Top Coat.
At a different Meijer, I saw a display that combined the summer collection and Gorge-ous Geodes. This had nine shades of Rocky Rose instead of just six. Left to right: Tangoed in Love (times 2), Strike a Rose (x2), In Full Swing (x2), Soles on Fire, Claim to Flame, Take the Lead, Come Out to Clay, Set in Sandstone, Cliff Hanger, Rocky Rose, Yes I Canyon, Bed Rock & Roll, No Shade Here, Around the Bend, Into the A-Bliss.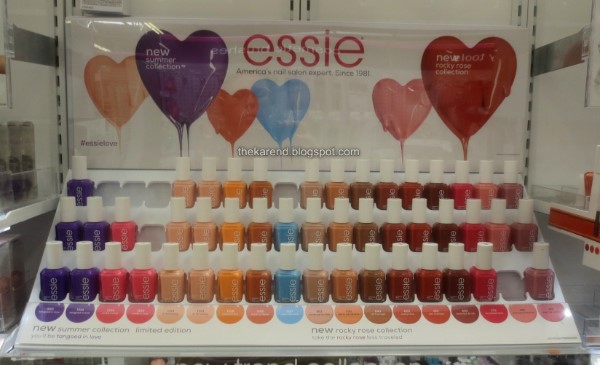 That same Meijer had the Sunrush Metals tucked into a wall display. Left to right: Sunrush Metal, Steel the Show, What's Gold is New, In My Element, Sequ-in the Know, Top Coat.
Fred Meyer and Rite Aid both had a display with Gorge-ous Geodes and Rocky Rose. It had slots for all nine of the Rocky Rose collection.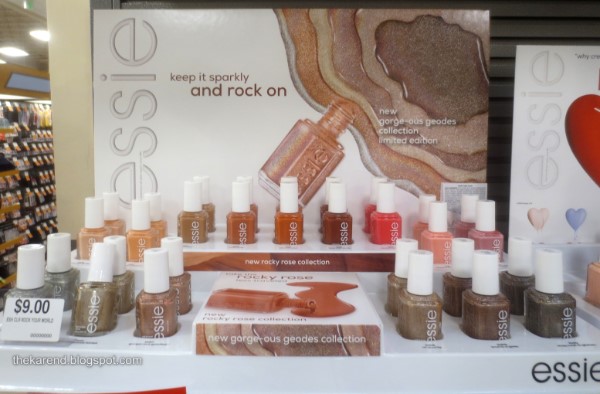 There are still more variations of displays for these three midsummer Essie collections: Rocky Rose and Gorge-ous Geodes each by themselves at NW Beauty, Sunrush Metals on the Gel Couture endcap at Ulta, to name two. But I'm not going to make this long post longer by including them, too.
I shared the Essie Moments display from NW Beauty
back in May
. As I traveled this summer, I saw this collection also at Target, where the bottles had wraps on them (at least some of them did, seems as shades with wraps sold out they were replaced with unwrapped bottles).
In Canada I saw a few Essie bottles with heart stickers on the handles. They were pretty, and I wanted one, but I never saw this cap on any shades I really needed to add to my collection.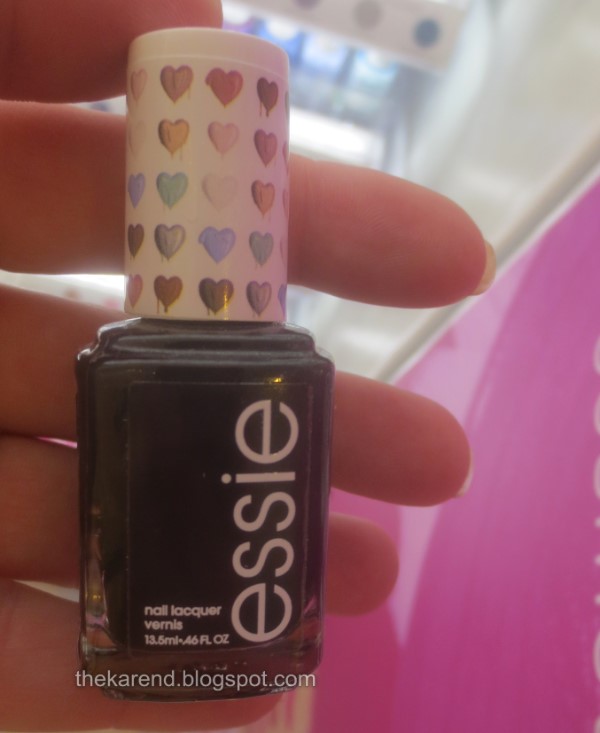 Sally Beauty had the Finger Paints Spacing Out collection. Front: No Comet-ment, Out of This World, In Retrograde. Back: I'm Space-lal, Solstice with the Mostest, I'm Space-ial.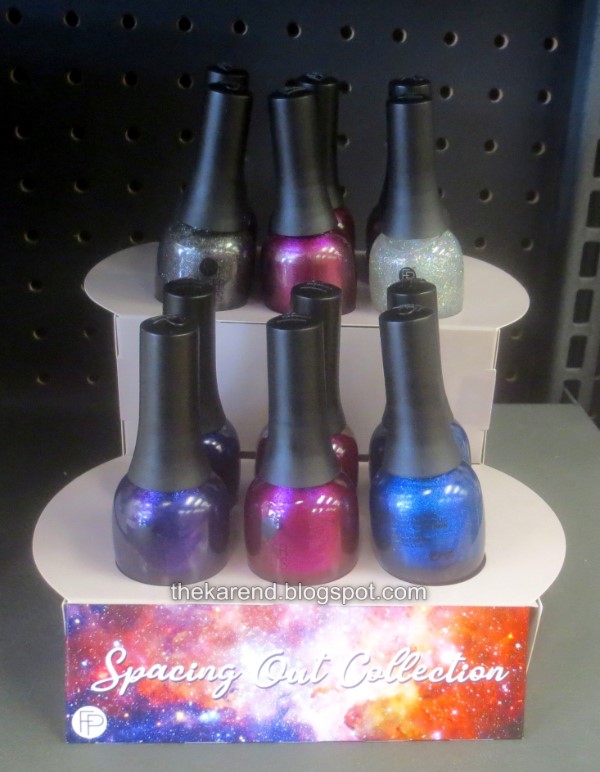 Once in a while I come across a Hot Topic store and lament that they just put their polish in bins, all types mixed together. There's some good stuff in those bins but it's hard to know if I've found all of a given type. They had mermaid-y ones, Pride ones, skull ones in brights and holos and glitters and I don't know what all.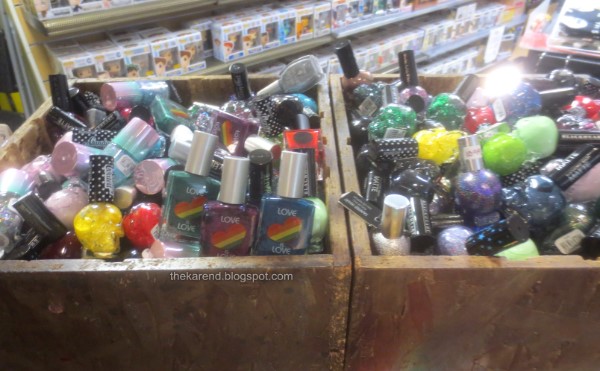 I saw the Morgan Taylor Forever Marilyn collection first at Sally Beauty. Left to right: Some Girls Prefer Pearls, That's So Monroe, Classic Red Lips, A Girl and Her Curls, Flirty and Fabulous, All American Beauty. I later saw this collection at Ulta, tucked into the annoying backlit main nail polish display, except for Flirty & Fabulous which was missing for some reason, not even a slot for it.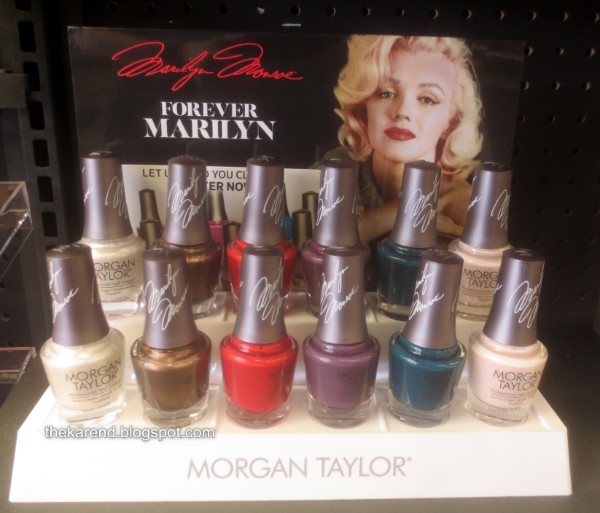 For some reason, the OPI summer Neon collection didn't show up around here until after my June display post. Then it appeared at Fred Meyer and NW Beauty and Ulta and Walgreens in various displays (the one below was at Fred Meyer). Top row: Pump Up the Volume (x2), Orange You a Rock Star (x2), V-I-Pink Princess (x2). Bottom row: Positive Vibes Only (x2), Dance Party 'Teal Dawn (x2), Music is My Muse (x2).
OPI Scotland has shown up on time for fall. Here it is at NW Beauty (it's also at Fred Meyer and Ulta and Sally Beauty). Top row: Rub-a-Pub-Pub, Nessie Plays Hide & Sea-k, OPI Grabs the Unicorn by the Horn, Nice Set of Pipes, You've Got the Glas-glow, Edinburgh-er & Tatties. Bottom row: A Little Guilt Under the Kilt, Red Heads Ahead, Suzi Needs a Loch-smith, Things I've Seen in Aber-green, Good Girls Gone Plaid, Boys Be Thistle-in at Me.
OPI Scotland also comes in the Infinite Shine line.
I only saw the display for the Ulta exclusive OPI colors at one store; they had it up on the front counter by the registers so I had to be stealthy when I took my photo. Unfortunately only one of the shades was left (along with top coat): Nailed It by a Royal Mile. The missing one was Clash of the Tartans.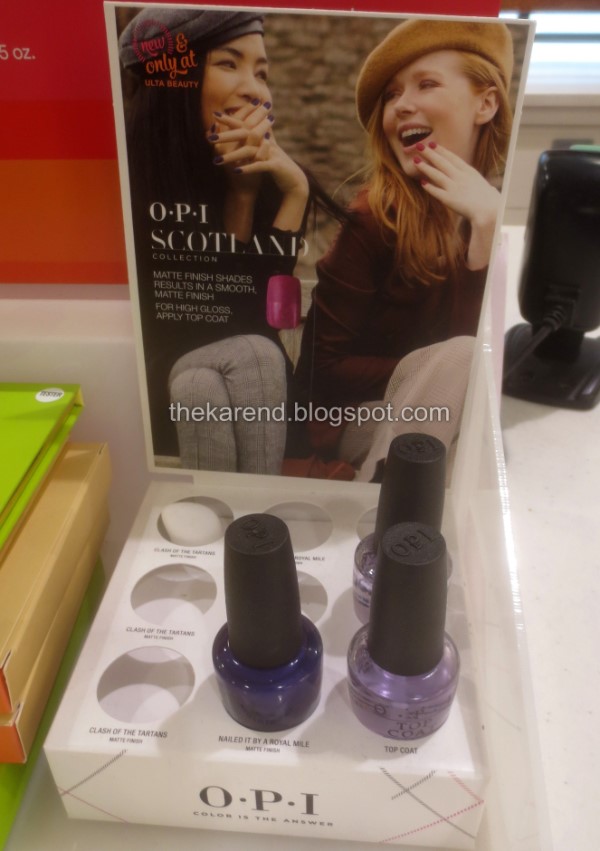 I didn't see much polish that caught my eye when I was in Canada (outside of IEC) but I did come across a Quo by Orly display at a Shoppers Drug Mart (I bought one of these and used it while on my way to IEC). Left to right: Spirit Junkie, Glass Half Full, Lovella, What's the Big Teal, Warm It Up. (Now that I'm looking at these photos, I'm wishing I'd gotten more of these. I must remember I have a wicked big stash and probably have something close to them already.)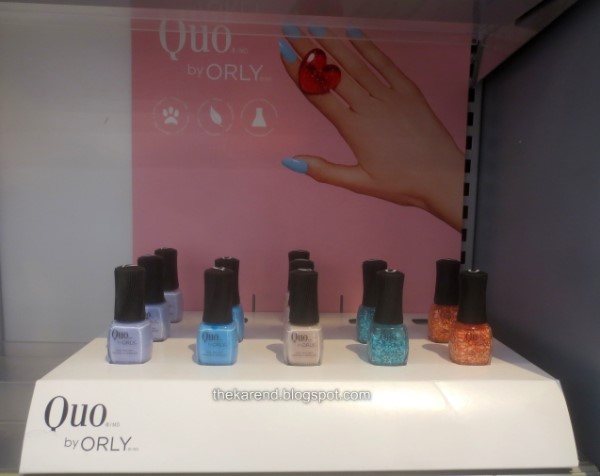 In my
what I wore to IEC post
, I shared how much I liked the $3.99 holo I picked up at hair store in Detroit. Here's RK by Kiss display that came from. Shades here: Spell Dust, Mermaid Tail, Alicorn Tear (x2, alicorns are the new unicorns maybe?), Fairy Wing (x2), Love Potion, Dragon Heart.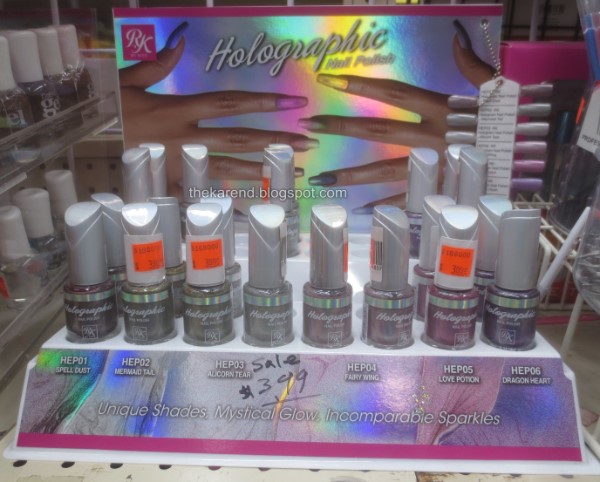 Due to the lack of new displays relative to the old days, I find myself in the core displays more often, which is where I spotted these Walgreens exclusive shades of Sally Hansen Miracle Gel: Tawny Travels, Flushed Wanderer, and Lilac Insomniac. How long they've been there I have no idea. I do know they aren't new; they were in the Travel-Proof Polish display back in
2017
.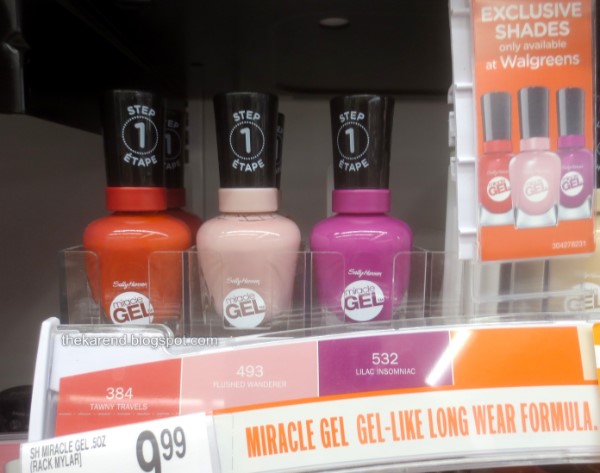 I shared Sally Hansen Xtreme Wear Pride displays the last couple display posts so I might as well complete the set with the Ulta display, which I only saw a bit later than the others. The lineup here (all core): Invisible (x2), White On (x2), Pucker Up, Sun Kissed, Mellow Yellow, Pine Shine, Pacific Blue, Rockstar Pink, Disco Ball, Strobe Light (x2), Black Out. Interesting that the red and green here aren't the same as the Walgreens displays, but in the boxed set (on the bottom shelf) the red and green are the ones Walgreens had. There was also a free gift here with purchase; I believe I read it was a tote bag (hard to tell from it being folded up in the package). I'm glad that Sally Hansen is on board the Pride bus, but I really wish that they'd done a decent green and purple for it. Or heck, done a whole new collection that was truly limited edition, not core shades with limited edition stickers on the caps.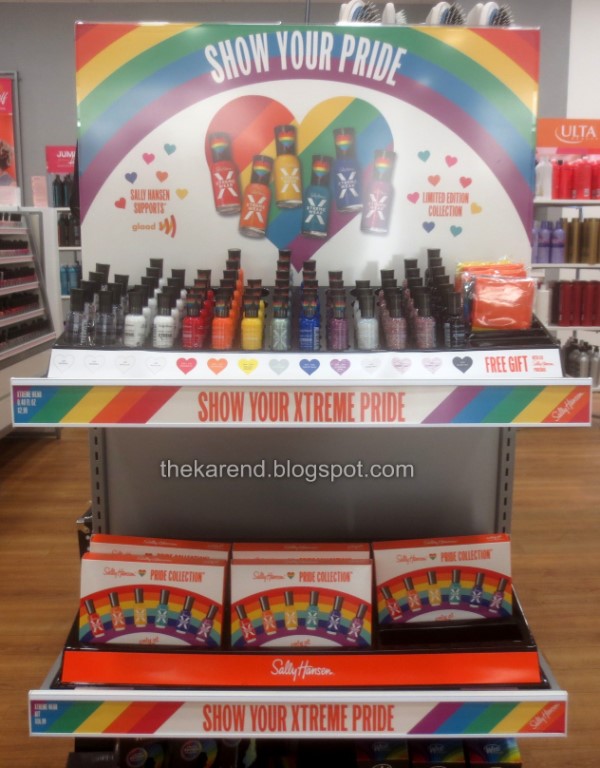 Sally Hansen put out some limited edition colors of Mega Strength that I only saw at Walgreens. They're in the front row here: Stay Golden, Empowder-ment, Ignite Your Fire, Fuchsia Leader, Seas the Day, Achieve Grapeness (sold out; I later saw it at a differen store and it was a creme). Back row is core colors:
Last display post I shared that I found the Sensationail Nailtural line at Rite Aid. In that case, it was on the end of the Nail Bar, with no shade labels and mixed in with Gel Couture duo kits, Julie G polishes, and hand and face masks. I found a much more organized display of the line at a store without a Nail Bar. Top row has remover, base coat, top coat, nail strengthener, and cuticle oil. Second row: Whimsical White, Sheer Selflessness, Peaceful Peony (x2 but second slot has Sheer Selflessness in it), Trusting Terracotta, Dynamic Daisy, Intuitive Impatiens, Poppy Patience, Reliable Rose. Third row: Wholesome Wisteria (x2), Humble Hydrangea, Lively Lavender, Optimistic Orchid, Profound Plumeria, Steady Stone, Sensitive Storm, Lyrical Licorice.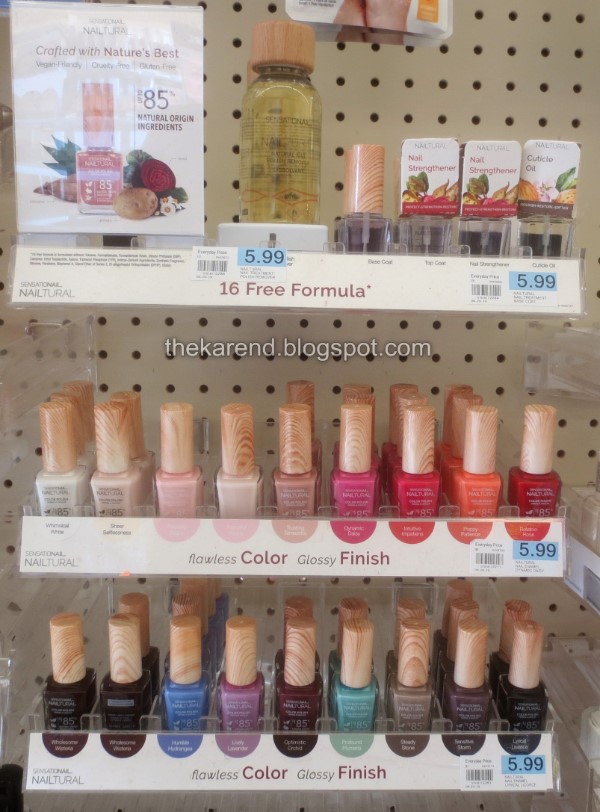 It felt like I ran all over looking for the SinfulColors Velvet Obsession display. Eventually I found a Walmart that had one that had all eight of the velvet matte finish colors. It was always a surprise to see what else would be in the display with the velvets; could be any combination of core colors and recent collections. I rearranged this one to put the velvets on the top row.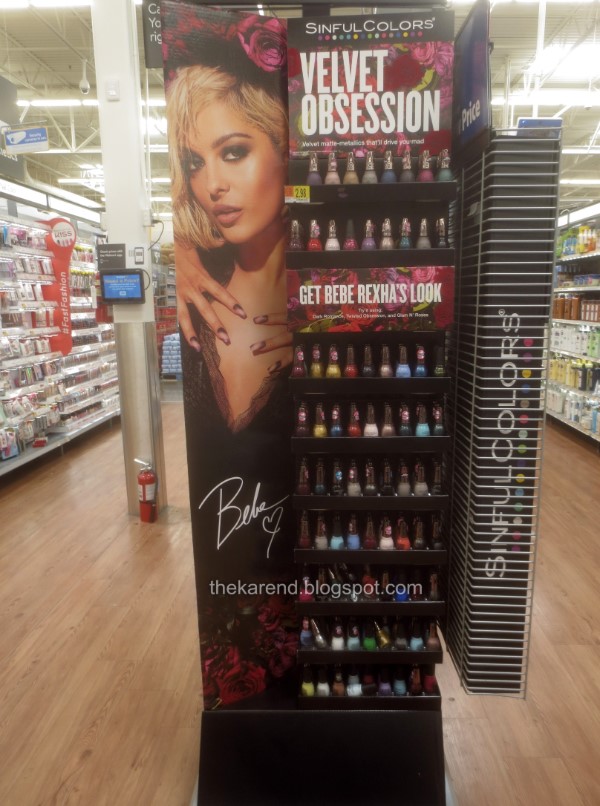 Left to right: Twisted Obsession, Glam n' Roses, Gold Jewels, Steel Velours, Gothic Ink, Dark Romance, Plum Lush, Empire Green.
I was happy to come across two SinfulColors collections at Fred Meyer; since Walgreens and Rite Aid don't have them any more it's been harder to get them. The first was So Lit, with the summer neons. Front row: Clear Coat (x2), Snow Me White (x2), Hella Bright. Back row: Juiced, Lit-terally, Extra AF, Zzzapped, Popped. The neons are new and I believe limited edition; the clear and white are core.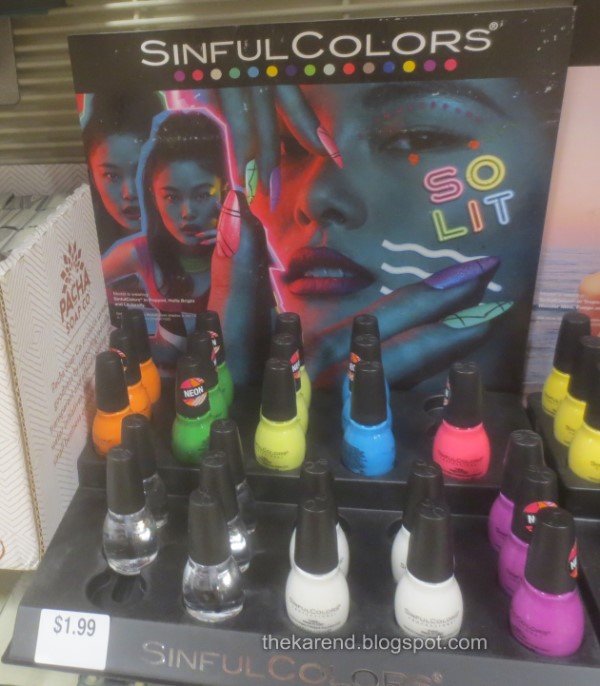 The second was Summa Love, which had three new cremes with some core/repromotes. Front row: Clear Coat (x2), Fuego (new), Wonder Mint. Back row: Yolo Yellow, Baewatch (new), Coco Bae, Acapella Ella, Tropic Like It's Hot (new). The empty slot there should have Pinky Glitter in it, which I know from finding the display at a different Fred Meyer; that was missing one of the other shades. The three new colors all have stickers on the caps saying "Sunbleached".
I didn't have great luck stumbling on Studio M displays in my travels. I only saw one, the Flawlessly Fresh for summer, and it was rather picked over by the time I got to it. Most of the names did seem like core or repromote shades to me, though admittedly I'm not in touch with the brand the way I used to be. Top row: Off the Deep End (gone), East Austin, Highlight of My Day (gone), Frenzy, Neon Pink, Pool Party (gone), Fresh Effect (gone), Wicker Park. Second row: Who's That Girl, Energy Star, Girl's Night Out, Creamsicle, 90's Nolstalgia (yes, they spelled it that way), Power Pink, You're a Queen, French Tip. Third row: Island Hopping, Blue Lagoon, Thunderbolt, Blue-ming, Neon Glow, Lightning Blue, Bubblegum, Orange Hot.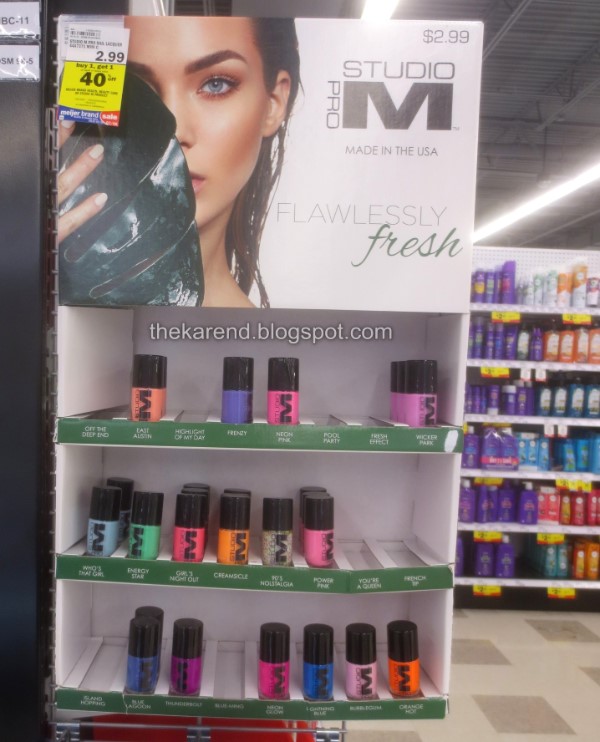 I was surprised to see a summer collection of Ulta polishes, the Caribbean collection, just tucked into the core display. Nothing super interesting here—I believe most or all were cremes—but it was a nince color story: Freshwater Pearl (core), Vacation Mode (limited edition), Girl Boss (core), Passports & Pineapples (LE), Bahama Mama (LE), Cabana Boy (LE), Mint Condition (core). The limited editions are in the Gel Shine line while the core are the regular line.
It's been ages since I saw any new polish from Wet 'n' Wild, so I was excited when I saw a set of minis in a Pac Man makeup display at Fred Meyer. I don't know if the shades have names; I do know there are five of them ( yellow, orange, red, purple, and blue).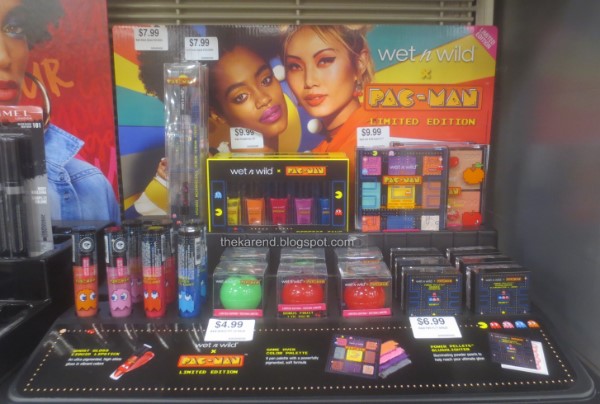 I guarantee it won't be another three months before my next display post as Halloween is just around the corner and those displays are showing up. I'm getting worried that I haven't seen the pumpkin polishes yet but maybe they're on their way.