In one of my April disply posts, I shared the five polishes in the Galaxy Nails section tucked into the regular Essence section at my Ulta. Of course I bought them all; at $2.99 each, how could I not, really?
Shortly before I left on my road trip through Michigan and Ontario, I swatched those five Out of Space Stories polishes, intended to do a post about them while I was traveling, but before I could do that, I came across two more in the collection at a drugstore in Canada, as I mentioned in my June display post. So I had to buy those as well, but then didn't want to share the swatches of the first five until I could also swatch the other two. So this post has been several months and two countries in the making, which is at least a better reason than I usually have to be behind on things.
Top section, left to right: Space Glam, Outta Space if the Place, Intergalactic Adventure, We Will Spock You, Across the Universe. Bottom: Beam Me Up and 1000 Light Years Away.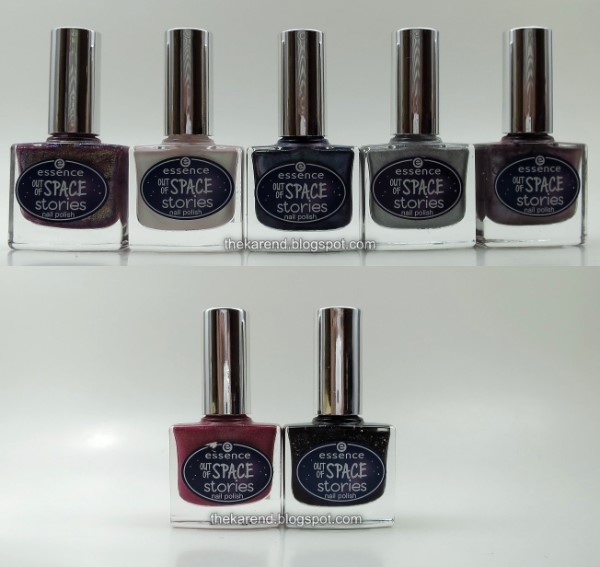 I started with the lightest shade, Outta Space is the Place, a very pale pink with pearl and blue shimmer, though the blue only shows up in some lighting conditions (or it might be green shimmer, it's hard to tell since it's so elusive). I used three coats; two might have worked if I'd made them a touch thicker.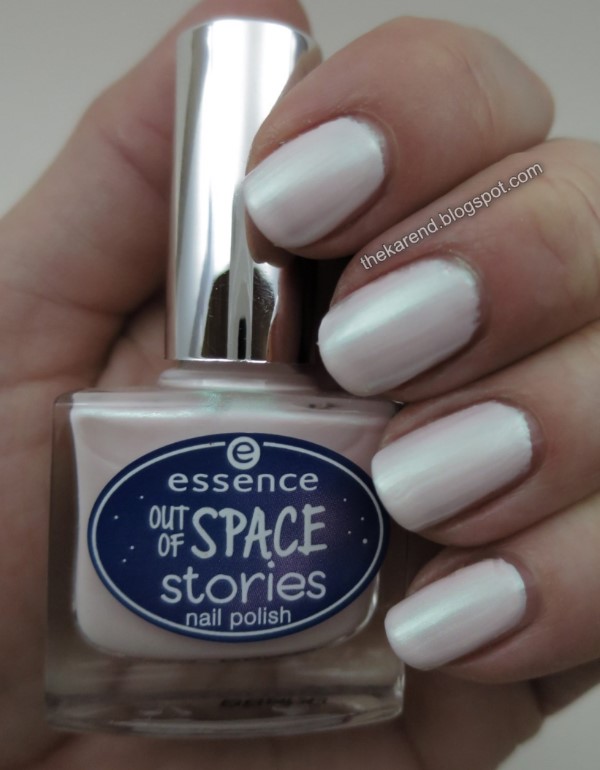 Direct light shot of Outta Space is the Place to bring out the shimmer: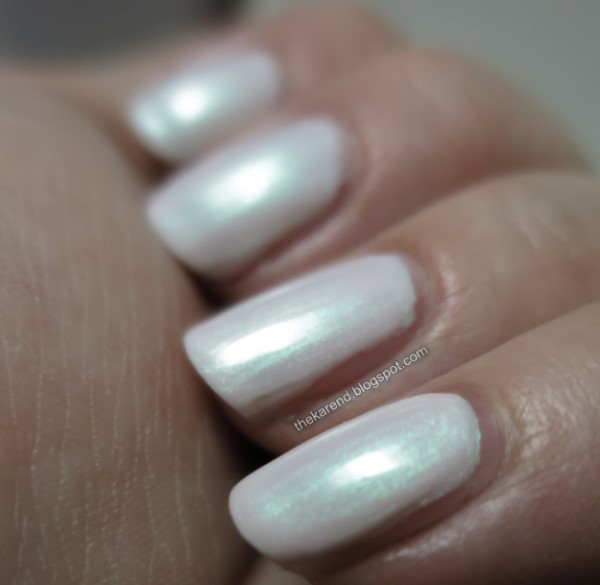 We Will Spock You is a silver holo shimmer. I did three coats of this one as well, and that was just enough to hide my nail line (you can see hints of it in these photos, but to the naked eye it wasn't showing). In the lightbox, this looked like a fine silver shimmer.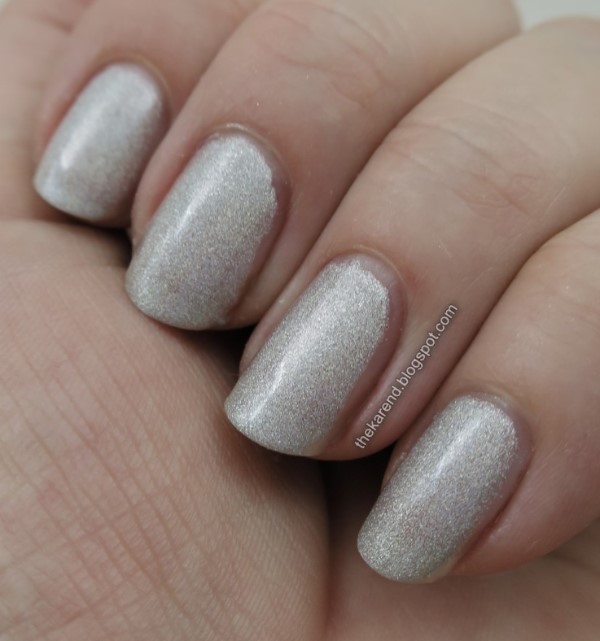 In direct light, the holo showed some color: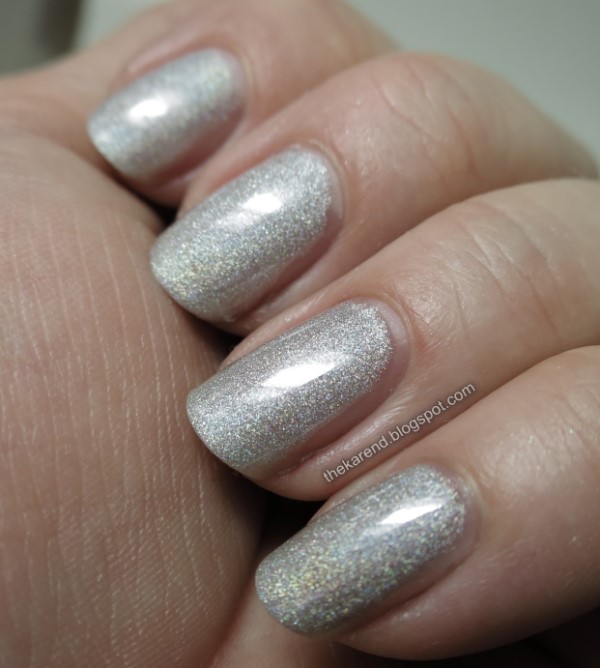 In sun, the holo was stronger, but still on the weak side; at this price point, I couldn't be mad about that.
Across the Universe looked shifty in the bottle, so I put a black creme base on my index finger before I swatched it, hoping to draw out the shift. It worked. Over the black base, one coat of Across the Universe showed a purple/green shift. On ny other nails, two coats of Across the Universe alone gave an interesting mauve with a grey/green flash (and visible brushstrokes from the pearly shimmer, which added to the throwback feel of this one).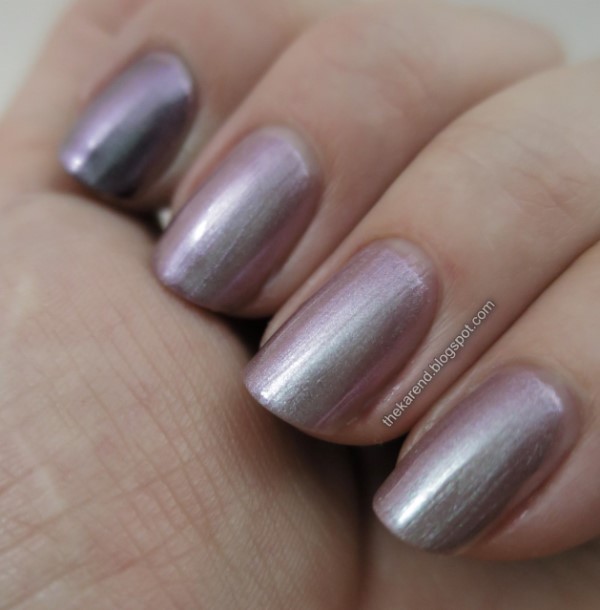 I decided I'd also try layering Space Glam, a rosy pink with gold shimmer. Over the black base on my index finger, just the gold showed—it's a dense shimmer; that's just one coat of Space Glam topping the black. On my other digits, three coats of Space Glam built nicely to a very blingy, almost metallic look.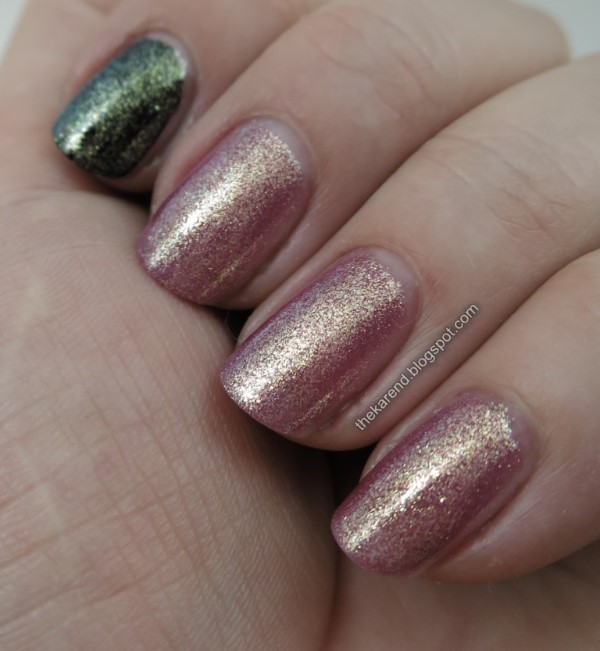 Intergalactic Adventure is a blue shimmer which covers in two coats and shows hints of both brushstrokes and a purple/teal shift.
Seeing the shift in Intergalactic Adventure on its own, I thought I probably should have tried layering itone over black, so I did that, but also another few combinations. Top to bottom: Outta Space is the Place topped with Space Glam, Across the Universe topped with Space Glam, We Will Spock You over black, and Intergalatic Adventure over black. I was quite taken with the Across the Universe and Space Glam pair; the shimmer in Space Glam covered the brushstrokes in Across the Universe and the base colors blended into an interesting shade.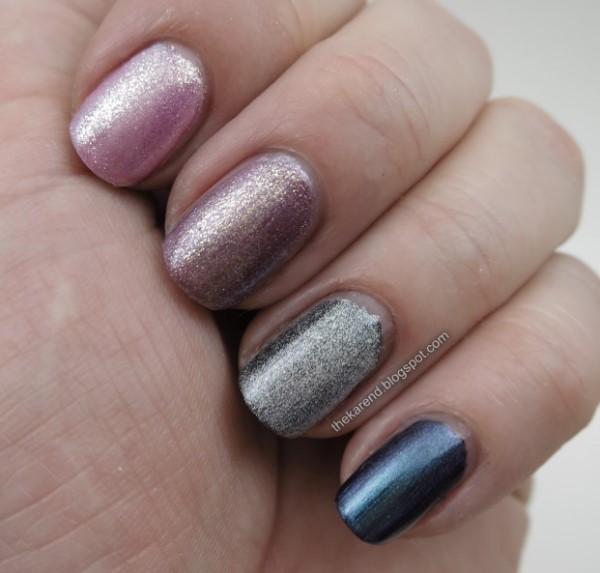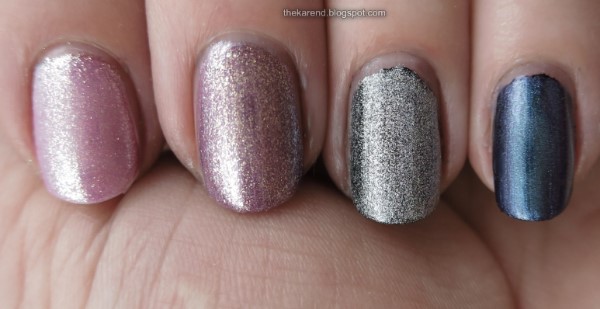 When I got these combinations in the sun, I was interested to see the gold shimmer on the first two sparking other colors, with the gold mostly disappearing. Some rainbows did show from the holo over lack on my ring finger, and the blue/purple shift on my pinky also popped.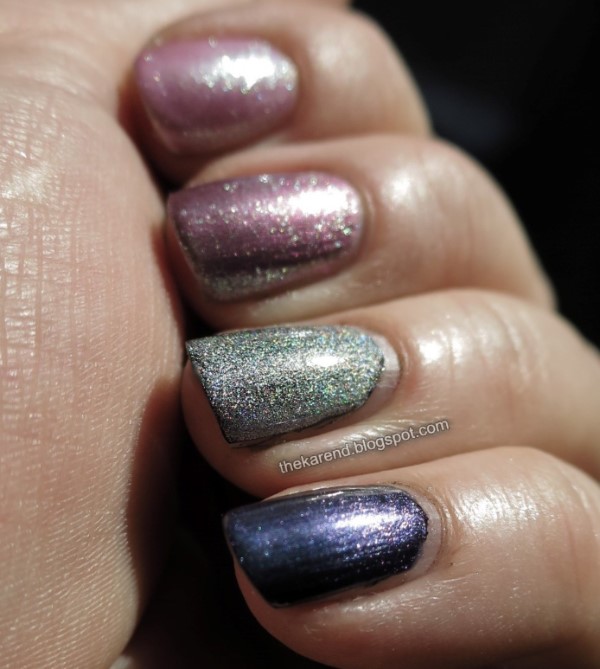 Beam Me Up is a bright pink with fine silver and very shy holo shimmer. I used two coats for my swatch.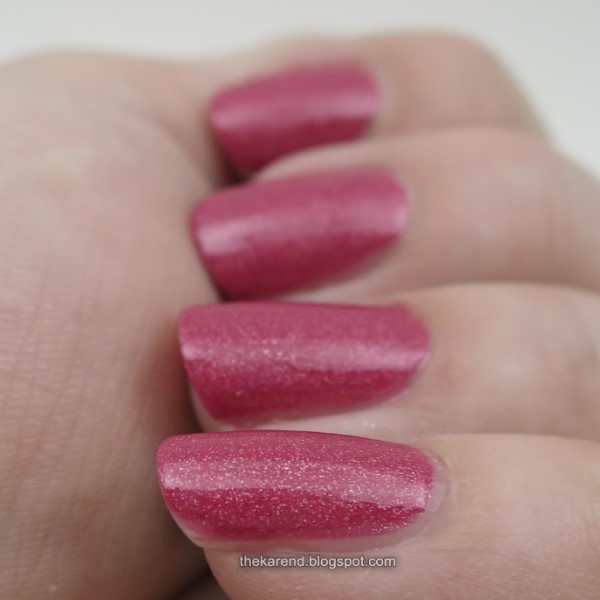 I wasn't blessed with sun the day I swatched this, but I fancied I could see a few hints of rainbow colors from the holo in direct lamplight: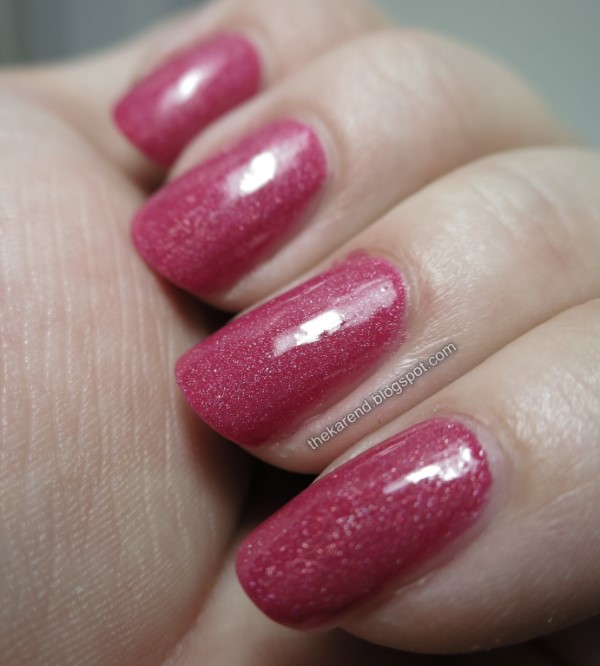 1000 Light Years Away is a black with silver microglitter and small holo hex glitter. I did two coats and added clear topcoat even though this is not a bumpy glitter. I think it looks like a starry night sky; very pretty.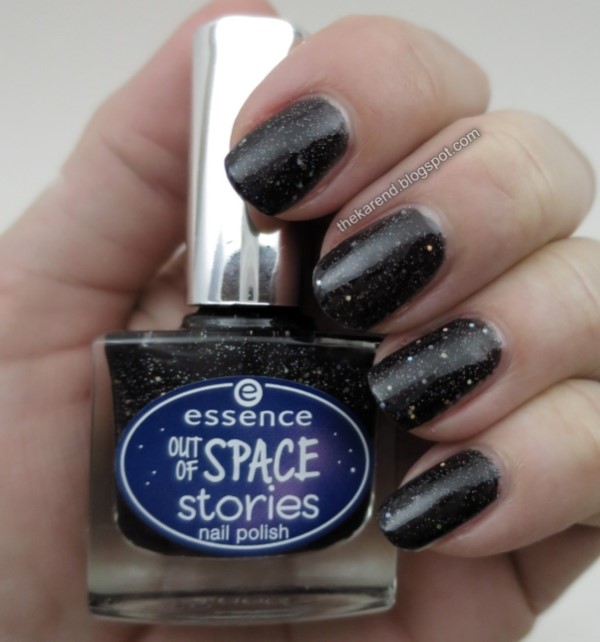 Catching the holo glitter in direct light:
I'll finish up with my attempt at a galaxy mani with these Galaxy Nails polishes. I did a base of Intergalactic Adventure and sponged on Outta Space is the Place, Across the Universe, a Space Glam. That all was fine. Not so fine was my dotting of "stars" with white; they were way too big but I plunged head and topped my index and middle fingers with Essence Hello Holo, my ring with Space Glam (which turned the "stars" pink), and my pinky with We Will Spock You, which obscured most of my sponging.
I continue to wish that we got more Essence here. These are fun polishes and a good value.