Today I have nine of the Sinful Colors Quick Bliss shades, bought at Walmart in person before before I went into isolation for the pandemic. Since then, two more colors were released, but I haven't been able to get those since the Walmart closest to me doesn't carry the brand anymore, and I'm staying close to home. I do have a preorder in for a set which includes them plus an exclusive shade but shipping of that has been delayed twice and I'm beginning to wonder if I'll ever see them. Ah well, time will tell. For now, let's enjoy the ones I do have. Top, left to right: Sweet Cheeks, Juicy, Climaxxx, Cherry Chaser. Bottom: Blackcherry, Flushed, Ice Ice Cherry, Hit the Spot, and Bite.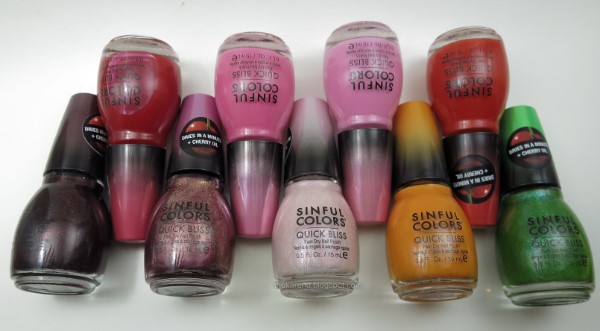 There are two pink cremes, because of course there are ... that's what a lot of people want. I probably shouldn't have bought them because my interests are elsewhere now, and I have several lifetime's supply of pink cremes already, but my completist nature got the better of me, so I have them. Climaxxx is the lighter pink, swatched at three coats on my index and middle fingers. Juicy is the darker pink, also three coats, on my ring and pinky. They're fine. This is supposed to be Sinful's quick dry line, but I didn't notice them being especially fast, maybe because of the three coats I used. Two didn't seem like enough to me. I'm not crazy about the names for these; Climaxxx is just trying too hard and Juicy would seem better suited for an orange rather than a pink.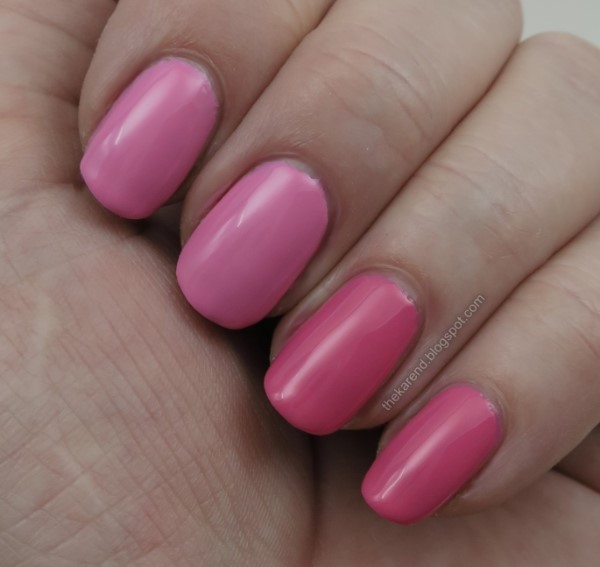 Ice Ice Cherry is also pink, but much more up my alley because it's a shimmer that works as a topper. It's got pink and gold shimmer with a bit of shiftyness to it.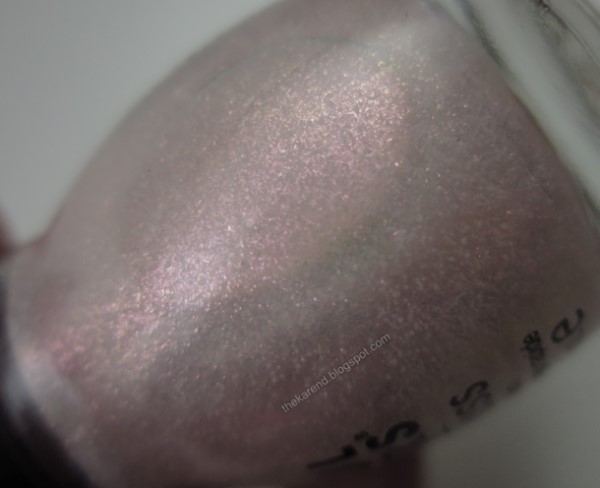 I added one coat of Ice Ice Cherry over the pinks, and it made them so much more interesting to look at.
I played with the reds and yellow orange next. Top to bottom: Hit the Spot (yellow orange creme) with cloud design in Cherry Chaser, Hit the Spot alone, Cherry Chaser (orange-leaning red creme), and Sweet Cheeks (pink-leaning red crelly). All of these were three coats. You can see that Sweet Cheeks was not quite opaque at that point (and I swear my nail line wasn't actually dirty).
You know I had to try Ice Ice Cherry over these. I added another cloud to my index finger with it and put one coat on the other three nails.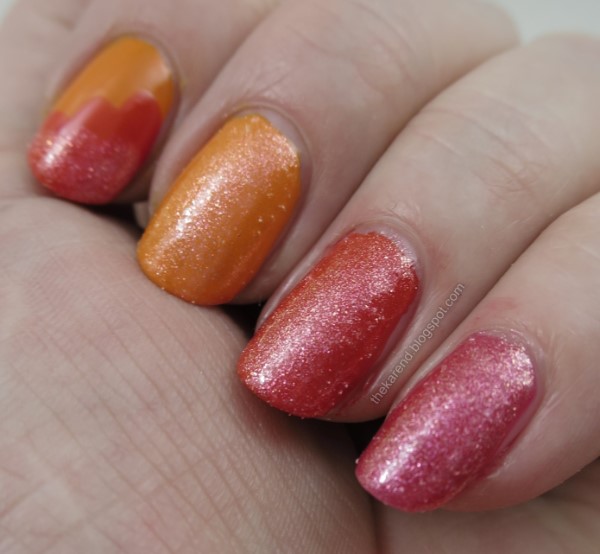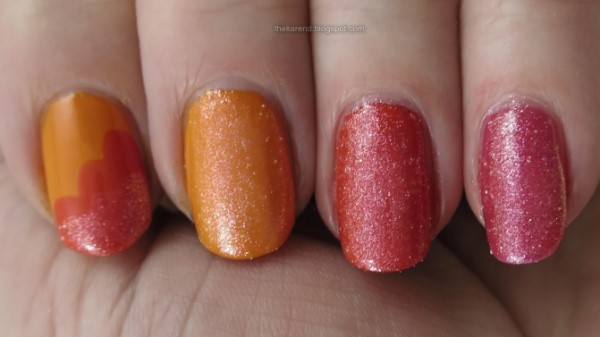 I wanted to take advantage of the sheerness of Sweet Cheeks by doing a jelly sandwich, so I put two coats of it on, fished some glitter out of SinfulColors Love Sprinkles, and topped with two more coats of Sweet Cheeks. There's my next Valentine's Day mani sorted.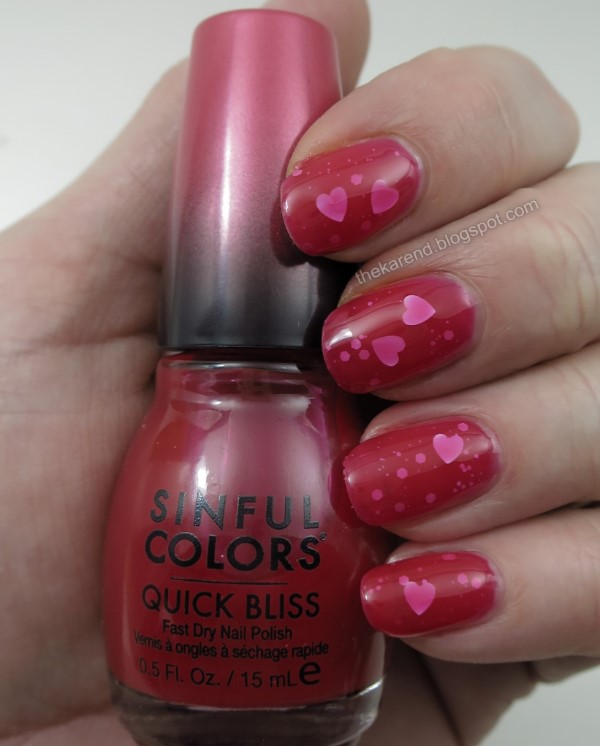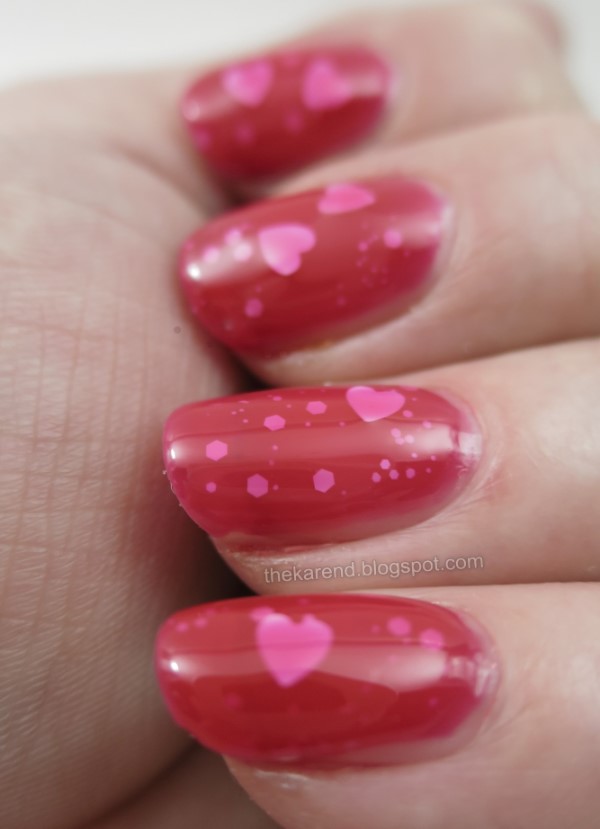 For reference, here's what Love Sprinkles looks like in the bottle.
The next shades I tried were what I think of as the two sophisticates in the collection: Flushed, a rose gold flecked shimmer, with an accent nail of Blackcherry, a vampy red subtle shimmer. I used two coats of each of these.
Direct light shows off the shimmer in Blackcherry better than indirect: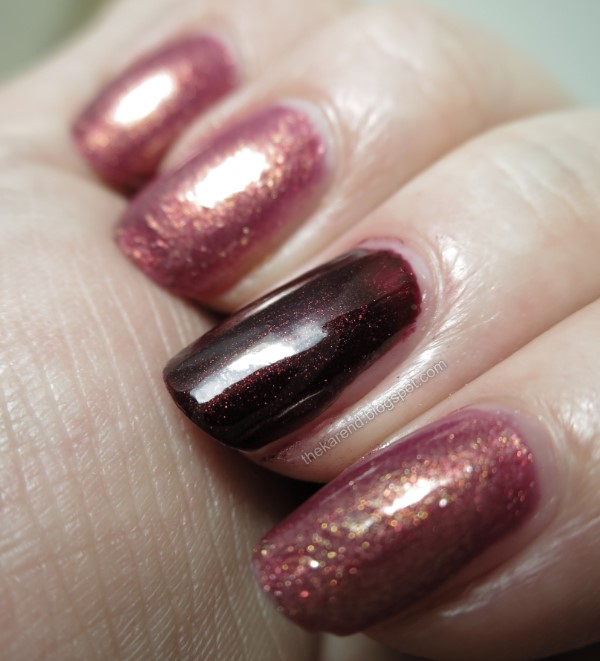 I added one coat of Ice Ice Baby to my accent nail, and the deep base provided by Blackcherry really brought out the pink to gold shift in the topper. Cool.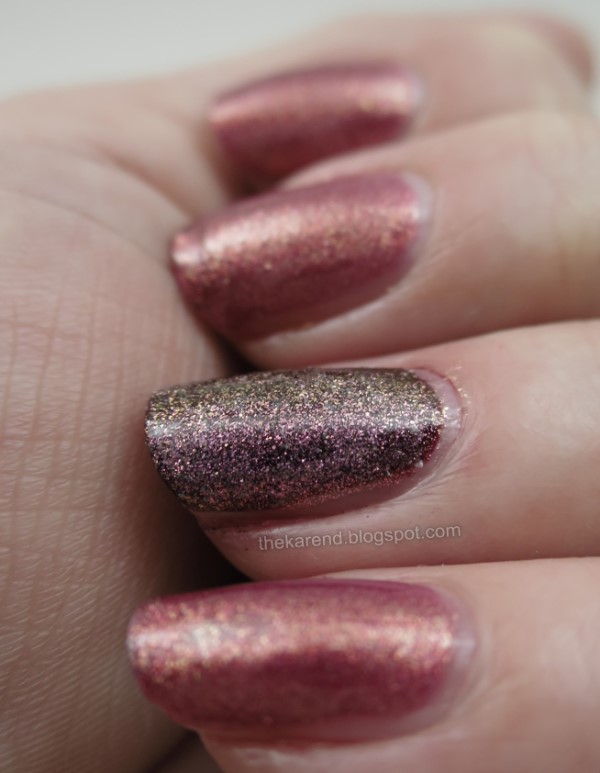 Bite was the last one I bought (first store was sold out or hadn't gotten it yet, I don't know which) and the last one I swatched. This lime green has blue and pink shimmer it in.
I used three coats for my swatch and my nail line was still visible (though did not look as dirty as Sweet Cheeks had made it look). The pink shimmer I could see in the bottle was mostly absent on the nail, letting the blue dominate, though at some angles I could see the pink too.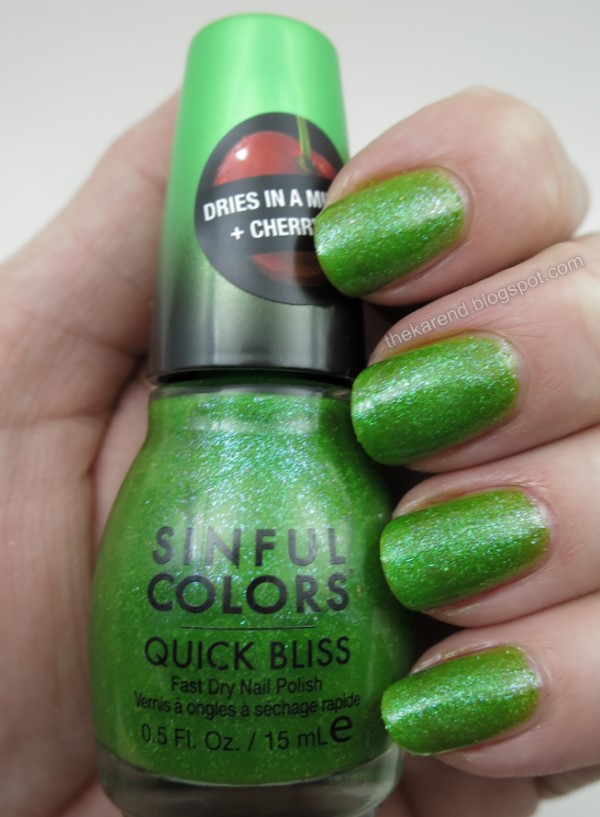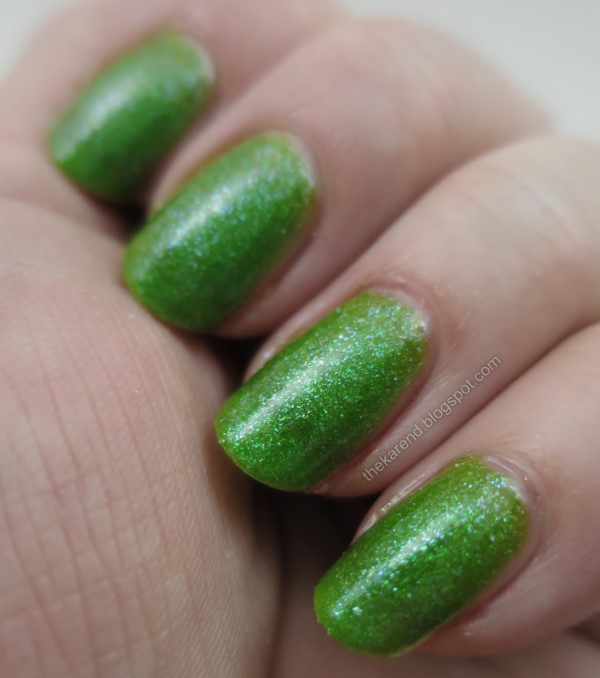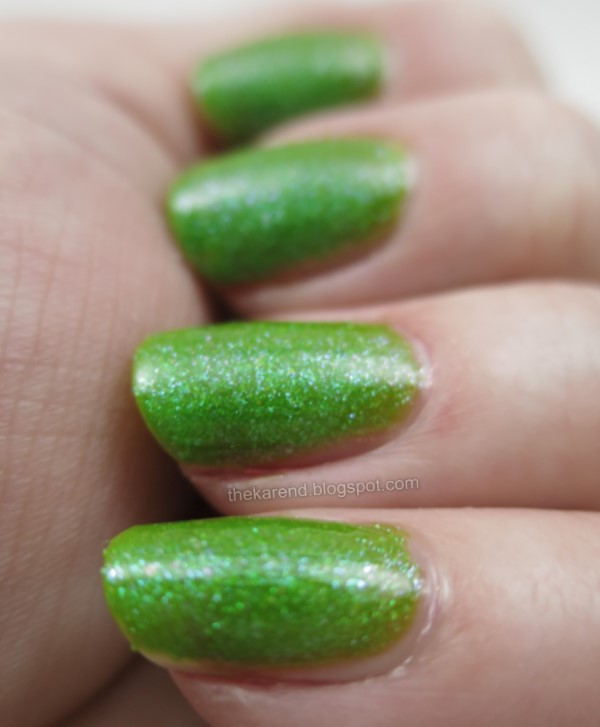 I did one last swatch before I put these away, of one coat of Bite over a cool green creme base. I liked this better than Bite alone. If I'd used a brighter, warmer green for the base it would have looked closer to Bite by itself; I plan to try that next time I pull it out. If I remember, which let's face it, I likely won't.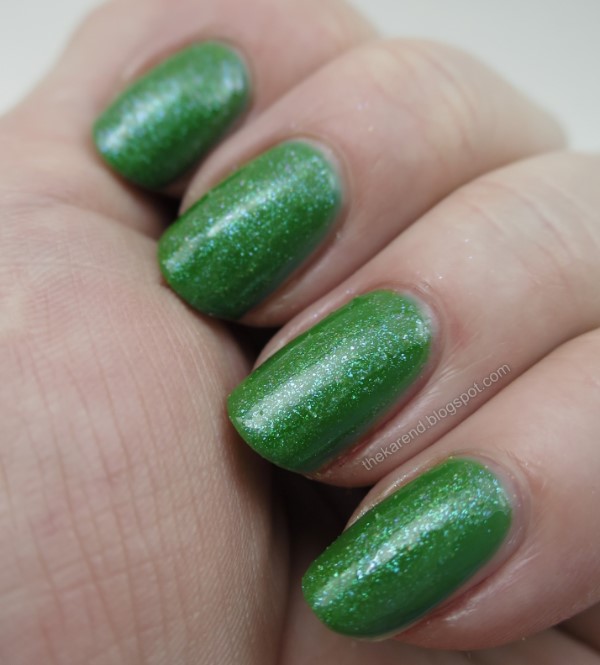 I think Sinful did a decent job with the shades in this new (well, new-ish by now) line. There are the reds and pinks for the mass market but also some interesting things for those of us who want more. One of the newer shades I don't have yet is purple so I'm looking forward to seeing that.