The mountain resort opened for summer this past weekend; it was 45 degrees Fahrenheit, foggy, and drizzling when I took my first scenic lift ride of the season. So summer is more of a concept here at this point than a reality, but I did experience some warm weather on my recent road trip. The stores along the way were stocked with bright polishes and other seasonal fun, and of course I've spotted some things closer to home since my return. I was surprised at how many pics I did have to sort through and edit for this post, as my last
display post
was only last month. That's a good sign, I think; maybe the decline in retail nail polish is starting to reverse a bit.
Fred Meyer had a brand of fake nails I'd not seen before: Ardell Nail Addict. I later saw a display of these at Walgreens as well.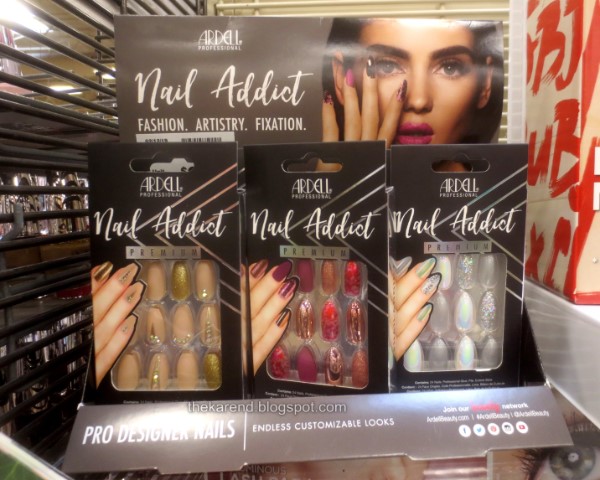 The China Glaze Body & Sol collection for summer 2019 is something I've only see at Sally Beauty so far. There were other colors in the back of the display with the eight new shades in front (bookended by topcoat): Skinny Tipping, Beach Buff, Beaches & Toes, Tan-Do Attitude, Copper-tunist, Glow-worthy, Bronze Ambition, and Send Hues.
I saw the CND Vinylux bridal collection Yes I Do at Walgreens. Four shades here: Cream Puff, Negligee, Skin Tease, and Mauve Maverick. There was no mini set of these shades; instead there were two mini duo packs with core colors, one with Married to the Mauve and one with Romantique.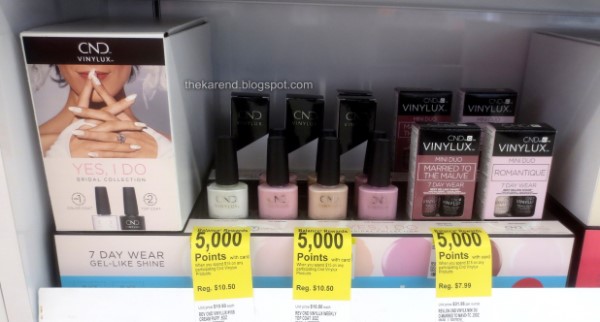 I finally came across the Color Club rose scented matte polishes in a Walmart on my road trip. Left to right: Fresh Picked, Roses are Red, Long Stemmed & Lovely, Be Mine, First Kiss, Blushing Beauty, Perfectly Pink, You're Making Me Blush (sold out).
I still haven't bought, much less tried, the Dashing Diva Gloss nail strips that I've been seeing at Sally Beauty, but if I decide to change that, now I know I can find some designs of them at some Walmart stores, too. This one also had a set of Dashing Diva Brilliance nail art crystal designs.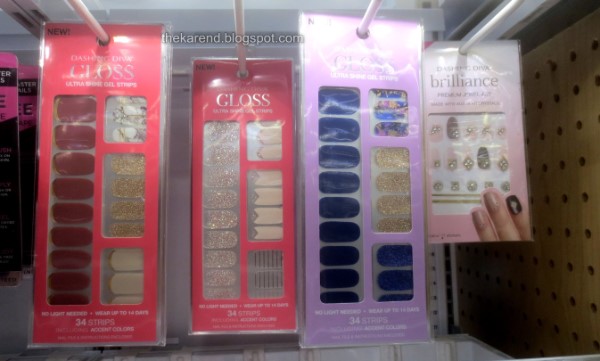 I shared a small Essie summer display from Rite Aid last time, which had only four slots for the six shades. Since then, I've seen a larger display at both Fred Meyer and Kohl's. This one touted the "new demi-matte finish", which I'm skeptical about; I'm thinking that might just be spin on the way shades with neon pigment have always dried. Left to right: In Full Swing, Claim to Flame, Strike a Rose, Tangoed in Love, Take the Lead, Soles on Fire. (I also saw a sidekick with this collection at a Walgreens, not pictured.)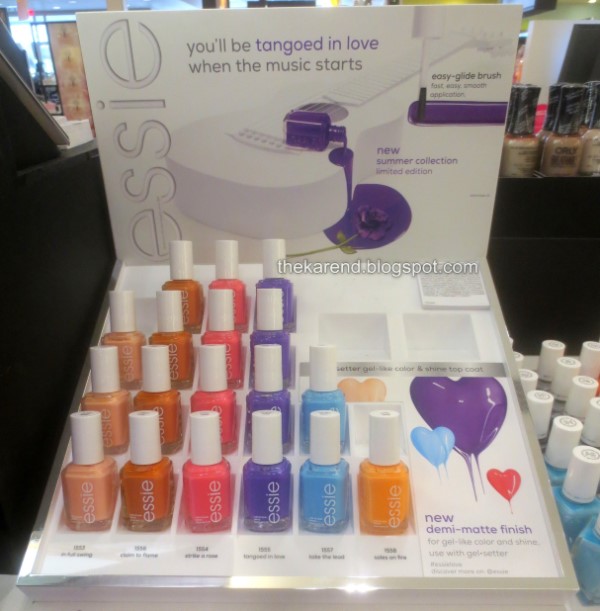 Kohl's is the only place I've seen the Essie Glazed Days collection in person. Unfortunately it was hard to get a good picture of these since they're in one of those backlit displays (and I didn't want to use flash in the store and attract even more attention to myself). Left to right (two slots per shade except for the last two): Glazed Days, Sweet Not Sour, Confection Affection, Ooh La Lolly, Sweet Supply, But First Candy.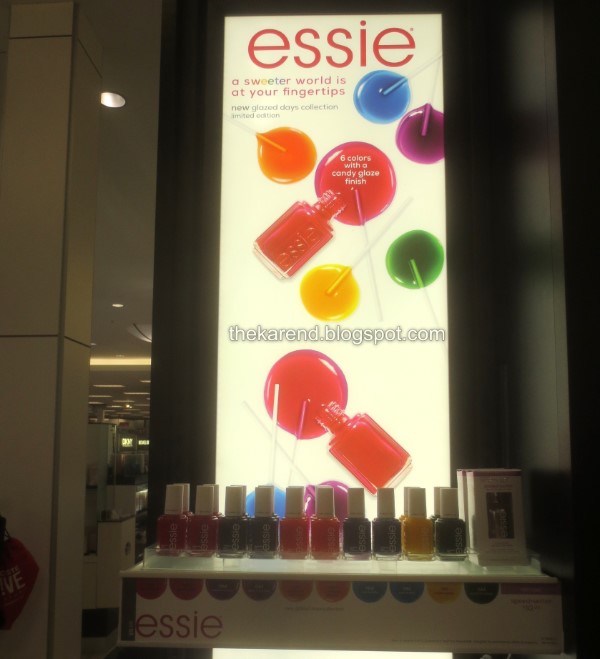 Target had an Essie plus Olive & June display with Essie polishes and Olive & June nail stickers. The Essie colors, both regular line and Gel Couture, are not unique to this display. The stickers I think are Target exclusives. There are six designs: Lovely Day, Fruit Salad, Cabana Crush, My BFF is a Lama (their spelling), Rainbow Bright, In Bloom.
At $7.50 for 36 stickers in a package, they seem a bit pricey but they are cute. See the "lama" one below.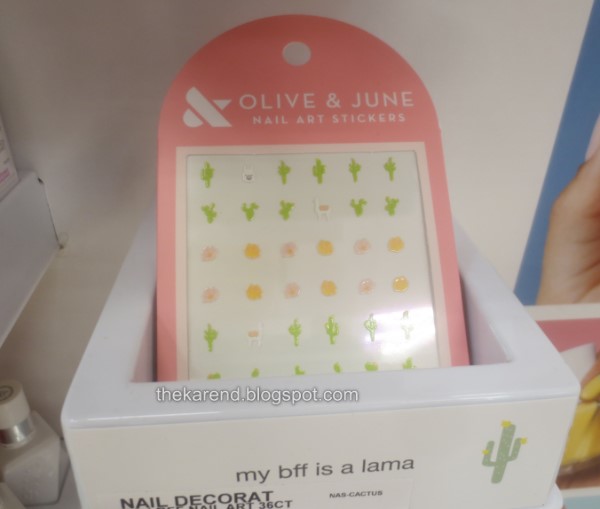 Unlike in my rounds of Five Below stores before my previous display post, this trip I did find a few new polishes in the few bins they do have these days. Funky Fingers I Glitterly Can't is an iridescent glitter.
There were also a couple of Fresh Paint cremes I hadn't seen before: Thank U Next and Breakfast at Tiffany's.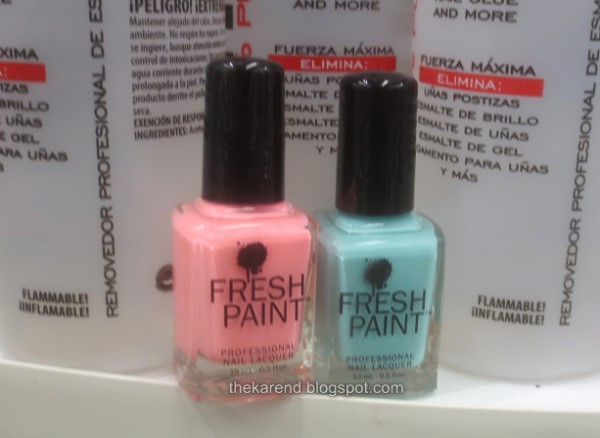 Walmart had a display from imPress advertising "The 1-Minute Mani & Pedi", which had fake toenails on the top and fake nails on the bottom. I have yet to try fake toenails, since my pedis last a long time and I rarely break toenails, but I'm getting tempted by some of the textured designs here. I think the "1-Minute" part is rather optimistic; I use fake nails all the time and it's not that fast. Maybe if I started the stopwatch after I'd picked all the sizes and peeled off all the tabs from the adhesive. I saw a much smaller shelftop display with this same theme at Walgreens as well.
The Just Add Sun UV color changing polishes are back again this summer. One Walmart I was at had a display with polishes on top and hair accessories on the bottom; it also had a spot with a light you could click on and see the color change, which was something I hadn't seen before and thought was a great idea. I also saw a Just Add Sun display at Fred Meyer; it didn't have the hair accessories but did have a space for the light alongside the polishes.
Top row: Unicorn Fantasy, Tangerine Dreams, Reckless. Middle row: Baby's Breath, After Party, Get Your Pink On. Bottom row: True Blue, Ruby Slipper, Reckless.
I saw an LA Colors sidekick display at Walmart that was not as much of a mess as things usually are there. The notable part of this one was the top two rows, which were the Color Craze Gel Creamy Neon shades. Top row (two slots each): Gossip, Good Vibes, Day Glow, Lucky. Second row (two slots each, though last two were down to a single bottle each): Chill Out, Splashy, Girl Talk, Jazzy. The other sections had a mix of things we've seen before in other displays (some Mermaid Magic, some core Gel colors, some Hypno).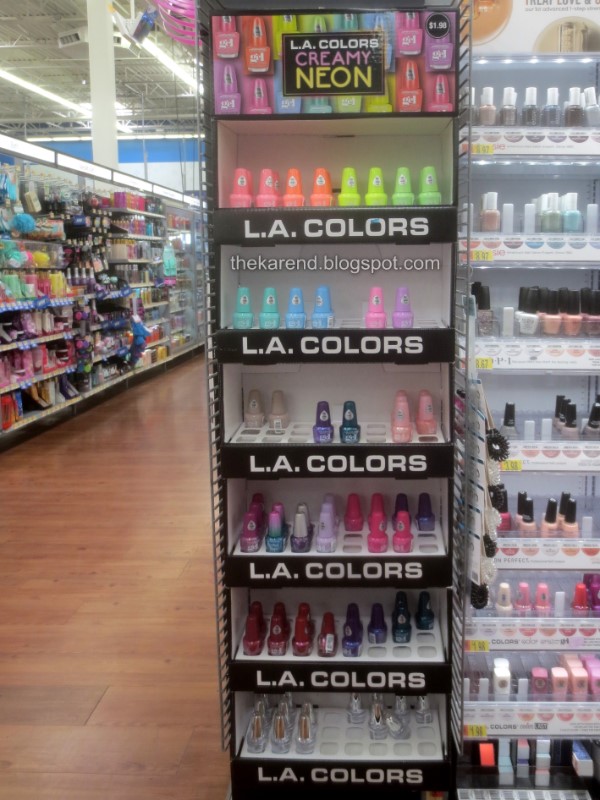 Also at Walmart, there were some LA Colors Color Last displays with a vaguely 4th of July theme. There are red, white, and blue polishes in here, but they don't seem to be limited edition and are mixed in with a mish mash of other colors, including some of the metallic finish shades.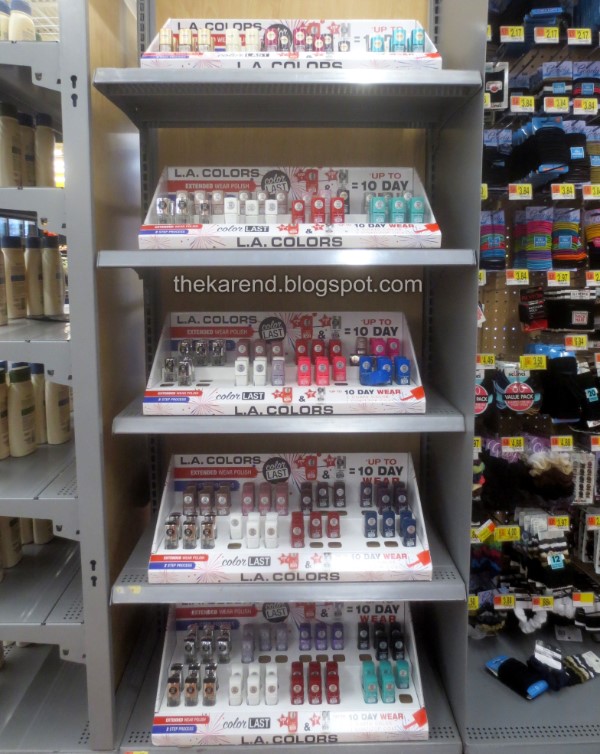 Rite Aid had two displays of LA Girl repromoted shades for summer jammed together on a shelf. The one in front is Summer Charm and has colors from the Gel line: Star Dust, Sensual, Desire (a bit bright for this assortment), Bella, Charming, Lingerie, Striking, and Clear. The one in back, Summer Glow, contains brights from the Color Pop line: Plunge, Peacock, Leap, Striking, Rad, Roar, Swanky, and Feisty. The Summer Charm colors were all also in the Nail Bar, but only Feisty from the Summer Glow display was.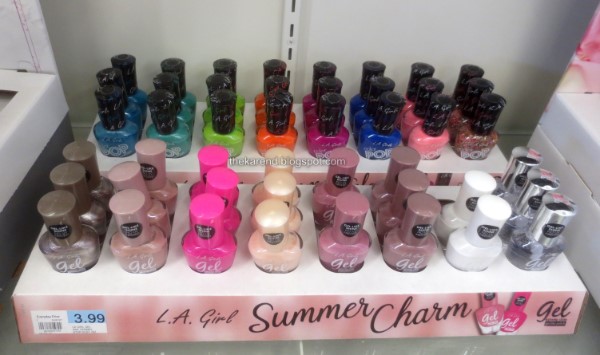 Sally Beauty now has Morgan Taylor. The Rocketman collection is a movie tie in and has six cremes plus a glitter topper (I am kicking myself now for not moving the purple up to the front row before I snapped this pic. Shades here: Just Me & My Piano (purple), Sir Teal to You (teal), Put on Your Dancin' Shoes (red), It's the Shades (deep pink), Tickle My Keys (pink), Glow Like a Star (yellow), and Bedazzle Me (glitter topper, which I resisted but now I see the pic and want it bad). Ulta also had some of these colors in the core display unit; they were missing the red and yellow there (not even slots for them).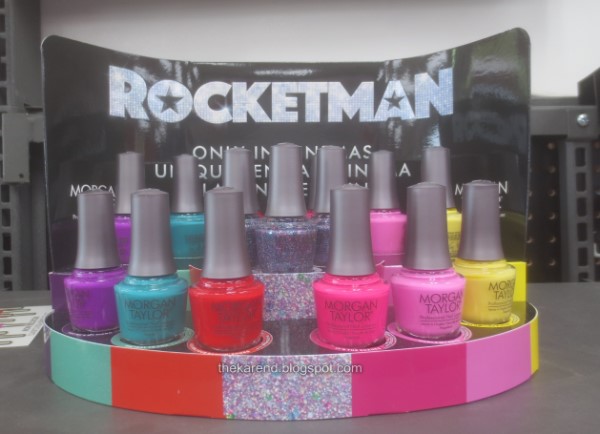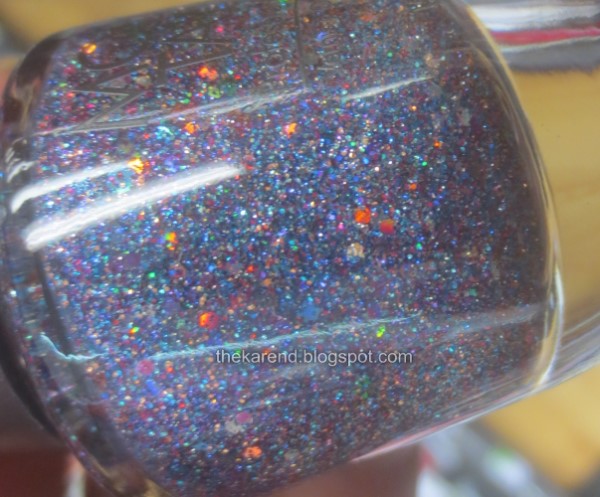 Walgreens had a Sally Hansen Mega Strength display that was notable not for the colors in it but for the two gift sets, each of which had two colors, the top coat, and cuticle oil packaged in a zip top cosmetic bag. The Bold & Bright set (on the left side of the display) had Money Pink Power and Just Getting Started while the Soft & Subtle one had She-Ro and Boss Gloss.

At Rite Aid, I saw a summer Insta Dri display from Sally Hansen called Tropical Brights, which also has leg makeup along with the polishes. I've only seen these colors at Rite Aid so far. Six shades here: Hit the Deck, Flamin-go, To the Peach, Cruisin' Blue, My Ca-Banana, Strawberry Heat.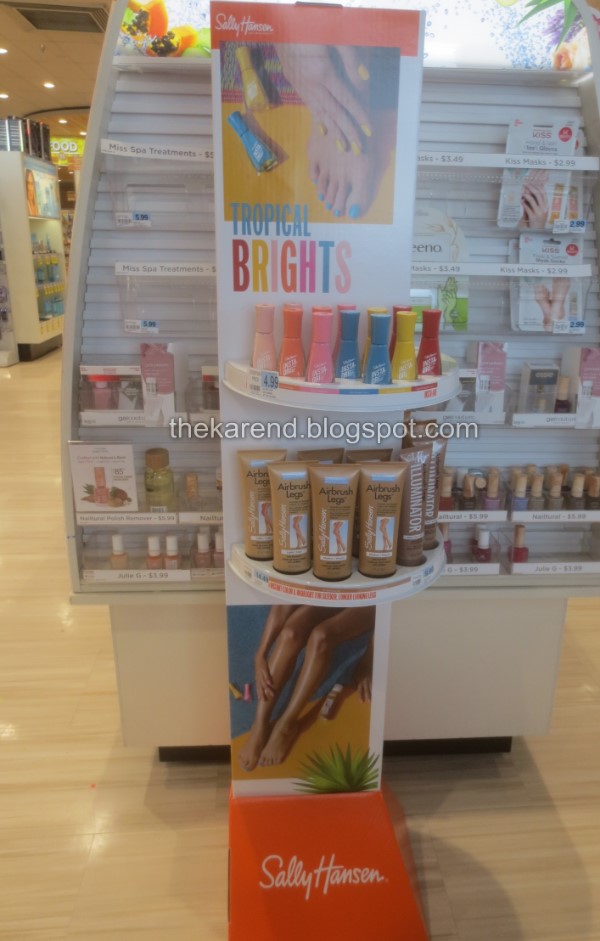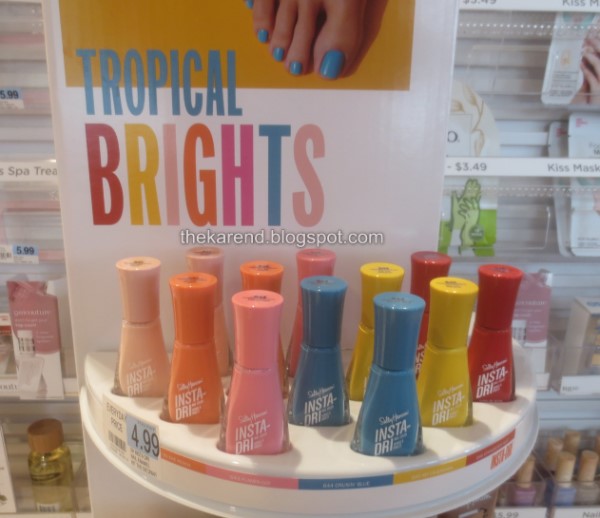 The Sally Hansen Color Therapy pastel shades and floral stickers from spring showed up at Ulta in a display I hadn't seen before. The interesting thing was this also had Crushed Metal kits in Rose Gold, Gold, and Silver. The display says these give a textured metallic look. The kits have base coat, effect coat, and chrome finish polish.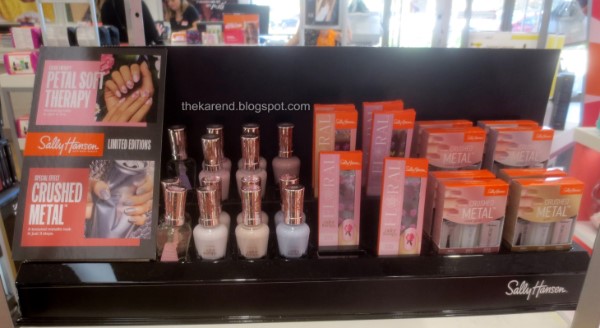 Finally in the Sally Hansen section, I have a better lit, better stocked Xtreme Wear Pride display than the one I shared last time. As mentioned, these are all core colors. Front row: Red Carpet, Drop the Beet/With the Beet, Coral Reef/Giant Peach, Blue Blitz/Babe Blue, Pine Shine/Silver Storm, Jam Sesh, Iris Illusion/Lacey Lilac, Disco Ball. Back row: Invisible, Red-ical Rockstar/Rebel Red, Sun Kissed, Mellow Yellow, Jazzy Jade, Pacific Blue, Rockstar Pink, White On.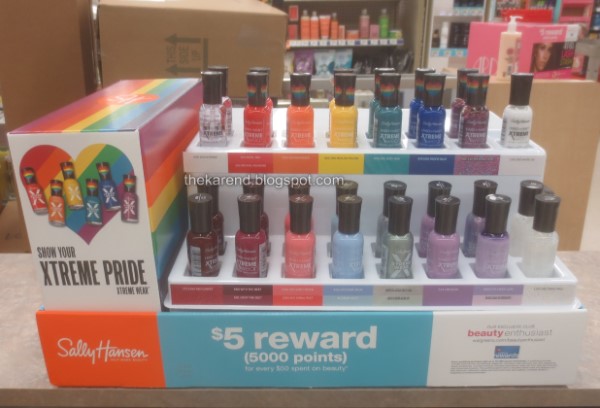 Last display post I shared the Nailtural line from Sensationail that I'd only seen in Canada. I was surprised to find it at a Rite Aid here in Idaho, just rattling around in bins on the end of the Nail Bar. I almost missed them.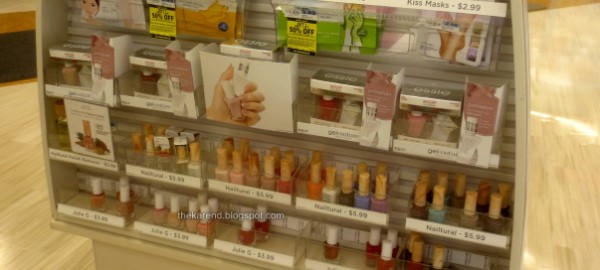 As shown in my last display post, I found the SinfulColors Naughty Nudes in the Fearless Color display at one of my local Walmart stores. In my travels, I ran across a dedicated Naughty Nudes display; it was very picked over, so no telling what it was meant to have in it besides the nudes.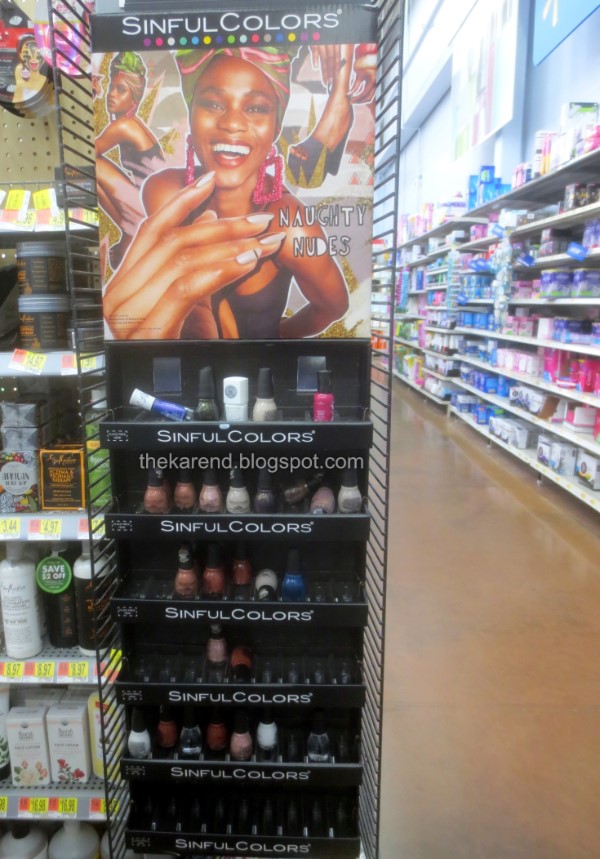 I mentioned last time that I'd seen the SinfulColors Silky Matte shades starting to show up in frosted glass bottles after initially being in regular bottles. As the Walmart stores restock the displays, I'm seeing more and more of the frosted bottles. This store had one shiny shade left but all the rest were frosted. Left to right: Purplexed, Coral Craze, Dragonfly, State-mint, Let's Flamingle, Blue Me Away, Blacklist, Mattifly Top Coat, White Lies.
As far as I know, very few Walmart stores got the SinfulColors SinfulShine Cosmic Dreams display, so I felt fortunate to find one on my travels that was pretty much full.
Top three rows below; ones marked with * are part of the Cosmic Dreams collection, which is another Vanessa Hudgens collaboration. Top: Liquid Gold (times 4), Galaxy (*), Tutu Thrill (times 2), Spice, Poison Apple. Middle: Spice (times 2), Space Dust (* times 2), Galaxy (*), Wine Not (times 2), Poison Apple, Prosecco. Bottom: Plumberry (times 2), Magic Dragon (times 2), Dark Matter (* times 2), Shimmarine, Top Coat (times 2).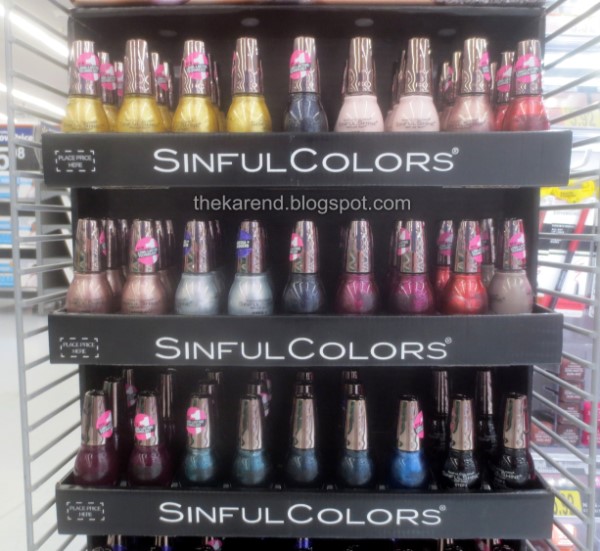 Bottom three rows below. Top: Aurora (* times 2), Magic Dragon, Celestial (* times 2), Mercury (* times 2), Prosecco, Top Coat. Middle: Diamond in the Raw (times 3), Mercury (*), Pragmatic, Galaxy (*), Interstellar (* times 2), Top Coat. Bottom: Shimmarine, Galaxy (* times 2), Shimmarine (times 2), Diamond in the Raw, Poison Apple, Aquarius (* times 2).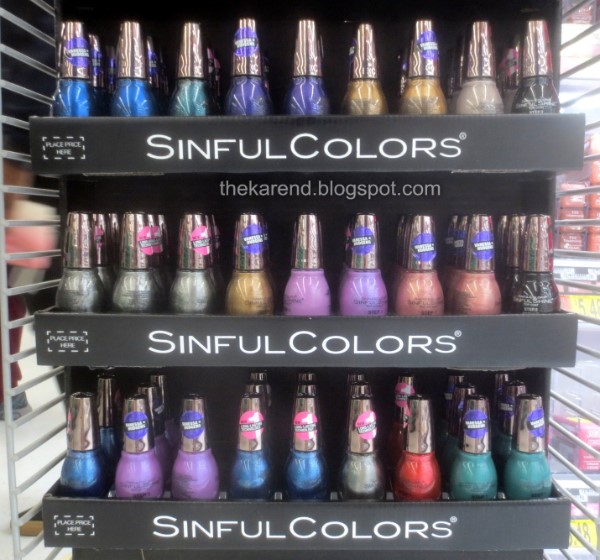 Ulta slipped the Caribbean collection of their Ulta Beauty Gel Shine line into the backlit core display. Left to right: Freshwater Pearl (repromote), Vacation Mode, Girl Boss (repromote), Passports & Pineapples, Bahama Mama, Cabana Boy, Mint Condition (repromote).
At Target, there was a Defy & Inspire Vita Fit display, a line I hadn't seen before. Left to right: Sweat is Liquid Awesome, I Love Me, Fitalicious, No Pain No Gain, Victory Lap, Ion the Prize, Can't Stop Won't Stop, Ion the Prize. I thought I recognized this bottle shape even though I knew I hadn't seen this particular line before; then I recalled the Confetti brand that CVS had for a while. These are the same sort of bottles as those were (see an example
here
).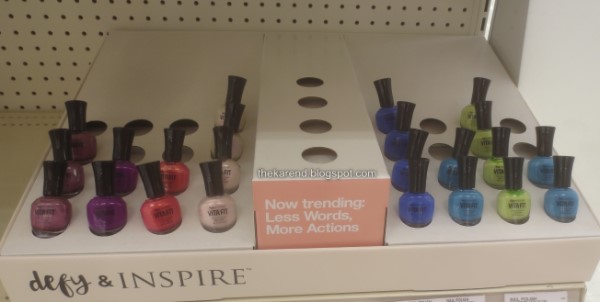 All of the Vita Fit colors are core; I found them plus some others in the regular nail polish section a few steps away from the shelf top display. Left to right: Better Sore Than Sorry, Less Words More Actions (sigh), Work In Progress, I Love Me, One Dream (sold out), Can't Stop Won't Stop, Ion the Prize, Victory Lap, No Pain No Gain, PE Teachers Rule, Fitalicious, Sweat is Liquid Awesome, Challenge Your Limits, Run Harder Than Your Mascara, Stop Making Excuses, Sweat Smile Repeat.

There does seem to be some confusion on the part of the Defy & Inspire folks about what glitter is. The last eight polishes are all labeled "glitter" on the display. Only one is what I'd call glitter. The others are shimmers. See Fitalicious below for instance.
Some things I haven't seen yet that I'm looking for are the three additional Essie summer collections: Gorgeous Geodes, Sunrush Metals (Gel Couture), and Rocky Rose. I'm heading out on a plane soon; maybe I'll see them on my travels.