Yes, it's been a month since I last posted. I was overly optimistic about what I could get done between my long trip and the shorter one I got back from earlier this week. But now I've managed to get through all the display photos I took on the long trip. I didn't document the shade names for these as I was limited in the time I could spend browsing in stores. Speaking of stores, I only went to ones I came across, so it was all Boots and Superdrug locations in London, Birmingham, and Southampton.
I'd never seen a Barry M display in person before this one. It was mostly filled with Gelly shades, but there were treatments in the upper left and lower right. The bottom row had a few Hi Vis shades.
The same store had a little section with six Gelly shades, at least one of which was in the bigger section shown above, so I'm not sure what this was about ... seasonal collection of repromotes maybe. I did note the shade names here: All in One Basecoat Topcoat and Nail Hardener, Espresso, Chai Latte, Raspberry Ripple, Grape Soda, Pistachio, Pineapple Punch.
A Superdrug in Southampton had a wider selection of Barry M. This display had In a Flash quick dry colors on the left side, with Hi Viz neon color on the top right, with Velvet matte shades, Gelly Rose Tinted collection, and some glitters below that in the right hand side.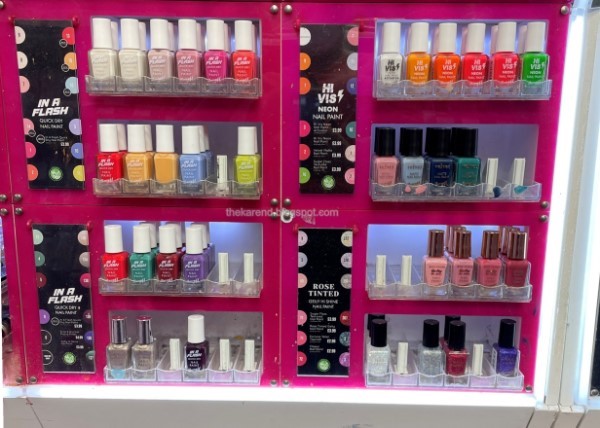 That same Superdrug also had a big display with Gelly colors and top/base/treatments. It was so big I didn't get it all in the frame of the photo ... ooops.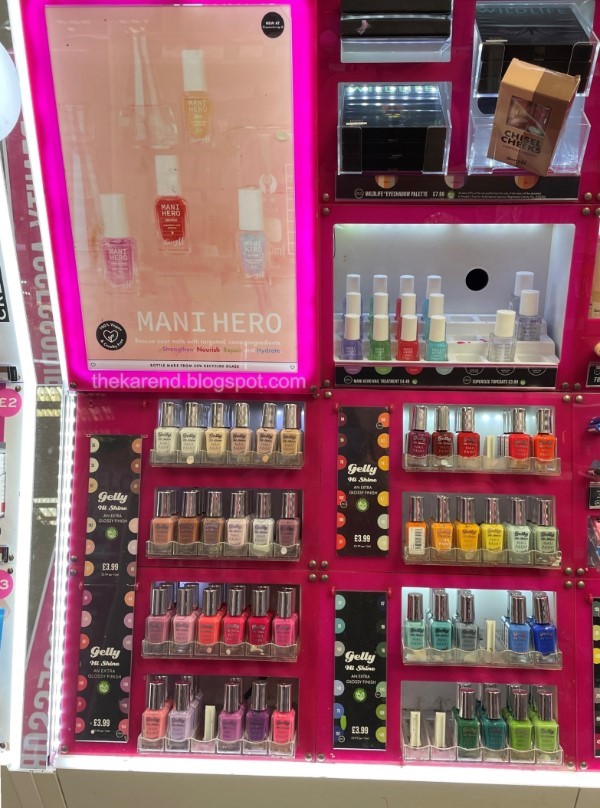 There were six more Gelly shades featured in that Superdrug in a separate display section. These weren't the same six as in the Boots in London, so not sure what's going on there.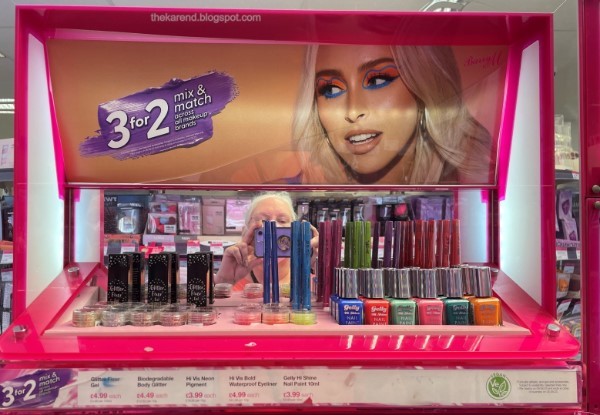 I admit I was sorely tempted by the Boots brand fake nails, but resisted as I knew I had lots of sets of other brands at home.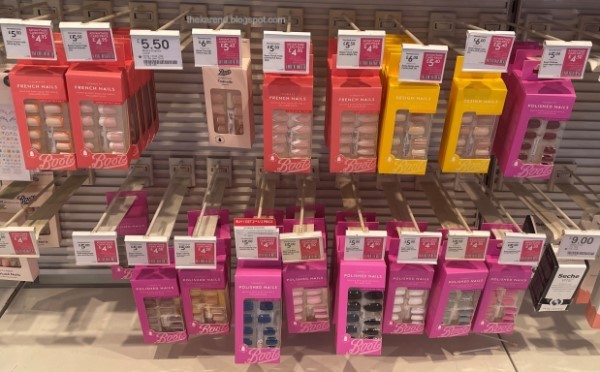 I'd never heard of the Collection brand before, and only ran into one display for it. The top two rows were Spotlight Shine colors and the bottom two were Gel Effect.
Like the Boots fake nails, I was also tempted by the Elegant Touch ones, as I can't get that brand at home, but again, even though fakes are easier to use up than polish, I really need to use what I already have. (I was not tempted by the Kiss nails, as I have easy access to those.)
Essie isn't hard to find at home but it was still interesting to see the displays in England. This one at Superdrug had mini bottles, a line called Love by Essie that I don't recall seeing before (it's plant based), a bunch of shades in the regular line, a smaller selection of Gel Couture, and top/base/treatments.
At Boots, the display was similar, but had more shades and instead of the Love line, had an Expressie section.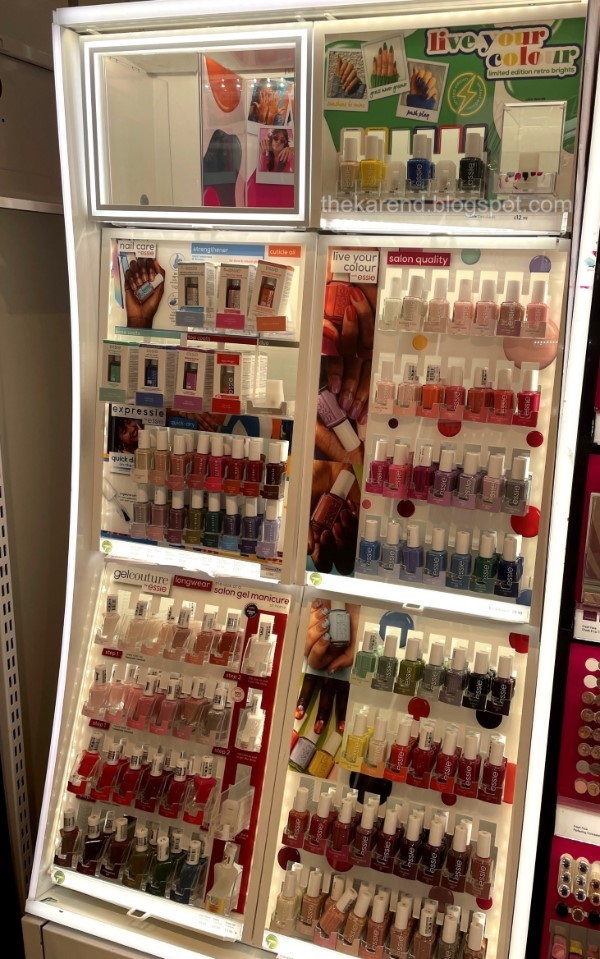 A different Boots had a trending shades section above their main Essie display. This had Ballet Slippers, Birthday Girl (sold out), Cute as a Button, Lilacism, Salt Water Happy, and Mint Candy Apple.
I only saw a Kiko display once, at what I thought of as the fancy Boots (it was at least twice as big as any of the others I went into). This had removers, top/base/treatments, and shades from the Power Pro and Smart lines.
The only Makeup Academy polishes I saw were in this standing display with neon makeup for summmer.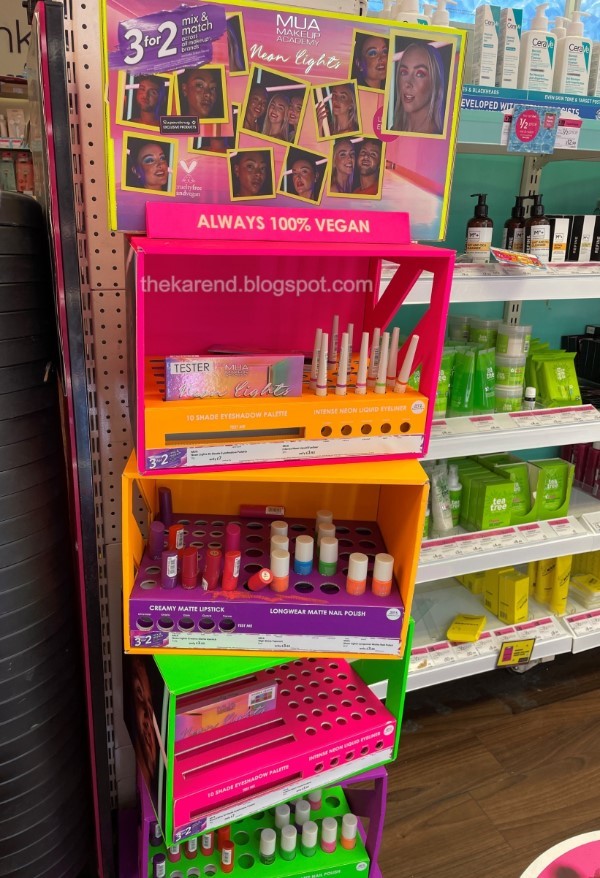 I miss the days when Maybelline had lots of polish releases, so many with interesting colors and finishes. I saw two lines from them in England, both with a fairly tame selection of shades. Here's the Super Stay: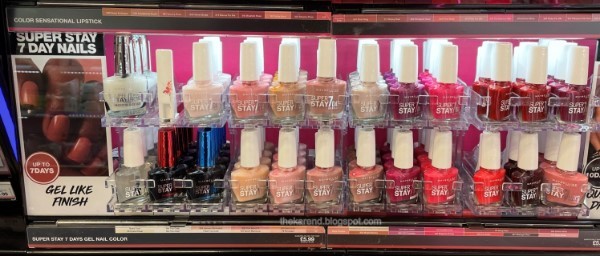 And the Fast Gel:
I have a soft spot for Max Factor as it was a brand my mom used. Their presence in the US seems to have faded a lot since then but it seems going strong in England. This display had three lines of nail polish: Nailfinity (longwear gel-like colour without a UV lamp), Miracle Pure Nail (plant-based and 100% vegan), and Masterpiece Xpress Quick Dry (60 seconds high shine rich colour).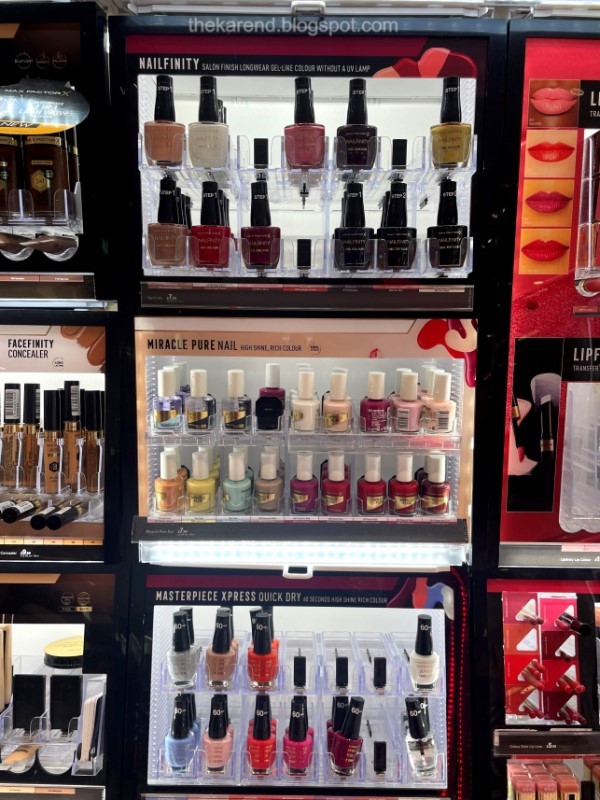 A different store had this arrangement of Nailfinity and Masterpiece Xpress: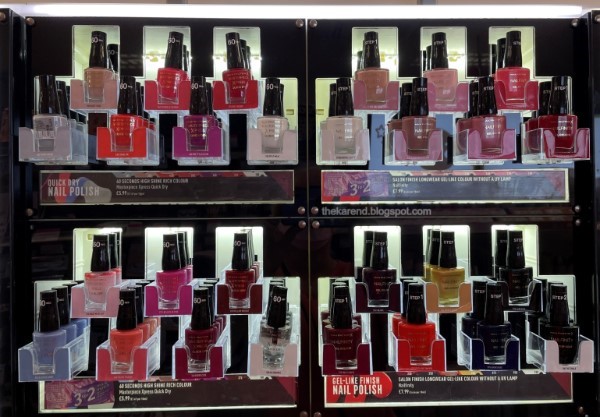 That store's stock of Miracle Pure Nail appeared to be a limited edition collection from Priyanka Chopra Jonas, with her name printed on the labels. I did get these shade names. Top row: Sparkling Light, Sunrise Glow, Radiant Rose, Vanilla Spice. Bottom: Winter Sunset, Daring Cherry, Bold Rosewood, Starry Night.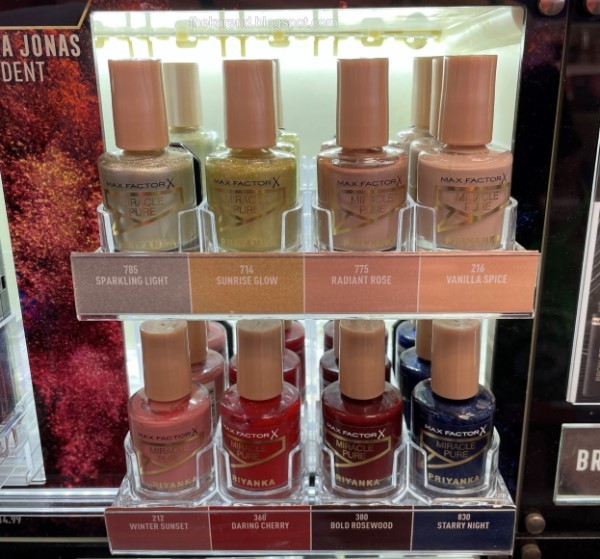 Like Collection, I hadn't heard of the My Mood brand before I saw the display. This was arranged by groups: Need a Top Up (glitters), Nude Mood (a range of skintone cremes), Nail the Dream (shimmery pastels), Next Level Neon (neons plus a white base), On the Brightside (seems a few pastels snuck into this part), Cult Classics (surprised the blue was here and not with brights), Treatments (bases, topcoat, oil), and Power Couples (pairs of compatible shades).
A closer look at the glitters, which almost made me break my no buying polish rule for this trip: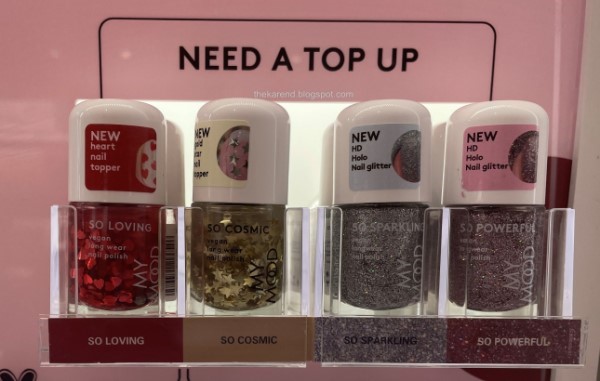 The Nails Inc display I saw had two rows of Plant Power shades (vegan and halal-friendly) on top with the traditional line below (neons, nudes, pastels, pinks, glitters, top/base/treatments) along with a row of the 45 Seconds Speedy Gloss shades.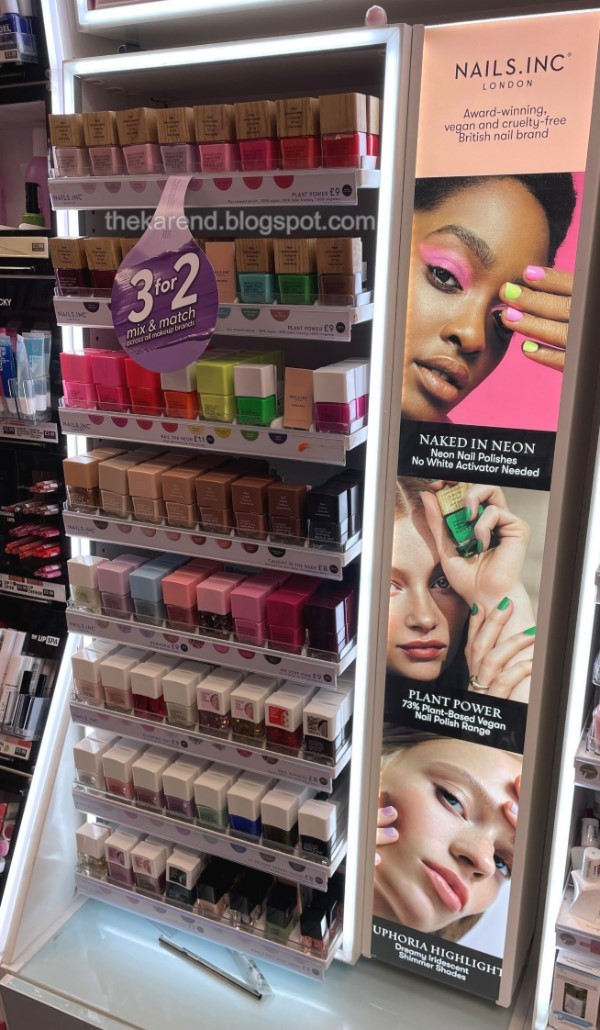 The polish in the Revolution display at Superdrug had neons in round bottles and high gloss shades in squar ones.
At Boots, the Revolution polishes were not showcased as well but they had more varieties: Express Nails, Neon/Candy Nails, Gel Effect, and Nail Care.
This Rimmel display had Super Gel colors in the top rows and 60 Seconds Super Shine below with a few Glitter Bomb shades as well.
At another store they had a Rimmel Nail Bar section with a wider range of shades, including a couple glitter top coats. These were mostly 60 Seconds Super Shine with four rows of Super Gel in the upper right.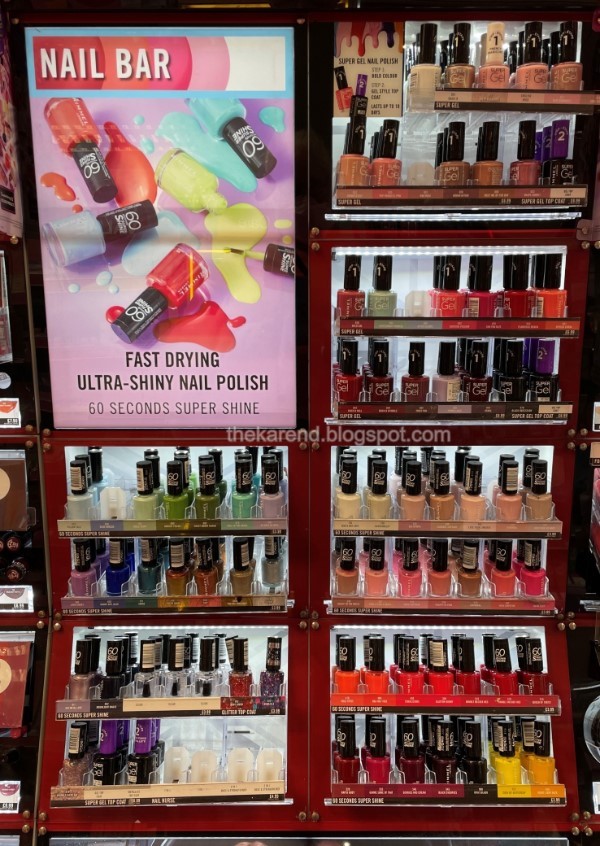 My old friend Sally Hansen had some represention over the pond. At Superdrug, they had a selection of Good Kind Pure, Miracle Gel, Insta Dri, and treatments.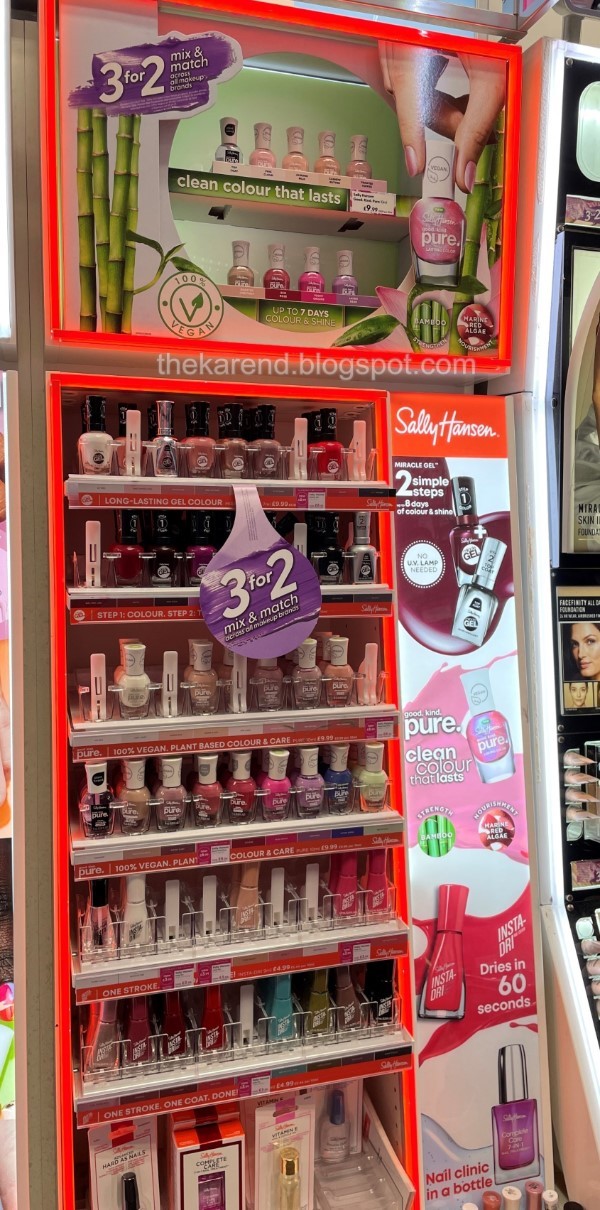 At a Boots, they had a similar assortment of Sally Hansen.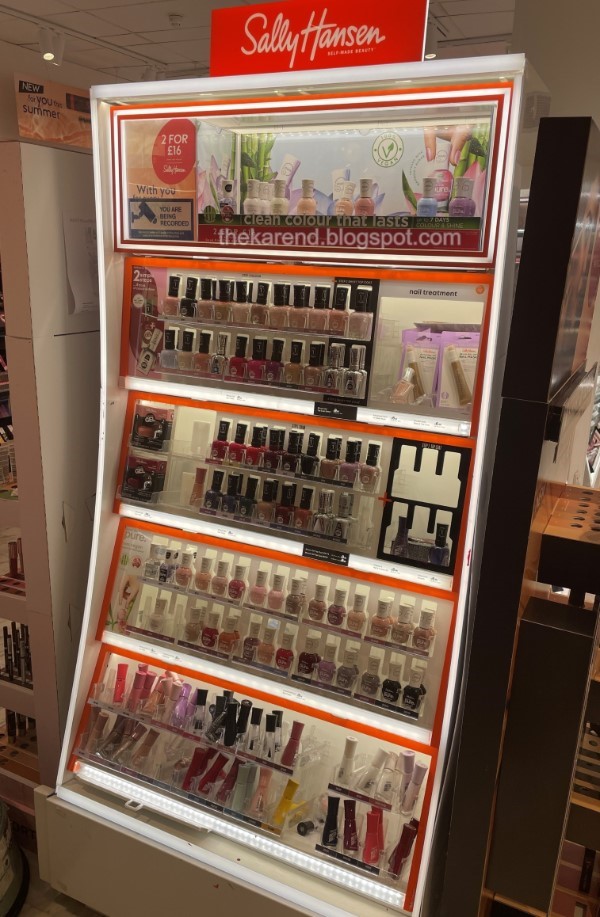 I am still amazed that I managed to not buy any nail polish on my trip. Whenever I got tempted, I'd remind myself of the many many many beautiful untrieds waiting for me at home. I did buy three concealers and a foundation (and sunscreen and a few other things I used on the trip), and have bought a few polishes since I've been home, so as always I'm a work in progress.