For the second week of my trip, I wore a set of OPI fake nails, my first time trying this brand's offering. I chose 100% That Scorpio from their zodiac collection (I'll share other signs from that in a future display post). I'm not a Scorpio, but I really liked the purple/green/blue multichrome effect. This set's shape is Classic, which I'd call oval.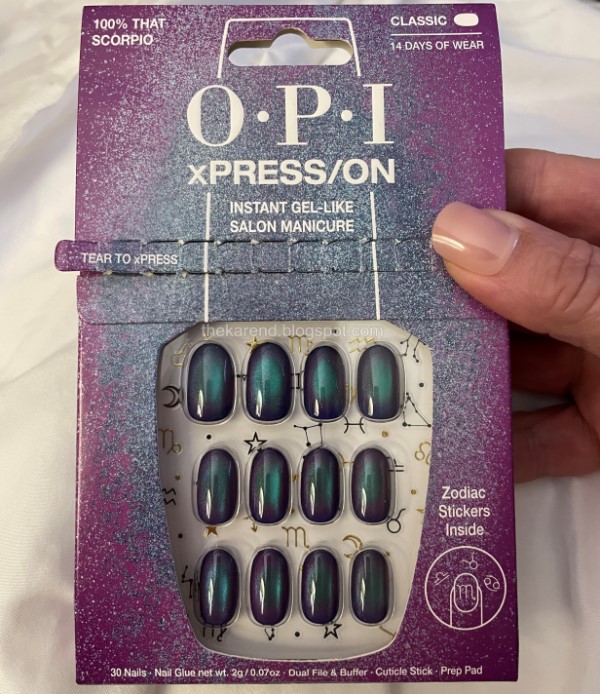 After I opened the package, I struggled to find sizes that fit my nails. The assortment was very much skewed toward the smaller end. Other brands I've used have had a more even distribution, and my hands are not small, so I wasn't sure I'd be able to make this work.
I did the best I could with the sizes, but it wasn't great, especially the over large nail I had to put on my middle finger. As with the Ardell nails I shared in my last post, these came with glue but I used adhesive tabs.
The shift in these was strong and fun to look at.
The shape of these at the tips did expose some of my natural nails, which wasn't ideal, but the shiftiness of the fakes was distracting enough that I could ignore that after a while.
These nails did not like the adhesive tabs. I had the first nail pop off only a couple hours in, leaving the adhesive tab on my natural nail. Fortunately I found the nail, which is important as it was one of the larger ones and I didn't have a replacement for it. A few more instances of that, and I started using glue between the adhesive tab and the fake nail. That helped them stay on longer, though I still lost several even with the glue. That issue and the sizing make me less excited about trying other sets of these, though they have a lot of attractive ones and other shapes so I'll probably give them another chance or two.