I bought my first Ethereal Lacquer polishes at Indie Expo Canada. I'm not sure I would have except the ladies I was being a polish fairy wanted some so I hit that table first, of course getting a few things for myself, too. I have two of those today (in the square bottles the brand was using at the time; they're now in round bottles, which is sort of sad since I do love a good substantial square ... so efficent for storage in the Helmer and such a good feel in the hand).
Sunset Falls is a turquoise crelly with warm hued flakies and a touch of shifty pink/green shimmer. I think this is the most opal-looking polish I have in my collection.
Two coats was plenty for coverage; I added topcoat to enhance the depth though it didn't need it for smoothness. It's so pretty.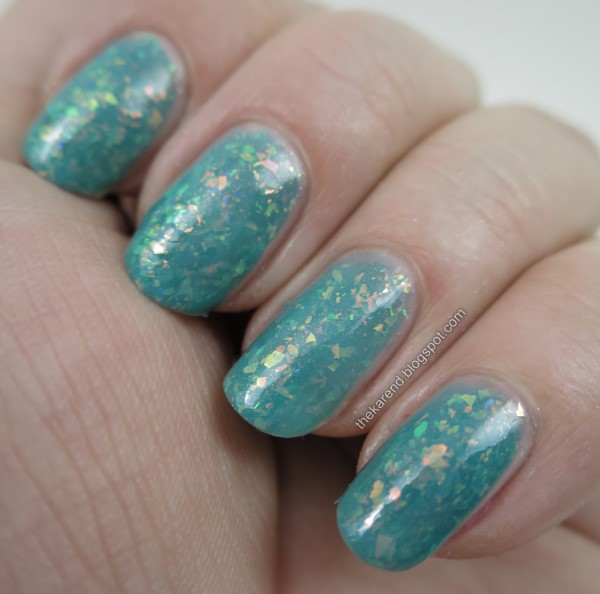 Bauble Water is a shifty topper with a turquoise base and orangey pink to green shimmer.
I added one coat of Bauble Water over Sunset Falls on all but my index finger. You can see how it coordinates so nicely and adds a beautiful dash of color as the angle of the light changes.
I'm glad to have both of these in my collection. I confess I haven't bought any more from the brand since IEC; there are just so many polishes and so little time, and indies in particular are hard to keep up with since they're so much more limited in distribution compared to mainstreams (though some mainstreams are harder to find now, too ... I'm looking at you, SinfulColors).