I need to paint more wheels before Nail Wheel Wednesday can resume. Today I've got displays collected both close to home and on my travels. It's been ages since my last display post
back in June
, so let's get going. I've been in a few Walmart stores lately, but only one them had a display for Bettina, a brand I don't recall seeing in a quite a while. This was pretty picked over, with colors in the wrong slots, but I still thought it was interesting.
One Walmart I was in had a display of various Dashing Diva nail strips, some with Halloween designs.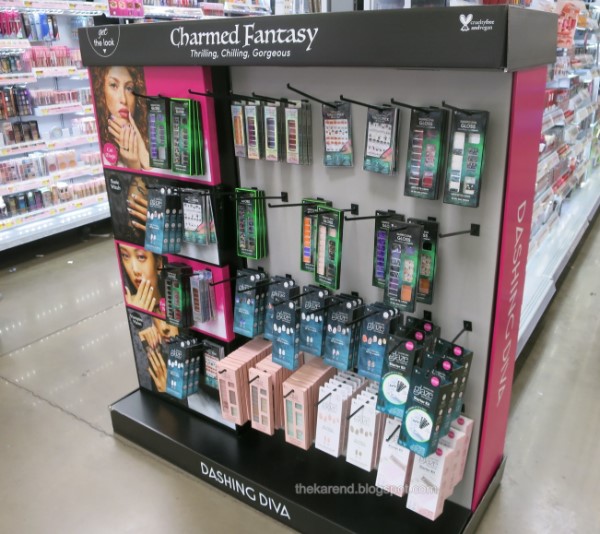 Also at a Walmart, I saw a new to me brand: Entity Clean. The bottles say they're breathable, so guessing they're like the Orly Breathable line. The ones I saw were shoved in a display for other brands, and I never found their proper place, so I'm not sure how many shades there might be total. The ones I did see: Pure Allure, Let's Be Honest, Light & Love, Lady in Pink, Top Coat, and Black Silk.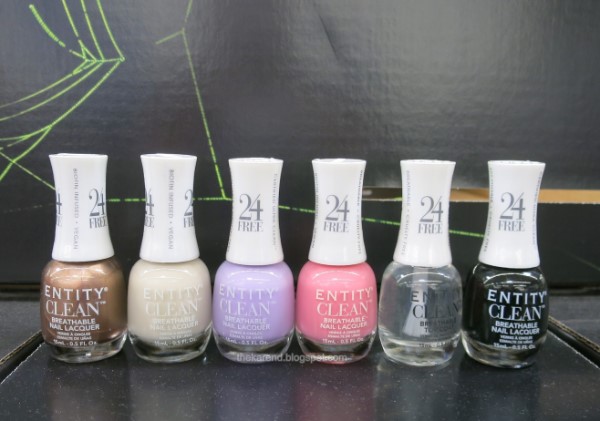 As far as I can tell, Essie's Handmade with Love collection came out this past summer, but I don't seem to have included it in a display post before. The best shot of it I have is this display at a Meijer I was in during my travels, which had the colors right next to those in Swoon in the Lagoon. Left to right: Piece of Work, Paintbrush It Off, Cut It Out, In Pursuit of Craftiness, Pencil Me In, Sew Gifted, Crochet Away, Handmade with Love, To DIY For. I did also see a display for this collection at Ulta which was seven slots wide and had the red/orange shades in the back.
Essie's fall 2022 offering is Off the Grid. I saw it first at Fred Meyer, where they'd tucked it under the fake nails for some reason. Left to right: Force of Nature, Risk-Takers Only, Hike It Up, Bold & Boulder, Off the Grid, Transcend the Trend. I've also seen the collection at Walgreens.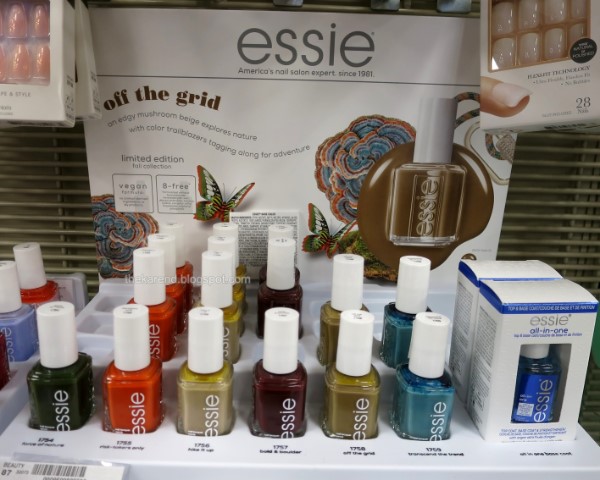 Fred Meyer had two shelftop displays of Halloween fake nails. This one has the imPress designs (and one set of nail strips from Kiss that maybe got misplaced).
And this one has the Kiss designs (and one Fright Night by Ardell set stuck in there that I never saw a whole display for).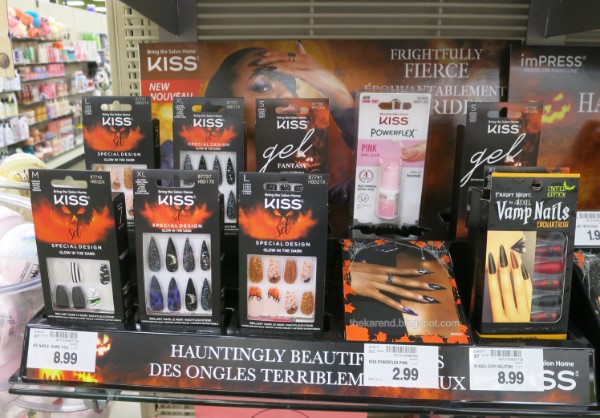 At one of the Walmarts I was in, there was a section in the core nail polish area for Just Add Sun polishes, which change colors in the sun. There's space for 24 colors, though not all of them were there when I happened upon them.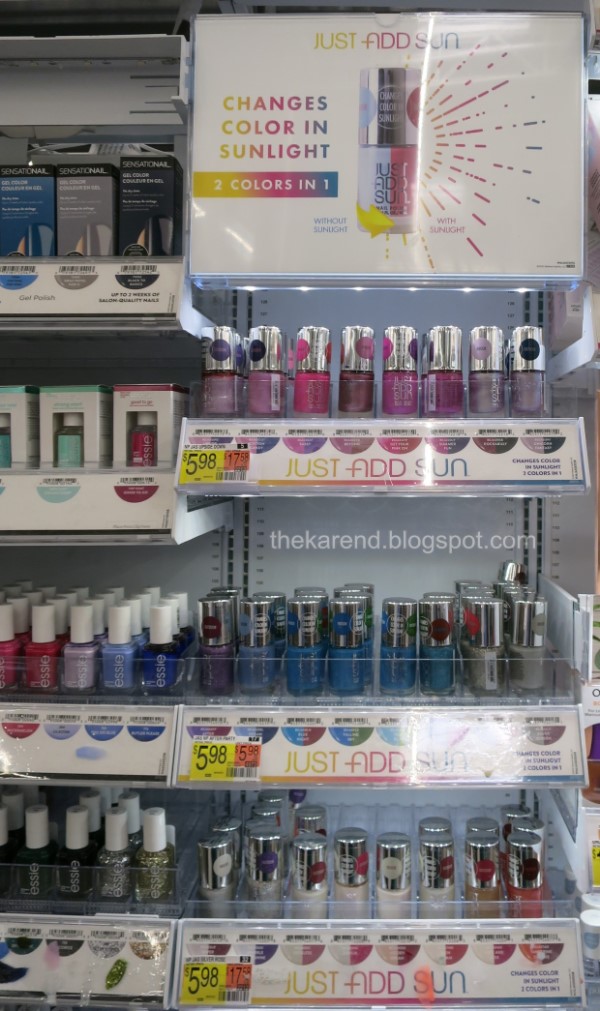 You may recall the Kokie Green polishes I've shared this year. I did finally see them in the wild at a few Meijer stores in the Great Lakes states.

I try to remember to check the LA Colors section at Fred Meyer as that's where they slip in new stuff rather than have separate shelftop displays. This time the new stuff was Color Mania, some bright pearly shimmers. Left to right: Fandom, Hooked, Super Bloom, Squeeze, Fanatic, Chaotic, Lyrical, and Culture (of course the purple is sold out, so I'll have to check back).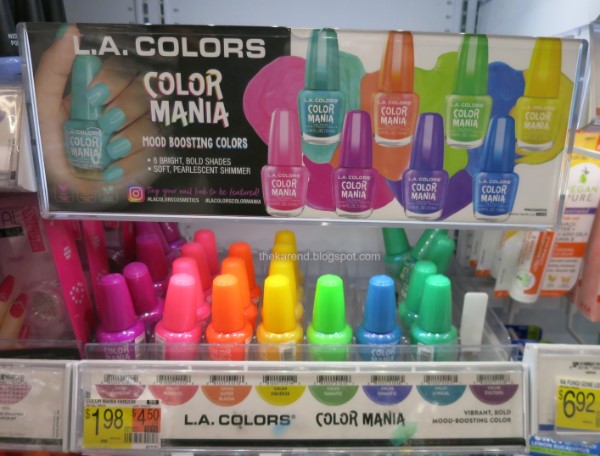 I usually see Morgan Taylor at Sally Beauty if I see if anywhere, but this Plaid Reputation display was at Fred Meyer. Six shades: Follow Suit, Tartan the Interruption, Tailored for You, It's All About the Twill, Wool You Love Me, Tweed Me. I did later see a display of this collection at Sally Beauty, too.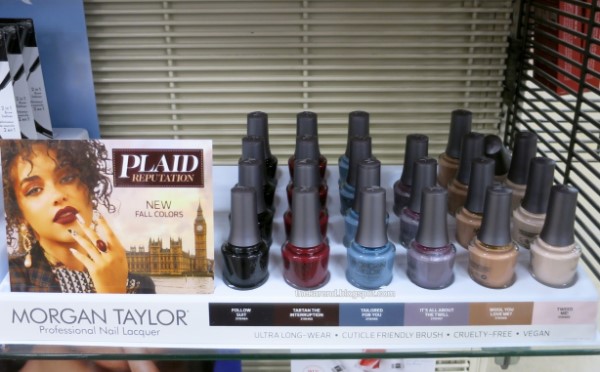 I only managed to see one post-worthy thing at a CVS, four Poparazzi polishes in that uppper right section of the display where they seem to put the small seasonal offerings. The four colors here: Curfew, Snow Dusting, Into the Fog, and Not Your Basic Blue. Seems like more a winter set than summer but who knows how long they were there.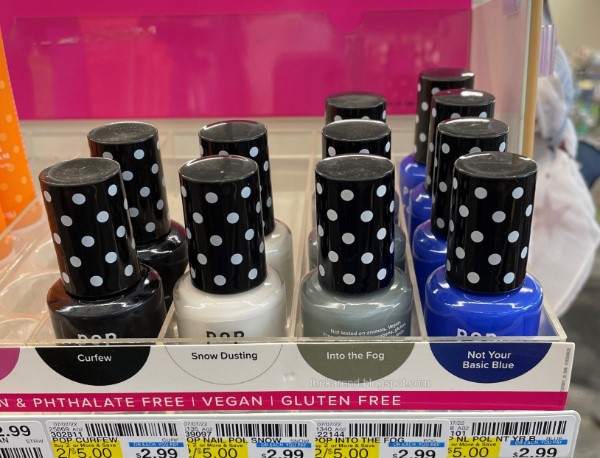 I got to pop into a Five Below store on during my recent travels and found a couple Pretty Woman displays I hadn't seen before. The first was Jelly Glaze. Six shades here: Royal Navy, Orange Crush, Yelly Jelly, Forest Glaze, Passion Fruit, and Mint for You. The two greens look very similar in the bottle, but I checked that they had different items numbers so can only assume they look different on the nail. I won't know because in a suprising turn of events, I didn't buy any of them, remembering how very many jelly polishes I have at home that I don't use much.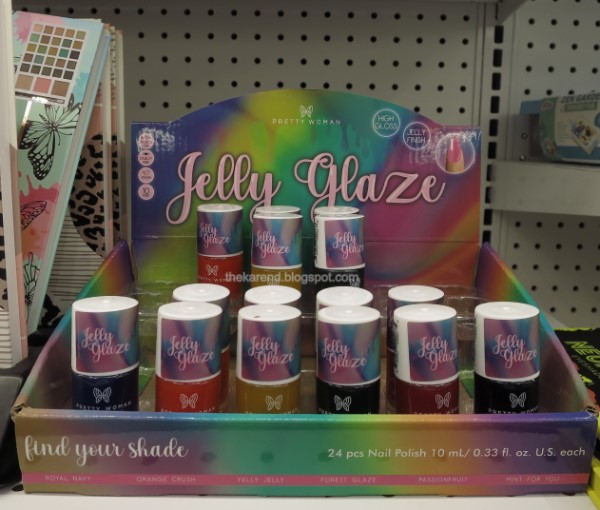 The second was the mostly empty Glow in the Dark, which was down to one polish of the six names on the display. The one color was in the slot for Light Show. The empty slots were Glow Up, Let's Rave, Luminous Ice, Flash On, and Fluorescently You.
I keep being thankful for Sally Hansen. Maybe they're not coming out with new lines as often as they used to, or quite as many special collections, but they haven't given up entirely the way other brands have. This past summer, they came out with another limited edition neon collection in the Miracle Gel line, Make Your Mani Pop. I saw it at both Ulta and Walmart, in a separate area of the core section. Bottles at Ulta, left to right: Un-cone-ditional Love, Worth Melting For, Anything is Popsicle, Lemon Drop Pop, Sea-riously Cool.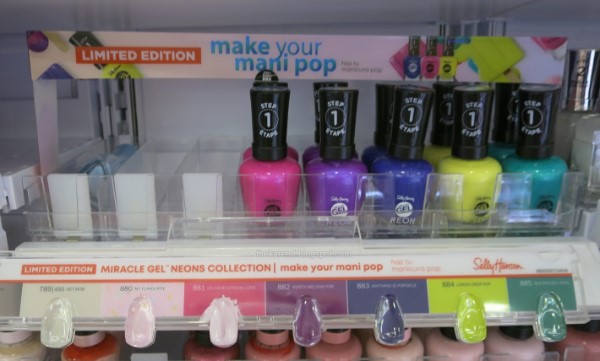 The one polish missing from the Ulta display above is a topper called My Flavourite, seen here at Walmart.
At a Meijer on the road, I saw a Sally Hansen display I haven't seen anywhere else, though I have seen the polishes tucked into core displays at places like Walgreens and Ulta. It had Covergirl makeup on one half and Sally Hansen on the other: Color Foil, Insta Dri Luxe Finish, Xtreme Wear, treatments and top/base coats.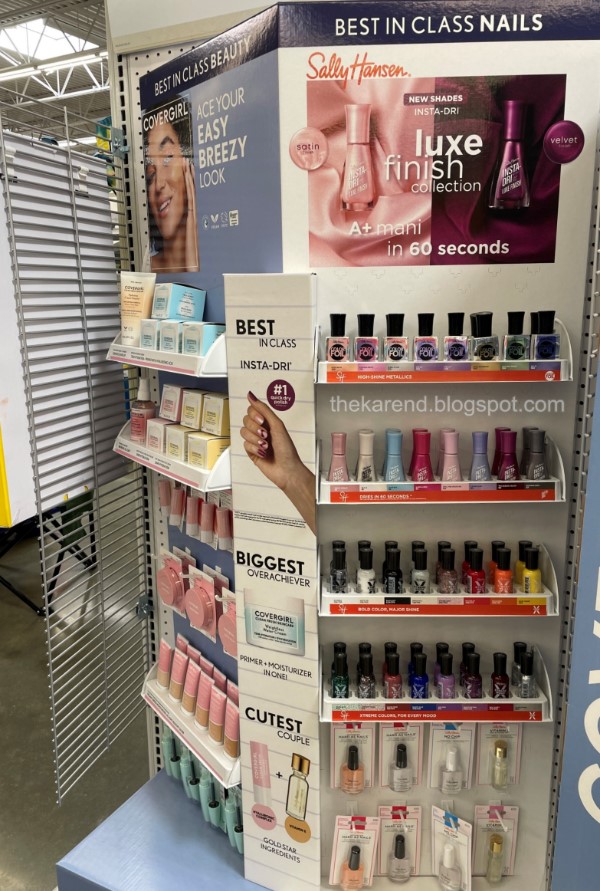 The Luxe Finish Insta Dri shades were the most interesting to me. There were eight of those: Triple Threaqd, Silk Is, Glos-Sea, Sleek-a-Boo, Spill the Velvet-ea, Lavish Lilac, The Queen's Velvet, and Extrava-grey.
In late summer, Sally Hansen put out the Back to School limited edition Insta Dri collection, another collaboration with Sour Patch Kids. I saw this at Fred Meyer in a display that also had the Luxe Effects in it and a few core colors, too. The Sour Patch are in the front row, starting after the empty slot: Main Squeeze, Tis the Sea-sun, Your Pine-ness, Tropink, Plum-believable, Maliblue Twist, Pink Punch. Based on the little circles of color on the display board, I could see there were two Sour Patch colors missing from here. Some online research told me they were Red Berry, a red shimmer, and Simply Sublime, a pink/blue/yellow glitter topper, which I then ordered online.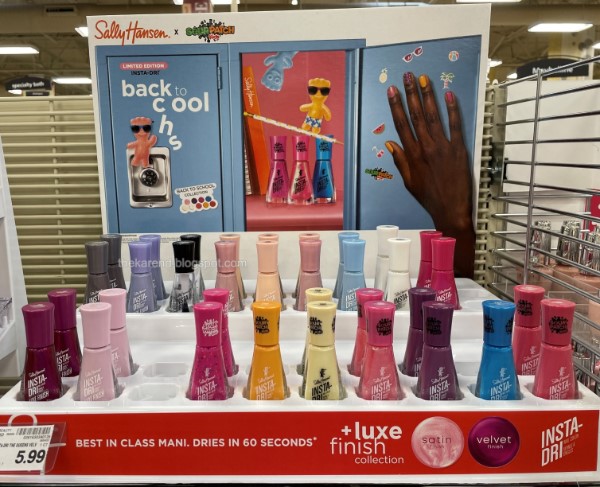 In stores now, there's a ten-color limited edition Miracle Gel collection for The School for Good and Evil. This shelftop display was at Fred Meyer. Left to right in the front row (the back is core): Can't Settle Won't Settle, Fresh Villany, It's Better Being Bad, Magic Mirror, Lesso Go, True Beauty Comes from Within, The Storian, Not What It Gleams, Lovey Dovey, Good is Great.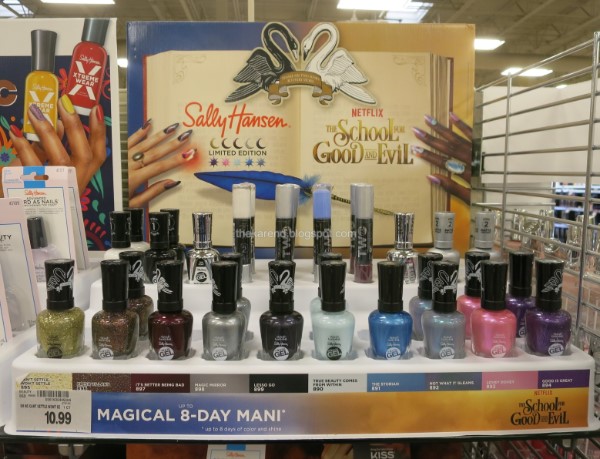 Here's the display for the collection I saw at Walmart. The limited edition ones are in the top two rows, with core filling out the rest.
And here's how it looked at Walgreens: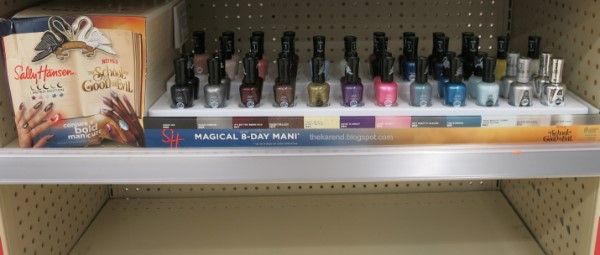 There's also an Insta Dri Glow in the Dark collection out now for Halloween. I saw it first at Sally Beauty. Front row, left to right: Purple Potion, Witch Please, Creep It Real, Squad Ghouls, Fa-boo-lous, Ghosted. Back row: Gourd-geous plus core colors Black to Black, White on Time, Clearly Quick, Hail Cherry, and Cinna-snap. A couple of these limited editions (Creep It Real and Fa-boo-lous) look like repromotes, though the bottles are a bit different.
I also saw a standing display for these at Walmart but it was very picked over by the time I got to it.
The Sally Hansen Xtreme Wear Hispanic Heritage Month display is all core colors, but it's more than any other brand did as far as I know.
There are three new Miracle Gel toppers in addition. So far I've only seen them tucked into the core section. Here they are at Meijer: Crystal Top Coat, Sugar Top Coat, Unicorn Top Coat.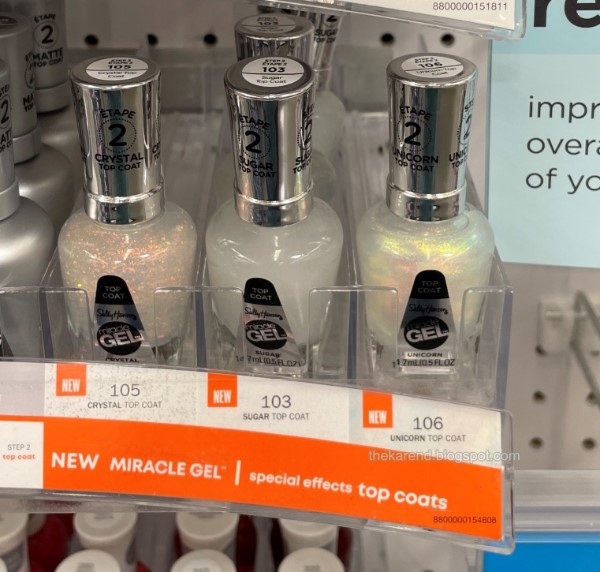 I was surprised to see a Salon Perfect Halloween display at my local Walmart just a few days ago, as they've had Halloween stuff out for weeks. Guess this just showed up later; it was in the beauty section rather than the seasonal area. It's called Bewitched and has fake nails, core and limited edition polishes, and false lashes as well as Fright Night colored hairspray.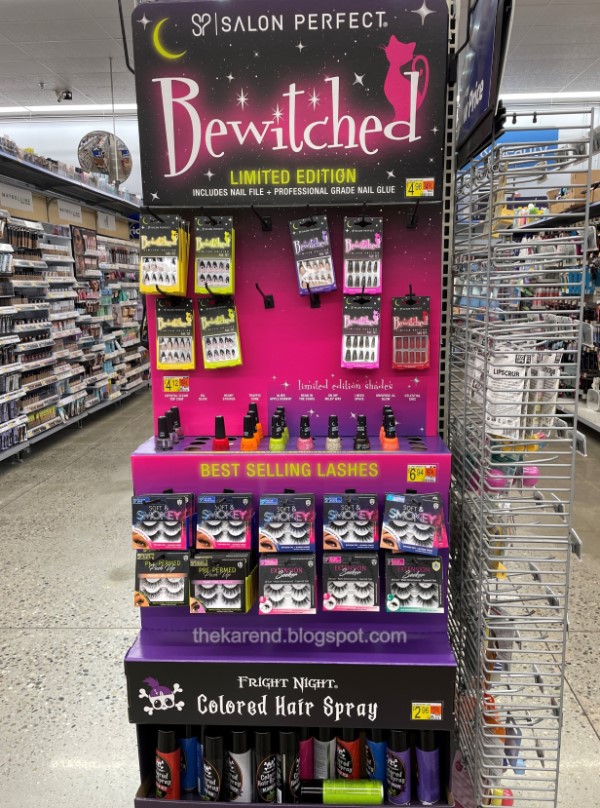 The ten polish slots were nicely labelled. Four core at the left side: Crystal Clear Top Coat, Oil Slick (black creme, missing here), Heart Strings, and Traffic Cone. Six limited edition next to those: Alien Apple Bobbin', Head in the Stars, On My Milky Way, I Need Space, Universe-al Glow, and Celestial Chic (empty). The next day, I had to go down to the city and saw this display there (in the seasonal section). It was more picked over but did have Celestial Chic, which turned out to be a red polish. I was hoping for purple but oh well.
Walmart once again had the big four-sided Halloween display with SinfulColors and LA Color polishes, Kiss and imPress fake nails, and false eyelashes.
The interesting thing on the SinfulColors side was buried in among the core colors and Sheer Mattes and Essenchills that we've seen a lot of, there were the Bee Envious shades, only two of which were ever in any of my stores before.
I never saw all of the Bee Envious in one store; the most I found in one place was five: Busy Being Queen, Amazzzing, Buzz Off, She Stings, and Save the Bees. The one I had to dig out at another store was Honey Child, a pale peach.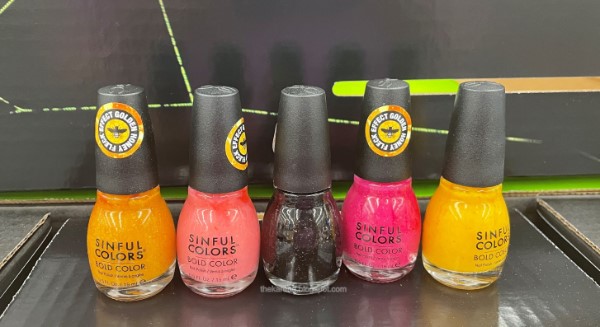 The LA Colors side looked to have mostly the same things as last year.
The fake nails side had most (maybe all?) of the designs that were in the displays at Fred Meyer from earlier in this post plus some plainer colored ones.
Remember when Wet 'n' Wild would have a special collection nearly every month? That's been a while. Now we're lucky if we get one set of fake nails, as with this Care Bears collaboration I saw at Fred Meyer.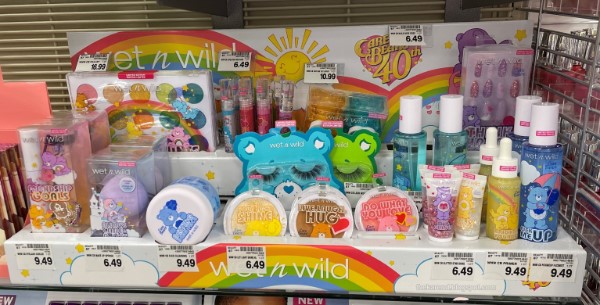 There was also one set of fakes in the Wet 'n' Wild Halloween display at Meijer. See if you can spot them.
Well, that was a lot. I've bought a fair few polishes from these displays so hope to get some swatching done soon.