Polish provided for review
There are eight new shades in the Kokie Green line, which the brand was nice enough to send me to try out. Kokie Green is bio-sourced, plant based, free of animal by-products, 16 free, cruelty free, and not tested on animals per the card that came in the box with the polishes. I've got two of the new colors today, along with a previous favorite that I thought looked nice with them. Left to right: Glass Slipper (previously swatched
back in August
), Oasis (new), and Dewy (new).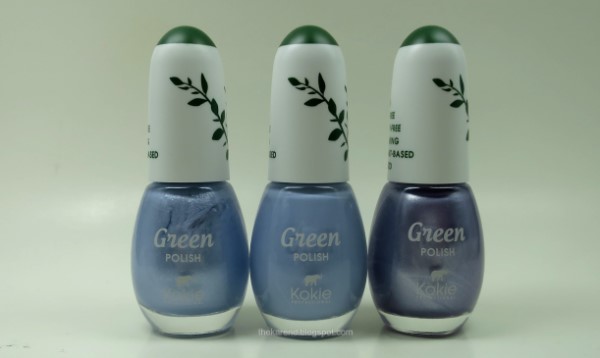 Oasis is a light cool-toned blue. It has a very subtle shimmer that's visible in the bottle but which tends to disappear on the nail. Perhaps the shimmer helps with self-leveling, as this was opaque in two coats and not at all streaky (any wobbles you see are due to my nails, which are in winter breakdown mode now).
I tried direct light to see if I could get the shimmer to show for the camera. No luck with that, which is fine, since this sort of blue is right up my alley regardless.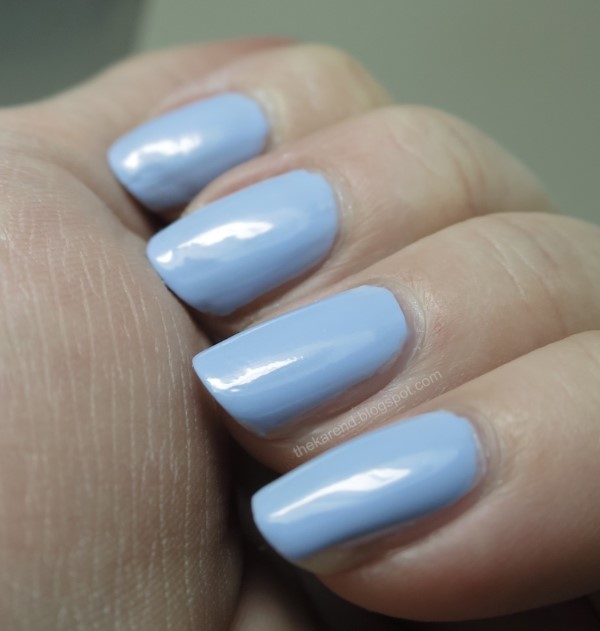 I remembered that Glass Slipper showed a hint of nail line at two coats, so thought it might work as a topper for Oasis, so I added one coat of it to my index, middle, and pinky fingers. That combination really worked for me, with Glass Slipper adding a bit of shimmer and sparkle without changing the pretty blue color of Oasis significantly.
As long as I had both of these blues out, I did a quick comparison. Two coats of Oasis on my index and ring fingers versus three coats of Glass Slipper on my middle and pinky.
Dewy is a blue-leaning lavender pearly finish shimmer. At two coats, it shows a hint of visible nail line at some angles, which I didn't find objectionable.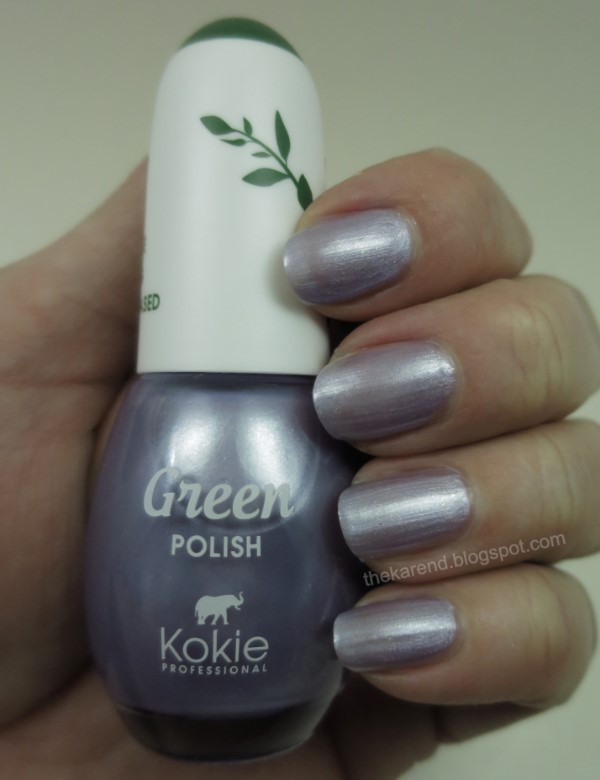 Dewy had a nice glow under direct light.
These shades are available at select Meijer stores and online for $8 each on the Kokie website.
Kokie
Website
Facebook
Instagram
The polishes shown in this entry were provided free for review purposes. The content of the entry was not dictated by the provider, and I get to keep the polishes for my own use.