So yeah, I did go on another unplanned blogging mini-hiatus. This time it was due to a double whammy of travel (Mr. K and I left home on October 5th and got back on November 19th) and illness (I got an upper respiratory thing that I'm just finally feeling like I'm getting over now—to give you an idea how bad it got, I couldn't muster the energy to go to Meijer and look for new Studio M before we left Illinois in November). Much as I like blogging and nail polish, sometimes they slip down my priority list. The good news is I'm not planning on any more long trips for quite a while, and I did buy some new polishes on my trip and should be able to make the time to swatch them as ski season hasn't started in earnest yet (the mountain has been open on weekends, but terrain is very limited at this point). Today, though, I have swatches I did a while back of three Sally Hansen Color Therapy shades that were part of the limited edition release done as part of the Enchanting Gems display this past fall. I chose Rose Diamond, Smoky Emerald, and Opulent Pearl. (Back in the day I would have gotten all six of the LEs, so I am making some small progress toward getting my stash expansion rate down.)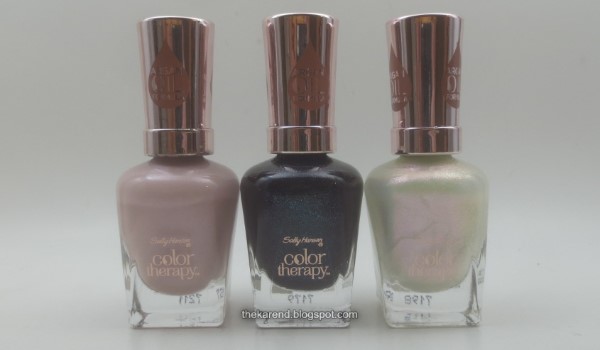 Rose Diamond is a dusty light pink with very fine pearl shimmer. It's the sort of polish that I wore all the time when I was in my serious conservative professional woman phase: quiet, classic, goes with any skirted suit ensemble. Now these sorts of polishes are "palate cleansers" for me and a way to not attract too much attention to my hands when I'm feeling they're not at their best or I just don't want to field questions about what I'm wearing. My swatch is three coats, but two would probably have worked as well.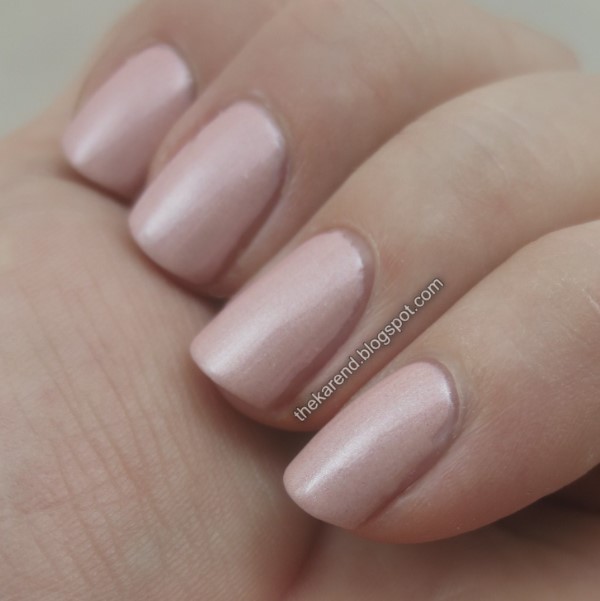 This has a nice soft glow in direct light: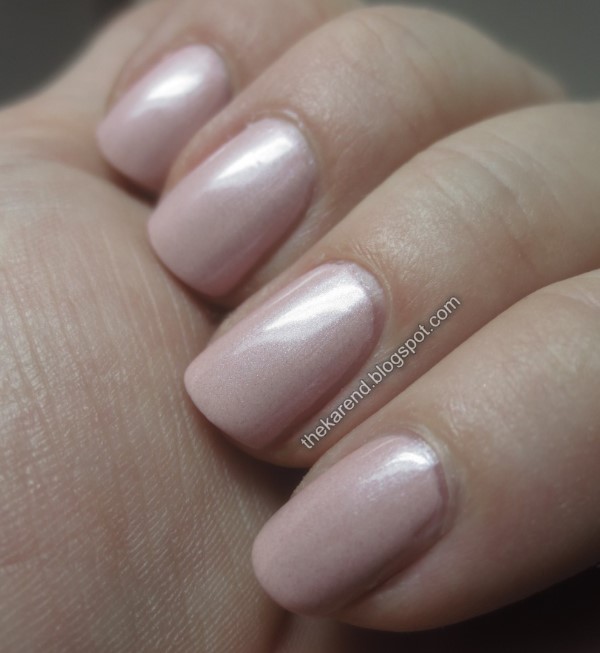 Opulent Pearl is a pearly white with shimmer that flashes pink. In the bottle, it looked like it might be a bit sheer, so I experimented and put one coat of it on top of Rose Diamond. I quite liked this combination; Opulent Pearl added interest to Rose Diamond without changing its essential character as a quiet, classic option.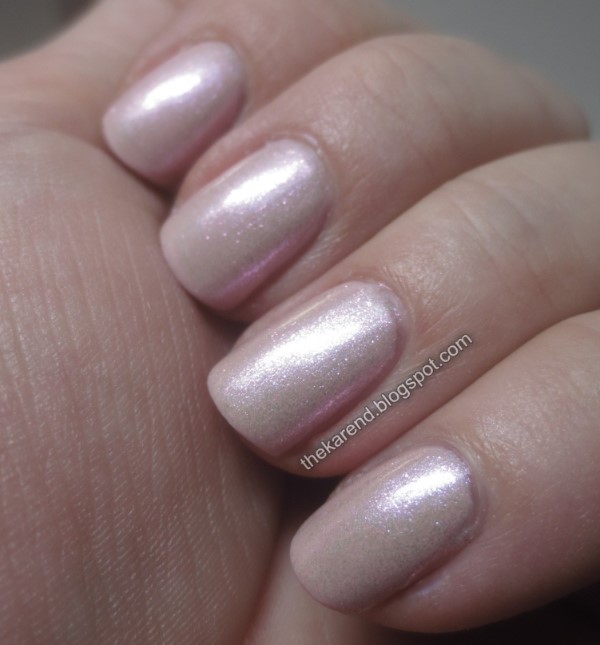 When I tried Opulent Pearl on its own, I did three coats of it alone on my index finger and two coats of it as part of a French manicure on my other digits. There was definitely visible nail line on my index finger, but it looked okay to me, almost like a very subtle French mani effect.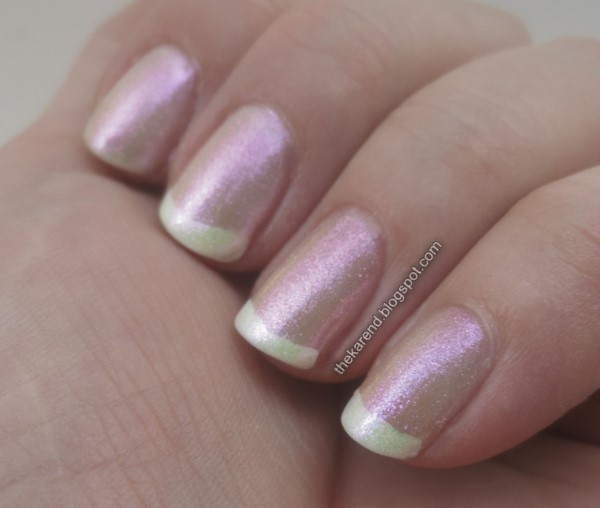 In direct light, the pink shimmer really pops.
I also tried Opulent Pearl over a variety of cream base colors. Top to bottom, one coat of Opulent Pearl on: Sally Hansen Complete Salon Manicure In Full Blue-m (light blue), Sally Hansen Diamond Strength M-asked to Dance (bright pink), Sally Hansen Xtreme Wear Out for Oxblood (burgundy), and black (I didn't write down which one). I'd say this is a pretty versatile topper. I liked it best over the black, but it did good things for the other base shades, too.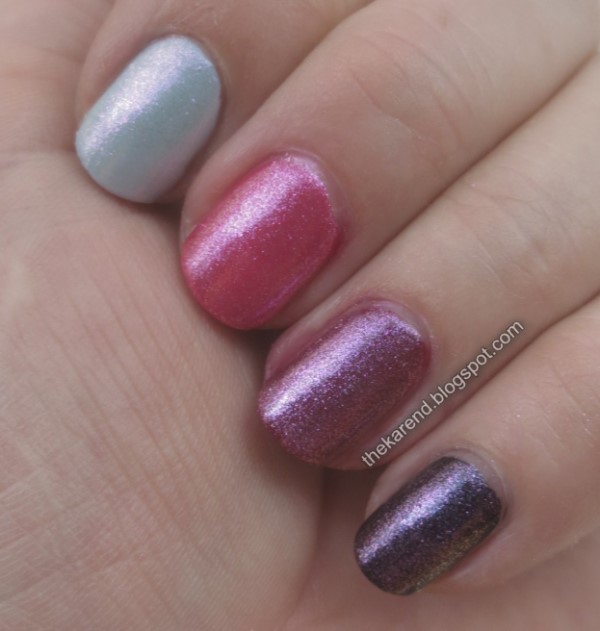 I had high hopes for Smoky Emerald. It's a black base (or maybe a green so dark it looks back) with teal shimmer that in the bottle appears to have a slight shift to purple.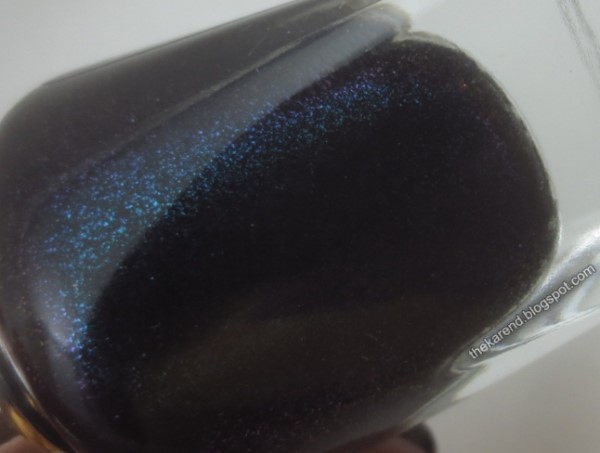 In direct sun, there are even more colors that show up in the bottle:
On the nail, no shifting was evident, try as I might to angle my nails this way and that in various lights. Two coats of Smoky Emerald got me black with teal shimmer. It's fine, pretty even, just not shifty like I was hoping. I sometimes thought I caught a glimpse of purple along the sides of my nails, but it might have been wishful thinking.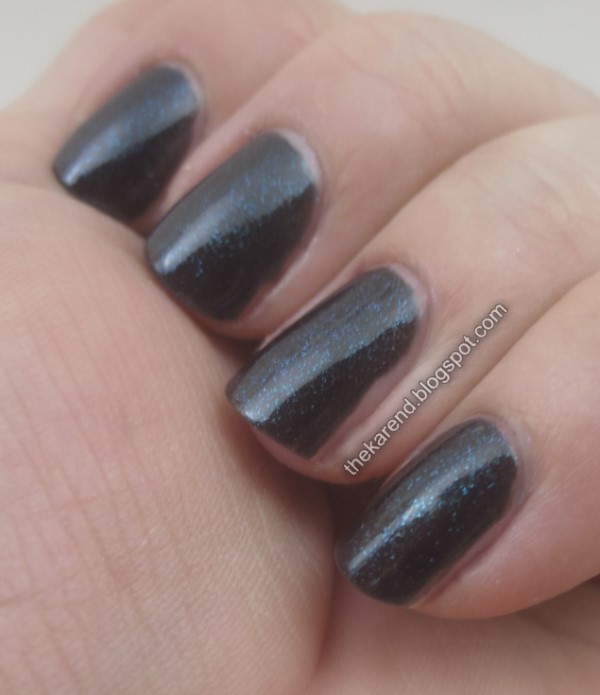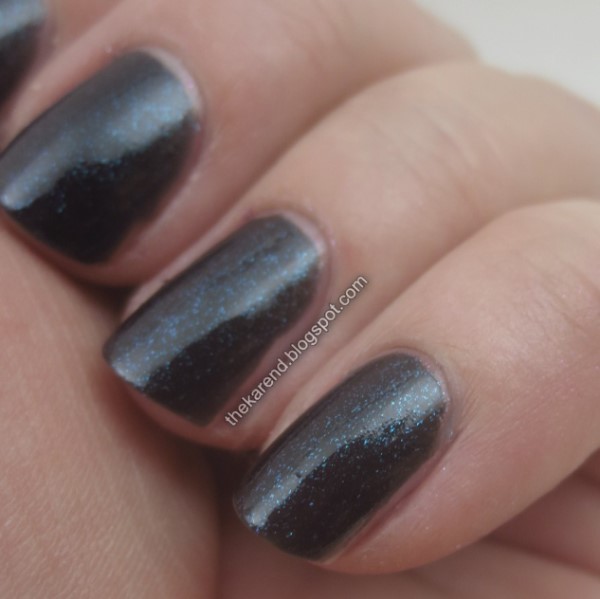 I did try putting Smoky Emerald over a dark creme base to see if that would coax the shift out on the nail, but no, it did not. Guess that's not surprising given it's opaque in two coats. Those photos look pretty much just like the preceding three, so I am not going to spend the time to crop and watermark any of them.
I was glad to see some LE colors from Sally Hansen again; they used to do so many and I miss those days even though sometimes I got overwhelmed. My favorite of these three is Opulent Pearl; I can see using that to spark up cremes and subtle shimmers often.