As I mentioned a few posts ago, I did do some travelling in August (after my
display post
went up) and saw some more displays. I've also made a couple trips down to the city and saw some more there. I'm still limiting how many stores I go to, what with the pandemic still pandemic-ing. I did hit up a lot of CVS locations since I don't have those here and their stock seemed to really vary store to store. I am wearing an N95-rated mask now, sometimes with a surgical mask over that, because while I'm vaccinated, I still don't want to get sick or get anyone else sick, and too many folks aren't masking up anymore (if they ever were). At least I have nail polish to take my mind off things. The Essie fall collection was a lot of places. Here's the sidekick at a Meijer somewhere in Michigan. Top two rows have the fall polishes: Off the Record, High Voltage Vinyl, My Happy Boss, Star Struck a Chord, Sound Check You Out, and Fell' Amped. The bottom row has "Our Favorite Shades": Blanc, Ballet Slippers, Mrs. Always Right, Bed Rock & Roll, Wicked, and Off Tropic.
Just the High Voltage Vinyl collection was in a shelf top at Ulta. I also saw this same style display at a Target and two other similar but not the same shelftops at Rite Aid and Walgreens.
Only one CVS that I stopped at had the Essie Have a Ball collection display with five semi matte finish bright shades. Top row: Make a Racquet (two slots), Serving Looks (two slots), Have a Ball (two slots), Perfect Match Point (two slots). Second row: Doubles Trouble (two slots), Love All Game (two slots), followed by core shades and top/base coats to fill the rest of the space.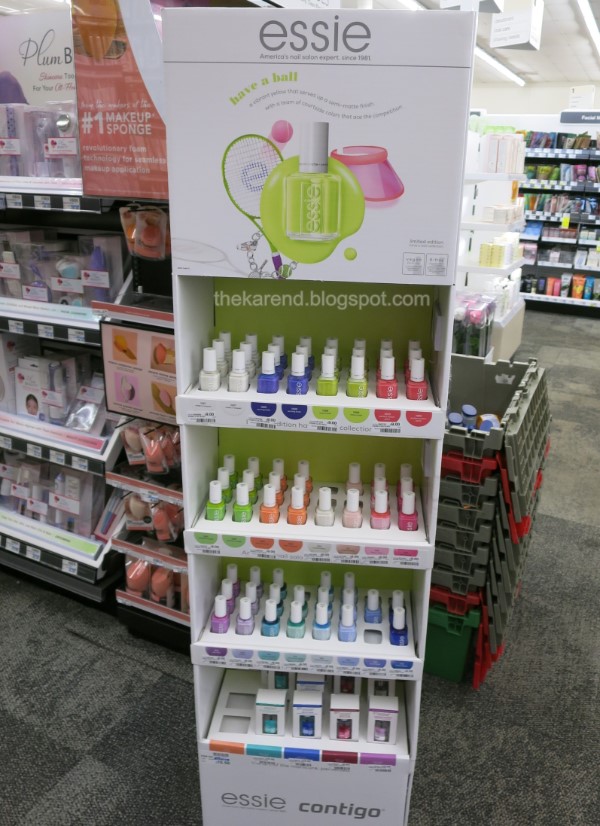 I saw the Essie Intergalatic Metallics collection at a couple different CVS stores, which made me happy as they've been out a while and I wasn't sure they'd still be around. Left to right: In My Orbit (two slots), Out of This World (two slots), Reflection Perfection, Stars Aligned, Space Out, and Wishing on a Star.
Here's a better lit display but it's missing the pink.
I was also excited to see the Essie Roll With It collection at some CVS stores. These sparkly shades are right up my alley. Left to right: Roll With It (two slots), Sequin Scene (two slots), Head Over Wheels (two slots), Lace Up & Get Down, Let's Boogie, and Whirl 'n' Twirl.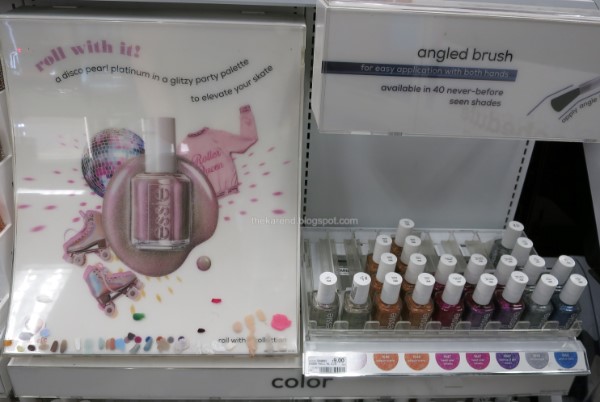 I shared an incomplete Essie Expressie display last time. This one at an Ulta had all the shades in this new release: No Time to Pause, Thumb-Surfing, Remote Friends, Ahead of the Gam(er), Don't Glitch Get Better, Take Controller, Leveled Up, Virtual Velocity, and Beat the Clock.
As I'd been on my previous trip to Five Below land, I was disappointed in the nail polish selection at the two stores I went to. The one below was typical, with just a few bins of mostly old colors. There were some Essies for $3 so that was something, and I found two Fresh Paint shades I hadn't seen before, but it was a far cry from the days when there were new Funky Fingers and Fresh Paint colors released regularly and the top and bottom bins in this display would be all full of polish. I have seen one photo in a Facebook group of a Five Below that had shelftop displays with new colors from Funky Fingers and Fresh Paint, but I did not see those in the stores I went to. Granted, I did not run all over going to every Five Below I could, wanting to keep my exposure to the public somewhat less than when it's not a pandemic.
One CVS had a tall skinny LA Girl display in an aisle with a section of LA Girl Gel neon pastel polishes in in it. In front section: Flex, Giggles, Ta Da, Bazinga. In back: Hi-Lite, Good Vibes Only, Pinky Swear, and Clear.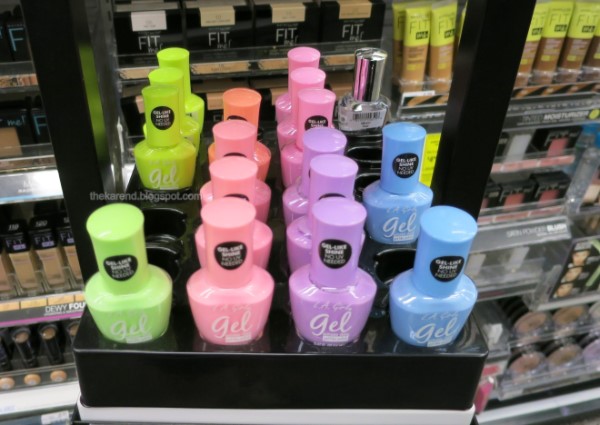 A CVS in Montana had the LA Girl Gel Extreme Shine Nudes display. Left to right: Clear, Striking, Sensual, Lingerie, Charming, Goldilocks, Serenade, Cabernet. Guessing these are core shades being repromoted since the names don't hang together as a group.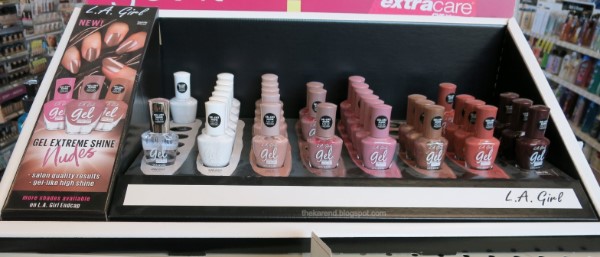 I saw the Morgan Taylor fall collection, No Boundaries, at Sally Beauty. Left to right: Laying Low, Uncharted Territory, Afternoon Escape, Catch Me If You Can (sold out), Keep 'Em Guessing, Totally Trailblazing.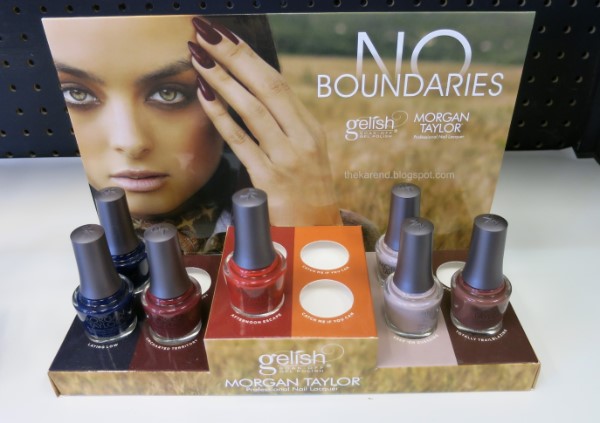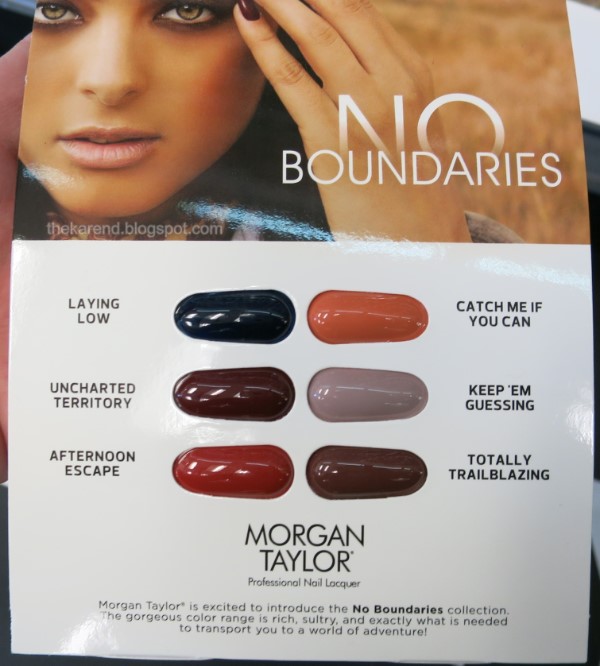 OPI has entered the "natural" nail polish segment with Nature Strong, which I saw at Ulta. Top row: Nature Strong Top Coat (two slots), Strong as Shell (two slots), A Clay in the Life (two slots), Intentions are Rose Gold, Let Nature Take It's Quartz (two slots), We Canyon Do Better (two slots), For What It's Earth (two slots), Raisin Your Voice. Second row: Knowledge is Flower (two slots), Simply Radishing (two slots), A Bloom With a View (two slots), Give a Garnet, Emflowered, Big Bloom Energy (two slots), Once and Floral, Cactus What You Preach, All Heal Queen Mother Earth, Shor is Something. Bottom row: Natural Movement, Spring Into Action, Thistle Make You Bloom, Achieve Grapeness, A Great Fig World (two slots), Eco-Maniac, Raindrop Expectations, It's Ashually OPI, Dawn ofa New Gray, Right as Rain (sold out), Force of Nature, Onyx Skies, and Make My Daisy.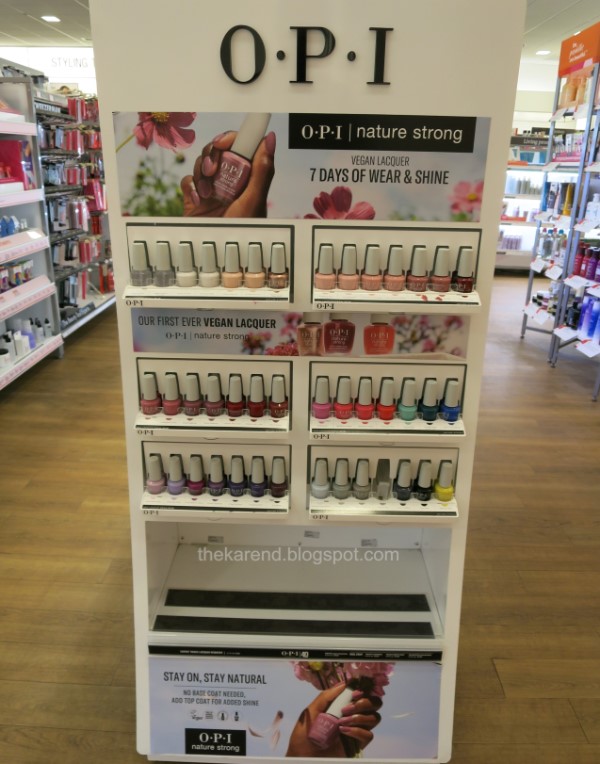 The OPI Downtown LA collection for fall was in that awful backlit display unit at Ulta. I'm not sure what shades are in it exactly.
I'd heard Sally Hansen was bringing back the Color Foil line of chrome polishes but hadn't seen it until one CVS in Michigan (and I haven't seen it anywhere else since then, which if I'd know that I would have bought them from that first display). They were in the top row of on side of this two sided display. (The other side was Miracle Gel colors we've seen before.)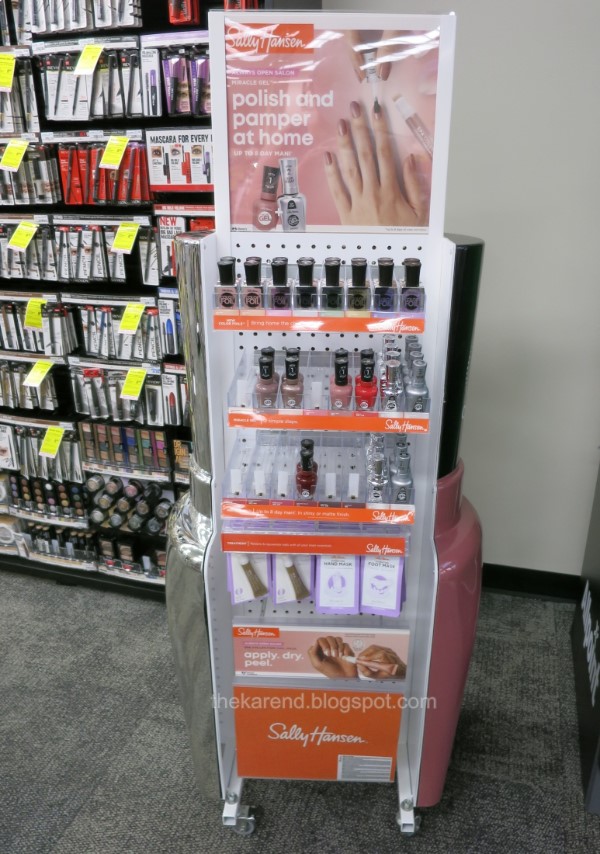 Left to right: Rose Beam (two slots), Fuschia-ristic, Steel a Kiss, Cutting Hedge, Gold Standard, Sky-Fi, Vio-lit.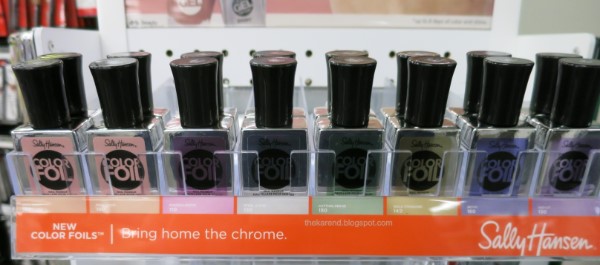 There were two new SinfulColors displays at Fred Meyer, both collaborations with Saweetie. Punk'd Up has a bunch of shades we've seen before, plus two crelly glitters and a set of alphabet stickers. The two glitters are Hella Clean (cool light brown base) and Skurt Skurt (warm light brown base). There was supposed to be a third glitter with a white base (looks like what she's wearing in the photo) but that's only available with the set online.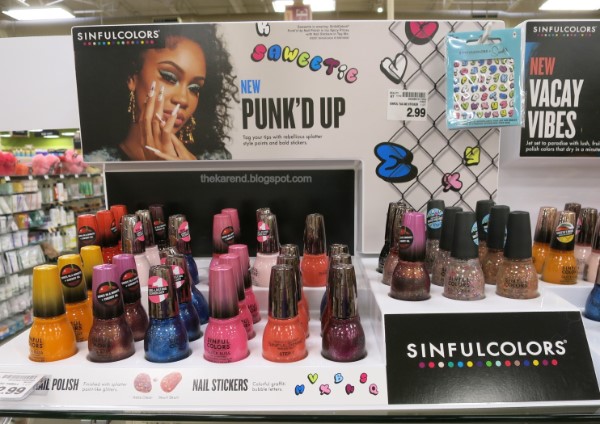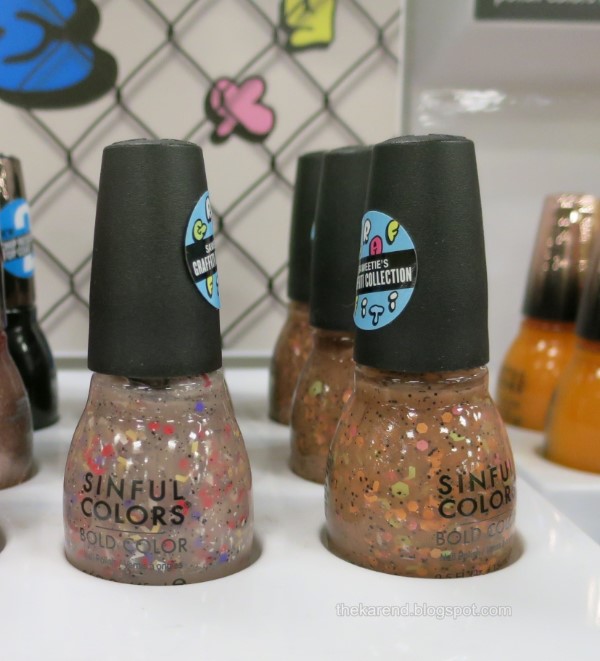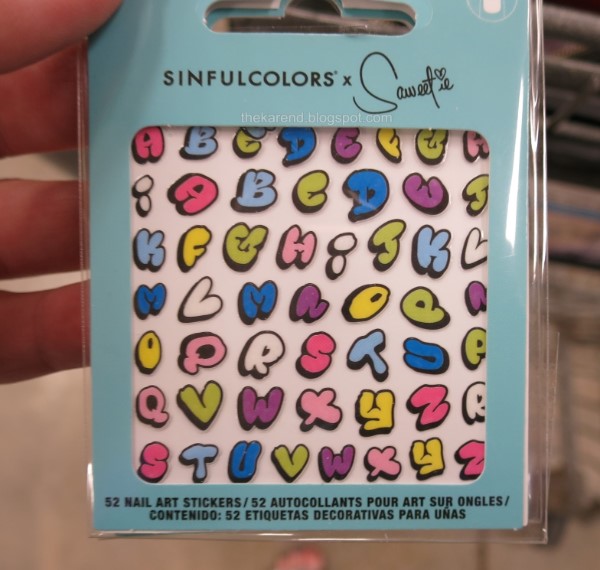 The other new SinfulColors display is Go Off. Again, mostly a bunch of stuff we've seen, but this one has three crelly glitters and metallic purpley pink stickers. The glitters are Just Say It (purple), Pop Off (pink), and Not Sorry (blue). I'm glad these were easier to find than the ones earlier this year that only were at some Walmarts and which I missed all but one of.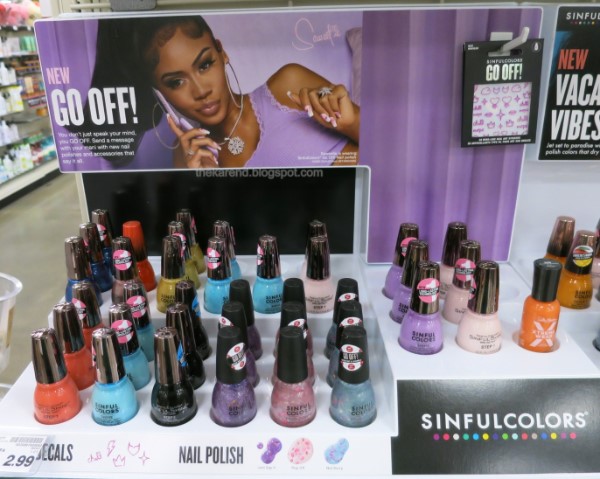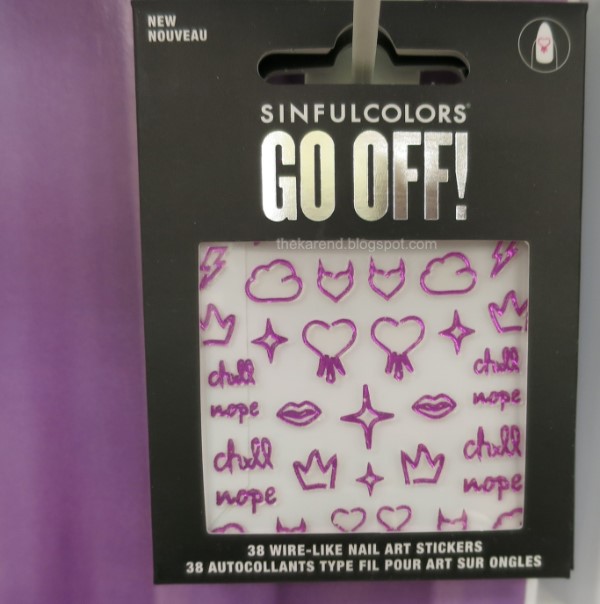 I went to only a couple Meijer stores while I was on the road and only saw one Studio M polish display. It was called Soak Up the Sun and was completely empty. Ah well. No idea what I missed there. I did glance at the core display for Studio M and nothing jumped out at me.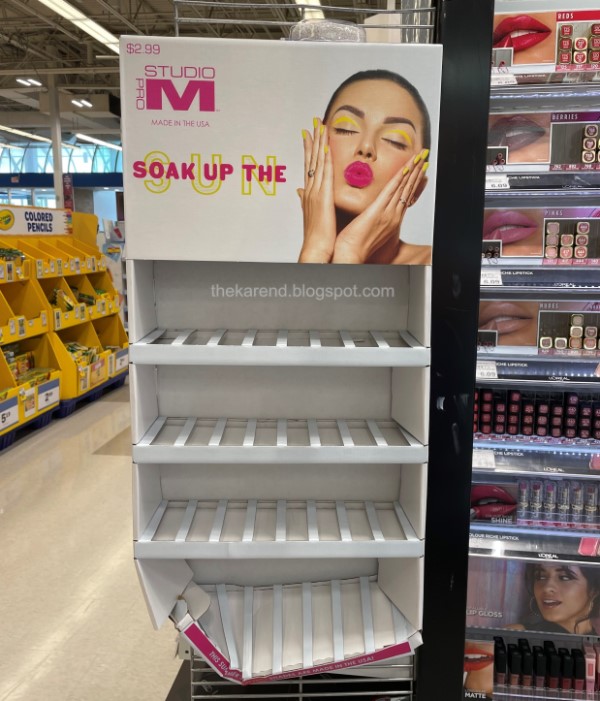 Ulta had a set of their store brand polishes themed around Gilmore Girls. Left to right: Life is Short, Chilton, Miss Patty's, and Peach Sauce.
At my local Walmart before I left on my trip, I saw the Wet 'n' Wild Tropic Like It's Hot display with the new-ish Fast Dry AF line. This had 18 limited edition shades, with Tropic Like It's Hot printed on the caps, some of which also touted their "Seaglass Matte Finish". The display was not full when I saw it, but there was still a decent assortment of shades left.
Top row: Bahama Mama, Bar-babe-dos (matte), X-Ray Vision (core, 4 slots filled with this).
Second row: On Tulum Time, Virgin Daquiri Islands, Seychelles By the Seashore (matte), Mal-Divas in the House, Tahiti Me One More Time.
Third row: Costa Rica Chica (two slots), Phuket Let's Go (matte), Bali Ballin', She's No St. Bart's (two slots).
Fourth row: Honey-lulu (matte), Puerto Rico Ohhh, Can-cun Can-Can, Miami Miami, Can-cun Can Can (two slots).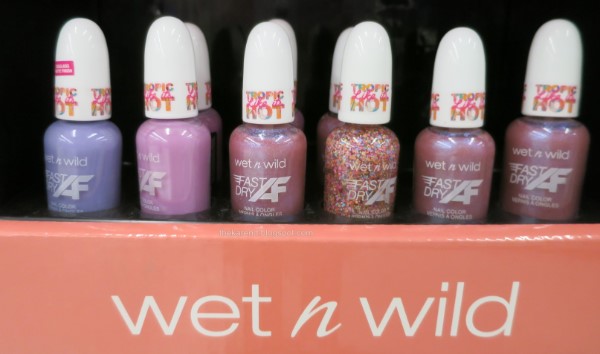 Bottom row: Here's My Room Key West, Jamaica Me Crazy, Punta Cana Bella Donna (matte), Mal-Divas in the House.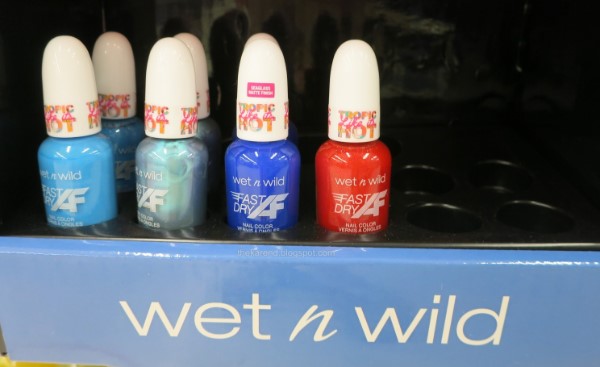 This got a little long, so I'm going to save the Halloween displays, the many many Poparazzi variations, and a few odds and ends for next week. Maybe I'll see a few more things before then; some of the stores were still stocking their seasonal sections last time I was down in the city hunting.