This will be a shorter display post than usual because I just haven't come across as many new things since my last
display post
as I'd hoped. I've been to the same stores, even a few more locations of the big chains than I typically stop at, but the trend of fewer releases from mainstream brands seems to be continuing. Still, there were some new things.
Sally Beauty had fake nails from Bella; some had interesting finishes like metallic and duochrome.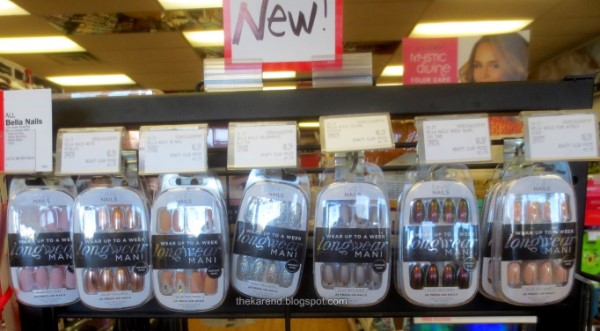 There will be no new releases from Bliss, at least not at Kohls, where everything from the brand was on clearance last time I was there. I'd be more sad about this if they'd had more interesting polishes. I liked the bottles but so many of the colors were cremes in shades I already had.
I first saw Essie Spring 2018 at Rite Aid but have since spotted it at other places like Fred Meyer and Walgreens. Left to right: Bon Boy-age, Perfect Mate, Anchor Dawn, Pass-port to Sail, At the Helm, and Stripes & Sails. This display also has Speed-Setter Ultra Fast Dry Top Coat.
Some stores have a floor display for Bon Boy-age: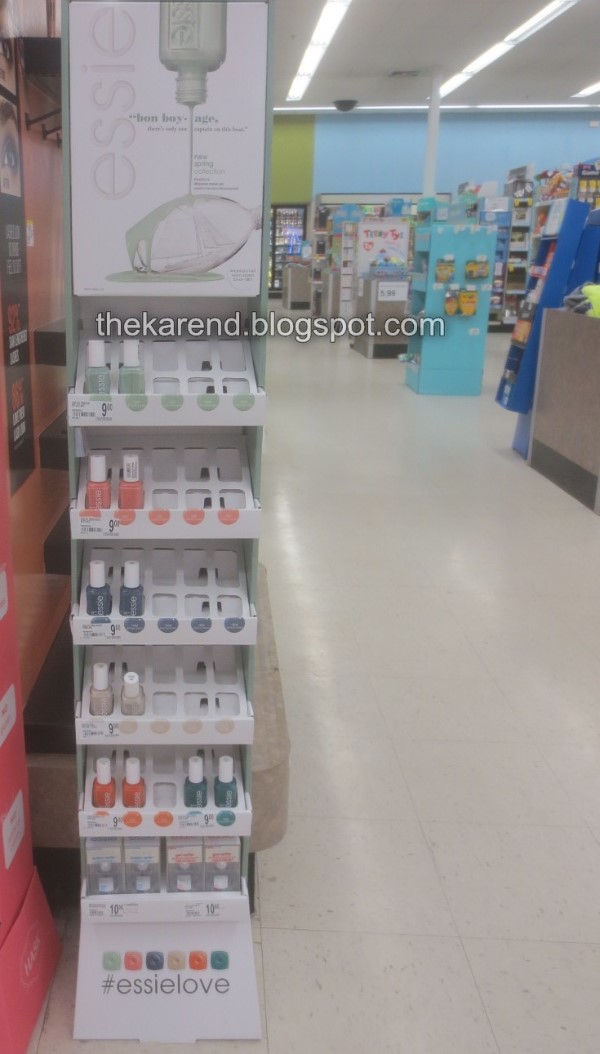 Also new from Essie is the Gel Couture Wedding Collection by Reem Acra. Left to right: Handmade of Honor, Getting Intricate, Picture Perfect, Moments to Mrs., You're Golden, and Forever Family. There's also the matching top coat.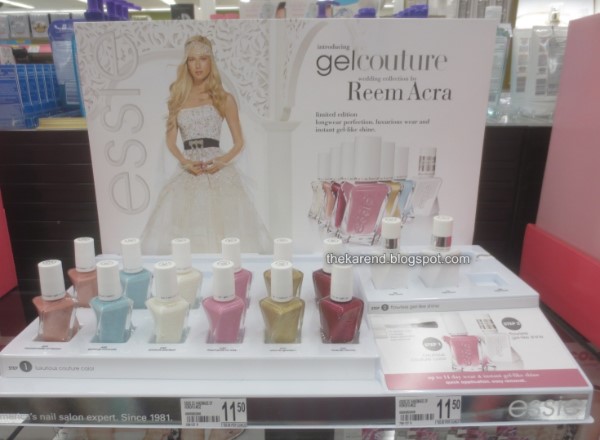 I've seen online that some folks are finding Color Club holo polishes at Walmart, so I braved a visit. I didn't find the Color Club, but I did find they still have the Coconuts nail polish strips from Incoco. This store had twelve designs. Starting at top left: Peach Punch (soft orange with orange lines), Right this Way (mint with green arrows), Sweet Style (white with black dots and pink roses), Sea Goddess (silver with turquoise and pink gradient), It's Love (silver with black dots and hearts), Stone Cold (white/black marble), Make the Cut (white with tan lines), Steal the Show (gold animal print), Treat Yourself (white with mint and pink donuts/sprinkles), Alter Ego (white/pink/ornage/purple watercolor), High Point (white with coral/teal geometric), After Party (black with blue glitter).
Walmart also had a few designs of the non-Coconuts Incoco strips: Bling Bling (silver microglitter French manicure), Invite Only (taupe with gold glitter), and Cloud Nine (white French manicure).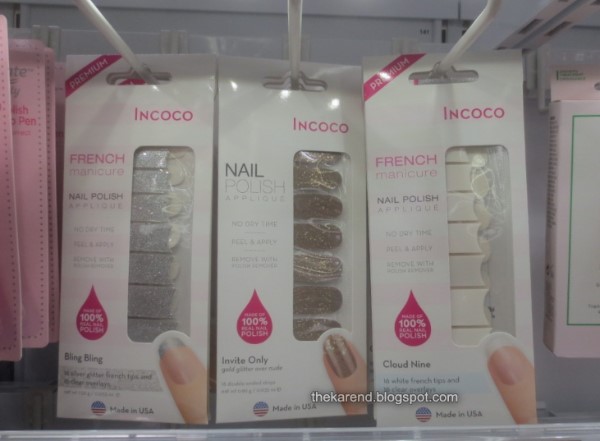 During my time in Walmart, I saw some interesting fake nails from LA Colors called Pixie. Left to right: Pyro (metallic stiletto), Peaches 'n' Cream (short iridescent), Outer Space (duochrome stiletto), Bubble Gun (pink iridescent), Mermaid Princess (turquoise iridescent).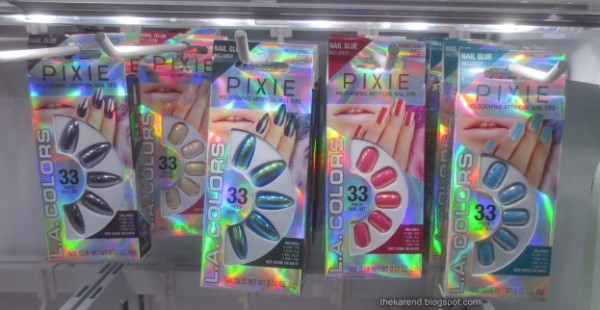 The LA Colors Color Last Metallic Finish polishes also caught my eye at Walmart; I don't remember seeing these anywhere else. There were slots for eight shades: Opal White, Champagne Sapphire (sold out), Pink Diamond, Ruby (sold out), Amethyst, Emerald, Chrome, and Obsidian.
I shared OPI Libson last time; at that point I'd seen it only at NW Beauty and Ulta. I've spotted it at Sally Beauty since, where in addition to the colors I'd already seen in a two-section display with both regular and Infinite Shine, though the latter was stocked with random shades), they had a smaller display with three Sally exclusive shades. I don't recall that happening at Sally before; Ulta, yes, but not Sally. The exclusive colors are Set Apart by Tile Art, Hittin' the Portuguese Pavement, and I Absolutely Amador Ya.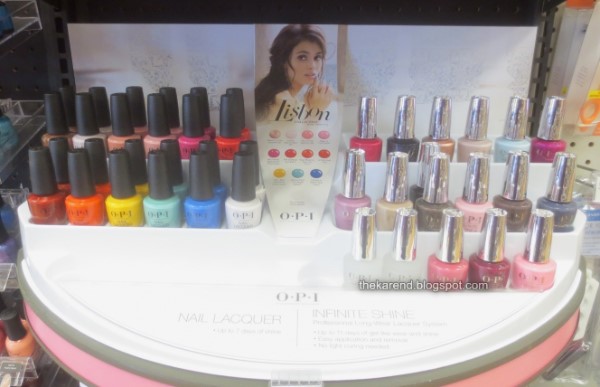 I also saw some OPI at Walgreens, which doesn't usually have OPI (at least my stores out here don't). This was a mix of shades from different collections: Funny Bunny, Gargantuan Green Grape, Check Out the Old Geysirs, I Just Can't Cope-acabana, Can't Afjord Not To, Feelin Hot Hot Hot, Charged Up Cherry, Teal the Cows Come Home, Flashbulb Fuchsia, and Suzi and the 7 Dusseldorfs.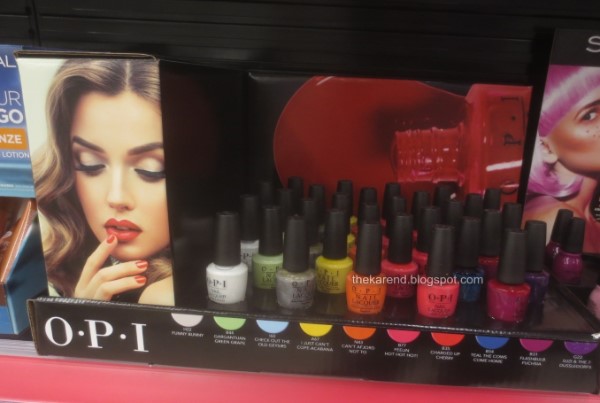 The Pueen section of the nail aisle at Walmart was pretty bare, but it did have a plate and clear stamper I'd not seen there before (granted it's been a while, so these may be old news). The plate is labelled Theme Park Collection Marble Paradise 01.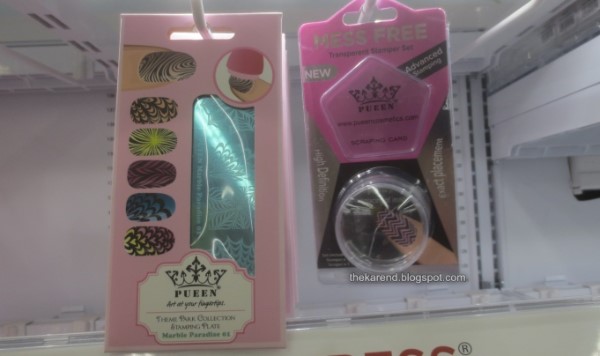 I didn't find the Sally Hansen Color Therapy Valentine's Day display, I Treat Myself, until quite late, and it seems to have core colors in it, nothing new, but I'm including it because I liked that they went to the effort to make a special display for the holiday with a heart shaped section the polishes sit in (there's also Top Coat and Cuticle Oil to the side). Shades here: Burnished Bronze, Sunrise Salutation, Rosy Quartz, Mauve Mantra, Ohm My Magenta, Red-y to Glow.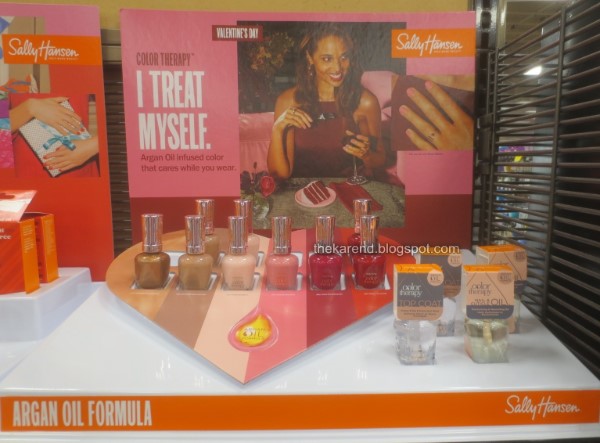 It's not all repromotes from Sally Hansen, though. They've released three new top coats in the Miracle Gel line called Color Filters. The display I saw at Walgreens has core shades to use as bases, the new top coats, and the regular top coat. Top row: Shhhh-immer, Adrenaline Crush, Regal Rose, Mauve-olous, Diffuse (new top coat), Strobe (new top coat), and Smoulder (new top coat). Bottom row: Pinky Promise, Tipsy Gypsy, Street Flair, Hunger Flames, Let's Get Digital, Get Mod, and Top Coat.
The Color Filters display at Fred Meyer had the same three new top coats but a different assortment of base shades. Starting at back left: Creme de la Creme and V-amplified with Diffuse Top Coat, Birthday Suit and Sstree Flair paired with Strobe Top Coat, Pinky Promise and Get Mod with Smoulder Top Coat.
There are even some limited edition shades out now from Sally Hansen: a capsule collection of Complete Salon Manicure colors created by Madeline Poole. Front: Slime Scene and Mallratz. Middle: Material Pearl and Say It Lycra Mean It. Back: Vinyl Tap and Call Me on My Shellphone.
Good old SinfulColors has a St. Patrick's themed display out called Lucked Up. Sure, most of the shades are repromotes, but there are some new ones, and I give them all the credit for not giving up like so many brands seem to be doing these days. Front: Jade Kat, Cash Out, Lucked Up (new), Sassy Lassie (new), Cloverdrive (new). Back: Green Ocean, Rise & Shine, Cloverdrive (still new), Gold Medal, Clear Coat.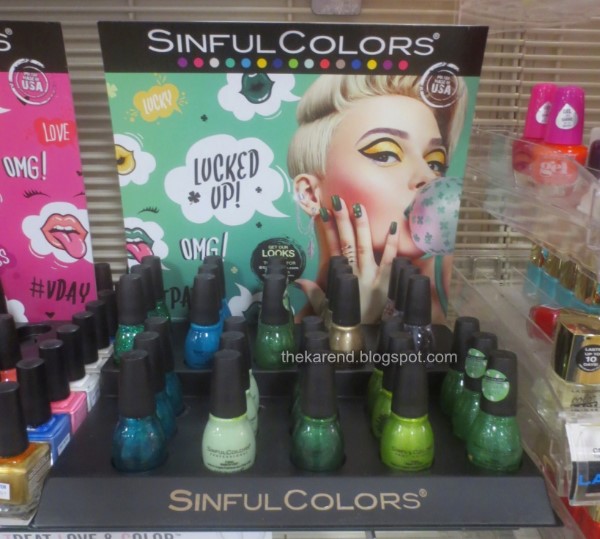 And lastly, a sigh for what might have been ... Fred Meyer had a Wet 'n' Wild Goth O-graphic display with "Spring with a Holographic Edge" as its tagline. In prior years, this would have had polishes in it, pretty holo polishes. Or we would have gotten a separate display of just polish. This is just makeup. I like makeup, sure, but I like polish way more, and Wet 'n' Wild seems to have stopped putting out new ones. Sad.