A rare Saturday post here because it appeals to me to share St. Patrick's Day polishes on the actual holiday. And also because yesterday was my birthday, and I was busy celebrating. I had cake at breakfast and pie at dinner and presents and Indian food (a rare treat here where it's only available the six hours a week the food trailer next to the humane society is open ... did I mention I live in a small town?) and skiing.
On to the polishes! I grabbed the three new shades from the holiday display: Sassy Lassie, Cloverdrive, and Lucked Up.
Sassy Lassie is a lime green shimmer that was opaque in two coats. The SinfulColors website calls this a metallic: I'd say it's somewhere between a foil and a glass fleck with just a hint of frost underneath. I quite liked how bright this was, even though this shade it doesn't do wonders for my skintone.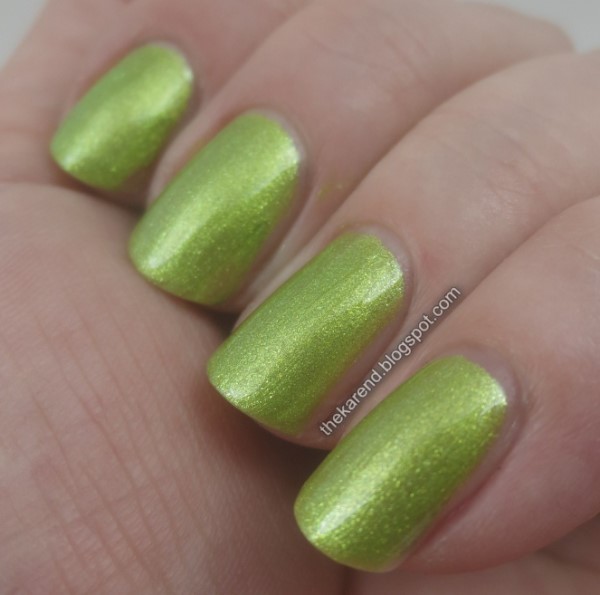 Cloverdrive is a topper with blue green flakies and silver holo clover shaped glitters in a transluscent base.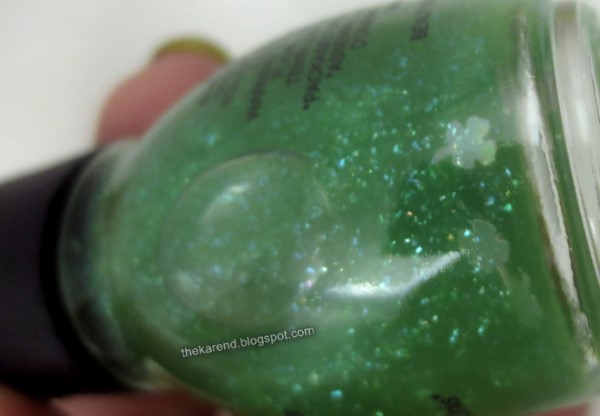 I tried Cloverdrive over Sassy Lassie and was underwhelmed. Fishing for the clovers was so tedious I only had the patience to get one out, and the flakies got pretty lost on the bright lime background of Sassy Lassie. The clovers did seem less likely to catch on things than the hearts in the Valentine's topper, being somewhat narrower, so that's a plus. I did put topcoat on here to smooth things over nonetheless.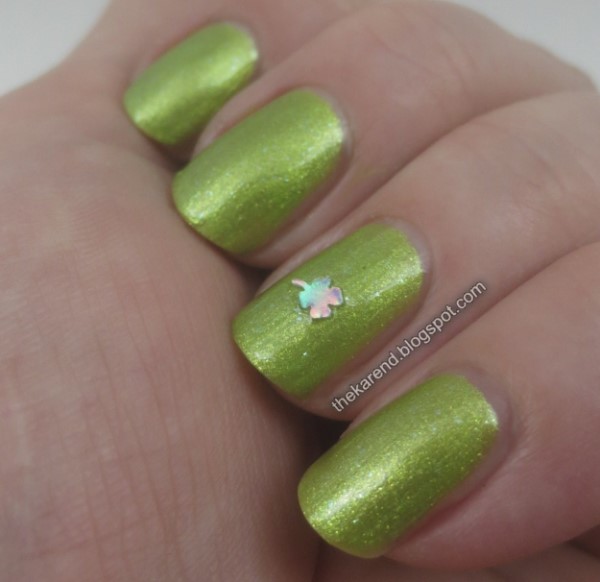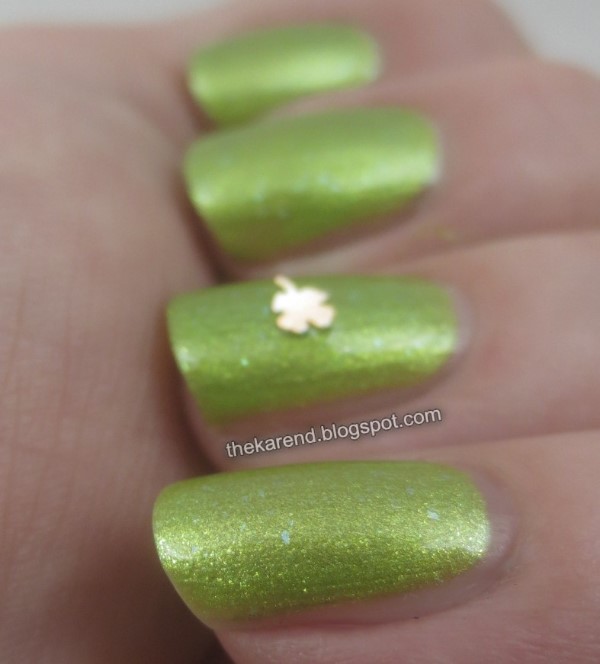 On to better things: Lucked Up is a green shimmer, opaque in two coats, and so pretty.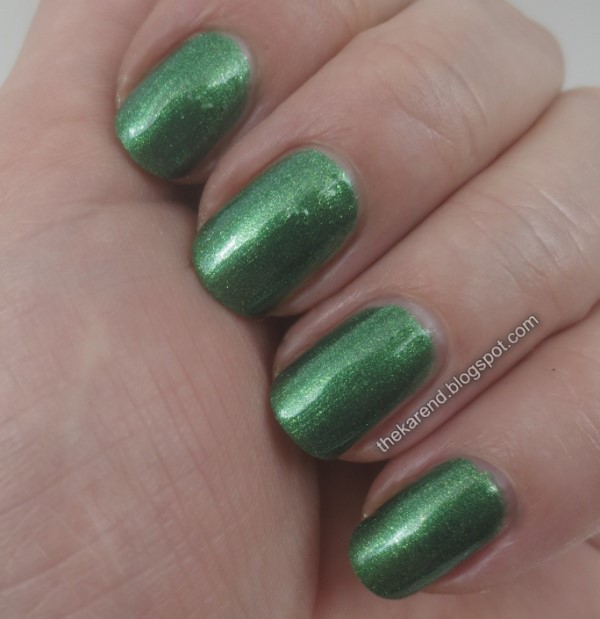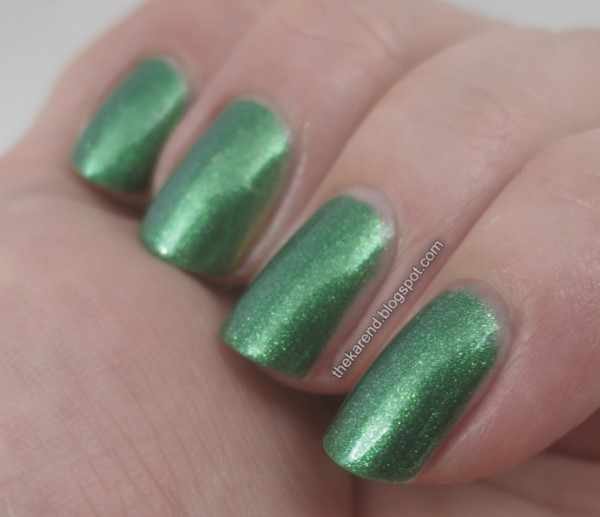 I pushed my patience button and fished out one clover glitter from Cloverdrive for each finger this time. The flakies didn't really show up much better on the darker green of Lucked Up than they had on the lime. Sad.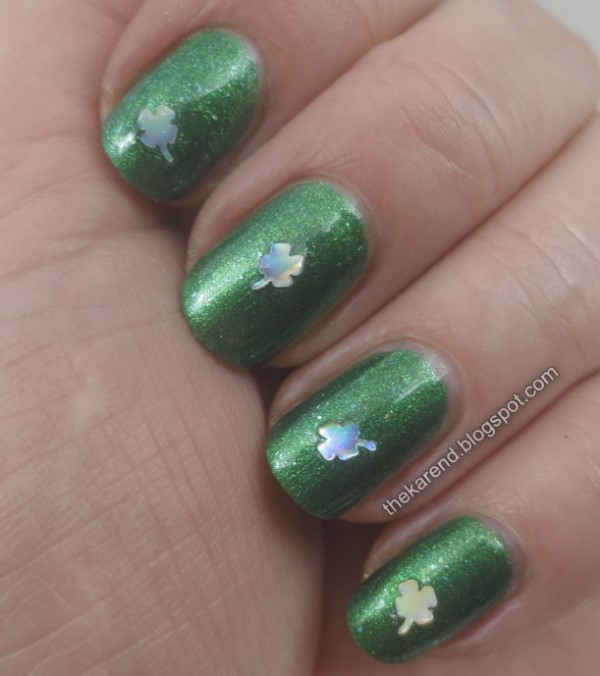 I didn't use any clear topcoat this time, and you can see that wouldn't be a good idea for a full mani; the clovers do need that extra smoothing so as not to catch on things.
Frustrating as it was to get the clovers out, they were entertaining as they shifted colors on my nails.
I just had to see those flakies in Cloverdrive, so I put black creme on one nail then two coats of Cloverdrive (no fishing for glitter this time). Ah ha, there the flakies are! They just need a really dark base to show up.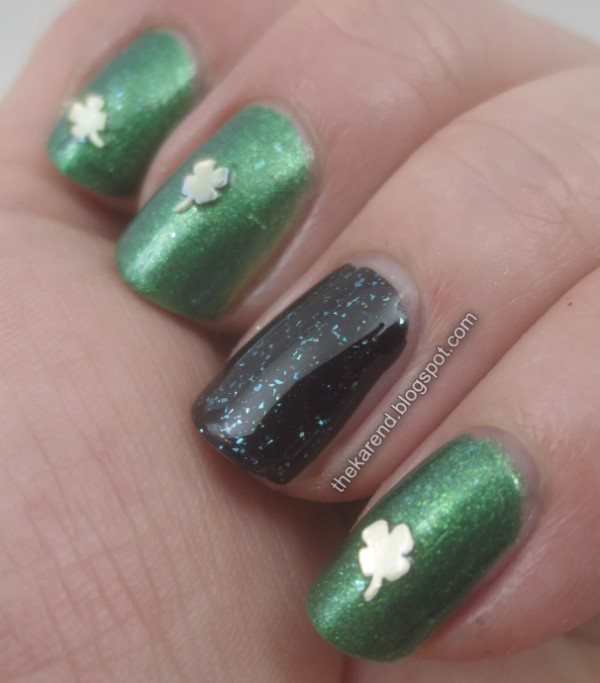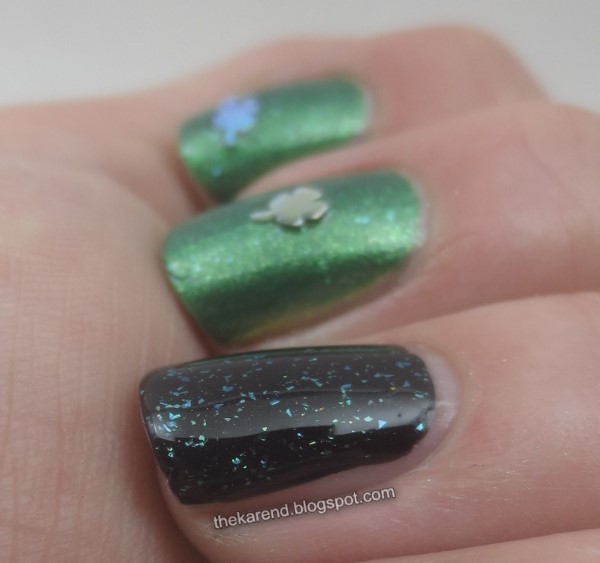 I really like both the greens; the topper is fiddly but I'm still glad I have it, and glad SinfulColors is still doing special seasonal polishes.
Happy St. Patrick's Day!