I'm going to be travelling into parts known but with uncertain internet the rest of the week, so figured now was good time to catch up on posting displays, clean out those photo folders before I take my hunting on the road.
In my last
display post
, there was a lot of Halloween content; now it's November and that means mostly Christmas and winter displays, which is fitting for me anyway, since we had snow on the ground for Halloween (though it's since melted, and the storm forecast for this past weekend fizzled out).
Ulta had something new in the Butter London section: the of Peel-Off Glitter collection (all "fashion size"; does Butter London even make new shades in full size anymore? I haven't seen any in ages). Left to right: Black Magic, Glitz, Aura, Gold Rush, Supernova, and Galaxy. Despite my deep love for glitter, I was only briefly tempted by these. The glitter mixes all look rather similar to polishes I already have, and the peel-off feature isn't appealing to me, as I have peel off base coats if I want that and foil method for removal if I don't.
I heard reports of people seeing the China Glaze Grinch collection at Rite Aid, but I wasn't hopeful I would as I don't recall any Rite Aid stores out here ever having China Glaze, but I stopped into a store one night coming home from an event and lo and behold, there it was. Some of the shades were already sold out, but hey, a lot were still there. As someone who has very fond memories of the original Grinch tv holiday special, I'm not convinced we need a new Grinch movie, but I sure like the idea of the nail polish collection with Grinches on the caps.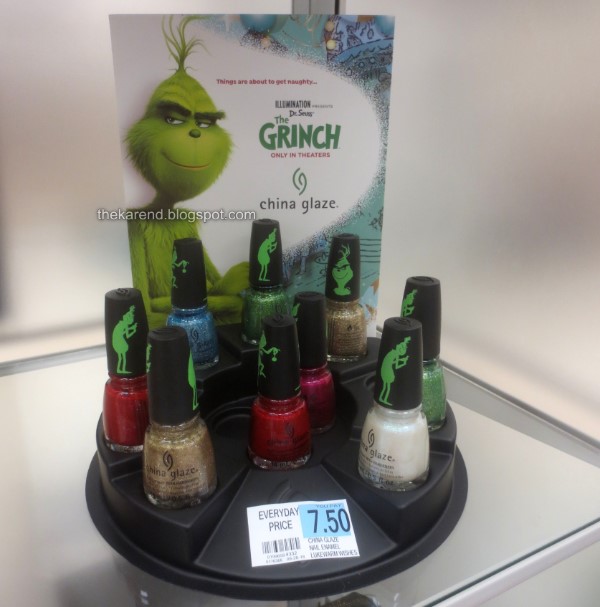 Later I saw the Grinch polishes at Ulta, tucked in the backlit core display (which I sometimes think they put in the stores just to vex me) where it was hard to see the colors, but at least the shade names were listed there unlike the shelftop dipslay at Rite Aid. Left to right: Grinchworthy (times 2), Resting Grinch Face (x2), Ho Ho No (x2), Who Wonder (x2), You're a Mean One, Deliciously Wicked, Lukewarm Wishes, Merry Whatever.
Ulta had the fake nails for the Grinch collection (though no display for them): Red Sweater (red with gold), Grinch Vines (black with green, and Grinch faces, so that's the one I got), and Green Matte Magic (black/green duochrome). I'm not sure if those are the names given by China Glaze, or just what Ulta named them for their webstore.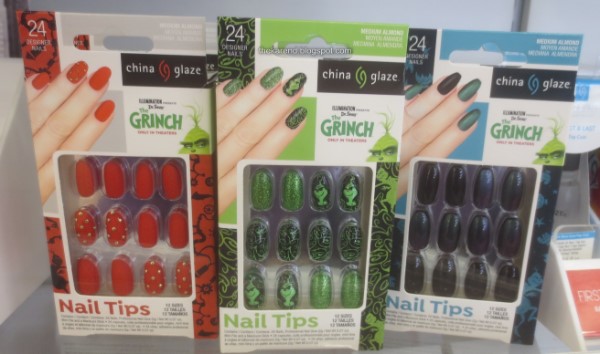 Rite Aid was the first place I saw the Essie Winter 2018 collection, Million Mile Hues. Left to right: Million Mile Hues, Hear Me Aurora, Sight on Nightlights, Just the Way You Arctic, Polar-izing, Glow with the Flow. There was also a slot for a new base coat, Here to Stay, but that was empty in this particular display.
At Fred Meyer, I saw a display of just that new basecoat, Here to Stay.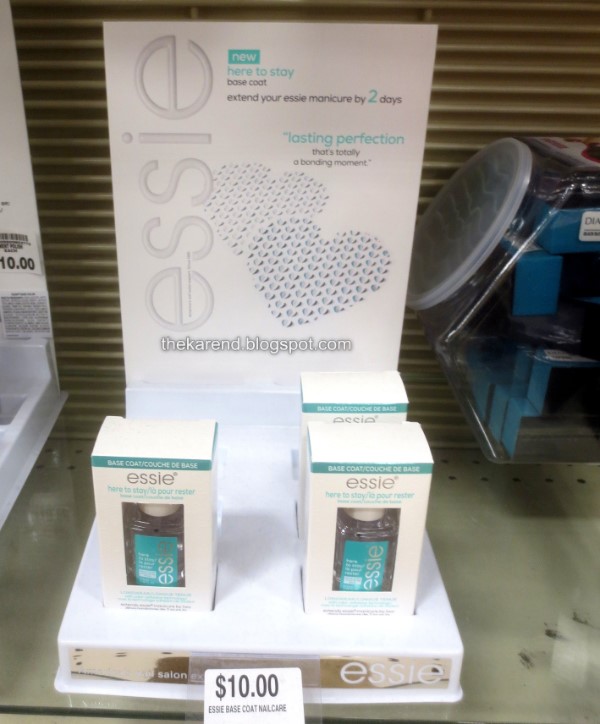 Essie also has the Concrete Glitters collection coming out, which I guess is Holiday 2018. My Ulta had the signage tucked into the backlit display but the polishes weren't there yet.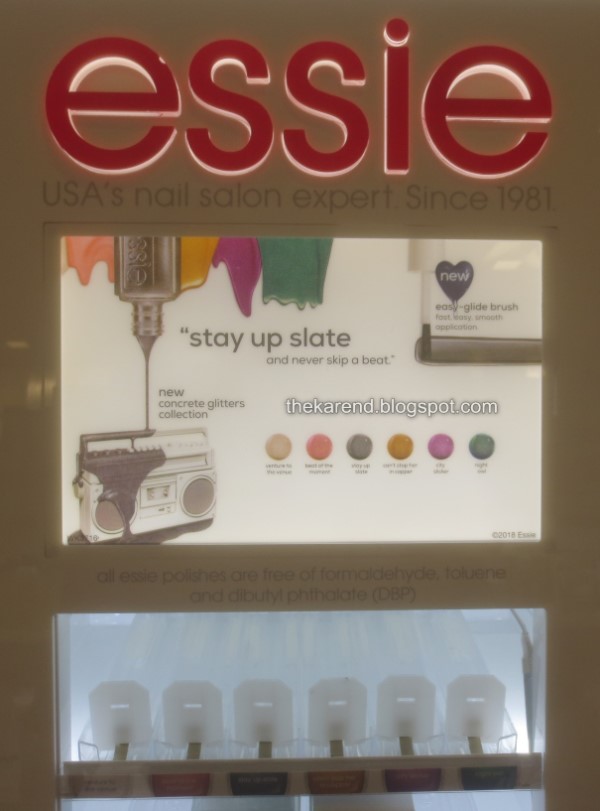 My backup Ulta had most of the polishes, but if you didn't know to look for them, they'd be easy to miss. Left to right: Venture to the Venue, Beat of the Moment (empty slot), Stay Up Slate, Can't Stop Her in Copper, City Slicker, and Night Owl. These don't look especially glittery; I think they're supposed to be textures and can only hope they're like the Zoya Pixie Dust non-chunky ones.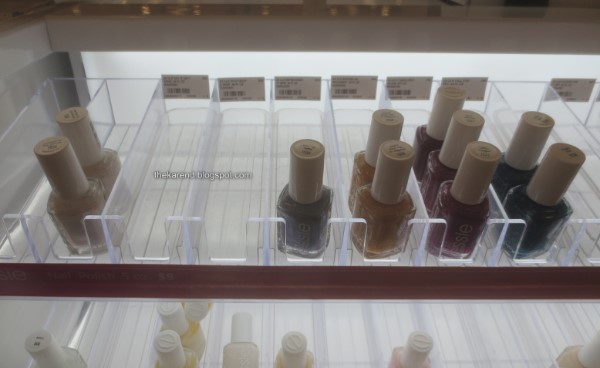 Rite Aid had Christmas themed Kiss Mani Pop stickers, which seem to be designed to put over nail polish as accents, with most of the stickers having some clear areas to let the base polish show through.
I like looking for new OPI at NW Beauty because they are good at putting new collections where I can see them (sometimes they do put them at the register, which is less good for taking photos, but I can cope). Thus it was that OPI The Nutcracker and the Four Realms was just inside the door when I visited last. The main collection has twelve shades; this display is the Infinite Shine line but the shades are mirrored in the regular line. Top row: Primer, Gloss, Dancing Keeps Me on My Toes, Tinker Thinker Winker, Dreams Need Clara-fication, March in Uniform, Dazzling Dew Drop, Envy the Adventure. Bottom row: Primer, Gloss, Lavendare to Find Courage, Berry Fairy Fun, Toying with Trouble, Candied Kingdom, Ginger's Revenge, Black to Reality. I like this mix of colors; yes, there are pinks and reds for the masses, but there are those blues and green for those of us who like more unusual shades on our tips sometimes.
There are also some glitters in The Nutcracker and the Four Realms release; these were in a separate display at NW Beauty. Left to right: Dreams on a Silver Platter, Gold Key to the Kingdom, I Pull the Strings.
Ulta seems to have gone all in on OPI The Nutcracker and the Four Realms; they had multiple tabletop displays plus a floor display snugged up at the end of the core section (and bottles tucked into the side of the backlit core display, but I didn't take pics of that because annoying). One note: the larger of the sets of minis here doesn't contain colors from this collection but rather best seller core shades, even though the color and design of the box blends right into the Nutcracker collection.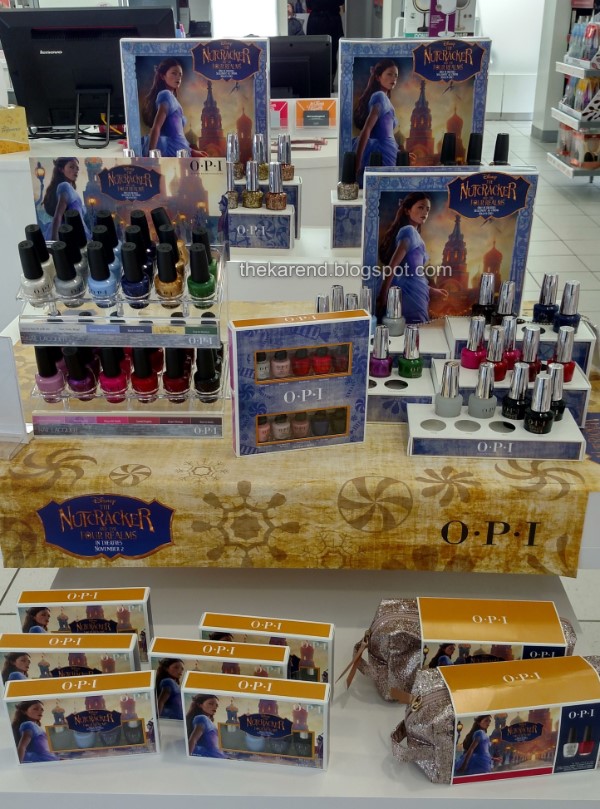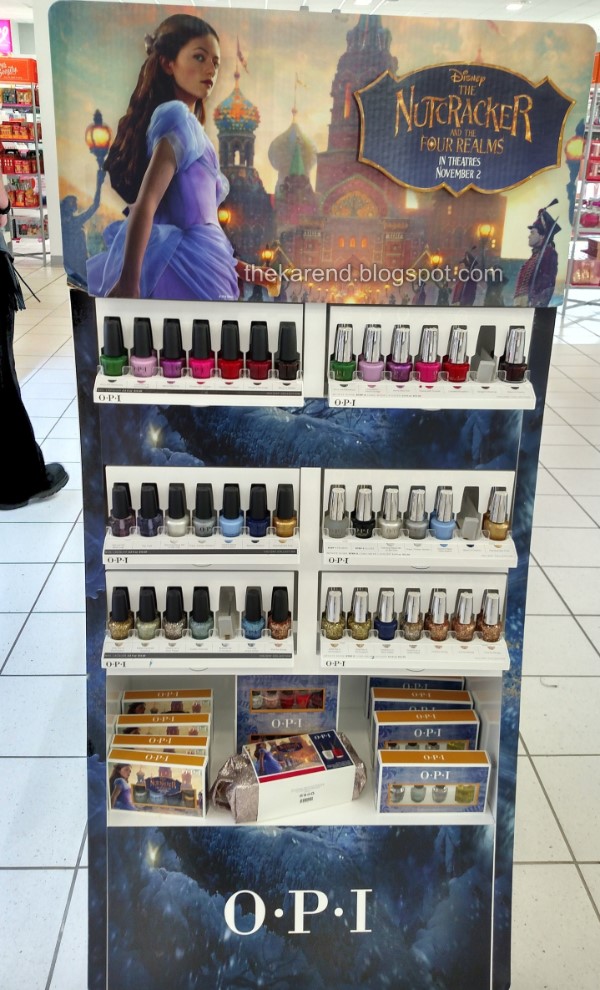 After the grand tour of Walmart stores looking for their big Halloween display that I shared last time, I thought I was done with that holiday at that chain, but no, one of the stores apparently followed up with a Pure Ice only display called Mystical Spirit, which seemed to have the same assortment of colors that the big multi-brand display had.
I got excited when I spotted a Revlon Shoot the Moon display at Fred Meyer that had polish bottles in it, but when I rushed up to look, they were core colors put in the slots where the limited edition ones should have been. I guess credit is due to the person who put them there as color- and finish-wise they at least coordinated with the display. I never heard back from the inquiry I sent to Revlon about what happened with these polishes, so I guess I'll just have to live with the mystery.
With offerings from mainstream brands so scare these days, I ventured into a beauty supply store for the first time in a long while. I found an RK Matte Pearl display that looked like it had been there a while based on all the empty slots. There were eight shades in this collection: Riddling Attitude, Titanium Ring (sold out), Rouge on Nail, Rarest Eyes, Chemise Night, Wear Cashmere (sold out), Blue Gray Cadet, and Designer's Gem.
The RK Mirror display was less picked over, but more painted on. Near as I can read through the vandalism, the shade names are: Dazzling, Glorious, Halo, Luster, Magnificent, Glam, Glistening, Fashionista.
I hadn't seen anything new from Sally Hansen in a while when I spotted the Miracle Gel Color Whirl in a new place, namely Rite Aid, which had this shelf top display. Left to right: Make It N-ice, Steam Punk (Color Whirl), Top Coat, Good Cheer-y, Marble-ous (Color Whirl), Top Coat, Can't Beet Royalty, Frosted Berries, Street Flair.
And then, suddenly, in a Walgreens on a weekend jaunt to the very big city, there was this wonderful Sally Hansen Glam Rock display, with twelve new limited edition Insta Dri Crayola shades, all metallics. I was barely able to make myself take photos before I snatched up some bottles for my stash and hustled to the cash register to use up some of those points I'd been hoarding. Top row: Razzmic Berry, Shimmering Blush, Big Dip O'Ruby, Bittersweet Shimmer, Alloy Orange, Metallic Sunburst. Second row: Sheen Green, Metallic Seaweed, B Dazzled Blue, Sonic Silver, Deep Space Sparkle, Blast Off Bronze. The other two rows have core shades: Cinna Snap, ASAP Apple, Rapid Red, Flashy Fuchsia, Sonic Bloom, Peachy Breeze, Pumped Up Pink, Pink Blink, Sugar Poppy, MAke It Snappy, Petal Pusher, Go for Gold.
Oh, here's one more Halloween display ... Fred Meyer put out their SinfulColors Conjured Color assortment later than some stores had; this had the lime green Powerful Potion that I'd previously only seen at Meijer in the midwest when I was traveling. I never did see this collection at Rite Aid.
Given that I never saw the Halloween display from SinfulColors at Rite Aid around here, I was pleasantly surprised to find a Christmas one there: Jingle Jells. Front section: Candy Apple, Mint Candy, Rock Candy. Back: Candy Apple, Rock Candy, Ginger Candy. These appear to be glitter toppers in jelly bases.
Ulta had a display with their own branded fake nails called Design & Shine; I don't think I've seen that before (they did their own branded nail polish strips back in the day but I don't remember fake nails). There are glitter gradients, chrome finish, iridescent, and nail art-y ones in several different nail shapes: coffin, square oval, rounded, oval, almond. These are glue ons and come with the glue.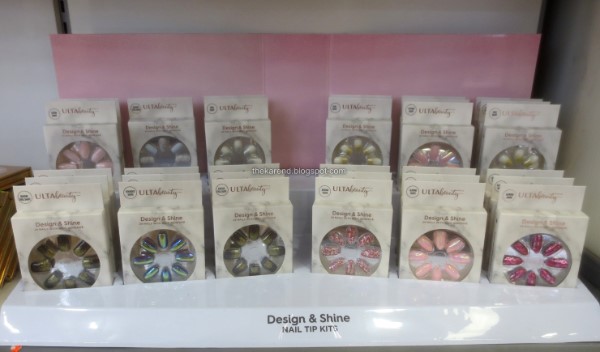 As I travel I'll be keeping an eye out for two things especially: the SinfulColors Vanessa Hudgens Christmas collection (which I know about only thanks to other mainstream nail polish addicts, as the SinfulColors website doesn't show them yet, or the Jingle Jells for that matter) and the Essie Gel Couture Sheer Silhouettes collection, which my Ulta had signage for but no polishes (the shades look subdued but new is new and I'm glad to see it).