When I did my last
display post
, it was almost autumn; now it's fully fall where I am and nearly Halloween everywhere. That means I need to post the holiday (and other) displays I've seen recently, including when I was in the midwest.
Halloween season is glow in the dark nail polish season, and Sally Beauty had a bin with Bitzy glow in the dark topcoat.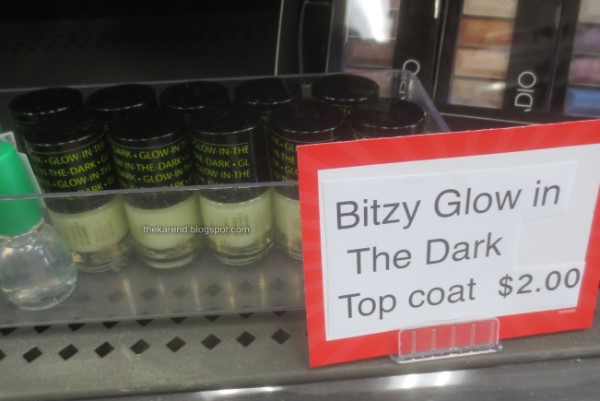 The display of China Glaze Ready to Wear fake nails I shared last time only had two designs in it; the one below that I came across at a different Ulta had a third, the one in the middle, which is the short round shape and has several colors of a cable knit texture design.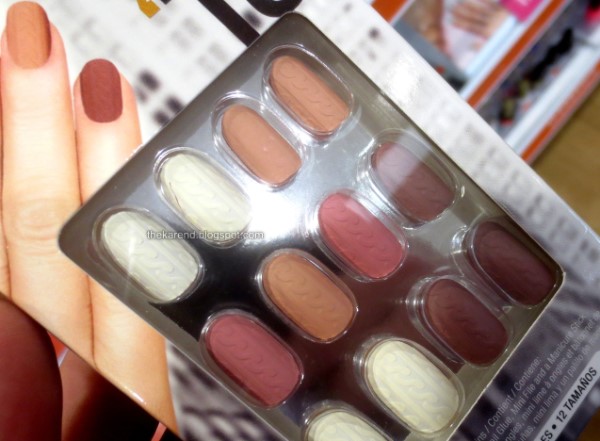 I was happy to see a China Glaze display at Sally Beauty with shade names on it. This had Ready to Wear on the left (but only half the shades) and Paint It Black (the Halloween collection on the right). Slots for Ready to Wear: Haut Blooded, Throwing Suede, Pay It Fashion Forward, Central Parka, You Don't Know Jacket, and Mustard the Courage (half of these were sold out). Slots for Paint It Black: Pret-a-Potion, Night and Slay, Maliboo-boo, Shadies & Gentlemen, Wicked Liquid, Ash & Burn (one sold out). There was also a jar with mini glow in the dark topcoat bottles.
I popped into a Claire's for the first time in a long time and found they still have loads of nail polish, which was reassuring, expecially lots of places seem to have less and less these days. There were various "collections": Matte Effect, Fuorescent (glow in the dark, Cosmic Babe (shifty shimmers with glitter; these tempted me the most), Liquid Metal, Sand Effect, Mood, and various cremes, shimmers, and glitters.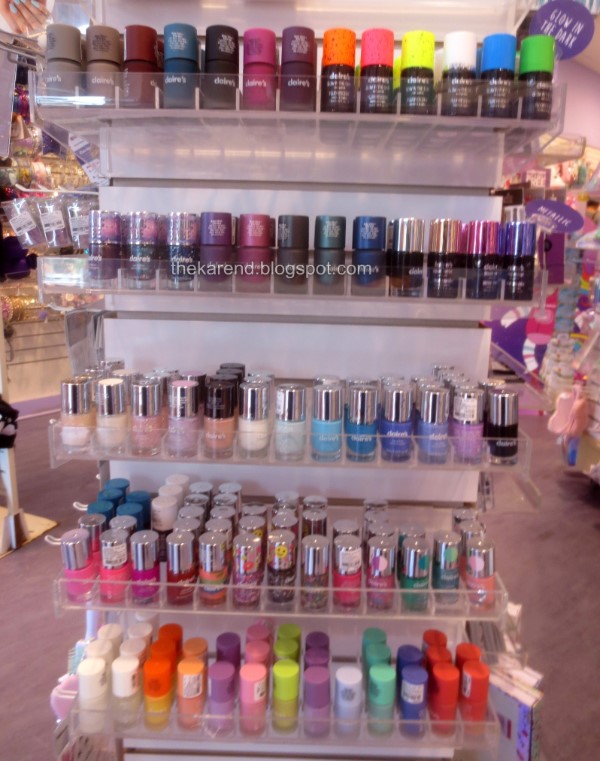 Claire's also had a lot of fake nails, everything from chrome to creme, some with nail art.
Walgreens had what looks to be the CND Vinylux fall collection, Wild Earth. Five shades here: Brimstone, Spear, Element, Dreamcatcher, Blue Moon, and Arrowhead.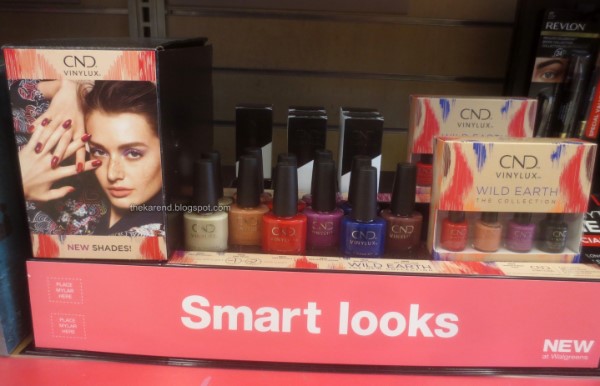 After looking in I don't know how many Walmarts across the country, I finally found one with the full Color Club section, just when I'd given up and was looking for the Halloween displays instead (those will be later in this post). This has six versions of the Seren-dip-ity dip kits (my local stores have two, if any at all) and four sections of polish. Mood Changing: Stone Cold, Cool Story, Total Meltdown, All Fired Up, Overheated, Getting Warmer (sold out), and So Chill. Matte: Study Buddy, All Dolled Up, Cliff Notes, Party Teal Dawn, No Curfew, Play Date, Chalk Board Black, and Chalk It Up. Glitter: Out of This World, Constellation Prize, Invite Only, Zodiac Attack, Fortunate, Turnt Up, and Bedazzled. Holographic: Trick of the Trade, It's a Mystery, Bewitched, Enchanted, Supernatural, Spell It Out, Black Magic, and Don't Harp on It. (I grabbed that one remaining bottle of Black Magic so fast after I took this photo you'd think it was an emergency, and it sort of was ... what if someone else came by and wanted it?)
Sally Beauty had a Halloween display of Dashing Diva MagicPress nails. There were four designs: Shadow Dance, Witching Hour, Purple Haze, and Crimson Spell.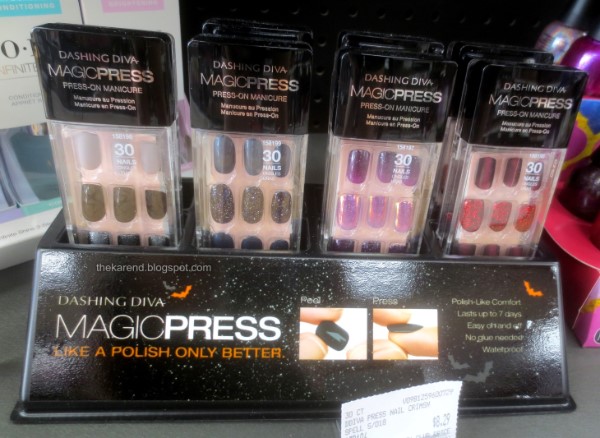 At Ulta, the polish slots in the Essence display were all marked with clearance prices and most were sold out. I don't like the looks of that. They may just be clearing old stock to bring in some new polish lines, but given how the trends are going for mainstream brands, I'm worried they will just fill that space with more makeup.
I was disappointed that none of the Meijer stores I went to had any pumpkin polishes. They did have Fright Night polishes similar to the lineup at Fred Meyer I shared last time, as well as Fright Night fake nails.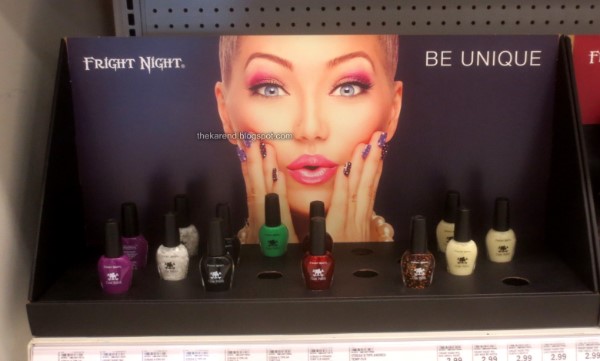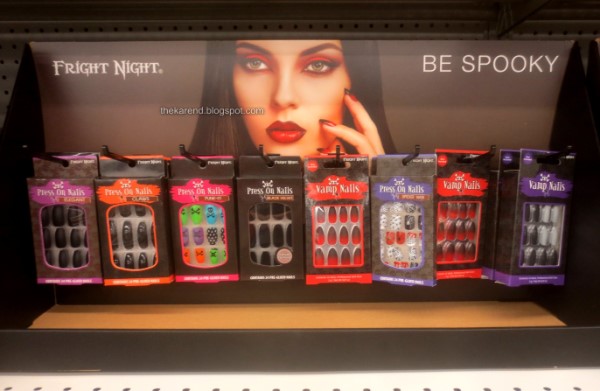 Meijer also had a Haunted display in their Halloween section which had some fake nails in it along with other costume items.
Following a tip from the internet, I went into a Spirit of Halloween store and came out with a set of Hocus Pocus Nail polishes: Mary Sanderson, Winifred Sanderson, Sarah Sanderson, and Binx. This was in the section with other Hocus Pocus costume items, not the makeup section (which is where I saw fake nails, which I didn't get a good photo of but that's okay since there wasn't anything too different than the ones at Meijer and other places).
I shared a Kiss Halloween nail art and fake nails display from Walgreens last time. Meijer had those items split across two different displays, with some additional variety in them.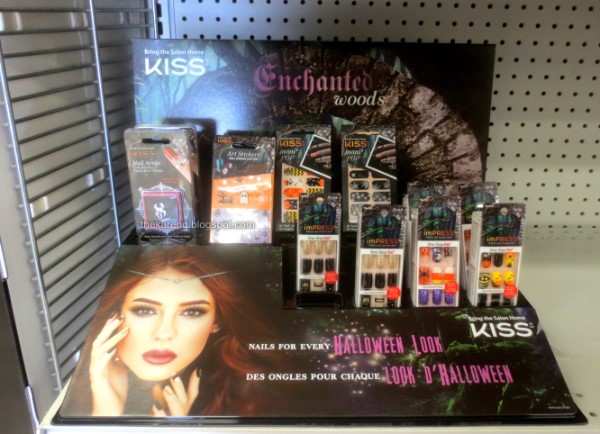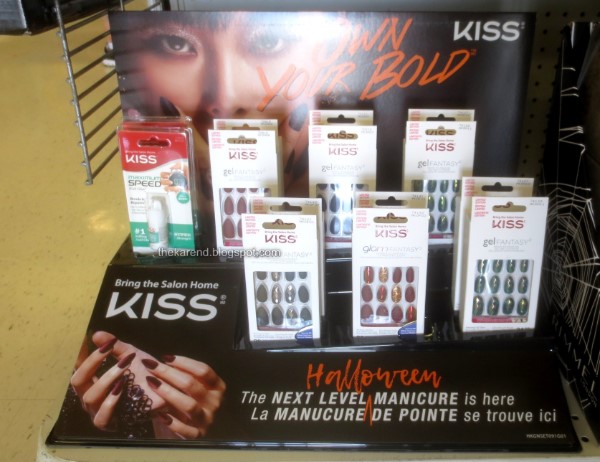 There's also a skinny stand up display with the Kiss Halloween products; I saw this one at a CVS.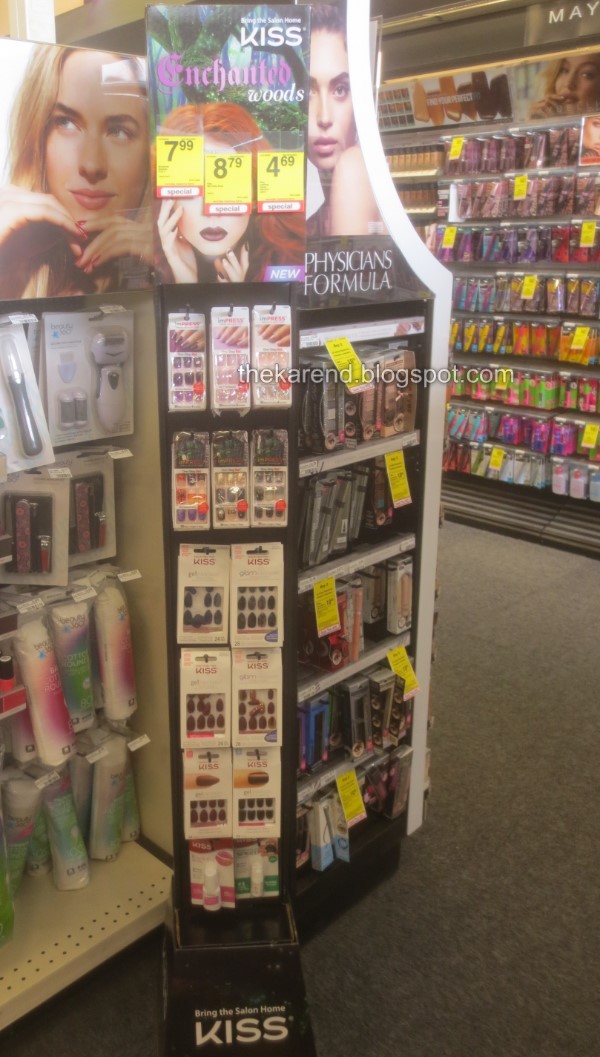 In addition, Kiss nails also feature in the big Halloween display some Walmarts have. It's a four-sided affair that I've found in various places in different stores: near the entrance, near the Halloween section, near the beauty aisles, near the housewares. One side is fake eyelashes and spray on haircolor (not shown). One side is Kiss fake nails (and eyelash adhesive), mostly not especially Halloween themed. The other two sides have nail polish which I'll cover below when I get to those brands alphabetically (Pure Ice and LA Colors).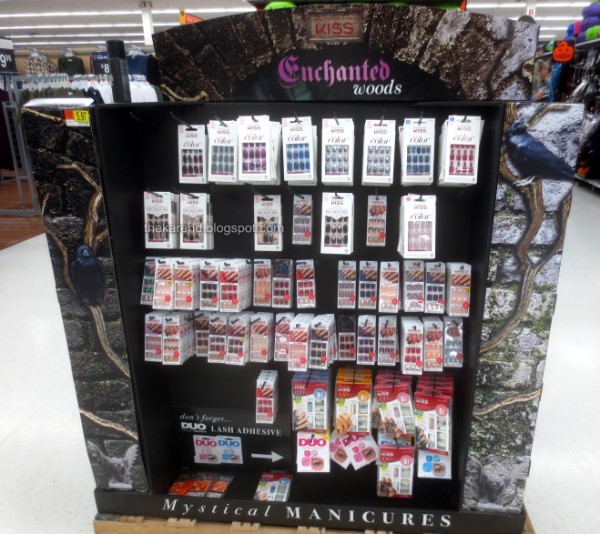 Dollar General is not on my usual polish hunting rounds, but I saw one while I was on the road and went in to find they had some LA Colors collections I'd heard about. Top row, Mermaid Magic: Opal, Sea Life, Mermaid (sold out), Pink Pearl, Coral Reef (sold out), and Mystical. Middle row, Unicorn Sparkle: Sugar Snowflake, Flurry Shine, Candy Cloud, Sweet Enchantment, Unicorn Sparkle, and Sparkling Gem. Bottom row, Metal: Crushed Diamond, Bubbly, Marvelous, Crystal Pink, Majestic, and Sublime.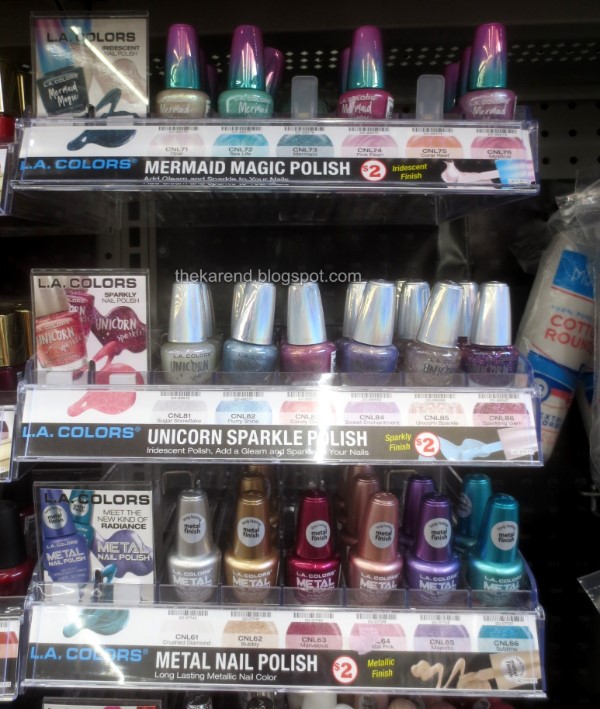 At Walmart, I saw a sidekick for LA Colors Color Craze Gel. Top row: Frosting (clear topcoat). Second row: Flurry, Vanilla Latte, Chateau, Bright Side. Third row: Sweet Heart, Pink Sugar, Giggle, Mademoiselle, Tea Time (sold out), Flashy. Fourth row: Untamed, Posh, Aura, What's Up, Foxy, Fierce, Red Carpet Ready, Vampy. Fifth row: Rockin' It, Jammin', Never Ending, Hooray (why so many slots for this yellow? is yellow polish now hot?). Bottom row: Anarchy, Dare Devil, Outrage, Magical, Whimsical, Zen, Dazzling.
The third side of the big Walmart Halloween display has LA Colors Glows Color Craze shades, which apparently glow under black light. There are no shade labels on this display, and each one I ran into was different levels of messy by the time I saw them.
The highest number of different shades I saw in this section at any of the stores was 15: Energy, Vapor, Radiation, Ionize, Luminous, Gleaming, Radio Active, Electric, Ultra Violet, Wave Length, Nuclear, Lucent, Fluorescent, Spectrum, X-Ray.

The fourth side has more LA Colors, specifically the Unicorn Sparkle and Mermaid Magic collections as shown in Dollar General display above. They're in with the Pure Ice shown below.
I first saw the OPI Metamorphosis collection of toppers at Sally Beauty, tucked into one side of the Peru display. Left to right: You Little Shade Shifter, This Changes Everything, Metamorphically Speaking, Ecstatic Prismatic, Butterfly Me to the Moon, Can't Be Camouflaged.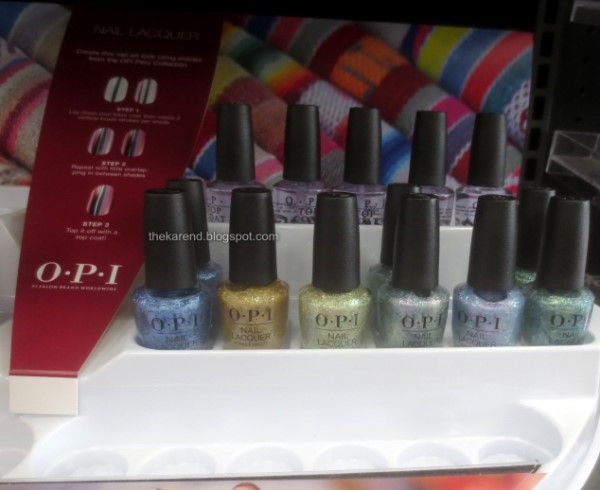 Later I saw Metamorphosis at Ulta, with proper signage, tucked into the end of the nail bar display.
Ulta also had two mini kits for this collection. On the left: This Changes Everything, Butterfly Me to the Moon, and You Little Shade Shifter, with Lincoln Park After Dark as the base color. On the right: Metaphorically Speaking, Butterfly Me to the Moon, and You Little Shade Shifter with Alpine Snow for the base.
As I mentioned above, the fourth side of the big Walmart Halloween display has Pure Ice (and LA Colors). There are five limited edition Halloween shades mixed in with a whole bunch of core and repromoted shades.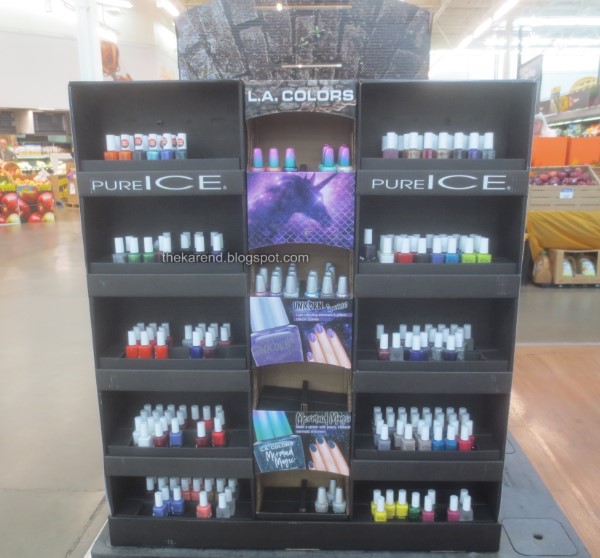 LE shades: Superstitious, Howling Wind, Bubbling Brew, Good Witch, Coffin Break.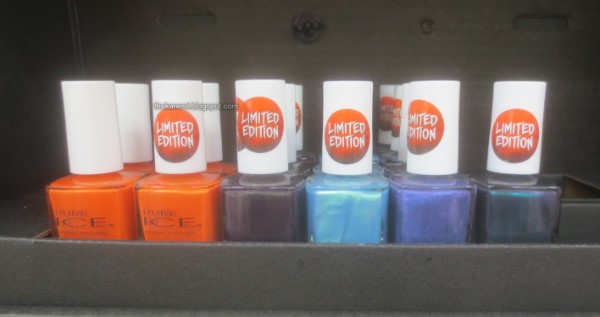 I don't know if the Sally Hansen Salon Neon Light It Up display at Ulta got released late, or I just noticed it late, but I came across it in several stores. It's a different configuration than I'd seen at other places, and has the neon stickers and the white/grey/black Salon Perfect Black to Basics collection polishes: Pearly Whites, All Grey All Night, Grey-Dreaming, Steel My Heart, To the Moon and Black, Lucky Dress.
Sally Hansen has a Halloween display called Midnight Maven that I shared the Walgreens version of last time. The one below was at Meijer, with a pared-down selection of core colors of Xtreme Wear plus nail art pens. Polish colors here are: Black Out, White On, Golden I, Pep-plum, Sun Kissed, and Redi-cal Rockstar.
We don't have CVS out by me, which is maybe why I never saw this Sally Hansen Sweet Shop display that I came across on my travels. It says "curated by Dana's Bakery" which means not much to me. Is it an actual bakery, and if so, why choose them to choose core shades for this display of Complete Salon Manicure and Miracle Gel?
At Walgreens, they had a Sally Hansen Therapy Head to Taupe display with the same limited edition colors as in the Fred Meyer version I shared last time (top row), plus some core shades.
At a CVS, I saw a different version of the Create a Swirled Effect display than I shared last time. This has the two Miracle Gel Color Whirl polishes plus an assortment of base shades to wear them over.
Some Walmarts have a Salon Perfect Halloween display, Drop Dead Gore-geous, with false eyelashes, fake nails, and polish. Polishes, top row (click on image to see bigger): Too Cute to Spook (repromote, but that's cool as I never saw last year's display), Lust at First Bite (new), Dust to Dust (new), Under Her Spell (new). Second row: Glow All Out (repromote), Shapeshifter (new), Ashes to Ashes (new), Nine Lives (repromote). Third row: Too Cute to Spook, Lust at First Bite, Dust to Dust, Mood Ring (core). Bottom row: Glow All Out, Traffic Cone (core), Oil Slick (core), Crystal Clear (core).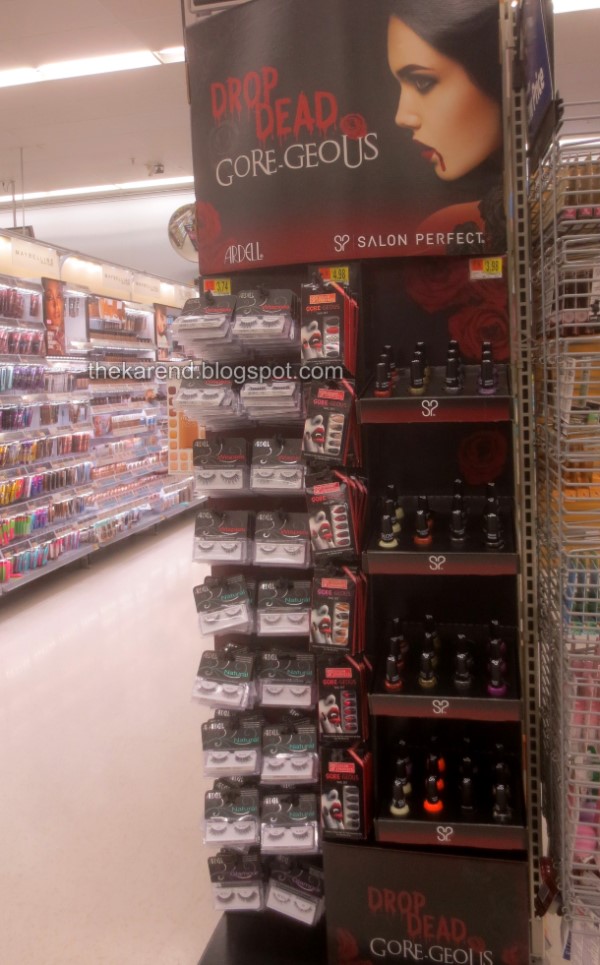 I shared the Walgreens version of the SinfulColors Conjured Color display last time; this time I have the sidekick version which I saw at Meijer while traveling. This had a new color that wasn't at Walgreens (I have yet to see this collection at Rite Aid, so not sure what they might have). Top row: Courtney Orange, Gold n' Roses, Spellbound (new). Second row: Gold Medal, Clear Coat, Aubergine, Devil's Stare, Bad Witch (new). Third row: Powerful Potion (new, not at Walgreens), Frenzy, Let's Talk, Snow Me White. Fourth row: Gold Medal, Let's Talk, Green Ocean, Devil's Stare, Bitten. Fifth row: Bitten, Black on Black, Witch Please (new), Electric Sage, Witch Please, Let Me Go. Bottom row: Witch Please, Let Me Go, Glow in the Dark, Spellbound.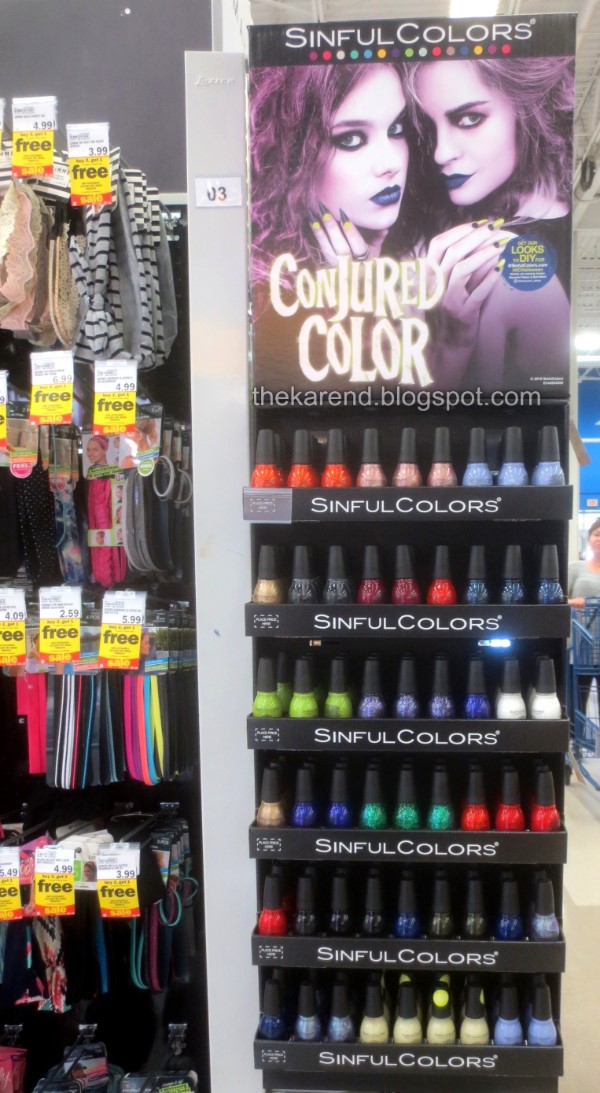 Powerful Potion certainly looks like it has an interesting shimmer:
I've seen plenty of Wet 'n' Wild Fantasy Makers Halloween displays with makeup in them, but not until I saw the one below at Meijer did any of them have nail polish. Unfortunately, these turned out to be core colors of Wild Shine: Burgundy Frost, Black Creme, Red Red, and French White Creme. So boring. So different from past years when we'd get limited edition polish collections from them.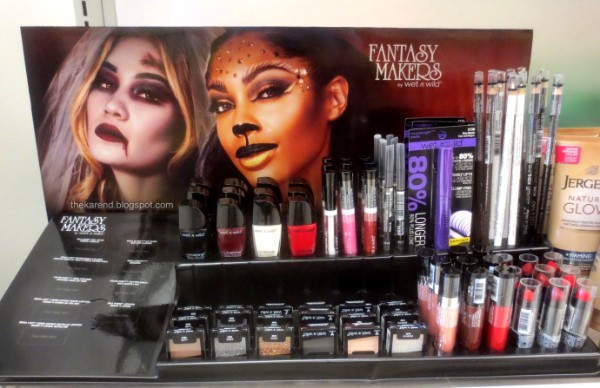 Wow, that was more than I thought. Thanks for reading all the way through!