About a million years ago, I ordered a set of SinfulColors Quick Bliss shades even though I already had half of them, just because the set included an exclusive purple shade, along with two other colors I hadn't yet seen. When I swatched the rest of the line
back in August
I was despairing of ever getting the set since shipping had been delayed twice, but thanks to a tip in the SinfulColors fan group on Facebook, I was able to cancel that order and get the set from a different supplier. The three shades of interest in it were Vvvroom, Speedster, and Fast Ride.
Vvvroom is a cool-toned light purple with pink shimmer.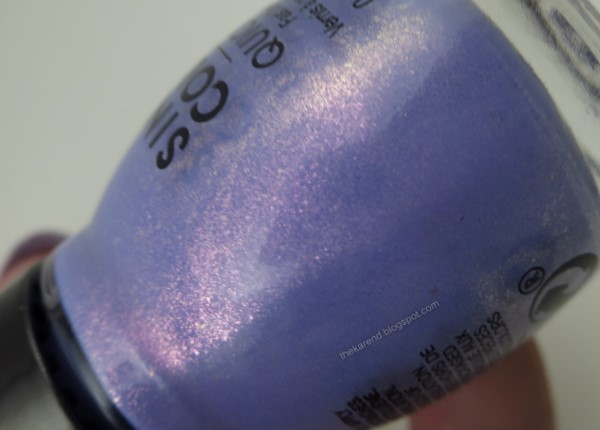 I used two coats of Vvvroom for my swatch, and added clear topcoat for extra depth and shine.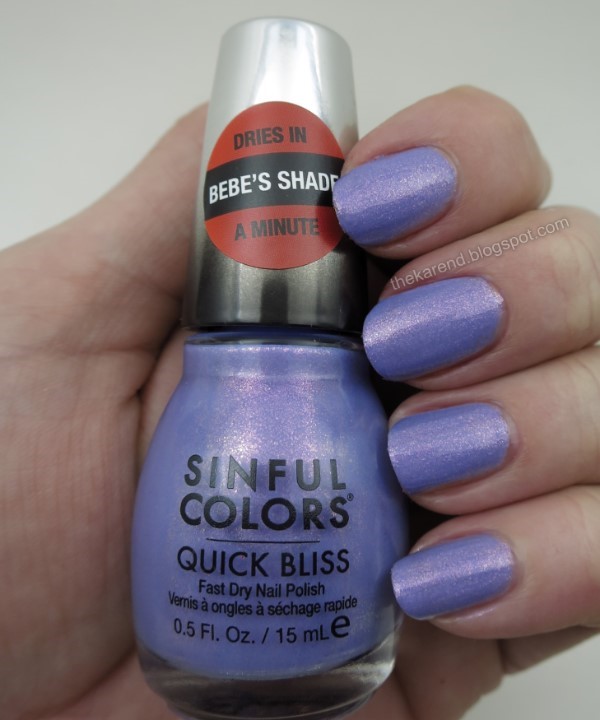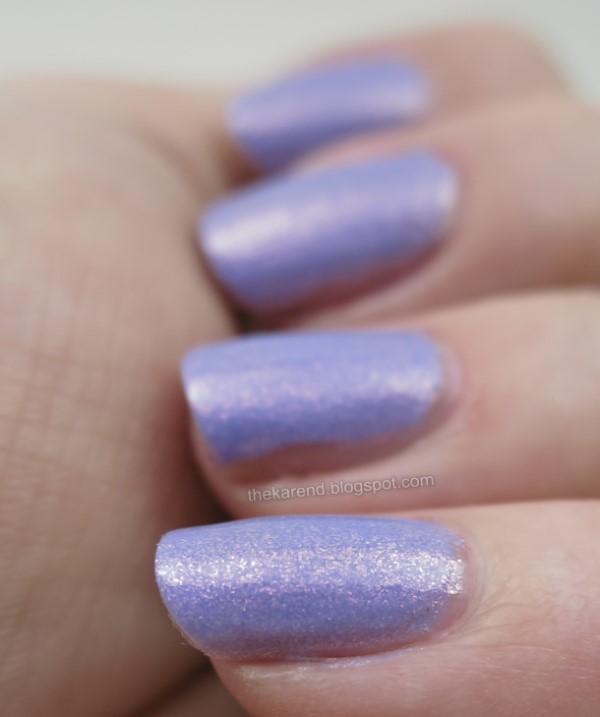 Fast Ride is the online exclusive that I bought the set for. It's a blue-leaning purple shimmer. The shimmer has more blue in it than the base does. Depending on how the light hits it, it can look blue or purple.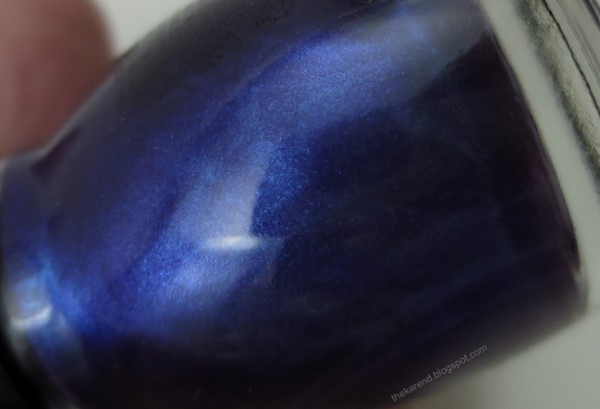 Fast Ride was also a two-coater. I skipped topcoat with this one.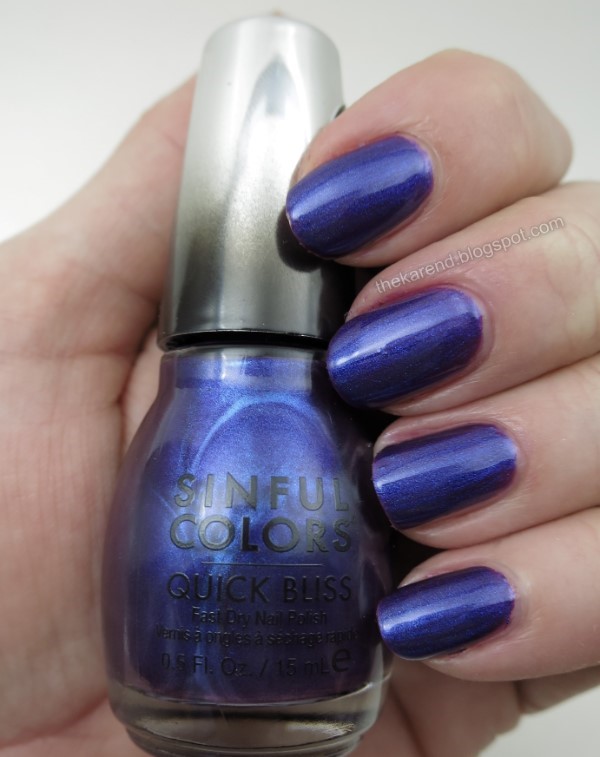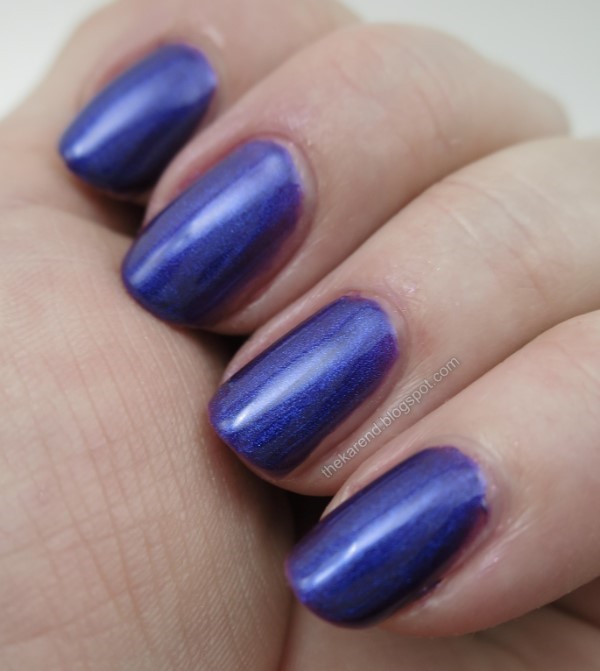 I happened to have a brief moment of sun when I was swatching this and that really brought out the difference between the shimmer and the base. You can see the shimmer glowing blue while the base around the edges shows a warmer purple hue.
The last color here, Speedster, is a red creme. As with the other two, it needed only two coats for full coverage.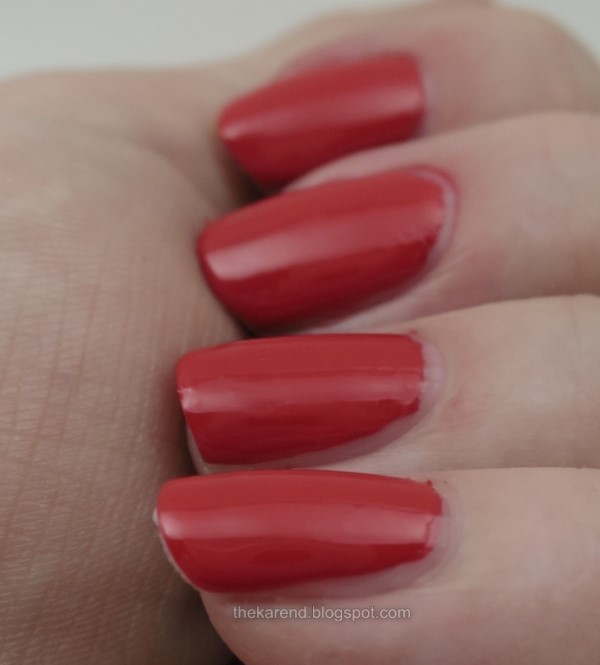 I just had to see how this red creme compared to the other two Quick Bliss reds released earlier. Left to right: Cherry Chaser, Speedster, and Sweet Cheeks.
Left to right below: Speedster (2 coats), Cherry Chaser (2), Speedster, Sweet Cheeks (3). Sweet Cheeks is the odd one out here, being more sheer and pink than the others. Cherry Chaser is slightly warmer than Speedster. I like Speedster better with my skintone, but Cherry Chaser is also wearable for me.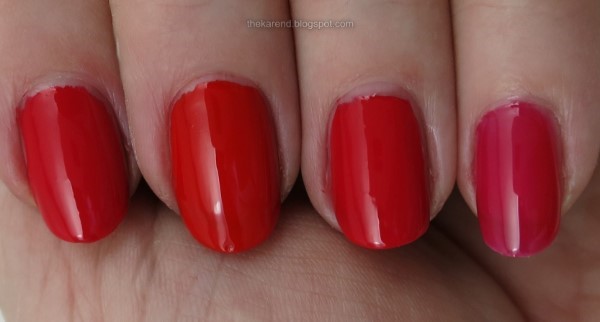 Another angle:
I always used to look forward to the SinfulColors winter holiday display, but it appears that this year they didn't do any new colors for the season, just repromoted existing shades (I didn't see the display myself but read reports from those who did). I hope that's just a temporary thing for this year of the pandemic and by this time next year we'll see new stuff.
[NOTE to the 12 of you who saw the earlier version of this post in the three hours it was up: yes, I did take it down and re-do, as the photos in the earlier version had incorrect watermarking on them and Blogger was not cooperating with showing the corrected versions I'd uploaded before publishing the first version.]