It's been only a little more than a month since my previous
display post
. I had no idea I'd be able to do another one so soon, but it's for the best of reasons: I went down to the county south of me (where all the stores are) to get my first dose of the COVID-19 vaccine. The big health system there opened up eligbility to people like me way earlier than the state's guidelines called for, and I was fortunate to see a post about that linked in a Facebook group in time to grab an appointment. I'll get my second dose next week and then two weeks after that I'll be considered fully vaccinated. I feel a big sense of relief. There wasn't much new to see at Sally Beauty, but they did have a display for China Glaze Cali Dreams. I didn't get shade names here because it was hard to keep my distance from other people in the store so I was in and out quickly.
Walgreens had and Ella + Mila display that was different than the ones I'd seen before. This had an assortment of pastel shades, with room for exactly one of each of the ten colors (plus treatments and top/base coats). Front row: A Proposal, Sugar Rush, So in Love, Global Goddess, Desert Suede. Back row: Lilac Luster, Macaruin my Diet, My Rain-beau, Pistache, Hooray of Sunshine. At $10.49, these seemed a bit pricey to me.
At Walgreens, I saw an Essie display that combined the spring collection in the traditional line that we saw separately in my last display post along with the Gel Couture Garden Gala collection. Gel Couture colors: Poppy of Color, Coming Up Roses, Talk of the Gown, Blossom into Style, Garden Gala, and Dressed for the Part-y.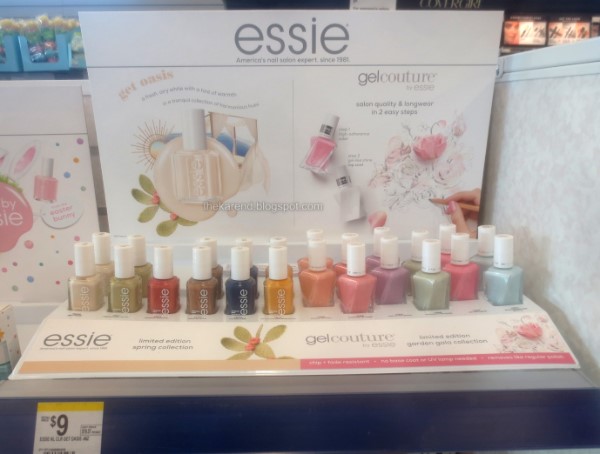 At Ulta, I saw the Essie Gel Couture Brilliant Brocades collection, which was for winter, but I hadn't seen it before, likely because I had skipped Ulta on my previous display hunting trip. Left to right: High Sewciety, Garment Glory, Brocade Crusade, Jewels and Jacquard Only, Embossed Lady, Tailored by Twilight.
The other thing at Sally Beauty that I didn't recall seeing before was the Nails Inc. 45 Second Speedy Gloss display. Again, I didn't get shade names because I wanted to get out of the store sooner.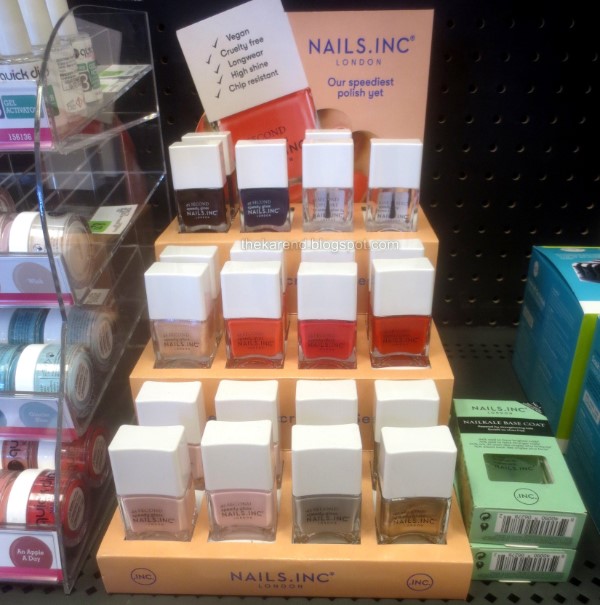 The OPI Hollywood collection section on the end of the Ulta polish aisle was pretty picked over by the time I saw it.
The section on the side with the collection wasn't any better, but at least I got a chuckle from the card being in there the wrong way round.
Walgreens had a small but well stocked and easy to see shelf top display for OPI Hollywood.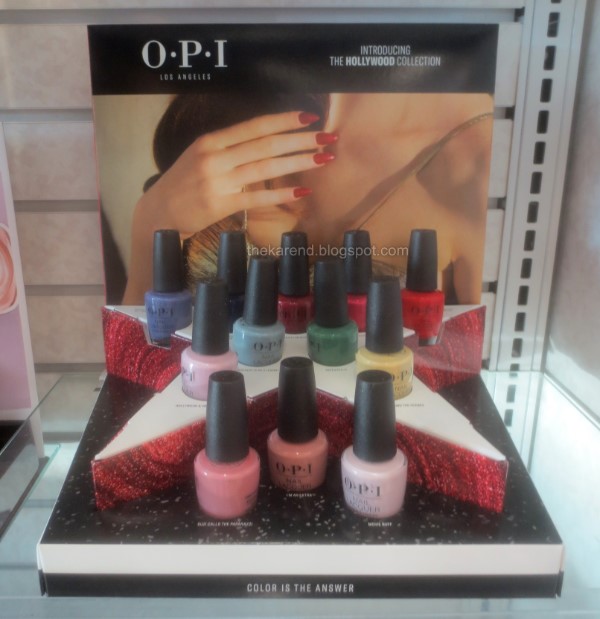 The Revlon Ultra HD Snap line that I only saw at Walmart on my last trip out of my home county was in more places this time, like in this shelf top display at Rite Aid. Front: Rule the World (sold out), Berry Blissed, So Shady, Get Real, Grounded, Under My Spell, Commander in Chief, Daredevil. Back: Early Bird, Keep Cool, Birthday Suit, Basic, Marigold Maven, Hot Stuff, She's on Fire, Cherry on Top.
Fred Meyer had a different shelf top display of the Revlon Ultra HD Snap. This one had fewer shades, and the one I saw was mostly stocked with shades other than those printed on the display. What was supposed to be here: Early Bird, Keep Cool, Birthday Suit, Basic, Marigold Maven, Hot Stuff, She's on Fire, Cherry on Top, Rule the World, Berry Blissed, Get Real, and Under My Spell.
I bypassed the Walmart I usually go to on these trips in favor of going to the one that's a ways down the road since I was down that way to get my shot anyway. I happened upon an employee unpacking a big box from Sally Hansen, but instead of setting up the display that was in the box, she was ripping open the display and taking the trays of polishes out and setting them on shelves. I didn't want to stay in the store long enough to let her finish, but did get a couple shots when she walked away to do soemthing else. Here's the ripped up display: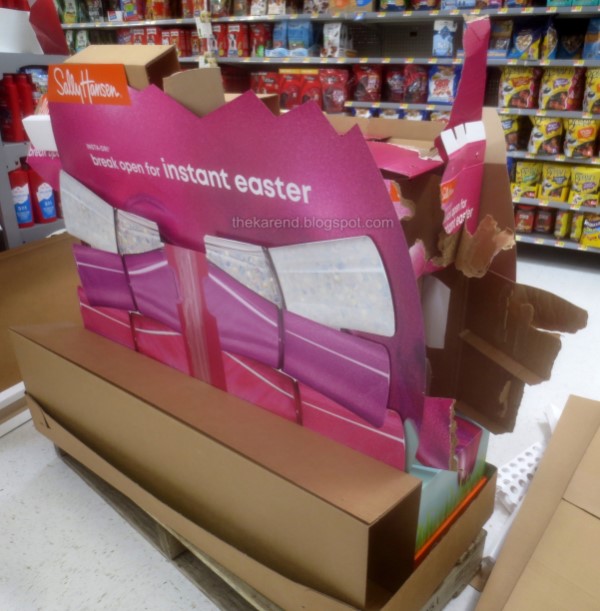 And the trays of polishes—from what I could see, the were core colors and the new-ish Prismatic Shine ones: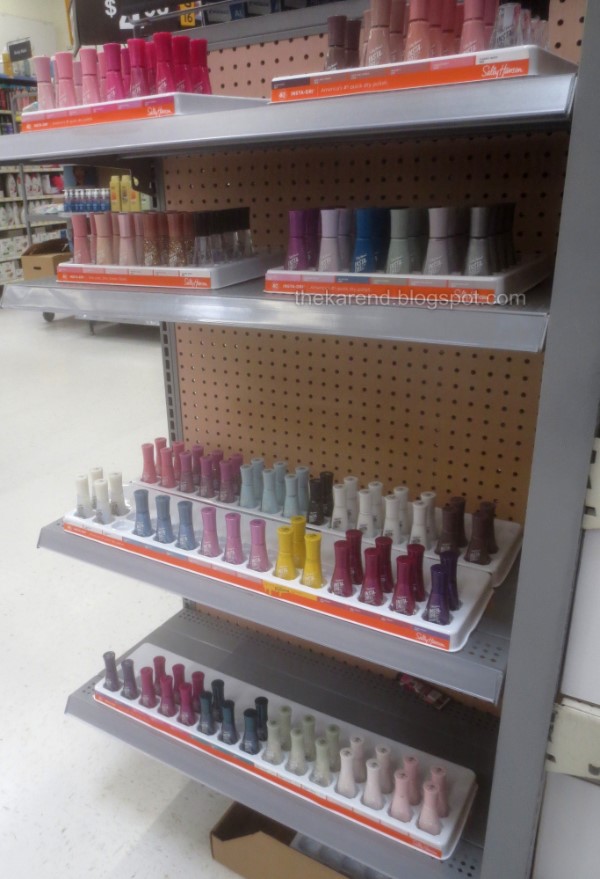 The "Walmart exclusive" by this yellow creme polish caught my eye. Turns out it's My Ca-banana, which was part of the Tropical Brights collection in summer 2019. So exclusive to Walmart now, I guess, but I already had it in my collection.
The dipslay I was most looking forward to finding was the Sally Hansen + Mentos collection of Insta Dri shades. I had success first at Walgreens. Left to right: The Freshmaker, Confection Perfection, You're the Zest, Orange You a Peach (sold out), Fuchsia Fizz (sold out), Cutie Fruitie, Peppermint Dandy, Mint to Be.
There are two sets as well, "Stay Fresh" with The Freshmaker and Confection Perfection and "Roll with It" with Cutie Fruitie and You're the Zest.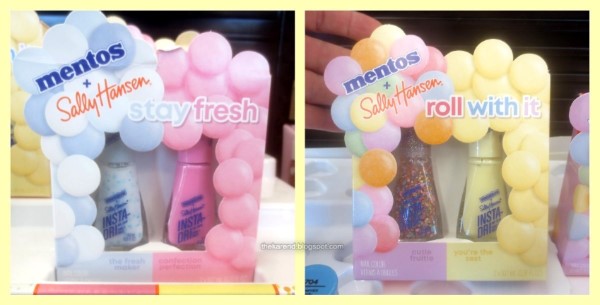 Fred Meyer had a skinny two-sided free standing display for the Sally Hansen + Mentos colors. Like the Walgreens one, it also had core colors in it. It was somewhat picked over, but did have the two shades Walgreens had sold out of, so that made me happy.
I broke my "one store per chain rule" to pop into a second Walgreens and found a slightly different shelf top display for the Mentos colors there.
Fred Meyer had a Sally Hansen Spa Collection display with a new nail mask and a new foot mask, as well as the Rainbow Lights shades of Miracle Gel which we've seen before but not organized this well. Polishes in front: Sun-shower, Rain-glow, Shiny Top Coat. In back: Crying Out Cloud, Tutu the Ballet, Giving Altitude.
Tucked into the Sally Hansen section at Fred Meyer, I saw a line of Mega Strength colors labeled "HOT". Not sure if these are new or limited edition or what; it just said "6 colors for your inner mermaid". Left to right after the top coat in the silver bottle: Mermaid Parade, #finning, Sally Sells Sea Shells, Queen Trident, Make a Splash, and Keepin it Reel.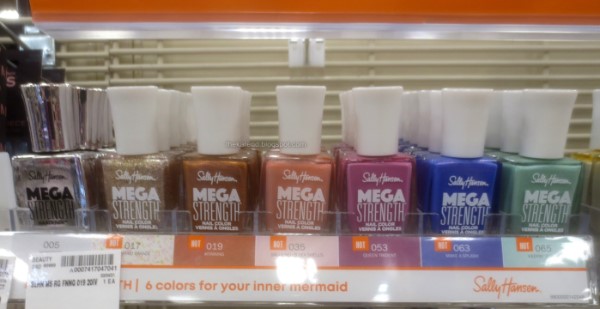 The Sally Hansen Miracle Gel Neons are back for another summer. I found them tucked into the core section at Ulta. Left to right: Get Mod (core), Miami Ice, Fuchsia Fever, Violet Voltage, Peach Please, Lemon chilo, Electri-lime.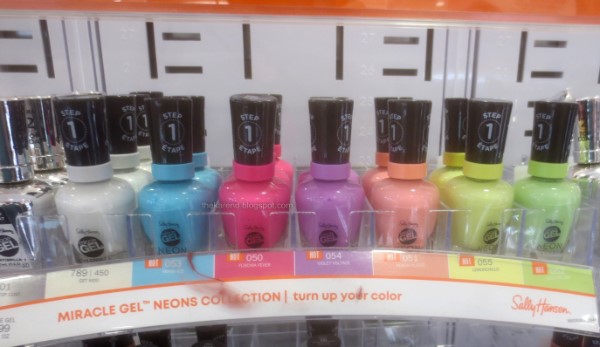 I was rewarded for making it to the farther Walmart with seeing the SinfulColors display had been updated with the two new collections: Essenchills and Tulle Temptation. They weren't exactly highlighted, so if I hadn't been looking specifically for them, they wouldn't have grabbed me.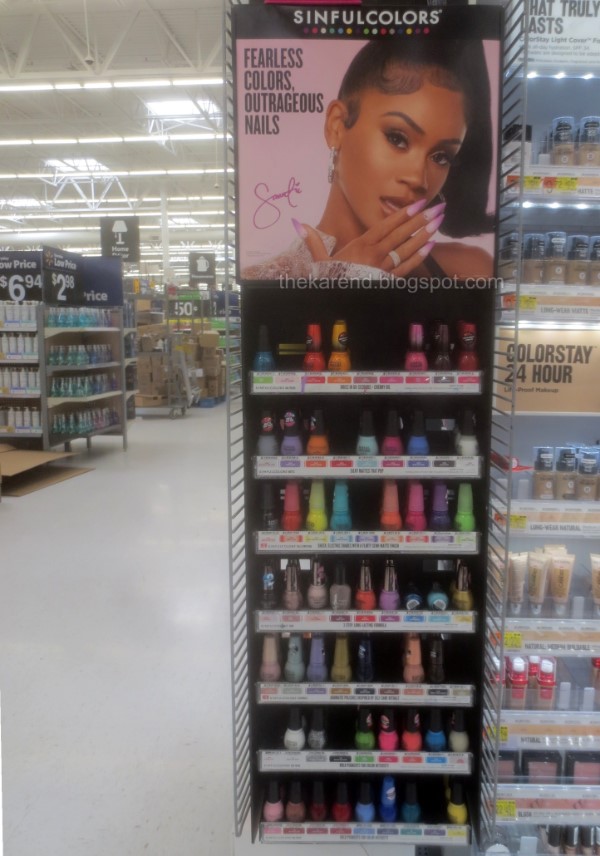 My excitement was tempered when I saw the one shade that's not at Target (where I found the collection first, on my last display hunting foray) was sold out. Left to right: Bath Goals, Eucalyptahhh, Low-Key Lavender, Chamomile Calm, Beach Vibes, Coffee Drip (sold out), Salt Bath Babe, Smoky Palo Santo, So Matcha Better (sold out, this is one Target didn't have).

I'd gotten impatient about the Tulle Temptation, which are sheer satin shades, so had bought a set online that had the topcoat and five of the colors. Fortunately, the one that was sold out here was one that was in the set, so I was able to complete my collection of these. Left to right: Chip Resistant Matte Top Coat, Ruby Tutu, See-Through Citrine, Turnt-quoise, Kiss of Cobalt (sold out), Hot & Hazy, Hot Pink Tights, Veiled in Violet, Sheer-treuse.
I did a little happy dance when I got to Fred Meyer and saw this SinfulColors display; it had all the Essenchills, including So Matcha Better, which I thought was a Walmart exclusive, and two designs of Claws, the SinfulColors entry into the false nails market. Left to right: Bath Goals, Beach Vibes, Chamomile Calm, Eucalyptahhh, Low-Key Lavender, So Matcha Better, Coffee Drip, Smoky Palo Santo, Salt Bath Babe.
The Claws designs are both oval medium length. One has both purple and red nails, some with gold stud accents, all with a vertical gradient. The other is a peachy pink with sheer red French tips.
I go to get my second dose of vaccine next week. I'll likely pop into a few stores but doubt there will be any new displays this soon. I shall see.