As it turned out, I didn't get out to see any more displays since my post
last week
. Mr. K and I are going to visit him mom soon, and I figured it was best not to chance mingling with a bunch of unmasked strangers in stores before we do since she's at high risk (vaccinated, yes, but it was early on and she's not gotten a booster yet). So today I have the last of the displays from my August travels plus ones I saw closer to home in September. I was definitely looking forward to seeing the big cube Halloween display with SinfulColors/LA Colors/Kiss at Walmart. I was less than delighted when I found it at my local store with one side blocked by heavy boxes of something else that had yet to be unpacked, but fortunately the side that was blocked was the one with fake lashes, so no polish was out of my reach.
On the LA Colors side, it all seemed to be repromotes: Color Craze Gel Glow, Color Craze creamy neons, Mermaid Magic, Unicorn Sparkle, and Color Last. Seemed to be fewer shades than last year.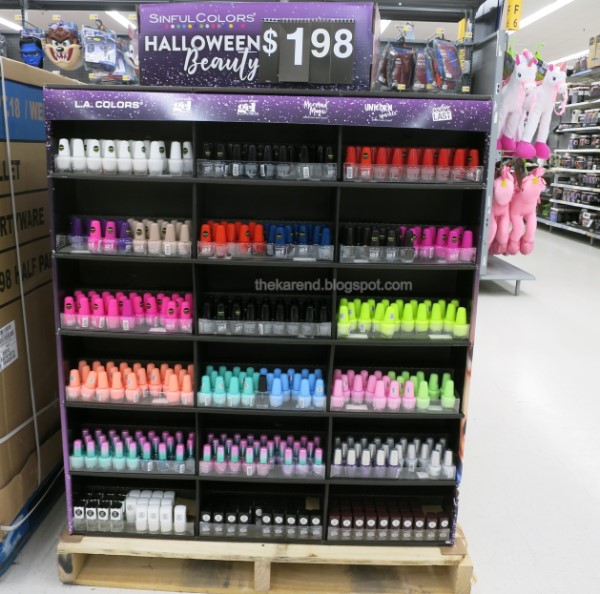 LA Colors Color Craze Gel Glow lineup: Awe, Darkside, Fallen Angel, Ghost, Zombie, Vampire, Panic, Fearless, Haunting, Underworld.
Color Craze creamy neons: Day Glow, Lucky, Chill Out, Splashy, Girl Talk (not part of the original creamy neon lineup; maybe they were out of Gossip and substituted this), Good Vibes.
Mermaid Magic and Unicorn Sparkle: Sea Life, Mermaid, Mystical, Sparkling Gem, Sugar Snowflake.
Color Last: Crystal Top Coat, Evermore, Onyx, Wisdom.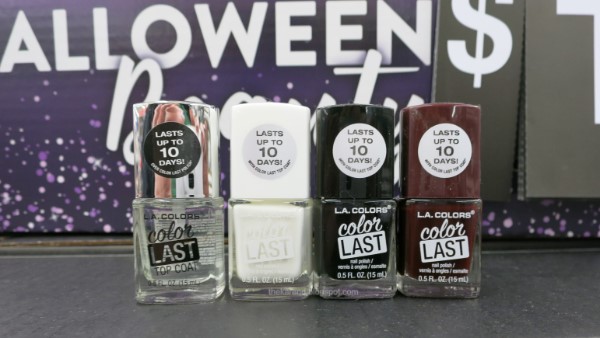 On the SinfulColors side, there were four limited edition shades and whole lot of repromotes (including the Essenchills scented ones, so if you wanted those and never saw them, this could be your chance). There is apparently a set of alien-themed nail stickers that go with the LEs but my store did not have them.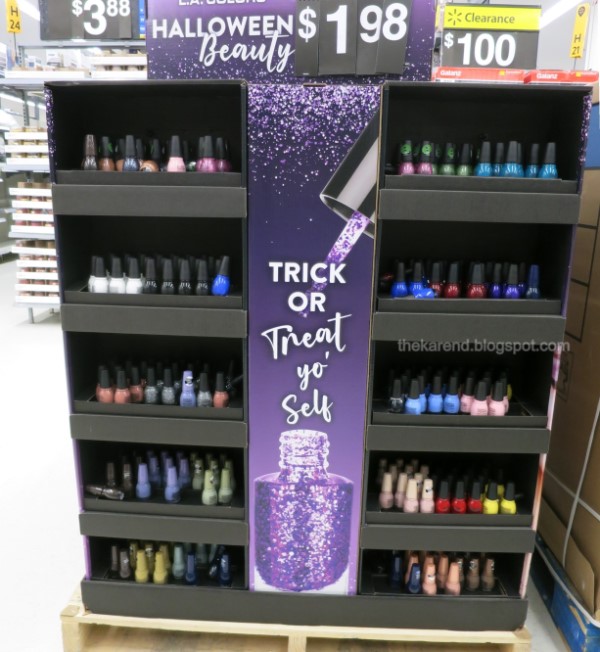 The LEs, all which had stickers on the caps proclaiming them to be Saweetie's Xtraterrestrial Effects: Baelien, Icy Monstar, Big Mamaz Ship, Lil Beast.
On the side between the polishes (that wasn't the lashes), there were fake nails from SinfulColors, Kiss, and imPress. There was a mix of Halloween designs and regular ones.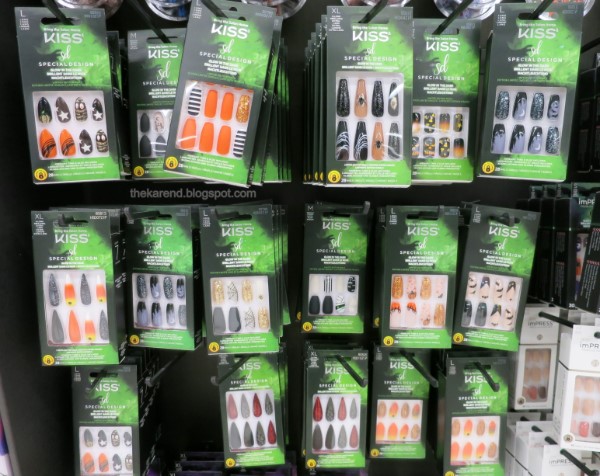 I wasn't expecting to see Butter London at a CVS, but there it was. The display had about a dozen shades of Patent Shine 10X in basic shades along with some treatments and such.
China Glaze has a Halloween collection out called Xtra Stellar. I saw a small display for it at Sally Beauty, with four of the six shades still there.
I also saw a more obviously Halloween display in the seasonal aisle at CVS. This had three repromote shades—Ghoulish Glow, Coconut Kiss, and Liquid Leather—along with stamping kits. The kits have a good sized rectangular stamping plate with Halloween designs plus a stamper and scraper.
At Rite Aid, I saw a mostly sold out display for China Glaze Autumn Spice, but at least it had the names on blocks of color to represent the shades on it so I knew what was missing. Slots for: The Snuggle is Real, Autumns Up, Spice to Meet You, Loves You a Latte, Modern Auburn, Love 'Em & Leaves 'Em.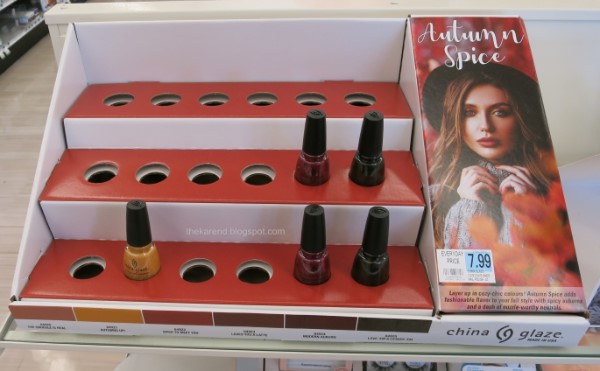 Target had some Essie colors tucked into an endcap. They had silver leaves and vines on the caps, which I hadn't seen before. A little digging online told me they're a Target exclusive, the Beleaf in Yourself collection. Left to right: You're a Natural, Just Grow With It, Rooting for You, Vine and Dandy, Beleaf in Yourself. The empty slot is for Plant One on Me, a lavender.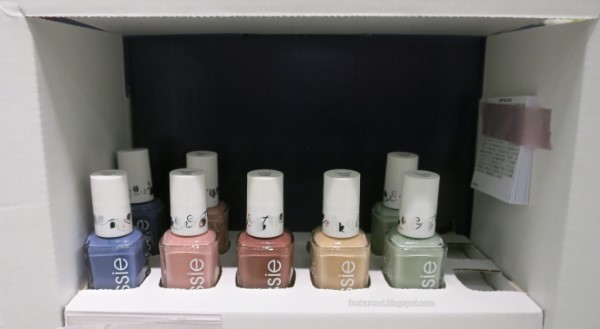 I went to Sally Beauty mostly to get hair dye (I've been doing blue for a while now) and saw they had a Dashing Diva Halloween display called Lucid Nightmare. This has gel nail strips and fake nails in seasonal designs.
At Target, I saw a couple sets of Dashing Diva gel strips with subtle Halloween designs (if you consider black bats on pastel backgrounds subtle, which I do).
At Walgreens, I saw a small display called Spellbinding Beauty which had a few of the Kiss and imPress Halloween nail designs. At Rite Aid, they had similar displays (one was called Wickedly Chic).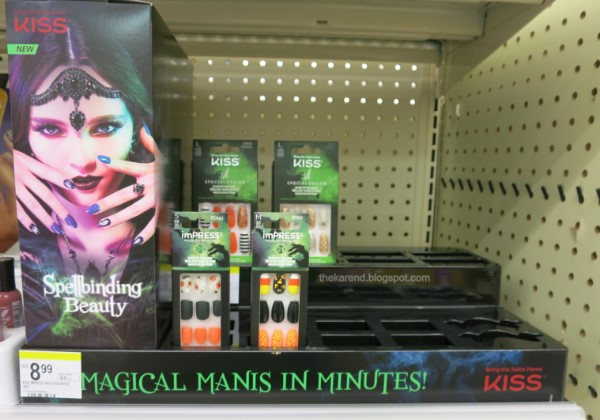 I still have yet to try any of the chrome powders I bought when the trend was new, but looks like the moment has not passed since there was a new display at Sally Beauty from Mini Mani Moo with base coat and powders.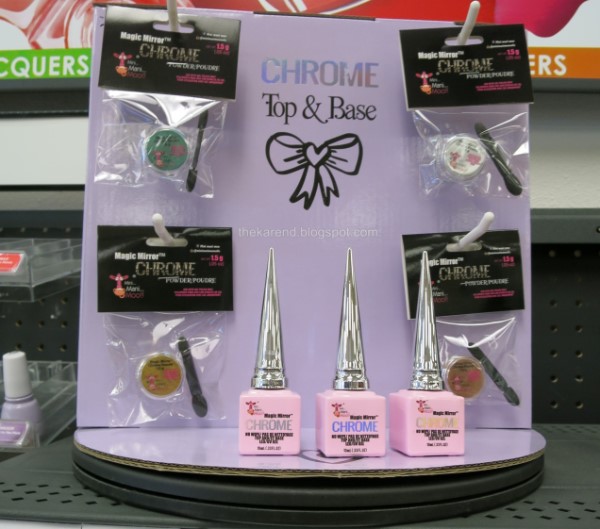 I noticed something different at the Nailtopia display at Ulta; the top two rows of bottles had white caps on them instead of the silver the line had debuted with. Looking more closely, I saw these all had a sticker on them declaring this was a New Biodegradable Cap. That certainly is new. I wonder how long it takes to break down.
These top two rows with the new caps were labelled "Trending Shades of the Season", so I don't know if that means limited edition or what. Give that they already discontinued enough of the initial lineup to make room for these, I would grab 'em sooner rather than later if you really want them. Top row: Cake it Easy, Nails & Tiaras, Nail Day Erday, She's Iconic, Jamaican Me Crazy, Pickle My Fancy, Loverboy, Ride or Die, What the Health, Love That For You, Into the Wild. Second row: Sunny Side Up, Summer Fun, #Selfcare, Nailer's Knot, Do You Blue (sold out), Main Squeeze (sold out), Morning Mimosa, Toe-Tally, FOMO, Berry Spicy, Wine Not.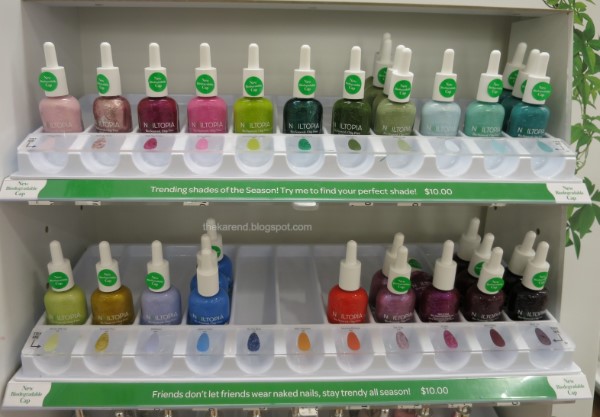 On the side of the Nailtopia display, there was a Skittle Mani Kit, which says someone is paying attention to things going on outside their office. Not quite close enough attention as far as I'm concerned, though, as these three pinks look more like a partial ombre look than skittles. Not enough variety, though I guess Skittles did come out with at least one single flavor bag recently.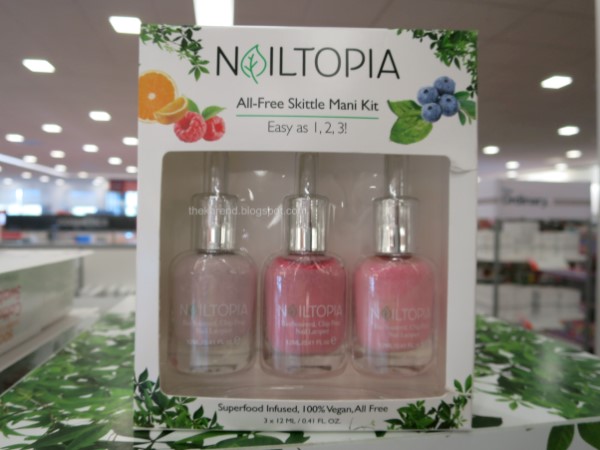 I teased that I was going to have Poparazzi in this post, and I sure do. I went to more CVS locations on my trip than any other chain, and saw a great variety of Poparazzi, which I guess I should have been styling as Pop-arazzi all along, as that's how it is on the CVS website. I'd seen the cylindrical bottles with the black with white polka dots caps early this summer in Oregon (replacing the more teardrop shaped ones the brand started with). I saw more of them this last trip, and some stores which stocked these had all four of what I assume is a mini-collection grouped together in the top row: Born a Unicorn, Fairy Garden, Mermaid Charade, and Pewter Perfect.
One CVS store in Montana had two seasonal displays of Pop-arazzi. First I saw was the Return to Retro collection. Front row: Sugar Spun, Lakeside Breeze, The Fuchia is Now (yes, that's how they spelled fuchsia), Head Over Teals, Prime of Lime, Soul-ar Flare. Back row: Lakeside Breeze, Soul-ar Flare, Sugar Spun, The Fuchia is Now, Harvest Moon, Prime of Lime. As far as I can tell, these are all core colors, just grouped and presented as a seasonal collection.
The other seasonal Pop-arazzi display at that CVS was the Sentimental Summer collection, which again appeared to be all core shades being repromoted. Front row (two slots for each shade): Peach Season, Lilac Lunchdate, Mint for More. Back row (two slots each): Fetch Me Some Flowers, Speedboat, Butter Him Up.
I was surprised to see some CVS stores had Pop-arazzi in cylindrical bottles with white caps that had silver polka dots. These were priced at $4.99 each (2 for $8) versus the $2.99 (2 for $5) for the black caps. Based on the names, I think these are all new shades.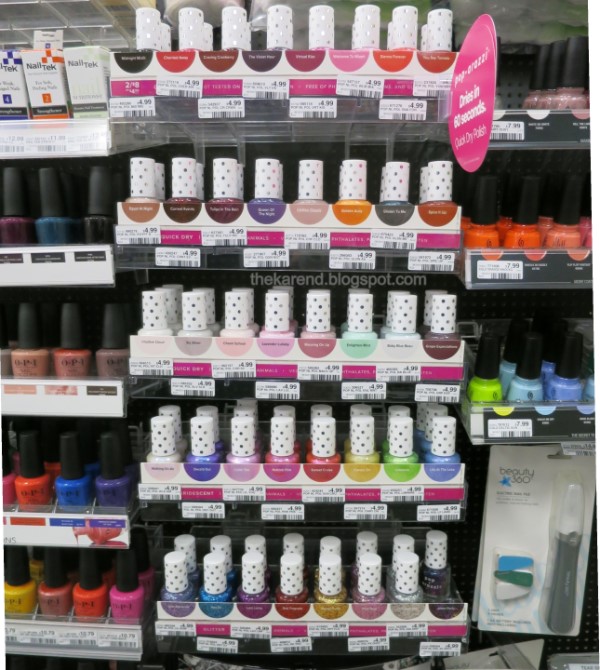 Top row (Quick Dry): Midnight Misfit, Cherried Away, Craving Cranberry, The Violet Hour, Virtual Kiss, Welcome to Miami, Sienna Forever, You Say Tomato. Second row (Quick Dry): Egypt at Night, Current Events, Tulips in the Rain, Queen of the Night, Chiffon Clouds, Golden Aura, Glisten to Me, Spice It Up.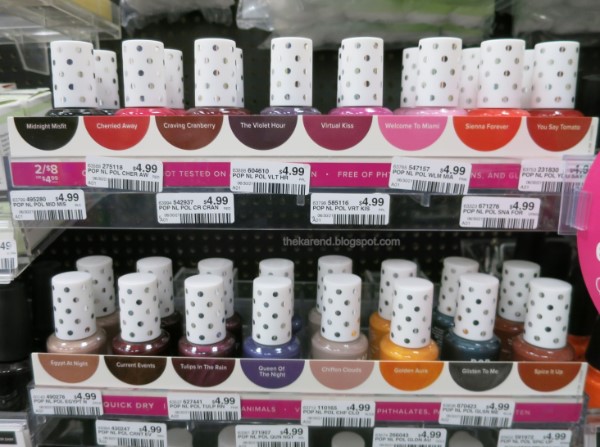 Third row (Quick Dry): Intuitive Cloud, Sly Silver, Charm School, Lavender Lullaby, Mauving on Up, Enlighten-Mint, Baby Blue Beau, Grape Expectations. Fourth row (Iridescent): Walking on Air, Deco'd Out, I Lilac You, Rethink Pink, Sunset Cruise, Canary On, Limewire, Life at the Lake.
Bottom row (Glitter): Lilac Romance, Hey DJ, Lava Lamp, Red Trograde, Happy Fields, Pixie Dust, Diamond Drip, After Party.
Some days after I'd seen that first CVS with the white capped Pop-arazzi, I came across them in another store that appeared to just be getting their stock in, so there were lots of empty slots. The interesting thing was there were two rows with things I hadn't seen at the first store. Top row: Grapeseed Cuticle Oil, Argan Cuticle Oil, Base Coat (empty slot), Quick Dry Top Coat, Flaky Glitter Top Coat Iridescent Green, Flaky Glitter Top Coat Iridescent Purple (empty), Matte Top Coat, Ultra Shiny Top Coat. Bottom row (the first four that were there looked to be legit linear holos in the bottle!): Disco Disaster, Vacation Vibes, Movie Star (empty), Prom Night, Dragonglass (slot empty but polish was in slot to the right and I failed to notice until after I took the photo), Dancehall Queen (slot filled with Dragonglass), Seventies Dream, Platinum Joy.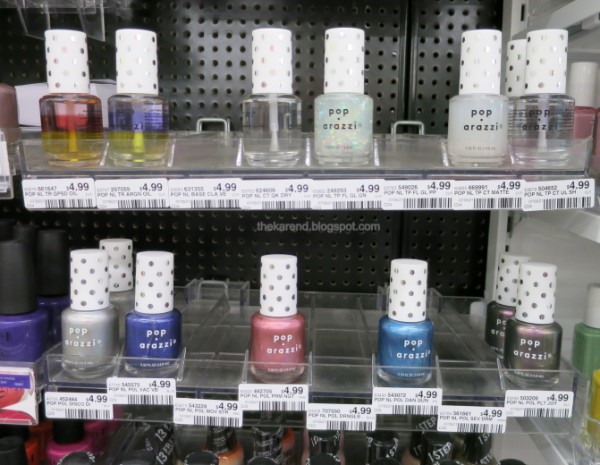 Confusingly, another CVS had Pop-arazzi bottles that were narrower cylinders with white caps as wide as the bottle with silver polka dots on them. These are apparently the Pop-arazzi Salon line. They were priced at $4.99 each, but the bottles were smaller (.37 fluid ounces versus .5 for the regular line). I didn't get these color names because there were so many gaps in the display.
Good old Sally Hansen has limited edition shades of Insta Dri out for Halloween. It's another collaboration with Sour Patch Kids, and some of the shades are repromotes from last year. The first place I saw it was at a Bed Bath & Beyond in Michigan. Front row: Pump-kid (repromote), First Sour Then Sweet (repromote), R.I.P Purple (repromote; think is was called R.I.P-urple last year), Oh My Gourd (new), Ghouls Night Out (repromote), Clearly Quick (core), The Un-red (repromote), Slick Slate (core), Hallo-Queen (new). Back row: Creep It Real (glow in the dark), Fa-BOO-lous (glow in the dark, looks a lot like Happy Hollow-een from 2019), then a bunch of core shades. I later saw this same style of display at Fred Meyer.
I saw a sidekick with the Insta Dri Halloween shades at Walgreens. The interesting thing here is the green that's far left in the top row. It's called Slime All Yours and the display says it's a Walgreens exclusive. The display also says the purple is R.I.P-urple, so who knows what the right name is for that. Another odd thing is the colors for Creep It Real and Fa-BOO-lous are reversed on the display, showing the latter as pink though it's not that way in the bottles. I was hoping this display would have the blue, Full Moon, that Sally Hansen showed on their Facebook page, but nope. I did check Target, too, but my store is being renovated and I didn't see any seasonal polish at all.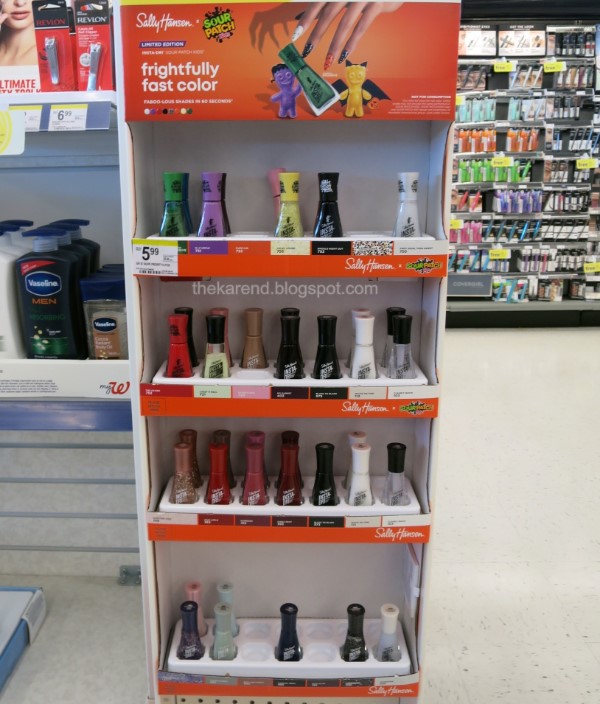 At Walgreens, I found a Sally Hansen Xtreme Wear display themed to Dias de Los Muertos. All the colors looked to be core/repromotes.
I definitely noticed the effect of supply chain issues in that several stores were still setting up and stocking their Halloween sections in the third week of September. One Rite Aid had the plans taped up, so I knew a Wet 'n' Wild Fantasy Makers display with slots for at least five polish bottles was coming at some point.
Another Rite Aid was a little farther ahead and had that display, which turned out to be disappointing. Four of the five polish slots were filled, but all were a Black creme. I'm guessing from the plan sheet at the other store that there was a glow in the dark polish shipped with this, too. So nothing really special for the holiday from the brand that used to give us so many treats for Halloween.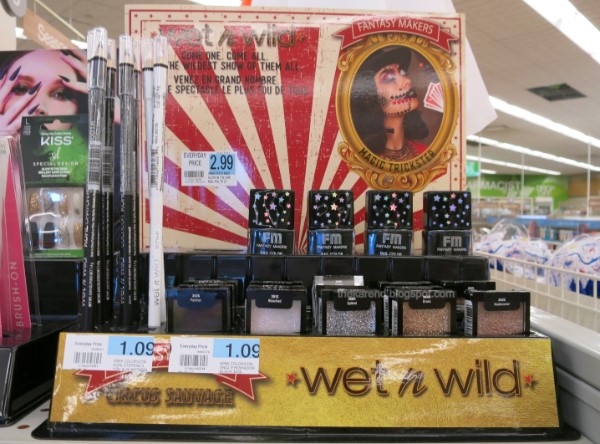 I haven't seen any polishes in pumpkin bottles yet (never did see them last year) or tombstone bottles or anything else fun like that. Good thing I stocked up in past years.