Today I've got the displays from my travels last month that I decided to not try and jam in my last
display post
. The only sign of the China Glaze Dippin' Dots collection I've seen is the duo pack with circle glitter at Ulta. Shades here are Lemon Ice and Strawberry Chillin'. I would love to find the whole collection so I can complete the set because I love me some Dippin' Dots.
Disney has long since discontinued their Beautifully Disney makeup line, so I wasn't see any polish from them this trip. In one of their offsite outlet stores, though, I came across this rack of "Nail Polish". All the same shade in a disc-shaped bottle with a white cap topped with an iridescent jewel. I was tempted just because I don't have a bottle like this, and the generic label amused me, but I restrained myself, knowing I already have enough polish for several lifetimes at home, and if I swatched this and it was good, what would I do then? Can't buy more or other colors.
I saw the Essie summer collection, Isle See You Later, at Ulta. Left to right: Coconuts for You, Isle See You Later, Revenge's a Beach, Tropic Low, Break It Sundown, Set the Tiki Bar High. I later saw these at Rite Aid.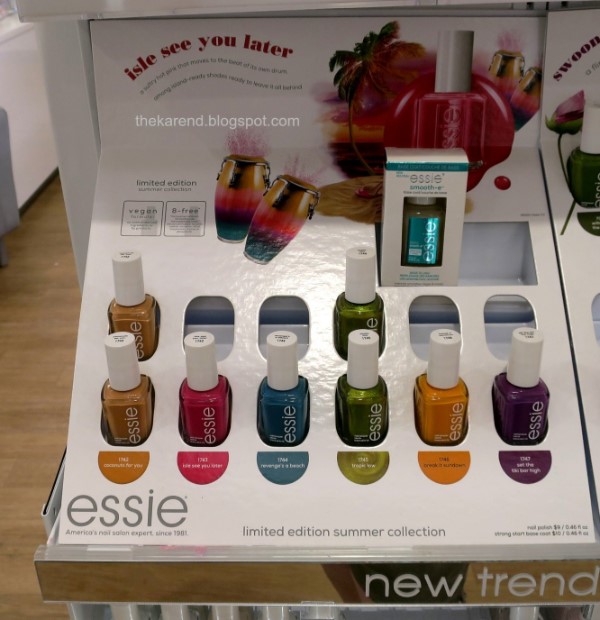 When I came across the Essie Movin' & Groovin' collection at Target it was so picked over that I assumed I must have seen it before and just forgot, but I can't find it in my blog anywhere, so here it is, helpfully with shades pictured on the display since all but two were gone: Love YOurself to Peaces, Along for the Vibe, Run Wildflower, Movin' & Groovin', Keys to Happiness, and Flae for Fun. The flowers on teh caps are cute, but seems they're all cremes and I think I'm good on cremes so I wasn't sad to not get any.
Target also had an Essie "DIY nail art for everyone" display that had the summer collection along the top, a random selection of other shades below that, and Expressie on the bottom, including new effects top coats with FX oon the bottles.
Toppers: FX 24K Gold, FX Oil Slick, FX Iced Out, FX Holo.
At CVS, I spotted an Essie Expressie display that said "only at CVS", but I'm not sure if that applied to all the colors here or just three on the left with "translucent finish" on their caps. Left to right: Skip the Track, Get a Mauve On, Mall Crawler, Millennium Momentum, Second Hand First Love, Air Dry, Buns Up, Throw It On, Crop Top & Roll.
I was fortunate to get to a few Five Below stores while I was in Chicagoland. I was sad to see the bins that used to hold so many polishes now have just a few with other beauty stuff filling the rest. I was happy to see actual displays of Funky Fingers, grouped into collections with names and everything. Not every store had these, and not every store that had them had the same one, but still, I'm glad the brand is still around. First one I saw was Full Bloom. Left to right: Raspberry Rose, Wild Lavender, Blue Jay (name is not flowery so maybe doesn't belong?), Forget Me Not, Midnight Rose. No idea what was in the empty slot as I only saw this display once.
The other Funky Fingers display I saw was She Bops, with Twist and Shout, Drop It Like Its Hot (sic), Boogie Nights, Feelin Funky, and Movin' & Groovin'. I did see this display at a second store, but it didn't help with knowing what the empty slot was for, as that display had two different colors in that space and wasn't clear if either belonged.
There were mini bottles of Nailtopia at Ulta, with the new white biodegrable caps. These are apparently three mini collections, but the order of the shades didn't quite seem to match the order of the collection names. Shades left to right: Carat Cake, Camelflage, Another One Bites the Rust, How You Dune, Kiwi to My Heart, Grape-ful for You, Blueberry Milk, Let's Taco 'bout It, You Are Plum-believable (sold out), I Need Vitamin Sea, How Blue-tiful, Whale Hello There (sold out), Aloe You (sold out), and Oh Kale Year. The collections are Nail Pop (I'm guessing those are the brights in the middle, maybe excluding the blues, with have leaves on their caps, not psychedlic swirls), Desert Sand (the earthy tones on the left), and Earthy Essence (the blues and greens on the right).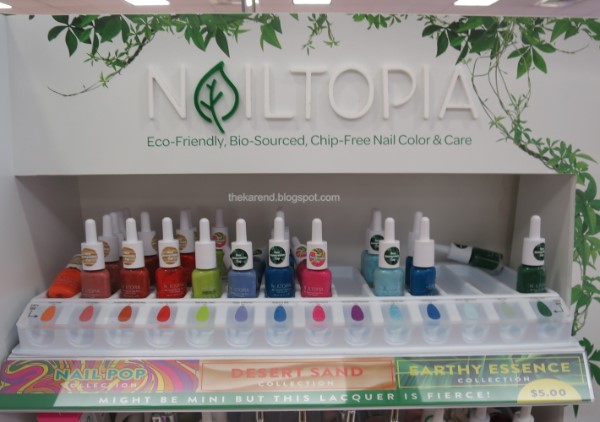 I also saw Nailtopia full size bottles at Meijer.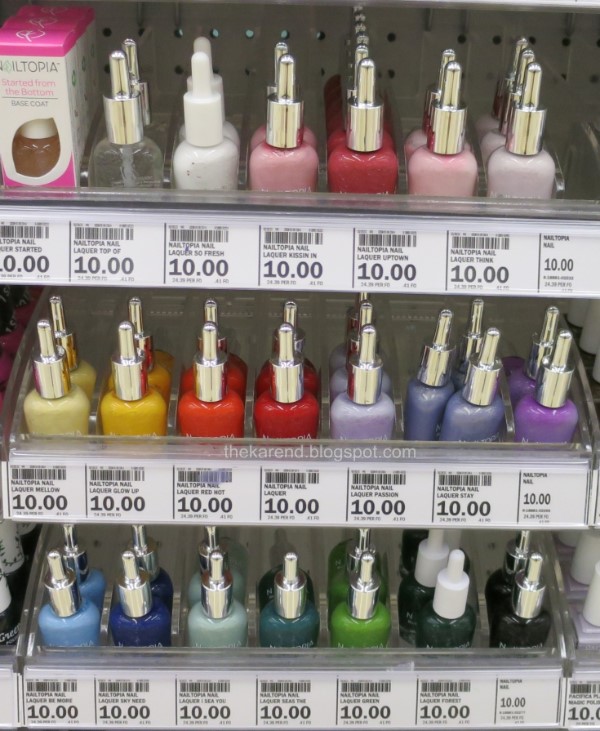 I've only seen OPI's summer offering, Power of Hue, at Ulta so far.
The display was pretty picked over (or not yet fully stocked), but here was a nice photo of the colors so I was able to Google when I got home and make some good guesses at which names went with them: Sun-rise Up, Sugar Crush It, Exercise Your Brights, Pink BIG, Go Grape Lengths, Don't Wait Create, Sky True to Yourself, Feel Bluetiful, Make Rainbows, Bee Unapologetic, Mango for It, The Future is You.
The only display I saw at CVS of the white-capped Poparazzi polishes seemed to be all things I'd seen before, with the exception of the Hint of Pink topcoat. This feels very "everything old is new again" to me, as I remember using a similarly colored Sally Hansen way back in the day.
In black cap Poparazzi news at CVS, I saw four slots that I think were the summer colors at the top of the display: Ring the Alarm, Cool for the Summer, Wave Rider (sold out), and Blue Heaven.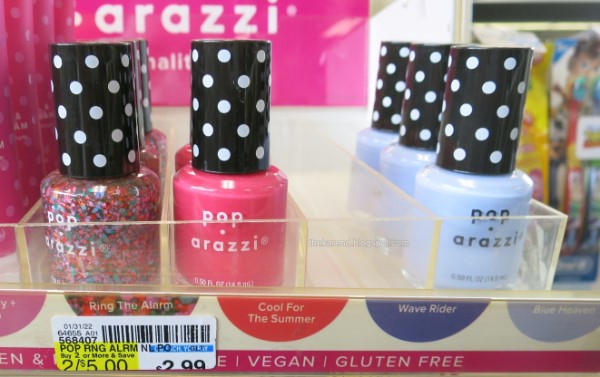 In addition to the previously mentioned Funky Fingers displays, Five Below also had displays for Pretty Woman polishes. First I came across was Butterfly Everything. These didn't have names on the bottles that I could see, just item numbers, but names were printed on the display itself: Cloud Nine (Item PW3950), She Flies (PW2699), Take Flight (PW2795), Spread Your Wings (PW4352), Inner Beauty (PW3369), Butterfly Garden (PW4345).
I am not at all sure that these matches between name are correct, as I saw this display at a different store and PW2795 was in the She Flies slot, while something labelled PW2699 was in the Inner Beauty slot but it seemed to be a different glitter mix than this one, so keep that in mind as I run through the rest of these Pretty Woman displays.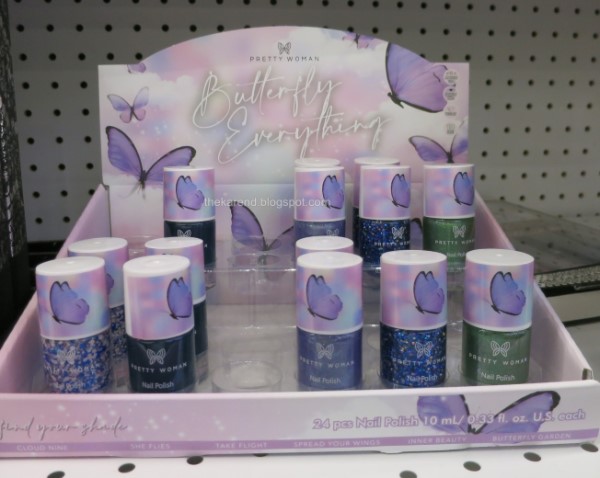 Pretty Woman Cue the Confetti: Best Dressed (PW4466), Confetti Canon (sic) (PW3291), Grape Soda (PW0900), Hit the Disco (sold out), Sing Out Loud (PW4499), Dancing Queen (PW4395).
Pretty Woman Hyper Brights: Clear Skies (PW2459), Prom Queen (PW4094), Flowers Please (PW3487), Grass is Greener (PW4104), Sunny Dayz (PW3624), Dandelion (PW4503).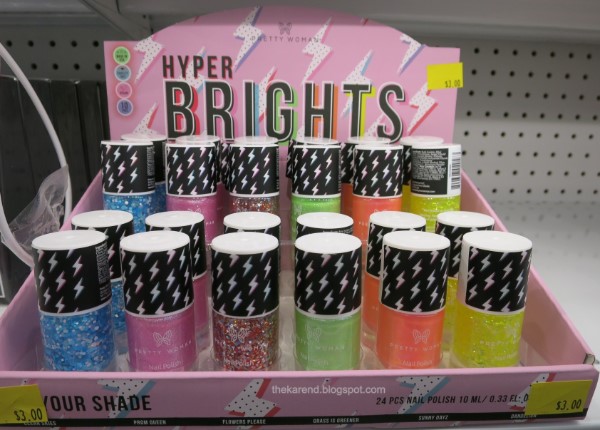 Pretty Woman Pastel Paradise: Banana Split (PW4397), Dear Diary (PW illegible), Just Girly Things (PW4398), Berry Cute (PW4667), Slumber Party (PW4396), Garden Fairy (PW4401).
Pretty Woman Sweet Dreams: Royalty (PW4097), Hello Princess (PW4095), Confetti Pop (PW3297), Glass Slipper (PW3339), Fairy Dust (PW3622), Keep Dreaming (PW3625).
Pretty Woman Life of the Party: Chasing Sunsets (PW40?4), Pink Popsicle (PW4425), Pretty in Pink (PW4502), Happy Days (PW4032), Pretty Retro (PW4018), Stay Groovy (PW0902).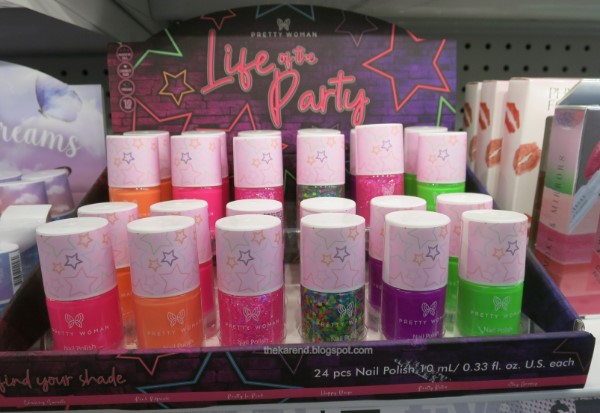 Ulta had the Sally Hansen Insta Dri Pride display for 2022, with 11 polish colors and two sets, one with the six main rainbow colors and one with the three trans pride shades. Left to right: Love Life Force, All the Heals, Here Comes the Sun, Peak of Nature, Blue Skies Ahead, Royal Harmony, Soul Model, I Pink I Love You, Cloud Divine, Unity Galore, Raven Midnight.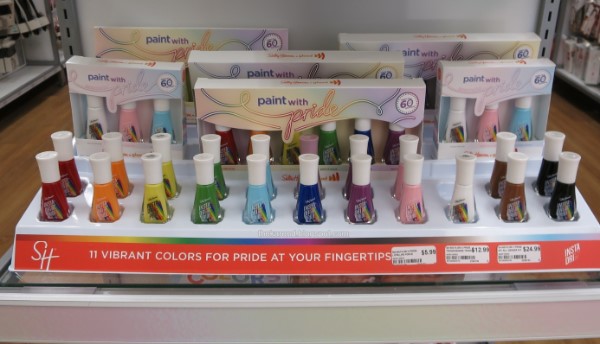 Walgreens also had the Insta Dri Pride colors in a slightly diffrent display, without the sets and with extra core shades.
The other new stuff out from Sally Hansen is the Friends collection in the Miracle Gel line. At a Walgreens, I saw this shelf top display for it. Colors in the front: Central Pink, Yellow Taxi, Stick to the Routine, Pivot, The One with the Teal, and Lavendoor (here packaged in a duo with Shiny Top Coat). In the back: Oh My Coffee, He's Her Lobster, How You Bluein, and Lavendoor (single bottles).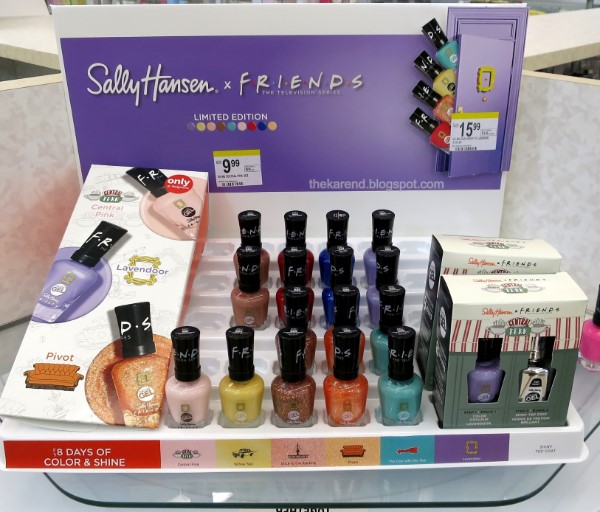 At Ulta, they were in a section of the core wall.
Ulta had the two pack as well as a three pack with Stick to the Routine, Yellow Taxi, and Shiny Top Coat.
Alternate Walgreens shelf top display: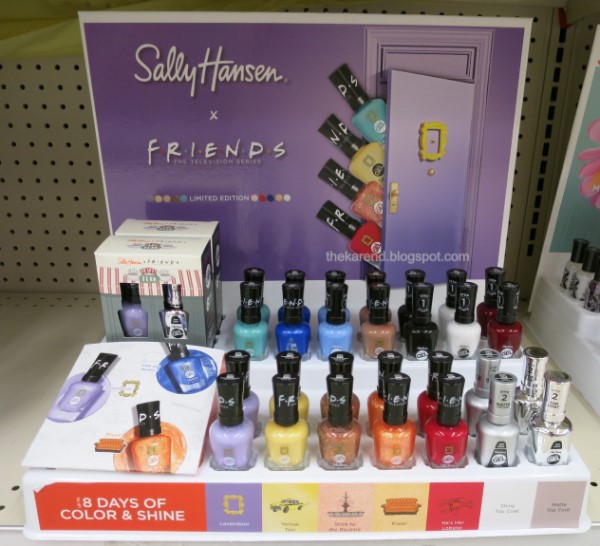 Sidekick at Meijer, with a bunch of core colors: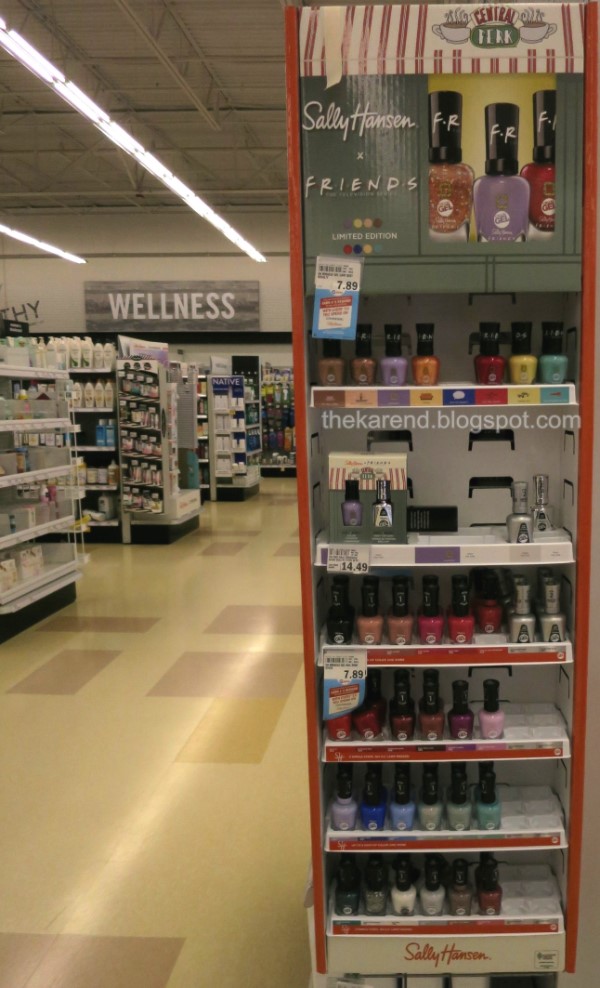 I've seen swatches of some black speckled SinfulColors that people have gotten at Target, but no Target I stopped at had them. I did see two SinfulColors displays at Fred Meyer, though, starting with the new Power Paint line. Left to right: Play Hard, Pop It, 24K Drips, Sweet & Spicy, Thrilled, Never Not Working, Shine Honey, Diamonds on My Neck, Top Coat. There were a few other colors tucked in back behind those: Biker Jacket (black), Cari-bae-n (turquoise), Galaxy Gurl (dark blue), Ain't Having It (white) Plum n Berry (wine), Power Movers (red).
Fred Meyer also had the Bee Envious display which had a bunch of extraneous shades and only one of the two new ones. Buzz Off, the black, was sold out, but the yellow, Save the Bees, was there (tucked behind the Quick Bliss yellow in front).
Ulta has sets of fake nails from Static. These are $18 to $22 per set, so I did not get any. I do fine with the under $10 brands from the drugstore. Some of these Static ones are very pretty though, in an understated way.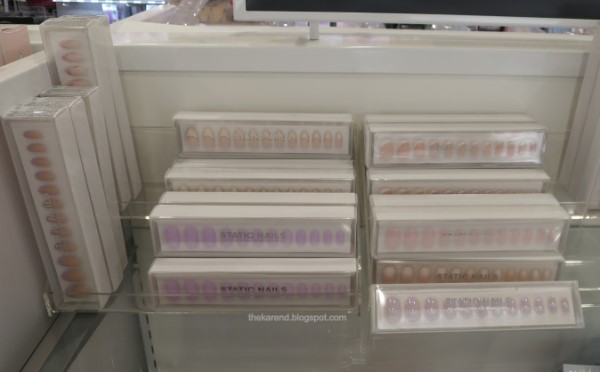 I sadly did not see any seasonal displays for Studio M at Meijer, so I took photos of their holos instead. These were at the top of the regular section in the nail aisle, and priced at $6.99 (except for two slots marked $2.99). Left to right: Super Star, Constellation Queen, Worlds Apart, Moon Goddess, Miss Universe.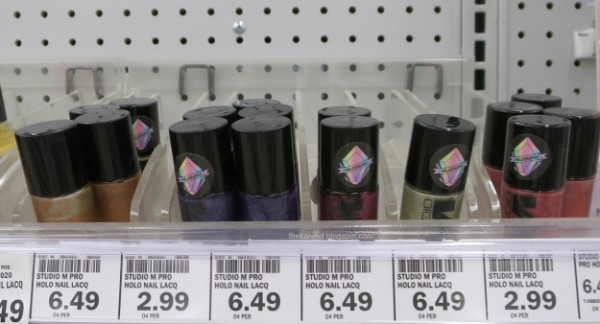 Well that was more than I thought I had. Good job, me. Not sure when I'll have more after this, as I'm not planning on going down to the city as much as I had been before this latest wave of Covid variants showed up. Still, I do have some unavoidable travel in July, so will probably see a few things then just by virtue of having to go get stuff at drugstores that I forgot or ran out of or didn't realize I would need. Last trip it was more at home covid tests and first aid supplies for an injured finger (all better now). I'll be keeping an eye out for the Sally Hansen transforming toppers I've heard about, and those speckled Sinfuls, and maybe the Friends ones, as now that I've seen the photos again I wish I'd gotten a couple of them.