I've had no time to swatch in recent days, as Mr. K and I are once again in western Washington working on his mom's move to assisted living, but I have at least taken the time to slap some more fake nails on to attempt to protect my poor neglected natural nails. The latest set, which are on my nails as I type, are some Nailene So Natural ones in a subtle brown lace design that looks golden in some lights and coppery in others.
These come with both glue and double sided adhesive tabs; I used the tabs to apply as I think that's kinder to my natural nails (which I further protected with a treatment base before I started). I found sizes to fit my nails without much trouble, though as per usual, finding one for my ring fingers was the most challenging, as those have longer nailbeds than my other digits. The shape covered my nails nicely.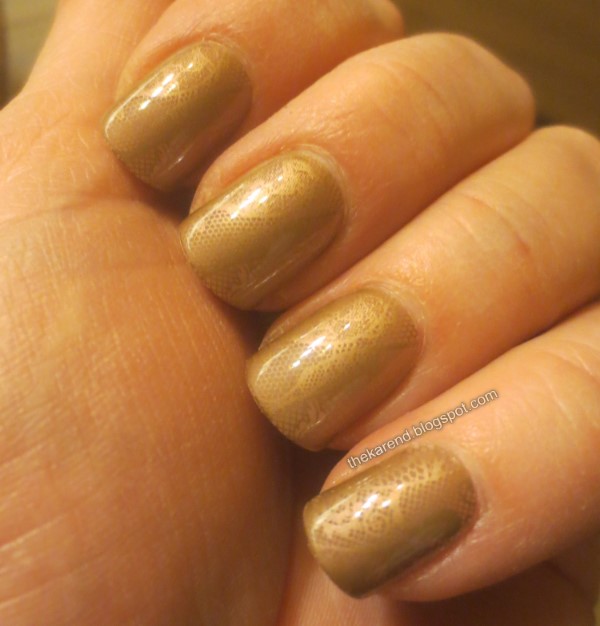 Where these really came through is durability. The second day I wore these, I spent all day helping move furniture and stack boxes and rip tape and pallet wrap off things, as this was the day the big moving truck with the rest of my mother-in-law's possessions arrived in her new city. I did not pop off even one of the nails.
Today it's day five for these, days I've spent not only on the moving activities but doing dishes by hand without rubber gloves (yesterday I finally bought some to keep in my my mother-in-law's apartment) and other house chores. There is some tipwear, yes, though it's hardly visible at normal viewing distances. I've still not yet popped any of the nails off, which is pretty amazing given what I've been up to.
The way the base curve of these so closely matches my natural nails probably has a lot to do with their staying on, as there aren't any edges to catch. This straight on view shows how well these fit (the gap shows the edge of the adhesive tabs, not dirt).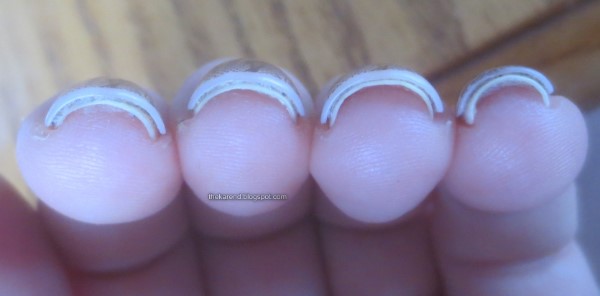 With how well these fit and how well they're wearing, I'm sad that I got them on clearance since that means they're probably no longer available or if they are they're at ridiculous prices. Ah well, I'll enjoy them while I can and keep experimenting with brands I can get now.