Having caught up with the swatching I did last year, now it's time for a NOTD spam post with the 2017 manicures still in my photo files.
Let's kick things off with some flash: China Glaze Pre-Glued Nails in Silver Chrome. I got these on clearance at Sally Beauty; for $3.99, I figured why not give them a go. I'm so glad I did, because I really liked these. They were thin as fake nails go, and the glue was great—I had no loose nails and none popping off in the five days I wore them. It did take me a couple nails to figure out which end was the base and which the tip, with the ones I put on wrong way round catching in my hair at the base since the glue didn't extend all the way to that end. Lesson learned. The silver coating did start to peel at the tips after about four days, but with the rest of the nail still being crazy shiny, it was hard to notice that. Plus, the nails were very easy to file, so I could just remove the parts where the silver was missing (until I got to my natural nail underneath, of course).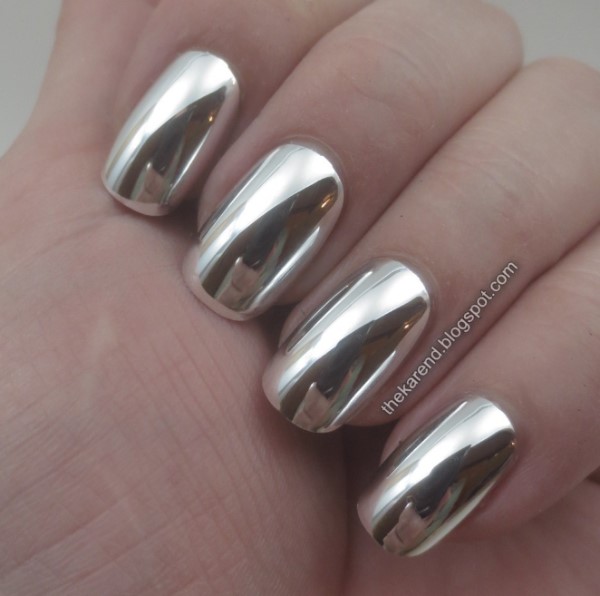 I still have so very many Essie Sleek Sticks to use up (or throw out or do something with), so I wore Embrace the Lace for a few days. They were hard to put on smoothly, and got tipwear almost immediately (at least that didn't show too much since they were close to my natural nail color).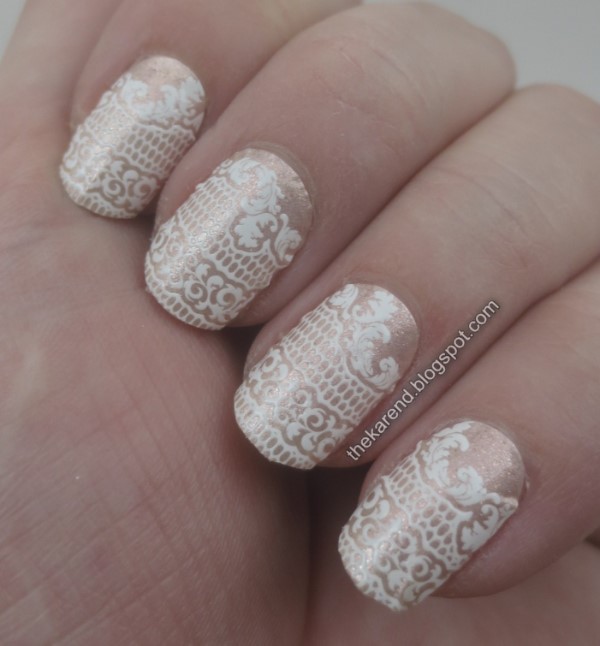 I did another round of fake nails with some purple Smart Girl ones I'd picked up on clearance somewhere. These were labelled "medium length" but they looked long to me. They fit my nails well and were pretty thin, but the adhesive wasn't as secure as the China Glaze fakes (maybe because it wasn't pre-applied to the nails but instead was in the form of tabs that weren't as long as my natural nails in all cases).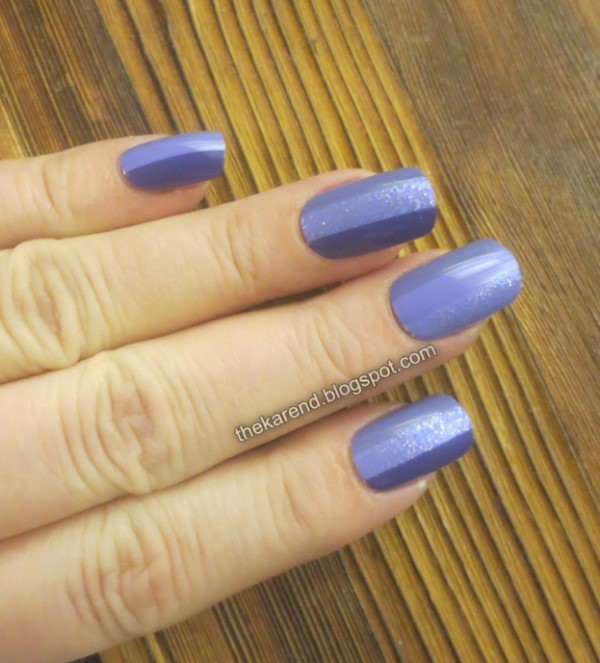 Incoco Nail Polish Appliques in Reckless, a black on purple plaid design, graced my nails next. I wait to use Incoco strips until I need to change my pedicure, since then I get full use out of the package (I haven't had much luck re-sealing the package to use the second half later).
Sally Hansen Salon Effects strips in Disk-o Queen followed the Incoco. This gold glitter with wine half moon design was a bit sheer at the tips and the glitter was not holo as shown on the box, but they did sparkle nicely.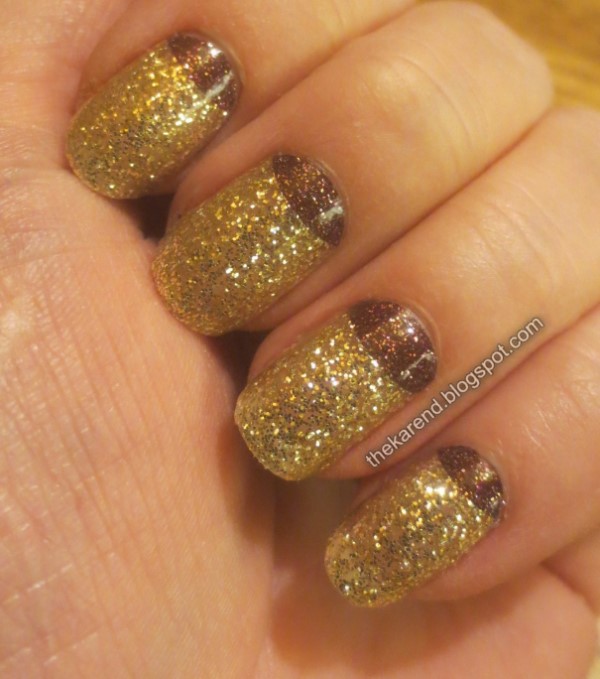 After filing away some peelies, I put a winter favorite on next: Sally Hansen Salon Effects in Snow Bunny.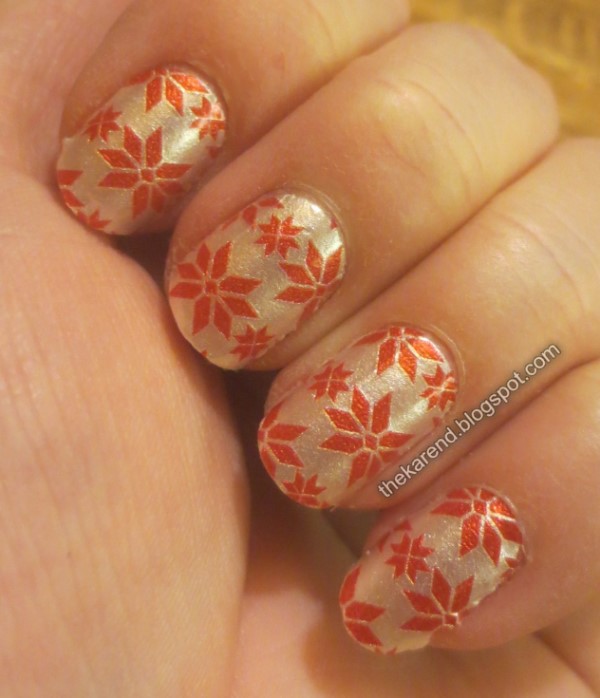 I finished out the year in Incoco strips in Silent Night, a blue and purple glitter mix. I failed to get a really good photo of these; I liked them very much, so it's a shame this shade has been discontinued.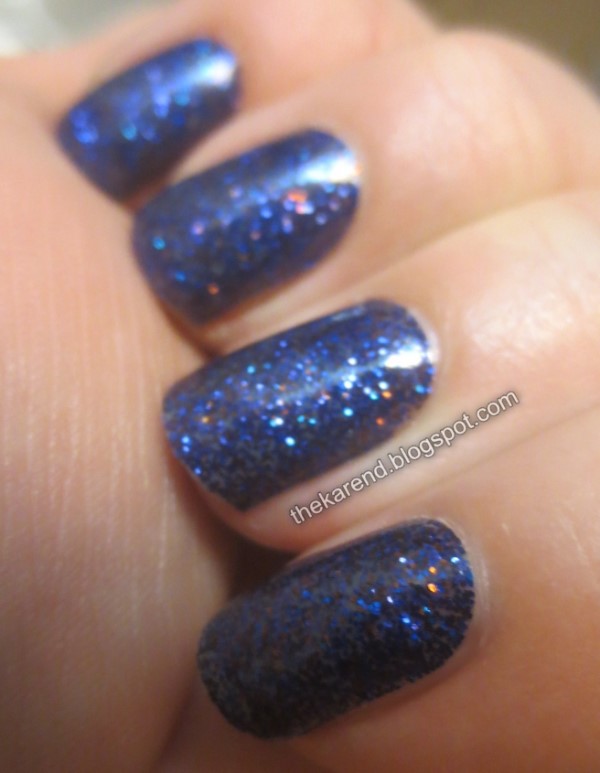 And now that I've caught up, I can think about doing a Top 20 (or 10 or something list). Then I can move on to 2018 swatches and nails of the day ... only a month into the new year!