It's been quite a while since I tried a new (at least to me) matte topcoat, so when I saw the L.A. Colors gift set that included one, and it was on sale, I grabbed it. As far as I recall, I've never seen a matte topcoat from them. This one came with three creme polishes, which of course I don't need but hey, at least they were cheap (and as it turns out, the black is pretty decent; I haven't tried the other two yet).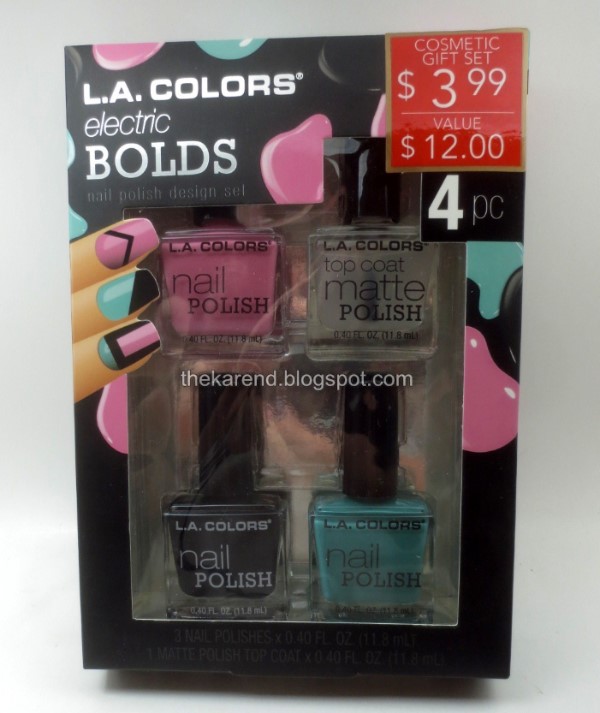 For comparison, I put the L.A. Colors up against the first three other matte topcoats I could put my hands on, which are not coincidentally the three I tend to use most often, so they were in my staples boxes on my mani table (which may sound fancier than it is, being the sort of folding table usually seen in church basements for coffee hour). Left to right: OPI, L.A. Colors, Wet 'n' Wild, Butter London.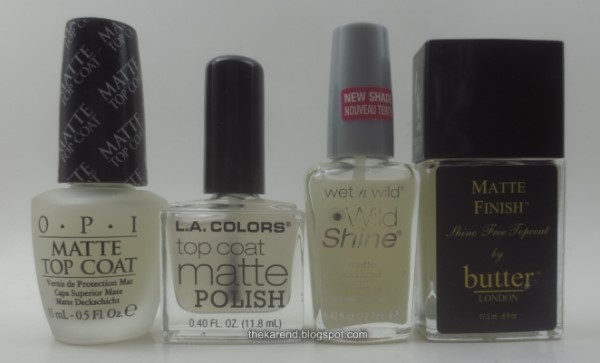 I used the black creme from the kit for my base, and I liked it a lot. It applied nicely and covered evenly in one coat. Then I mattified; top to bottom it's OPI, L.A. Colors, Wet 'n' Wild, and Butter London.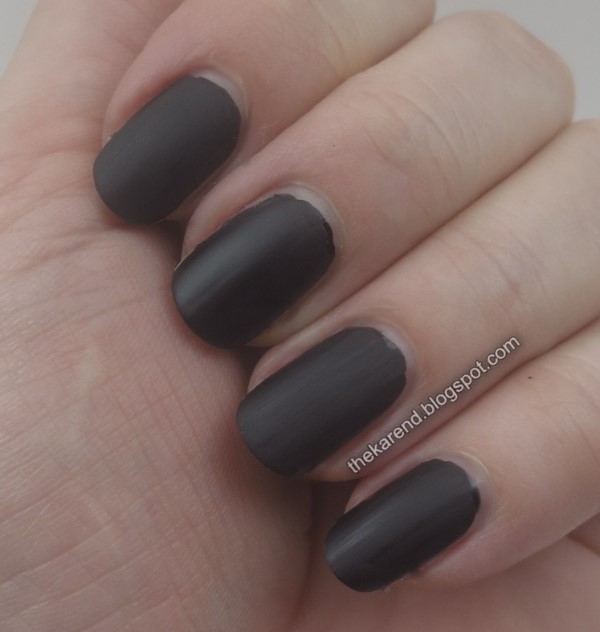 OPI is the clear winner of this group, followed by Wet 'n' Wild, then Butter London, then sadly L.A. Colors in last place. It went on thick, was slow to dry, and never got as matte as any of the other three. Ah well, as I said before, it was cheap. And I did get a nice black base and a blog post out of the deal, so not a total loss.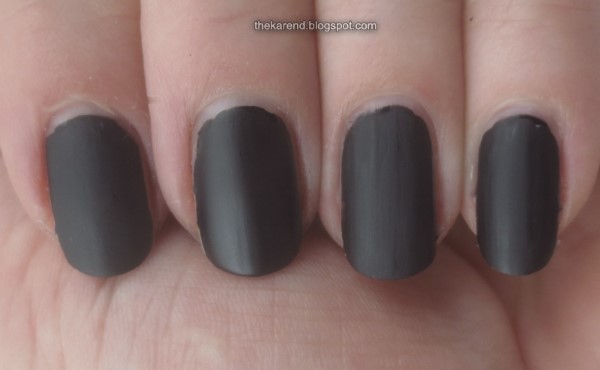 One note: the uneven surface on my ring finger is not the fault of the Wet 'n' Wild topper; it's the ridges on that nail, which I really need to remember to use a ridge filler base on more often. My other nails don't need it so I forget.
Links to all the prior installments in this series:
Part 1
: OPI, Barielle, China Glaze, SinfulColors, Butter London, Obsessive Compulsive Cosmetics
Part 2
: Revlon, NYC, Essie, Claire's
Part 3
: OPI, Essie, GOSH, Cult Nails, Icing, Ulta, Fing'rs
Part 4
: Orly, Salon Perfect, OPI, Sally Girl
Part 5
: OPI, elf, L'Oreal
Part 6
: Nicole by OPI, OPI, Sally Hansen, Formula X for Sephora, Deborah Lippmann, Dolce & Gabbana, Nails Inc., Nina Ultra Pro, Illamasqua
Part 7
: Fresh Paint, OPI, CK One, Wet 'n' Wild
Part 8
: Glitter Guilty, Rescue Beauty Lounge, H & M, Kleancolor, Wet 'n' Wild, OPI.
Part 9
: Paul & Joe, OPI, Wet 'n' Wild
Part 10
: Dr.'s Remedy, Zoya, Hollish, OPI.
Part 11
: Julie G, Pop-arazzi, Pure Ice, OPI.
Part 12
: Jin Soon, Morgan Taylor, Girly Bits, Colour Prevails, Wet 'n' Wild.
Part 13
: OPI, Pacifica, Bliss, Essence