It's only been about a month since my last
display post
; now I am back from my travels with more display photos. I took a few of these pictures in my usual stomping grounds, some in the Portland area where I spent a long weekend before Mr. K and I left on our road trip, none at all on the drive from Idaho to Illinois, then the rest in Illinois and Michigan, where I spent the bulk of my time away.
The one CVS I managed to visit while in CVS country seemed to be in the middle of redoing their cosmetics section when I was there, but they did have some things I hadn't seen before, like the Beauty 360 no-light gel polish in the core display wall. Top row: Taupe, High Shine Top Coat, Adhesive Base Coat, Pearl Shimmer, Rose Shimmer (x2), Silver Shimmer, Dazzle. Second row: Cotton, White Peach, Blush, Salmon, Sunset, Unicorn, Cotton Candy, Apricot. Third row: Mushroom, Mocha, Taupe (evidently that one in the top row didn't belong there), Fig, Plum, Pebble, Slate, Midnight. Fourth row: Sea Foam, Forget-me-not, Hyacinth, Lilacs, Magenta, Spruce, Indigo, Eggplant. Last row: Dahlia, Rose, Gerber Daisy, Tangerine, Salmon, Hot Pink, Raspberry, Flamingo.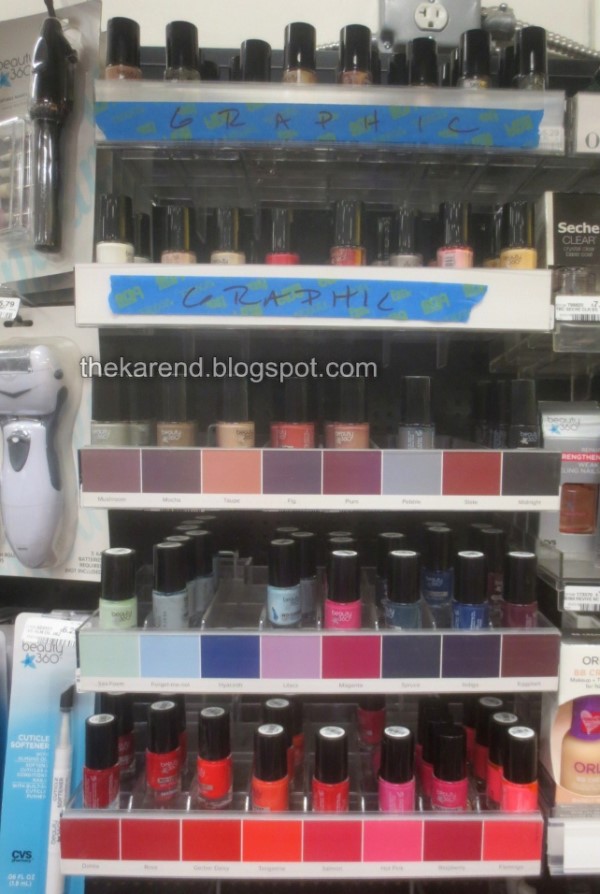 I had to go to a few Ulta stores before I found one that had the whole Butter London Pantone Color of the Year 2018 collection. This is six purples: Ultra Violet (the color of the year), Purple Reign, Hydrangea, Iced Lavender, Misty Lilac, and Mauvelous. All are fashion size, priced at $10.
A couple
display posts ago
, I shared a shelf top Caption display from Ulta. This time, I have a bigger Caption end cap from another Ulta. The left side has Sugar kits (dense glitter), nail polish, and Tipsies (fake nails). Center section contains Ombre kits (i.e. gradient), Art Screens (stamping plates), Slickpour colors (gel powders), SlickPour starter kit, and an LED light (cut off in my pic). On the right, Sugar kits (same ones as on left), nail polish (different colors), and mini polish kits.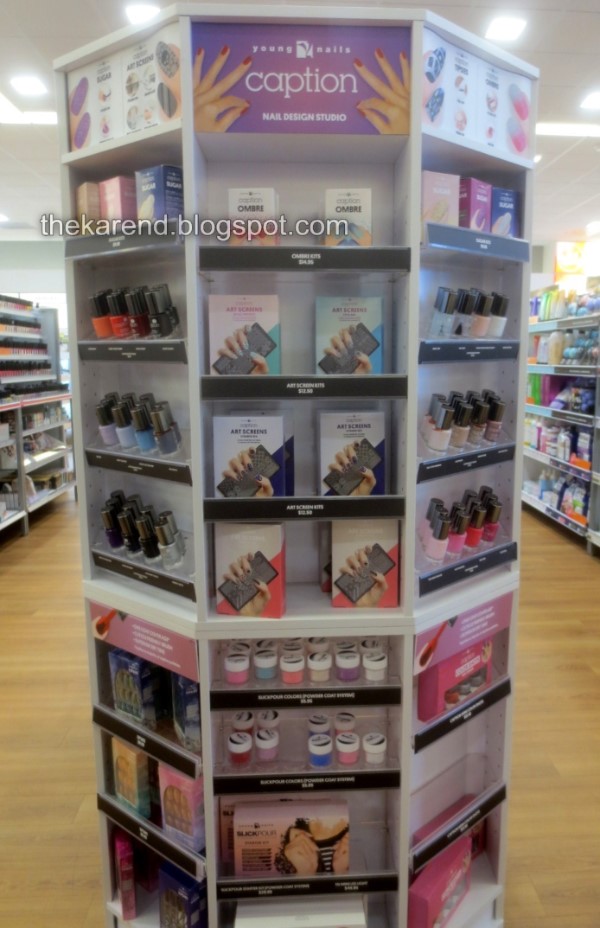 The single bottle polishes are 10ml and priced at $9.95, which seems a bit high to me (but it is less than the Butter London fashion size per ounce). Left side colors—top row: C'mon Now, Sorry I'm Not Sorry, Talk is Cheap, Crazy & Like It; middle: Me First, Happy Disaster, What Goes Around, Feel the Yes; bottom: Hello You Fine Thing, Oh No She Didn't, Look Don't Touch, Rewind Repeat.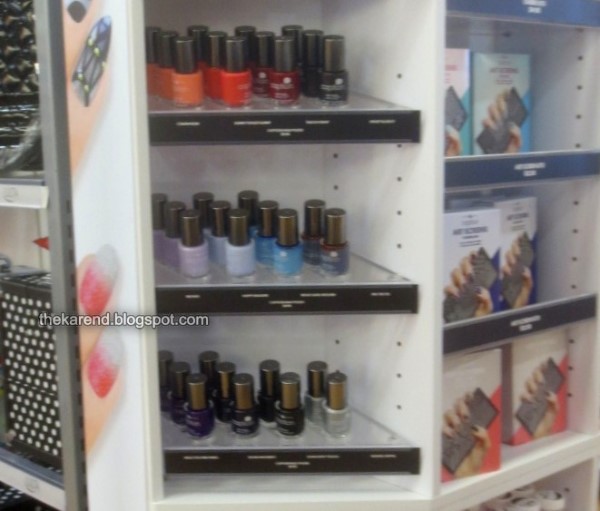 Right side polishes—top row: Base Coat, Top Coat, Rough Tough and In the Buff, Heaven Help Me; middle: Kill It With Kindness, OCD Proud, Drinks on Me, XXOO Kissy Face; bottom: Yeah What She Said, Not Your Baby, Ditch Him, She's Pistol.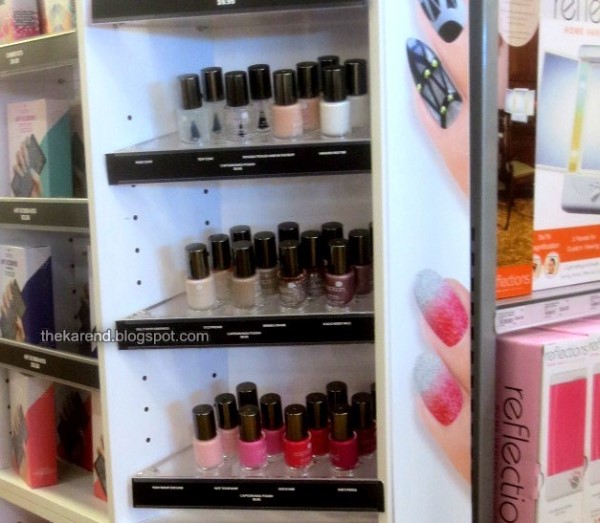 I'd seen the fake nails part of China Glaze Chic Physique as of my previous display post; I finally came across the polishes at Sally Beauty, though it seemed some colors were already gone.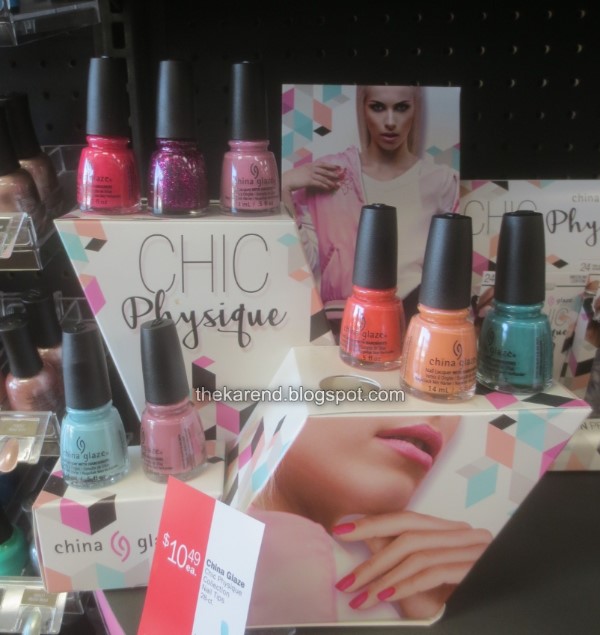 I saw a big CND Vinylux section in CVS. Some new shades were featured near the top. I'd seen the Glacial Illusion ones at Rite Aids near home, but the Nightspell ones were new to me (detail pic below).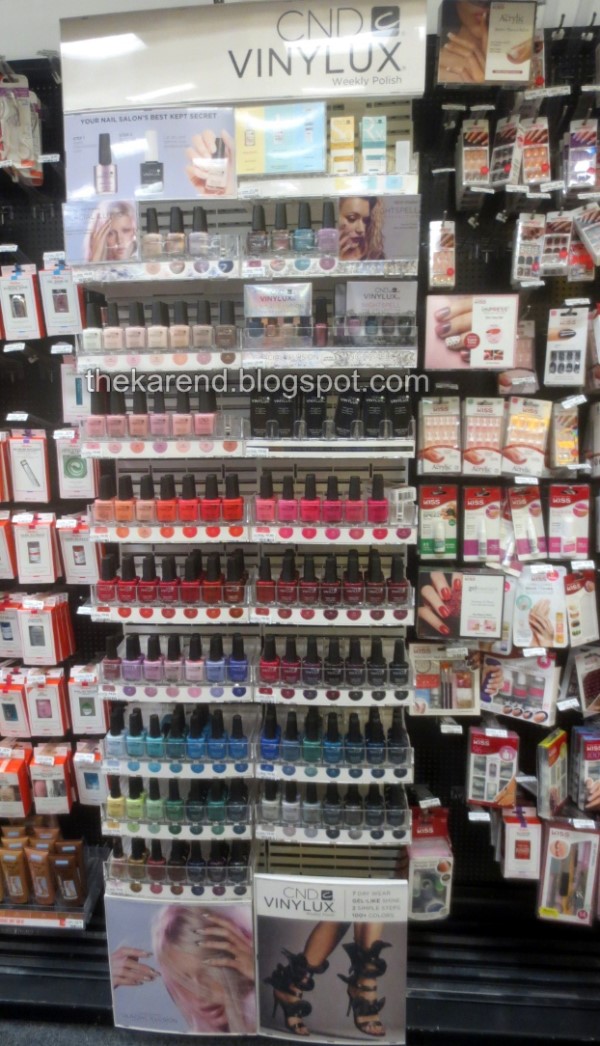 Nightspell colors, left to right: Berry Boudoir, Hypnotic Dreams, Viridian Veil, Lilac Eclipse.
I shared a couple versions of Essie Bon Boy-age displays last time; Meijer had another variation that had not just the spring shades but some of the Wild Nudes and two different top coats.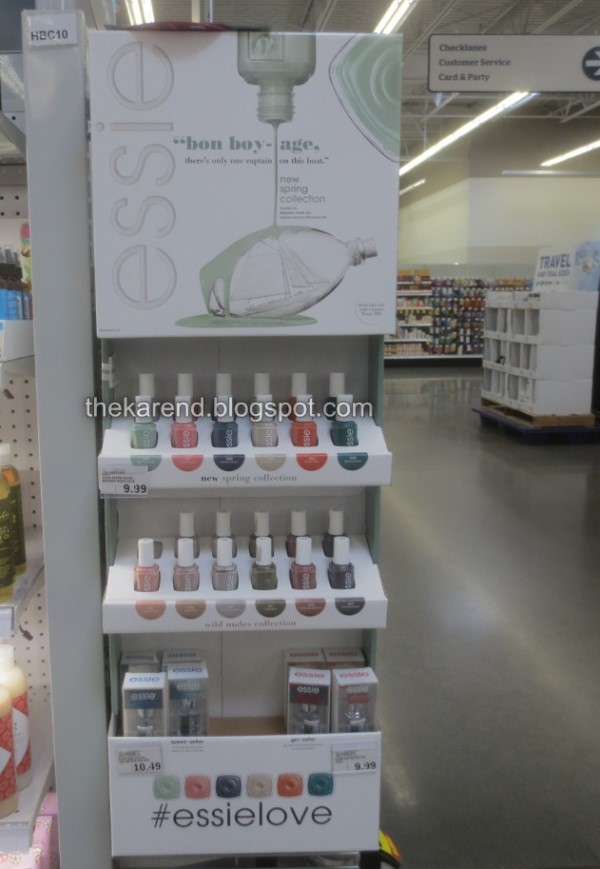 I didn't get to as many Five Below stores on my trip as I'd hoped to, but I did find a few new things. Left to right: Fresh Paint Stranger Things, Funky Fingers Unicorn Dust, Fresh Paint Eleven. There was one Fresh Paint I'd hope to see but didn't, a mauve-y shimmer called The Upside Down. Maybe I'll have better luck next visit, or maybe it'll be long gone by then. Hard to tell with Five Below sometimes.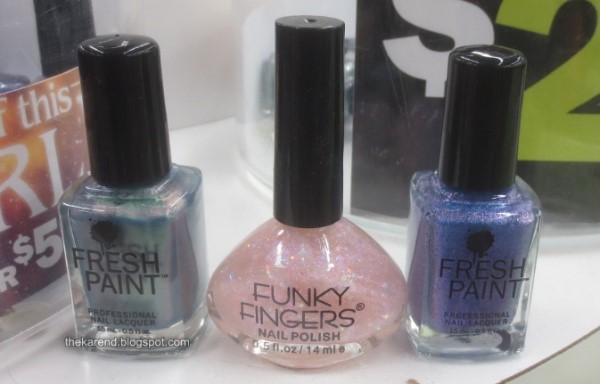 The Five Below I did get to also had a display of thermals. One shade I'd seen before and already had but a couple were new to me. Left to right: Blue Lagoon (new), Mai Tai (new), Wander-Dusk. I'm not sure if there were other shades that were sold out before I got there.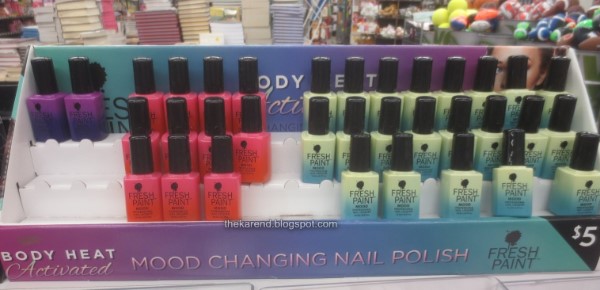 Fred Meyer had the Kiss Fantasy Collection of fake nails. This had some Glam Fantasy designs and some Jewel Fantasy.
The Revlon Holochrome colors have made it into the core display, at least at one Walgreens store.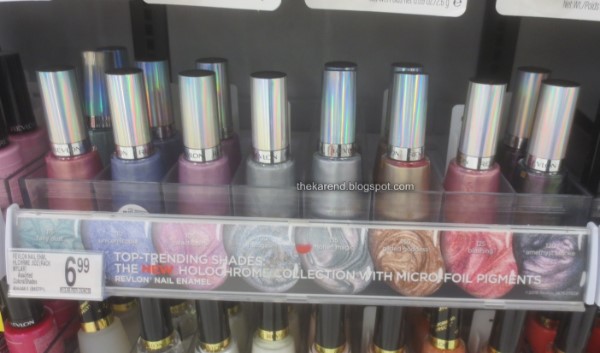 I'd seen the new collection of Sally Hansen Insta Dri Crayola shades popping up on Facebook groups, but it took a couple weeks before I came across a display with them at Fred Meyer. This Spring Fling shelf top unit has the six Crayola pastel colors as well as some core shades. Crayola, left to right in front section: Sky Blue, Sea Green, Canary, Melon, Cotton Candy, Wisteria. Core, left to right in back: Petal Pusher, Peach Buzz, ASAP Apple, Make it Snappy, Pink Blink, Just in Wine.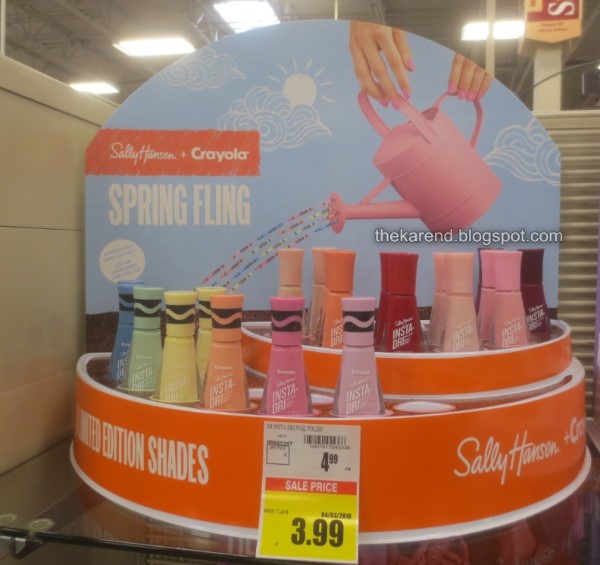 Please note that these are "Intented for Adult Use Only":
On my travels, I saw a sidekick of Insta Dri at Meijer with the new Crayola colors, some of last year's Crayola colors, and some core shades.
Right next to the Crayola display at Fred Meyer, I saw something else new from Sally Hansen: a Salon K-Design display with core colors of Complete Salon Manicure paired with nail art stickers designed to give the look of stained glass (in green/iridescent or silver/holo) or gold wire. The polish shades are (left to right): Off-the-Shoulder, Blush Against the World, Rose to the Occasion, Gilty Party, Shell We Dance, and Hooked on Onyx. The sticker designs are (top to bottom): Glass, Diamond, and Wire. I thought it was interesting that these were right near the Kiss fake nails (see above) with a similar stained glass effect.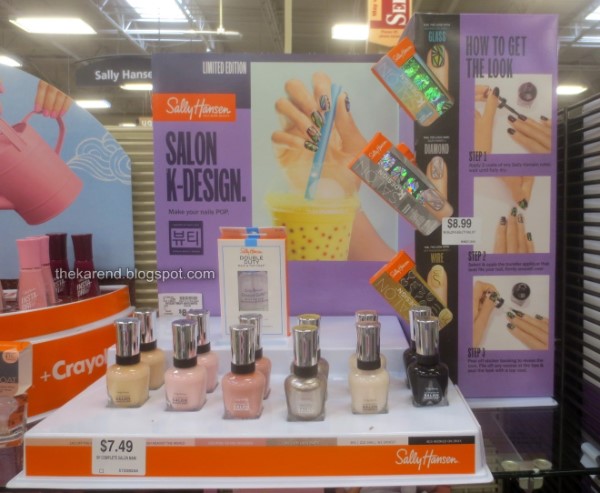 Over in the land of Meijer, they had an end cap with four Sally Hansen displays with colors I've seen in other display formats. Top is All-In-One & One for All, which includes the limited edition Complete Salon Manicure colors by Madeline Poole. Next one down is My One and Only, which seems to be all core colors of Complete Salon Manicure. Third section has the Miracle Gel Color Filters with core colors to put them on. Bottom shelf is Romantic Rendevous, with core shades of Miracle Gel.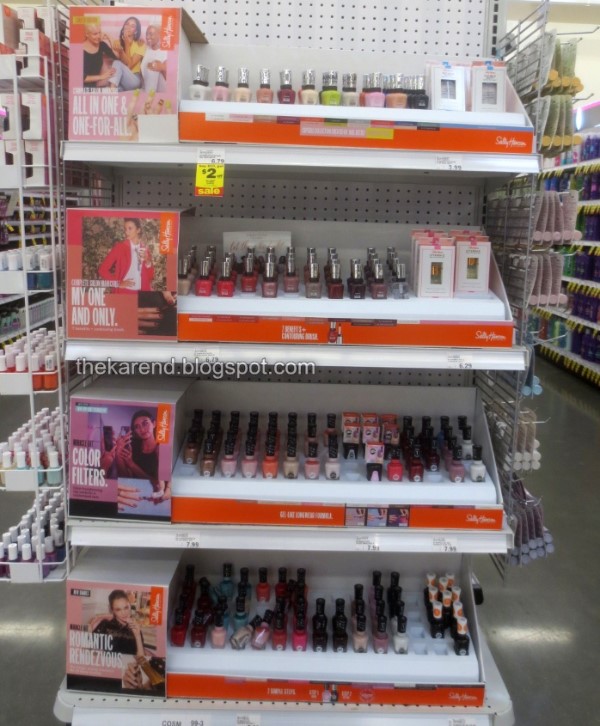 Also at Meijer, they had a sidekick display for Sally Hansen Color Therapy I Treat Myself, which wasn't as specifically Valentines-y as the shelftop version I saw at Fred Meyer.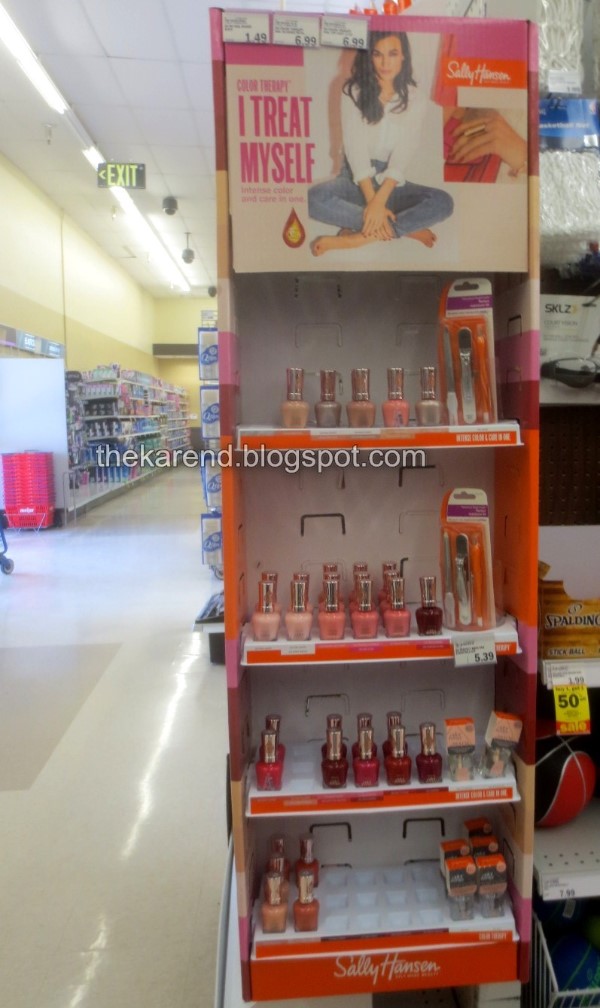 The polish shades here aren't anything new, but what I hadn't seen before was the Perfect Manicure Kit, which has a metal file, clippers, 2-way buffer, cuticle pusher/trimmer, and case. I'm sure these have been around; I just haven't seen them in a display before.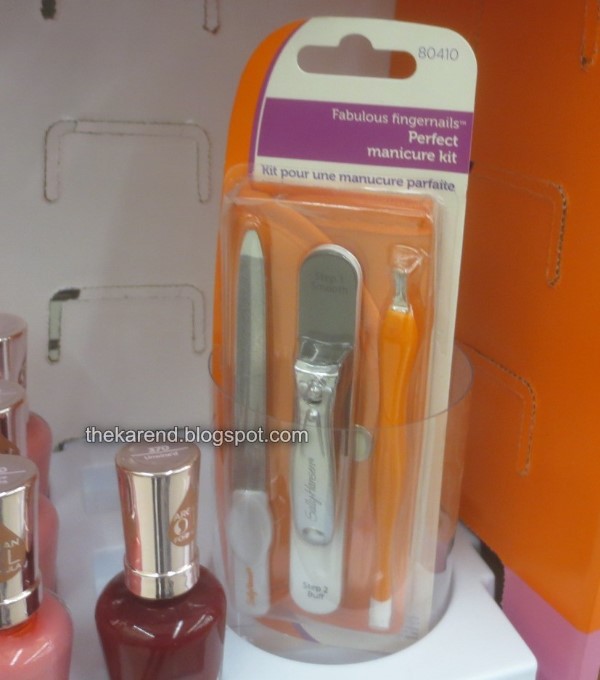 Good ol' SinfulColors has some more new shades out. I found them in the Indie Sol display at Meijer. I didn't have the time or patience to figure out what all was supposed to be in there, as every store seemed to have a slightly different lineup (probably due to customers messing them up), but I think I did find all the new shades. They're in the second row here (detail pic below).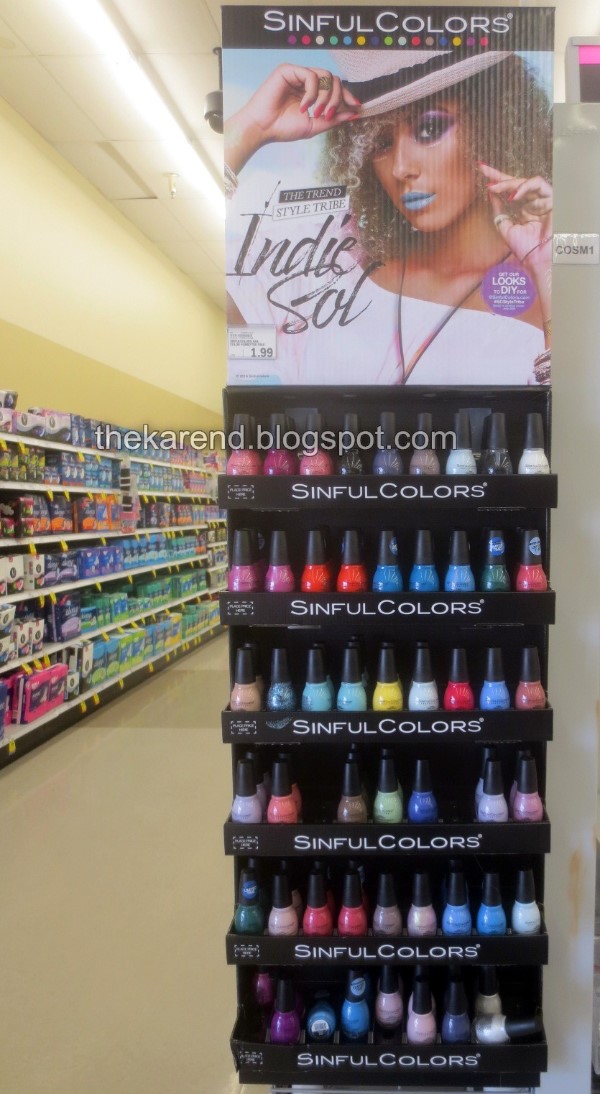 Left to right: Positive Vibez (two slots), Sundown Getdown (x2), Sunglasses at Night (x2), Rave New World, We're In Tents (x2), Jelly Ellie.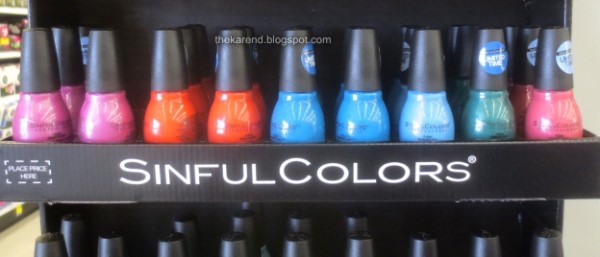 Of course I was looking forward to seeing what Studio M I could find at Meijer. I only saw this A Dream Come True sidekick at one store of all the ones I visited; I think it may be a straggler from early spring (I don't think it's winter because it doesn't have the polishes I saw swatched back then). Most of these appear to be old/core colors, which calms me down about feeling I've missed a bunch of new stuff. Top row: Ice Cold (slot empty, but a core color), Total Wow, Surprise Party (gone), Neon Glow, Bubblegum, Disco Ball (new?), Blue-Ming (gone), Off the Deep End (gone). Middle row: Gold Dust (new?), A Star is Born (gone), Vintage Vamp, Blue Lagoon, Frenzy, Magic Attraction, Who's That Girl, Belle of the Ball (gone). Botton row: Girl's Night Out, French Tip, Gold Glitter, Power Pink, Sex Symbol, Wicker Park, Sweet Tooth, East Austin.
I saw the Studio M Live on the Wild Side display at several Meijer stores; I'm guessing this is for summer, due to all the brights. Top row: Cheetah Glitter (new?), Neon Glow, Blue Funk, Off the Deep End, Air of Mystery, Thunderbolt, Orange Hot, French Tip. Middle: Total Wow, Highlight of My Day, Darkest Black, All The Razz, Lightning Blue, Slammin Red, Girl's Night Out, Vintage Vamp. Bottom: Blue Lagoon, Disco Ball, Island Hopping, Purple Medallion, Purple Crush, Nightlife (new?), Volcanic, Energy Star.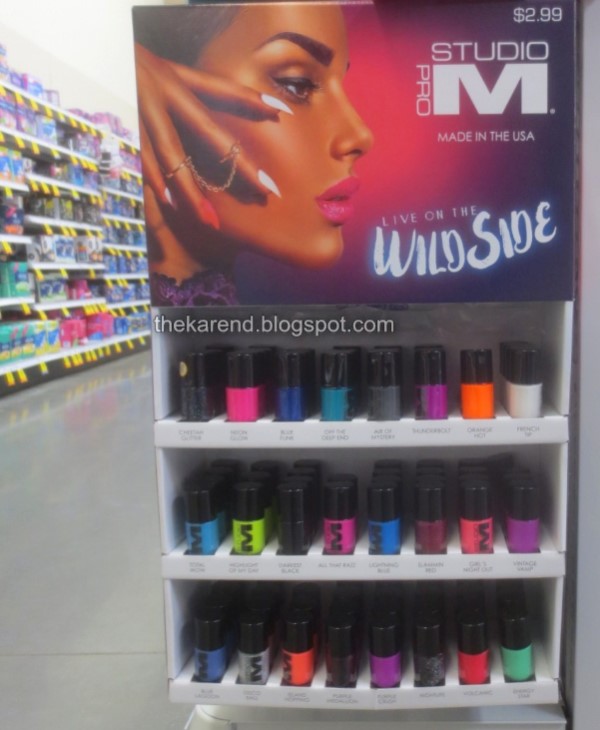 The more expensive Studio M polishes, which were $4.99 when I first saw them
last spring
, are now $6.49, and there's a whole new lineup of colors. These new ones are thermals (and don't have the silver caps the earlier fancy ones did, so it's easier to pick one up and not realize it's over twice the price of regular Studio M). The stock in the display was so mixed up that I had to pull them out to see what all there was. Left to right: Gloom & Doom, Just Chillin', Relaxed to the Max, Totally Jelly, Smitten Kitten, Serenity Now, Happy as a Clam, Warm & Fuzzy. I bought none of them, as I'm annoyed at the price point. Sure, I'll pay $5 for thermals at Five Below, but $6.49 for Studio M seems like too much.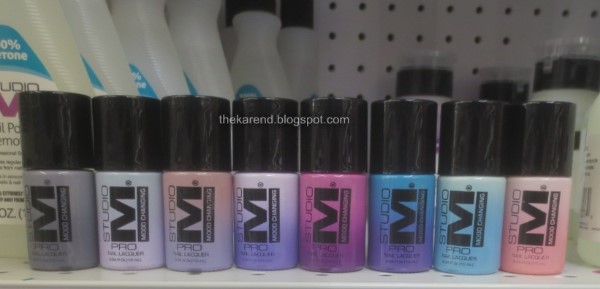 Over the years, I've seen RK polishes (aka Ruby Kisses; these are branded RK HD), but only in beauty supply stores. This trip, I saw them at CVS, tucked into the sides of a larger RK cosmetics endcap.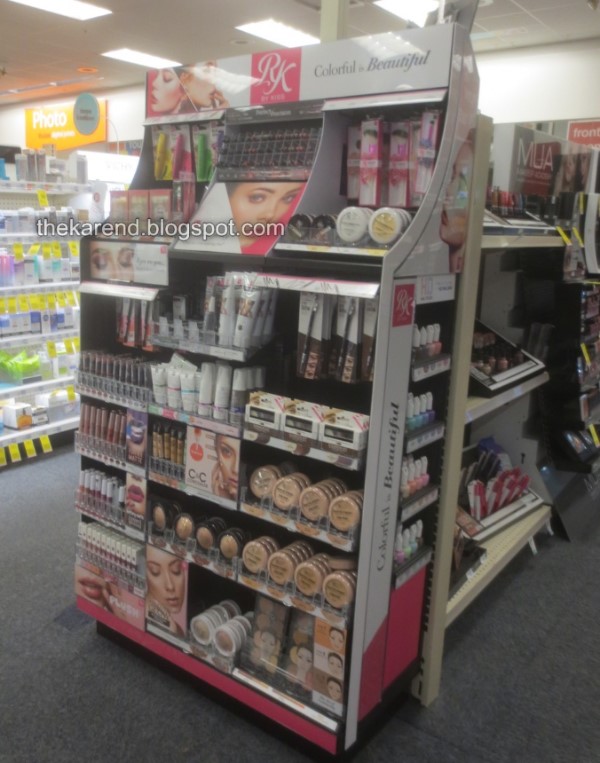 Right side polishes—top row: High Shine Top Coat, S'mores Lover, Shades of Gray, Marshmallow, Call Me Belle; second row: High Shine Top Coat, Spirited Away, Cafe Bleu, Chances of Clouds, Lavender in My Dream; third row: High Shine Top Coat, Lemon Sorbet, Orange Popsicle, Bubble Gum, Strawberry Shortcake; bottom row: High Shine Top Coat, Taro Bubble, Mint Chocolate Chip, Cotton Candy, Golden State of Mind.
Left side—top row: High Shine Top Coat, Hot Pink Obsession, Electric Purple, Hot Pink Pants, Spicy Apricot; second row: High Shine Top Coat, Blues Gone Wild, Pitch Black Darkness, Whiter Than White, Beyond Sexy Redness; third row: High Shine Top Coat, She A Goldigger, Mickey Mouse Me, Poison Apple, Into the Future; bottom row: High Shine Top Coat, Hot & Sexy, Sandy Beach, Carousel, Truffle Flakes.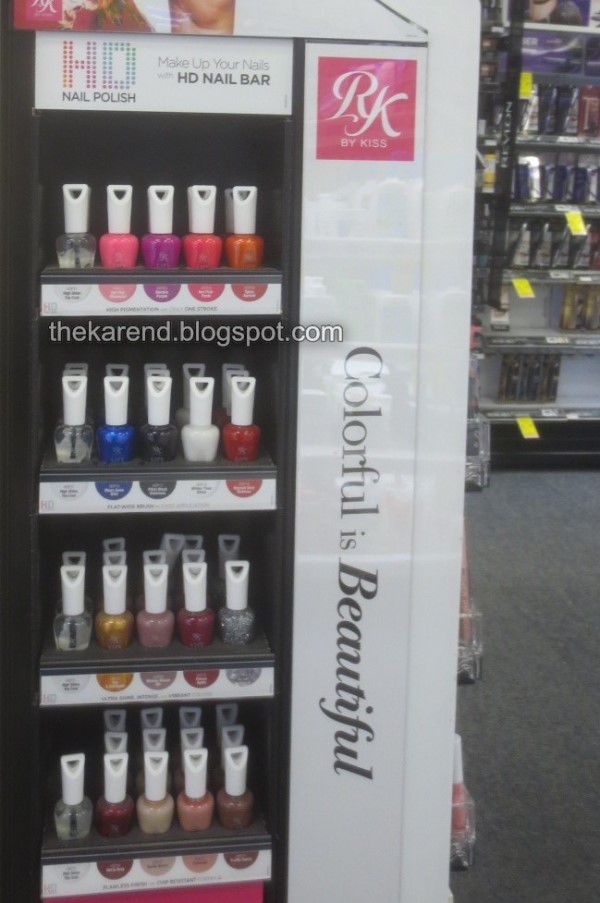 Ulta has entered the no-light gel space with their Ulta brand Gel Shine Nail Lacquer, which like other no-light gel lines has its own top coat to be paired with the colors. Top row: Top Coat, Snow White, Extra Whip, I Love You a Latte, Freshwater Pearl, Baby Doll, Encore Pink, Venus, Rosé All Day, Super Mauve. Middle row: Top Coat, Girl Boss, Vintage Violet, Pink Marble, Fuchsiamania, Squad Goals, Sunset Bronze, Raspberry Cocktail, Showgirl, Eye Popping Poppy, Wildfire, Gypsy Lady. Bottom row: Top Coat, Saturdaze, Violet Rain, Mint Condition, Island Vibes, Cloud Nine, Singin' the Blues, Neutral Party, #Mood, Steel the Show, Starry Night, Black Magic. Some of these are noted as being a "fan fave", which confused me as I'd never seen these before, and the display also says "new", so maybe they mean these colors were fan faves in the non-gel line, or maybe the "fan fave" tags are predictions.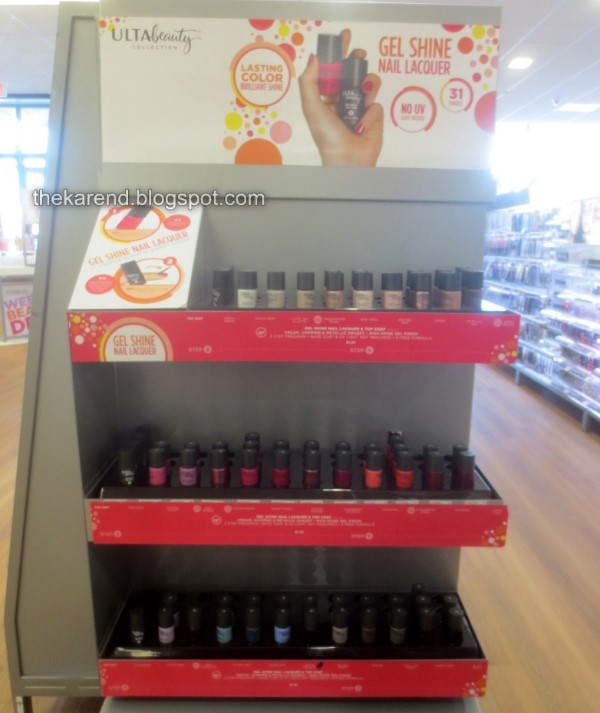 Now that ski season is over (well, maybe—I hope to get in one or two more days if the resorts south of here reopen for weekends later this month), I intend to do more swatching. I left for Illinois and Michigan with three nail polishes and came back with 28. Yep. I did that. And that was after I picked up 12 new polishes on my Portland weekend trip. Obviously I'm no good at stash reduction. Best I can aim for is slowing the rate of growth!