It hasn't been quite a month since my last
display post
, yet I've already seen enough new stuff for another one, and that makes me happy.
Walgreens had a CND display with some colors I hadn't seen before, the Night Moves collection: Kiss of Fire, Soiree Strut, After Hours, Bellini. There's top coat in back and a mini set that has three of the colors (no Bellini) plus topcoat.
I don't remember what I was looking for at Walmart, but what I found was a big endcap display of Color Club, the Meet Your Match collection of skintone shades from pale to dark. Top row: Stark Naked, Nothing to Wear, In the Buff, Birthday Suit, DM Nudes, Undress to Impress, Feelin' Free, Let It All Out, Nothing But a Smile. Second row: Who Gives a Buck, Stripped Away, Out in the Open, Dare to Bare, Take It All Off, Without a Stitch, The Skin You're In, Exposed, Au Natural. The third and fourth row are repeats of the first two.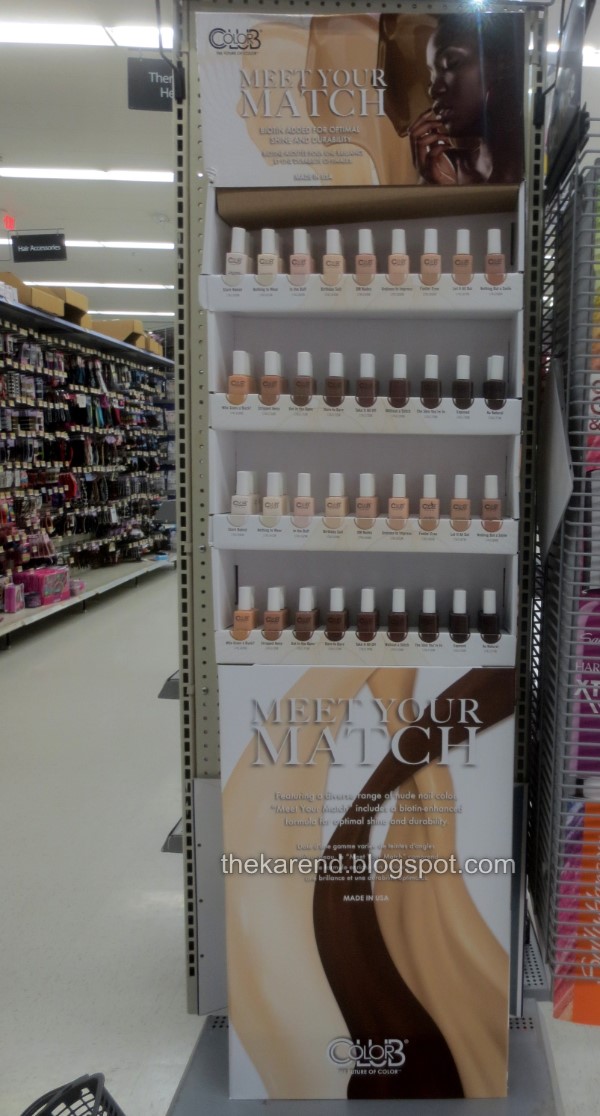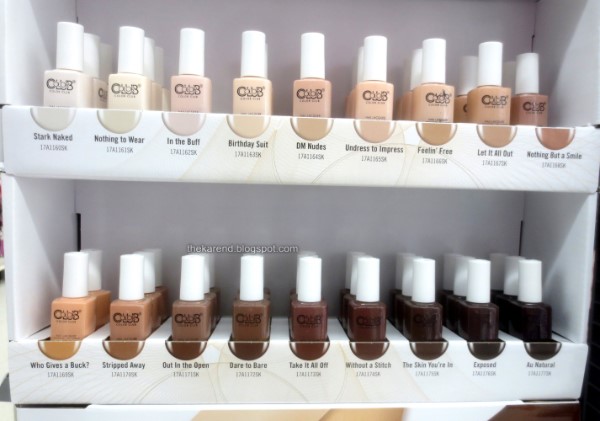 Both Rite Aid and Fred Meyer had the limited edition Essie Valentine's Day Collection, More Fun Together. These bottles have holiday-themed wraps with the polish showing through clear heart-shaped areas. Left to right: Galentine, You're So Cupid, Sparkles Between Us, Crush & Blush, #essielove, Roses Are Red. The display also has Strong Start base coat, which is new.
The only place I've seen the Essie Serene Slate collection so far is Fred Meyer. This looks similar to the Wild Nudes collection, but even more muted. Left to right: Serene Slate, Mind-Full Meditation, Gadget-Free, On Mute, Toned Down, Generation Zen, Press Pause, Wire-Less is More, Cause & Reflect.
There are new metallic shades in Essie's Treat Love & Color line; I've only seen these at one Rite Aid store so far. Left to right: Glow the Distance, Got It Golding On, Pep in Your Rep, Keen on Sheen, Laced Up Lilac, Finish Line Fuel, Power Plunge, Steel the Lead.
Rite Aid also had a display with a subset of the Essie Gel Couture Sheer Silhouettes shades (full set at Ulta was in the last display post): Bodice Goddess, Gossamer Garments, Sheer Silhouette, Last Nightie.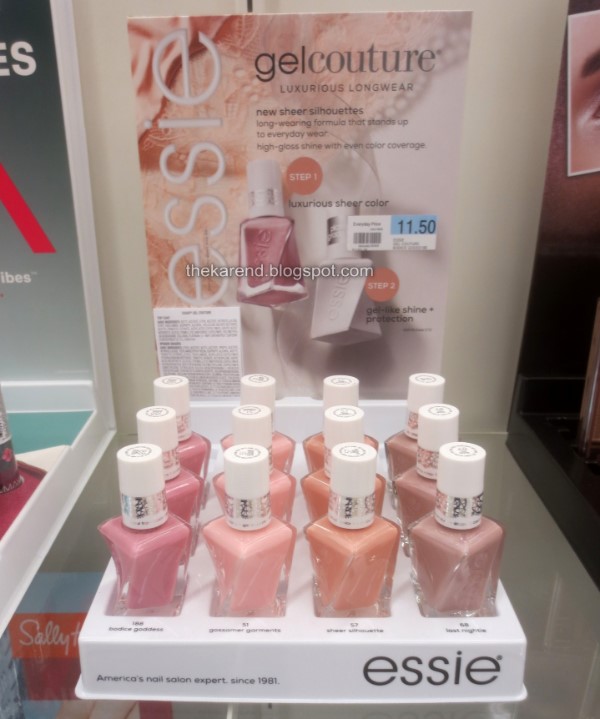 There was an imPress fake nail display at Rite Aid touting their new Ultra-Fit design, which they say is slimmer yet stronger.
Walgreens had a Kiss fake nails display which included some new Masterpiece designs, which seemed to have a bit more variety and detail in the sets than the existing lines; for instance, one had both chrome nails and heavily rhinestoned ones along with two plainer accents.
I'd never seen a shelf top Kokie display until I came across this at one of the Rite Aid stores on my hunting route. As far as I know, these are all core colors, but it was fun to see them featured like this. Left to right: Cafe Ole, Fresh Picked, Wondrous, Atlantis at Last, Raise the Barbados, Girls Night, Oceana, Northern Lights.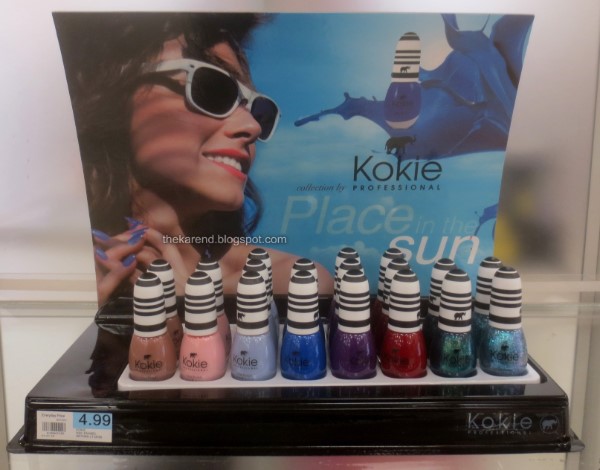 Some of the Rite Aid stores had the LA Girl Liquid Chrome polishes; these have apparently been popular, as I never found a full display. Fortunately, there were labels on it so I knew what was missing, and the polishes themselves are available from the
LA Girl
website (though they are a dollar more per bottle there than at Rite Aid). Left to right: Brushed Nickle (yep, that's how they spelled it), Burnished Gold, Plated Pink (sold out), Electric Blue (sold out), Gold Digger, Radiant Rose, Lacquered Lavendar, Gunmetal Gray (sold out).
While I was stopping at Rite Aid stores looking for a full display of the Liquid Chrome, I came across two other LA Girl displays, both with core colors near as I could tell. Will You Be My Polish has shades from the Color Pop line: 2-N-1 base/top coat, Rad, Sparkler, SeaShell, Burst, Birthday Cake, Simply Nude, Haute.
The Date Night Shine Bright display had LA Girl Gel Extreme Shine shades: Clear, Desire, Rio, Illusion, Scandalous, Charming, Mystical, Bachelorette.

Walgreens had a Valentine's display of pink and red OPI shades (none of them new). Front row: Top Coat, Bubble Bath, Passion, Excuse Me Big Sir, Princesses Rule, Malibu Pier Pressure. Back row: Strawberry Margarita, GPS I Love You, To the Mouse House We Go, Big Apple Red, Dutch Tulips, This is Not Whine Country.
Sally Hansen has a lot of new things out in stores now. The first one I saw was the Miracle Gel Matte or Shiny display at Walgreens. The things to note here are the Matte Top Coat and the Spray-On Base Coat (which says it will keep stains at bay); there are also some new shades here along with some existing core colors. Top row: Satel-lite Pink, Apollo You Anywhere, Saturn It Up, Pinky Promise (with Love Me Lilac tucked behind), Mauve-olous (Beet Pray Love behind), Matte Top Coat, Shiny Top Coat (previously known as Top Coat). Second row: Greyfitti (Slate-r Girl behind), Get it Mod (Onyx-pected behind), Stilettos & Studs (Bordeaux Glow behind), V-amplified (Cabernet with Bae behind), Can't Beet Royalty (Wine Stock behind), Matte Top Coat, Shiny Top Coat. Third row: Neblue-la, Out of this Pearl (Terra-coppa behind), Shhhh-immer, Let's Get Digital, Adrenaline Crush, Shiny Top Coat (in the Matte Top Coat slot), O-zone you Didn't (in the Shiny Top Coat slot). Bottom section: Spray-On Base Coat.
There's a smaller version of the Matte or Shiny display that I saw at Rite Aid. Colors here (all new core shades): Out of This Pearl, Saturn It Up, Satel-lite Pink, Apollo You Anywhere, O-Zone You Didn't, Neblue-la. The Matte Top Coat and Shiny Top Coat are on the right side.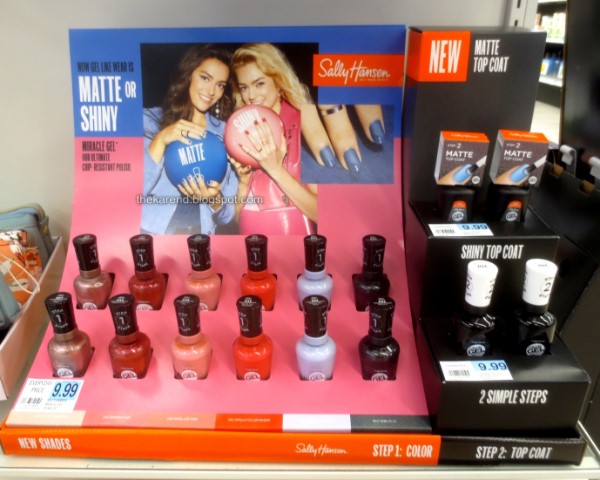 Also at Rite Aid, there was a Sally Hansen Insta Dri display with new matte metallics as well as regular shades (which I think are also new but don't know for sure). Front row (all matte metallics): Smokey Silver, Smoldering Teal, Blue Steel, Violet Velvet, Burnished Wine, Molten Mauve, Rose Flush. Back row: Hot Shot, Shooting Star, Coral Commotion, Zip Wine, Fig Flash, Oh My Grey, Gold Rush (matte metallic). This display also has the new Spray-On Base Coat.
The only place I've seen the Xtreme Wear display with new shades (at at least one old shade) is Fred Meyer. Colors here: Rose Bold, Heart of Sass, Pine Shine, Blue Blitz, Iris Illusion, Silver Storm, Mauve Over, Bare It All, Strobe Light, Tickled Pink.
In addition to new shades in existing lines, Sally Hansen also has a whole new line: Mega Strength. I saw it first at Walgreens, in a corner display. Top row: Be Iconic, Wild Card, Top Coat, Strengthener, Money pink Power, Lady Millionaire, She-Ro, Make Herstory. Second row: Always Extra, Boss Gloss, Pink Like a Girl, Rise Up, On Fleek, Just Getting Started, Class Act, Slay All Day. Third row: Rule the World, Her-oine, Take the Reigns, Sheriously Strong, Small But Mighty, Persis-tint, Sorry Not Sorry, New Atti-hue. Bottom row: Liquid Power, Stay Classy, Keep It 100, Here to Stay, Rule Breaker, Like a Girl, Boss Babe, Get Paid.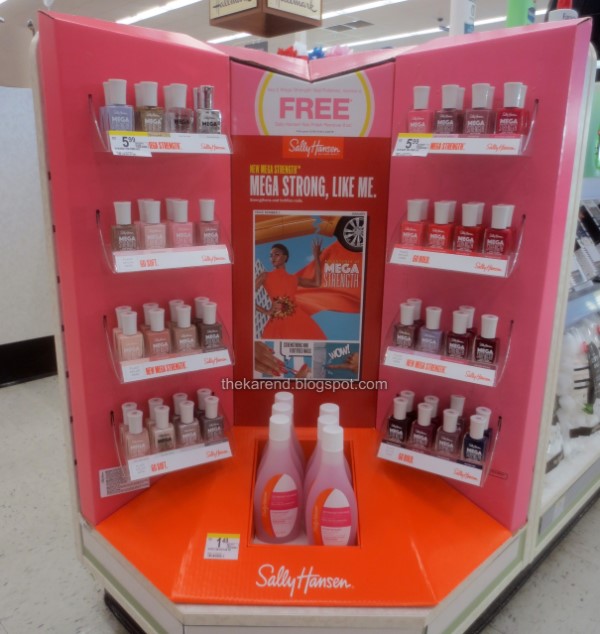 I saw a smaller shelf top display of Mega Strength at Rite Aid. Front row: She-Ro, Strengthener, Always Extra, Top Coat. Middle row: Her-oine, Here to Stay, Wild Card, Like a Girl, Get Paid. Back row: Lady Millionaire, Sorry Not Sorry, Boss Babe, New Atti-hue, Stay Classy, Take the Reigns, Slay All Day.
At Ulta, the Mega Strength were on the end of a section.
At Walmart, there was an endcap display of Mega Strength.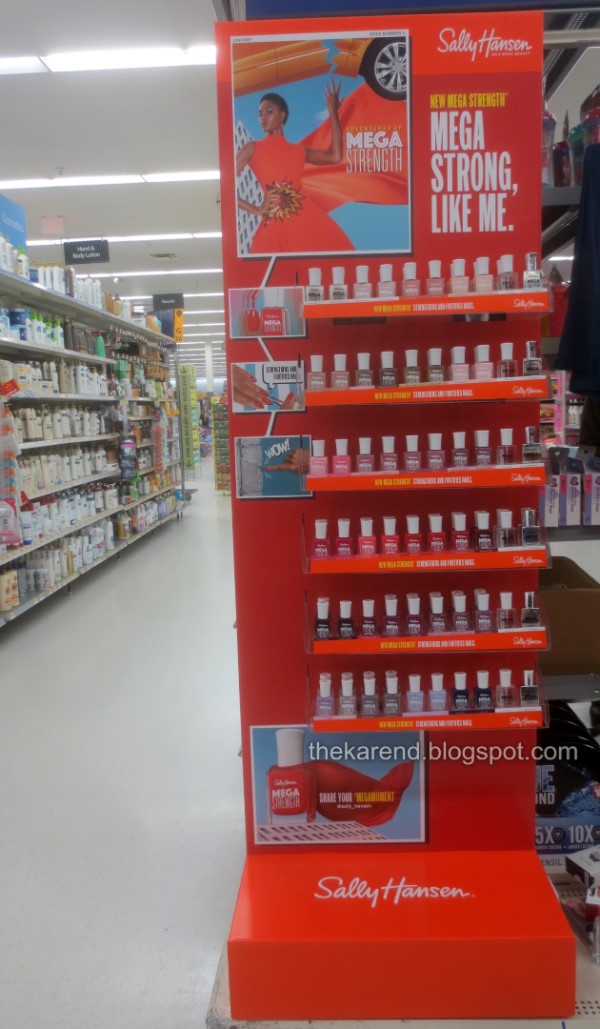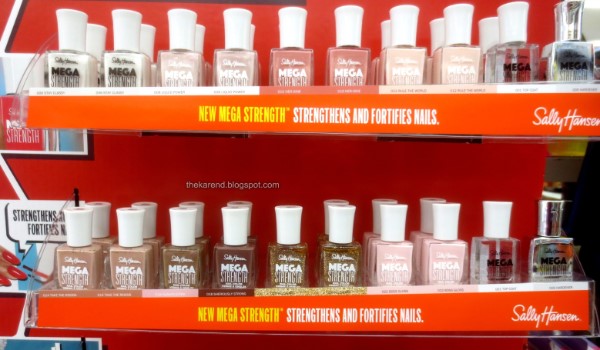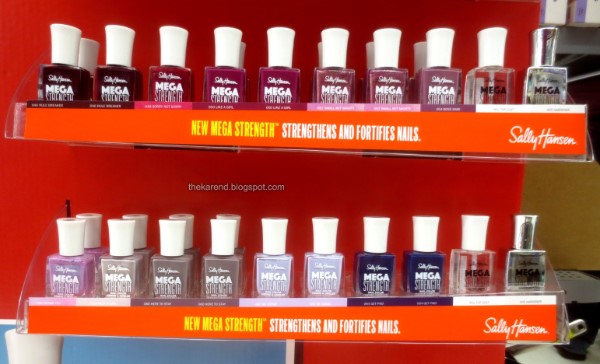 Some Walgreens stores have a display with Insta Dri (including some core shades not in the smaller display at Rite Aid) and Mega Strength together, grouped into Colors That Pop, Everyday Neutrals, and Pinks & Reds.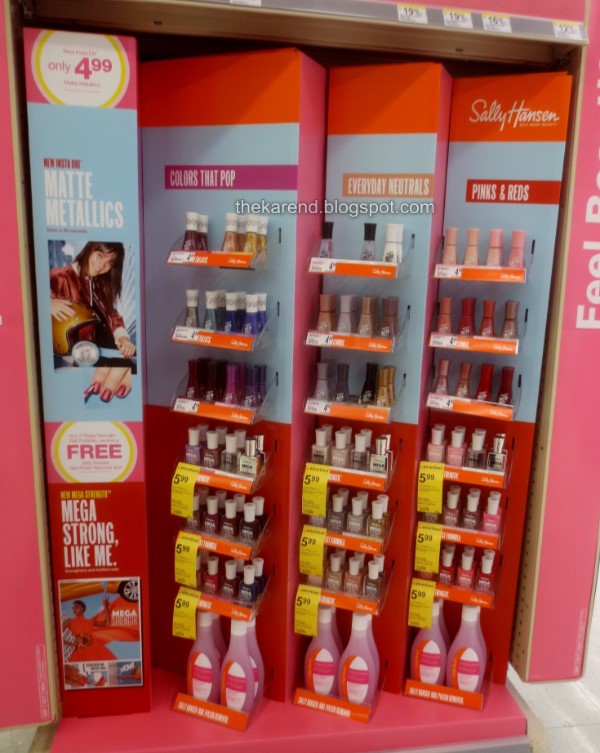 At Rite Aid, I saw the SinfulColors New Shades 2019 display. Front section: Hot Toffee, Street Legal, Show and Teal. Back section: Spring Fling, Violet Riot, Raisin the Roof.
At Fred Meyer, there was a Valentine's Day themed SinfulColors display called Mad Love. This was all core colors and repromotes, unfortunately. Front row: Snow Me White, Pinky Glitter, Decadent, Let's Talk, Frenzy. Back row: Clear Coat (times 2), Pink Smart, Bitten, 24/7.
Notice what I didn't see: the other winter colors from the Vanessa Hudgens collection. Last I checked, they were still on the SinfulColors website, but according to a message received from SinfulColors by one of the ladies in the Sinful group I'm in on Facebook, those colors won't be released in the US due to "unforseen circumstances". Apparently the collection is called WonderLuxe, which isn't on the website. The odd part is at least some of those missing shades have shown up in Australia; too bad swapping is so much harder than it used to be. In another odd turn of events, some other Vanessa Hudgens colors showed up at a small drugstore chain in the US that aren't on the website and look like spring/summer shades. I'm hoping those make their way to my area but I'm not hopeful.