I'm aiming to get a display post up on Thursday; I got distracted by huckleberry picking over the weekend and failed to spend enough time at my laptop to get all my display photos sorted out and cropped and described. But one has to pick while the picking is good, especially when one is going to miss another two weeks of the season due to a semi-unscheduled road trip (it's a long, not nail-related, story, so I'll spare you). Today, instead, I have the tale of some recent nails of the day, when I've once again turned to fake nails to protect my natural ones.
First in the order were some iridescent pre-glued nails from China Glaze; these were released with the Chic Physique collection. You may remember I was pleased with the silver chrome fakes from China Glaze that I shared
back in January
, so I was looking forward to wearing these. They're a different shape than the silver ones, with an oval tip, which is more my style.
Unlike the silver ones, which showed tipwear after about four days, these showed all over wear after only two days. That was disappointing. The glue also seemed less strong, though maybe it was just this tip shape is more prone to getting popped off.
Despite the coating wearing off so badly, I wore them one more day before removing them (which was easy, most just popped off easily, a couple I needed to drip remover along the side to loosen then) becase they coordinated so nicely with my shirt for the day.
After the China Glaze nails, I tried a new-to-me brand I'd picked up at a Sally Beauty store: Nailbliss Magic Press in the Runaway Star design. This pack had 30 nails in it; most were a pinky peach "creme", but some were accent nails, split evenly between white iridescent finish and gold/iridescent glitter. I used Essie TLC Gloss Fit (aka clear) as a base under the nails (not recommended on the Nailbliss box, but I don't like to put glue directly on my natural nails).
Like the China Glaze, these are pre-glued. Unlike the China Glaze, these have a plastic tab covering the glue, so it's easy to try them on for size. It's also easy to know which end is which, since the plastic extends at the base end of the nail.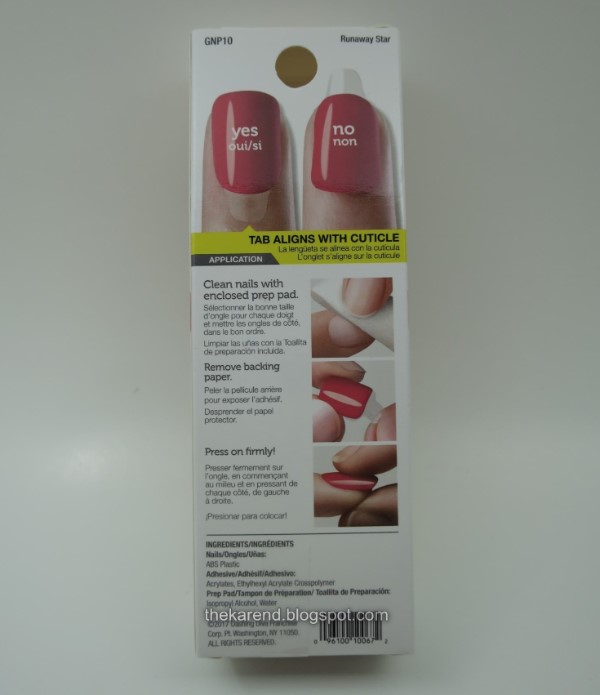 These nails were on the short side, though long enough to cover my natural nails, except for my pinky; there wasn't a size that was narrow and long enough at the same time. They were thicker than the China Glaze, so I think they look a bit more "fake", but I'm past worrying about that sort of thing. (And hooray for that!) It was somewhat frustrating to have to put the accent nails where they fit rather than where I wanted them. I only used the glitter accents this time. The white iridescent are still in the box, waiting for I'm not sure what—maybe I'll collect all my unused fakes and do a franken-mani one day.
A couple days later, these nails were looking as good as when I put them on (I'd taken off my ring here because we'd gone hiking and my fingers were swelling). The ski resort runs one lift during the summer, and Mr. K and I got the summer add-on to our winter season passes so we can ride up and enjoy the view whenever we like—as long as that's between 11 a.m. and 5 p.m.
Three days after that, they were still holding up quite nicely, with just a tiny bit of tipwear on the solid color nails, though that gap on my pinky was more gap-py due to nail growth. I did have a few of these pop off during the week, but it was simple to reattach with more Essie TLC ... that seemed to work almost as well as using nail glue and was way easier on my natural nails. The solid color nails here were more interesting than I'd expected ... depending on the lighting conditions, they looked peach or pink or even white at times.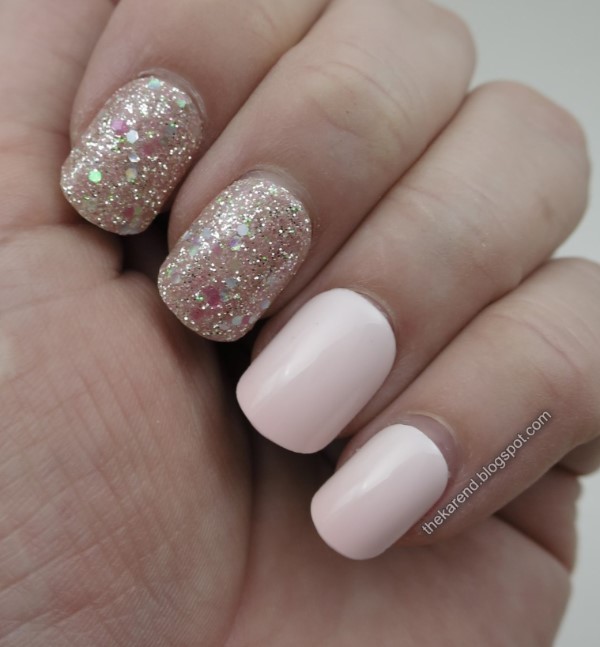 My peelies seem to be doing better lately (they often do in summer since the air isn't quite so dry), and the fake nails protect against the other type of damage I get, namely inattentively whacking my fingers into things and smashing the nail tips (every room in our house has the light switch at a different height/distance from the door, and I still have learned to find them reliably in the dark). I know a lot of people are "yuck, fake nails, those look bad" but I ignore them. I like wearing fakes at times, and I'm gonna keep doing it until I don't like it anymore.