Even though it's only been a couple weeks since my last
display post
, I've held out on posting Halloween displays as long as I think is prudent. I was waiting to spot a couple things I thought were out there, but at this point, I'm pretty sure if I was going to see them, I would have by now. The biggest surprise and disappointment this spooky season is the complete absence of pumpkin polishes. I've been to Rite Aid stores in three states in the last month and they were nowhere to be seen. I finally asked at one of the stores and the woman there said they'd gotten all their Halloween merch in already so she didn't think they were getting them. It's sad; those cute little bottles have been a holiday tradition the whole time I've been writing this blog. If you want to reminisce, I have a whole wheel of the old style round bottles
here
.
Up near the registers at Ulta, I found two sets of mirror finish fake nails from Blinking Beaute. These were oddly packaged, sliding around loose amongst glittery sequins in clear resealable pouches. That's Rosetallic on the left and Chrometastic on the right.
I saw the CND Vinylux Treasured Moments collection at Walgreens. Shades here: Secret Diary, Baby Smile, Cap & Gown (looks like a fall color, but the name says early summer to me), B-Day Candle, Wildfire, Married to the Mauve, Field Fox, Romantique. The first four colors are labeled as "new".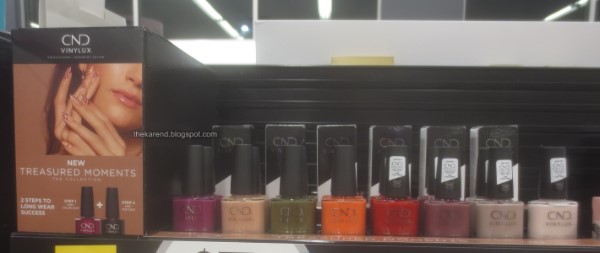 I'd not see Dashing Diva Brilliance and Gem Gem nail art stickers before I spotted them at Ulta.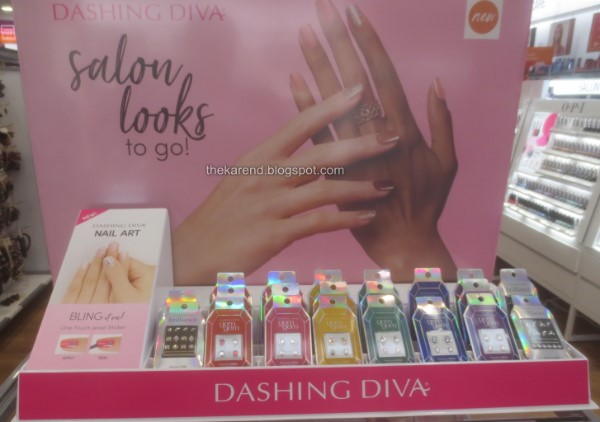 /
Ulta also had Dashing Diva Gloss nail strips, which I'd previously only seen at Sally Beauty.
Later, I saw the Dashing Diva Gloss strips at Walgreens for the first time. I probably should try these at some point.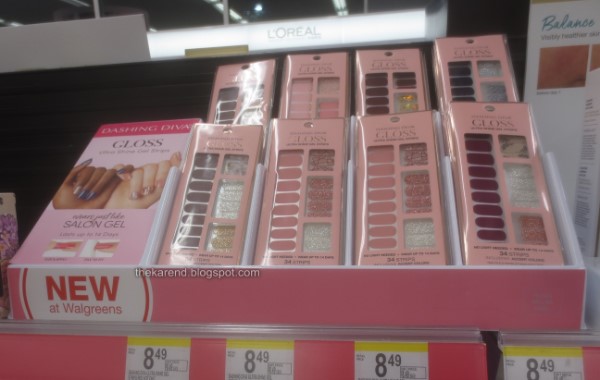 Fred Meyer had a display with a quick dry no-light gel line from Essence I hadn't seen before: Shine Last & Go. There were 10 colors plus Extreme Last Base Coat and Extreme Shine Top Coat. The shades are (starting in front row): Sweet as Candy, Arabian Nights, Love Me Like You Do, I Got Rhythm, Legally Pink, Zero to Hero, Believe, Get Ready, and Take Me to Heaven.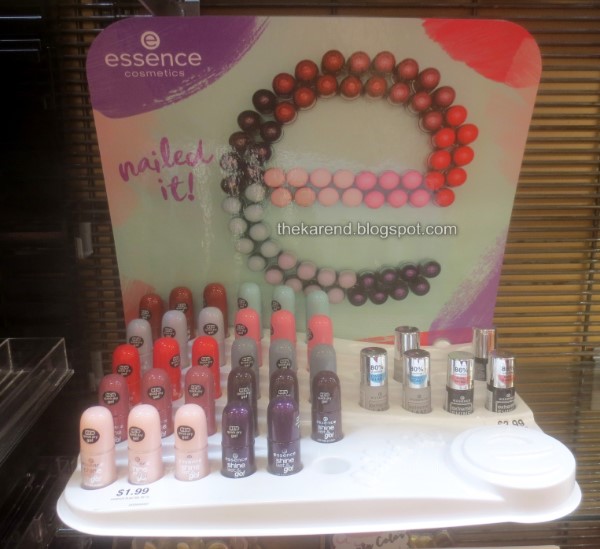 The Essie fall collection, Sweater Weather, is out now, seen below at Fred Meyer. Left to right: Easily Suede, On the Bright Cider, Home Grown, Sweater Weather, Rust Worthy, and Hay There.
Rite Aid had it in a four wide display that they put all six shades in. Look in the back if you want Hay There or Home Grown.
Also out now from Essie, and also spotted first at Fred Meyer: the Game Theory collection, with a velvet effect matte finish. Six shades here: Ace of Shades, Game Theory, Call Your Bluff, Going All In, Hold 'Em Tight, and Wild Card.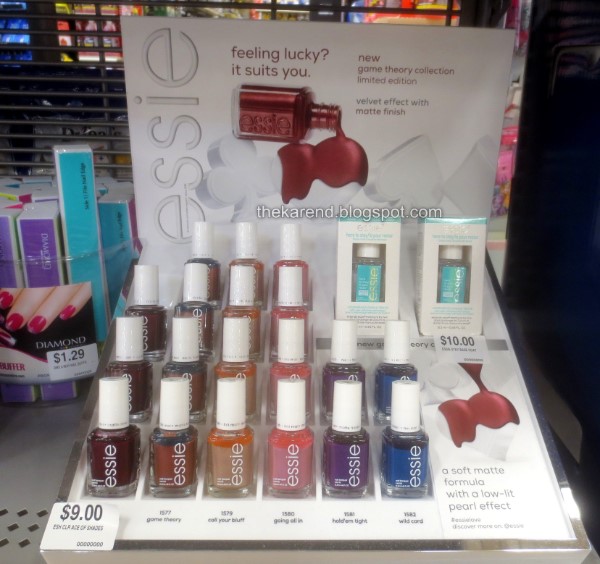 Walgreens had a sidekick with both the Game Theory and Sweater Weather collections.
Fright Night Claw Polish is back for the season; I've only seen it at Fred Meyer, though, and the colors are all re-promotes. There's Creepin' It Real (purple), Where My Witches At (green), Ghouls Night Out (red glitter), Gettin' Witchy With It (black), Ghostest w/ the Mostest (white ghost glitter), Skull & Crossbones (black, white, and orange skull and crossbones glitter), I'm Here for the Boos (off white).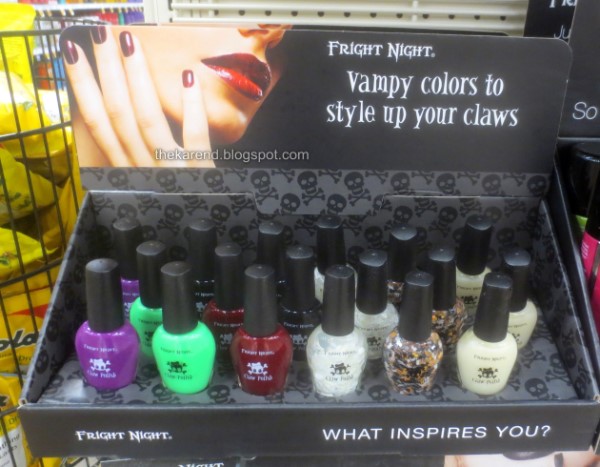 Fred Meyer also had Fright Night fake nails, some stick-on, some glue-on. (I also saw these in a sidekick display among false eyelashes and hair extensions.)
Walmart had an endcap of Halloween Essentials which had some sets of self-adhesive fake nails included. For $2.98, I'm not expecting super quality but bought a set with an eye toward wearing them for a night at a party.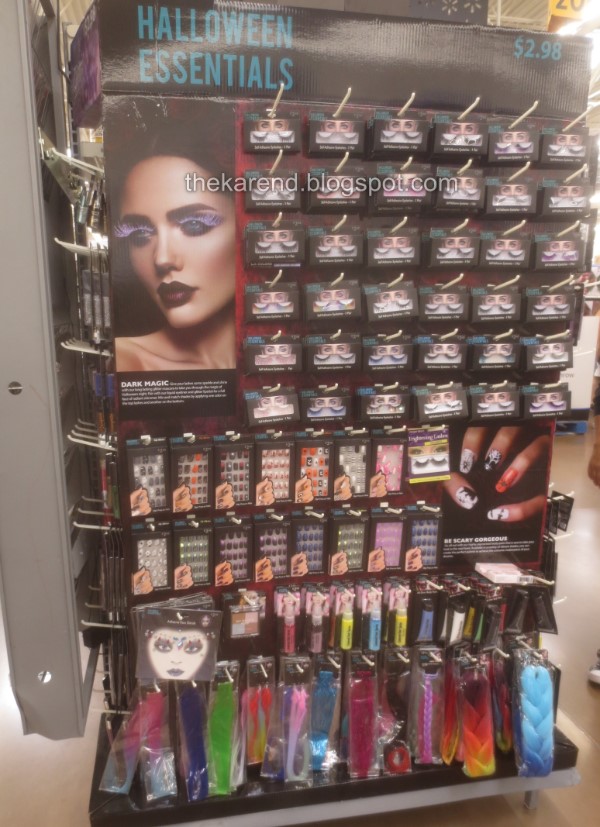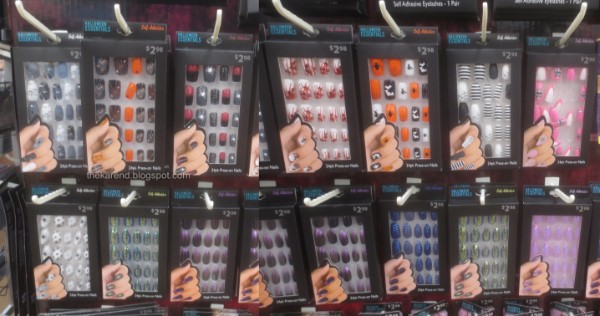 Kiss has a display of stick-on fake nails and nail art strips and stickers out for the season called "Find Your Spirit Animal". Oh hai, cultural appropriation. I saw this at Rite Aid.
There's a second Kiss fake nail display called "Own Your Bold"; this has glue on Gel Fantasy designs.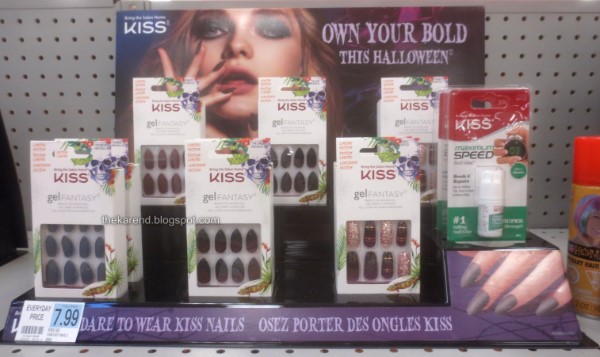 Several Rite Aid stores had a Kokie shelf top display that I almost passed over the first time I saw it because I assumed that like the last Kokie shelf top I'd seen, it would be all re-promotes. Nope. It was colors that weren't in the core display farther back in the store. Left to right: Fast Lane, Dock Party, Morning Glory, Cayenne, Under the Sea, Classic, Dessert Mirage, Silver Streak. I did see this display at one store with nine shades (the extra just set on the side next to the slots); the extra was Raise the Barbados, which is a core color and perhaps was just put in there by a confused stocker. In looking at the
Kokie Cosmetics
website to figure out if these are a limited edition collection or what, I noticed they have some other colors not in the core display that look interesting. I'm now pretending I didn't see those because my polish budget is all used up for a while.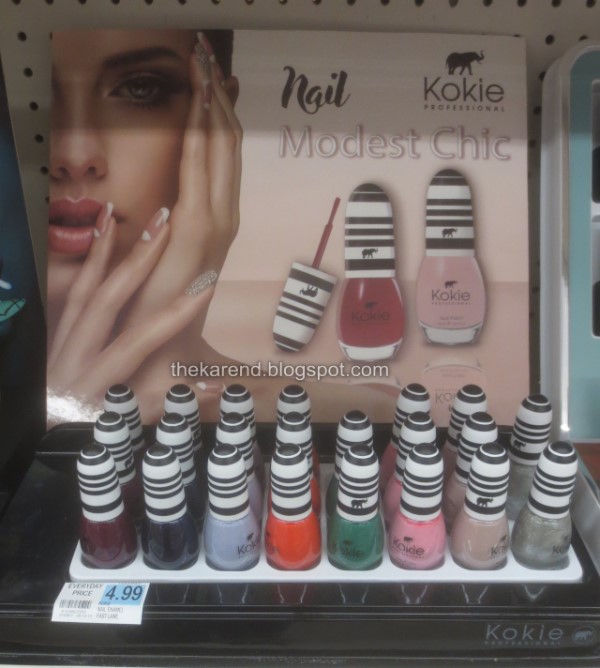 My local Walmart has had Halloween stuff out for quite a while, so I was beginning to think they weren't getting the pallet-sized Beautifully Bewitching display that I'd seen people posting about. It wasn't there on the 27th of September. When I went back the next time I was down in town, October 2nd, it was practically the first thing I saw when I walked in; they'd put it in the aisle between the registers and the seasonal section at the front of the store. The two sides face me were the fake eyelashes/colored hairspray and the LA Colors polishes. Pardon the blurriness of this shot; I was so excited to finally see it, I think my hands might have been shaking.
There's a lot to take in on the LA Colors side of this display (which my store had the SinfulColors header on for some reason). I spent quite a bit of time looking at each of the sections and moving bottles around to fix some of the randomness that existed before I got there. Mind you this is in the main aisle of the store, steps from the front door, and I'm taking pictures and rearranged bottles and no one said boo to me about it. A couple people talked to me, assuming I worked there even though I wasn't wearing a vest, but since their questions were nail polish related I was indeed able to help. Finally I got this side organized to my satisfaction, with the four different lines grouped together. The left third and bottom two shelves of the middle section are the LA Colors Color Craze Glow, which are black light reactive and new for this year as far as I can determine. The top four shelves of the middle third are the LA Colors Color Craze Creamy Neon shades, a re-issue from this past summer (thought they are not labeled as Creamy Neons here). The right third has LA Colors Mermaid Magic—which at first I thought was all re-promotes but turns out there are some new shades here—and LA Colors Unicorn Sparkle, which are all re-promotes.
It took a while to sort out how many of the Glow shades there were. I thought I'd pulled them all,then noticed that there was a blue I'd missed, then found a second hot pink that was very close to the first one I'd grabbed for my lineup. Eventually, I found 14 different shades (left to right): Ghost, Awe, Vampire, Zombie, Panic, Rave, Fearless, Haunting, Alien, Escape, Stalker, Underworld, Darkside, Fallen Angel. Fearless and Darkside are shimmers; the rest are cremes.

The Creamy Neon shades are Gossip (warm pink), Good Vibes (orange), Day Glow (yellow), Lucky (green), Splashy (blue), Chill Out (teal), Jazzy (purple), and Splashy (cool pink). See them in their original summer appearance in this
June display post
.
The three new Mermaid Magic shades are (all glitters, yay!): Hidden Treasure, Shimmer Mist, and Deep Waters.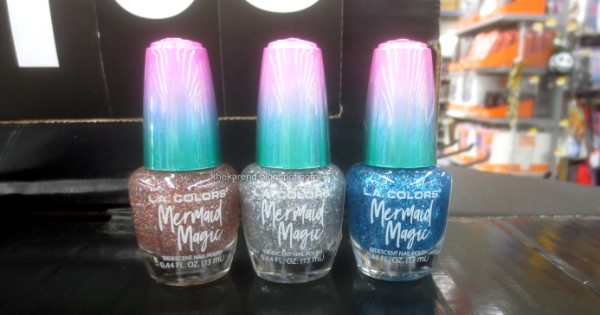 The previously released Mermaid Magic shades are here, too: Opal (pearly white), Coral Reef (orange), Pink Pearl (darker pink), Mystical (lighter pink), Sea Life (teal), and Mermaid (blue). Also the six previously released Unicorn Sparkle colors: Sugar Snowflake (white), Flurry Shine (blue), Candy Cloud (pink), Sweet Enchantment (purple), Unicorn Sparkle (iridescent white), and Sparkling Gem (purple). These were also in last year's big Halloween polish display at Walmart as well as in core displays in Dollar General and Fred Meyer stores. (See more of these two lines in last October's
display post
.)
Now comes the confusing part of the LA Colors Halloween polish story. I went to a different Walmart coming back from a trip to Portland and saw the big pallet display. A bright yellow caught my eye, brighter than the Creamy Neon one. I picked it up; it was a Gel Glow called Creepers. You can see it in the right hand section, second shelf; note it's not the same as the Creamy Neon in the second row of the center section. I am sure this wasn't in the first big display I came across. Whether it should have been, I'm not sure, as that one seemed pretty new and full when I found it.
I went to yet another Walmart to see what I could see; they had the big display that was if anything more full that the first one I'd seen, and the bright yellow was not in it. Imagine my surprise when I strolled over to the cosmetics section and found a new to me display with Kiss lashes and nails, Salon Perfect colored hair spray, and LA Colors polishes, including the mysterious yellow Jeepers.
I've been to several Ulta stores in the last month but only one had the LBK Nail Lacquer display. This touts that they're vegan, cruelty free, and 7 free. Each bottle has a nail tip attached to the handle that you can flip up and try next to your skin to see the color. (Several of the bottles no longer had their tip, so seems this innovation is maybe not as robust as would be ideal.)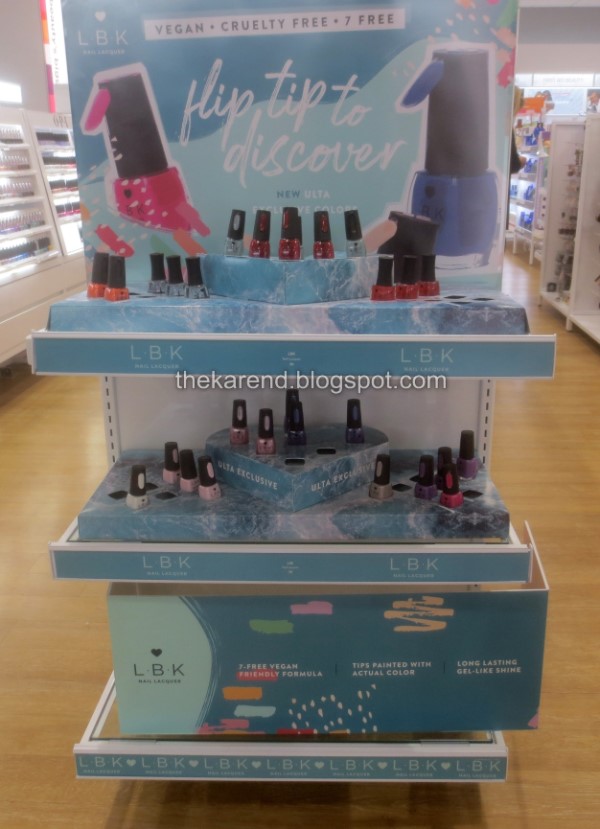 Top section had Strong Hildy (orange), empty slot for Gina's Generosity, Gel-Like Top Coat, Sandy Seas All (dusty seafoam), Sweet Carolyn (red), Gel-Like Base Coat (which has a red-orange tint to it), empty slot for Don't Steal My Teal, empty slot for Humble Riley.
Bottom section was Jewel of Janelle (white), empty slot for Katie's Witness, Kylie, Ulta-Licious (pink), Ulta Violet Rays (purple), Loveable Lindsey (pale taupe), Lady Diana (purple), Desiree's Destiny (hot pink). The two with Ulta in their name are Ulta exclusives.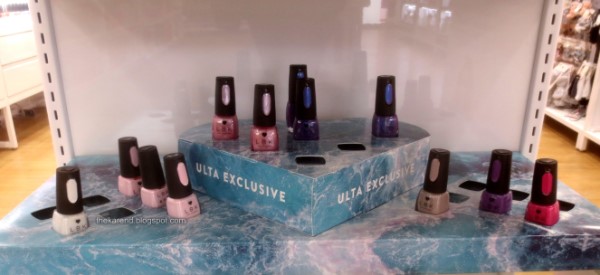 Londontown is a new to me brand I saw at Ulta. This seems to consist of a line of treatments and other nail care products called Kur and nail polish called LaKur.
The polish colors were all quiet shades. The names listed on the shelf were Honeymoon, Cheerio, Mauve Over, Natural Charm, Peach Please, and Afternoon Tea. I didn't pick up the bottles to see if they were in the right order beause I wasn't that interested. I do see they have a much wider selection of colors on the Londontown website, including a glitter I might have bought if it wasn't a) $16 and b) sold out.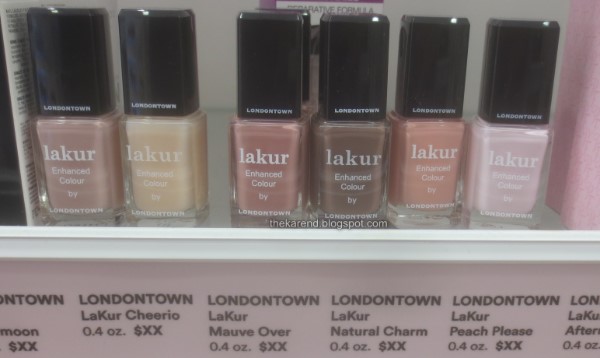 Ulta had a Sally Hansen Fall in Love display of Miracle Gel that said "Limited Edition" in one corner, but most of the shades looked like core colors.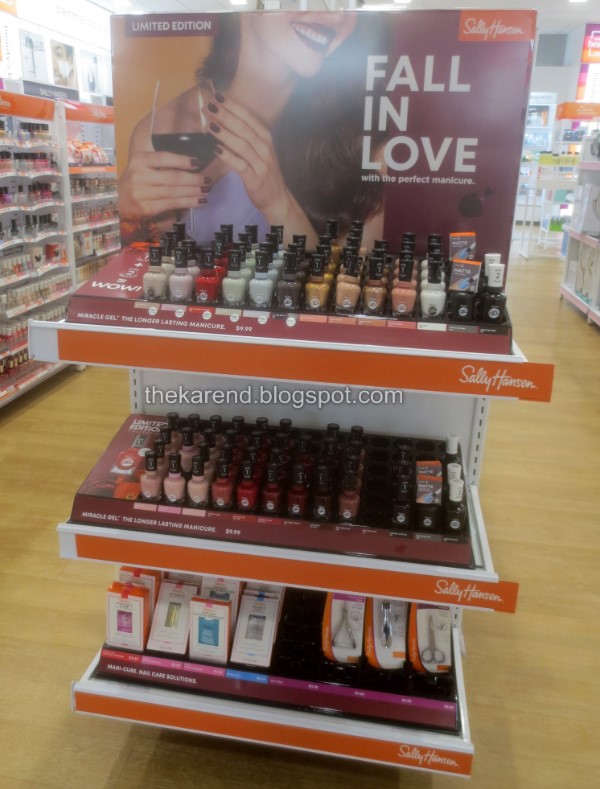 Maybe it's these six that are labeled "new + exclusive" that are the LEs: Just Brew It, Get in Carnation, Red Between the Lines, Like a Moss, Once Upon a Pearl, and Oh The Irony.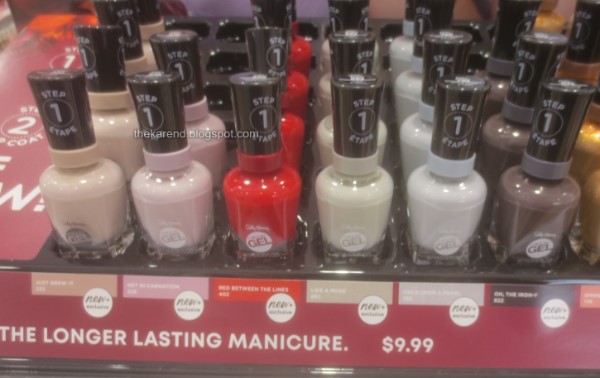 Walgreens had a Sally Hansen Xtreme wear Halloween display called Bewitching Shades, which looked like all core colors.
I saw a Facebook post about Sally Hansen Insta Dri glow in the dark polishes and looked and looked for a display. I never found one. I did find the polishes, on unlabeled shelves at both Target and Walmart. If I hadn't known about them and been on the hunt, I would have missed them entirely. Here they are at Target—see them there, in the top row?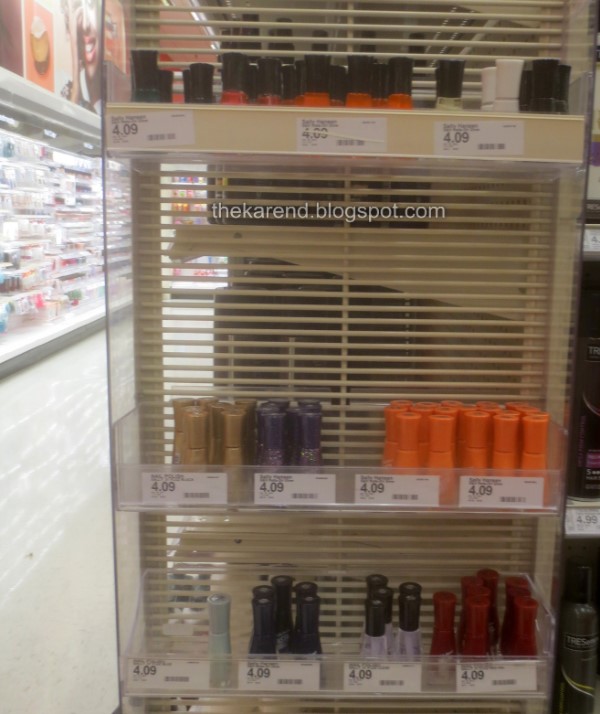 Here's a closer look. Left to right, that's Hallo-green, Glowing Night (shade 666, which made me chuckle), Boooo-tiful, and Happy Hollow-een. Core shades White on Time and Back to Black fill out the shelf.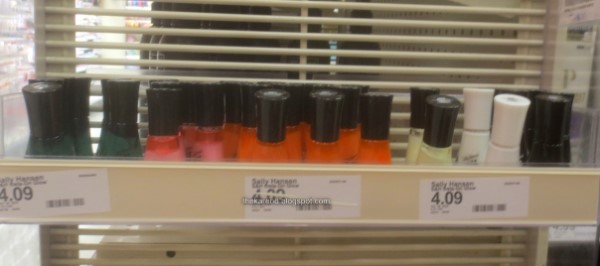 There were two shades on the lower shelves that didn't ring a bell: Get the Gold and Leaf Lined Trail (orange shimmer). No idea if these are new, LE, or what.
Here's how I found them at Walmart, just huddled together on a low shelf in front of other merchandise in the beauty section.
Because October is not just Halloween but also Breast Cancer Awareness month, we have a pink display from Sally Hansen. All core shades here as far as I can tell, though the Miracle Gel colors do have a pink ribbon wrap on the caps. I saw this at Walgreens.
One side of the pallet display at Walmart had the SinfulColors Halloween polishes, the Wicked Neon collection, on the top row (well, after I rearranged things a bit and took out the random bottles people had put there and pulled up the limited editions from the lower rows, which were otherwise filled with a selection of other Sinful polishes). If I'd been slightly more bold, I would have twirled the top piece of the display around so the LA Colors header weren't above the SinfulColors section and vice versa.
There are eight new ones here, all with "blacklight technology", though three of them have stickers on the caps touting them as "Bebe's Shade" instead because I guess those were designed by Bebe Rexa? It's like some of the Velvet Obsession were her shades and some were the same finish but not hers. Anyway, there are four glitter and four cremes, paired nicely. Left to right: Glow for It, W*tch Please, Cyber Witch, Techno Violet, Magic Hack, Blue in the Dark, Wicked Gaze, Witchs Brew (yeah, "witchs" not "witch's").
I saw two of these colors (Techno Violet and W*tch Please) at Target on an end cap; apparently those are the only two shades the chain will be stocking from the collection per something I read online.
There was more SinfulColors content on a third side of the display, but these were fake nails: SinfulColors Claws. They're the ones in the black boxes in the lower right; the rest of the nails are Kiss and imPress designs, and there are LA Colors makeup kits along the bottom (those have one polish each in them, all looked to be cremes).
There are four Claws designs: Web of Lies (purple and black), Psychedelic Potion (lime and black), Bad to the Bone (red/black/white, this is Bebe's Nail Art), and Cat Call (black with white). All glow in black light.
I ventured into a Spirit of Halloween store and found a selection of fake nails under their Spirit brand.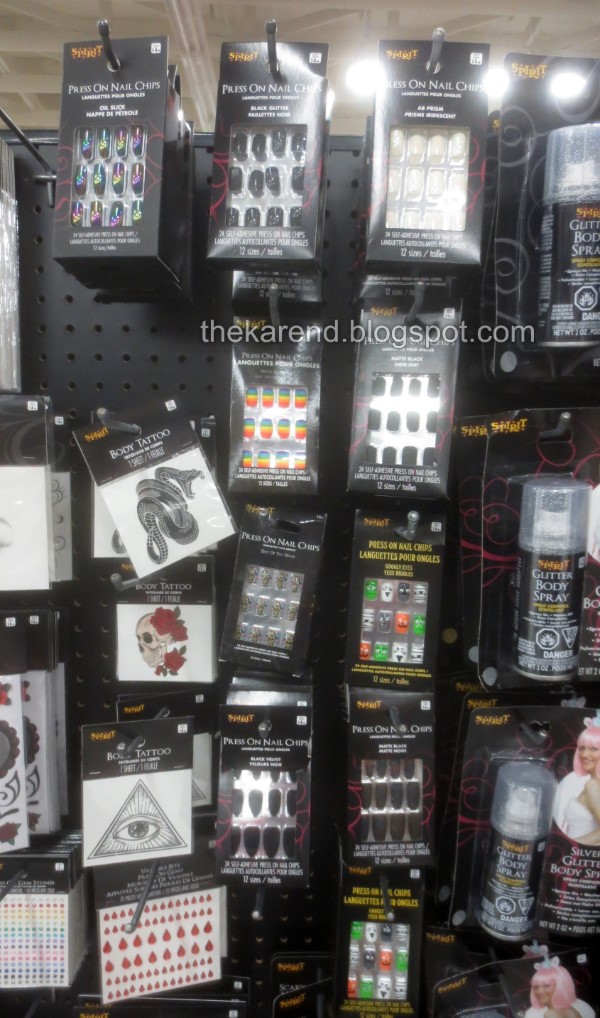 Whew. That's all for now, folks. If you've seen a display of those Glow in the Dark Sally Hansens, I'd love to see it!