I can buy nail polish way faster than I can swatch it, which means bottles get stuck in my swatch boxes and eventually I have too many swatch boxes, so I go through them to move things to the "put on nail wheels" shelves. Sometimes I find things that catch my eye all over again so before they get moved, they get swatched, months and months (somtimes years?) after I bought them. Today's example: Essie's Roll With It Collection, which I believe was released for fall 2020 and which I bought in fall 2021. There are six shades, all shimmers with a scattering of holo microglitter: Sequin Scene, Roll With It, Let's Boogie, Whirl 'n' Twirl, Lace Up & Get Down, and Head Over Wheels.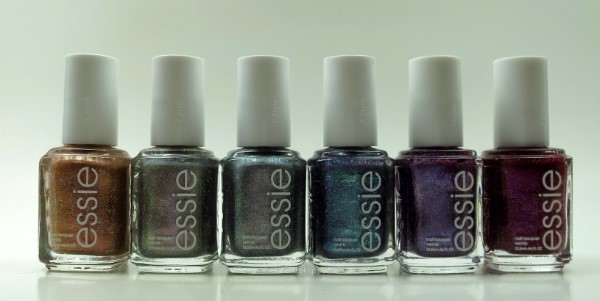 These looked like two distinct trios to me, so I swatched them that way, starting with the more neutral hues: Let's Boogie (pewter-leaning silver), Roll With It (pinkish taupe-leaning silver), and Sequin Scene (brown-leaning orange). I did a sponge gradient with them on my index finger, then Let's Boogie on my middle, Roll With It on my ring, and Sequin Scene on my pinky. All of these were three coats for me.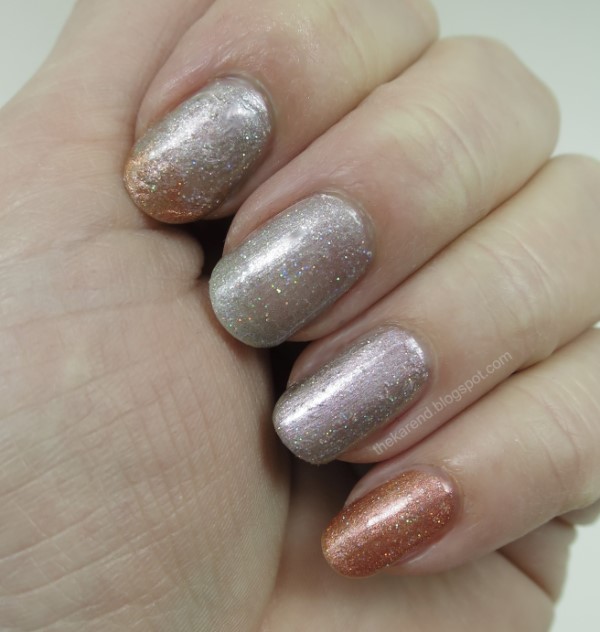 The difference between the two silvers on the nails is more subtle than it is in the bottles. Roll With It is a touch cooler-toned and seems to have a slightly less dense shimmer base. I wish instead of one of these, they'd done a deeper grey, not quite charcoal. Or a teal.
I topcoated the gradient, and should have topcoated the other nails, as these do have a slightly gritty look without it. Still, the holo microglitter catches the light very nicely, distracting from what might be too much brushstrokey-ness otherwise for some of the shades.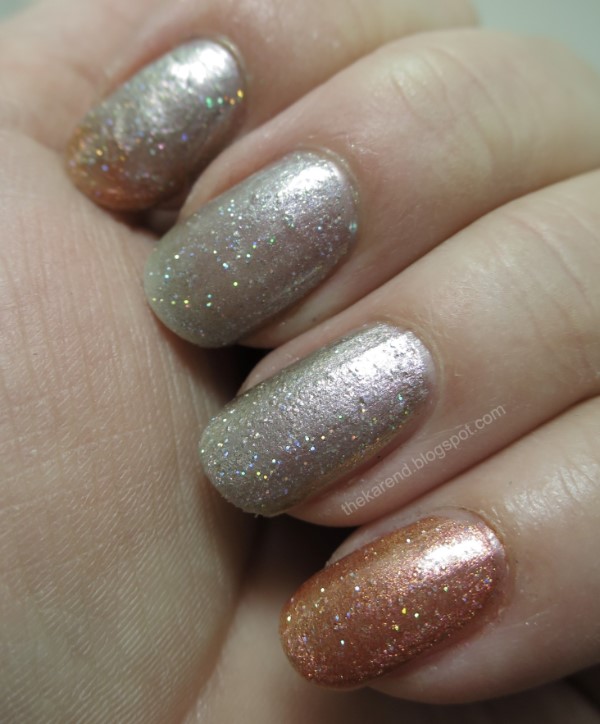 Then I took the same approach with the more vibrant shades. A gradient on my index, then Whirl 'n' Twirl (blue) on my middle, Lace Up and Get Down (purple) on my ring, and Head Over Wheels (hot pink) on my pinky. Whirl 'n' Twirl was three coats and the others were two. Again, I added topcoat just to the gradient. I loved how these shades blended.
Lace Up & Get Down seemed to have the densest shimmer, with fewer holo bits showing color in it that the others, though a few did pop through at some angles.
The sun came out while I had this last trio on, so I hustled over to the window and was rewarded with this glowy-ness:
If I had to choose just one of these (and at some point I might, as I cannot move into assisted living someday with thousands of bottles of nail polish), it'd be the blue, Lace Up & Get Down.