Getting this year's Sally Hansen Insta Dri Glow in the Dark swatches in under the wire while it's still Halloween. I chose to get these five: Purple Potion, Squad Ghouls, Gourd-geous, Ghosted, and Witch Please. (The other two limited edition colors were re-releases from last year, the pink Creep It Real and the pale yellow green Fa-boo-lous. I got and swatched those
last year
even though they were basically re-releases then too, just with the names changed from 2020.)
Due to my continued impatience, I quickly skittled four of these, doing two coats each. Top to bottom: Ghosted (sheer pale yellow green with matching hex and bar glitter), Squad Ghouls (sheer pale sea green with holo micro glitter), Purple Potion (sheer pale purple with pink/purple/blue shimmer), Witch Please (sheer pink with pink/purple/blue shimmer). You can see that the glitter in Ghosted needs care that I did not give it in order to distribute evenly across the nail.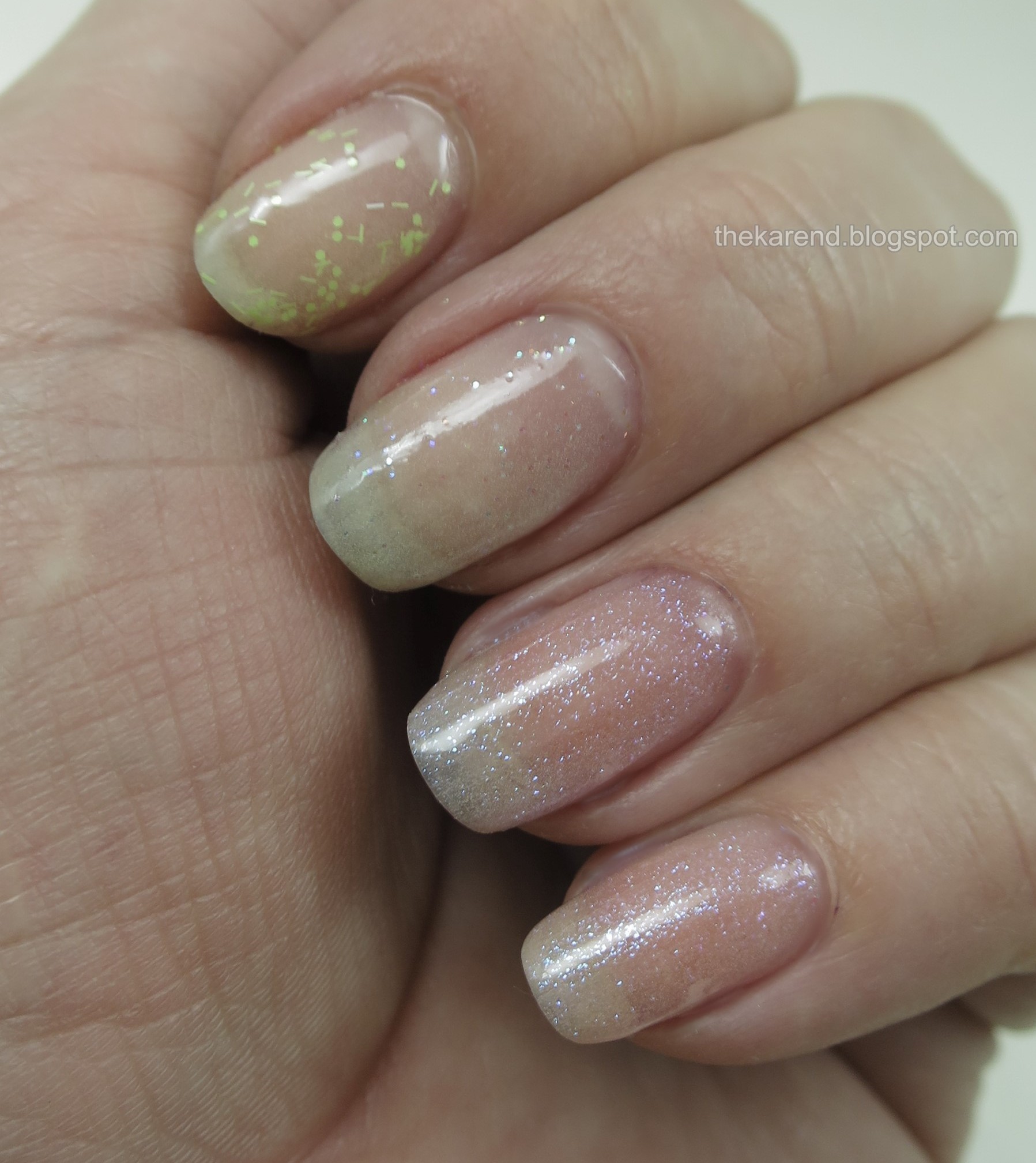 The glitter in Squad Ghouls showed up better at some angles than others. On the nail, Purple Potion and Witch Please were pretty much indistinguishable from each other since the base colors are so sheer and the shimmer appears to be identical.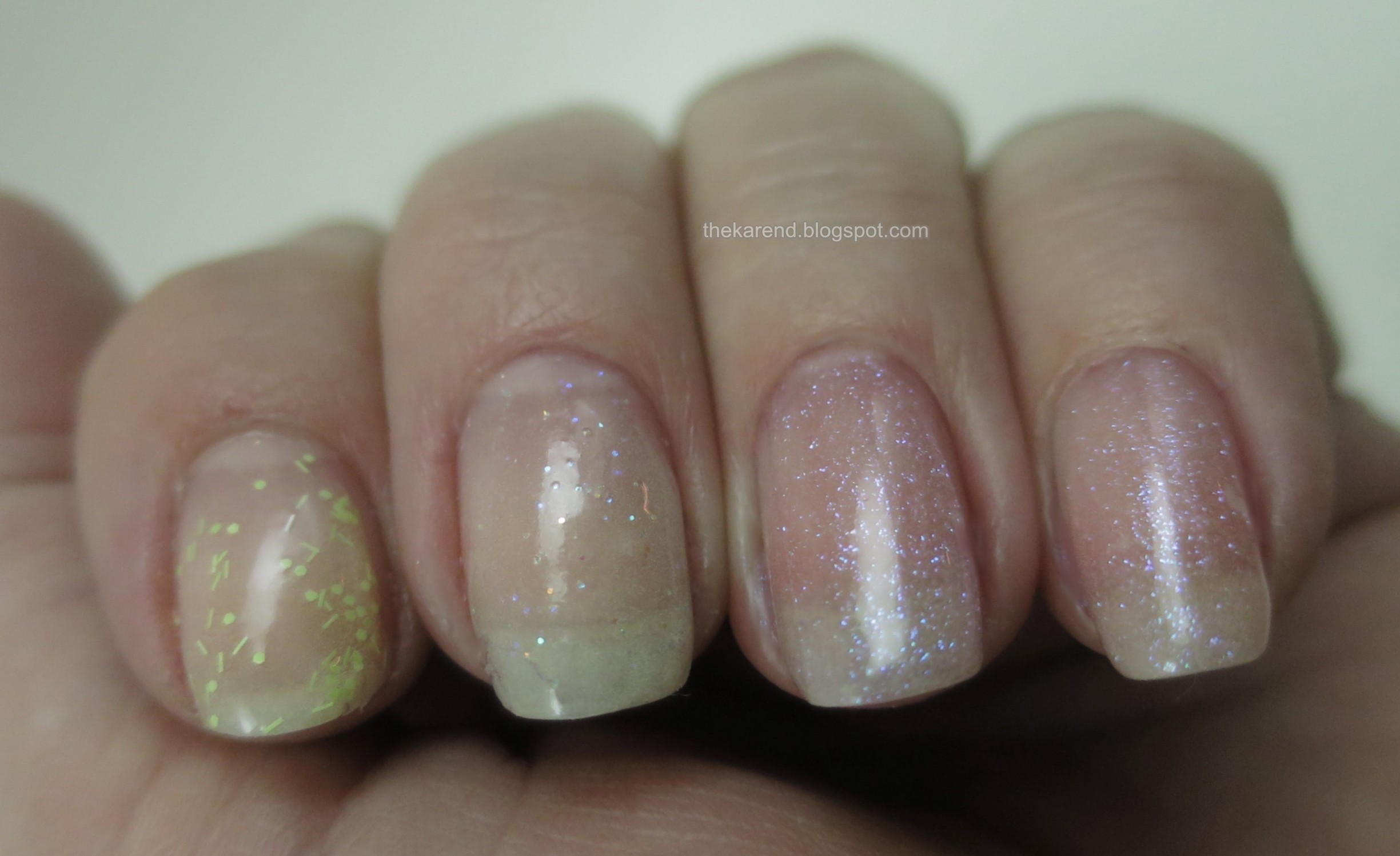 After charging, these all glowed about the same once the lights went out. My camera (at least as used by me) wasn't able to capture the way the glitter in Ghosted showed up against the glowing background; it made it more interesting to look at in the dark that the other three.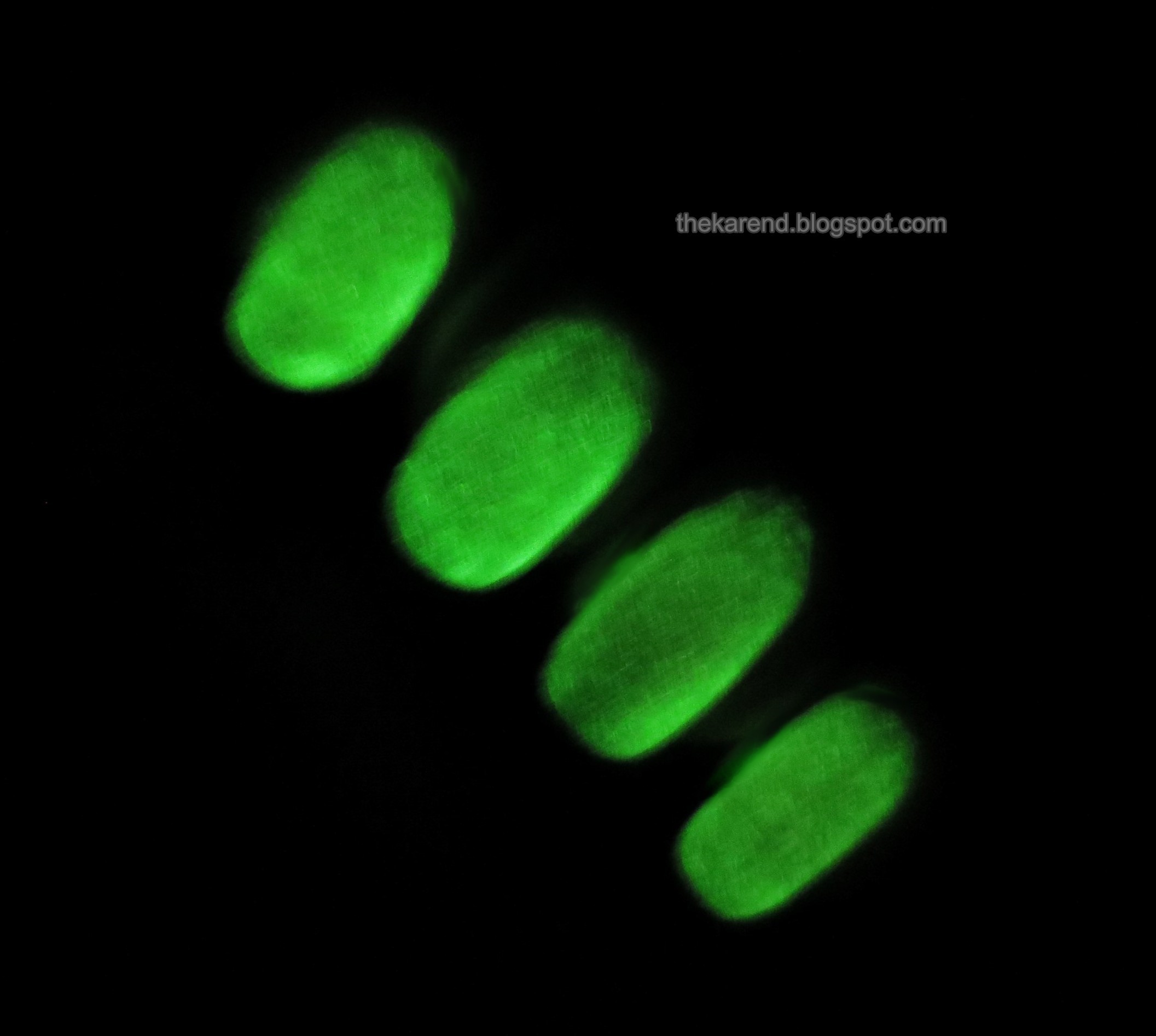 Gourd-geous (orange and black matte glitter in mixed sizes in a sheer orange base) hadn't gotten its time yet, so I did two coats of it on my index finger for my next hand of skittles swatched. I put a black creme base on my other digits and topped that with Ghosted on my middle finger, Squad Ghouls on my ring, and Witch Please on my pinky.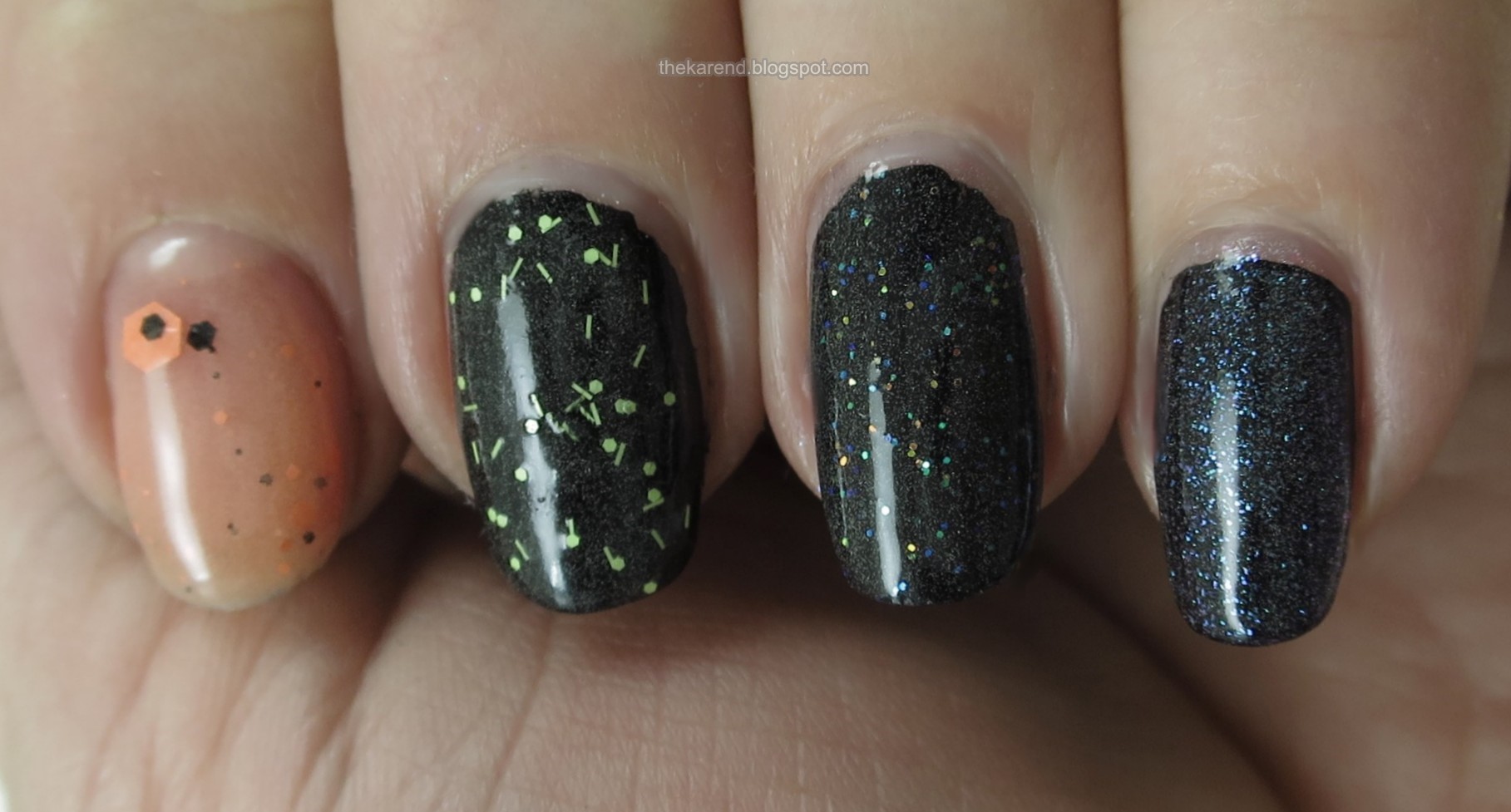 I had to fish for the bigger glitter pieces in Gourd-geous. I did a better job distributing the glitter in Ghosted this time around. Squad Ghouls shines over black, looking like a night sky, with the speckles from the glow in the dark base making a sort of Milky Way effect behind the glitter. Witch Please (and I assume Purple Potion, too) shows up as a blue shimmer over the black.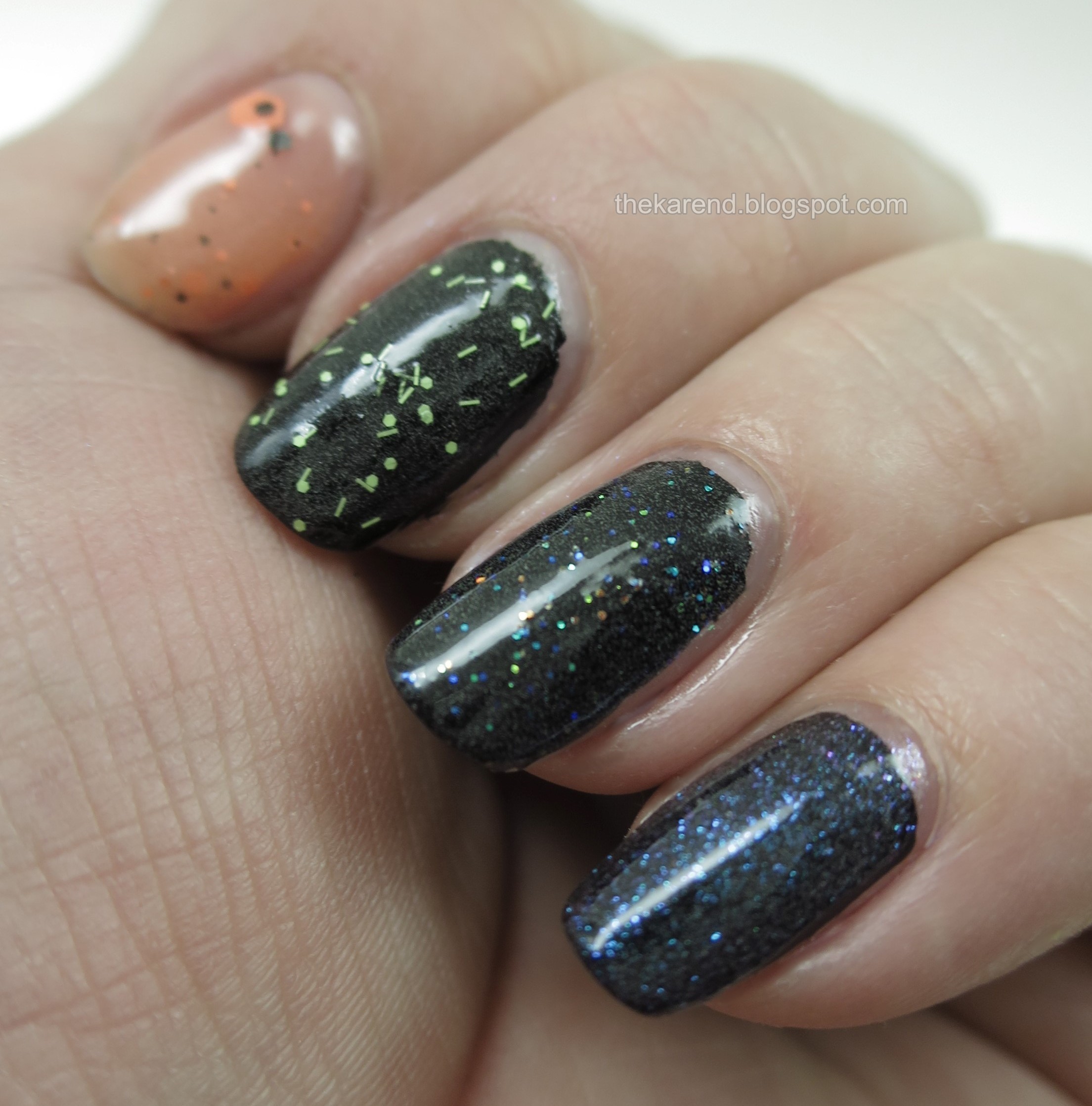 In the dark, Gourd-geous glowed brighter than the others, as it was two coats to their one. So much glow that it lit up the skin on the finger next to it. (The blue glow on the right side is my knuckles catching the dim black light I failed to turn off in the room ... I took some other shots after I did but I liked the ghostly hand effect here.)
I applaud Sally Hansen for giving us a Halloween collection when so many brands have given up on that. I don't even mind the two re-releases because new folks come into the nail polish world all the time and they should have a chance to get classic shades they missed.