I've been home long enough from my trip to have unpacked and caught up on laundry and put all my new nail polishes on my spreadsheet (well, except the bottles I got on my day trip to Spokane last week), so I've finally been able to go through all the display pics that have piled up on my hard drive since my last
display post
, most of them taken in the 2300 miles (3700 kilometers) between my home and Toronto (and yeah, I drove back, too, and via slightly different route than I took out, but I didn't feel right calling this post "4600 miles of displays" when so many of those miles were the same ones, just traversed several weeks apart).
This is likely going to be my most picture-heavy post ever, so if you are looking at this post on my main page and see a "read more" link, don't be surprised. I've avoided them until now, as I like to see everything on one page when I go to a site, but sometimes they're necessary (and I understand Google may penalize in seach results if a page is slow to load due to many photos, so I may end up using read more links more often to avoid that).
I saw the three fake nail sets for China Glaze Shades of Paradise at my Ulta before the polishes showed up. There's a mermaid scale with purple accents, a purpley pink iridescent, and a pastel blue with gold crackle accents. Oddly, they were in a display left over from the Chic Physique collection.
Sally Beauty had a China Glaze Shades of Paradise display with the fake nails plus the polish colors, though most were sold out by the time I got there. There was also a mini set, and a nail art kit with two colors of polish and some decals.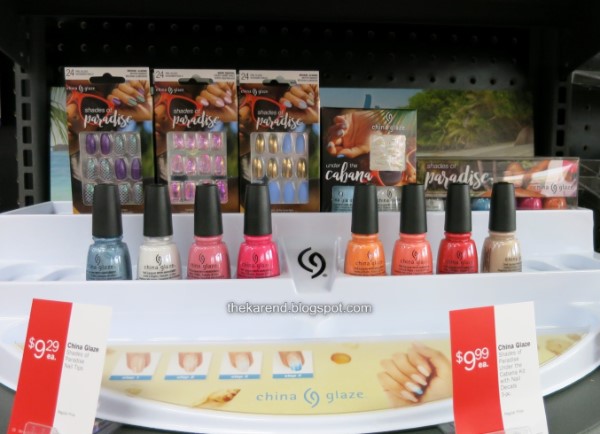 Fred Meyer finally had an Essence display, Color Shock, with nail polish in it, and not core shades of the Gel either. Too bad they were simple white, red, and blue cremes, but still. The white was French Manicure It's Perfectly Fine. The red and blue were labeled "Colour Boost High Pigment Nail Paint"; red was called Instant Kiss and the blue Instant Match. If I did stamping regularly, I probably would have grabbed the red and blue to try but I don't so I didn't.
After I crossed into Canada to go to IEC, I stopped at the first Shoppers Drug Mart I could find, where I surprised to see that the Galaxy Nails section in the Essence display had two more Out of Space Stories polishes in it than it did at Ulta in the States. (You know I grabbed them as soon as I took the photo.) Left to right: Outta Space is the Place, Across the Universe, Space Glam, Beam Me Up (not at Ulta), Intergalactic Adventure, We Will Spock You, 1000 Light Years Away (not at Ulta).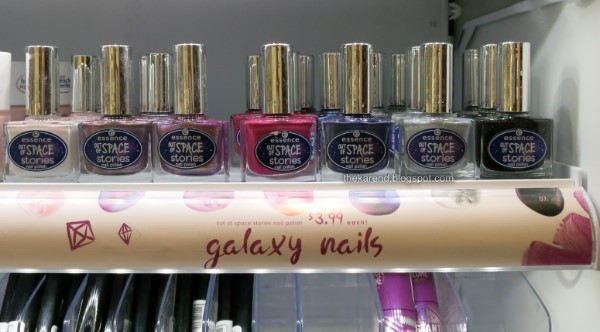 The Essie Summer 2018 collection is out. I've seen it at Fred Meyer, Rite Aid, and CVS in recent weeks. Left to right: The Fuchsia is Bright, Young Wild & Me, Empower-mint, All Daisy Long, Sunny Daze, Making Harmony. There's also Gel-Setter top coat in this display.
Of course I visited several Five Below stores when I was in their territory. One store had a Fresh Paint thermals—sorry, Body Heat Activated Mood Changing Nail Polish—display with one shade I hadn't seen before and two I had. Left to right: Strawberry Daquiri (new to me), Mai Tai, Tomorrowland.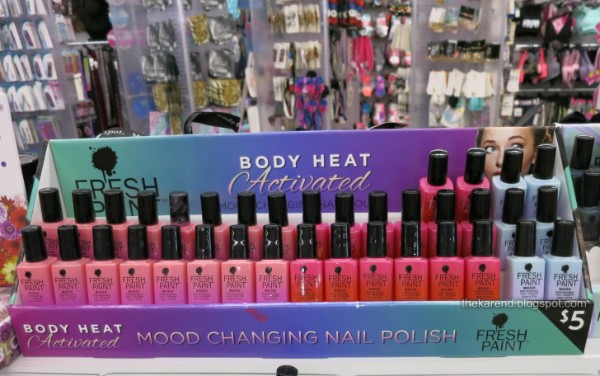 The Fresh Paint holos I saw were the same four as on prior trips; the difference was now they had a sticker on the cap that marked them as "Holo".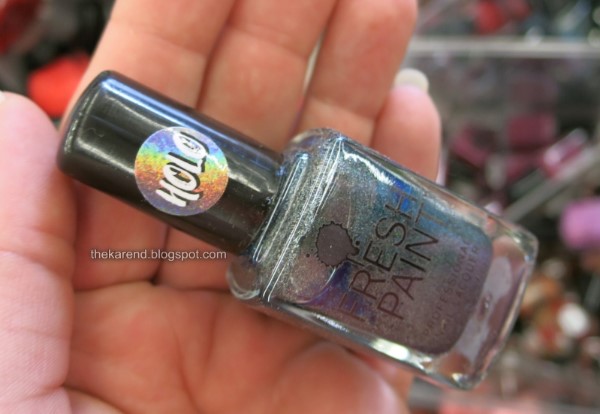 I only found one new shade in the regular Fresh Paint bins: The Upside Down. I knew to look for this one because I'd seen it in a Facebook group; otherwise I might have overlooked it, as it's similar to previous colors that are still around.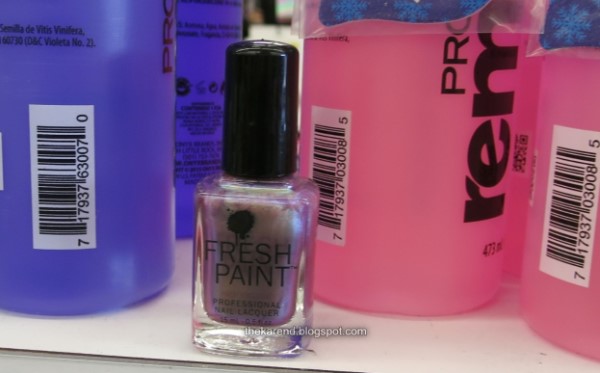 There was only one Funky Fingers I hadn't previously seen: Supernova.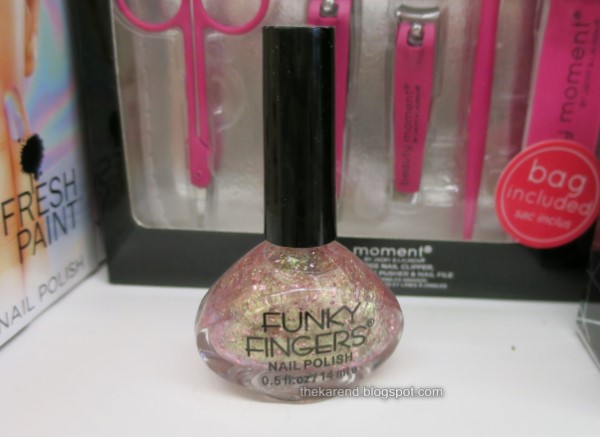 I'm not sure I've seen liquid latex at Ulta before I spotted the Kiesque Liquid Palisade display. This had two formulas, one that goes on polish (as for French manicures) and one that goes on skin.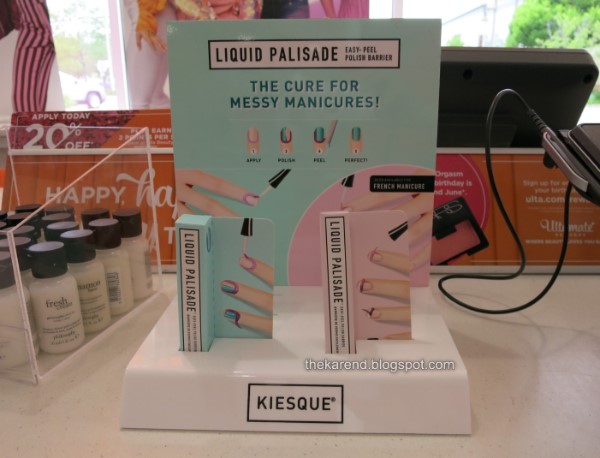 Bed Bath & Beyond stores with a makeup section were on my list of stops on my trip, which is how I came to see the brand Kokie for the first time. It was just in the regular aisle, not on the seasonal display shelves. Top row: Charisma, Citrus Splash, Atlantis at Last, Be Mine, Darling Dahlia, Blossom, Silhouette, All the Envy. Second row: Grey Area, Night Flight, Enigma, Knockout, Bewitching, Wondrous, Razzle Dazzle, Euphoria. Third row: Sun & Sand, Celestial, Felling Lucky, Sparkler Send Off, Crown Jewel, Oceana, Rock Star, Splendor. Fourth row: Intergalactic, Twinkle, Pop the Champagne, Mystic Mauve, Center Stage, Royal Flush, Fairy Dust, Northern Lights. Bottom row: Smoldering, Silver Streak, Ski Patrol, Forget Me Not, Fresh Picked, Girls Night, Wishful, Blackout.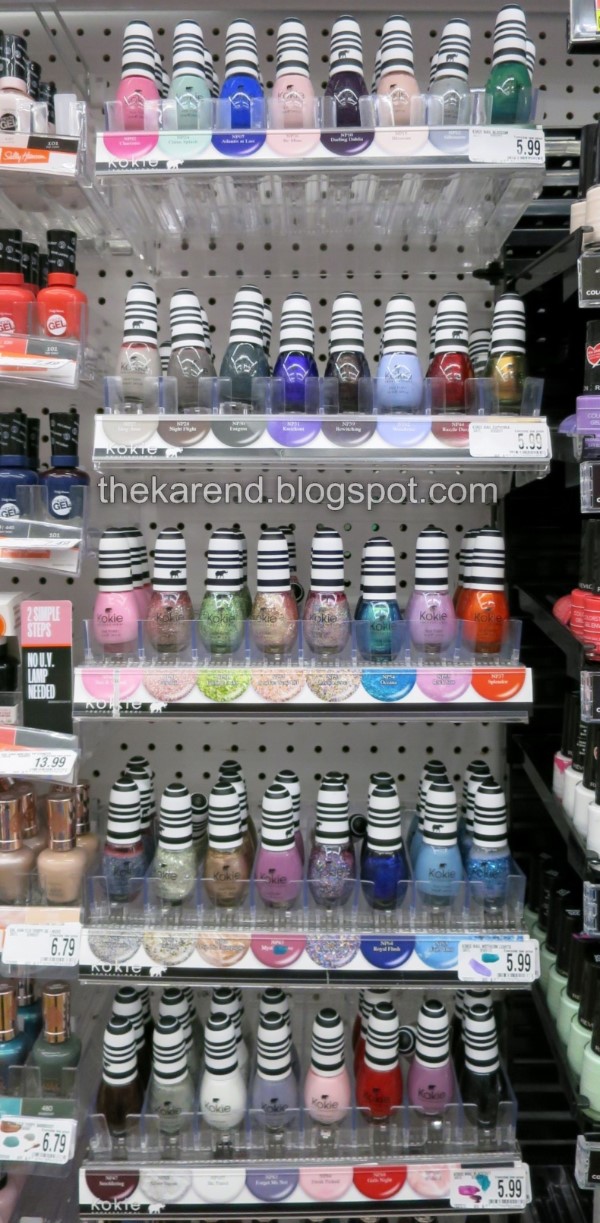 While I was in Michigan, I had lunch with
Tracey
, who had seen Kokie at Rite Aid there, again not in the seasonal display area but back farther in cosmetics. Of course I had to try and find them there, too, and sure enough, there was a Kokie display in the next Rite Aid I went to on my trip (and I've seen them here in Idaho since I got back). The polishes are tucked into one side of the endcap display, so if you're just walking by you might miss them.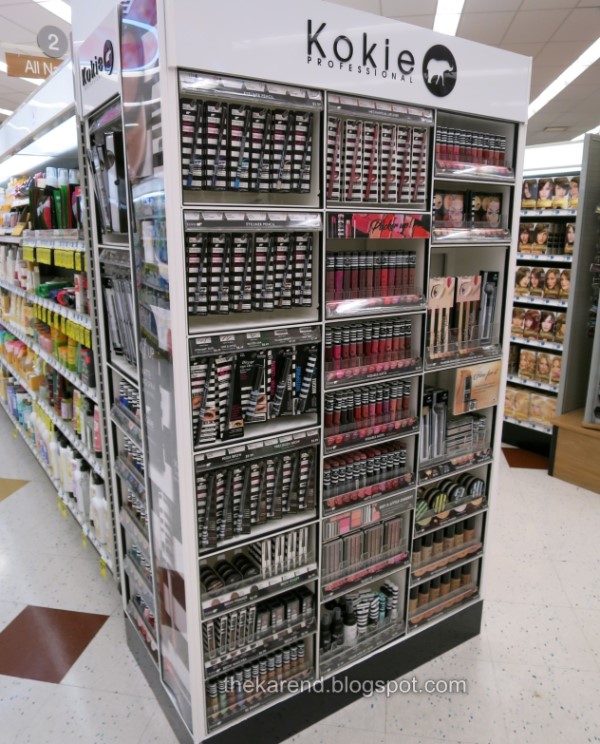 When I looked closer, I found two things of note compared to Kokie at Bed Bath & Beyond: they were priced a dollar less at Rite Aid ($4.99 vs. $5.99) and there were five fewer spots for polish here. When I compared the lineup to BB&B, I found there were polishes here that were different. Top row: Raise the Barbados, Atlantis at Last, On the Hunt, Darling Dahlia, Blossom, Silhouette, Grey Area. Second row: Night Flight, Cafe Ole, Enigma, Knockout, Bewitching, Wondrous, Mystic Mauve. Third row: Razzle Dazzle, Euphoria, Smoldering, Celestial, Feeling Lucky, Sparkler Send Off, Crown Jewel. Fourth row: Oceana, Intergalactic, Twinkle, Pop the Champagne, Center Stage, Royal Flush, Northern Lights. Bottom row: Inked, Forget Me Not, Fresh Picked, Girls Night, Wishful, Ski Patrol, Blackout.
I stumbled across something new from Morgan Taylor at Ulta: three shades in the Platinum line, which are holos: Holo Lover, Liquid Bling, and It's Lit. These were tucked into the core display. There were three other colors in this collection that I didn't see slots for; maybe those were reserved for pro shops.
In the better late than never category, my store put out the Ulta exclusive shades for OPI Lisbon weeks after they had the main collection. Three colors here: Climb Every Castle, Can I Bairro This Shade, and And the Raven Cried Give Me More.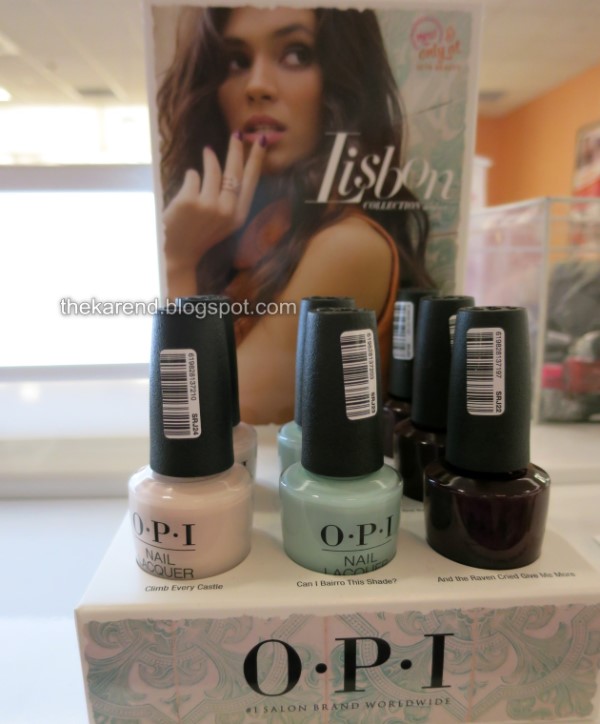 As per usual out here, NW Beauty was the first to put out the new OPI display, Pop Culture. This has six shimmery textured polishes (OPI is apparently not giving up on textures yet). Lower level: Pop Star (purple), Days of Pop (light blue), Bumpy Road Ahead (blue). Upper level: Hate to Burst Your Bubble (yellow), OPI Pops (orange red), Pink Bubbly (pink). There is a Pop Culture mini set (not shown) that has OPI Pops, Pink Bubbly, Pop Star, and Days of Pop.
When OPI Pop Culture did show up at Ulta, it was in a big display with some coordinating colors to go with the textures, plus a nail art tutorial on the table cover in some stores. Front/bottom section: Pink Bubbly, Days of Pop, Bumpy Road Ahead, Hate to Burst Your Bubble, Alpine Snow, Black Onyx. Back/top: Pop Star, OPI Pops, Gelato on My Mine, Got Myself in a Jam-balaya, Two Timing the Zones.
The Pretty Woman fake nails I shared in my recent
NOTD post
came from this display, shoved into a corner in a Walmart in Montana: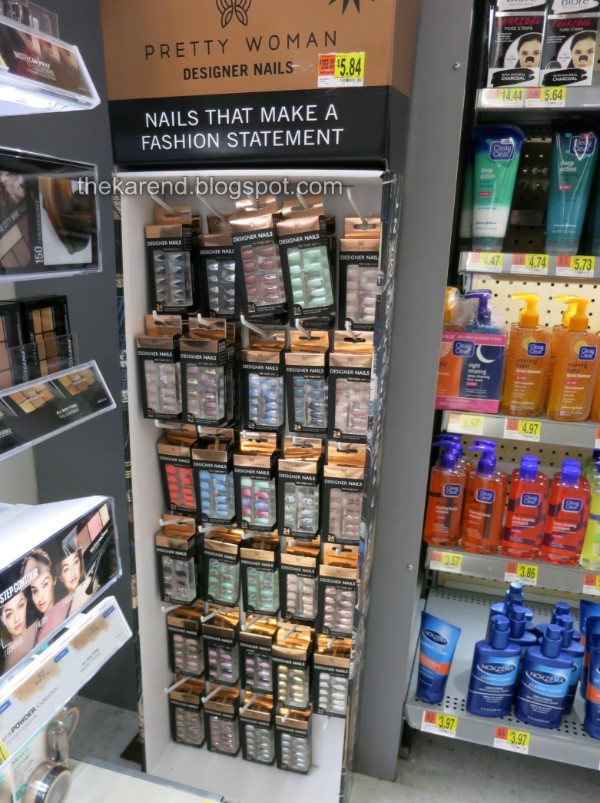 I was intrigued by this Pure Ice Color Crew display I came across in the Midwest somewhere (it all blends together sometimes). I can't find any reference to it on the Pure Ice website, and the models on it are wearing hats that look sort of wintery to me, so I don't know if this is leftover from another season or what. The feature here seems to be some metallics with Cosmic Chrome stickers on the caps; those are labeled as limited editions. Top row: Goldie Locks (x2), Keep Comet (Cosmic Chrome), Meteorite or Wrong (Cosmic Chrome), Chrome on Over (Cosmic Chrome), Extra Terrestrial (Cosmic Chrome), Infinity & Beyond (Cosmic Chrome), Need an Alloy (Cosmic Chrome), Saturn's Rings (Cosmic Chrome). Second row: Studette, Outrageous, Meteorite or Wrong, Saturn's Rings (x4), Y'orchiding Me (new shade), Extra Terrestrial. Third row: Goldie Locks, Risk Taker, It's All a Bluer, Risk Taker, Y'orchiding Me, Twinkle, Taupe It Off (new shade), Risk Taker, Need an Alloy. Bottom row: Stone Cold (x4), Respeck, Wear Red (x2), It's All a Bluer (x2).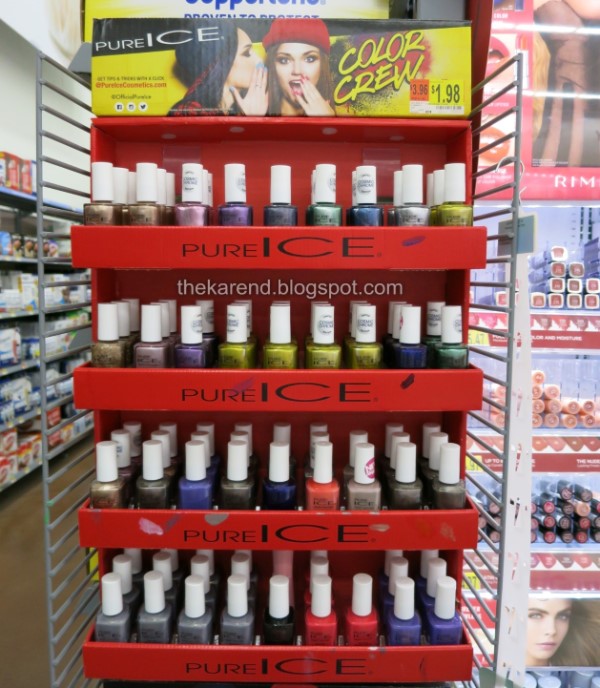 The Cosmic Chrome mystery developed on my trip home, when I found a Pure Ice Space Jams display, which had several of Cosmic Chrome shades in it and the tag line "Welcome to a New Dimension of Cosmic Color". I feel like this is where they belong, and the other store had just consolidated their Space Jams display into the Color Crew one.
Also on my trip home, in a different Walmart, I saw the Pure Ice Girl Gang display, which was very picked over. I rearranged it so the limited edition colors (based on reading the fine print on the display) were together in the top right and gave up on organizing or documenting the rest of the randomness there.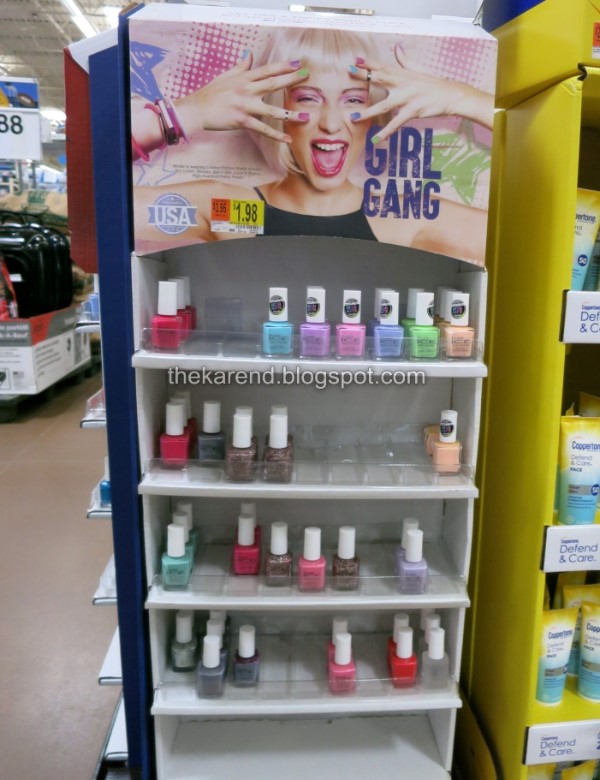 LE neon matte shades: High Five, Get It Girl, Besties, Loud and Proud, Girl Crush, and Pretty Power.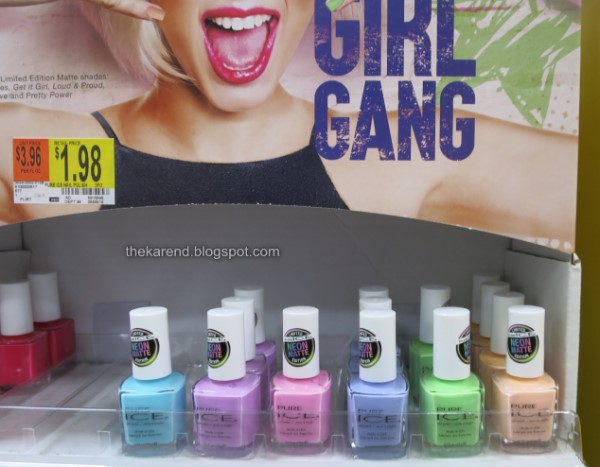 The same store that had Girl Gang also had a huge display for Pure Ice Sparkle Swag, a 4th of July themed offering. According to the fine print on this one, there are three limited edition shades here. I hunted and found them amongst the many many non-LEs shoved in here, grouped them together, and gave up afer that. Why such a big display with so few new polishes? It makes my brain hurt. At a different Walmart I did see a smaller sidekick display for Sparkle Swag, which was just as messed up but at least not as many bottles were involved.
LE shades: Fly High, Light It Up, Party Time.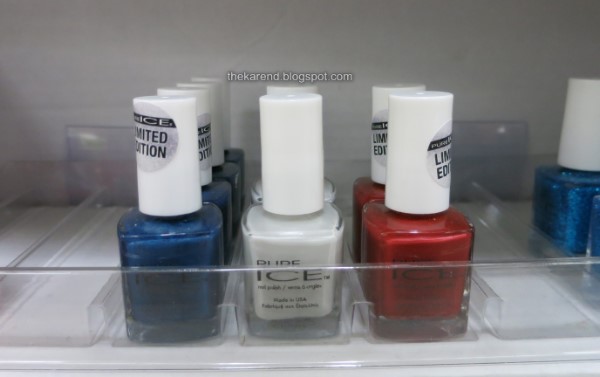 Continuing the trend of salon products coming to the mass market, Ulta has Color Dip from Red Carpet, a nail color dipping powder system. The starter kit ($34.99) has base coat, activator, top coat, one shade of color powder (Contract Please, a sheer pink), and brush softener. The color powders, base coat, top coat, and brush softener are also sold separately in this display ($9.99 each). I didn't take note of which shades of powder were in here. Sorry. I'm just not into dip (yet, anyway).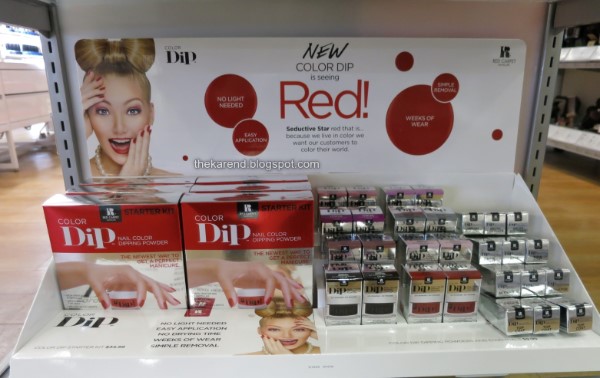 There's also a Color Dip Nail Color by Me Mixing Kit ($34.99) that has several shades of dipping powder for you to make your own custom shade.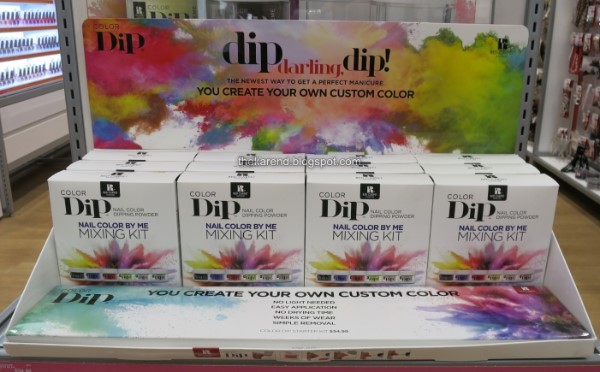 Sally Hansen is continuing to put out new displays. Some, like the Mothers Day Color Therapy one I didn't even bother to share in my last display post, have only core colors in them, but some, like the Self-Made Beauty Complete Salon Manicure one below, do have limited edition shades. Front right: C.E. Orange, Pink Pantsuit. Middle left: Collabo-red, Purple Persuasion. Back right: Wear Pink Get Paid, Pastel Power. Sure, some of these are cremes the likes of which we've seen before, but at least they're something. I spotted this display at Fred Meyer. (Note that two of these colors are in the wrong positions to match the labels on the display; I evidently was not quite on my game the day I saw this one.)
Not too long after I saw the Self-Made Beauty display, I came across another LE Complete Salon Manicure collection: I Do Everything. Front right: A Whole New Pearl'd, Party All White. Middle left: Una-veil-able, Blushing Bride. Back right: Pink I Wanna Marry You, Feels Lilac Love.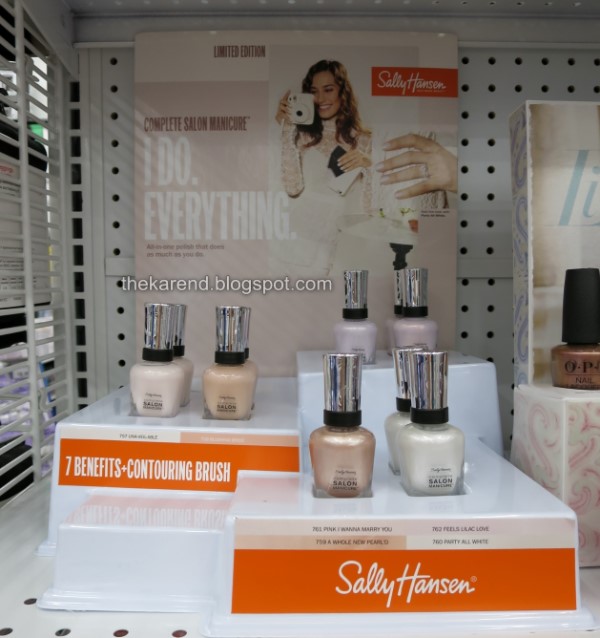 There are limited edition shades of Miracle Gel, too, in the Summer Solstice display. Left to right: Ocean Daze, After Altar, Forever Together, Koi Coral, Golden Glow, Sea Gals. There's also top coat, the Step 2 of this line, and a duo set that has Just Wanna Have Sun and the top coat. I saw this first at Fred Meyer but later at other chains, too, like Bed Bath & Beyond.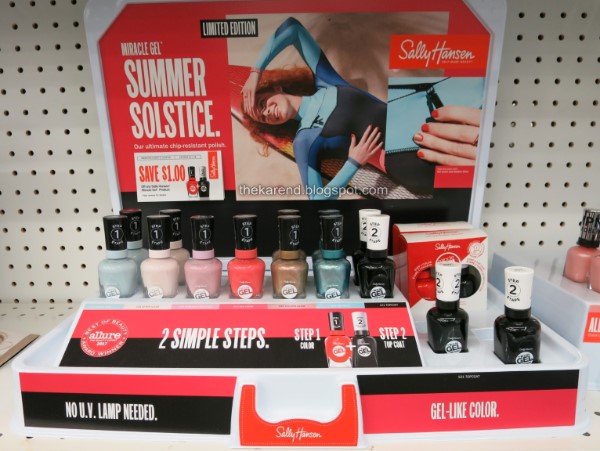 One Walgreens I went to had a corner display which combined Miracle Gel Summer Solstice (minus Just Wanna Have Sun), core colors of Miracle Gel, Complete Salon Manicure Self-Made Beauty, and core colors of Complete Salon Manicure.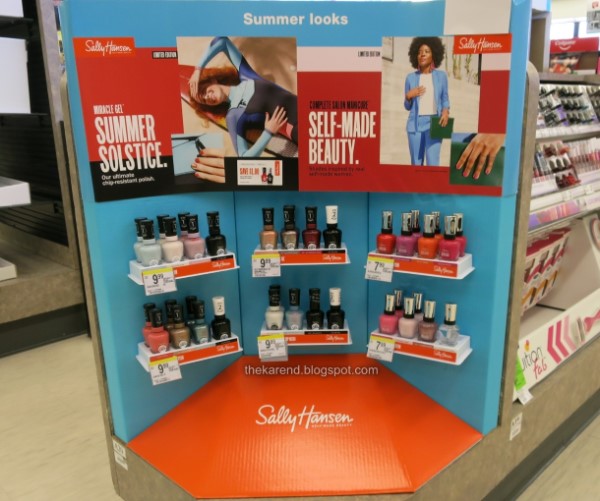 A different Walgreens had a different corner display called Salon Neon: Light It Up which had the Complete Salon Manicure colors from I Do Everything (left section), glow in the dark neon textured nail art stickers and limited edition Miracle Gel colors (center section), and more Complete Salon Manicure colors of which I could tell two were core but I'm not sure about the others (they're not marked LE like the others but I don't see them on the Sally Hansen website, either). Miracle Gel shades: Sundown Socialite, La Vida Lilac, Metro Midnight, and the top coat. Complete Salon Colors on left, top row: Pearly Whites, All Grey All Night, Grey-dreaming, Steel My Heart. Bottom row: To the Moon and Back, Lucky Dress, Rose to the Occasion (core), Off the Shoulder (core).
There are more limited edition Crayola Insta Dri colors from Sally Hansen as well, coming fast on the heels of the pastels we got in the Spring Fling collection. Speaking of which, I saw a standalone display of those colors at a Walgreens in Montana, unfortunately backlit by morning sun. The top shelf had the Crayola shades, while the lower two had core colors that didn't seem to have been picked with an eye to coordinating with the pastels at all. In addition to this display at Walgreens, I also saw these pastels in the core display section for Sally Hansen at Ulta, which annoys me as I've not yet trained myself to scour the core sections for limited edition seasonal colors.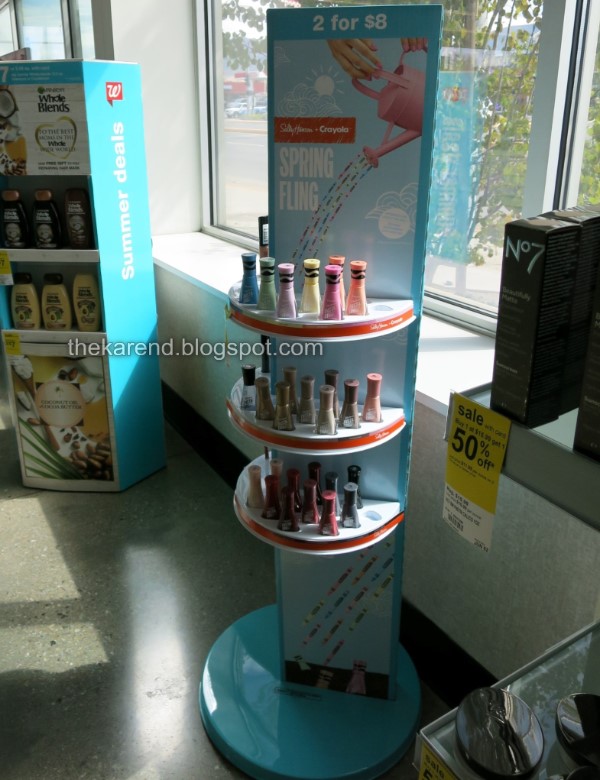 As for the newest Crayola Insta Dri shades, I've only seen those at Bed Bath & Beyond and Fred Meyer so far. Front, the six LEs: Atomic Tangerine, Inchworm, Bluetiful, Razzle Dazzle Rose, Wild Watermelon, Apricot. Back, core colors that coordinate: White on Time (sold out), ASAP Apple, Watermelon Wizz, Re-teal Therapy, Shakin' Sherbert, Leapin' Lilac.
There was one Sally Hansen display I saw in Canada that I got very excited about when I saw it said "Exclusive: Only in Canada / Seulment au Canada". A closer look revealed Complete Salon Manicure shades I'd seen before in core displays in the States, but also a Complete Salon Manicure Matter Top Coat that was news to me. With my obsession with matte topcoats, I snatched one up immediately. The High Gloss Top Coat also seems unique to Canada, but shiny topcoats are not that interesting to me. Left to right: Clear'd for Takeoff (slot empty), Let's Snow, A Perfect Tin, Pink Pong, Raisin the Bar, World is My Oyster, Red My Lips, Matte Top Coat, High Gloss Top Coat.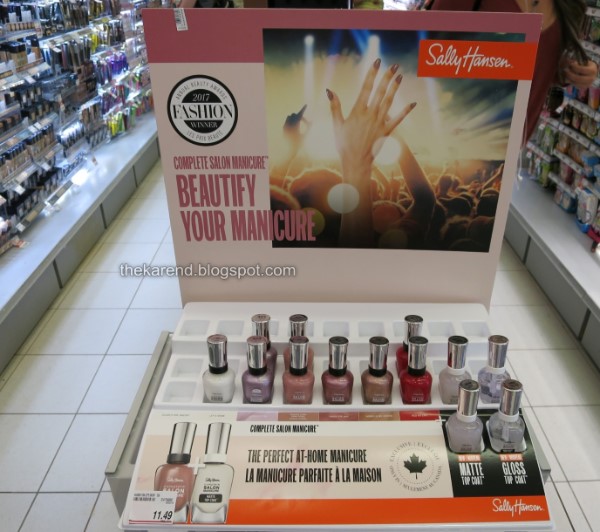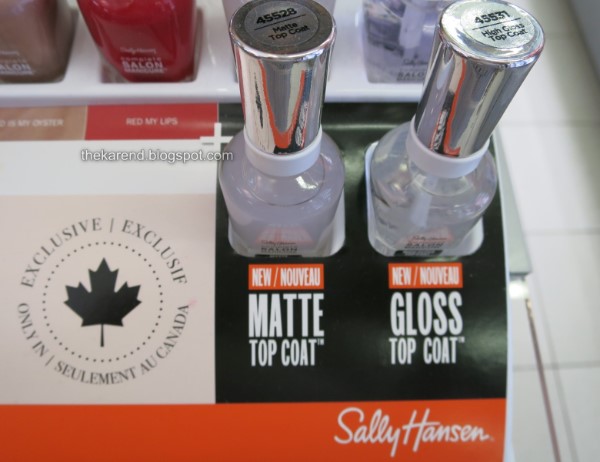 In a Walmart in a little town in Montana, I found a Salon Perfect Neon Pop display that was kind of a mess. In the triptych below, the left panel shows how it looked when I arrived. The middle panel is seven minutes later, after I'd rearranged the polishes by color. The right panel is another seventeen minutes after that, when I'd discovered other neon pop shades in the core display in a nearby aisle, brought them over, and arranged the polishes by color groups echoing the colors on the display itself. I just can't help myself sometimes. I don't know what was supposed to be in this display, but I like my final version regardless. (It's not perfect. For some shades there were more bottles than I had slots in my new color scheme, so they got tucked in back. Also, I'm not sure I got all the neon pop colors in here, as the core display section was a mess, too. If I hadn't already taken too long a break from the road, I would have worked longer on fixing this.)
Top row of my version: Crystal Clear, Sugar Cube, Prim & Purple, Purple Pop (x3), Mood Ring.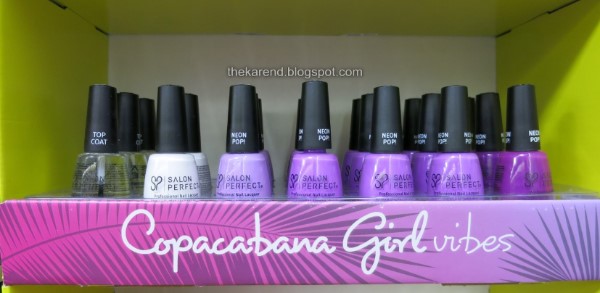 Second row: Flamingo Flair, Orange County Cruisin, Let's Not Coral, Copacabana Girl.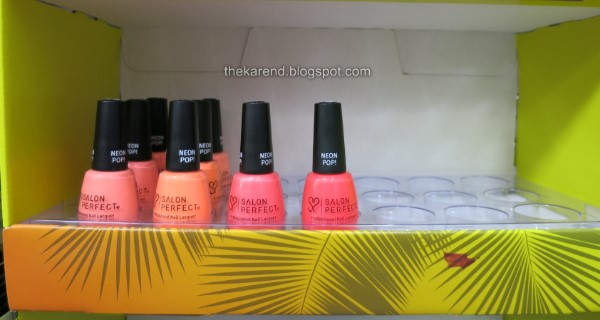 Third row: Frolic with Me, Ride the Heat Wave, In Too Deep, Life is Blue-tiful.
Fourth row: Icy Haute, Mer-Made of Money, Bermuda Baby, Show Me the Money, Gone Sailing, In Mint Condition.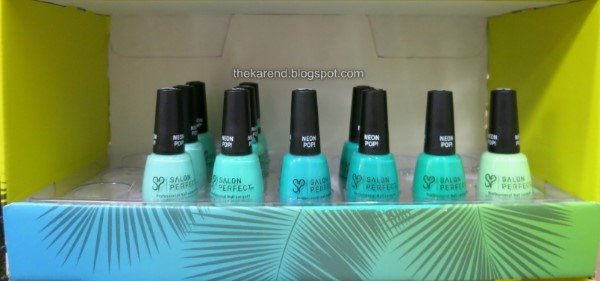 Bottom row: Back to the Fuchsia, Pink-y Swear, Wrapped Around My Pink-y, Good Vibes Only, Tropicool Punch, Oh Snap, Haute Pink.
At a different Walmart a ways down the highway, I found the disaster below, with a bunch of Color Club shoved into the bottom of a Neon Pop display. I had to leave the store.
I had the great good fortune to come across a Salon Perfect Make Sparks Fly display that looked to be completely unmolested by the ill behaved hordes who tend to wreck the cosmetics section of that chain. The left side is all false lashes, and the right side is nail art stripers that are limited edition but not especially interesting (appeared to be just plain red, white, blue, black, and silver), so let's focus on the center section, which has polishes, many of them limited edition.
Top row: Salsa Dance, Pillow Talk, In Too Deep, Crystal Clear. (Core cremes and clear. Wait; it gets better.)
Second row: Firewerk (LE), Silver Sparkler, National Holi-yay (LE), Star Spangled Selfie (LE).
Third row: The American Sheen (LE), Freedom Foil, Sea to Shimmery Sea (LE), Bling Bursting in Air (LE).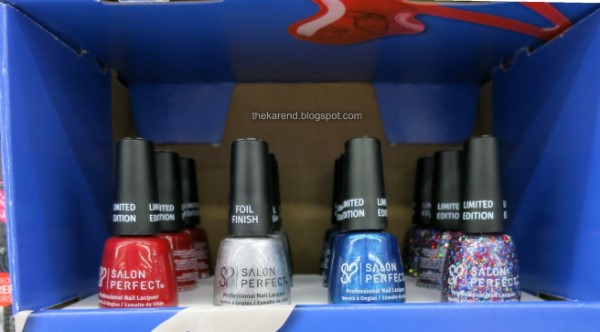 Fourth row: He's With Me, Cosmic Dust, Star Light Star Bright, Star Spangled Selfie (LE).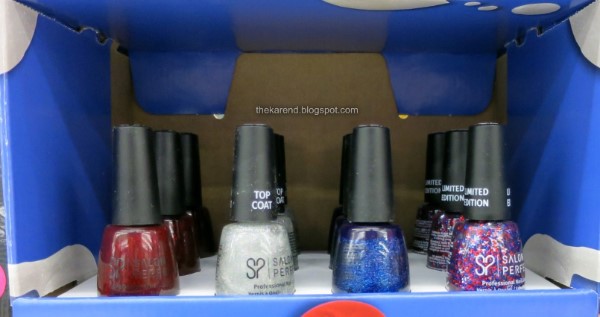 Bottom row: Pillow Talk, Block Party Blue (LE), Crystal Clear, Bling Bursting in Air (LE).
And okay, here's one of the stripers, since they have a fun mani on their packaging: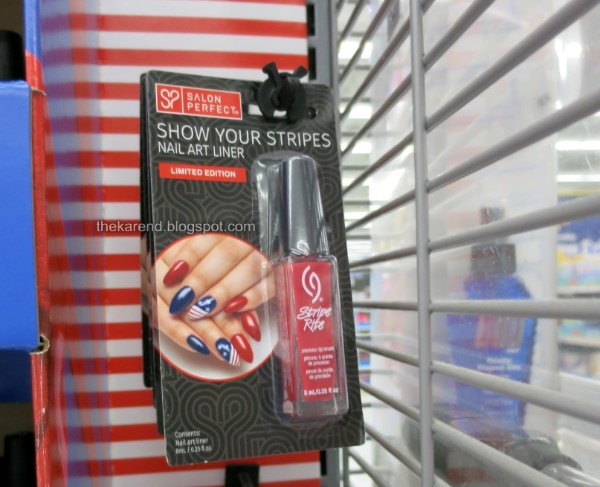 In addition to stalking Walmart stores on my trip across the country, I also hit up a lot of Ulta locations, looking specifically for the SinfulColors Vanessa Hudgens collection, which was touted as an Ulta exclusive. I'd seen a photo of the display online, and it was a nice one, much bigger than typical SinfulColors shelf top units, but I never saw it in person, despite stopping at Ulta stores in probably six or seven different states. Some of the stores did have the polishes, but they were always in the random nail polish section that looks like it might be clearance but is still at regular prices. The store I took the below photo at had the most organized display, and all the colors left ... except one, which I didn't realize at the time had never been there in the first place, but I'll get to that. Top row: Wonder, About Last Night, Desert Dreams, Beet Goes On, Hands Up, Believe in Love. Bottom row: Desert Dreams, My Tribe, Mystical, Spaced Out, Road Trip, Festival Fairy.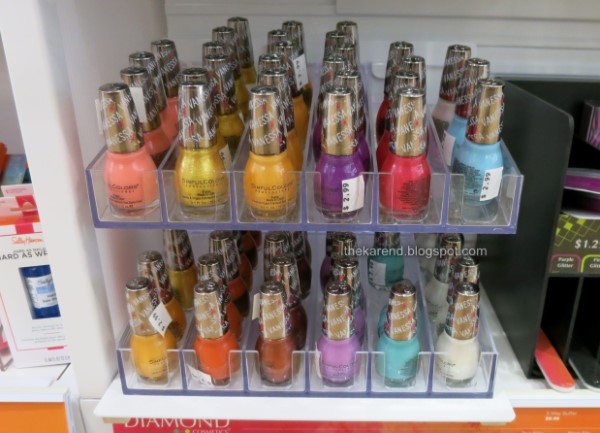 The polish that was never there was Shimmy Shimmy, a shifty royal blue/purple shimmer. Why was it not there? Because, as I only found out after I got back home, SinfulColors released it only at Meijer stores. Had I just been in Meijer-land? Yes, yes I had, but I left a couple days before the Shimmy Shimmy news hit the SinfulColors Facebook page (and definitely didn't see any displays out early at Meijer stores I'd been in). Thank goodness for the Michigan Nail Girls; I put out a call on Facebook and a friend (who prefers to remain anonymous here) took this picture of the display for me. See that darker blue? That's Shimmy Shimmy. Thanks to another friend, a bottle is heading my way; thanks
Jamy
! I've seen a report on Facebook that Walgreens is also getting these colors, but it wasn't clear if Shimmy Shimmy was among them there or not. None were at my Walgreens when I went this past weekend.
It's been absolutely ages since we got new polish from Wet 'n' Wild, but there is some out for this season. The Flights of Fancy display has six shades of MegaLast, in a bottle shape I've not seen from the brand before. The bottles are small, .25 fl. oz. or 7.2 ml, and priced at $2.49. The only place I've seen these is Fred Meyer. Other stores, like Walgreens, have had the Flights of Fancy makeup display, but not the nail polish. Shades here: Tweet-er Party, Fly with Envy, The High Life, Bird's Eye View, Bird in Bloom, and Tou-can Play That Game.
If you're still reading at this point, thank you! Long as this post is, I have some photos I didn't manage to fit in, mostly of polishes that aren't new or limited edition, so I'll save those for another time.