I'm on my way home from Indie Expo Canada. Since I'm driving, it'll be a while before I get there, so no haul posts until then, as my new pretties are safely wrapped and tucked away for the journey, but I can share what was on my nails while I created new polishes in the workshop and bought new polishes from the vendors.
For Saturday, I did my nails in blues with a purple shift. First I did a couple of treatment coats and then laid down a base of Sally Hansen Insta Dri Bluetiful, a bright royal blue creme which I bought while on this road trip (I'll be sharing that display in a big roundup post after I get back home). On my index fingers and thumbs, I added Studio M Ice Cold, which has blue glitter in a blue/purple shifting shimmer base. On my other digits, I added Ever After License to Lacquer, an IEC limited edition from last year that has scattered holo in a blue/purple shifting microshimmer base. Orly Sec n' Dry finished things off.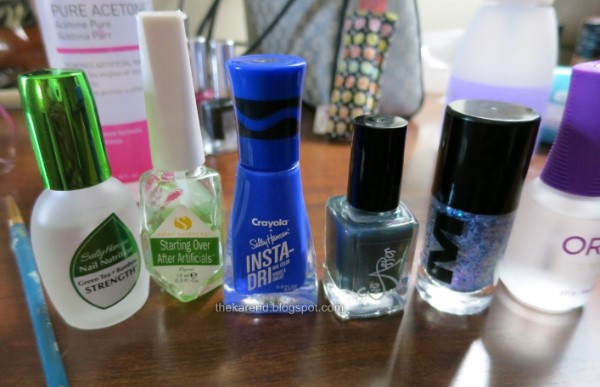 In the natural light coming in through the window of my hotel room (about a half hour north of the IEC host hotel so I could save money for more polish):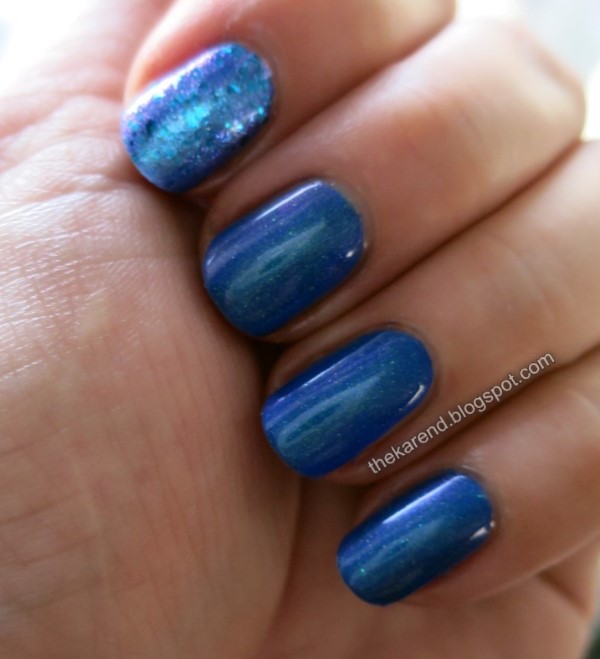 You can see a bit of the shift to purple at this angle:
Sparkling in some bright lights in the hotel during a break from the polish making workshop (complete with smudge of pigment on my pinky there):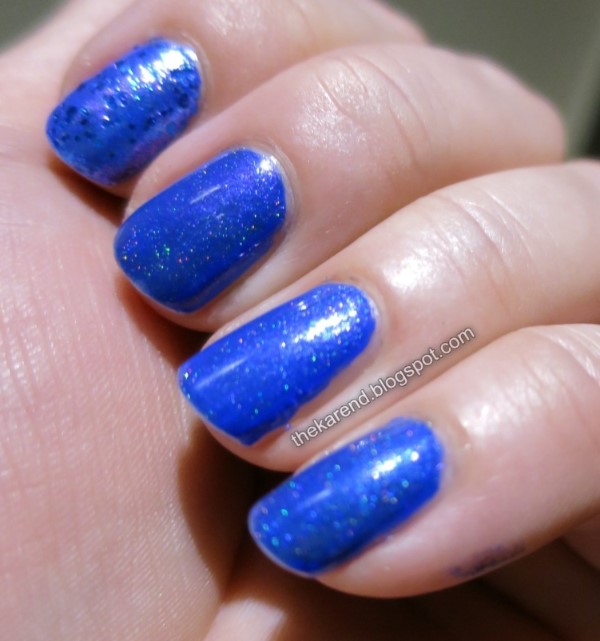 I ended up making four colors in the polish making workshop. The whole class made the one on the left, which we dubbed Regency Blue (though there were some variations since not all of us managed to follow the recipe exactly—it's hard to measure out .03 grams of flakes, for instance). The bright yellow green was my simplest creation; I called it Juicy Glow. The other two are similar purple bases; the second one started with overpour from the first: House in Progress has primarily bronze glitter and shimmer while Dark & Mysterious has that plus navy and turquoise glitter and multichrome flakes and I forget what all.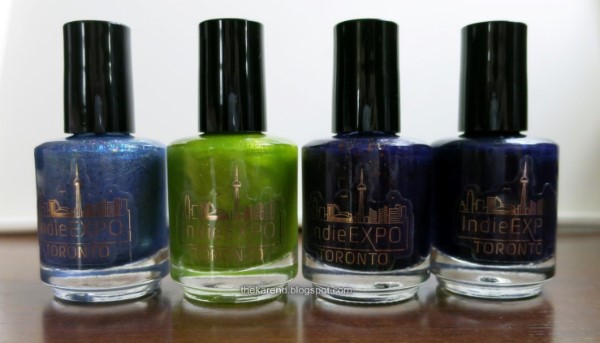 Pretty raw ingredient: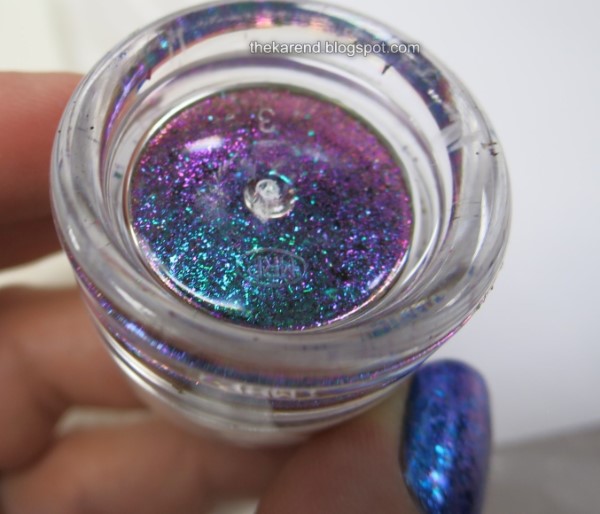 Progression of Regency Blue at varying stages of adding ingredients: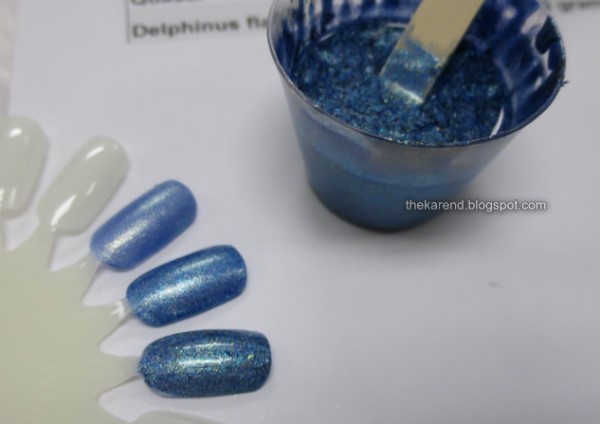 Dregs of Dark & Mysterious in the mixing cup:
I couldn't wait to try one of these, so I slapped Dark & Mysterious on my middle through pinky fingers; thank goodness Pam had some topcoat handy so I could smooth it out:
For Sunday, I wanted to wear one of my new creations, and decided on Juicy Glow as it was the most eye catching (not that it coordinated in any way with the outfit I planned to wear). I experimented with it on a nail wheel first. Left to right: over yellow creme, over lime green creme, on its own (top half of nail) and over light yellow creme (bottom half of nail), over skintone base.
I settled on the light yellow base (Sally Hansen Insta Dri Canary, another new one from this trip), over the same treatment bases as the prior day. Two coats of Juicy Glow on top of that, then topcoat and I was ready.
In the sunshine outside the hotel: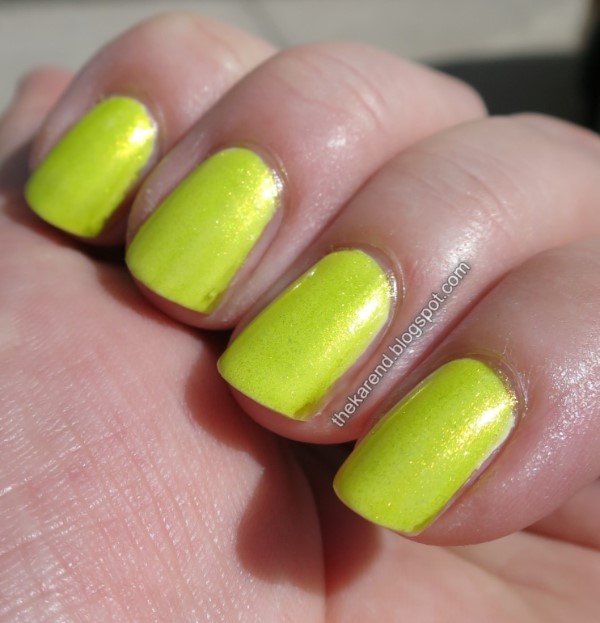 Showing its more yellow side in the photo area:
I ruined this mani in rather more spectacular fashion than usual when I tripped over the fill hose while getting gas that night; I broke my fall with my hand:
Despite that, I patched it up and still have it on today, and it actually did coordinate nicely with the top I wore yesterday: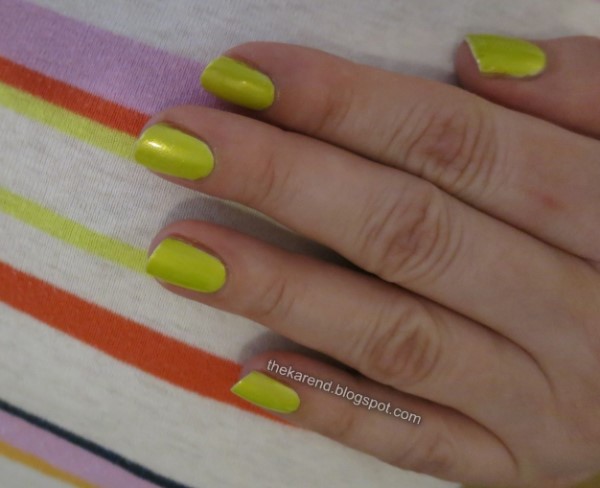 I have no idea when I swatch or wear the rest of the polishes I made, much less the ones I bought. It's nice knowing I have lots of fun to look forward to.