I mentioned in my last post that I was meeting up with some nail polish friends in Michigan, and I did indeed do that, this past Saturday. Since it's Pride month, I decided to do a rainbow manicure. Since I'm good at leaving things until the last minute, I finished painting it in the parking lot of the place we were meeting. I snapped a few shots in the car just before I went in: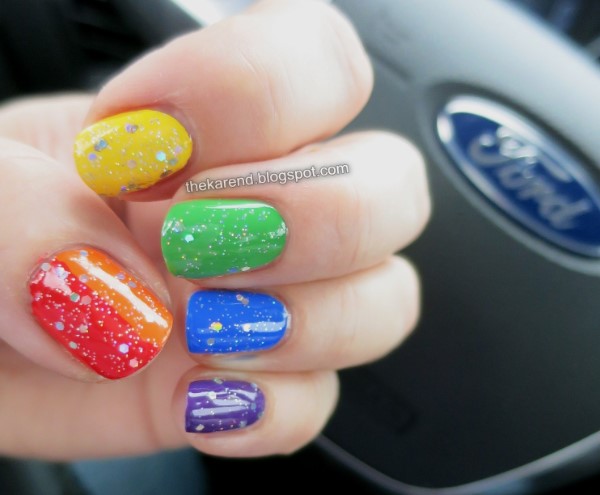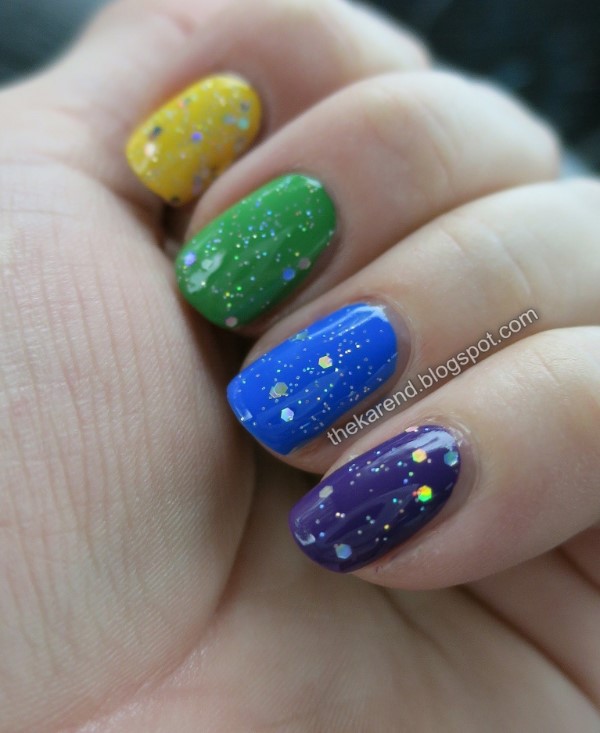 Because there are six stripes on the Pride flag and I have only five fingers, my thumb had to do double duty. I used all Sally Hansen Crayola Insta Dri shades for the colors: Scarlet, Sunset Orange, Dandelion, Granny Smith Apple, Bluetiful (bought on this trip and so new I haven't posted the display photo yet), and Vivid Violet. To tie the rainbow together and add more color and fun, I topped them with Salon Perfect Silver Sparkler (another new one this trip, though I believe it's not a new polish for the brand). My base coats were Sally Hansen Nail Nutrition Green Tea + Bamboo and Salon Sciences Starting Over After Artificials, and my top coat was Orly Sec 'n Dry.
After a delicious lunch and much chat, we did remember to take a group nail photo. Starting at top left, it's Melissa from
honeybee_nails
(she recently started a
blog
, too), Becki who doesn't Instagram right now, me, and Jamy from
jamylyn_nails
.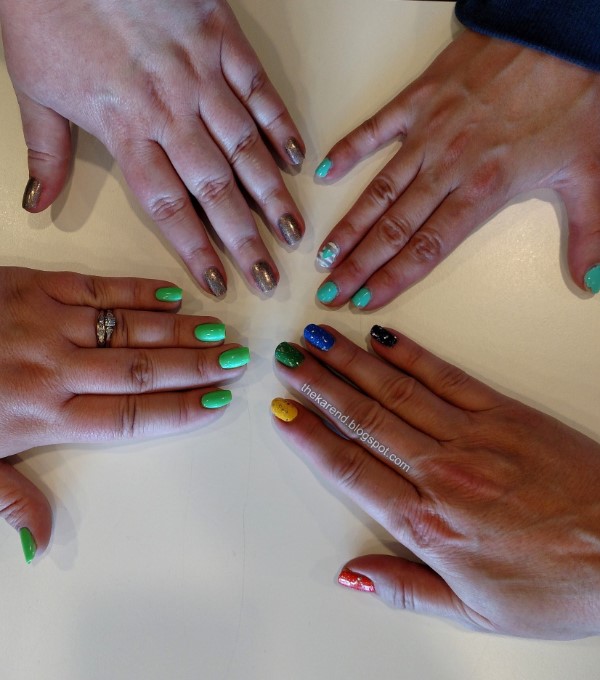 I didn't bring my lightbox with me on this trip, so need to be on the lookout for natural light opportunties, like this one by my hotel window later that day.