My previous
display post
featured photos I took from Idaho and Washington to Ontario and back again. Since then, I've been to Illinois and back, though I didn't have quite as many opportunities to look for displays on that trip as I wasn't solo and we had family obligations ... but of course I still managed to get out and hunt a bit.
In Illinois visiting my mother-in-law, I found a Sally Beauty that had all the shades in the China Glaze OMG Flashback collection. Granted, they weren't in a dedicated display but rather grouped on one side of the big Shades of Paradise display stand, with the leftovers from that collection surrounding them. Left to right: DV8, OMG, BFF, IDK, 2NITE, TTYL. I was so happy to be able to get the two that they had failed to ship when I ordered the whole collection online (no notice, no backorder, just the box shows up without two polishes they let me put in my cart and check out with).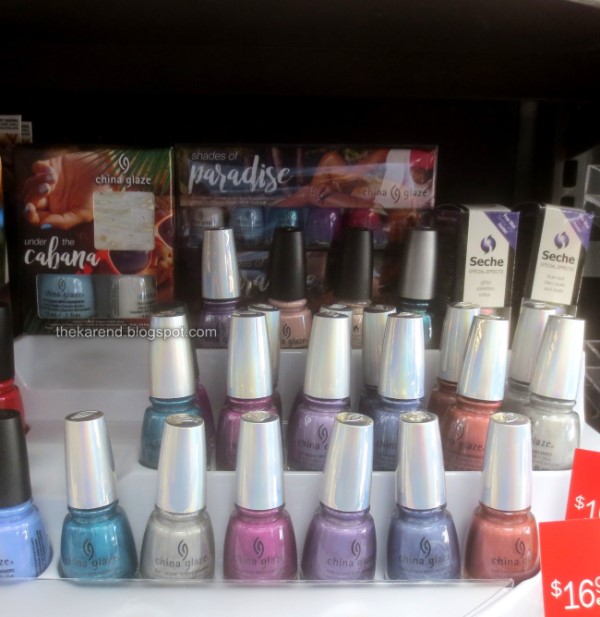 I've yet to try any of the CND Vinylux polishes, but if they keep putting collections in front of me like they have been, they may wear me down. This latest one I saw at Walgreen is called Boho Spirit. Four shades: Offbeat, Unihibited, Vagabond, and Gypsy (great summer shade, unfortunate name—I'm not going to buy polishes called Wop or Wetback or similar, either). The mini set has all the shades except Gypsy plus the topcoat.
I saw the Essie Soda Pop Shop collection in sidekick displays at both Fred Meyer and Meijer. The top of the display is touting Essie's new brush. I'm not sure how I feel about a new brush for Essie. Part of the charm is the old school skinny brush. Top two sections each have the six colors in Soda Pop Shop: Going Steady, Out of the Jukebox, Pin Me Pink, Babes in the Booth, Cherry on Top, and Drive-In & Dine. The bottom section has "best of trend" shades from prior collections: Go With the Flowy (light grey; the bottle in front here is not correct and I failed to notice and fix it and now have regrets), Now & Zen, Udon Know Me, As If, Baguette Me Not, S'il Vous Play.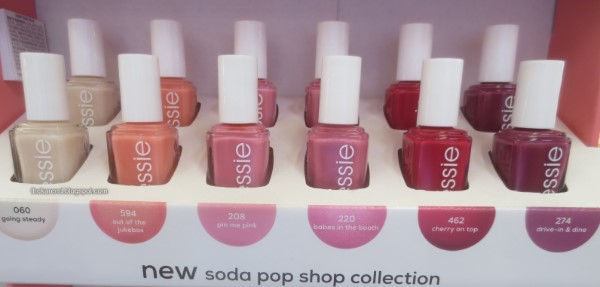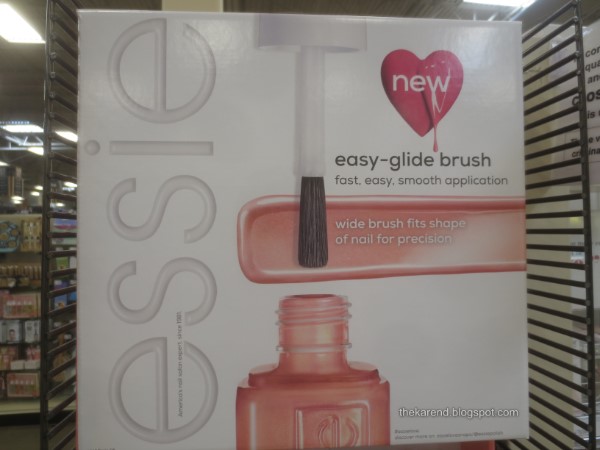 Rite Aid was the first, and so far only, place I saw the Essie Gel Couture Avant-Garde collection. Six shades here, plus topcoat: Pinned to Perfection, First Fitting, Showroom for One, Exhibit A-Line, Bold Boundaries, Dye-Mentions.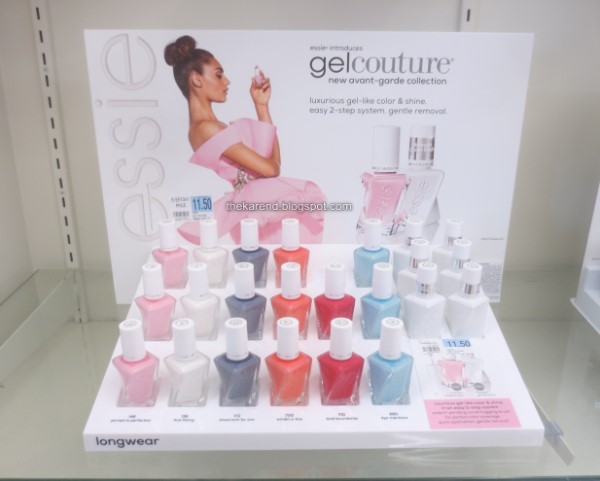 The Revlon Holochrome collection is old news at this point, yet there's a new display out that I saw at Fred Meyer featuring these core-for-now shades along with lip colors. I thought the way the light was hitting the handles on the polish bottles was pretty, anyway.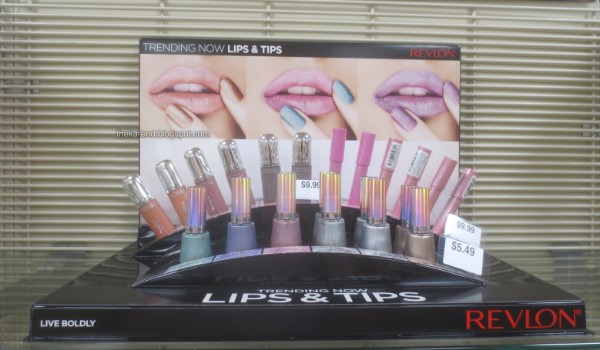 I did see something new from Revlon at Walgreens, a display called Shoot the Moon with Limited Edition "cosmic colors". In the back right, there were slots for two nail polish shades, Midnight Aurora and Twilight Spell. The label on the display made them look like shifty shimmers, but there were no polishes to be found. It was the same story at the second Walgreens where I saw this display.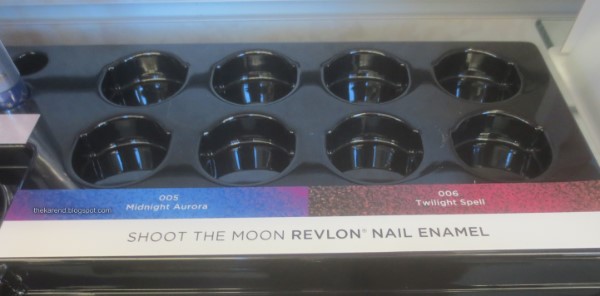 At yet another Walgreens I saw I bigger end of aisle display for Shoot the Moon. There was no polish in this one, either. There were empty slots along the bottom that looked like they were sized for polish bottles, but those slots were labeled "Revlon Super Lustrous Lipstick Metallic" and "Revlon Super Lustrous Lipgloss". Given that the second row of the display had these same labels and completely different slots, I'm confused.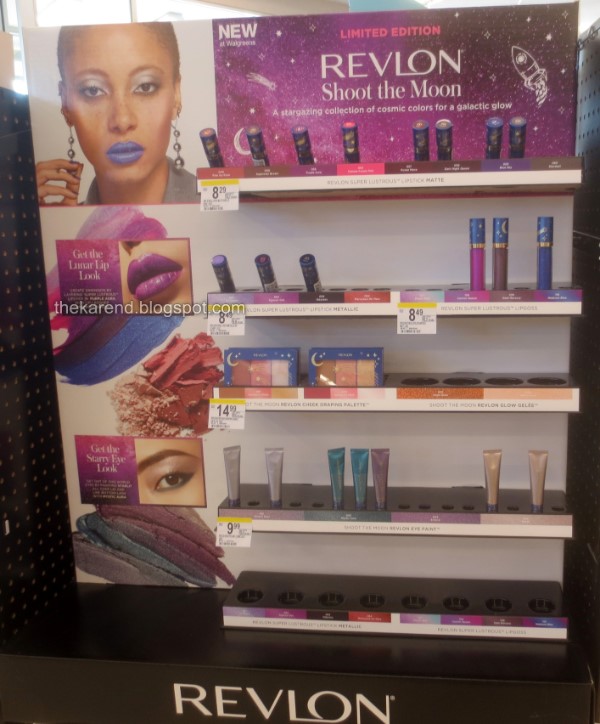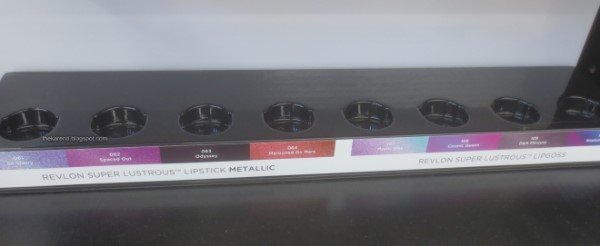 At Walgreens, I spotted a compact display for the Sally Hansen Insta Dri summer Crayola colors (plus one core shade and clear). Top row: Atomic Tangerine, Inchworm, Bluetiful, Razzle Dazzle Rose. Bottom row: Wild Watermelon, Apricot, Mauve It (core, and why put this muted color in with the bright crayon shades I have no idea; they didn't do that in the bigger display I shared in my last display post), Clearly Quick.
Here's what the Sally Hansen Insta Dri summer Crayola colors display looked like at Meijer. The Crayolas were joined by the same core colors as in the Bed Bath & Beyond version I shared last display post. (And yes, in this store it was right next to camping gear. Still in sight of the beauty section, though.)
At Rite Aid, I saw a Sally Hansen Insta Dri Crayola display in the same format as the Bed Bath & Beyond one from last display post, but instead of core shades in the back, it had spring Crayola colors. And no, the summer ones in front aren't in the right slots, and yes, I'm proud of myself for walking away and leaving it like that.
At Fred Meyer, I saw a shelf top display for the Sally Hansen Salon Neon. This had the same neon nail stickers as the big corner display at Walgreens in my last display post but a different selection of nail polish shades; these are all Miracle Gel polishes, not the mix of Miracle Gel and Complete Salon Manicure as in the other display. Front row: Creme de la Creme, Sheer Happiness, Mauve-olous, Beet Pray Love, Get Mod, Top Coat. Back row: Cabernet with Bae, Midnight Mod, Stilettos & Studs, Blacky O, Top Coat.
I later saw a Salon Neon display at Rite Aid which looked at first glance to be the same as the one at Fred Meyer, but no, it was not. It did have all Miracle Gel shades in it, but the front row was different. This one had the three limited edition shades in the front row. Front, left to right: Sundown Socialite, La Vida Lilac, Metro Midnight, Blacky O (twice). Back: V-Amplified (twice), Cabernet with Bae (twice), Top Coat (twice).
There was yet another variation of the Salon Neon display at a Walgreens; this one had Complete Salon Manicure shades in it. If the shades weren't printed on the display, I'd think there was some mixup with stocking them. Top row: Salon Neon nail art stickers, Pearly Whites (twice), To the Moon and Back (twice). Bottom row: Una-veil-able, The Blushing Bride, A Whole New Pearl'd, Party All White, Pink I Wanna Marry You, Feels Lilac Love (two slots, one sold out).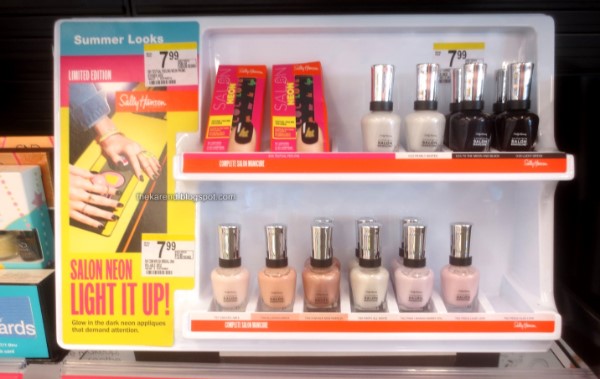 I passed over the Sally Hansen Complete Salon Manicure Summer is My Therapy display at Fred Meyer because it's all core shade of Color Therapy, but they do look nice together. Left to right: Well Well Well, In My Element, Reflection Pool, Glow with the Flow, Auran't You Relaxed, Soak at Sunset. This also had Cuticle Oil in the front corner.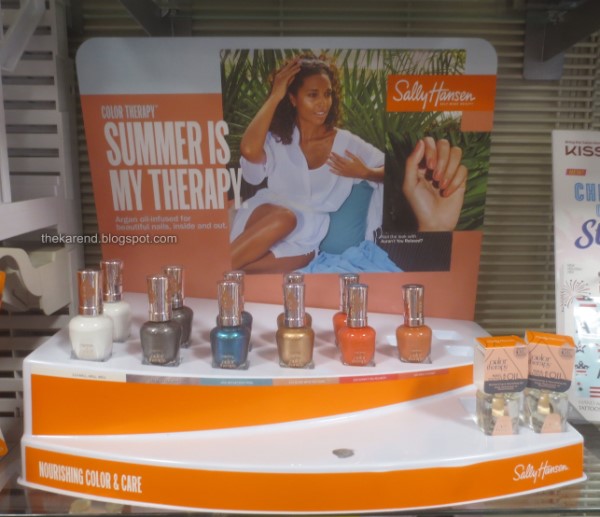 There is also a muted colors Summer is My Therapy display with more core shades of Color Therapy: Namas-grey, In My Element, Glow With the Flow, Blushed Petal, Powder Room, Rosy Quartz, Bamboost. There's Top Coat in the front right corner.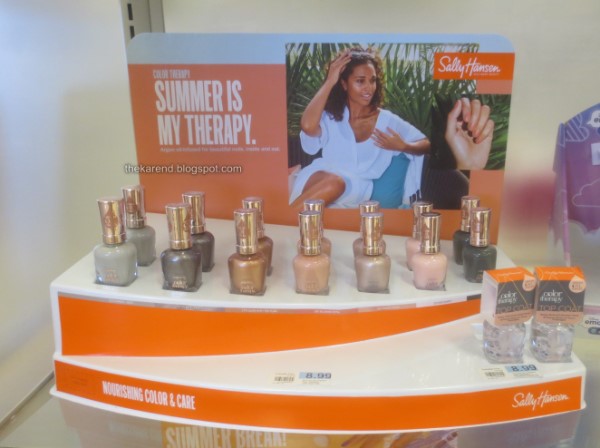 Walgreens has had a lot of non-standard displays recently ... they're standard for Walgreens, I guess, but look different than the same collections in other chains. Here's their Summer is My Therapy, with yet another lineup of Color Therapy shades. Front/bottom: Top Coat, Steely Serene, Sheer Nirvana, Glow with the Flow. Back/top: Rosy Quartz, Blush Petal, Mauve Mantra, Namas-Grey. On the side were top coats and cuticle remover that aren't part of the Color Therapy line and didn't match the labels printed on the display. I don't know why.
Wrapping up Sally Hansen news, Fred Meyer had a Back to Basics display with new shades of Complete Salon Manicure (some of which were also in other displays we've already looked at today). Left section: Pearly Whites (shimmer), All Grey All Night. Front right section: Grey-Dreaming, Steel My Heart. Back right section: To the Moon and Black (shimmer), Lucky Dress.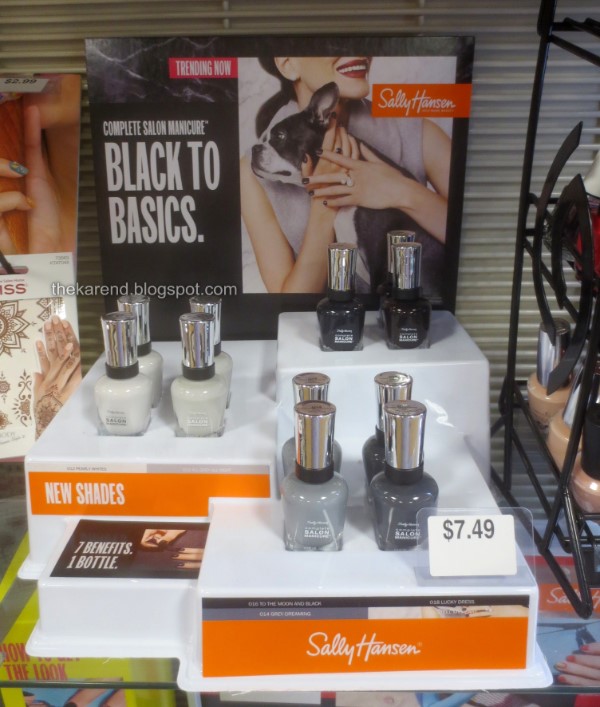 At one of the Sally Beauty stores I stopped at trying to find my missing two OMG shades, I saw a lone bottle of Seche Special Effects, not in a display, just on a shelf with some other random nail stuff. This led me to do some Googling, so when I went to the next Sally store, I was on the lookout for the other two, which I found (you may have already spotted them in the China Glaze photo above). Left to right: Glitter (does not look like glitter), Holographic (does look like holo), and Blue Opal.
Maybe you remember when I was all "gah, I couldn't get SinfulColor Shimmy Shimmy because it was only at Meijer and not there before I left Meijer country", and my friend Jamy came to my rescue and sent me a bottle. Well, turns out SinfulColors was not telling the whole story on their Facebook page, because I ambled into one of my local Walgreens (local: more than an hour away) to see this: a display called Ombre All Day with some of the Vanessa Hudgens shades, complete with Shimmy Shimmy. The SinfulColors website still only shows Shimmy Shimmy is available at Meijer and Ulta (was it ever at Ulta? I didn't think so but who the heck knows at this point), though their Facebook page does have a post about the collection coming to Walgreens that was put up a month after the "Shimmy Shimmy is at Meijer" one. Grrr. Left to right: Festival Fairy, Wonder, Hands Up, Mystical, Road Trip, Shimmy Shimmy, Believe in Love, Spaced Out, Wonder. Notice that the golden shades (About Last Night and Desert Dreams) are not here, and neither are Beet Goes On (red-leaning purple) nor My Tribe (orange); I haven't seen those shades at any of the Walgreens I've been to since I spotted this first Vanessa Hudgens display.
Moving on from the what is up with Vanessa Hudgens colors, the SinfulColors summer neon collection, Wild at Heart has a twist this year: the polishes are shimmers. The only place I've seen them is Walgreens. Left to right: Off Tropic, Poison Arrow, Safari Not Sorry, Palm Down, Amazon Woman, Bird of Paradise, Get Glossed Top Coat, Illuminating Base aka White on Time (times 2). All of these are limited time.
I didn't find anything new at Walmart this go round, but I did happen upon a Color Club display with the mood, neon, and holo colors that was remarkably full given how long it's been since they were first out (maybe this one got misplaced and put out later?). It was, of course, unremarkably messed up, and my brain just wasn't having it that day, so I camped out and put things in order best I could. Here's a progress shot ... no one—not an employee, not another customer—approached to tell me to stop or even ask what I was doing. Good. Let me do my "job". It's perfectly normal to take most of the polish out of a display, put it on the floor to sort, then put it back in. Right?
Things I'll be looking for as I'm out an about over the next few weeks (I'm heading off on yet another road trip soon, so I will be extra about):
a) More color(s) of Essence Out of Space Stories.
Rainbowify Me
let me know there were a couple more out, and I saw a picture in a Facebook group of a display at a Fred Meyer that seemed to have at least one of them, and someone else commented they'd seen them at Meijer, so I have a chance.
b) Those darn Revlons, which may be nonexistent, as I've found no photos of them anywhere.
c) Fall collections, because they are coming up fast. I saw an ad yesterday saying it was "officially cardigan weather", and I was "oh no, it is not". Even up on the mountain, it's still summer.