Finally I have managed to get through my IEC photos including the swatches I did of some of the polishes afterward. This was the third IEC and the third time I've gone. As in past years I arrived a day early so I could do the polish making workshop. To save money, I once again stayed out by the airport and drove into the hotel; I've done it enough times that I was ready for the exit ramp from the freeway to be backed up and stopped so had my camera close to snap a pic of the CN Tower peeking out between buildings while I waited.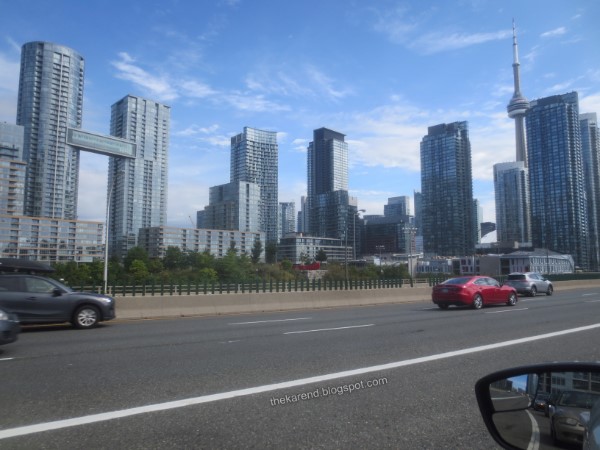 There were two sessions of the polish making workshop; I chose to go to the afternoon one since then I didn't have to stress about getting up and making it through traffic (yes, there's traffic in Toronto even on weekends). As last year, the whole class made a polish from the same recipe, but even so there was quite a range of results depending on how closely each person followed it. I managed to spill my mixing cup quite early on so that was embarrassing and also affected my color since I just sort of guessed when I added more base and pigment to make up for the stuff I'd lost (you can see it coloring the recipe paper in the background below).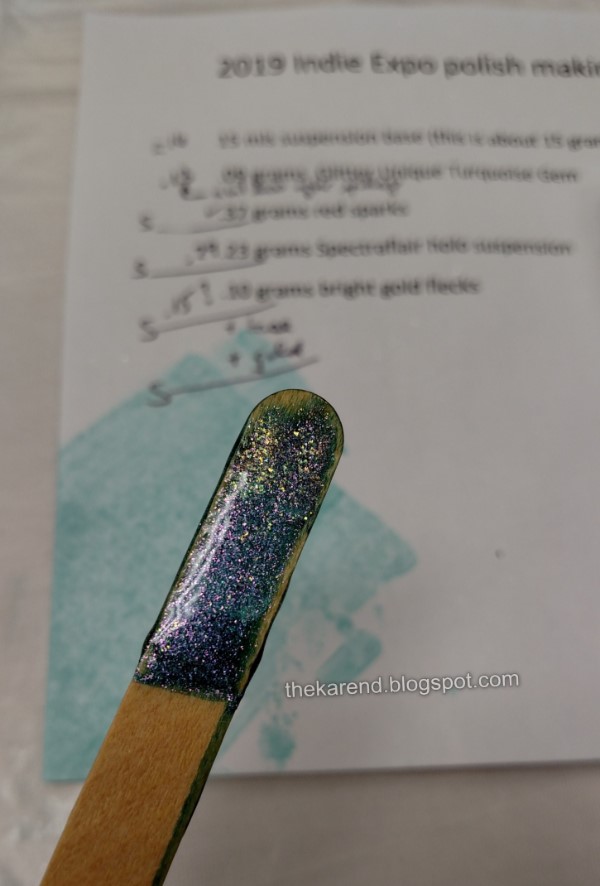 I love looking at the mixing cups after the polish is poured; this is a crelly glitter I did based on the colors in a favorite t-shirt.
I ended up having time to make four polishes: IEC Times Three (my version of the group color), Tiles, Cool Chameleon, and Orange Crush.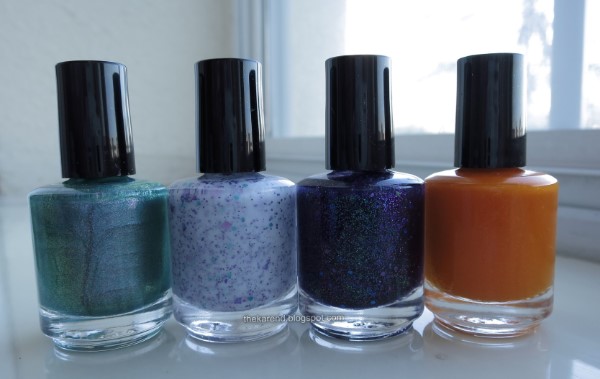 IEC Times Three is a turquoise with pink and gold shimmer; there's also a bit of holo in there, too.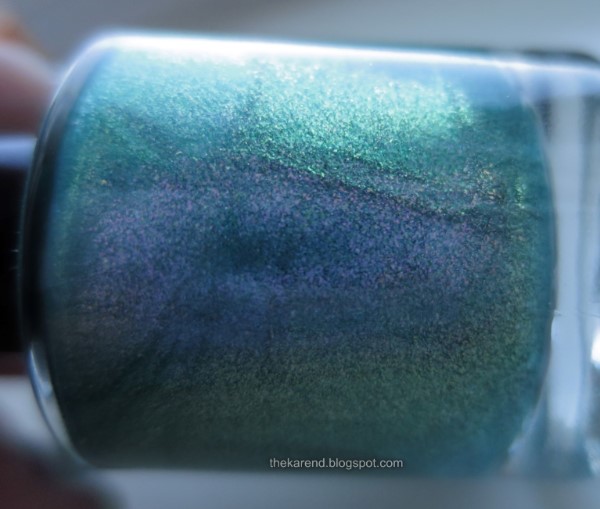 When I swatched it, I put a black base on my index finger to bring out the colors in the shimmer. I did one coat of the shimmer over the black and three coats on the other fingers.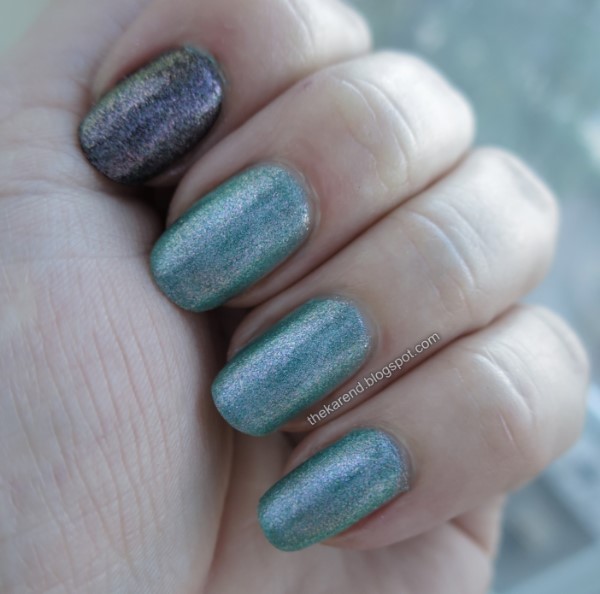 The black sure did show off the colors in the shimmer:
I wore IEC Times Three as a full mani after I swatched it, which was good since that gave me more chance to see the holo come out in different lights.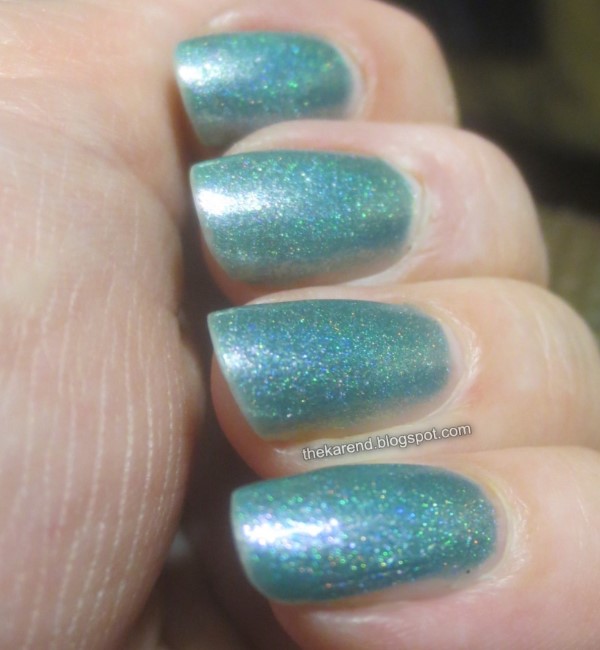 Tiles is the crelly glitter from the mixing cup photo earlier; it has a white base with a touch of shimmer and glitters of different sizes and shapes in purple, turquoise, and fuchsia. I didn't quite get the opacity right; this swatch is two coats, which means it's not that sheer. I did put top coat on it, but it needed a thicker one, or another coat, as it's still a bit rough to the touch.
Here's print on the shirt that inspired Tiles:
I was so happy to find the square fuchsia glitter in the workshop supplies.
I am also happy with the shimmer in this one that comes out in direct light.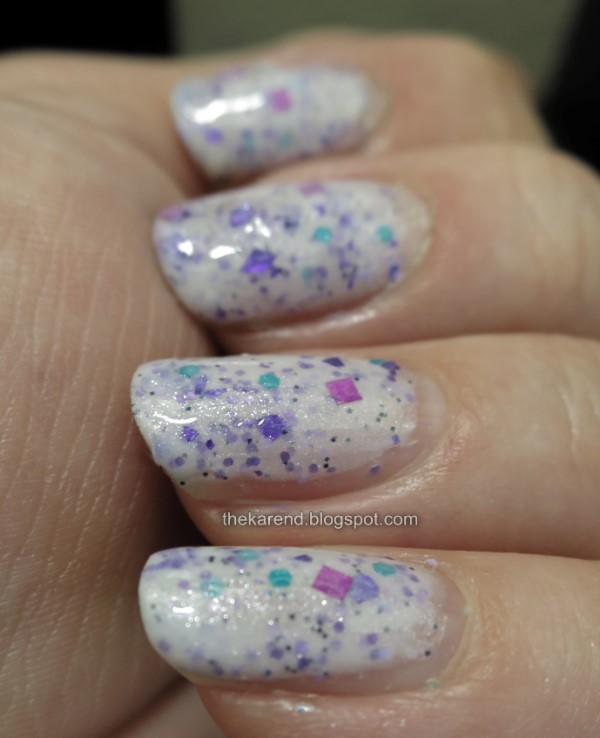 Orange Crush is a simple warm orange shimmer.
This can look more red-leaning or more yellow-leaning depending on the light. It's a bit on the sheer and squishy side; this swatch is three coats. (And yes, I was sloppy with this one; I have no excuse.)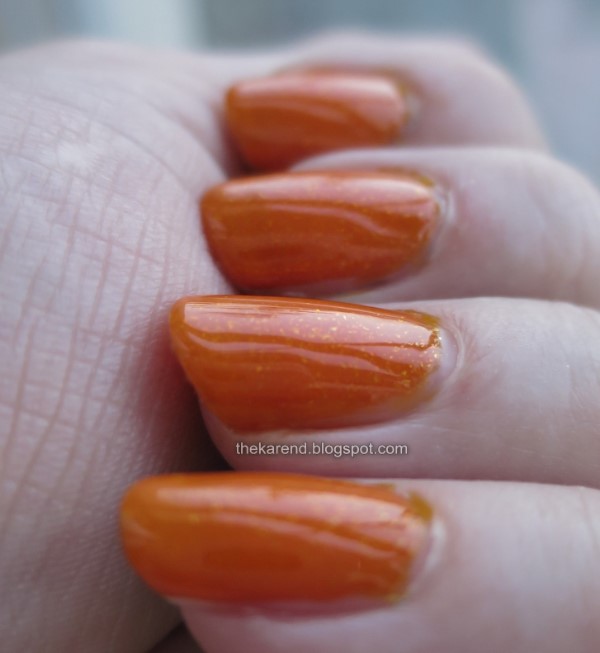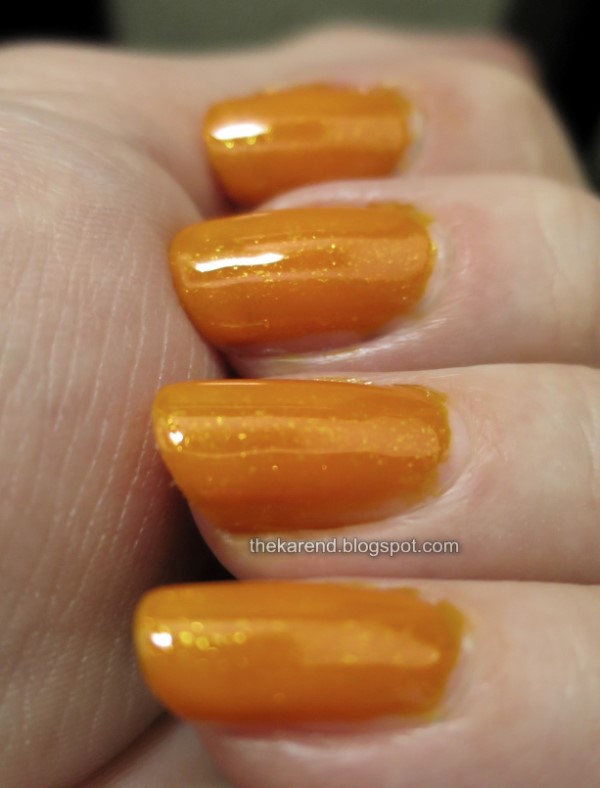 While I was working on Orange Crush, I pulled a bit out of the mixing cup and added a scattering of very tiny red glitter; I decided not to go there, working against my usual tendency to feel more is better. The wheel shows the progression from plain base in upper left to the tiny glitter experiment in lower right.
Cool Chameleon has small green/blue/purple shifting glitter and larger green/blue/purple matte hex glitter in a jelly purple base.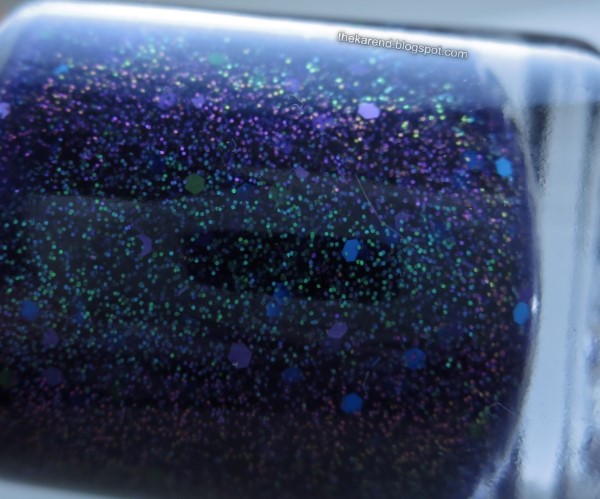 I did the black index finger base for this one as well; I put two coats of the glitter over the black and three coats on my other fingers.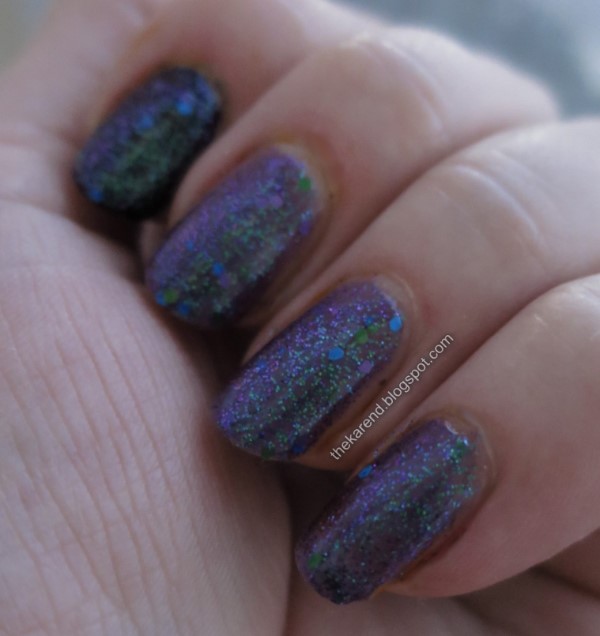 In some lights, the sheerness of the base really showed in a way I didn't much care for; when I wear this again, I'll probably put a purple base underneath, maybe a jelly still but a more opaque one.
Over black this was quite pleasing; I bet a dark green base would be even more interesting.
There was a new event available this year, a cocktail hour the night before the show. Since I was in town and had to eat anyway, I bought a ticket and was happy I did. The food was decent; the company was fun, and there was a gift bag, which had so many goodies it. In my bag, I got Mitty Peel-Off Tape, vinyl stencials and water decals from What's Up Nails, a cute polish bottle pin, a Rogue Lacquer cuticle oil sample, and five polishes. (I believe the polishes, cuticle oil, and pin were in all the bags.) The polishes, left to right: Great Lakes Lacquer Pam Told Me To, Alter Ego IEC Meetup 081719, LynB Designs Cocktail Swag, Indie Expo Toronto Orchid-ing Me Right (made by Pam of Girly Bits fame), Bee's Knees Get Your Buzz On.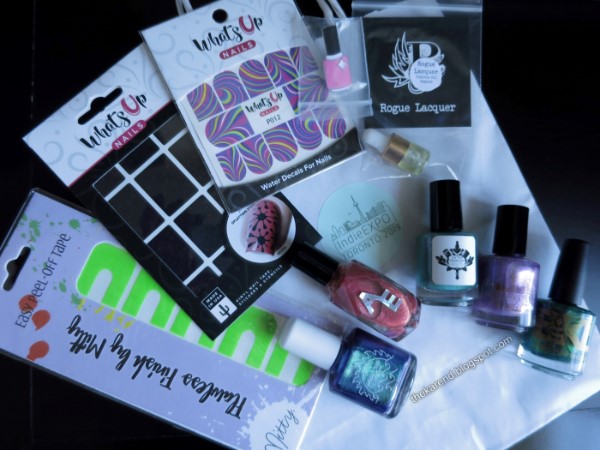 I've only had time to swatch one of the cocktail bag colors so far, and it's a really pretty one: Alter Ego IEC Meetup 081719, a coral red shimmer with subtle gold shift. Two coats were ample for full coverage.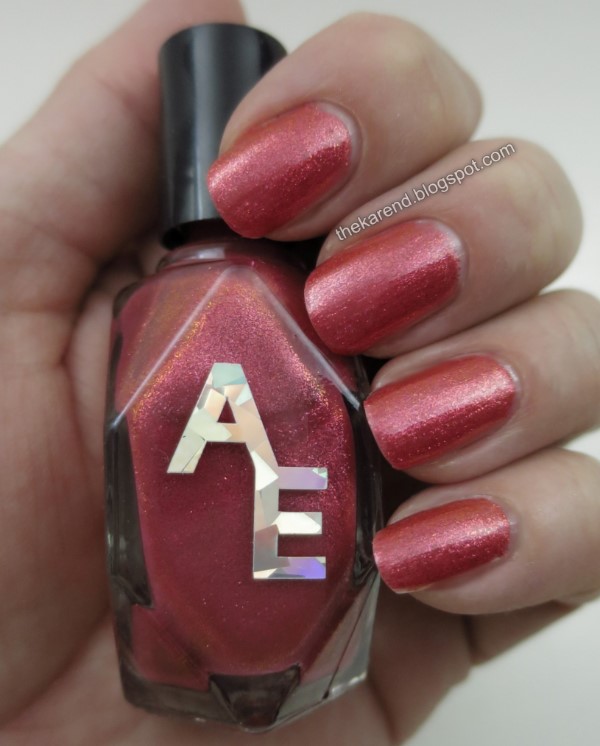 The next day I got to the hotel really early; I was excited and I was also wanting to do my best to try and get the things the ladies I was fairying for had on their lists. For a while, it was just me alone in the entry hall.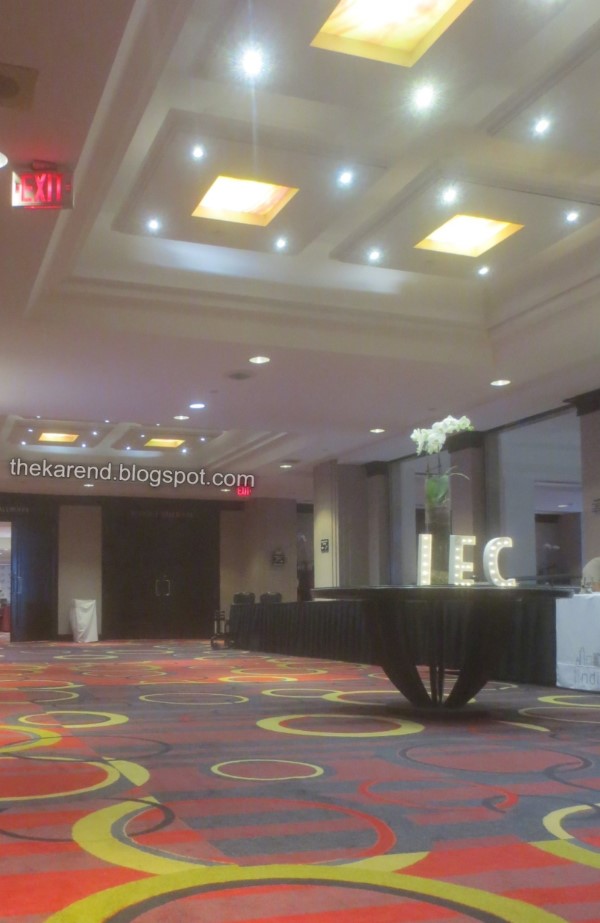 There was time between when check-in for VIP started and when the doors opened for me to look at all the fun stuff in the VIP bag: a Mini Mani Love set from SoyMagnifiscents with ManiSilk, ManiSand, and a lotion heart in a cute tin, a lip balm/cuticle oil holder, a wax sample from Under a Hula Moon, an eyeshadow single and gorgeous brush from Clionadh, Girly Bits Je Ne Sais Quoi, Ethereal Lacquer Elsewhere, Bee's Knees Sweet Jesus, a sample pack from SoGa with samples of shower gel, bath salts, and a mani bomb, KBShimmer Thanks For Poutine Up With Me, Zombie Claw Canadian Zombie, Paint It Pretty Charge It (shade varied among the bags), Alter Ego Golden Brilliance, and Hit the Bottle Fuchsia Predictions.
Once I got inside and shopping, I took almost no photos. I was able to get most of the things my ladies wanted but of course there were a few disappointments, but I got so many pretties it was easier to not dwell on the ones I missed. And I was absolutely delighted to win the silent auction for Fiendish Fancies The Killer, one of only a handful of bottles ever made.
One of the ladies I was a fairy for had expressed a very strong interest in the BKL polish from the VIP bag, so I swatched that one first to see if I could give it up. This is a greyed seafoam green with pink and gold shimmer, opaque in two coats.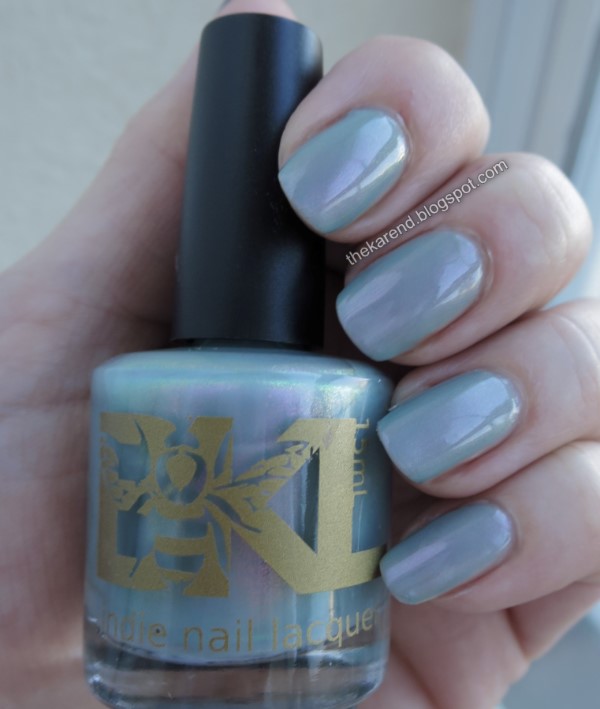 The gold does show on the nail at some angles.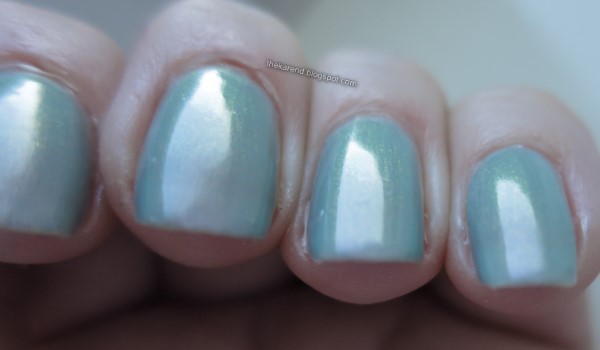 This has gotten quite long enough, so I'll close with just a teaser group shot of all the polishes I bought for my own stash.
I hope to do some swatched of these soon ... I always try to live in hope.