It's been a while since my last
display post
. In part that's because I was away from home so much in November, but it's also because it feels like there are fewer and fewer new things showing up. Ah well, perhaps that will change in 2020.
For this holiday season, China Glaze has the Sesame Street 50 Years and Counting collection, which I saw at Sally Beauty.
Essie's holiday offering is Let It Bow. I saw this first at NW Beauty; I'm very sad to say that this small chain is closing in January. Now I'm going to have to keep my fingers crossed I can get to Ulta and/or Sally Beauty before their displays get picked over (NW Beauty pretty much always kept theirs neat and stocked). Left to right: Let It Bow, Making Spirits Bright, Knotty or Nice, Caught on Tape, Tied & Blue, Under Wraps.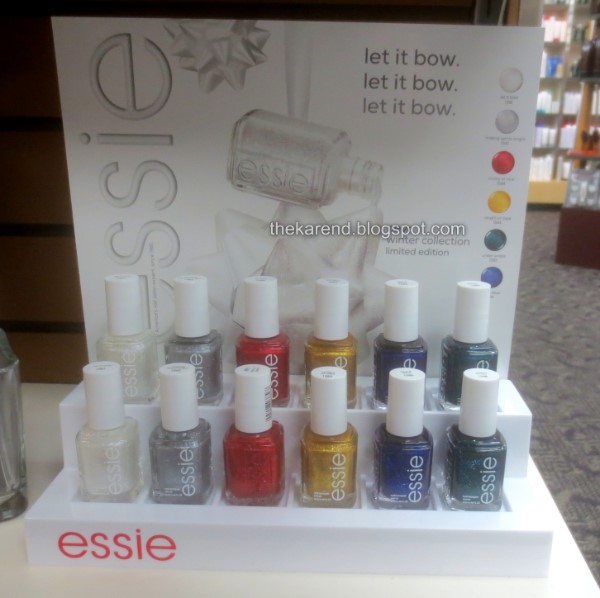 I later saw the Let It Bow collection at Fred Meyer in a display with Strong Start treatment. The blue was already gone; there were only slots for two each of the blue and green.
Fred Meyer also had Essie Flying Solo, which looks like it might be a resort collection. Left to right: Reach New Heights, Check Your Baggage, Check In to Check Out, Flying Solo, One Way for One, Free to Roam, You Do Blue, Without Reservations, In Plane View.
Finger Paints holiday collection is Enchanted Dream. Six shades: Like a Daydream (times 2), Enchanted Glam, Fairytale Ending (times 2), Dreamscape, Opalescent Plum, I'm Wonderstruck.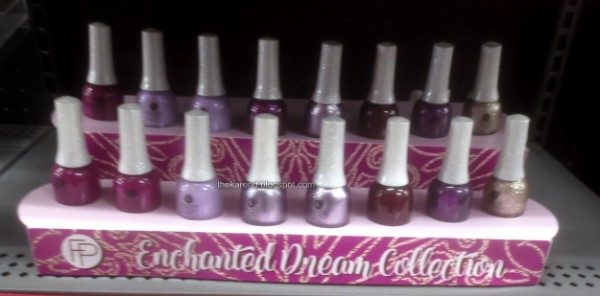 My Fred Meyer store had a shelf top display of LA Colors Metal Nail Polish called Meet the Dark Side of Metal. Eight shades here: Gold Coin, Rose Mimosa, Dynasty, Violet Vixen, Jaded, Glacier, Molten, and Metallica. Two of these, Gold Coin and Violet Vixen, are from the core collection available in the regular LA Colors section at Fred Meyer, but the others I'd not seen before.
Fred Meyer also had an LA Colors Hypno display. Left to right: Sentinment, Surreal, Wander, Divine, Paranoia, Euphoric, Dazed, and Voodoo. These are all core.
I saw Morgan Taylor Champagne & Moonbeams at Sally Beauty.
Lots of colors in this one, so I also snapped a photo of the swatch card: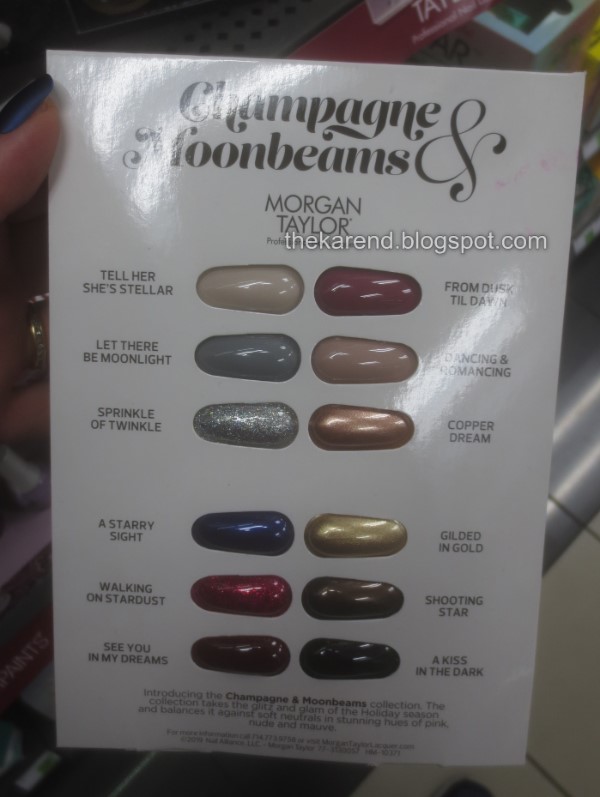 OPI has another Hello Kitty collection for Holiday 2019 (seen in the three photos below at NW Beauty; I later saw the first display at Fred Meyer).
Top row: Let's Be Friends, Glitter to My Heart, A Hush of Blush, Let's Celebrate, All About the Bows, A Kiss on the Chic. Bottom row: Pile on the Sprinkles, Hello Pretty, Let Love Sparkle, My Favorite Gal Pal, Many Celebrations to Go, Isn't She Iconic.
The Infinite Shine display for Hello Kitty (they've tucked some base and top coat behind the colors in the center section):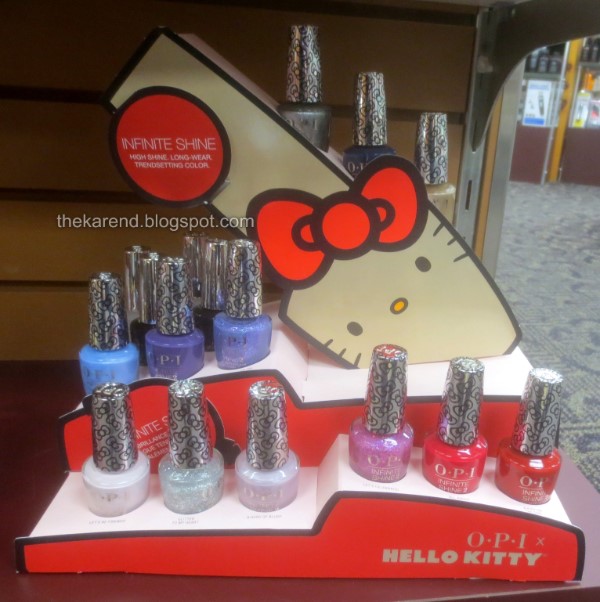 They also had three Infinite Shine glitters in a separate display: Born to Sparkle, Dream in Glitter, Glitter All the Way. (These are also available in the regular formula.)
Below is the Hello Kitty display at Sally Beauty. This had the three extra glitters I saw at NW Beauty but in the regular formula, as well as some gift sets tucked in the back.
In Sally Hansen news, first some old business. I was cranky in mid-October that the only places I'd seen the Insta Dri glow in the dark shades were in random unlabeled racks and shelves at Target and Walmart. On Instagram,
@freakingobsessed
messaged me a photo of a full display she'd spotted at a Walmart in California (and gave me permission to share it here). The LE glow in the dark shades are in the top row along with Sneaker White (and a slot for Clearly Quick).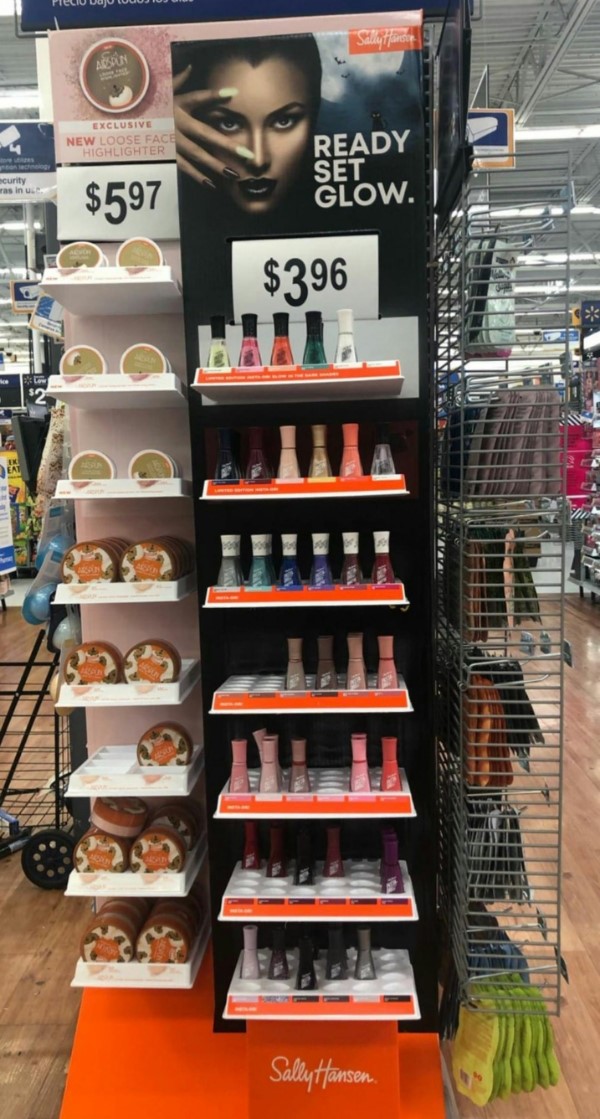 I finally saw in a display with my own eyes at a Walgreens all the way on the other side of Washington about a week before Halloween when we went to visit Mr. K's mom and take care of some things for her. The only problem was it was the Xtreme Wear display I'd already seen with the core colors, just in this case the LE Insta Dri shades were shoved in there too (one of them hidden in the second row back). Sigh. Then a few days before Halloween when we were back home, I went down to the city for a party and stopped at a Walgreens and there the LE glow in the dark shades were tucked into the display under the end of the beauty cash register counter. Next to them on the top row were four what I assume are Christmas colors, the first I'd seen of them. Top row, left to right: Happy Hollow-een, Glowing Night, Boooo-tiful, Hallo-green, Berry Holidays, Cherry on the Top (times 2), Candy Cane Red.
A closer look at the Christmas reds; looking at this photo now, I'm wishing I'd bought at least two of these colors.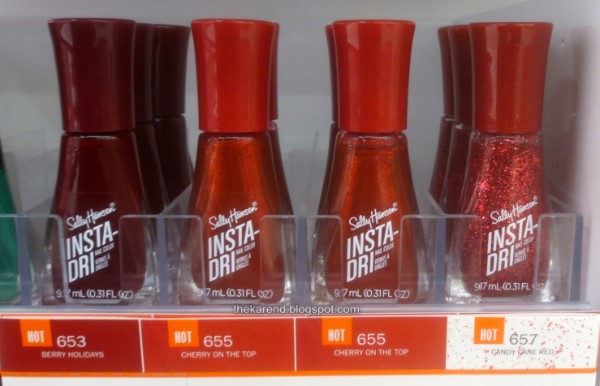 After Halloween, I finally saw a display at Target. All the LEs were on clearance by this point. Oddly, it only had slots for two of the glow in the dark colors, which I found odd since I'd seen all four at a different Target (the one which just had them in little basket shelves). Top row: Booo-tiful and Hallo-green. Second row: Black to Black and Leaf Lined Trail (LE, apparently). Third row: Clearly Quick and Cinna-snap. Fourth row: Midnight Drive and Get the Gold (LE, I guess). Fifth row: Slick Slate and Grape Shifter. Bottom row: Garnet and White on Time.
Sally Hansen has a Happy Holidays display with Miracle Gel and Color Therapy shades, some of them limited edition. The only place I've seen this is a Walgreens in Arizona while I was on vacation. I assume other stores got it, but they sure don't seem to have been ones by me. The middle row is Miracle Gel core reds (and matte top coat). The bottom is cuticle treatments. The other two rows are more interesting; scroll down a bit to see those closer.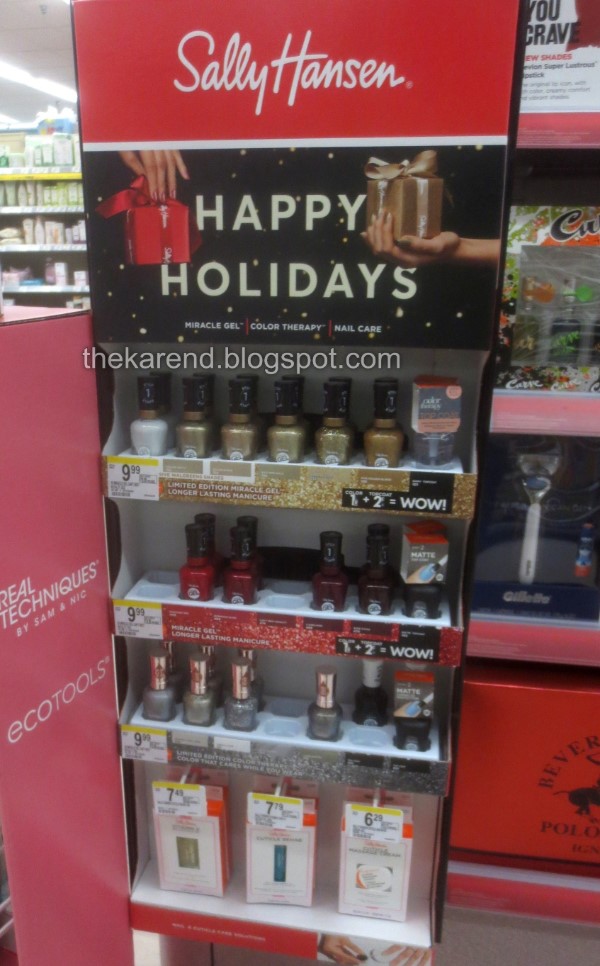 Top row (Miracle Gel limited editions): a white shade I don't know the name of because I failed to notice the label was covered up by the price sticker and Googling has turned up no information, Feeling Gelt-y, Goldie Rocks (these first three are labelled as Walgreens exclusives; I assume LE as well), Kris Krin-gold, Good as Gold, Five Golden Blings, Shiny Topcoat.
Third row: Silver Wonderland (this one I did pull out because I thought it looked like it might be a bit holo), Season's Grey-tings, Crystal Star (these first three are LE, I believe), In My Element (core, sold out), Therapewter (core), Top Coat (shiny), Top Coat (matte).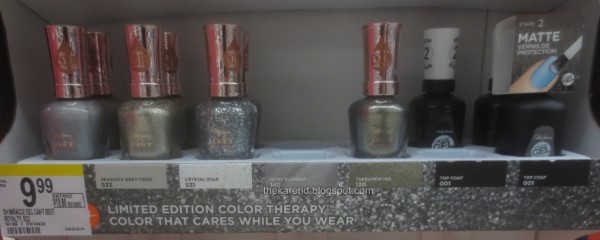 I whined about SinfulColors distribution recently. I've been looking for what I understand it their latest, the Liquid Chrome display, but haven't seen it. I wouldn't even know about it except for the
Sinfully Polished Nails
group on Facebook; fortunately, one of the ladies there saw it at a Wegmans in Pennsylvania and kindly has allowed me to share her photo here. Thank you, Amber! The individual bottles here are all repromotes of SinfulShine colors, but the box set there on the right is new. It has Chromatic Fanatic Base Coat, Di$co Baby Liquid Chrome color, and Mirror Shine Top Coat. As far as anyone I know knows, this is the only color this formula comes in.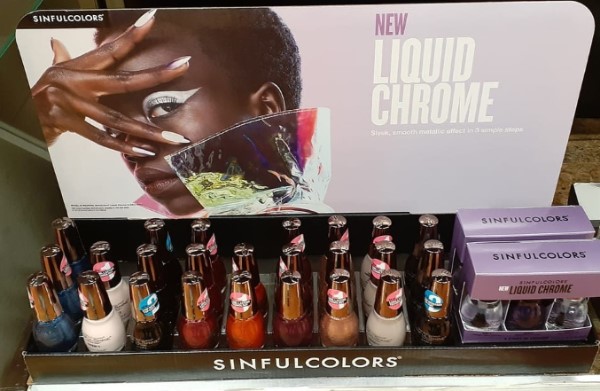 Things I'm keeping an eye out for: Essie Expressie (10ml bottles of quick dry polish) and that Sally Hansen Happy Holidays display so I can see what that white polish is. I'm not planning on seeing the Essie Intergalatic Metallics collection, which I understand is only at CVS, and the nearest CVS to me is hundreds of miles away.