I can take photos of my nails and swatch polish way faster than I can write posts and crop and watermark pictures, so I always have a backlog of content I intend to share here. If I were disciplined, I'd either post things in a fairly timely manner or delete the folders of photos knowing I'm never going to get around to them. I don't do either, which is why I just came across some swatches I did last summer of the Sinful Colors neons that were newly released. Why post them now? Well, because the polishes are available now as a set on the Target website, which I know only because a few ladies in the Sinful polish group I'm in on Facebook have shared their recent purchases. So now these nearly year-old swatches will have their day in the sun.
There are six shades in this collection: Popped (pink), Juiced (orange), Extra AF (yellow), Lit-terally (green), Zzzapped (blue), and Hella Bright (purple).
I apparently was feeling both impatient and creative that day back in June that I played with these, as I didn't do any straight swatches, but instead split them into warm and cool trios of colors and did some some looks over a white creme base that incorporated dots and funky French tips using the Sinful Colors Pride shades from 2019.
First up, the warm hues. Again, these are all over a white creme base. Index finger has freehand stripes of Extra AF, Juiced, and Popped with dots of Natural Blonde, Tight Squeeze, and Tainted Love, respectively. Middle is Popped with a tip of Tainted Love. Ring has Juiced with a Tight Squeeze Tip. Pinkie is Extra AF and Natural Blonde. All nails have clear topcoat to smooth everything out.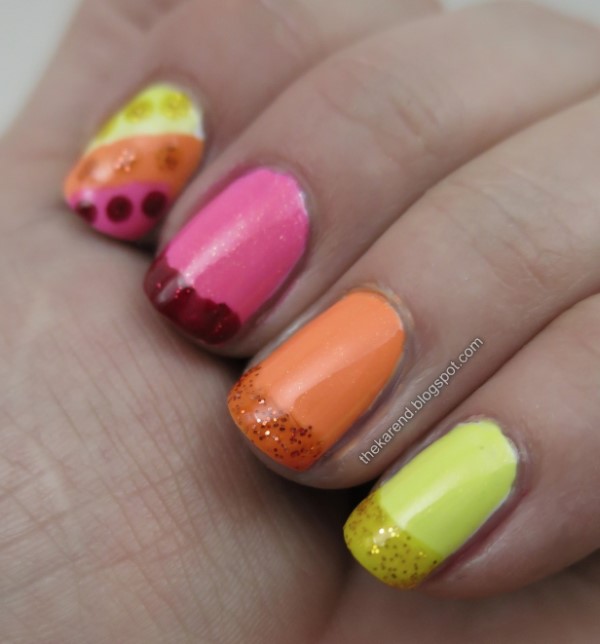 All of the neons have shimmer in them, but I couldn't get the orange and yellow to show theirs until I put them in direct light (see two photos below).
On to the cool hues. Index finger stripes are Lit-terally dotted with Filthy Rich, Zzzapped with Love is Love, and Hella Bright with Drag Queen. You can figure out the combos on the other nails, I'm sure.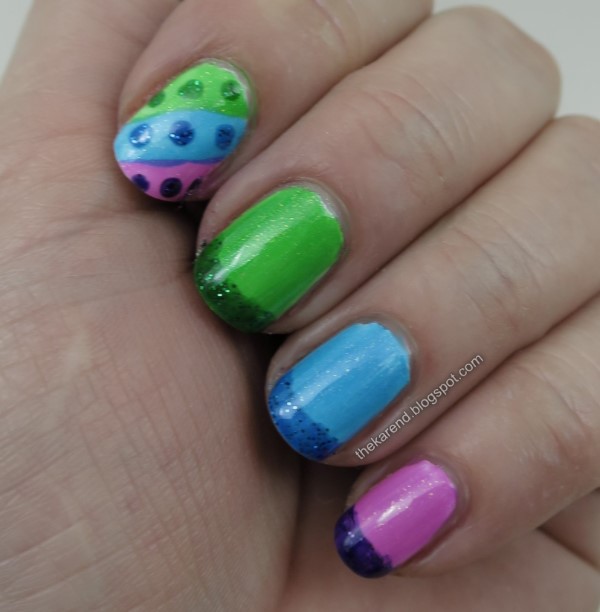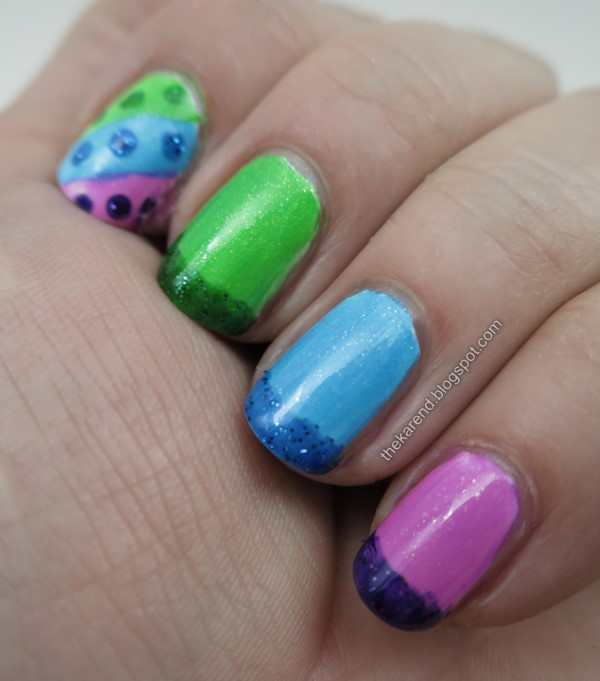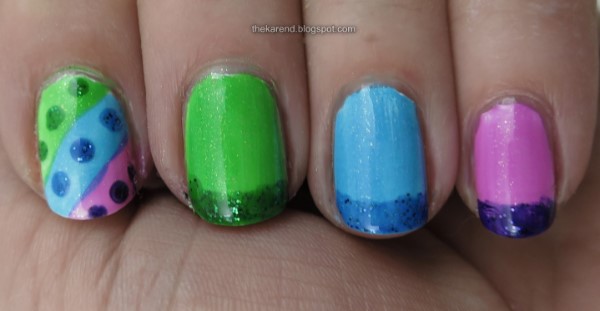 The cool hues showed their shimmer better in the lightbox than the warm ones had, but I still wanted to share a direct light shot.
I'm not sure why Sinful Colors (which I'm now styling with a space in between the words, in a change from what their PR person told me years ago, as the new bottles out now have the words on separate lines) decided to release these as neons, as they're nothing like what we in the nail polish world think of as neon. They're colorful, yes, but not super super bright, and don't dry satin/matte as neon pigments are known for. I like them, and am glad I bought them, but I don't think they're neon, no matter what the stickers on the caps say.