Another installment of the green creme theme this Nail Wheel Wednesday. On the whole, this group is less spring-like than the last two, having a much higher proportion of blue-leaning minty greens (including a couple that might feel at home on a green-leaning blue wheel, too). Some of them are in the warmer mint category, looking like the coating of
Fannie Mae Mint Meltaways
, which was one of my favorite candies as a child.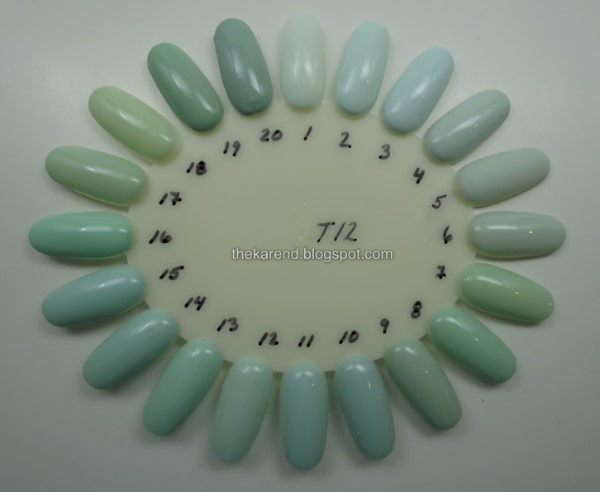 1. Color Club for Soak Fig Tree & Co. Sea Glass (3 coats)
2. Color Club for Soak Lizzy House Glacier (3)
3. Tea Beauty Mint Leaf (3) [seems like this line was in Walgreens for about two weeks then I never saw it again]
4. Butter London Fiver (2) [uneven application is my fault; I had to clean the tip and made a bad job of it]
5. Ciate Sweet Pea (2) [needed thinner; was hard to level even after I added it]
6. Sally Hansen Diamond Strength Garter Toss (3) [I thought maybe this one had been more blue originally, what with the "something blue" part of the wedding rhyme, but no, it was always green]
7. Wet 'n' Wild Megalast Tree Hugger (2)
8. Morgan Taylor Mint Chocolate Chip (2)
9. Sephora X Jaded (3)
10. Sephora X Unmistakable (3)
11. Hello Kitty Minty (3)
12. Maybelline Color Show Mint Mist (3)
13. Essence #SecretParty Swimming Pool to Go (3)
14. Sally Hansen Complete Salon Manicure Pardon My Garden (2)
15. Deborah Lippmann Flowers in Her Hair (2)
16. Sinful Colors Envious (2)
17. Orly Jealous Much (3)
18. Rescue Beauty Lounge Fire Queen (3)
19. Sally Hansen Complete Salon Manicure Green Tea (2)
20. Sally Hansen Xtreme Wear Kelp Yourself (2)
Some of these have "ugly bottle syndrome"; I mixed them as well as I could ... I'm thinking hard about getting a shaker but I'd rather have more polish.
Bottles 1 through 5:
6 through 10: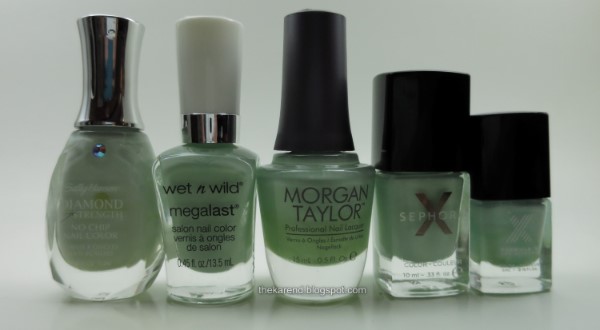 11 through 15:
16 through 20: