Today I have some polishes I picked up just before retreating into isolation thanks to the pandemic, the Revlon Velour Effects that were part of my March
display post
(which is also my most recent one). I hesitate to call this a collection, because these four polishes were tucked in the back of a display that was half lipstick and mostly core colors. The only way I know they were limited edition is I came across that information on Revlon's social media; odd it wasn't on the display with these four shades marked in some way. I suppose you could say they were marked by not having stickers on their caps saying "new formula" like the core shades did. I don't know. Anyway, there are four shades: Velvet Rosé, Velvet Ruby, Gold Touch, and Blue Velour.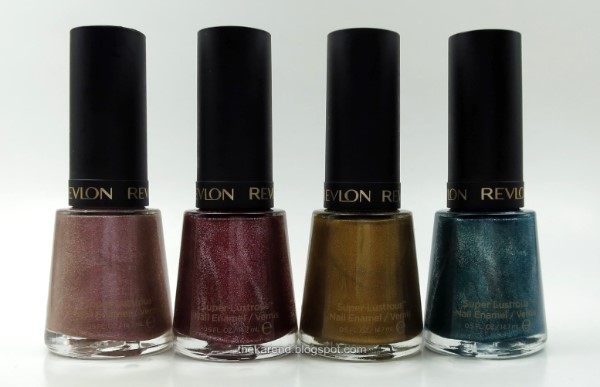 I started my swatching with the lightest shade, Velvet Rosé. This is a soft dusty pink shimmer that dries to a satin finish (to match the finish on the bottle's handle, which I suppose is another way they marked these four as special). The shimmer is multi-hued; mostly soft pink but I also see copper and silver and a brighter pink and maybe even a few hints of lilac. I used three coats, though might have been able to get away with two if I'd been careful.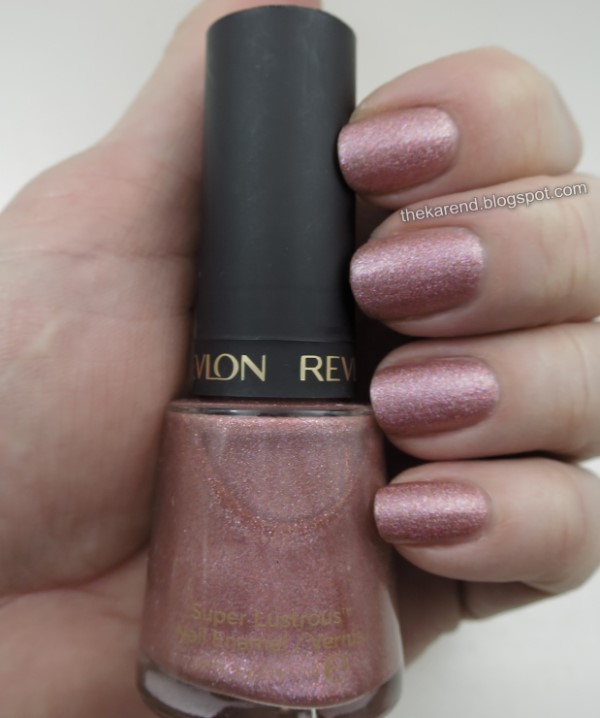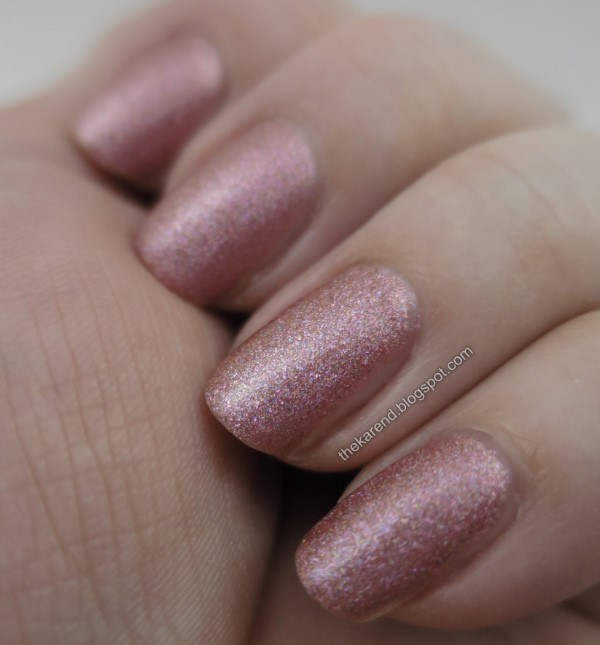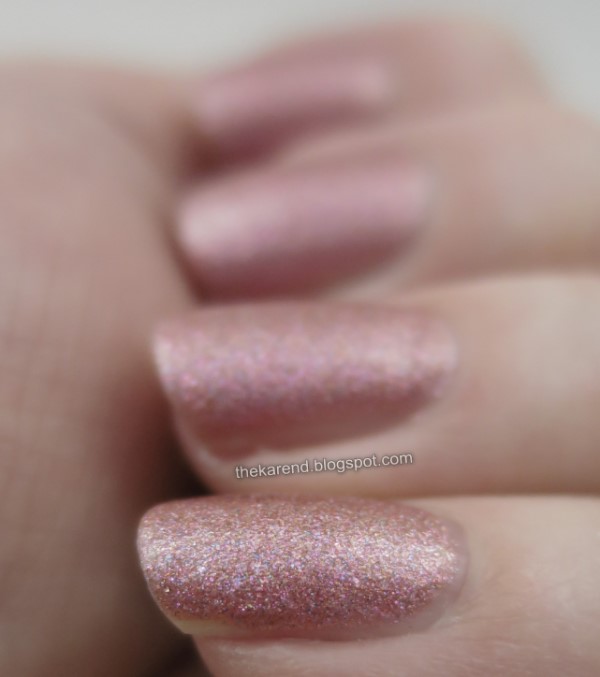 To play around with Velvet Rosé a bit more, I added funky French tips with Velvet Ruby, then topcoated for shine.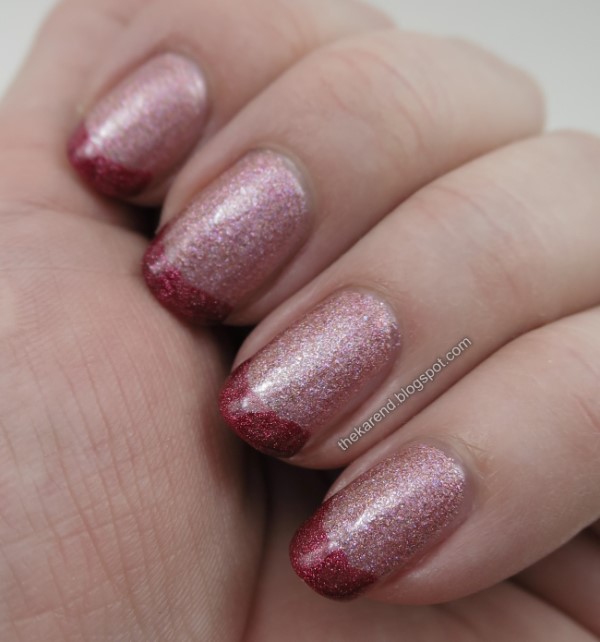 Here's a shot in direct light to highlight the shimmer:
Velvet Ruby was up next. This is a berry red satin finish shimmer. The shimmer here is more monochromatic than in Velvet Rosé; here it's just silver and berry. Still pretty. I used two coats for my swatch.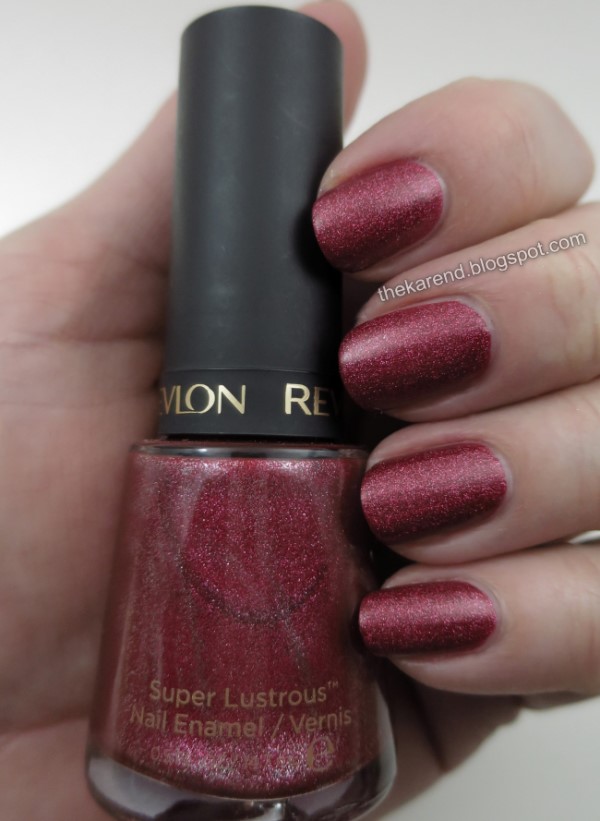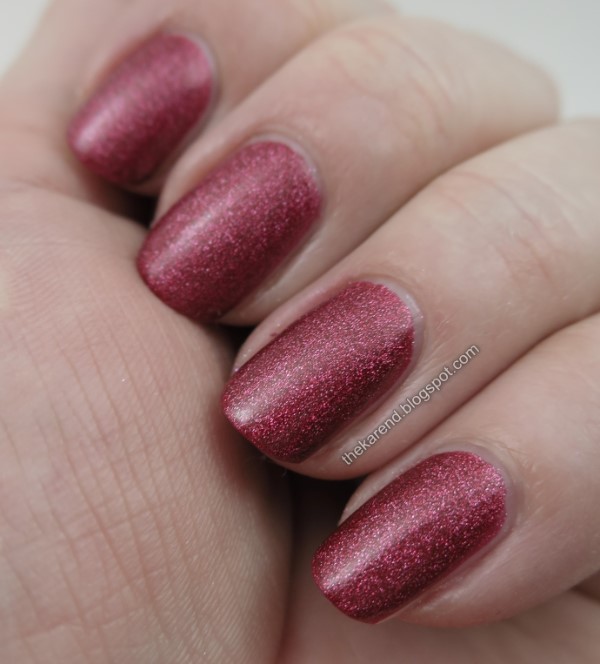 To showcase Velvet Ruby's shiny side, I added dots of Gold Touch then clear topcoat.
Direct light shot: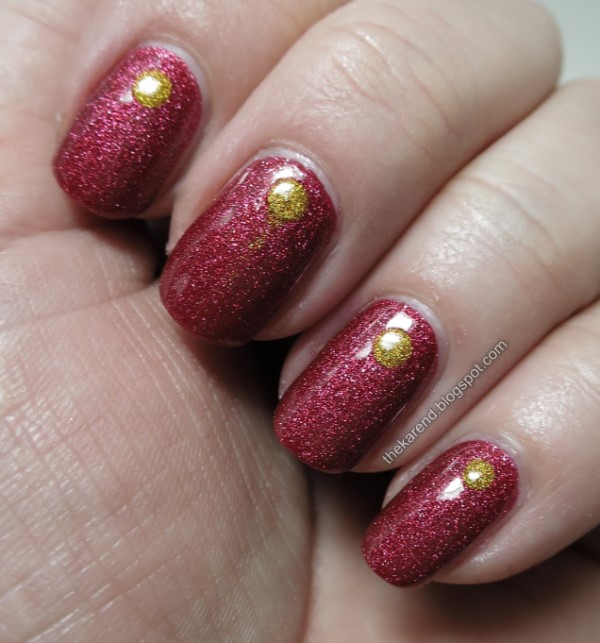 Gold Touch is a very yellow gold shimmer, and yes, dries to a satin finish. This one was two coats. The shimmer here appears to be gold, gold, and gold, with slight variations in hue from yellow gold to really yellow gold.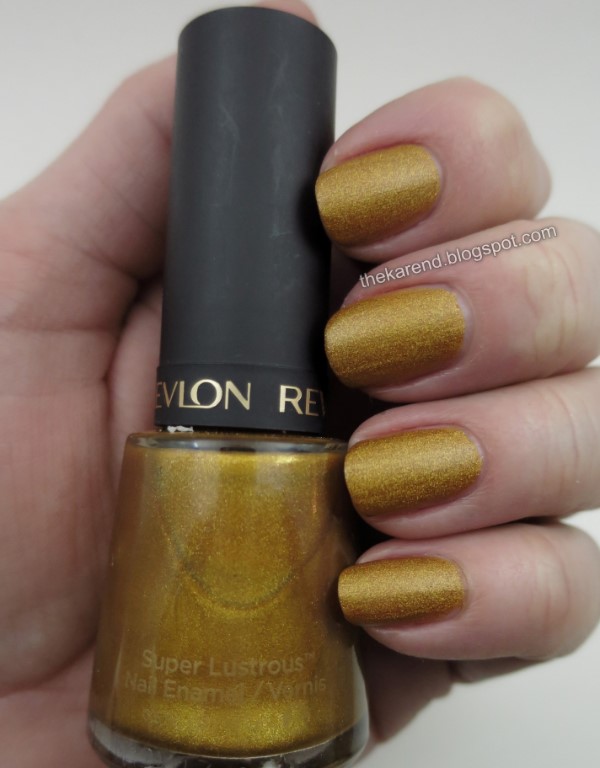 Gold Touch gets to shine all on its own with topcoat, as the half moon mani I tried with it and Blue Velvet suffered from technical difficulties (meaning technically I didn't let the first part dry enough before I went for the stickers to set the curve of the half moon).
This one was nice and glowy in direct light: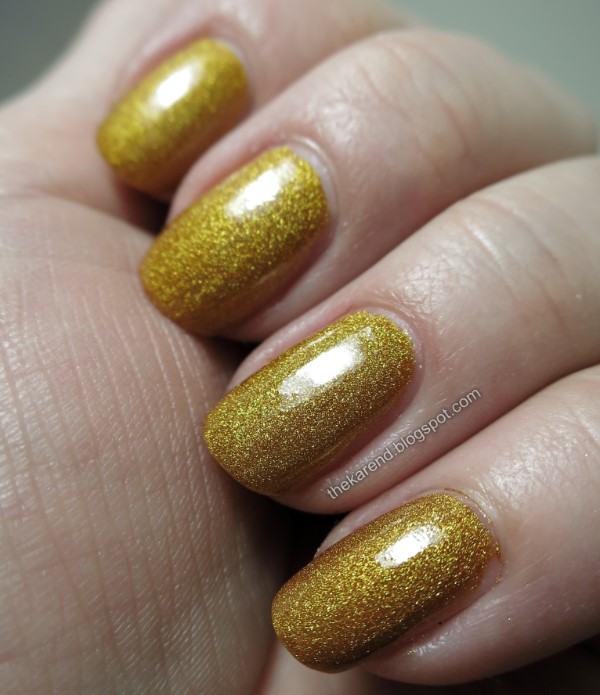 Blue Velour is an ocean blue shimmer with a satin finish. The shimmer is similar to that in Velvet Ruby, just blue and silver instead of berry and silver. It was another two-coater.
I added topcoat to bring out the shine, which didn't seem as effective as with the other colors for some reason.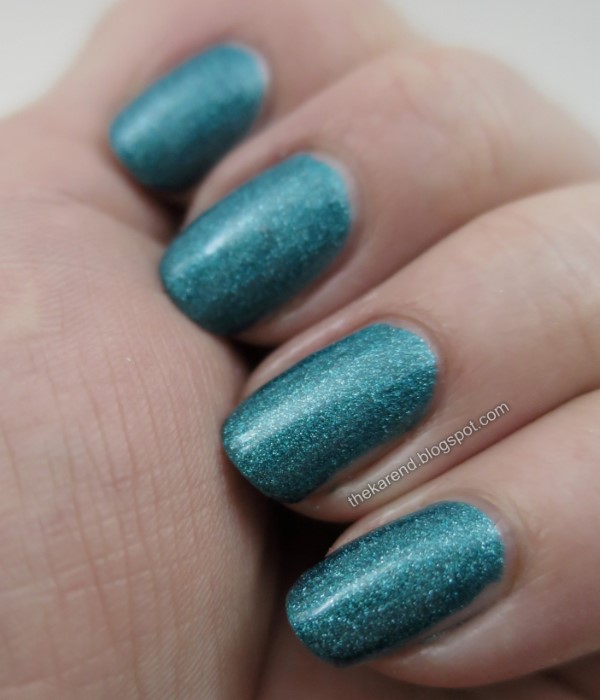 In direct light, though, the shine did show up and the shimmer popped, so maybe the lightbox shot was photographer error (yes, I'm the photographer).
I can't explain why, but I decided to try these at one coat over a black base. That experiment worked out quite well, I think.
Blurred to show the shimmer, even in the satin finish state: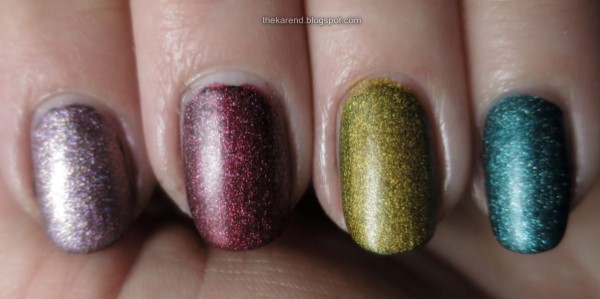 With clear topcoat added, glowing under direct light:
Oh, what the heck, here's an "outtake", that half moon mani gone bad. I attempted to fix the parts where I pulled off some of the gold polish with the stickers but that just ended up making lumps in the shimmer that even topcoat couldn't smooth out visually.
I like this group of polishes; they applied nicely, don't take too many coats, and look pretty. Too bad they didn't get much of a push from the brand even pre-pandemic. Maybe they're still out there in stores; I don't know since I haven't left my home county in nearly three months.