So yeah, today I'm having Halloween in June, with swatches of last fall's Wicked Neons collection from Sinful Colors. There were four cremes and four glitters in this group, all meant to glow under black light: W*tch Please, Glow for It, Techno Violet, Cyber Witch, Blue in the Dark, Magic Hack, Witchs Brew, and Wicked Gaze.
These seemed to split naturally into a warm quartet and a cool quartet, so that's how I swatched them, starting with the cool cremes: Blue in the Dark (blue) and Witchs Brew (green). I needed three coats of each, and even then could see a hint of nail line.
Under my black light, Blue in the Dark glowed white, while Witchs Brew turned more of a tannish peach color.
I then added the coordinating glitters: Magic Hack (blue) and Wicked Glaze (green). Both of these have metallic hex glitter in one size in a clear base. I tried each of them over each of the coordinating cremes, so top to bottom it's Blue in the Dark topped with Magic Hack, Blue in the Dark with Wicked Glaze, Witchs Brew with Wicked Glaze, and Witchs Brew with Magic Hack. I did two coats of the glitter, which layed pretty flat on the nail. The first pic below is without topcoat; the second, with. I did pop my nails under the black light before and after topcoat and noticed no change, so topcoat didn't interfere with the effect.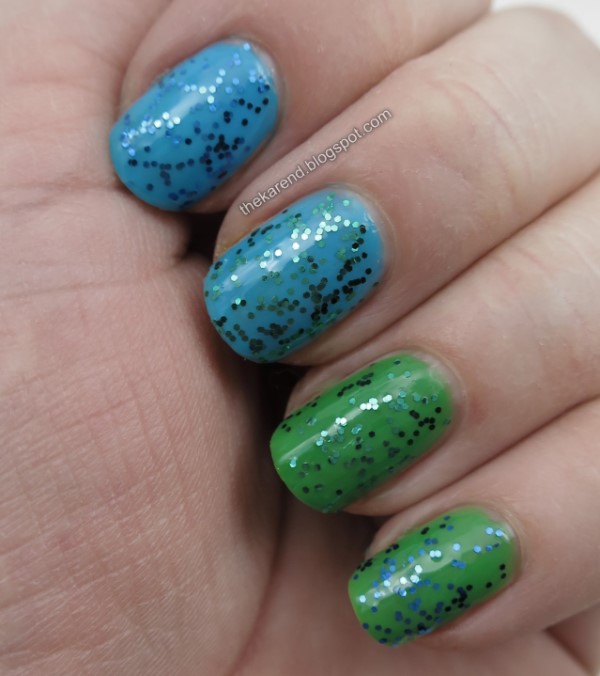 The glitter doesn't react to the black light other than the shiny surface of it reflecting and glinting. Topping with the glitter polishes didn't affect the glow previously noticed from the creme polishes. I did check the glow of the toppers alone by swatching on a nail tip (not pictured) and they all seemed to give a slight blue-white effect.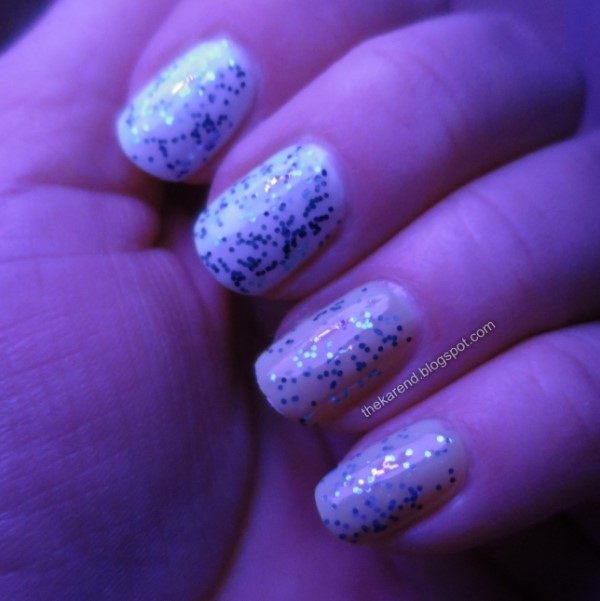 On to the warm cremes: W*tch Please (pink) and Techno Violet (purple). As with the cool cremes, I used three coats. I saw hint of a nail line with the pink but not as much with the purple.
Under black light, the pink glowed a warm peachy pink and the purple turned lilac.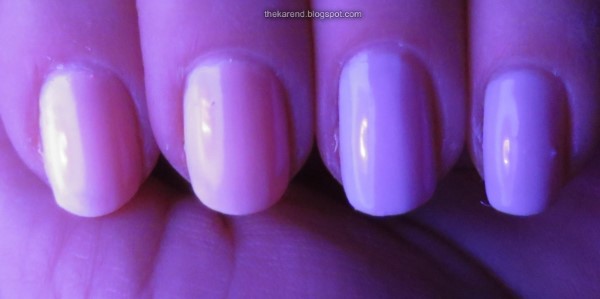 Then it was time for the coordinating glitter toppers: Glow for It (pink metallic hex glitter and copper shard glitter) and Cyber Witch (purple metallic glitter). Top to bottom: W*tch Please topped with Glow for It, W*tch Please and Cyber Witch, Techno Violet plus Cyber Witch, and Techno Violet with Glow for It. All have clear topcoat.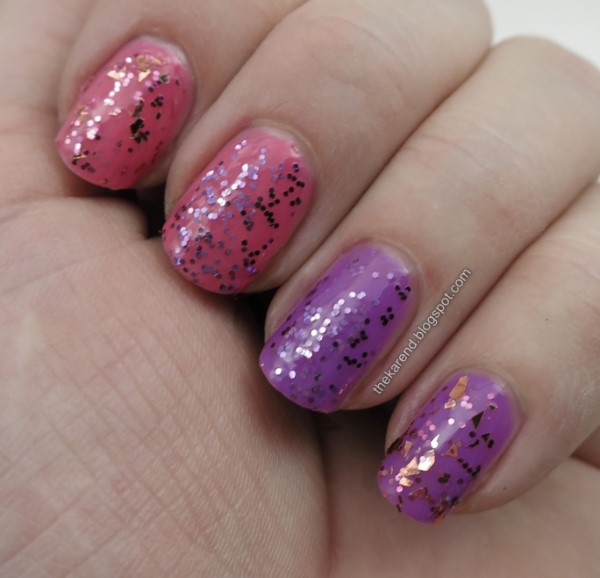 Here are the warm combos under black light:
Though this collection is called "neon", these shades aren't bright and intense enough to earn that moniker from me (maybe the pigments had already started fading by the time I swatched them or maybe the name was approved by marketing without a concern for if it reflected the actual colors). Glow for It is my pick of this litter as it's the most interesting to me, with the contrast of the hex and shard glitter.